These 17 unique and beautiful Northern Virginia Wine Country vacation rentals and Airbnbs are a fun option when you crave a change of pace and a break from home. Our top vacation rental picks in and near Loudoun County Virginia include quaint cottages, farmhouse stays, a renovated schoolhouse, an elegant brewery chateau, and more.
These Wine Country vacation rentals are perfect for a fun local stay or a weekend getaway from Washington DC. Along with the listings, we include tips and information to help you decide where to stay in Virginia wine country.
Find even more awesome getaways near DC in 17 Amazing Northern Virginia Airbnb and Vacation Rentals.
Disclosure: This article may contain affiliate links. We will make a small commission from these links if you order something, at no additional cost to you.
Disclosure: We may earn a small commission, at no additional cost to you, for stays booked through the links on our site.
Vacation Rentals in Northern Virginia Wine Country
While there are many excellent hotels in the DC area, rentals from VRBO, Airbnb, and local sites can provide a more unique stay. Extra facilities like kitchens, decks, hot tubs, and yards let you plan a stay customized to your group's needs. We have not stayed at all of the vacation rentals listed here, but they are all highly rated places we would choose.
Below we have highlighted some of the things we love about each rental. Click the links to see more photos, read visitor reviews, and check pricing and availability. Some places require minimum stays and cancelation policies vary so follow the links for details. Most photos are credited to the rental owner or agency.
At the end of our list, you'll find tips based on our many years of renting from VRBO, Airbnb, and vacation properties around the world. In addition, we've listed things to do and places to stay near each stay, to help you plan your trip.
Stone Chateau at Bear Chase Brewing, Bluemont
Celebrate a wedding, group getaway, or family reunion at the spacious and elegant stone chateau at Bear Chase Brewing. Up to 14 guests enjoy upscale amenities including an indoor pool, jacuzzi, exercise room, and sauna. Take in the view from the large patio and several other outdoor seating areas. Tasty craft beer is right next door in the Bear Chase Brewing tasting room.
6 bedrooms – 14 guests – Bear Chase rental info
Bluemont Vineyard Stone Cottage, Bluemont
Book a cozy couple's stay at this quaint stone cottage at Bluemont Vineyard. The studio-style house is tucked into the vineyard and the front patio enjoys a phenomenal view.
1 bedroom – 2 guests – no pets – Bluemont Vineyard Stone Cottage rental info.
Two more rental homes, managed by the same family, are available close by.
The 2-bedroom Brewer's Cottage at Dirt Farm Brewing has the same great view. It has 2 bedrooms for up to 4 guests and allows pets.
At the bottom of the hill, close to Henway Hard Cider, the Blue Door Cottage has 3 bedrooms for up to 6 guests and also allows pets.
Windswept Inn Wine Country Cottage, Round Hill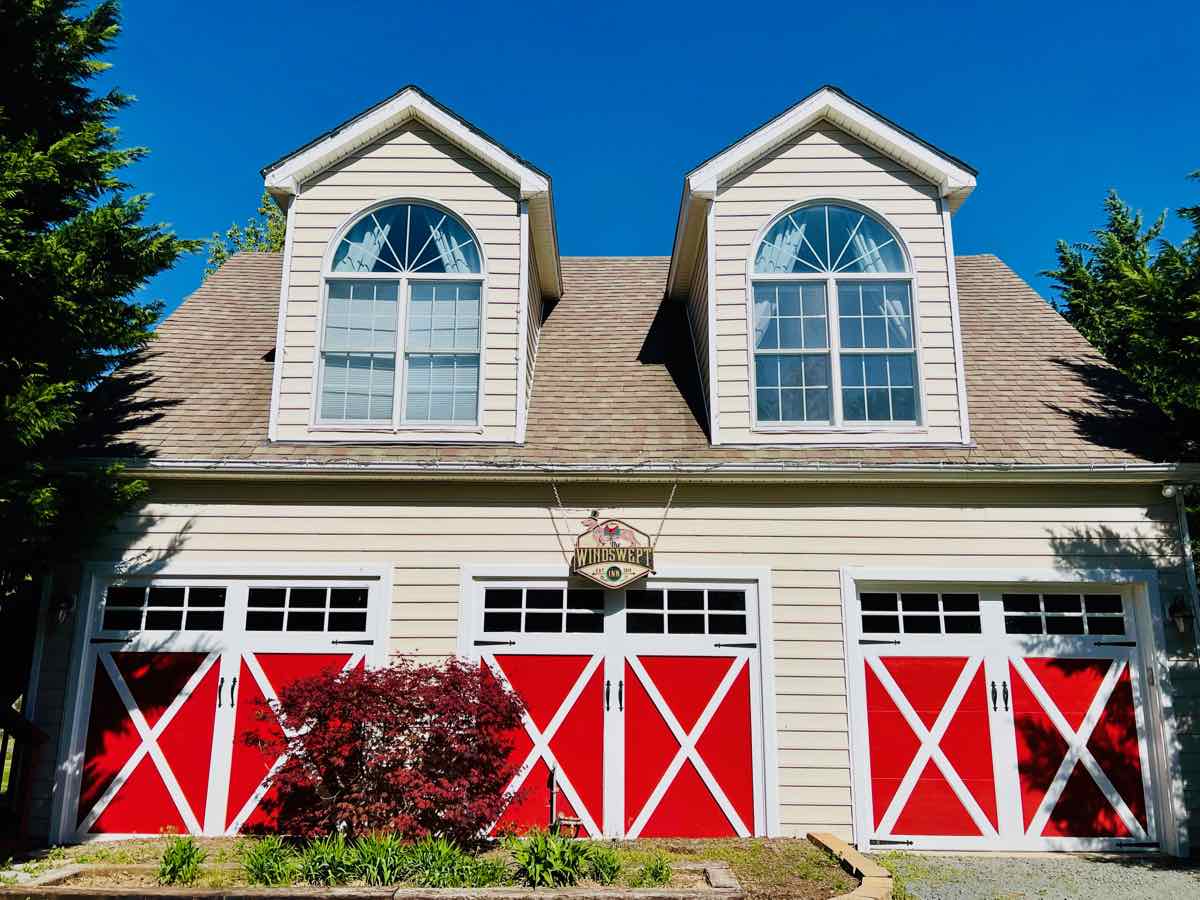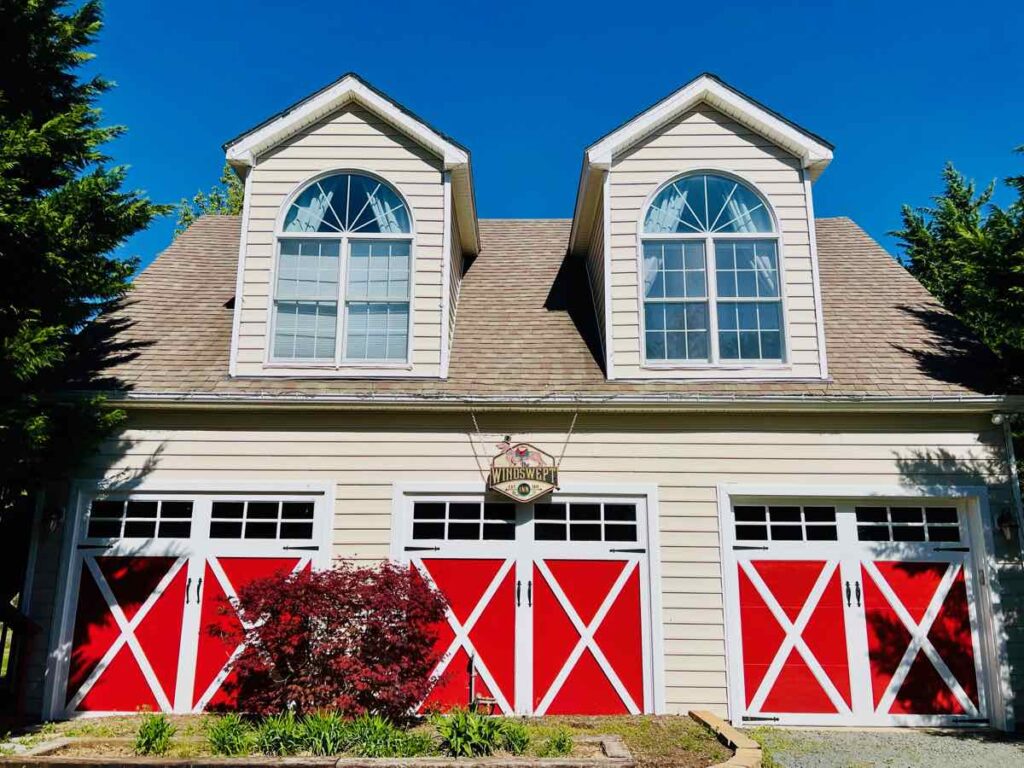 Enjoy a peaceful getaway in the heart of Northern Virginia Wine Country when you book a getaway at the lovely Windswept Inn cottage. The meticulously renovated former garage features a full kitchen, cozy living room, spacious bathroom, and 3 large, comfortable bedrooms. The cottage is located on a quiet country road close to wineries, breweries, the quaint towns of Bluemont, Purcellville, and Middleburg, and great outdoor activities.
3 bedrooms – 6 guests – Wine Country Cottage rental info
Historic Cottage in the Heart of Bluemont
This lovely farmhouse looks like a fantastic choice for a family or group getaway. The modern farmhouse in the heart of Bluemont sits right on the Snickersville Turnpike surrounded by fantastic hiking, breweries, wineries, and kid-friendly activities.
3 bedrooms – 8 guests – no pets – Mountain Farmhouse in Bluemont rental info
Mountain Cottage at Blue Ridge Overlook, Bluemont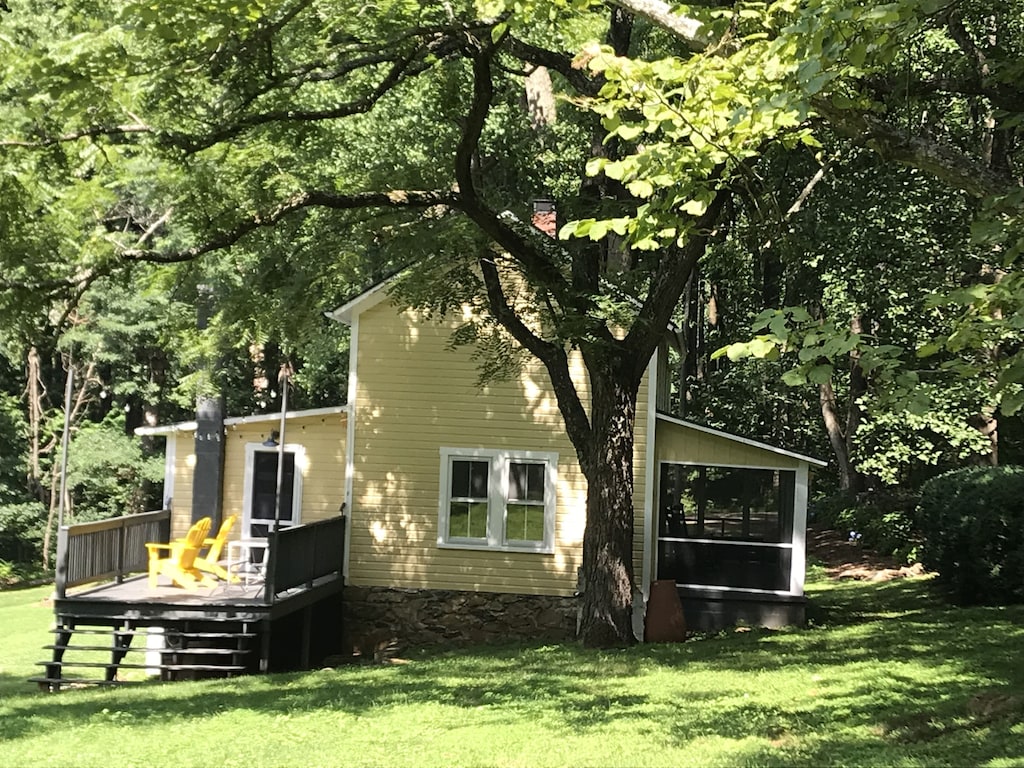 Bishop's Gate, a historic mountain cottage at Blue Ridge Overlook was built in 1910 as a church parsonage. Today, the home offers 2 comfortable bedrooms plus extra sleeping space and lots of places to relax outdoors. Enjoy a day exploring Virginia wine country or hiking on the Appalachian Trail, then relax on the screened porch or catch the sunset from the deck.
2 bedrooms, 7 guests – no pets – Cottage at Blue Ridge Overlook rental info
Country Cottage and House on Sylvanside Farm, Purcellville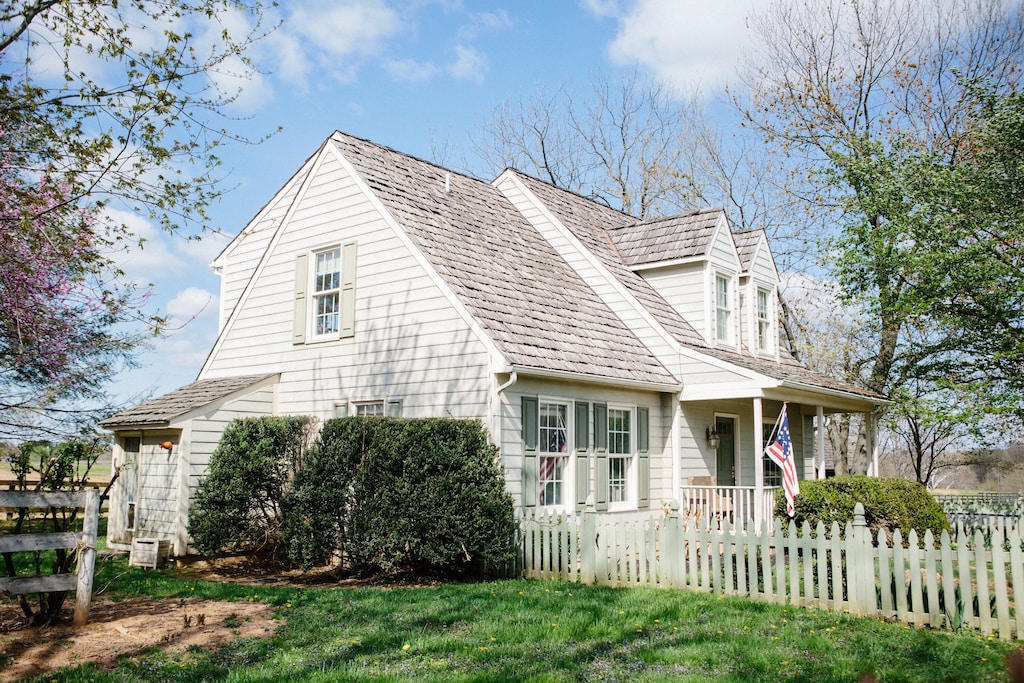 This country cottage on Sylvanside Farm (also a wedding venue) is ideal for a girls' getaway or family retreat. The cottage is surrounded by country beauty, with views of the farm's fields, animals, a pond, and a beautiful old barn. Cool your feet in the creek or warm up by the indoor fireplace or outdoor fire pit.
4 bedrooms – 9 guests – Cottage on 1700's Horse Farm rental info
On the same property, couples can snuggle up in a cozy one-bedroom Sylvanside Farm cottage overlooking the barn and pond.
1 bedroom – 2 guests – One-bedroom Sylvanside Farm Cottage rental info
Cottage at Twin Notch Farm, Paeonian Springs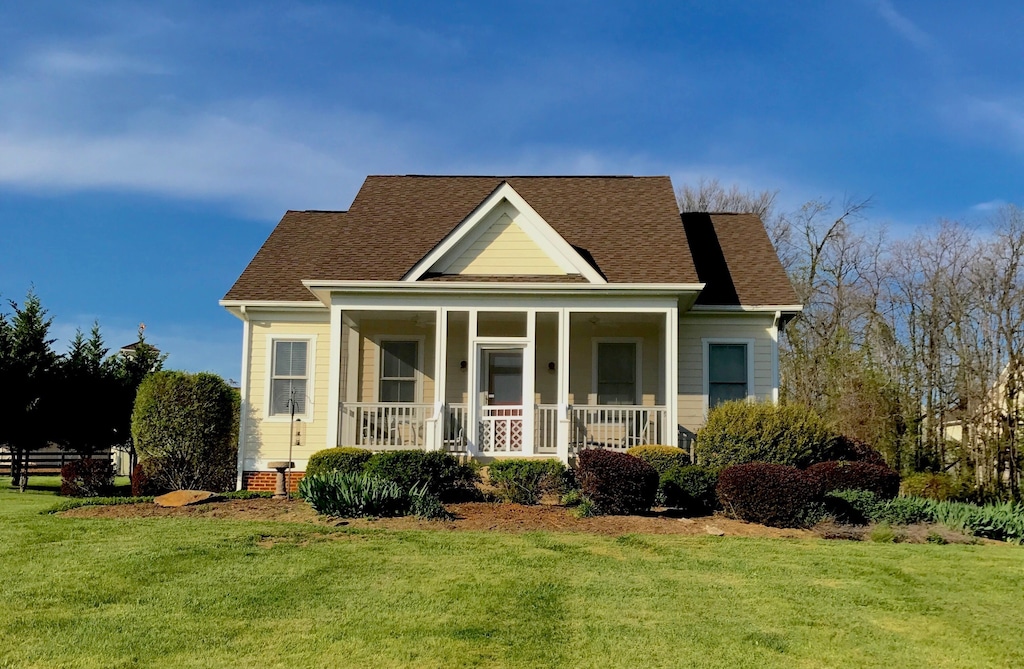 The cottage at Twin Notch Farm takes you into the country and close to the vines. Set in the midst of a new vineyard of Sauvignon Blanc, guests enjoy lovely views and easy access to Northern Virginia wineries. Watch sunrise and sunset from the screened porch and patio with fire pit.
2 bedrooms – 6 guests – no children under 10 – no pets – Twin Notch Cottage rental info
Shepherd's Cottage at Weatherlee Farm, Lovettsville
The whole family can relax at this 3 bedroom farm cottage in northern Loudoun County, just a mile from the Potomac River. Kids love to visit the farm's horses, sheep, llamas, and chickens and adults love the quiet country setting. Harper's Ferry and historic Leesburg are close by, along with antique shops, vineyards, breweries, and scenic country roads. Breakfast is included for the first morning or two in this hybrid B&B / Leesburg vacation home.
3 bedrooms – 6 guests – no pets – Cottage at Weatherlee Farm rental info
Rent the Milk Cottage (sleeps 4) next door to accommodate a larger group.
Cottage at Wheatland Spring Brewery, Waterford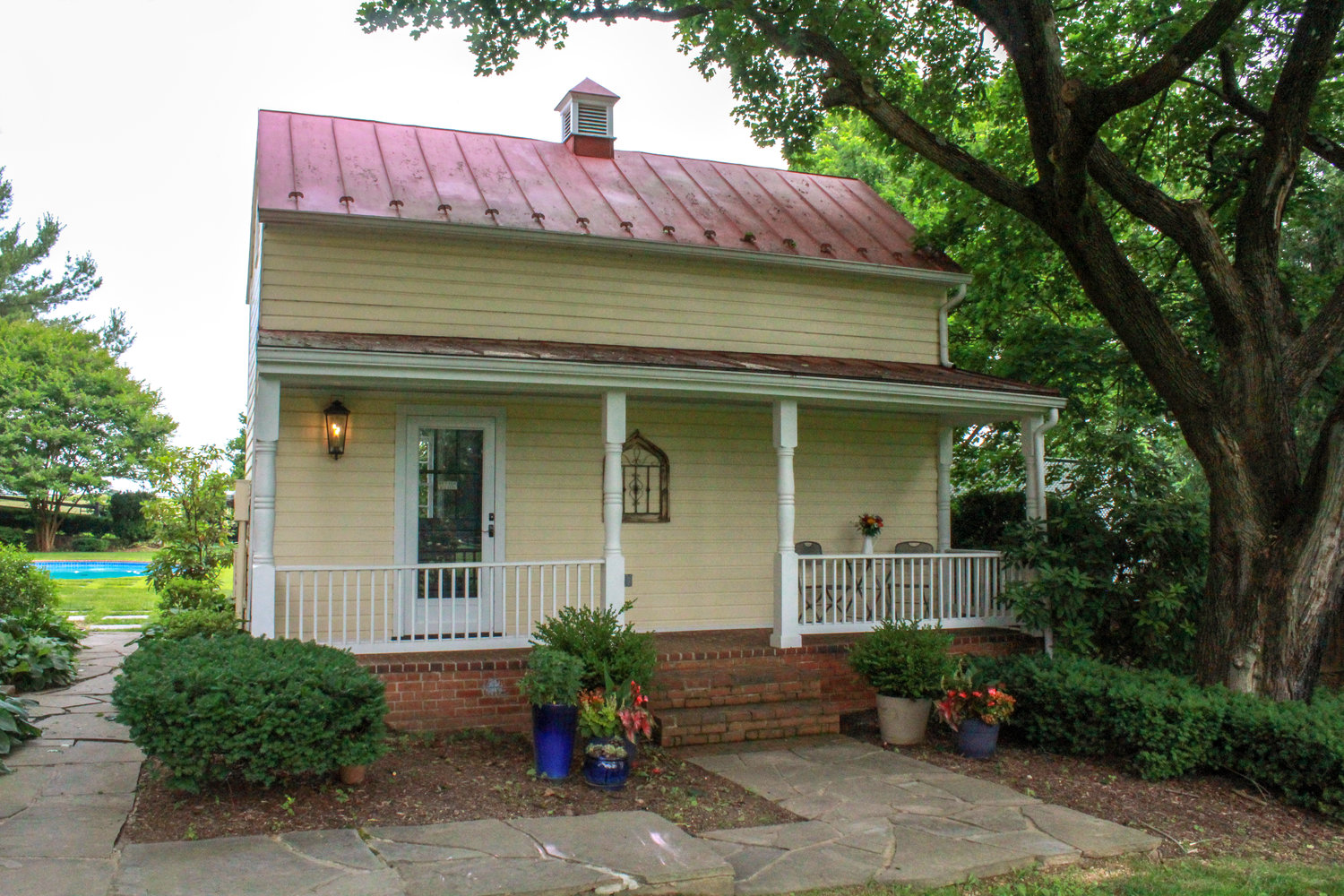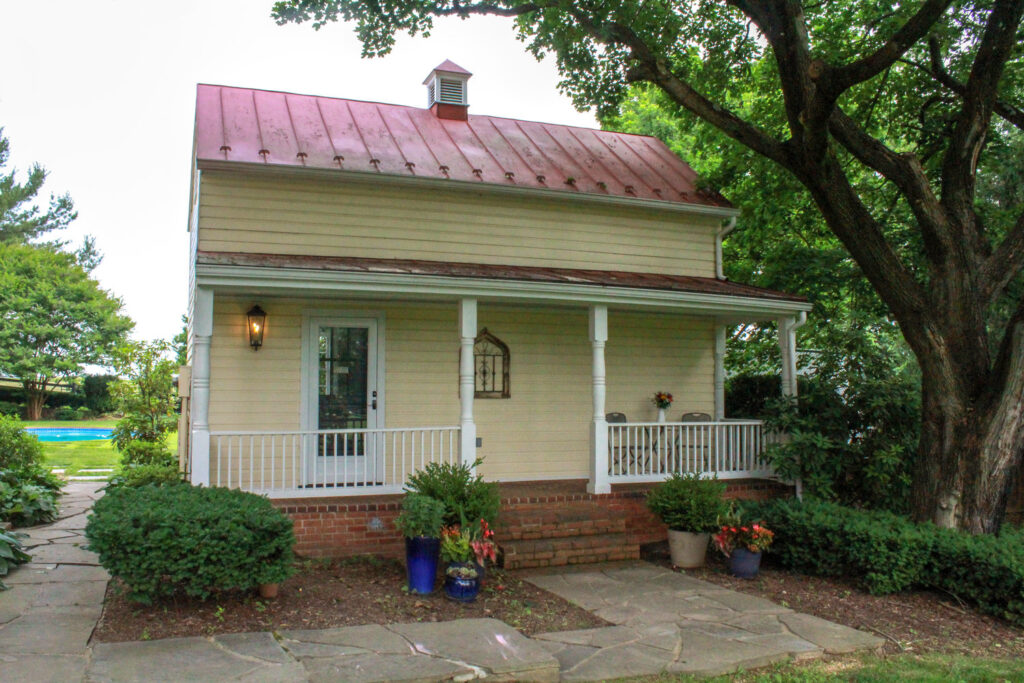 Explore one of the prettiest small towns in Northern Virginia from your cottage at Wheatland Spring Farm Brewery. A full breakfast is included with your stay and tasty craft beer is just steps away. When you're ready to explore, head to historic downtown Waterford or one of the many nearby wineries.
1 bedroom – 2 guests – no children, no pets – Wheatland Spring cottage rental info.
Cottage on King Street Downtown Leesburg
Book this charming King Street cottage in Leesburg and you can walk to all of the great shops, restaurants, and breweries in the historic downtown. The cottage is quaint outside and elegant inside and comes with a cute side porch, patio, and parking. It's the perfect base to explore historic and local sites on a Leesburg weekend getaway.
2 bedrooms – 4 guests – Cottage on King Street rental info
Updated 1808 Farmhouse Near Oatlands, Leesburg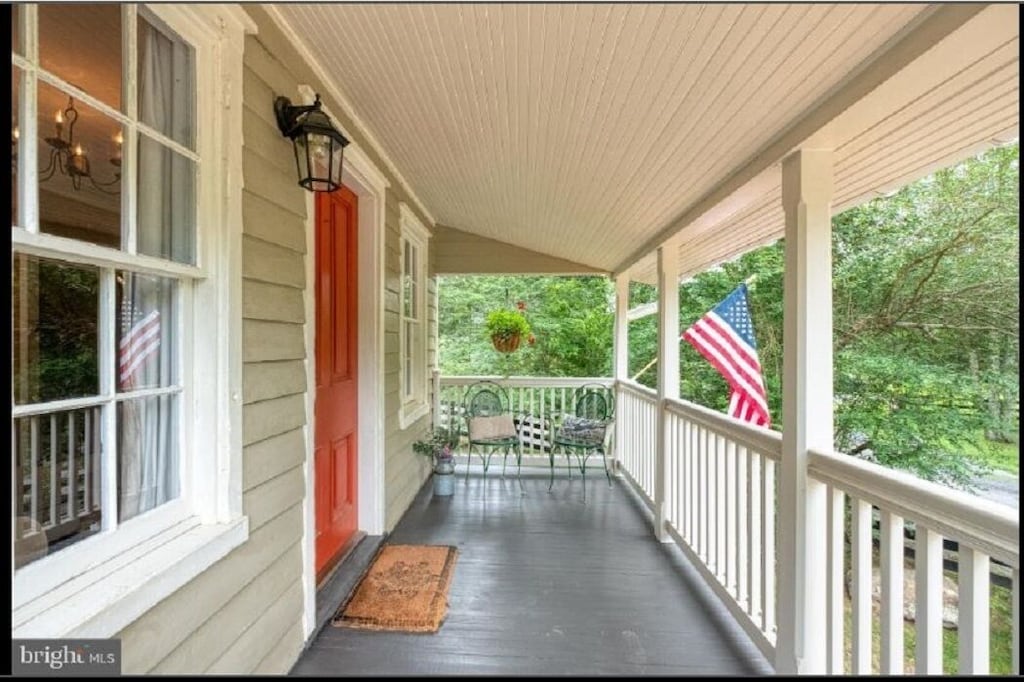 This updated 1808 farmhouse was built as part of Oatlands Plantation. Today, guests enjoy a wonderful blend of historic charm and modern convenience. The location offers easy access to wine country vineyards and tasting rooms, local history, and some of the most beautiful small towns in Northern Virginia.
2 bedrooms – 6 guests – 1808 Farmhouse Cottage near Oatlands rental info
Cute Renovated Schoolhouse, Leesburg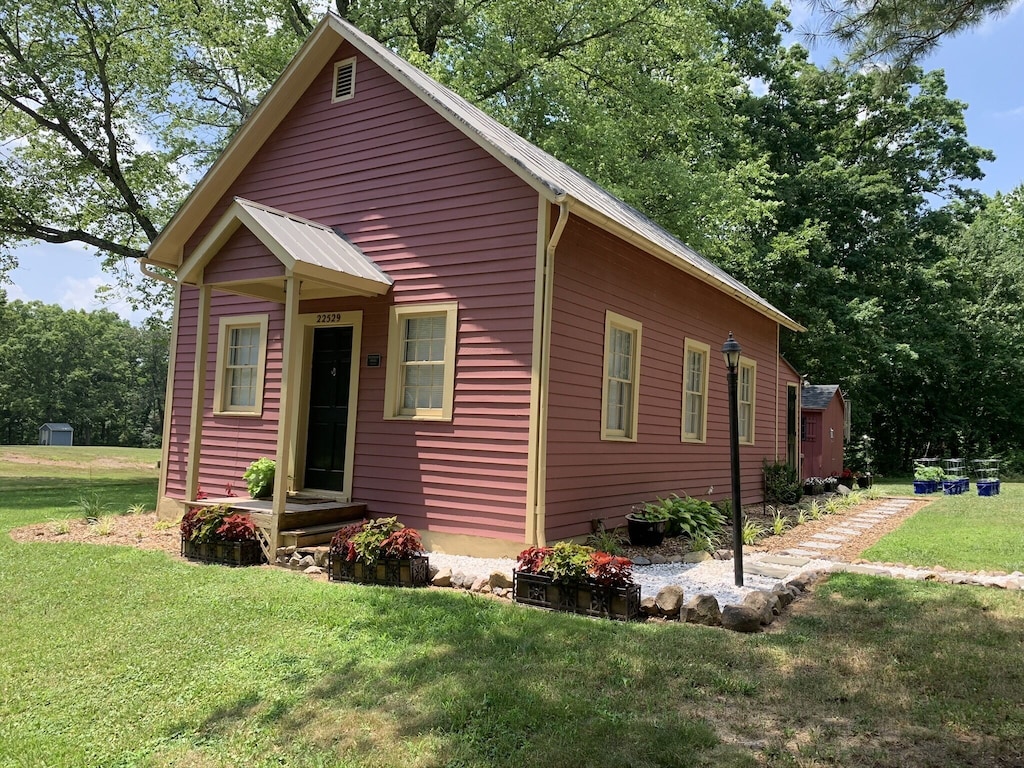 A very unique Leesburg vacation home, this cute renovated Leesburg schoolhouse is close to Gilberts Corner. The interior is updated with modern comforts but the cottage retains its historic charm. This wine country vacation rental has a king bed and bunk beds, so it's a great choice for a family with 2 children.
2 bedrooms – 4 guests – Charming Renovated Schoolhouse rental info
Mountaintop Cabin Overlooking a Vineyard, Leesburg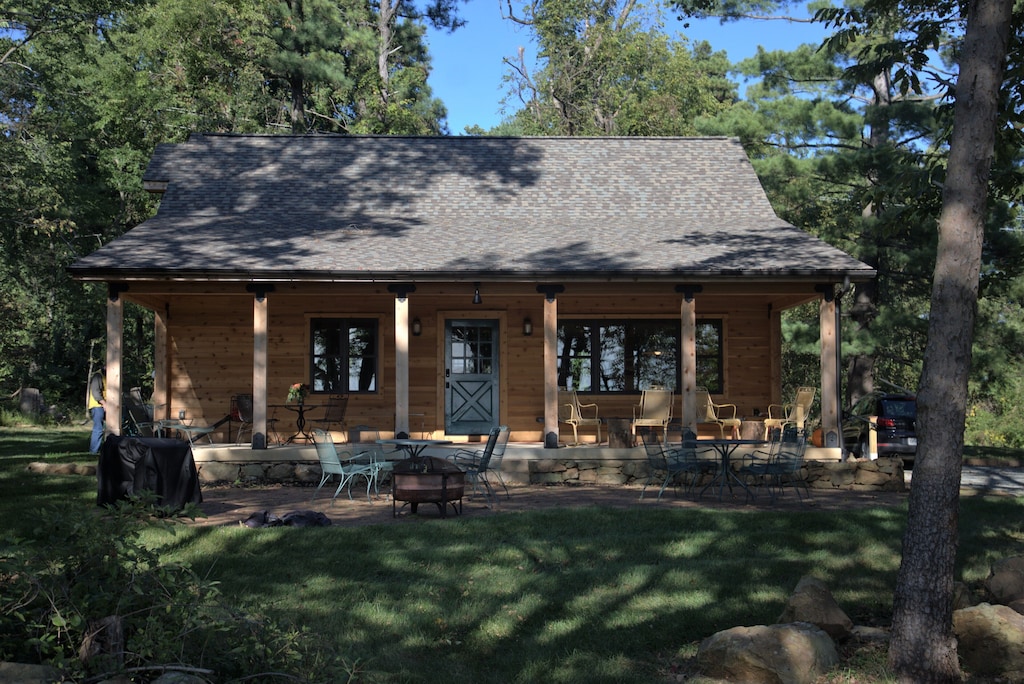 Watch the sunset from your covered front porch or snuggle up around the firepit in this mountaintop cabin overlooking a vineyard. The quiet location, across the street from Willowcroft Vineyard, is a perfect spot to recharge and relax. Three bedrooms, each with an en-suite bathroom, are ideal for a girl's getaway or friends' meet-up.
3 bedrooms – 8 guests – Mountain Cabin in Leesburg rental info
House Above the Barn at MEA Haven Farm, Aldie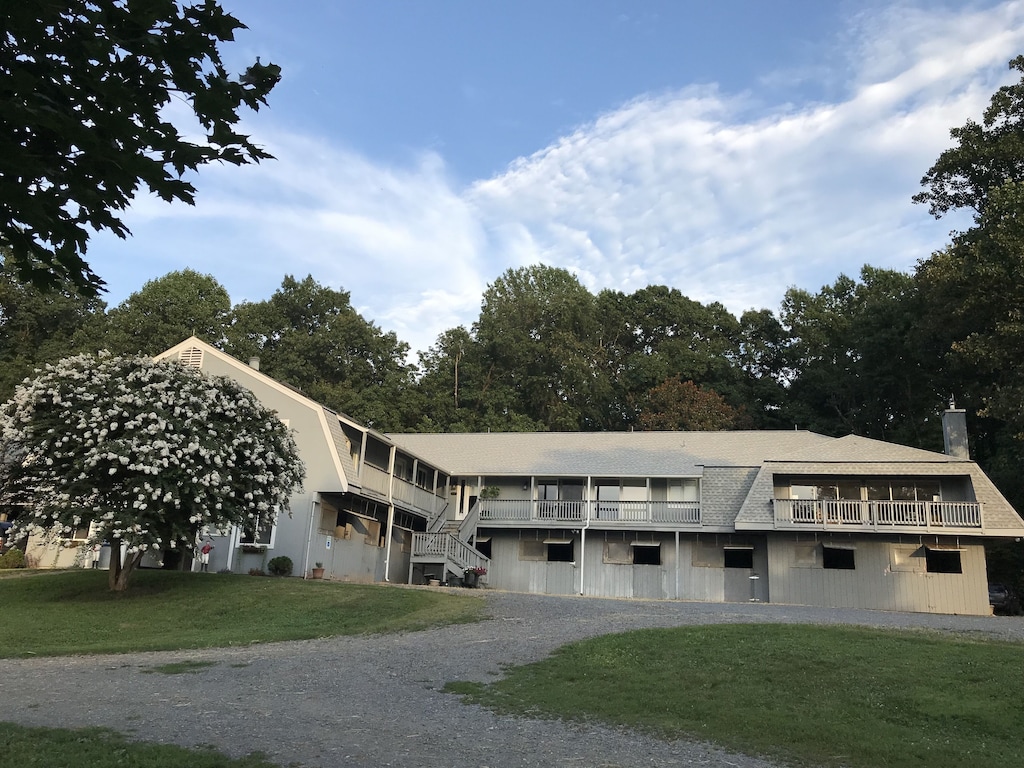 Horse lovers can stay close to the action in this cute apartment above a working horse barn in the quaint town of Aldie. A patio, deck, and yard offer plenty of outdoor space to dine, relax, and play. You can even add meals from a personal chef and treatments from an on-site massage therapist.
3 bedrooms – 6 guests – House Above the Barn rental info
Artist's Studio on Snickersville Turnpike, Middleburg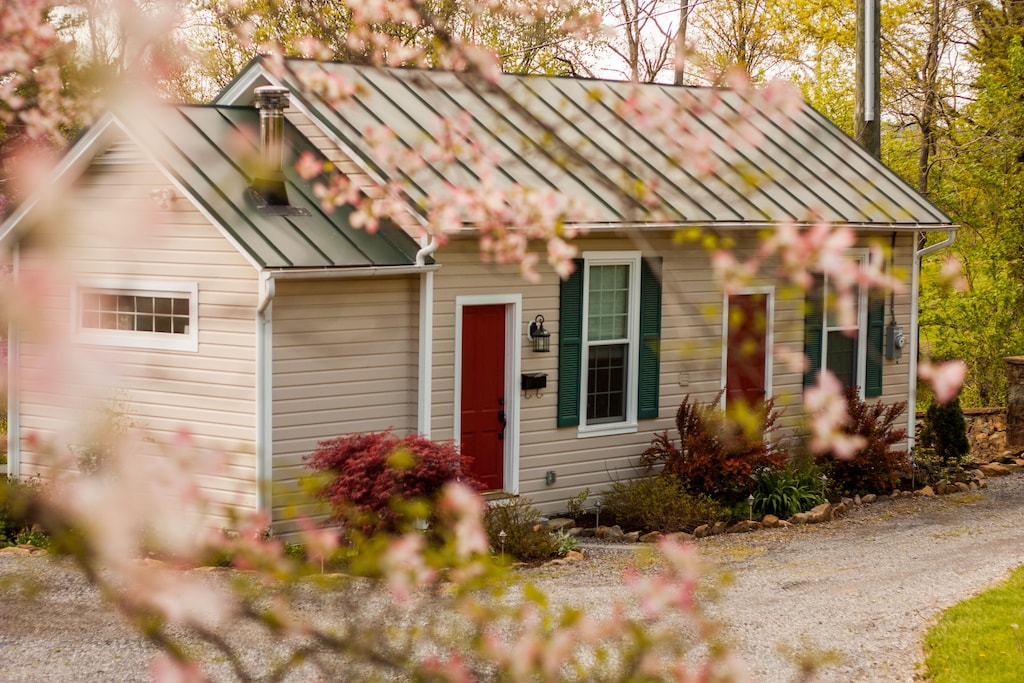 Snuggle up and relax in this cozy artist's studio turned romantic cottage on a beautiful 5-acre property. Take a scenic drive in Virginia Hunt Country, shop and dine in the lovely small town of Middleburg, and explore local wineries and breweries. Then relax with a view of the surrounding gardens and fields. Order the optional breakfast and it will be delivered to your door.
1 bedroom – 2 guests – no children – no pets – Artist's Studio rental info
Antique Filled Cottage on Lowelands Farm, Middleburg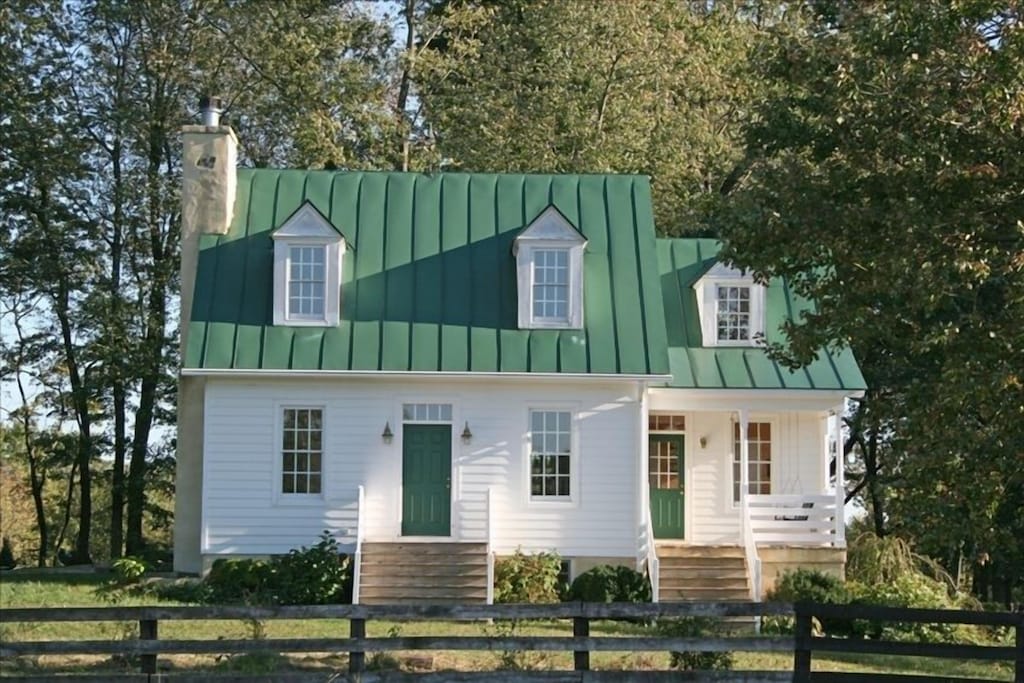 The lovely antique-filled cottage is located on Lowelands Farm in Middleburg. Curl up by the stone fireplace in this beautiful home stocked with antiques. Or head outside to relax on the porch and stroll the farm's Christmas tree fields, gardens, and pastures. Miniature goats, two Scottish Highland cattle, and other farm animals provide extra entertainment.
2 bedrooms – 6 guests – Cottage on Lowelands Farm rental info
Hunt Country Cottage, The Plains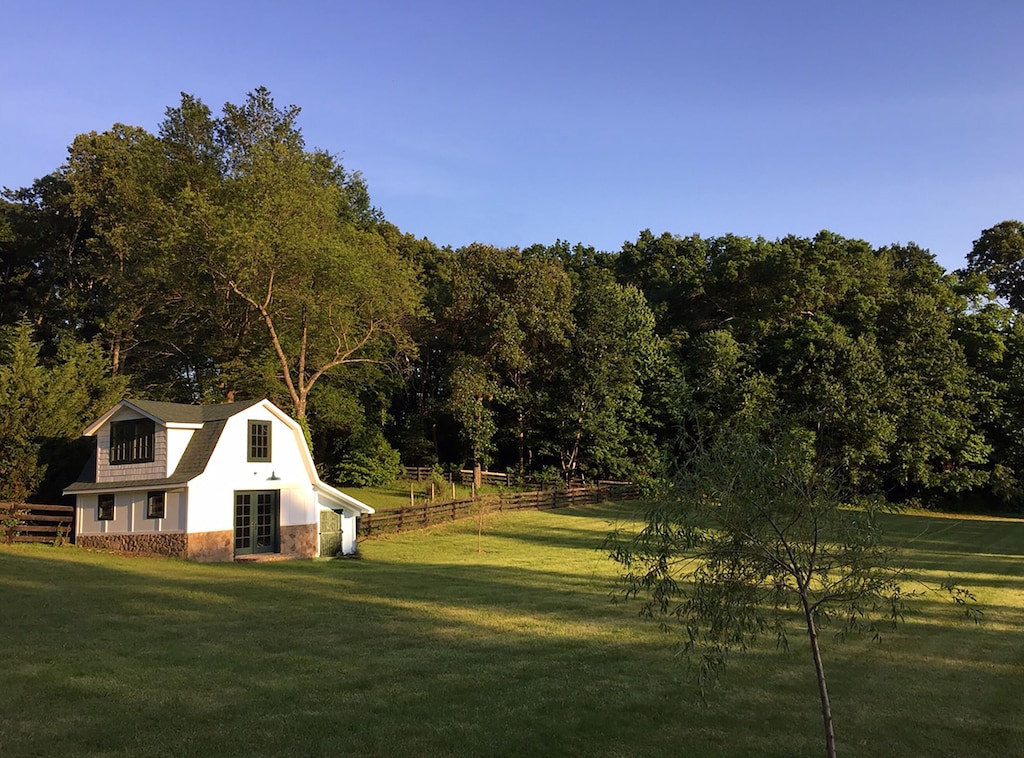 It's hard to beat the peaceful country setting of this Hunt Country cottage in The Plains. Outdoors, a large deck and a gorgeous outdoor fire pit are bordered by an expansive lawn. Indoors, guests enjoy a comfortable open-plan living space with a fully equipped kitchen. The Plains is a lovely small town and the perfect base for a scenic day in Virginia Hunt Country.
3 bedrooms – 8 guests – Hunt Country Cottage rental info
Historical Cottage, Paris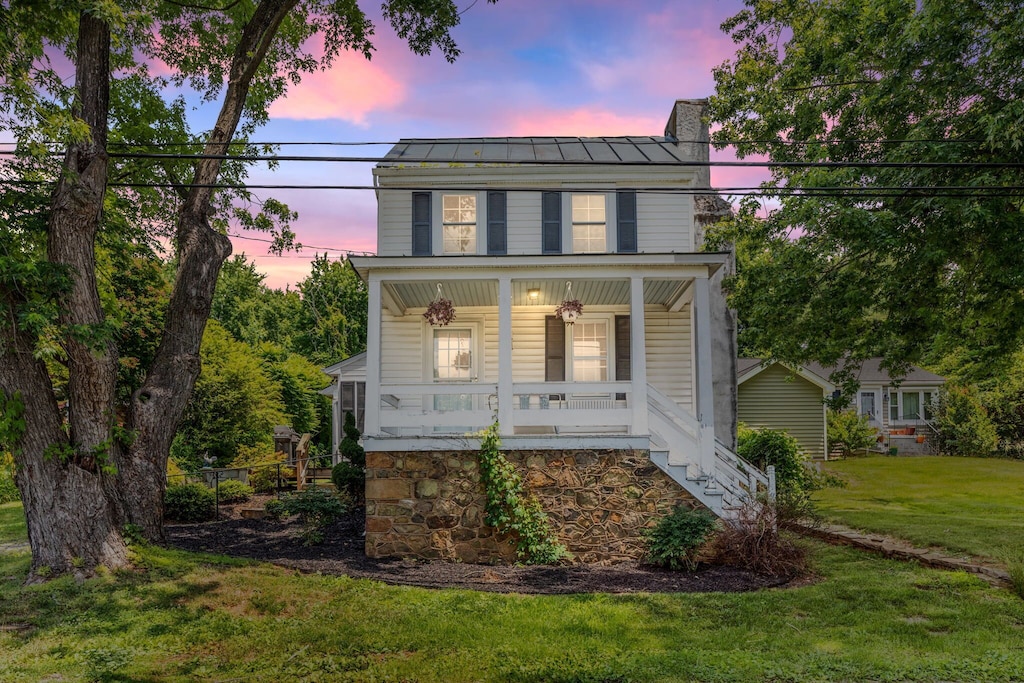 The tiny town of Paris Virginia is home to this adorable historic cottage. Take a hike at Sky Meadow State Park, just down the road, enjoy dinner down the street at the Ashby Inn, or just relax by the fireplace.
1 bedroom – 2 guests – Historical Cottage in Paris rental info
Wine Country Vacation Rentals Tips
Below are some of the techniques we use to select the perfect getaway rental for our needs. We've also listed articles that highlight places to go and things to do in Northern Virginia Wine Country. Follow the links to help plan your getaway itinerary.
Tips for Choosing Vacation Rentals
We have chosen vacation rentals during many years of travel using sites like VRBO, Airbnb, and other local agencies. Apartment and home rentals generally offer more flexible space and amenities than a standard hotel room.
The Wine Country vacation rentals listed here provide a unique experience in neighborhoods and towns travelers might not otherwise see. Here are a few things you can do to select the right vacation rental for you.
Read reviews closely to get a good feel for what to expect at your rental.
Click through the photos to see if the spaces match your desired experience.
Filter listings based on quality and experience. For example, on VRBO check the box for Premier Host and top ratings.
Use filters to select amenities that are essential to you, like wifi or children's equipment.
Pay close attention to use and cancelation policies.
When in doubt, contact the host with questions before you book using the site's messaging tools.
Things to Do From These Wine Country Vacation Rentals
All of the Northern Virginia Wine Country vacation rentals on our list are in or near Loudoun County Virginia. Every rental is close to quaint towns, scenic country roads, wineries, breweries, local restaurants, and unique experiences. Plan your getaway with these articles about things to do and see in wine country.
Whether you are planning a weekend getaway or a longer trip to the countryside we wish you a happy stay at these amazing Northern Virginia Wine Country vacation rentals.
Looking for more awesome getaways in the Washington DC Region? Check our round-up of 21 Fantastic Weekend Getaways In and Near Northern Virginia. Or impress your love with a stay at these 22 Fabulous Romantic Getaways from Washington DC. Check our Getaway archives for even more day trips and vacation destinations.
Follow us on Facebook, Twitter, Pinterest, and Instagram for more fun travel in and from Northern Virginia.
Pin it for Later: