Meadowlark Botanical Gardens offers 95 acres of stunning beauty, paved and natural paths, beautiful cherry blossoms and seasonal plantings, and a unique Korean Bell Garden. The garden is located just 18 miles west of Washington DC in Northern Virginia.
This gem in the NOVA Parks collection welcomes nature lovers of every age. Visitors enjoy scenic spaces where kids can play, adults can relax, and everyone can explore Virginia's natural beauty.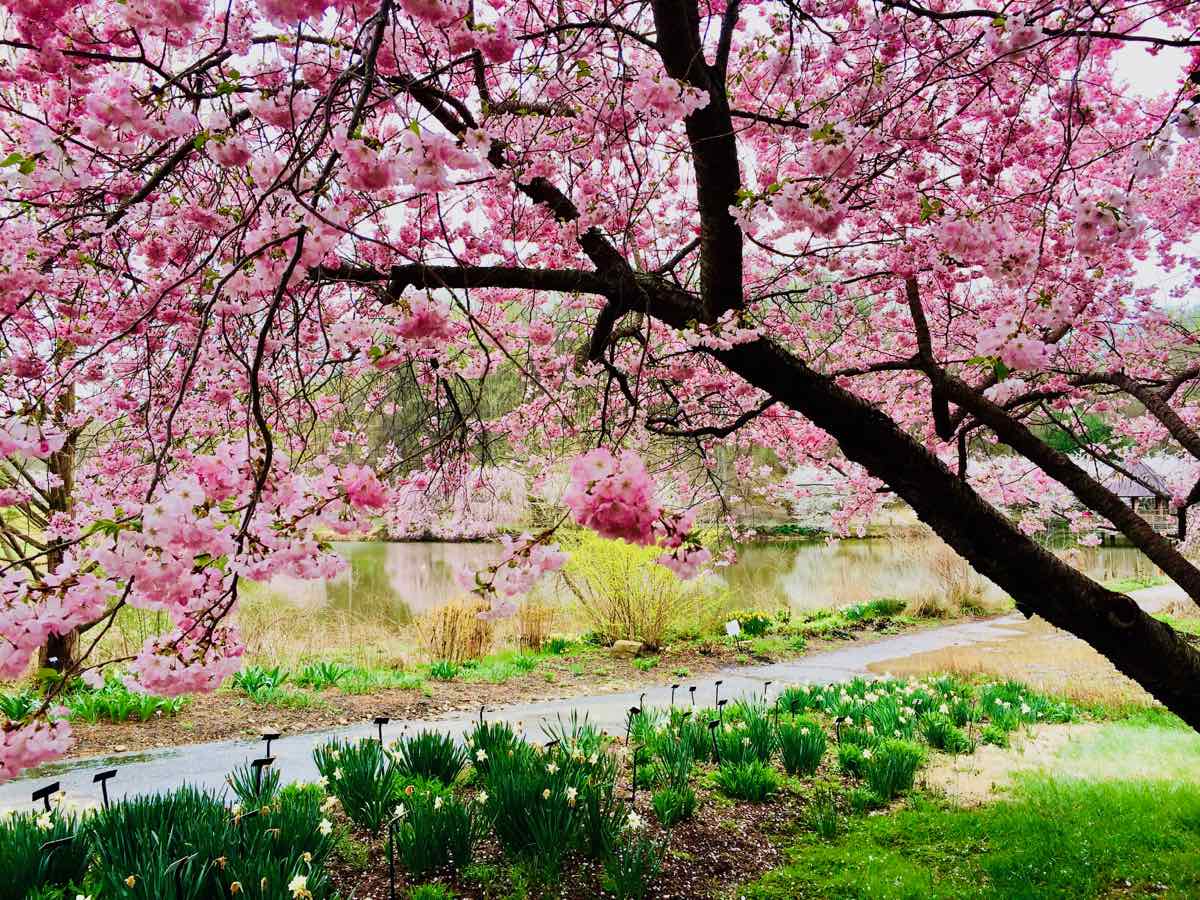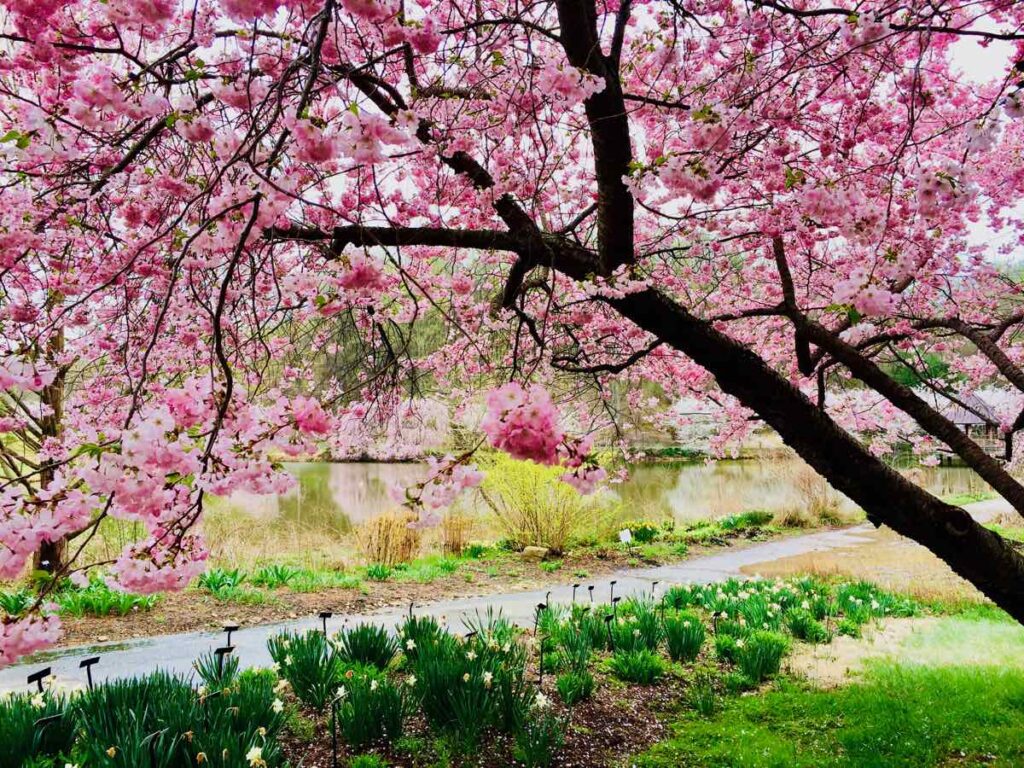 Meadowlark Botanical Gardens is managed by NOVA Parks, which maintains parkland throughout the Northern Virginia region. In 2012, the first Korean Bell Garden in the Western Hemisphere opened at Meadowlark. The centerpiece is a 3-ton "Bell of Peace and Harmony" beautifully decorated with symbols from Korea and Virginia.
Disclosure: This article may contain affiliate links. We will make a small commission from these links if you order something, at no additional cost to you.
Find more beautiful botanical gardens in Virginia with our complete guide to Gorgeous Gardens In Virginia and Washington DC.
When our children were young we were frequent visitors to Meadowlark Gardens. They could practice walking on the wide paved paths, look for turtles and fish in the pond, and picnic in the small pavilion just outside the main entrance. Now that we are empty nesters we return to the garden regularly to see the magnolias and cherry blossoms in spring, to relax by the pond in summer, and visit a holiday favorite, the Winter Walk of Lights.
Meadowlark Botanical Gardens Cherry Blossoms
The famous cherry trees at the Washington DC Tidal Basin draw visitors from around the world. Meadowlark Gardens is a perfect day trip destination for visitors who want to see more of the spring blooms.
The cherry blossoms at Meadowlark fill the entry area and surround the scenic ponds. Easy parking without the DC crowds offers plenty of opportunities to capture the perfect cherry blossom photo.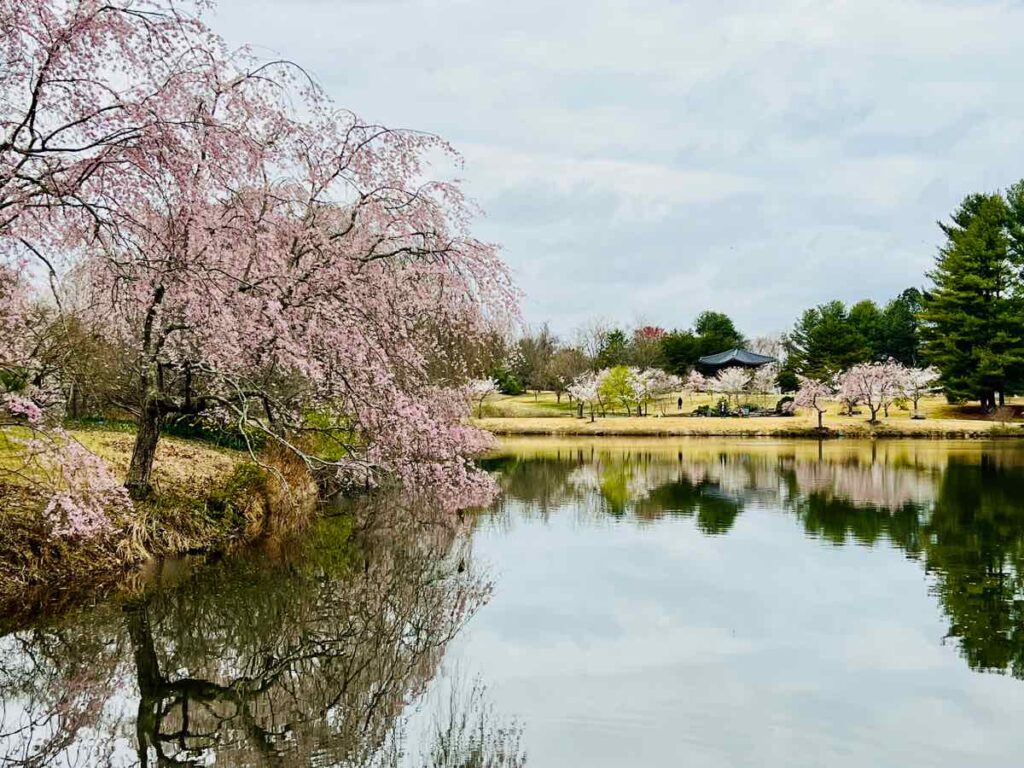 Discover more ways to Celebrate Spring in Northern Virginia with Festivals and Fun Adventures.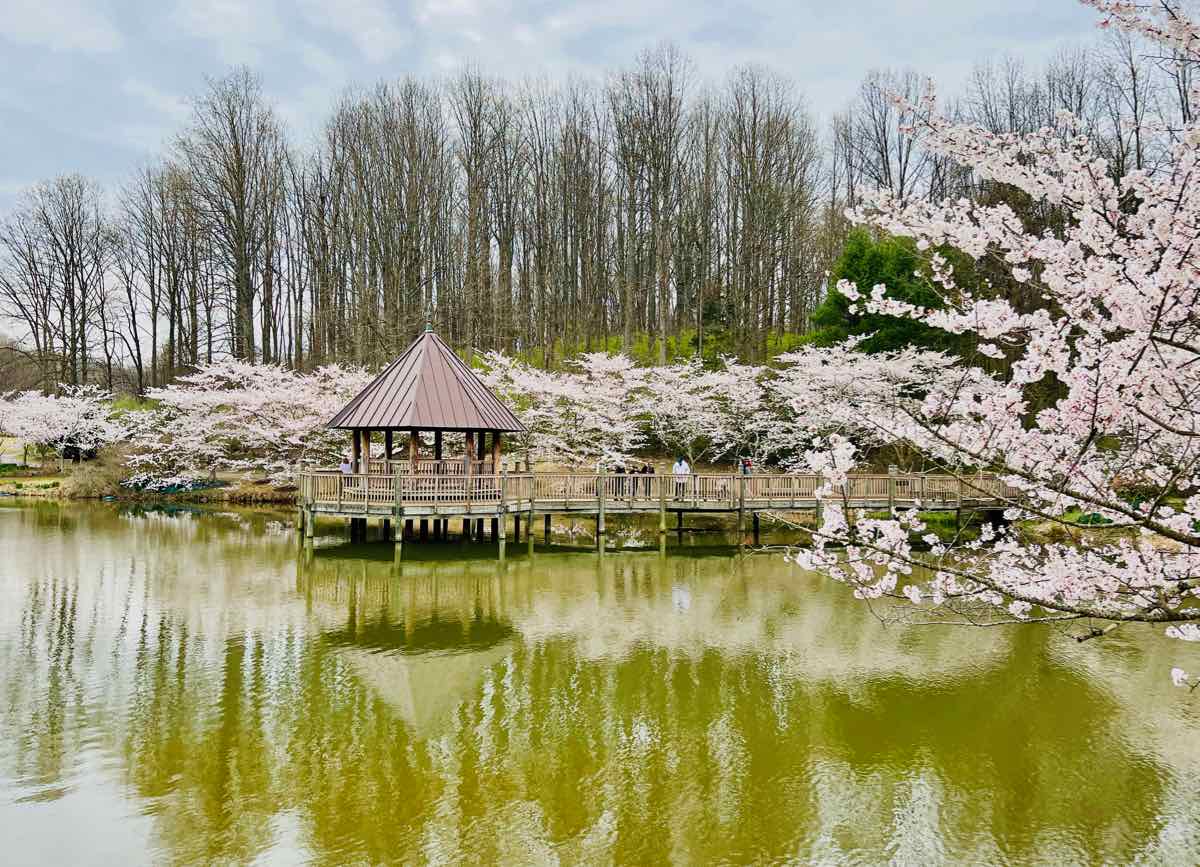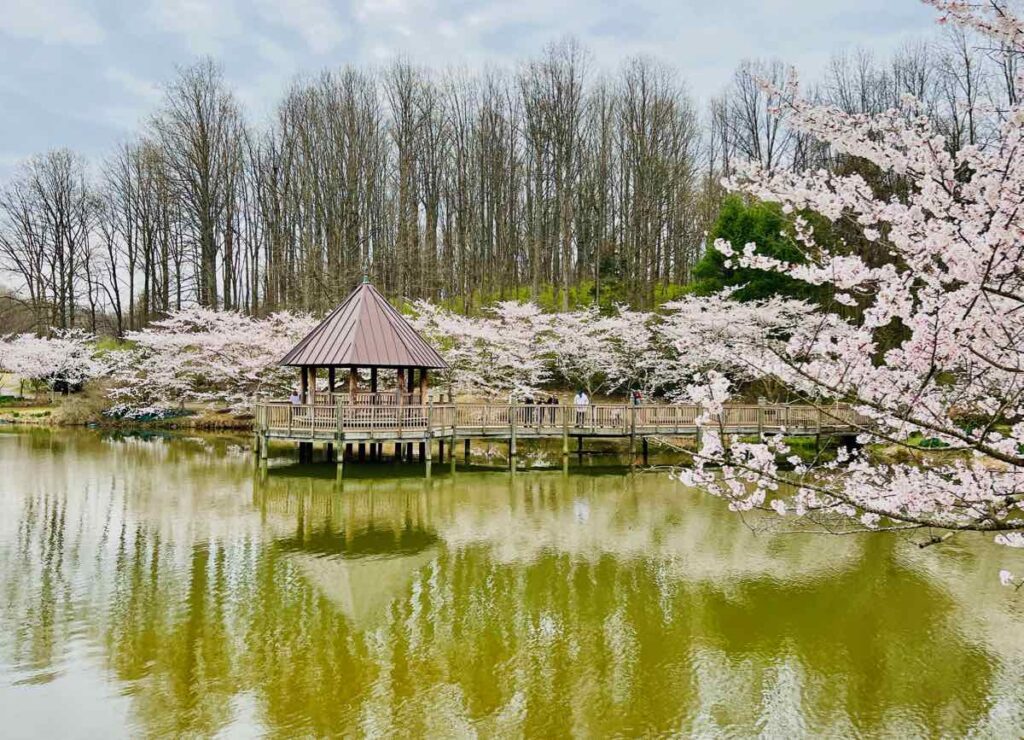 Most of the cherry trees at Meadowlark bloom at the same time, or a few days after, the blossoms at the Tidal Basin. There are also some lovely late bloomers in the Atrium parking lot and along the perimeter trail outside the park.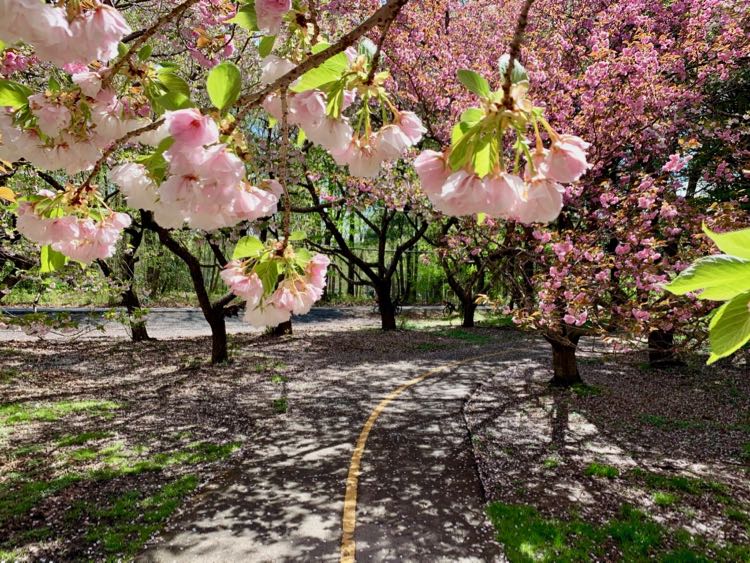 Cherry blossoms are just one of the many beautiful blooms to see. Magnolias, tulips, bluebells, and more fill the garden and there is something new to see throughout the year.
Things to Do with Kids at Meadowlark Gardens
Young kids will find a lot to love at this Vienna botanical garden. Meadowlark's paved paths are easy for toddlers to walk. There is a winding, accessible path down to the lake that is stroller and wheelchair-friendly. Bigger kids will enjoy hiking the wooded, dirt paths.
Lake Carolyn is stocked with big, colorful koi and turtles that visitors can watch from a bridge and gazebo. A nearby Children's Garden has fun interactive displays and kids love to walk the bridges between islands.
Explore Meadowlark and the Korean Bell Garden
Wander the paths, both paved and dirt, to explore Meadowlark's extensive collection. Native Potomac Valley plants, seasonal flower beds, a small hardwood forest, and a bog garden offer a nice variety of flora.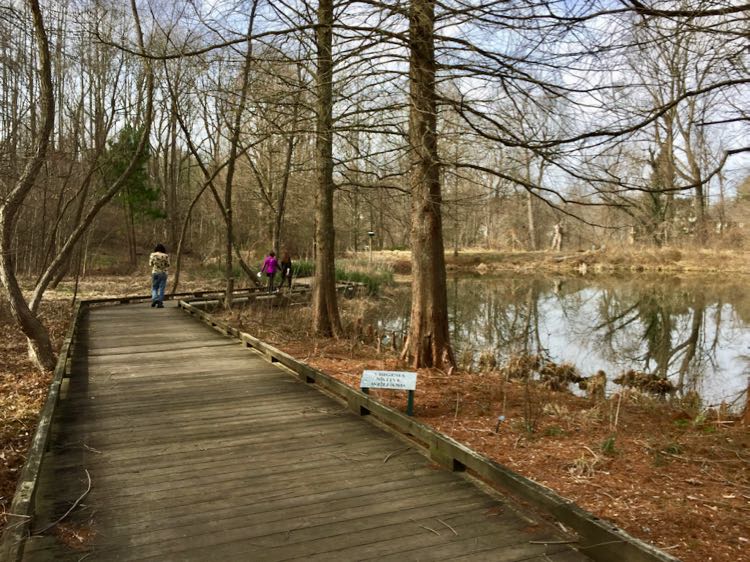 The main trails in the center of the gardens are surrounded by flower beds. Be sure to explore the side trails through the woods too. For example, you can see cypress knees from the short boardwalk in the Virginia Native Wetlands area.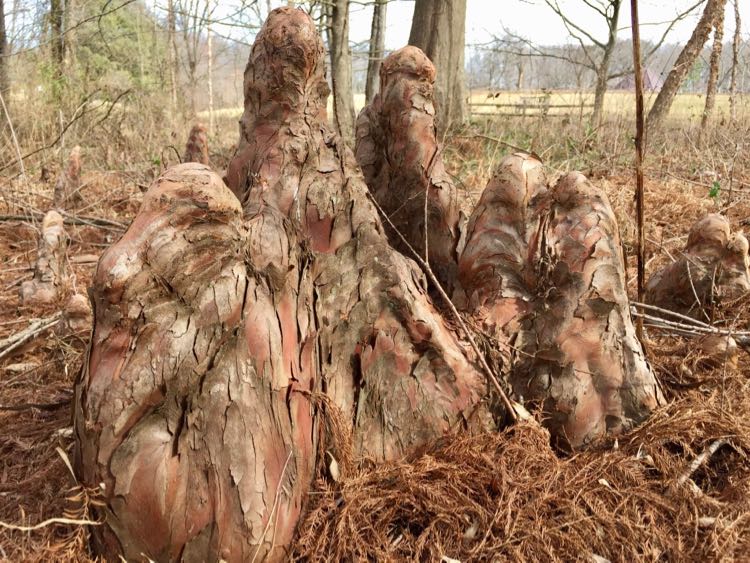 There are benches and Adirondack chairs sprinkled throughout the 95 acres, offering peaceful and romantic spots to sit and enjoy the flora. In fact, Meadowlark is one of our favorite places to relax in Northern VA.
Korean Bell Garden at Meadowlark
The Korean Bell Garden, the only one of its kind in the Western Hemisphere, is one of the most interesting areas to visit at Meadowlark. Pathways wander through several traditional Korean structures and artworks. At the top of the hill is a pagoda that houses the huge Korean Bell.
"It is called the Bell of Peace and Harmony and was cast by one of the best bell makers in Korea in a way that has been used for centuries. The pagoda structure was completely built by hand in a way that has been used for thousands of years. The bell was created in South Korea with many traditional Korean images such as birds, plants, and animals, as well as images symbolic of Virginia." — Meadowlark website
Whether you visit Meadowlark Gardens to relax in nature, visit the Korean Bell, or just walk the paths, you are sure to enjoy the peace and beauty of this wonderful park.
Find more NoVA fun in our guide 20 Must See Northern Virginia Hidden Gems Rich in Nature and History
Tips for Your Visit to Meadowlark Botanical Gardens
Meadowlark Gardens Admission Fees
The modest Meadowlark Gardens admission fee helps to maintain and protect this Northern Virginia gem. Adults pay $6, while Seniors 55 and over and youth 6 to 17 pay only $3 for a full day at the gardens. Children under 6 are free; making Meadowlark an economical destination for families with young children.
Purchase an annual pass if you plan to make multiple visits during the year. A single pass is $35 and a family pass is $50 and covers two members, two guests, and all family members 18 and younger. That's a fantastic discount for a large family in Northern Virginia. Multi-year memberships are also available.
Winter at Meadowlark Botanical Gardens
The gardens are a beautiful place to visit in winter, even though many plants are dormant. In fact, this is one of our favorite places for a winter walk because the paved paths don't get muddy and are usually clear even after snow. Happily, there is no admission charge to enter Meadowlark during the day from December through February.
We saw an impressive collection of winter blooms, during one mid-February visit.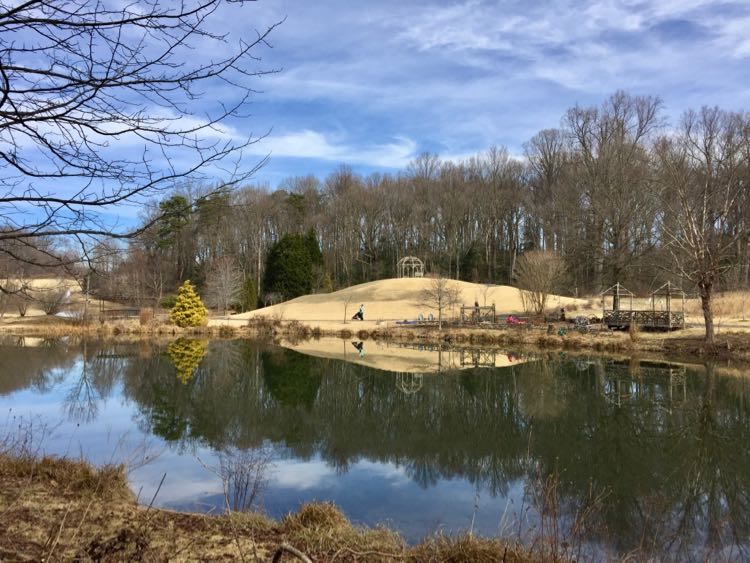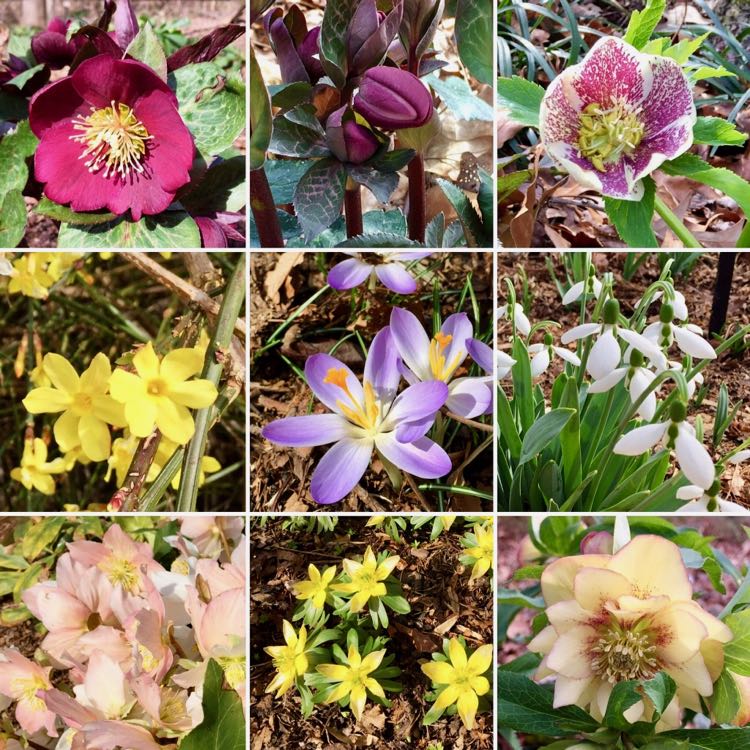 Meadowlark Gardens Hours and Events
The garden opens daily at 10:00 AM. Closing hours vary by month; from 4:30 in November and December, to 8:00 in the summer months of June through August. Admission ends half an hour before closing time, and the garden is open for special events on major holidays including Thanksgiving, Christmas, and New Year's Day.
Special events during the year add early openings and evening hours. Several times a year the garden opens at 6:00 AM for Early Morning in the Gardens. This popular event allows early entry for photographers, birders, and anyone who wants to catch the morning light. Subscribe to the NOVA Parks newsletter to learn about special events at Meadowlark and other Northern Virginia regional parks.
Annual events include the Meadowlark Botanical Gardens Easter Egg Hunt; the Annual Korean Bell Garden Celebration in May; and the Winter Walk of Lights in December.
Find more information on the Meadowlark Gardens website.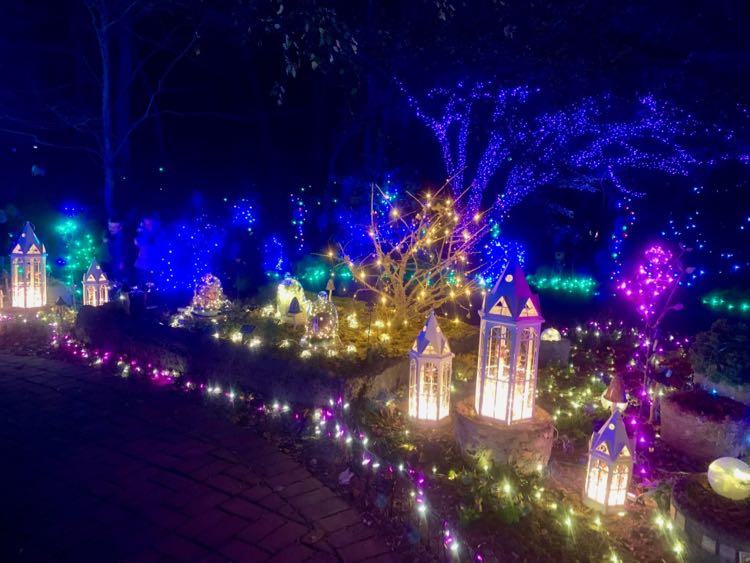 Find more special events in our guide 70 Favorite Festivals in Northern Virginia.
Meadowlark Gardens Weddings and Parties
Botanical gardens are a popular and lovely location for a wedding or other special occasion. Meadowlark offers multiple venues for weddings including an indoor Atrium and three outdoor gazebos. The Atrium is also popular for corporate events and business functions. The Lilac Pavilion, located just outside the garden, is a nice location for a casual family gathering.
Follow the link for information about Meadowlark Gardens weddings and event spaces.
Where is Meadowlark Botanical Gardens?
Meadowlark Gardens is located at 9750 Meadowlark Gardens Court in Vienna Virginia, about 18 miles west of Washington DC. The easiest way to reach the garden from DC is to drive west on Route 66 and the 267 Toll Road. The George Washington Memorial Parkway offers a slightly longer but more scenic alternate route. Avoid driving to Vienna during commuter hours, and note that traffic on route 66 is limited to HOV use during the evening rush hour.
If you like to cycle and don't mind some hills you can reach Meadowlark Gardens using a combination of metro and bike-share.
Take the Silver Line metro to the Weihle-Reston East station.
Check out one of the Capital Bikeshare bikes and ride east on the Washington & Old Dominion bike trail
After you cross Hunter Mill Road, turn left on the W&OD Connector Trail. This hilly 1.25-mile trail leads directly to Meadowlark Botanical Gardens.
There is no public transportation directly to Meadowlark Gardens. Spring Hill is the closest Metro station, but it's a bus ride and a 1-mile walk from there.
Extend your trip with a visit to these nearby restaurants, parks, and places near Vienna Virginia:
Follow us on Facebook, Twitter, Pinterest, and Instagram for more fun travel in and from Northern Virginia.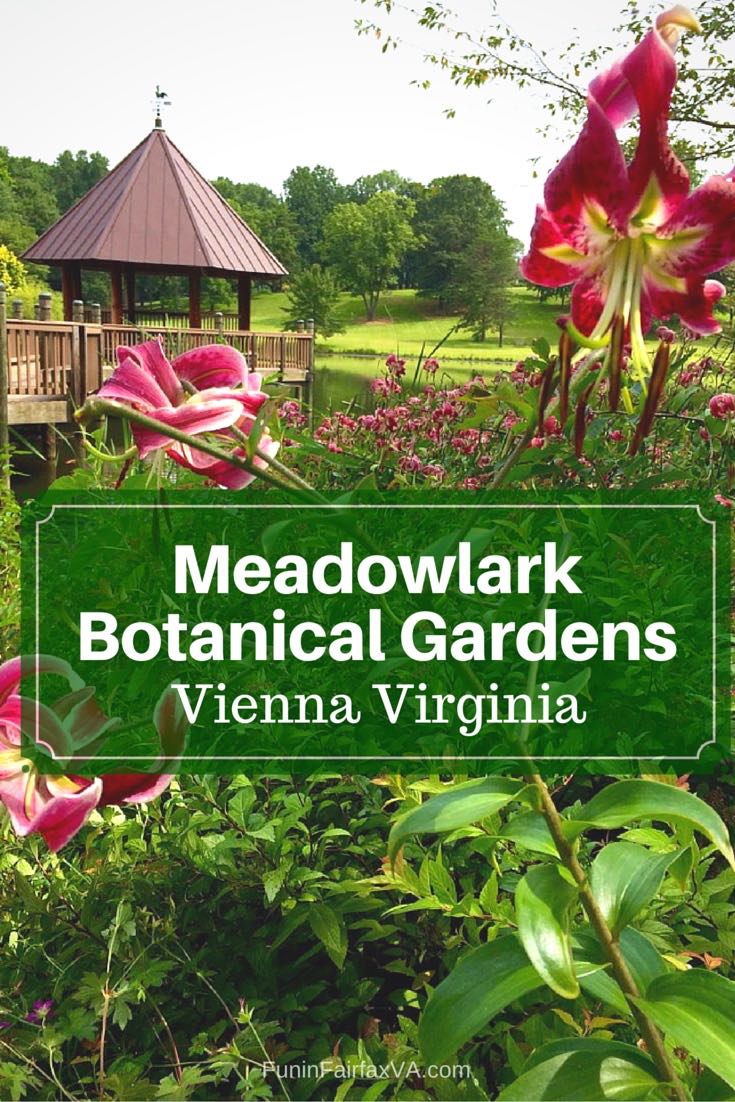 This article was published in 2014 and last updated in 2021.