Find the best things to do in Leesburg Virginia from the charming downtown packed with restaurants and shops, to scenic wineries, parks, and historic sites in the surrounding countryside. There are fun and interesting things to do in Leesburg VA for every age and interest. The quaint town is a must-visit in Northern Virginia for history buffs, shoppers, beer and wine lovers, families, and foodies.
The town of Leesburg was founded in 1758, and the beautifully preserved downtown is a great destination for local dining in casual to refined restaurants. Downtown Leesburg is also home to several great craft breweries and unique local shops.
Leesburg is also a perfect base for exploring Loudoun County's many farms, wineries, and breweries. Stay at the Lansdowne Resort and Spa and you'll be close to all of the Leesburg destinations on our list. Learn more about where to stay in the Leesburg area and plan your trip with our Leesburg Getaway Guide to Northern Virginia Wine Country.
Disclosure: This article may contain affiliate links. We will make a small commission from these links if you order something, at no additional cost to you.
Fantastic Things to Do in Leesburg Virginia
Many of the best places to visit in Leesburg are located in and near the historic downtown. Others are a short drive away in the surrounding Loudoun County countryside, one of our favorite areas to wander.
Historic sites capture important periods of Colonial, Civil War, and 20th-century history in Virginia. In addition, parks near the Potomac River and around town offer fun and free things to do in Leesburg. In fact, sites like Balls Bluff Battlefield combine both history and nature.
Leesburg has been the county seat of Loudoun County since its founding. The town was an important crossroads for trade between Shenandoah Valley farmers near Winchester and merchants in Alexandria. Today, Leesburg is a thriving suburban community and a popular day trip or weekend getaway for visitors to the Washington DC region.
We are frequent visitors to town, and our list of things to do in Leesburg keeps expanding. Below are our favorite Leesburg activities and destinations. We list downtown places first followed by nearby places to visit in Loudoun County.
Shop Downtown Leesburg Stores and Boutiques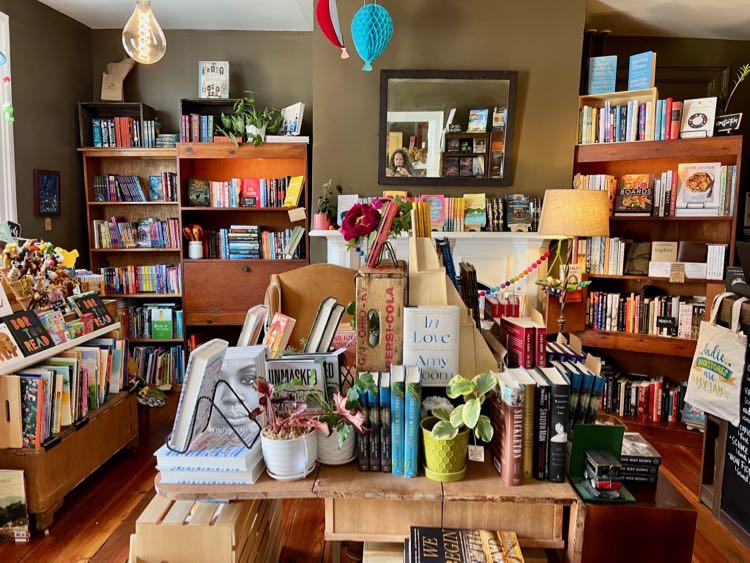 The streets of historic downtown Leesburg are lined with small local boutiques and galleries perfect for a day of relaxed shopping. All of the Leesburg shops are worth a visit but our favorites include:
Visit during the holidays when downtown Leesburg becomes a sparkling Christmas town, perfect for gift shopping and festive fun.
Admire Architecture and History in Leesburg's Downtown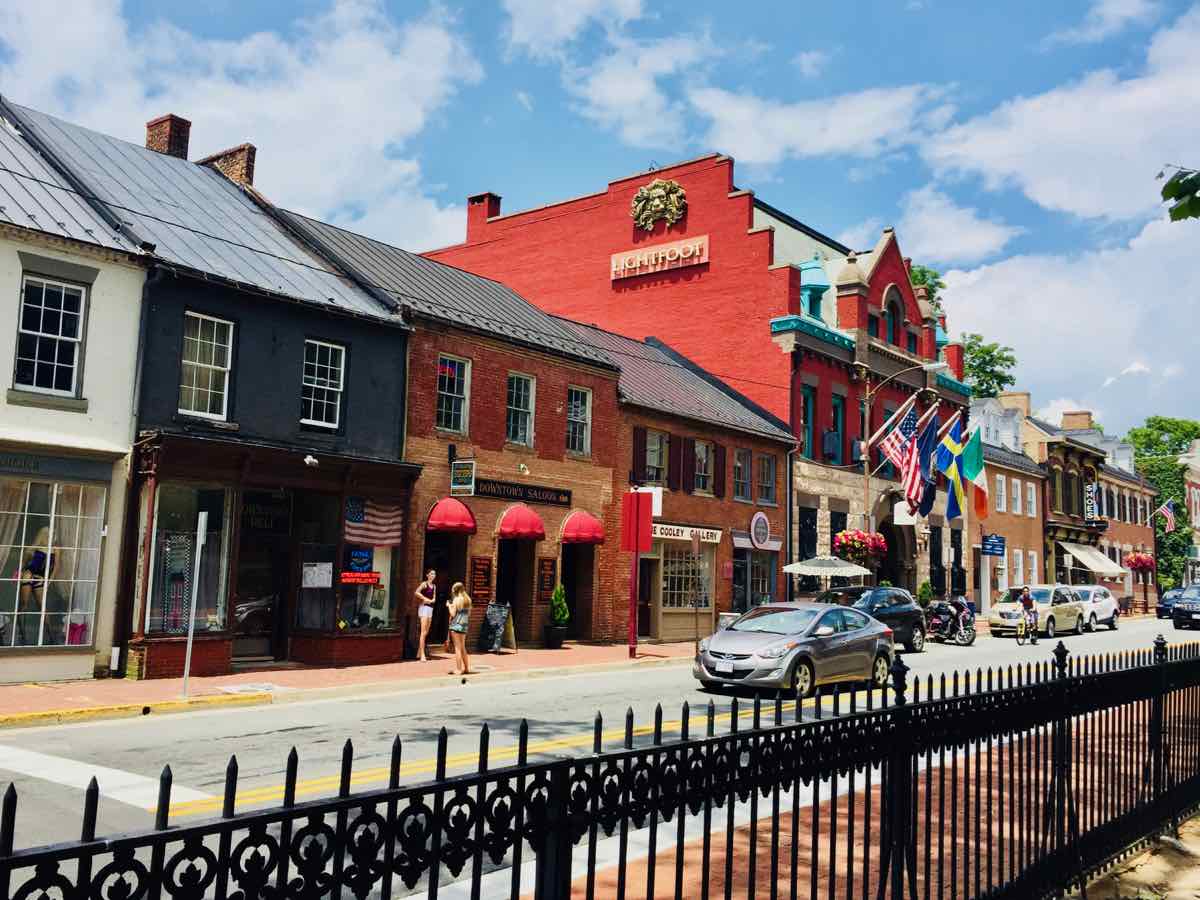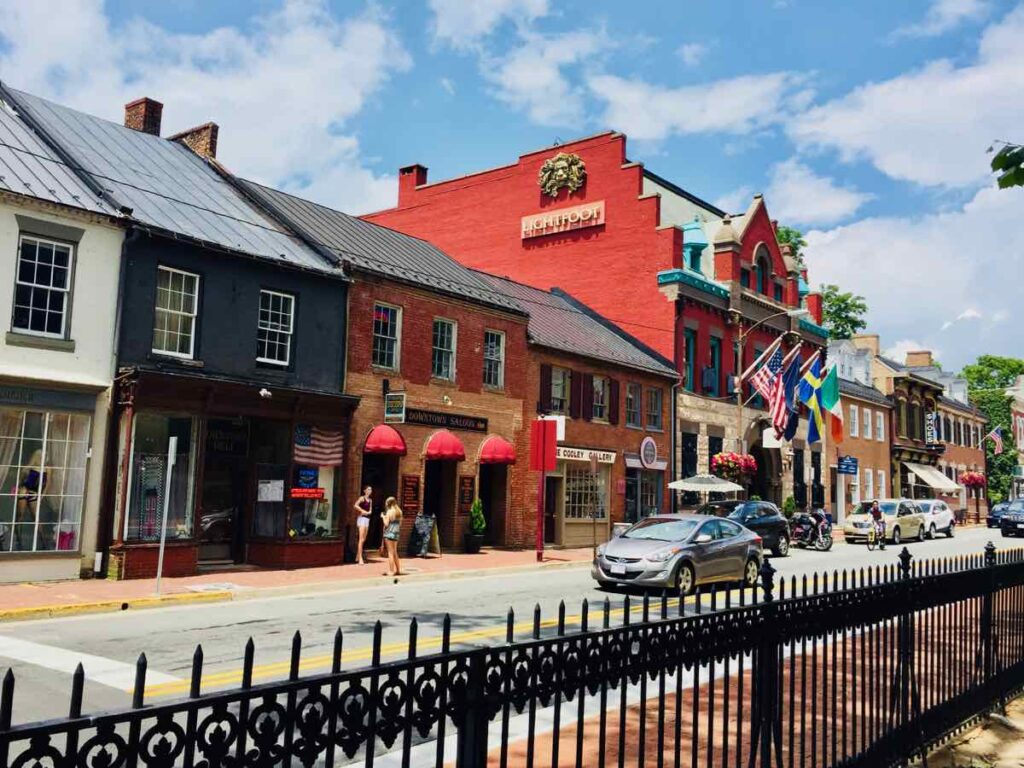 Leesburg Virginia has been the center of Loudoun County government for over 250 years. Begin your visit at the Loudoun County Court Square to learn about Confederate and Union encounters in Leesburg during the Civil War.
From the Courthouse, walk the streets of the downtown area to see well-preserved historical buildings and homes hugging the streets. Or book this highly-rated walking tour of historic Leesburg for a fascinating dive into local history.
The Thomas Balch Library is an excellent stop for history and genealogy research. The library also serves as a designated Underground Railroad Research Facility.
Visit the Loudoun Museum
Explore local history at the Loudoun Museum on King Street. Outside, a powerful mural shows enslaved people escaping to freedom across the Potomac River. Inside, exhibits present the story of Leesburg's role in the Civil War, Loudoun County's history, and the development of Northern Virginia Wine Country.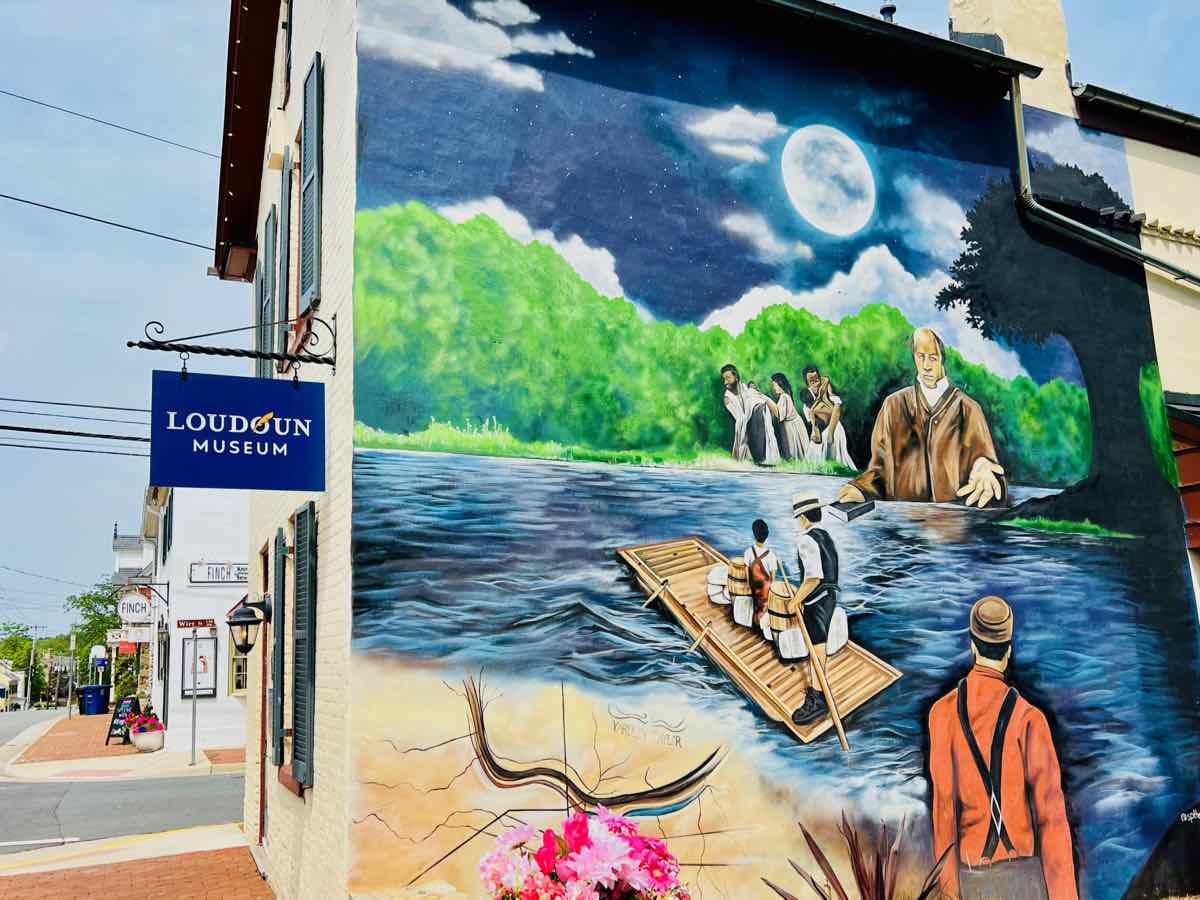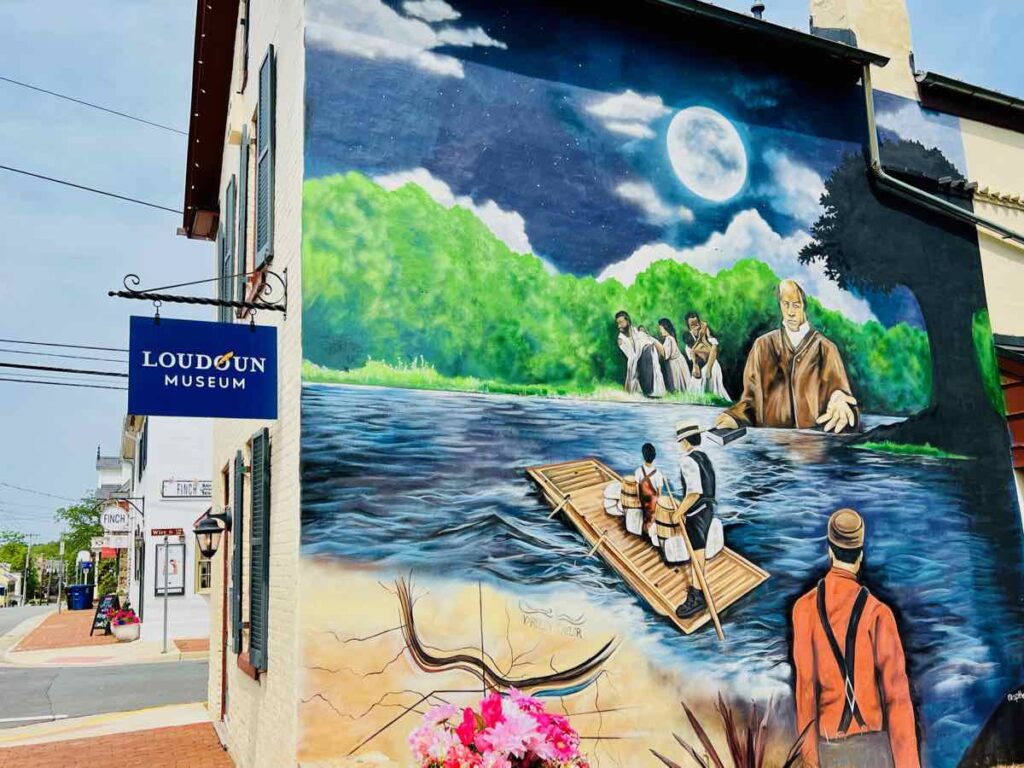 We particularly like the timeline room which traces local history from the 1700s to the present. Here we learned new details about local historic sites. For example, the only sitting member of Congress to die in battle was killed in action at nearby Balls Bluff Battlefield (more info below).
The Loudoun Museum is open Friday through Sunday, 10:00 to 4:00, and stays open late on Leesburg First Friday nights.
Tour George C. Marshall's Dodona Manor
Enjoy an excellent tour of George C. Marshall's Dodona Manor, home to one of the great leaders of the 20th century. General Marshall directed the Allied victory in World War II and authored a plan for Europe's post-war reconstruction now known as the Marshall Plan. In addition, he served the nation as Secretary of the Army, Secretary of Defense, Envoy to China, and President of the Red Cross.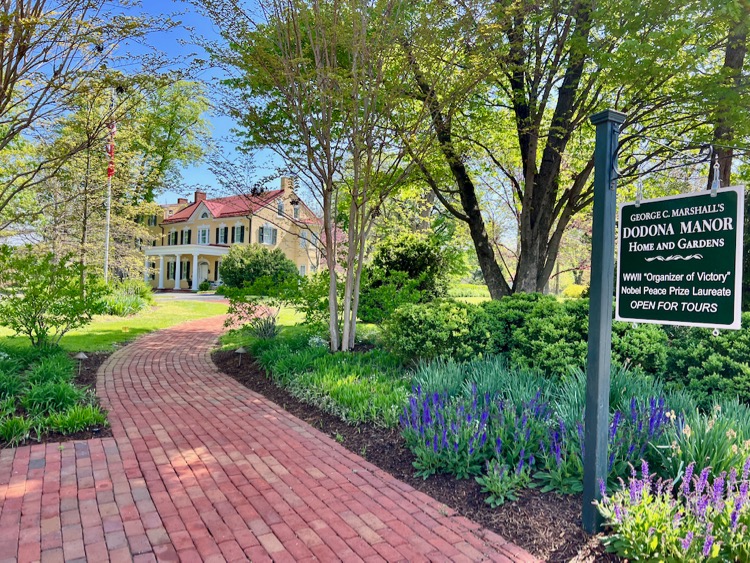 Dodona Manor contains furnishings and items used by the Marshalls so you'll see the property much as it existed during their time here. House tours cover the first and second floors including the couple's separate bedrooms and the guest room where Madame Chaing Kai-Shek once stayed.
Allow time to explore the grounds and gardens at this National Historic Landmark. Dodona has vegetable and rose gardens, a beautiful collection of trees, and spacious lawns perfect for picnicking. The Marshall House hosts guided tours on Saturdays and Sundays plus special events including a July 4th weekend celebration.
Bike the Washington & Old Dominion Trail
The 45.5-mile paved Washington & Old Dominion Bike Trail passes directly through the town of Leesburg. In addition, there are 10 miles of dedicated and shared Leesburg bike trails that connect to the W&OD.
The W&OD section from Leesburg west to Purcellville is especially scenic. Cyclists heading west from town encounter a 4-mile-long gradual climb over Catoctin Mountain through Clark's Gap on a winding and mostly shady trail. Stop in Purcellville for tasty barbecue and brews before your return trip to Leesburg.
Attend a Show at the Tally Ho Theater
Enjoy a fun evening of live performances at the intimate Tally Ho Theater in downtown Leesburg. Built in 1931, the Tally Ho operated as a single-screen movie theater for 80 years. Today, the renovated art deco venue hosts a diverse line-up of music and Improv shows.
Find a Feline Friend at the Catty Corner Cafe
Looking for indoor things to do in Leesburg? You can pat and snuggle an adorable furry friend while you relax with a drink and a cookie at Catty Corner Cafe. New in 2022, the cat lounge is home to a lovely collection of kitties from the Humane Society of Loudoun, all ready for adoption. For $22 you get an hour lounging with the kitties, a cookie and drink included.
Check Out Cool Leesburg Murals
There are several great murals in Leesburg and two of our favorites are close to downtown and the W&OD. A Discover the Charm mural by the Liberty Street parking lot makes a nice backdrop for a group or couple's photo. A nearby building is covered with flowers and the words Flourish and Grow.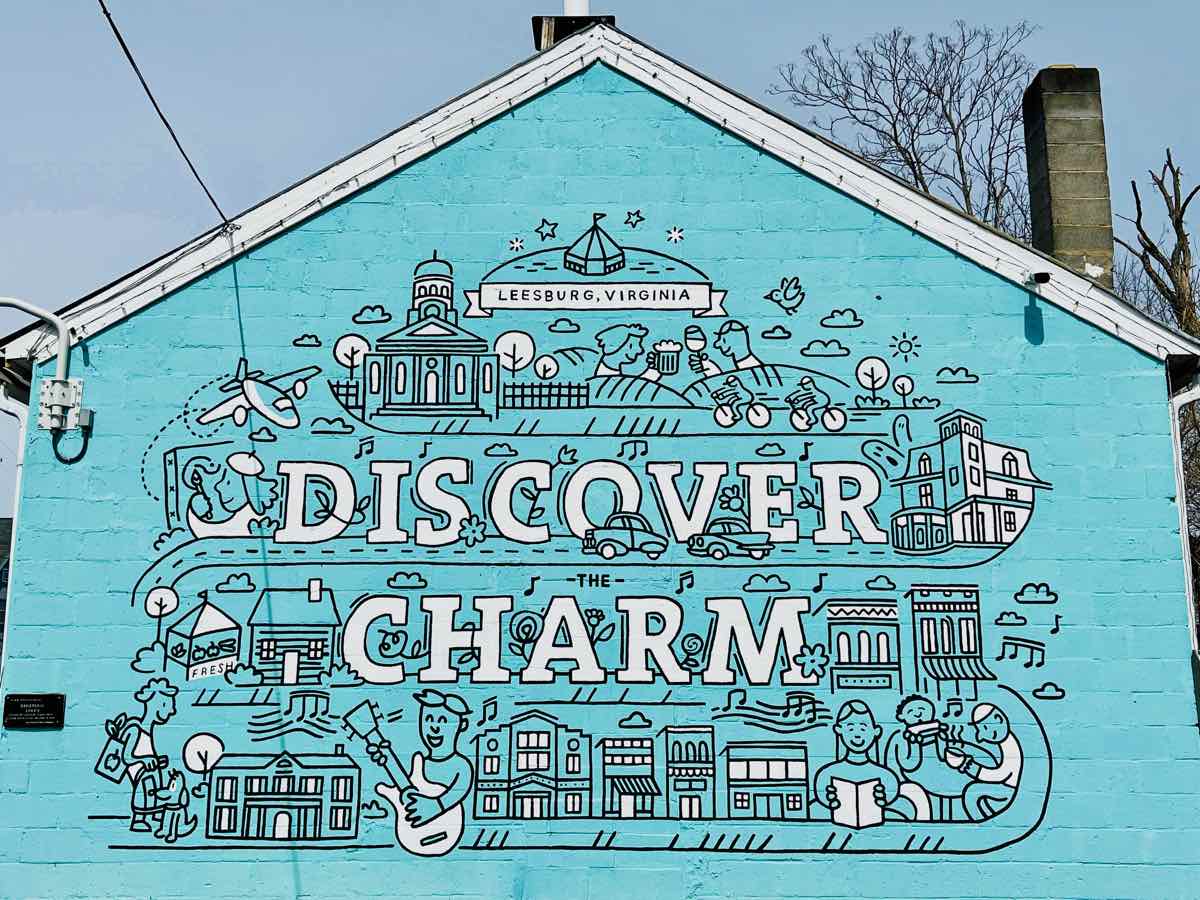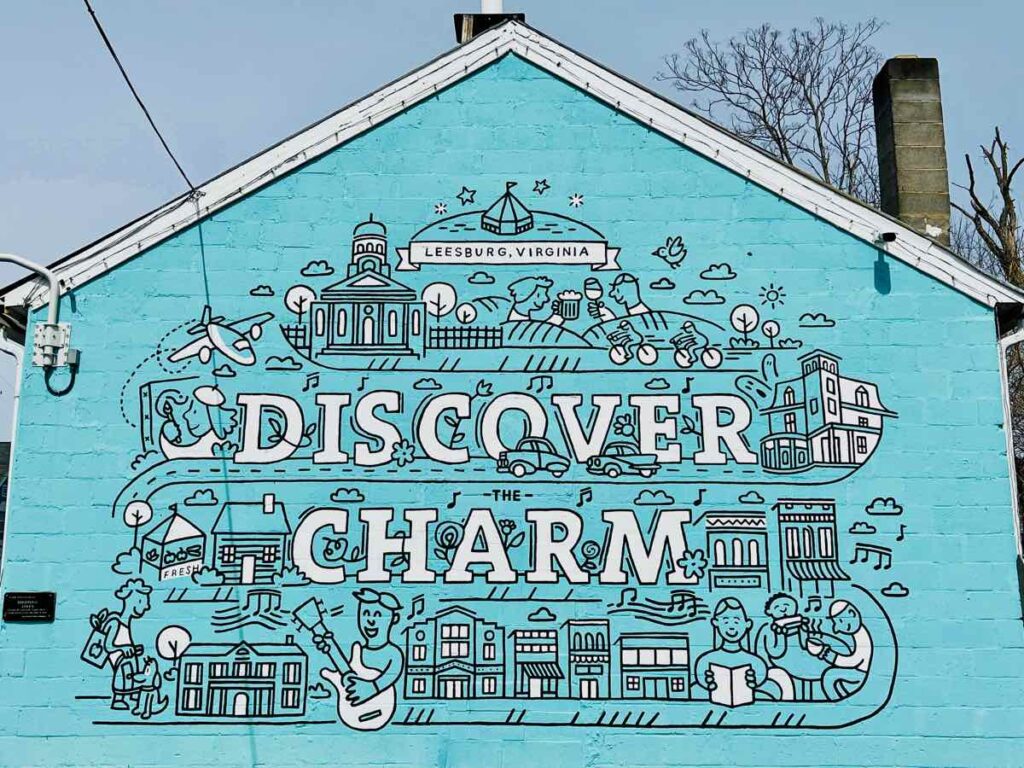 There's a great train mural on the King Street Bridge. One side shows an on-coming train engine while the other side shows the end of the caboose. Find more information and mural locations on the Leesburg Public Arts website.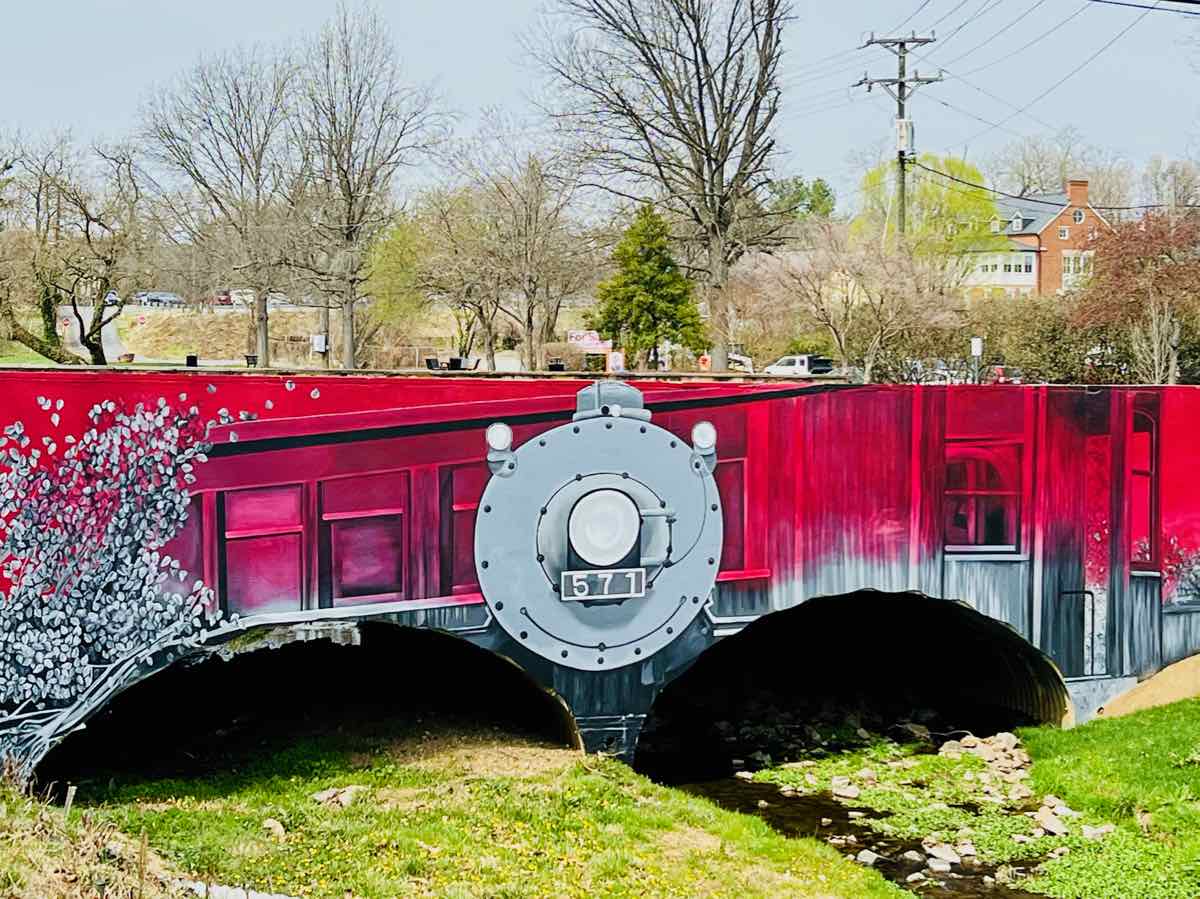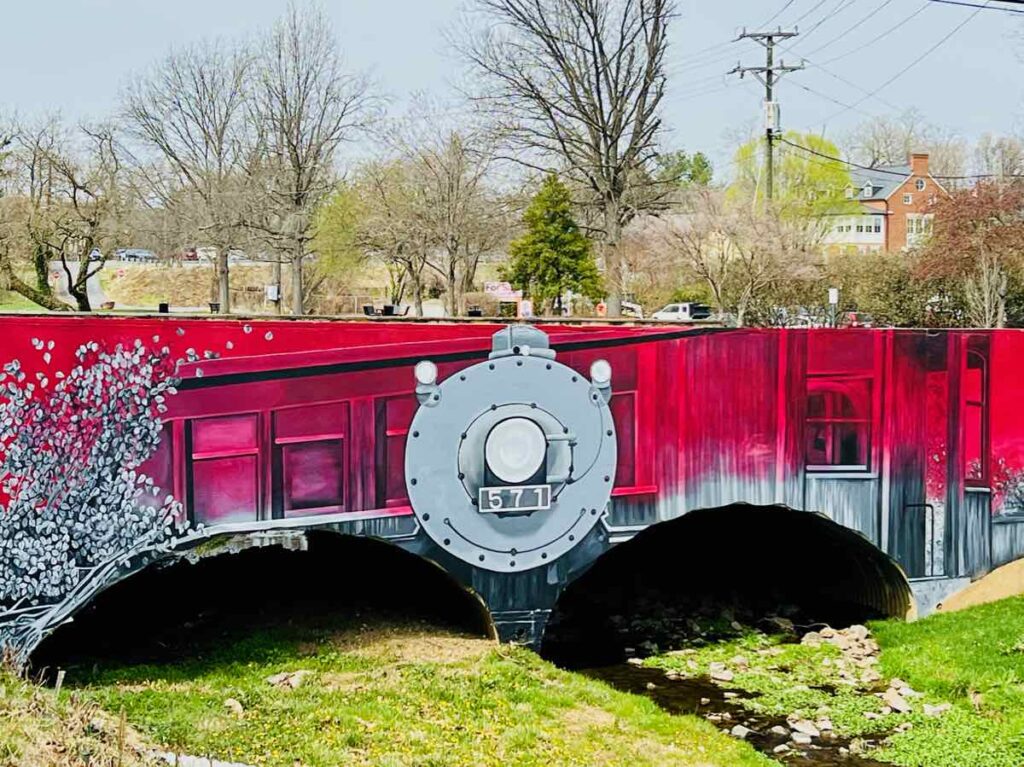 Play Indoors + Out at Ida Lee Park
Just north of the historic downtown, a visit to Ida Lee Park is one of the best things to do with kids in Leesburg. The 138-acre park boasts nice indoor and outdoor facilities for year-round fun.
Outdoor facilities at Ida Lee Park include walking trails, 2 playgrounds, picnic areas, athletic fields, and a pretty gazebo. At the Ida Lee Park Tennis Center guests can play on indoor and outdoor tennis courts. A 1.8-mile loop trail circles the park and includes a Native Tree Walk with more than 35 native Virginia trees planted by the Leesburg Garden Club.
In addition, the Ida Lee Park Recreation Center features 2 indoor pools, basketball courts, and a fitness center. The nearby AV Symington Aquatics Center is an outdoor waterpark with a lazy river, slides, a water play area for young kids, and more.
More Nice Parks in Leesburg VA
Leesburg Parks and Rec manages more than 15 parks throughout the city. Several of the parks offer athletic facilities plus picnic tables, playgrounds, and short nature trails.
Here are more of the special facilities to enjoy at Leesburg Parks:
Dine at Local Leesburg Restaurants
Whether you want a special occasion meal or a quick treat, local dining is one of the best things to do in Leesburg VA. Many of the best Leesburg restaurants are located on King Street, the main street through the historic downtown. Others are a short drive away.
Below are some of the Leesburg restaurants we recommend. Find more details and dining suggestions in our guide to 10 Tasty Leesburg Restaurants to Eat and Drink Local in Virginia.
Favorite Downtown Leesburg Restaurants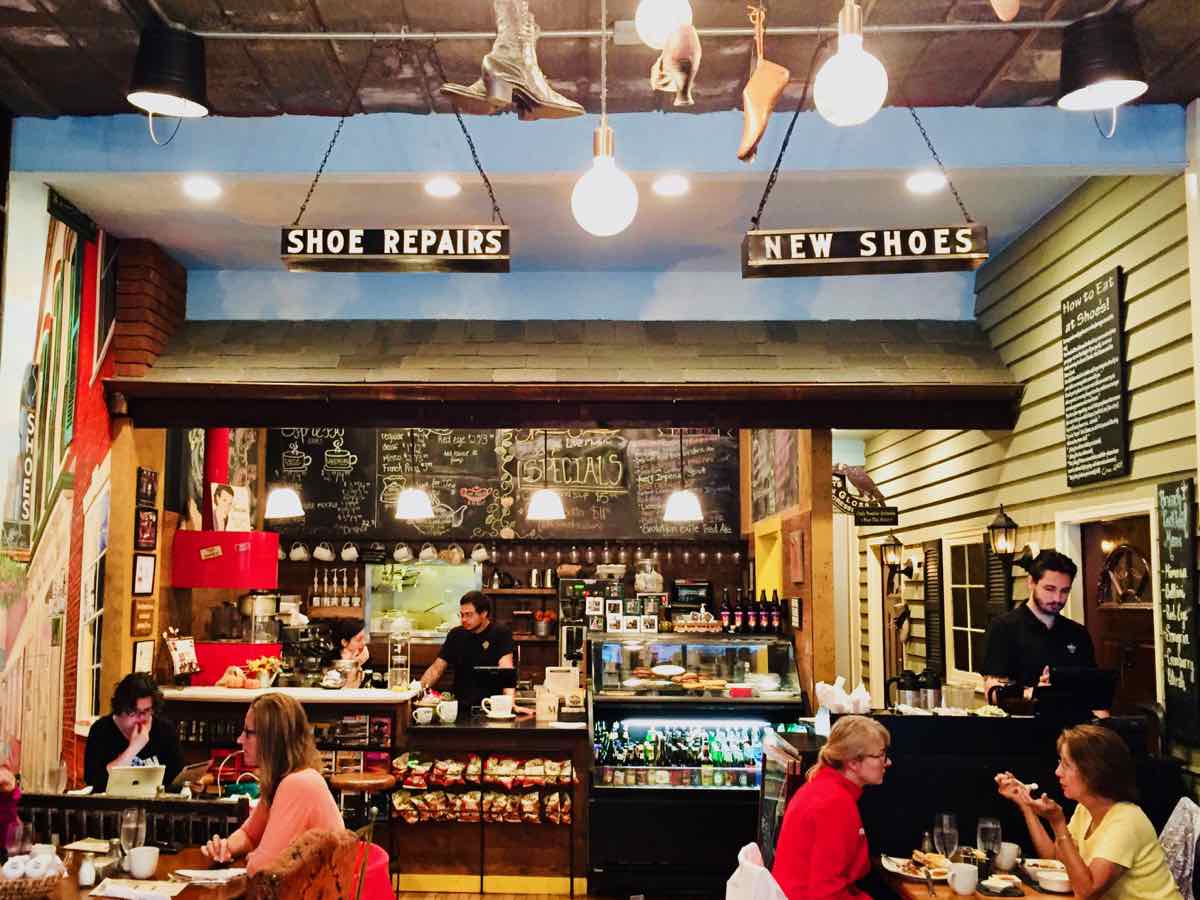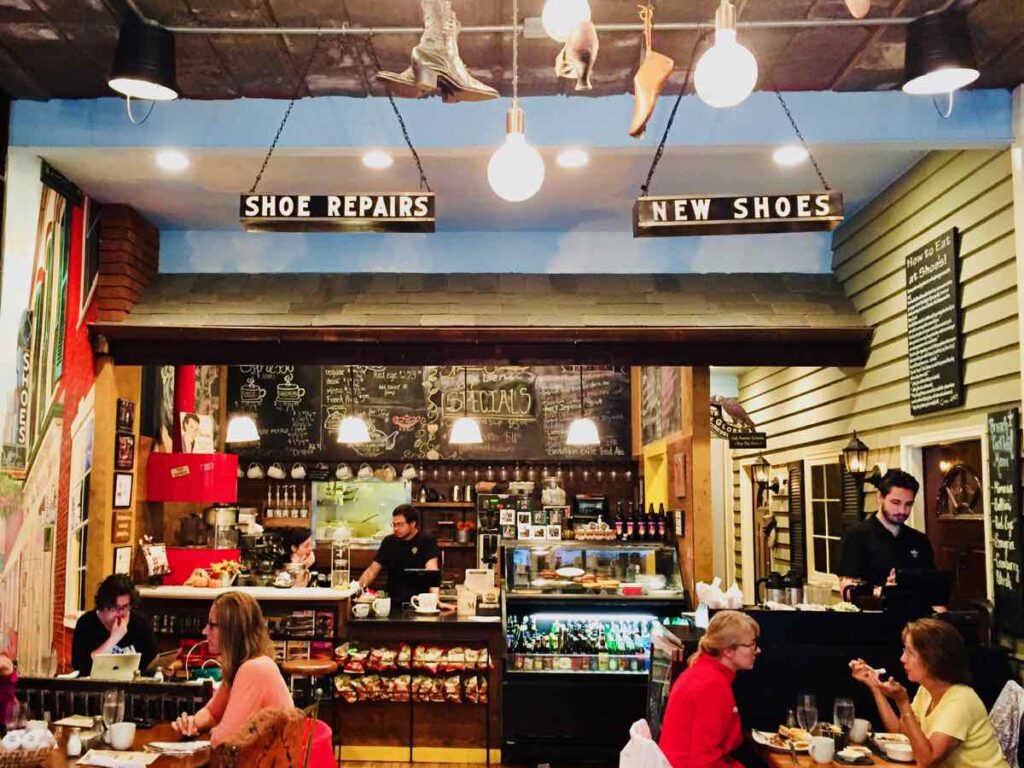 Leesburg Restaurants Outside the Downtown Area
Treat Yourself at Leesburg Bakeries
Score Great Deals at the Leesburg Premium Outlet Mall
For discounts and deals, head to the Leesburg Corner Outlet Mall on the eastern side of Route 15. This outdoor mall is home to popular store brands like Eddie Bauer, Williams Sonoma, and more.
Enjoy History and Outdoor Activities at Morven Park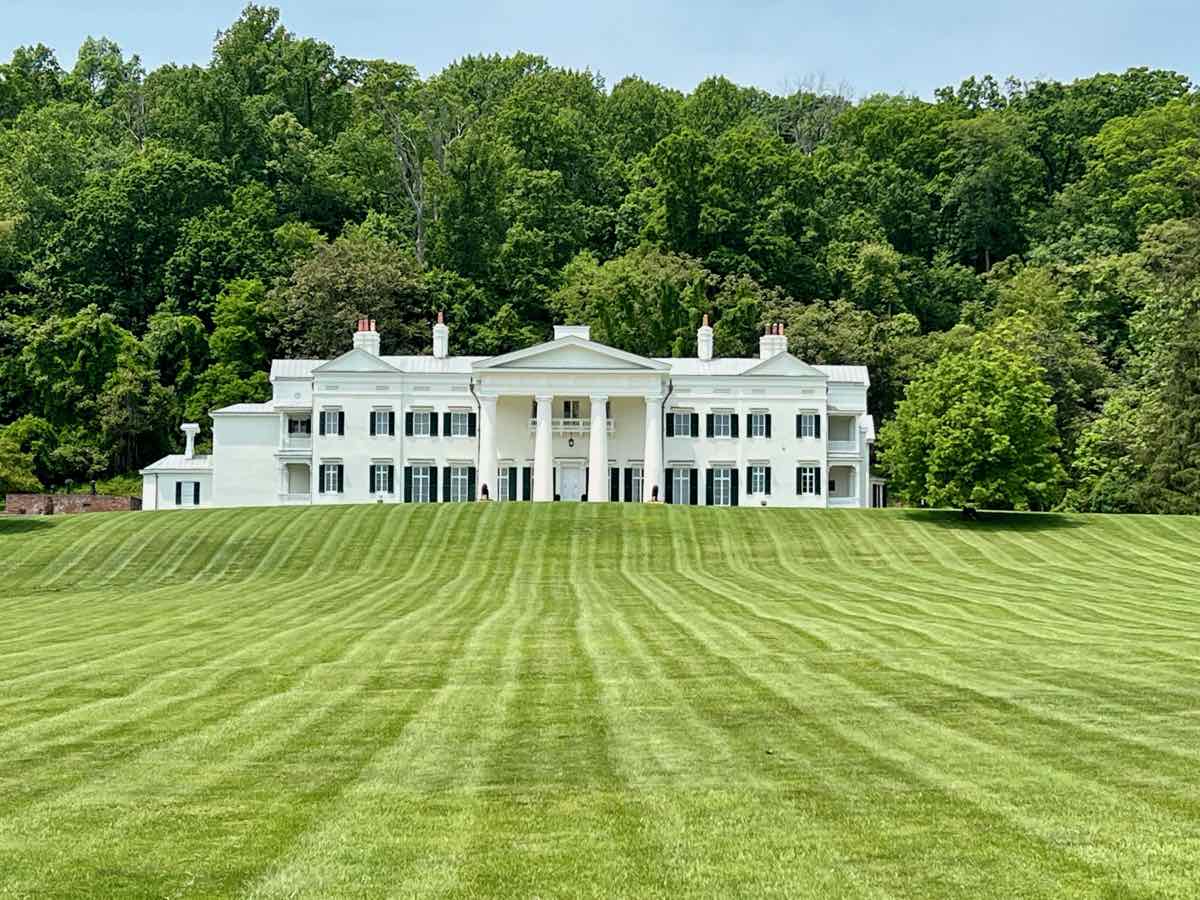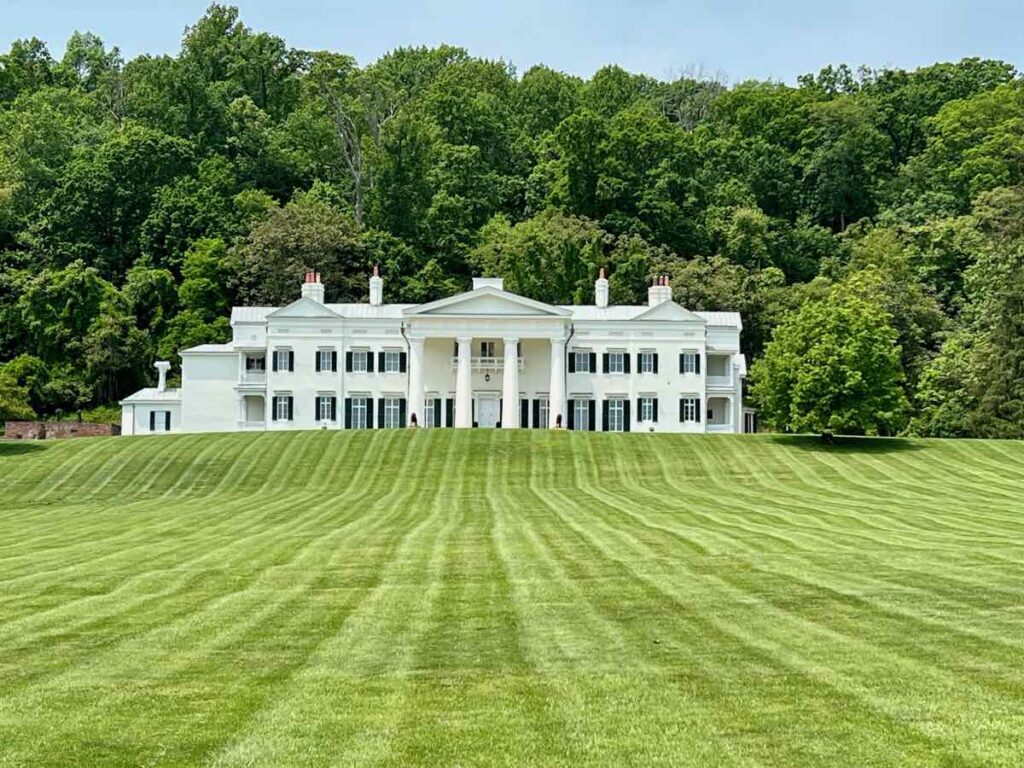 Morven Park features one of the most well-preserved historic homes in Northern Virginia along with two unique museums. In addition, visitors can explore 1000 acres of lawns, trails, forests, athletic fields, and equestrian facilities.
Virginia Governor Westmoreland Davis and his wife Marguerite purchased Morven Park in 1903 and built it into a productive farm. Davis championed ideals of sustainable agriculture and civic leadership. Excellent tours of the mansion and two museums—the Museum of Hounds & Hunting of North America, and the Winmill Carriage Museum—are available throughout the year except in January.
Allow extra time to explore the grounds and gardens. Stroll through the lovely boxwood gardens, hike to a viewpoint or through the forest. The woodland trail was created for a fantastic Harry Potter Forbidden Forest event (we hope it returns this winter). You can also combine your visit with a scenic drive on the unpaved roads of Loudoun County.
Looking for Leesburg events this weekend? The park hosts top-level equestrian events including cross-country, dressage, polo, carriage driving, and more. Check the park calendar for the latest event schedule.
Tour and Stroll the Grounds at Oatlands
Another Leesburg historic home with beautiful grounds is Oatlands, a 19th-century plantation that once had the largest enslaved population in the region. Today, visitors can take several tours including a Mansion Tour, an Enslavement at Oatlands tour, and other tours focused on architecture, art, gardens, and history.
In addition, visitors can enjoy the grounds and trails at Oatlands on a self-guided walking tour with a $10 day pass. The property features impressive trees, a formally terraced garden with boxwood alleys, a reflecting pool, an herb garden, and other plantings. Interpretive signs give key information about the gardens and the outbuildings, including the second oldest greenhouse in the country.
Tours of the Oatlands Historic House are available on weekends in season, and special events and tours are offered throughout the year. For example, the site hosts formal teas and equestrian events.
Hike Through History at Ball's Bluff Battlefield Regional Park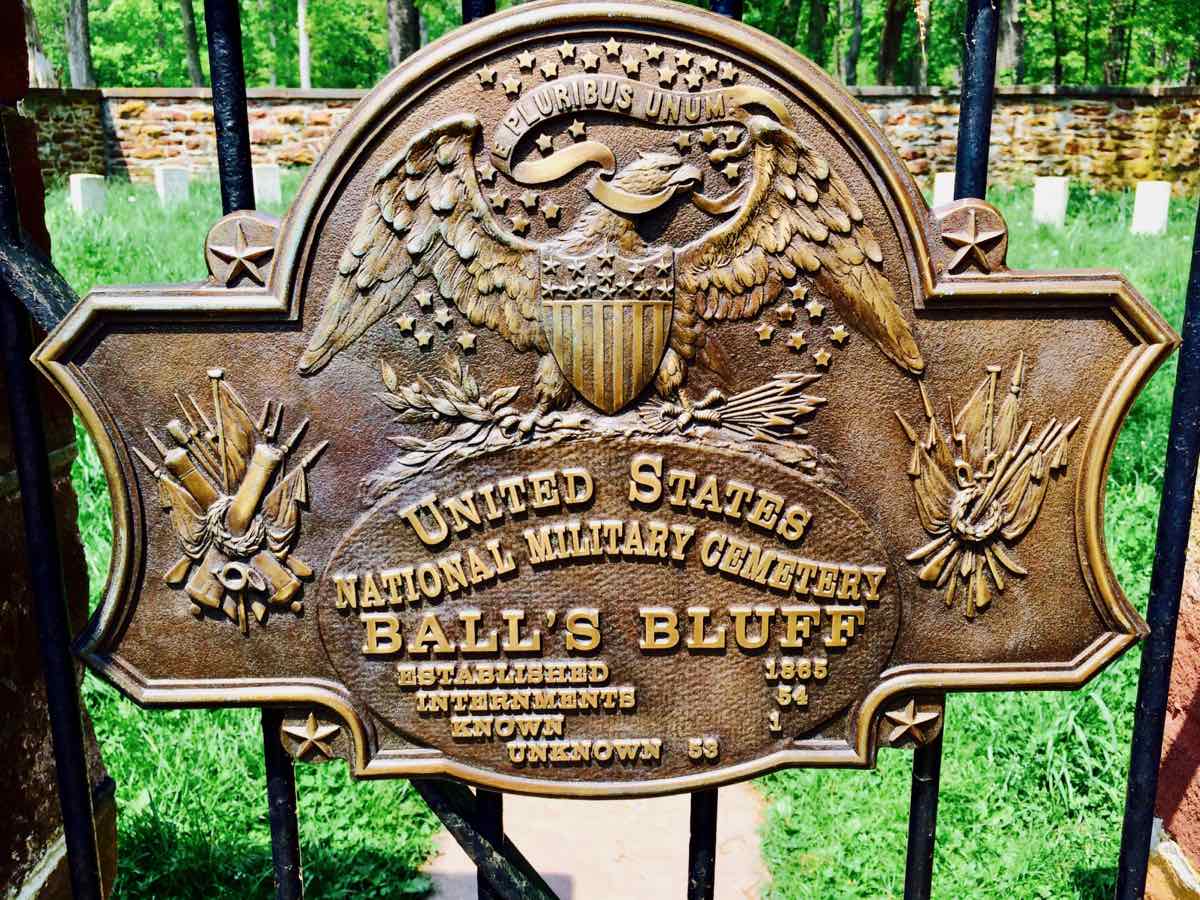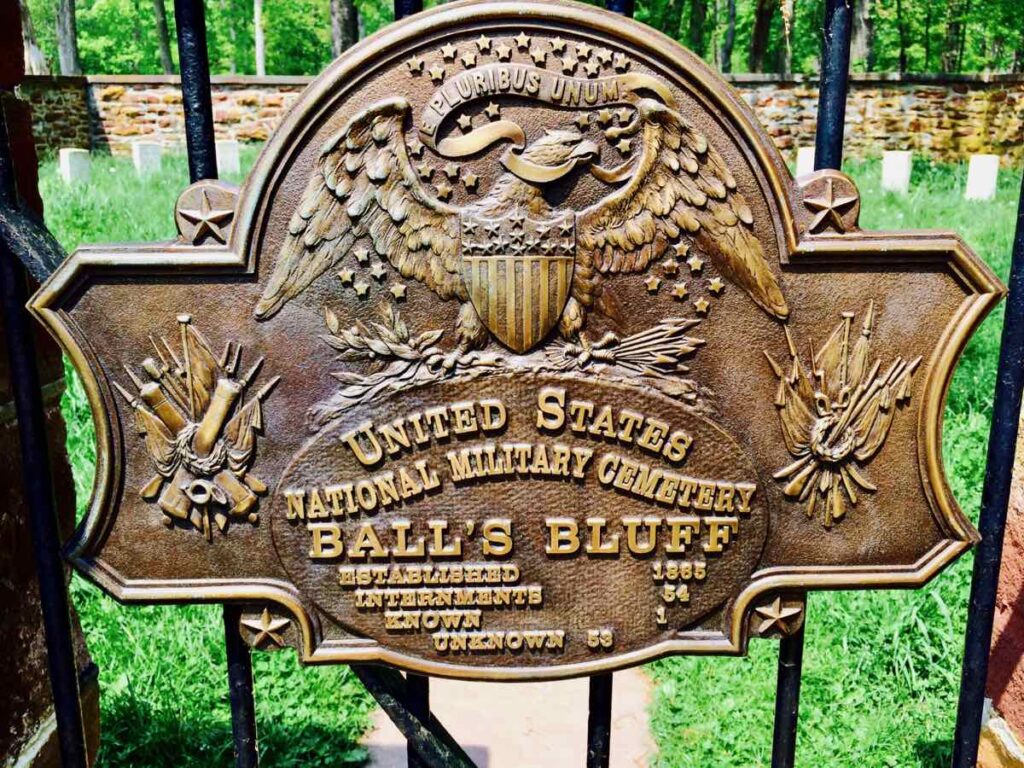 Leesburg's position on the Potomac River was an important crossroads in the 1800s. The town changed hands 150 times during the Civil War. Balls Bluff Battlefield Regional Park preserves the site of a decisive Confederate victory and is home to one of the smallest National Cemeteries in the country.
Take a hike through the park to visit the National Cemetery and walk the terrain faced by the Union and Confederate Armies at the Battle of Balls Bluff. Ball's Bluff was the site of the first Civil War engagement to take place in Loudoun County. The park has an excellent interpretive trail that explains how the battle unfolded. Other trails include sometimes steep, wooded hikes to the Potomac River and a segment of the Potomac Heritage Trail.
Hike to a View at Red Rock Wilderness Park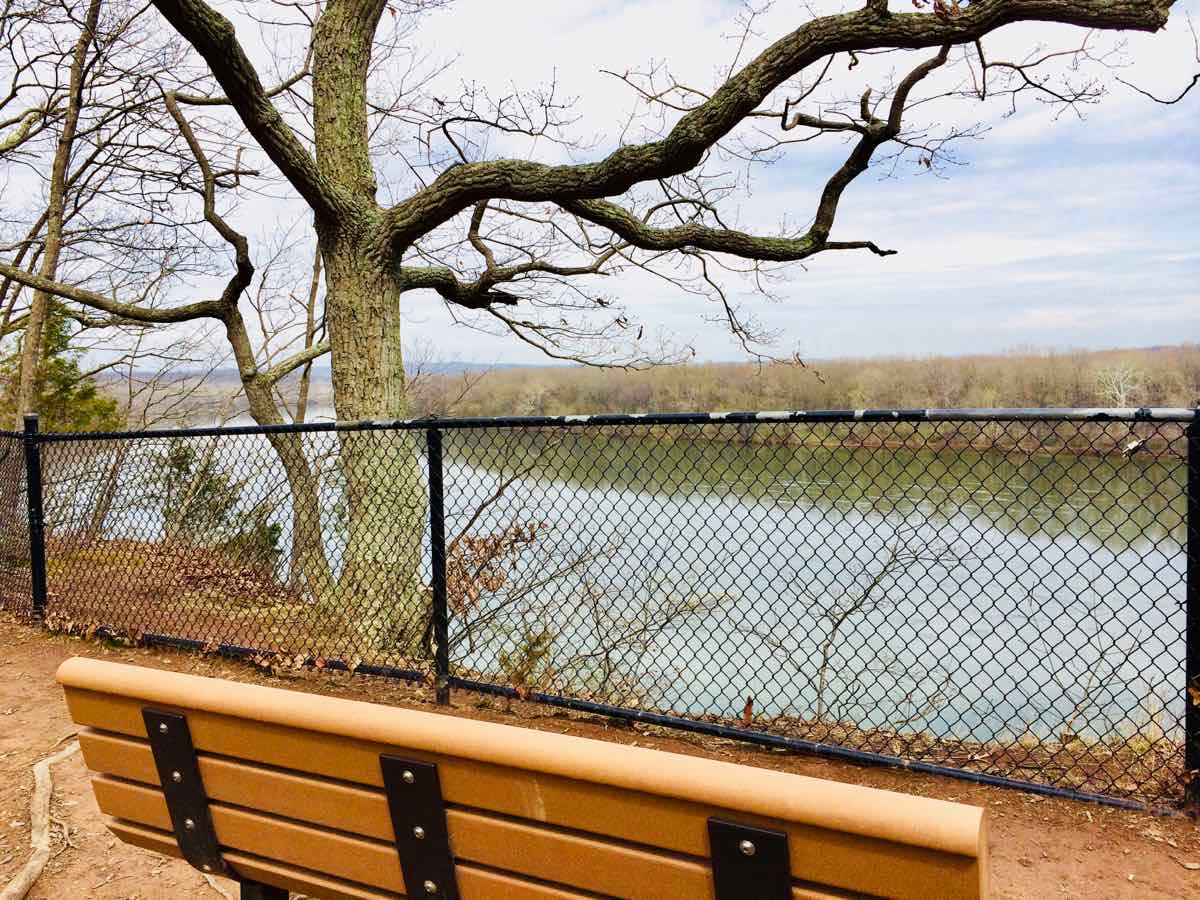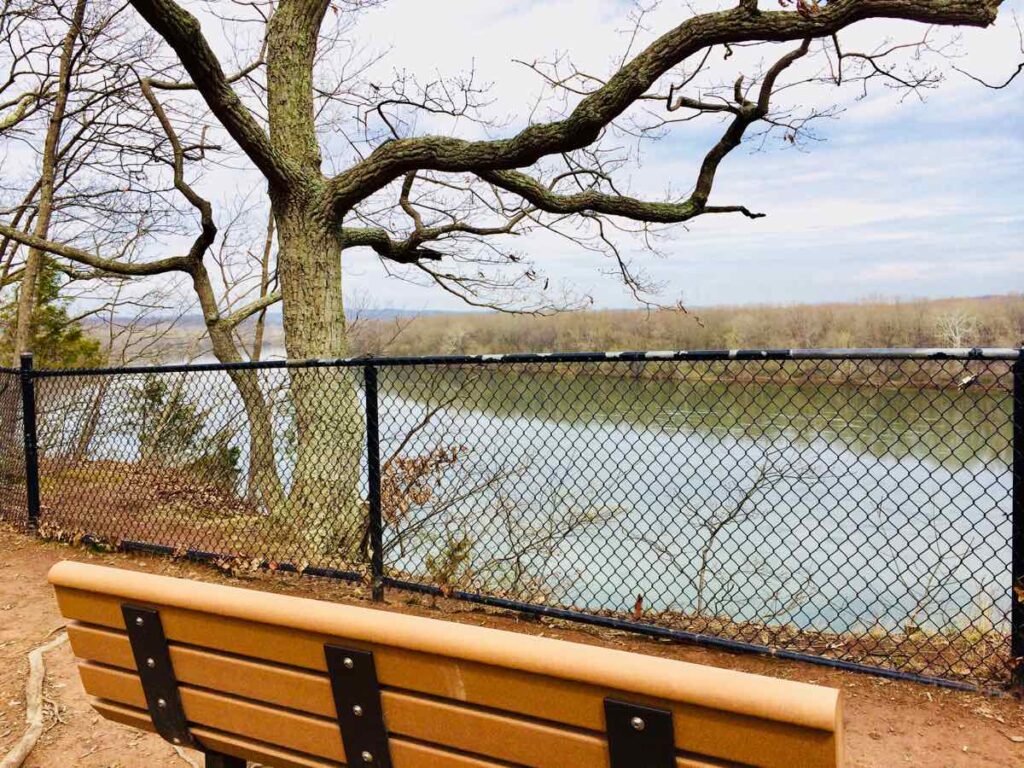 Enjoy a short hike to a bluff above the Potomac River at Red Rock Wilderness Overlook Regional Park, a 67-acre park located at the eastern edge of Leesburg. The hike begins at the ruins of several buildings, built in the late 1800s by wealthy gentleman farmer Charles Paxton. A 1.2-mile circuit trail takes you through the woods, down to the Potomac, and along a bluff with great river views.
Hike and Kayak at Goose Creek and the Potomac River
Hike a portion of the Potomac Heritage Trail at Bazil Newman Riverfront Park (formerly named Elizabeth Mills Riverfront Park). The trail borders the Potomac River and Goose Creek, passing a section of an old canal lock system.
Within the park, Riverpoint Drive Trailhead (formerly named Kephart Landing Bridge) is a kayak and canoe launch for Goose Creek.
Explore the Trails at Rust Sanctuary
Rust Sanctuary is a 68-acre nature park managed by NOVA Parks in collaboration with the Audubon Naturalist Society. A network of trails meanders through the park's 6 natural habitats, from woodlands to streams to open fields. Be sure to check for ticks after your hike.
The Manor House at Rust Sanctuary operates as an event and wedding venue so parking access is sometimes closed for events.
Visit Leesburg Animal Park
Drive south of town on Route 15 to visit one of the best things to do in Leesburg with kids. Leesburg Animal Park is a family favorite with a great collection of domestic and exotic animals. Kids can visit with animals in the petting barn, take a pony ride, see and learn about exotic animals, plus enjoy indoor and outdoor play spaces.
Popular annual events at Leesburg Animal Park include Easter Egg Hunts, a fun Pumpkin Village, and a sparkling Holiday Village.
Sample Virginia Wine at Leesburg Wineries and Vineyards
Some of the best wineries in Northern Virginia are located near Leesburg. Here are some popular wineries in the Leesburg area.
Enjoy Craft Beer at Breweries in Leesburg VA
There are several good breweries in downtown Leesburg with more a short drive away. Here are some of our favorite Leesburg breweries:
Check out our complete guide to the LoCo Ale Trail for information about these and other great Loudoun County breweries.
Take a Scenic Drive from Leesburg Virginia
Some of the best scenic drives in Northern Virginia pass through Leesburg. Here are three scenic drives from Leesburg that are beautiful and fun year-round:
Visiting Leesburg Virginia Tips
Leesburg Virginia is located in Loudoun County, 40 miles northwest of Washington DC. The historic town is easy to reach by car from Routes 7 and 15 and the Dulles Toll Road. The nearest airport, Washington Dulles International Airport, is just 16 miles south of Leesburg.
There are several convenient parking lots in Leesburg along with metered and free street parking. Downtown parking garages and lots are free for the first two hours then $1.00 per hour. Conveniently, the Town Hall Garage is free after 7:00 pm weekdays and throughout the weekend.
Whether you stop in for a few hours or a longer getaway, you'll find so many fantastic things to do in Leesburg VA. Great local shopping, dining, history, outdoor activities, wineries, breweries, and more make Leesburg a must-visit destination in Northern Virginia.
Follow us on Facebook, Twitter, Pinterest, and Instagram for more fun travel in and from Northern Virginia.
Pin it for later: