2022 Holiday Favorites in Northern Virginia include the best holiday light displays and celebrations, plus visits with Santa and fun ways to kick off the new year. Most of our favorite holiday shows in the DC area are back in 2022 and the holiday season is packed with fun things to do.
Holiday celebrations are listed below in order of opening date. Follow the links for more information and tips and to reserve tickets if needed. Some of these suggestions were contributed by Northern Virginia experts who share what fun holiday favorites they look forward to most each year.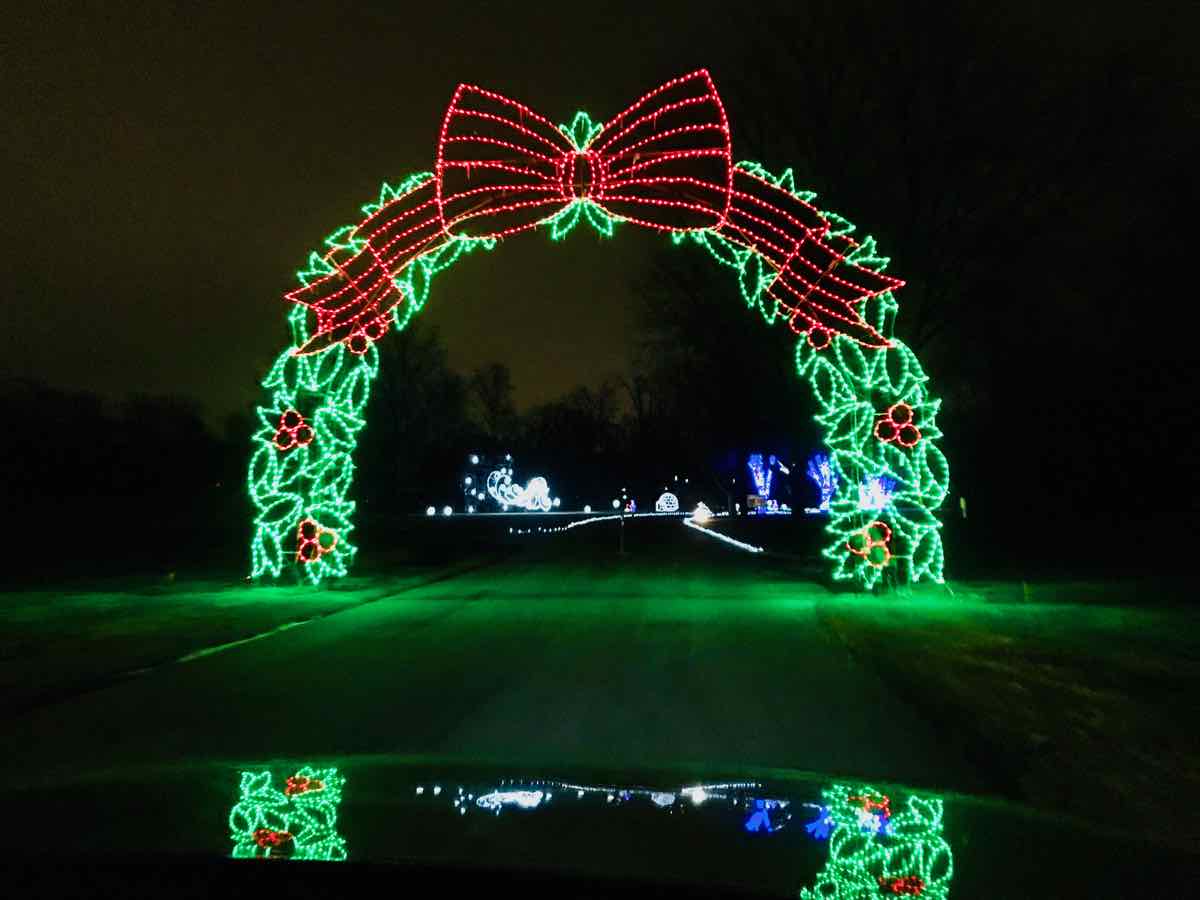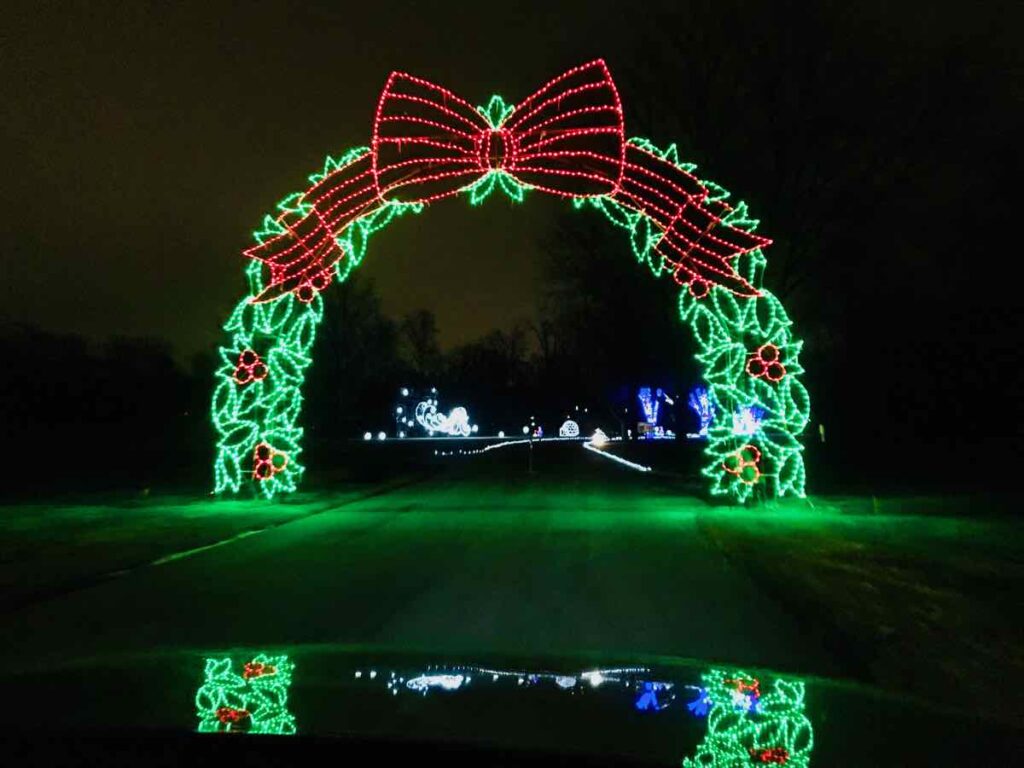 The Bull Run Festival of Lights has been a family tradition since our children were toddlers. The sparkly 2.5 mile drive-through route is lined with fun holiday and fairytale vignettes. We love to see our favorite displays each year and there are usually new additions to enjoy.
Disclosure: This article may contain affiliate links. We will make a small commission from these links if you order something, at no additional cost to you.
This is a great family activity for even the youngest kids, who stay warm and cozy as you slowly drive through the fun, animated displays. But bring the coats and hats so you can enjoy the Holiday Village and carnival at the end of the drive.
Weekends get very busy, especially later in the season. Visit early or on a weekday to minimize cars and lines. Admission is $30 online per car, $40 at the door. Follow the link for a $5 weekday discount code. 5:30 – 9:30 weekdays, 5:30 – 10:00 weekends.
Find more: Holiday Lights in the Northern Virginia Area.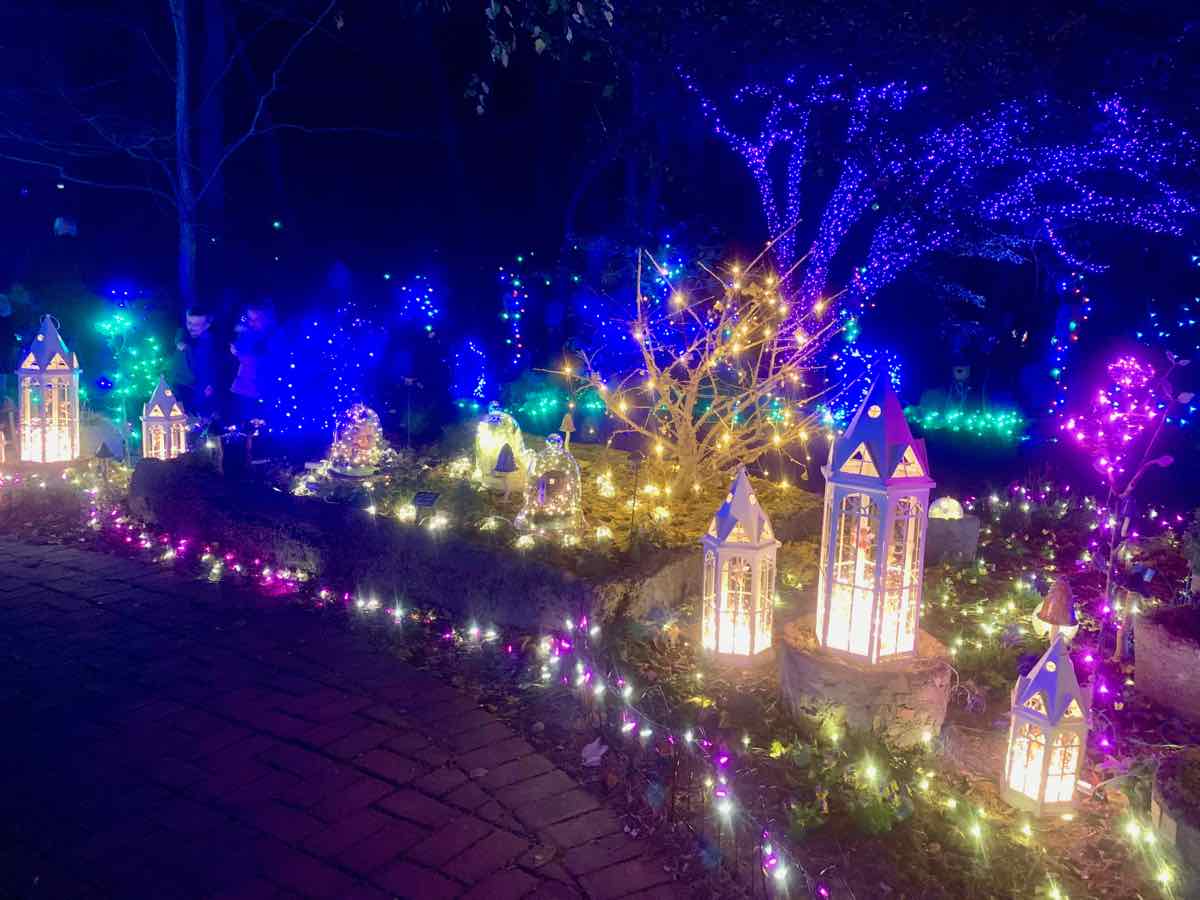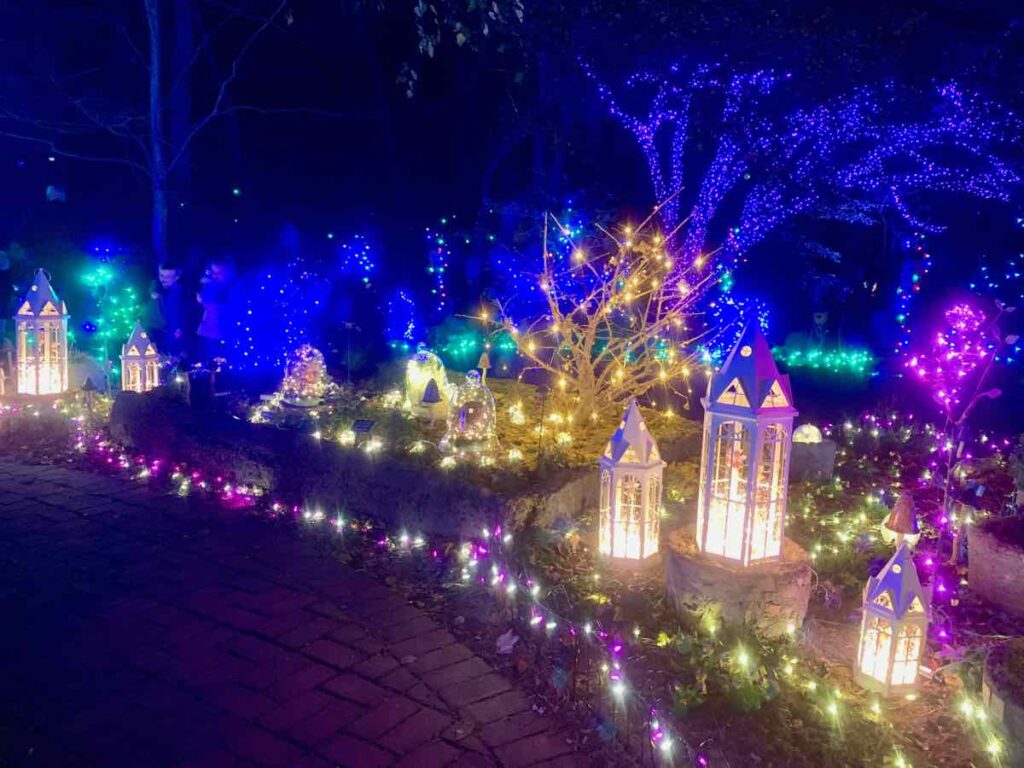 Stroll a .6-mile outdoor path lined with over 500,000 lights and displays. In keeping with the location, many displays feature flowers, birds, insects, and woodland creatures. We love the chance to capture holiday photos and watch children's eyes light up. A snack stand sells hot chocolate and cider, and the Snowflake Shoppe offers holiday ornaments, flashing jewelry, and other goodies.
Timed entry tickets are available online and you can move at your own pace on the one-way path. Tickets are $16/$20 online/at the door for non-peak weeks (Nov 11 – Dec 8). Prices increase to $18 and are online only for peak weeks (Dec 9 – Jan 8). Open nightly, including holidays, 5:30 – 10:00; last admission at 9:15.
Ice & Lights returns to Cameron Run for a fourth year in 2022. The Village light display features plenty of sparkly photo opps including a walk-thru tree and photo frame, giant wreath, and beautiful design stars.
For an extra fee, enjoy an hour of fun on the ice skating rink. Light-up and cuddly items are available for purchase, and the concession stand sells treats and drinks.
Admission to the Village is $9.19/$10 for online/at door tickets. A combined ticket for the Village and 1-hour of ice skating is $22.03 (online tickets only). Open nightly, including holidays, 5:00 – 10:00.
The ice skating rink is also open on weekends and holidays from11:00 – 5:00, Jan 7 – Feb 26.
Find more skating fun: 11 Fun Washington DC and Northern Virginia Ice Skating Rinks.
Season's Greenings, US Botanic Garden, Washington DC, Nov 24 – Jan 2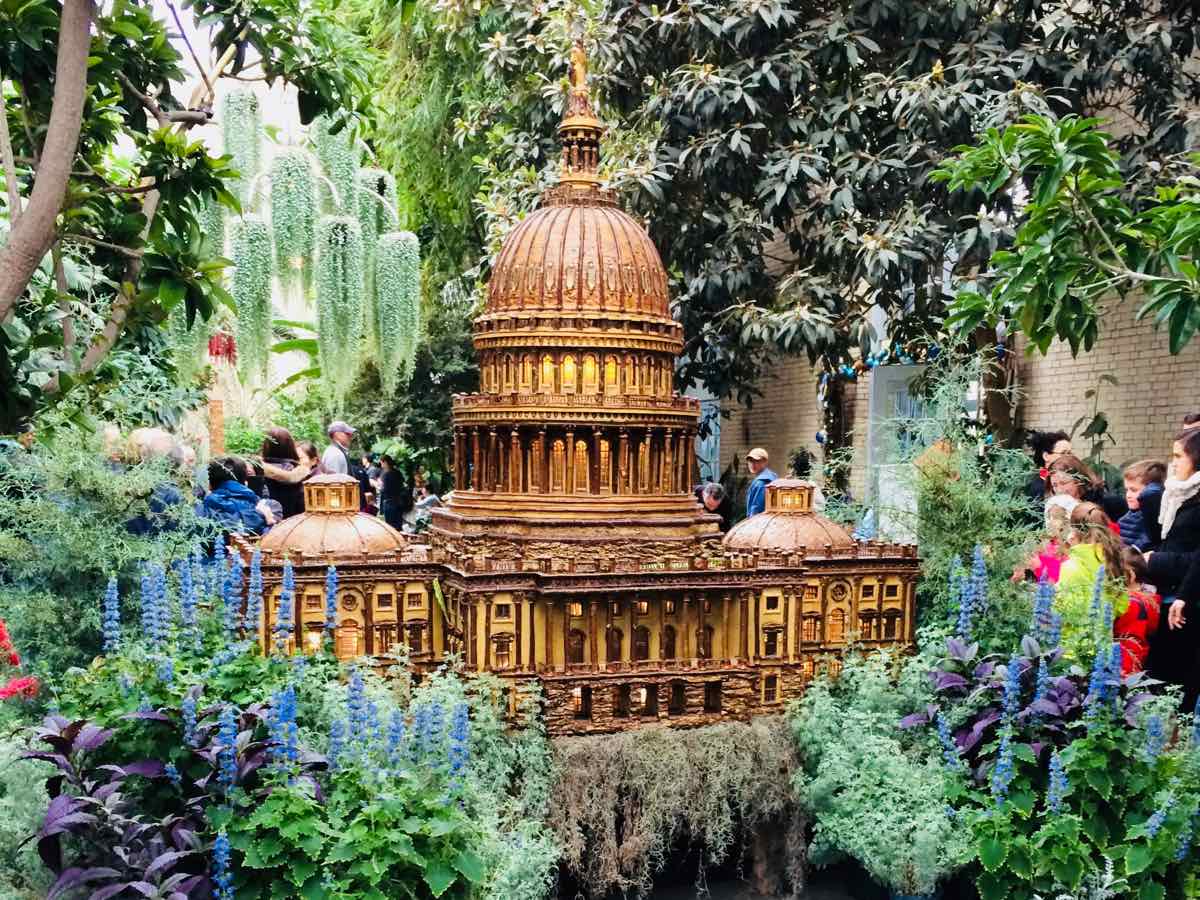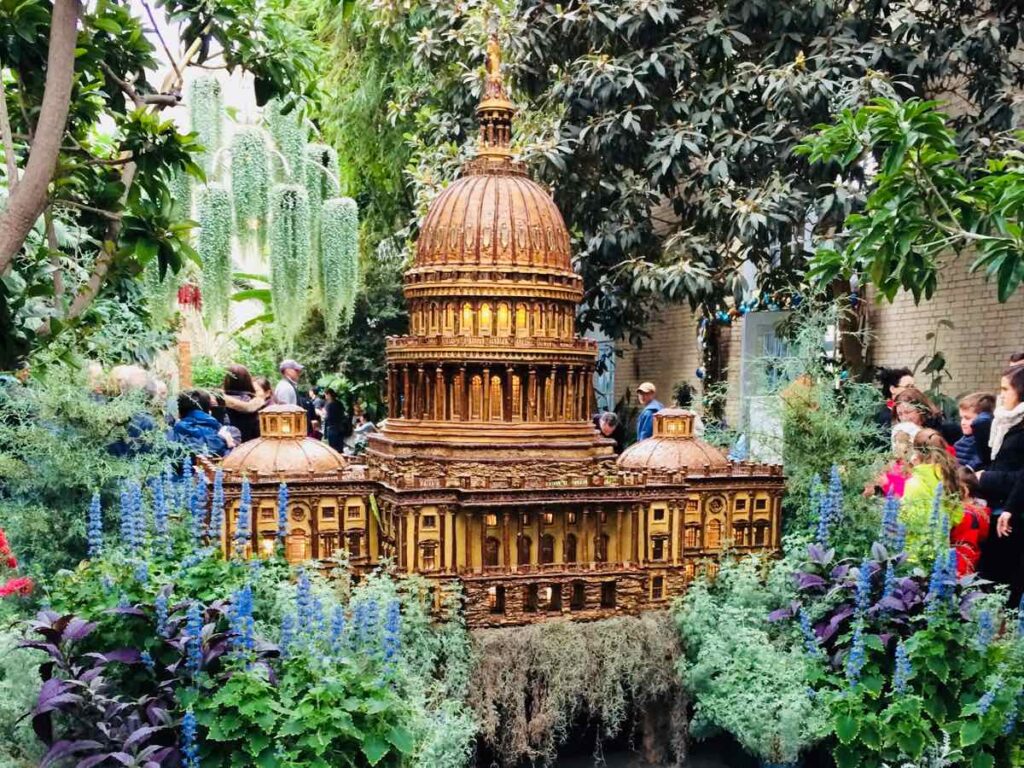 As the weather drops in our nation's capital, I enjoy taking in the holiday displays at the United States Botanic Garden in Washington, DC. As you step into their greenhouse, you are immediately transported to a tropical destination with its lush vegetation.
Discover more Fun and Free Things to Do in DC During the Holidays.
Their holiday display begins on Thanksgiving Day, with unique décor and the largest living decorated indoor tree in the DC area. An elaborate model train display rounds out this holiday favorite, featuring iconic train stations from around the USA.
Recommended by Jessica van Dop DeJesus, a travel media specialist and owner of the blog, The Dining Traveler. Follow her on Twitter and Facebook @DiningTraveler.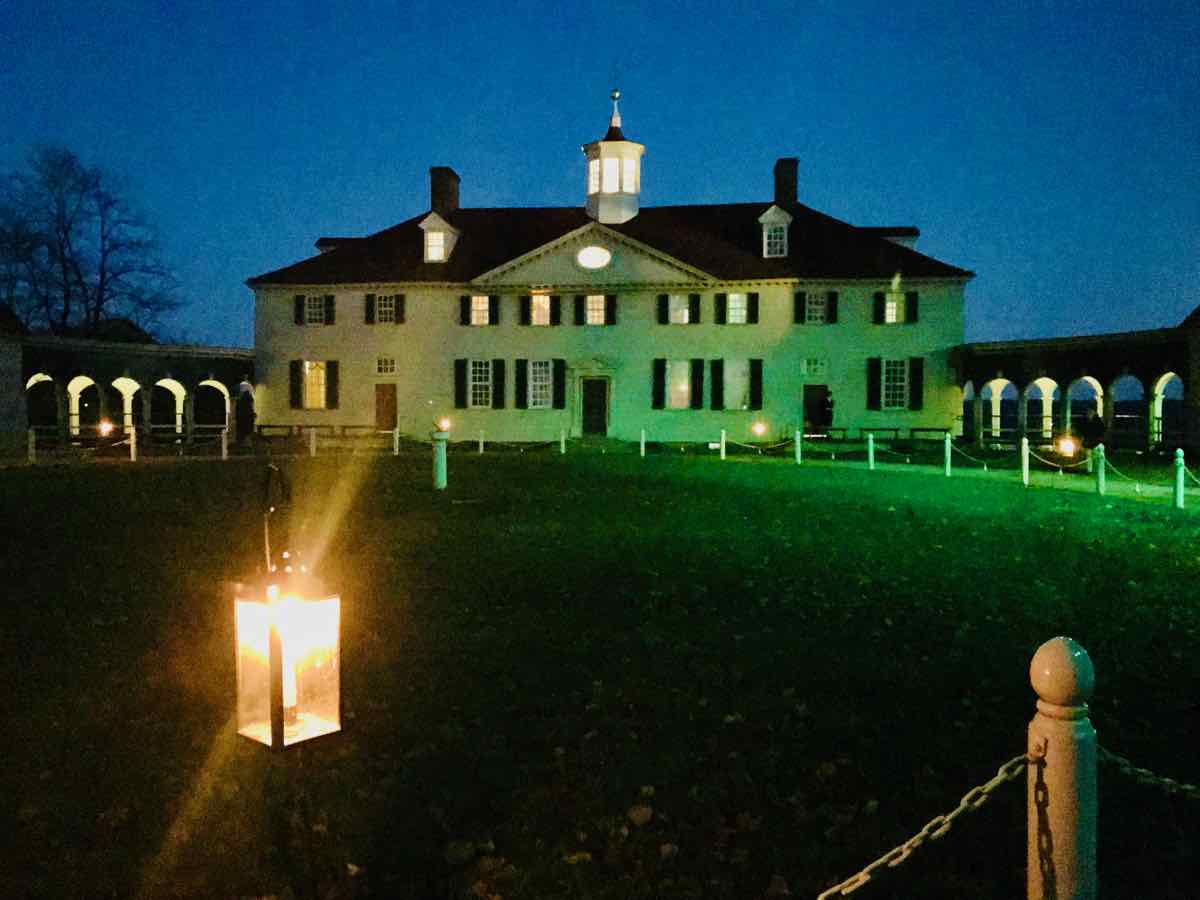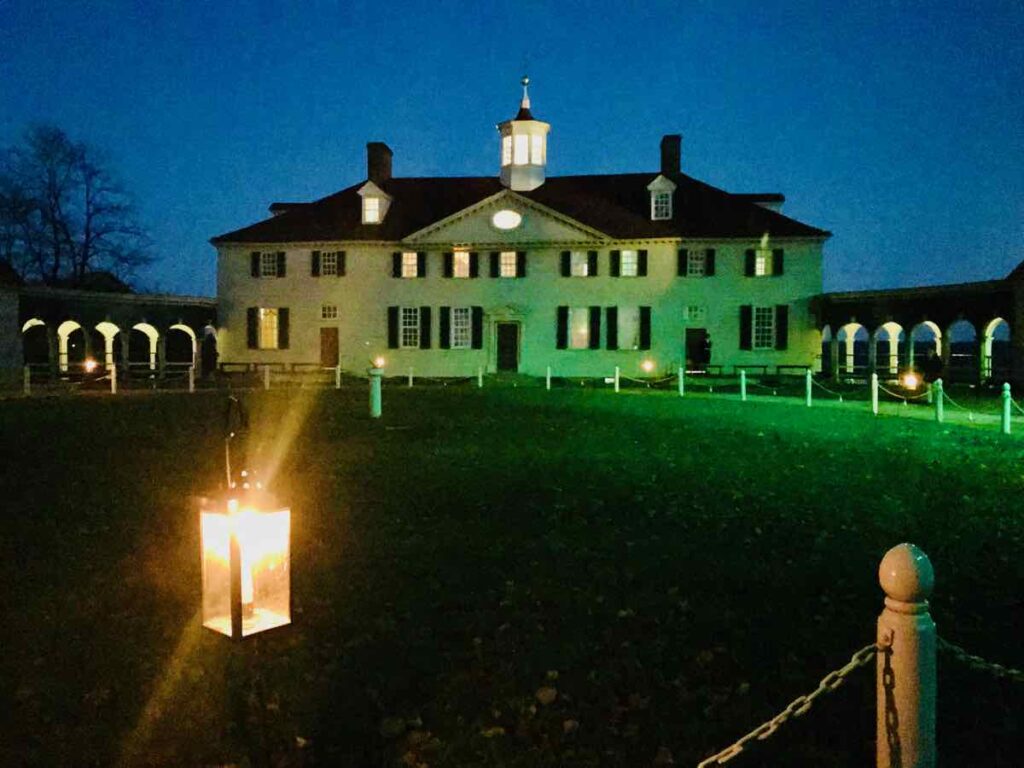 Looking for a place to walk off your feast surrounded by history? George Washington's Mount Vernon is open daily, including Thanksgiving and Christmas. This is a great time to tour the grounds and the Mansion. Learn fun facts about our country's earliest holiday traditions—George Washington first proclaimed a day of thanksgiving in 1789—and visit Aladdin the Christmas Camel a tradition Washington began in 1787.
On Mount Vernon by Candlelight evenings, soft lights and holiday patterns illuminate the grounds, Christmas carolers sing, and you can visit an 18th-century winter encampment. Winter Glow is open on weekends, Nov 25 – Dec 10 and Dec 18. Follow the link for details and to purchase timed-entry tickets.
Recommended by Melissa Wood, Director of Media Relations, George Washington's Mount Vernon. Follow Mount Vernon on Facebook and Twitter.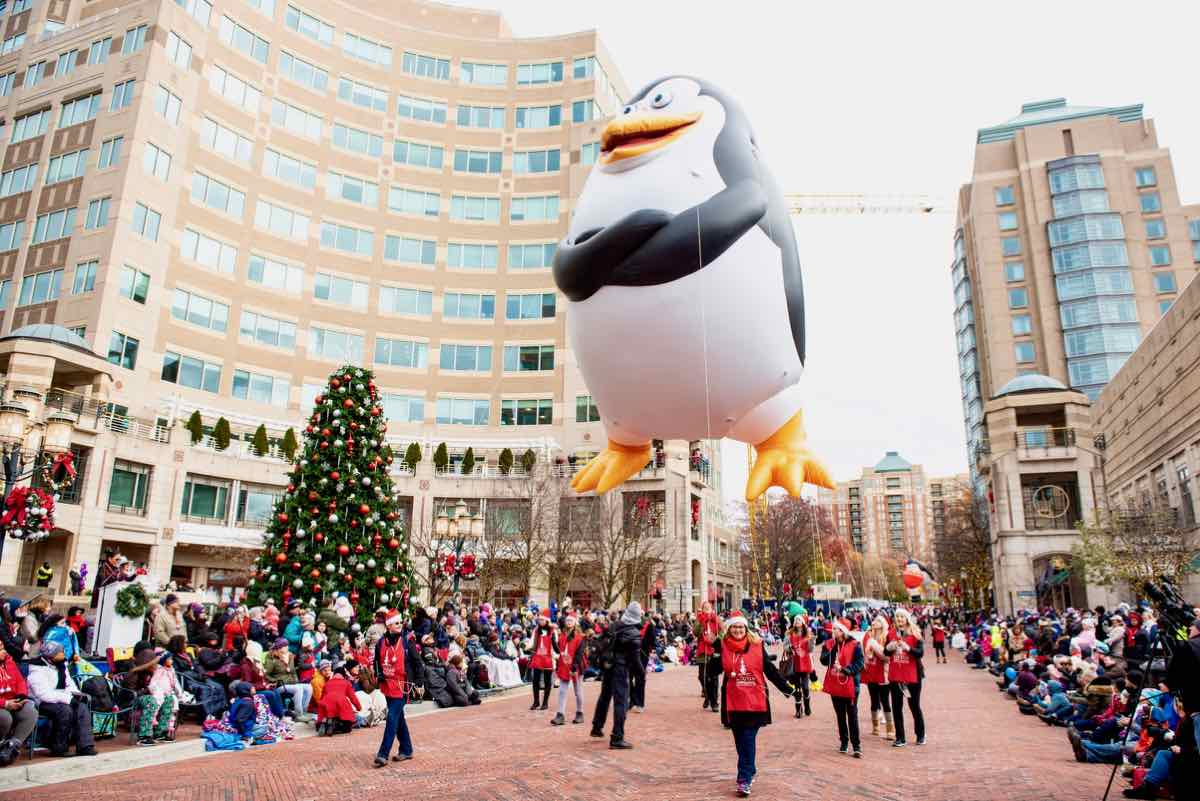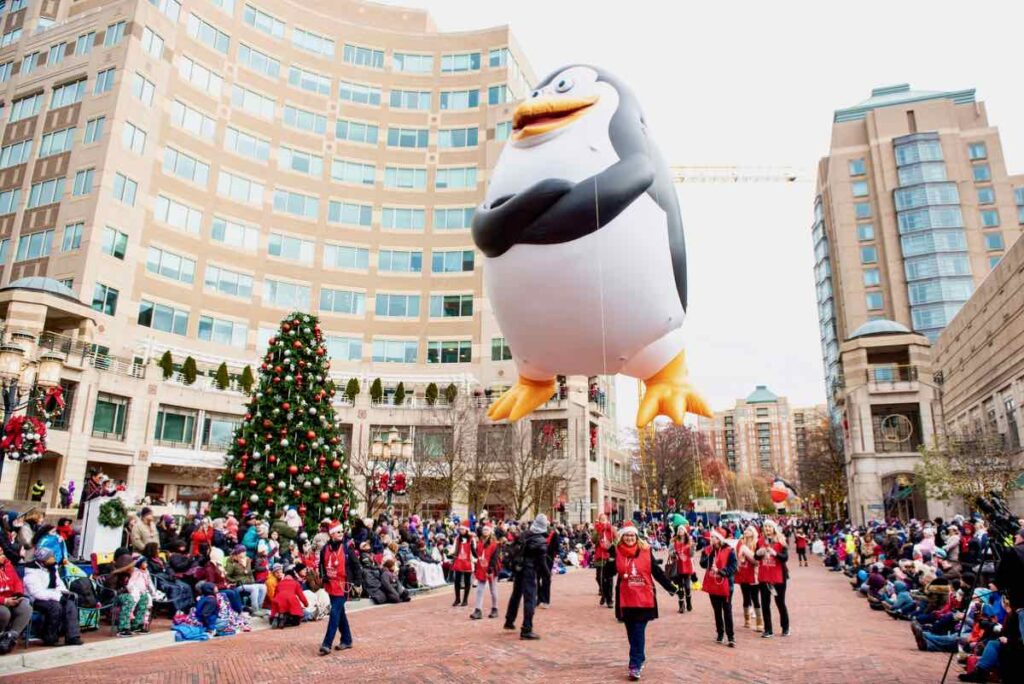 One of my favorite holiday activities is the Holiday Parade at Reston Town Center on the Friday after Thanksgiving. My family knows to schedule Thanksgiving meals on Thursday, Saturday or Sunday, but Friday is always held open for the parade.
Growing up in a rural area in the Shenandoah Valley of Virginia, I always looked forward to the excitement of the Firemen's parades. The Reston Holiday Parade brings back pleasant memories but amplifies them.
The big inflated characters that are pulled along the parade route put us in league with the holiday parades on television, but our parade is much more personal. The school and community groups and the local dancers and performers highlight the diversity and talent of our community.
The high school band and the fire trucks make it an exciting parade, but nothing can top the final entry—the arrival of Santa and Mrs. Claus in a horse-drawn sleigh.
Recommended by Delegate Ken Plum, native Virginian, representing the 36th District in the Virginia House of Delegates. Follow Delegate Plum on Facebook and Twitter.
Plan your visit: Local's Guide: 10 Best Things to Do in Reston Virginia.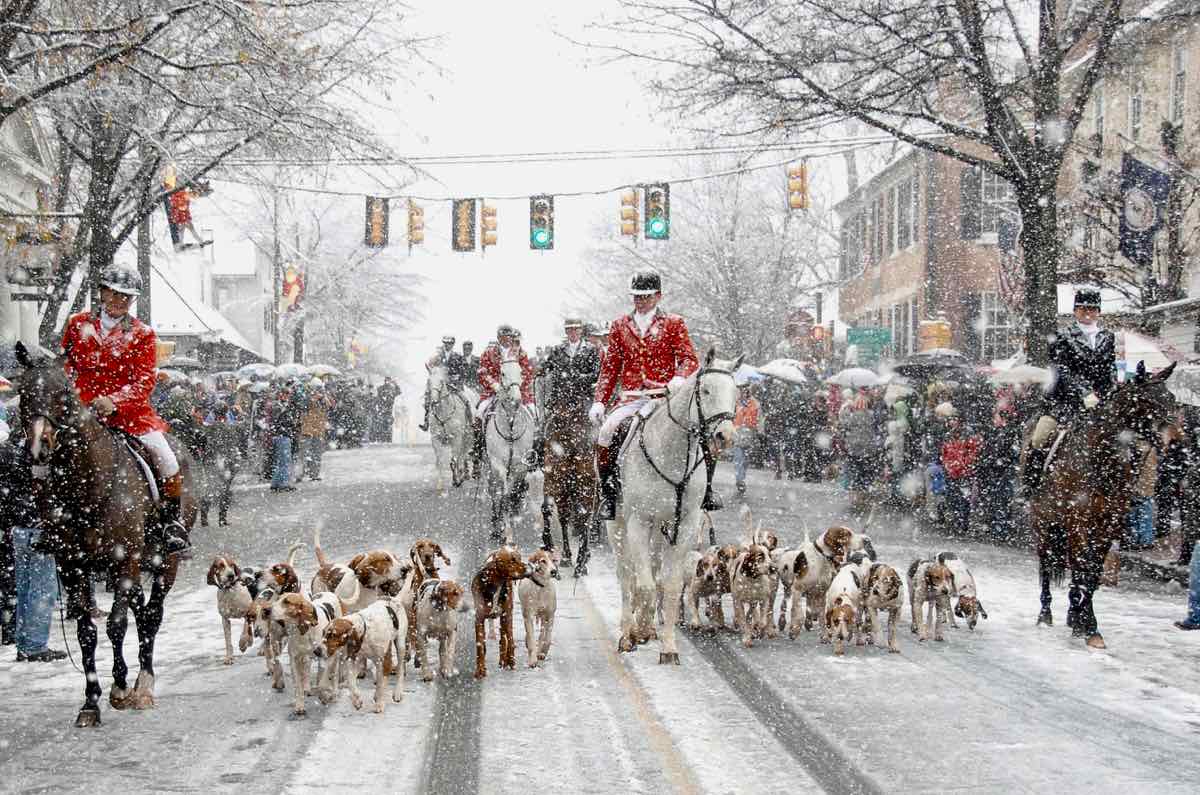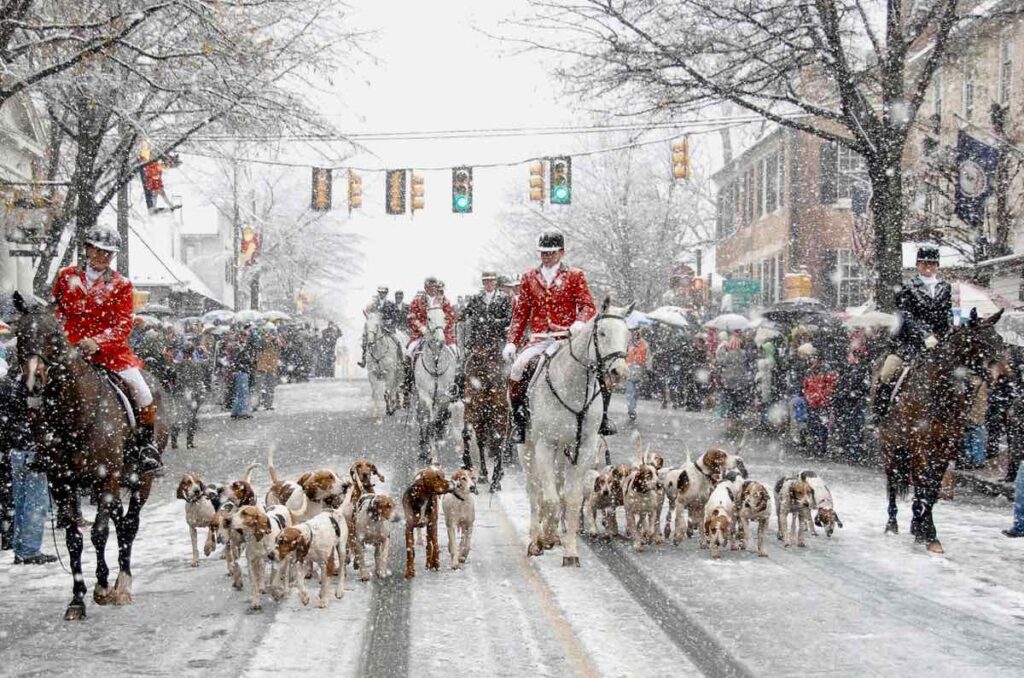 My favorite local spot to get in the holiday spirit is in the heart of hunt country—Middleburg, Virginia. The 18th-century town has been kicking off the holiday season in style during its annual "Christmas in Middleburg" event the first weekend in December for over a hundred years!
The highlight of Middleburg's festivities is Saturday's "Hunt and Hounds Review" featuring hounds trotting down the main Washington Street alongside mounted fox hunt riders. But the fun doesn't stop there!
Other holiday activities include a greens sale, craft fair, caroling, a holiday concert, a traditional parade with floats and—my favorite!— special food and spirits tastings throughout the town.
Recommended by Christina Ricchiuti, a former mid-Atlantic travel blogger sharing life as an expat in Geneva Switzerland. Follow her adventures on Instagram @packdsuitcase.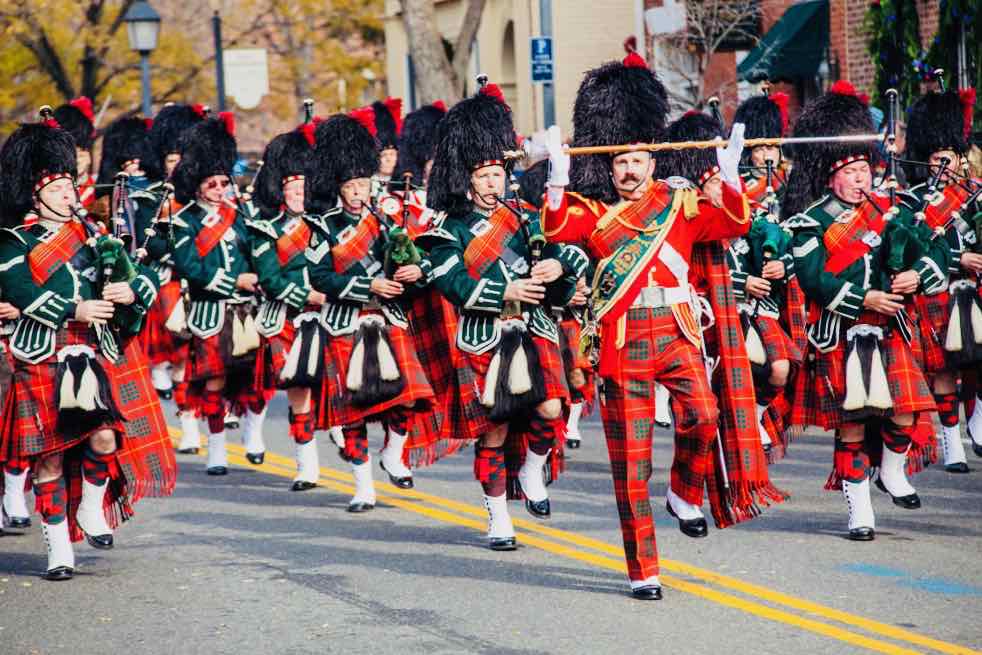 From tree lightings and candlelight tours of historic sites to shopping trips and even a water skiing Santa, Old Town Alexandria has a lot of holiday favorites to offer. However, the one event that my family never misses is the Scottish Walk weekend. The parade is filled with hundreds of Scottish clansmen complete with bagpipes. After the parade, shop at the Christmas marketplace; it's all for a good cause.
The Scottish Walk weekend is one of the largest fundraisers for the Campagna Center, a non-profit organization helping children and families in need in Alexandria, Virginia. Follow all of this up with Alexandria's Boat Parade of Lights, a decorated boat parade at sundown, and Old Town is tough to beat.
Recommended by Chris Militzer, an Alexandria, Virginia photographer specializing in fine art photography of landscapes and nature, featured on Visit Virginia, and USA Today. Follow Chris on Instagram and Twitter.
Find more unique gifts: Virginia Gift Guide for Residents and Travelers Who LOVEVA
Celebrate the holidays with your animal friends at Leesburg Animal Park in Loudoun County. During weekends in December, the park features an evening Christmas Village. Enjoy a nativity scene with live animals, pony rides, and animal encounters.
Capture the perfect holiday photo with Santa and furry friends and enjoy crafts, a bonfire, holiday lights, and more. Park admission is free for those under two and $16.95/$14.95 for adults/children 2-12.
Recommended by Jennifer Sigal, Media Relations Manager at Visit Loudoun. Follow them on Twitter and Instagram.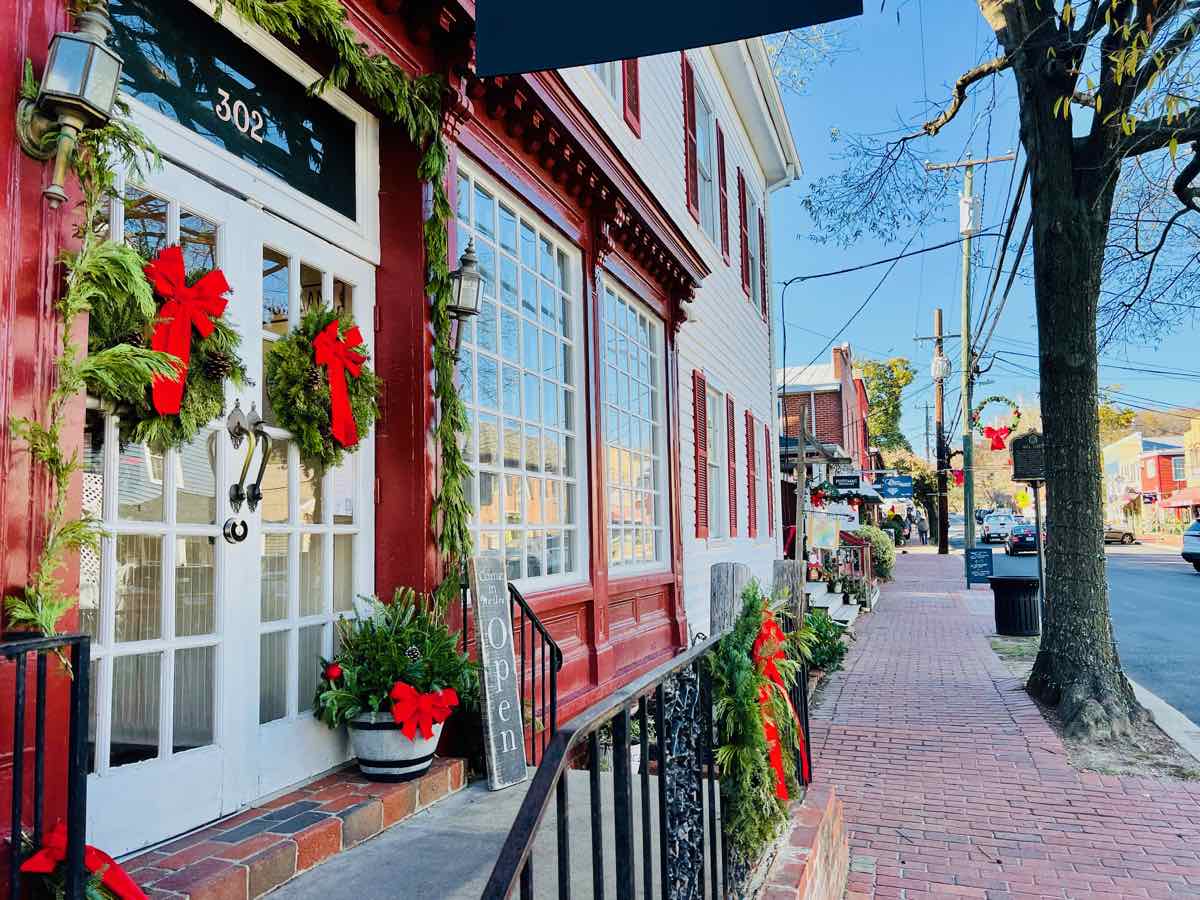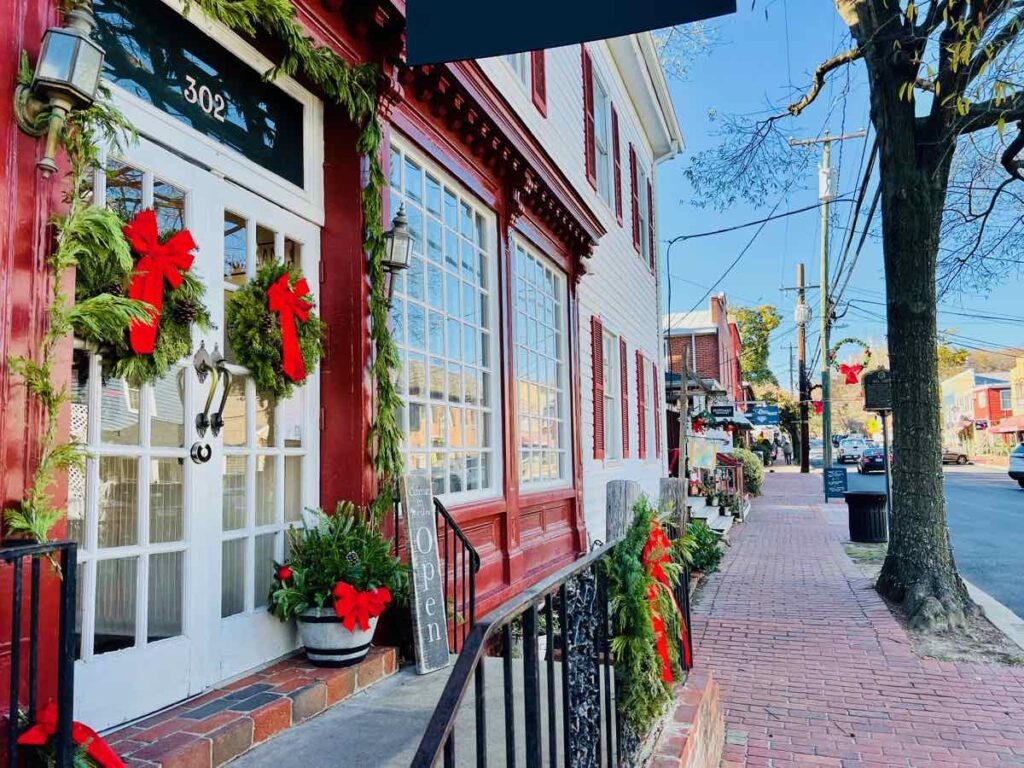 The lovely historic town of Occoquan celebrates the holiday season with festive decorations, a beautiful Christmas tree, and a host of holiday celebrations. Don't miss the Holiday Artisan Market, when River Mill Park fills with local artisans and crafters selling handmade works in a variety of media.
Shop for unique holiday gifts for everyone on your list then enjoy a meal, a stroll, and more great shopping in town.
Recommended by Visit Prince William Virginia. Follow VisitPWC on Facebook and Twitter.
Find more Favorite Holiday Markets in Northern Virginia and the DC Region.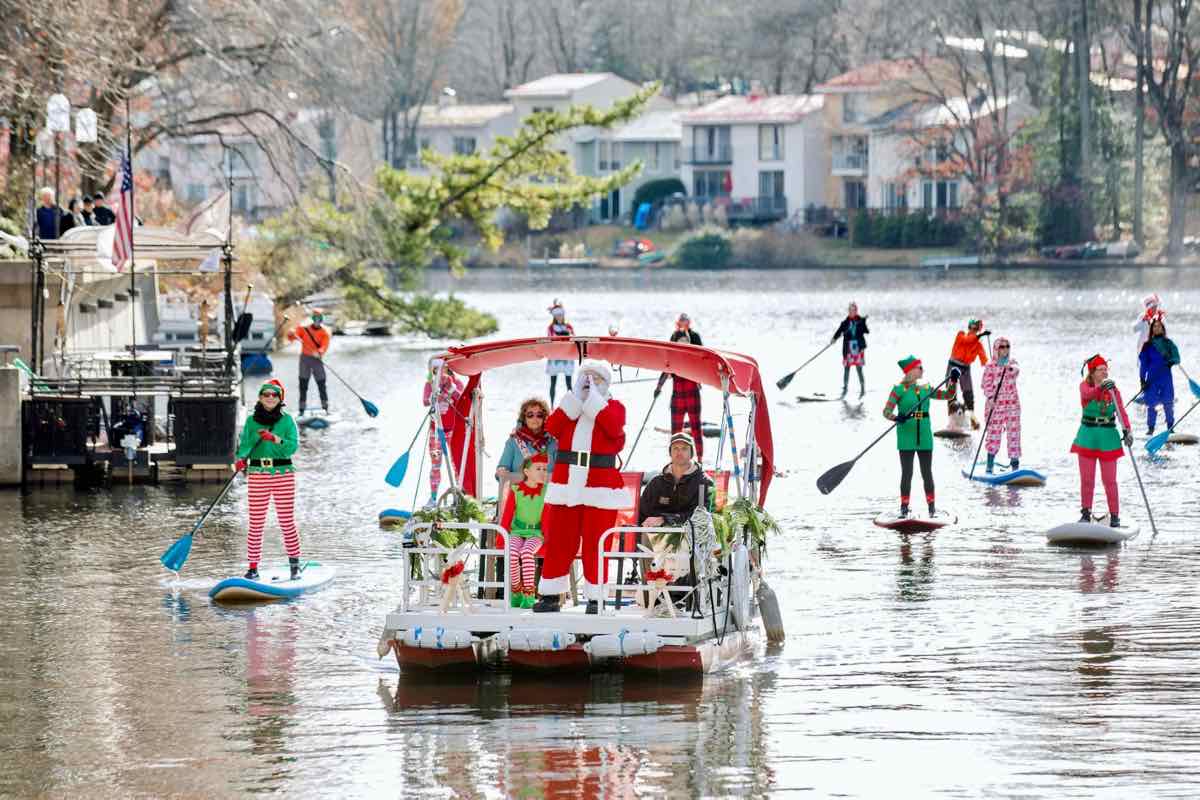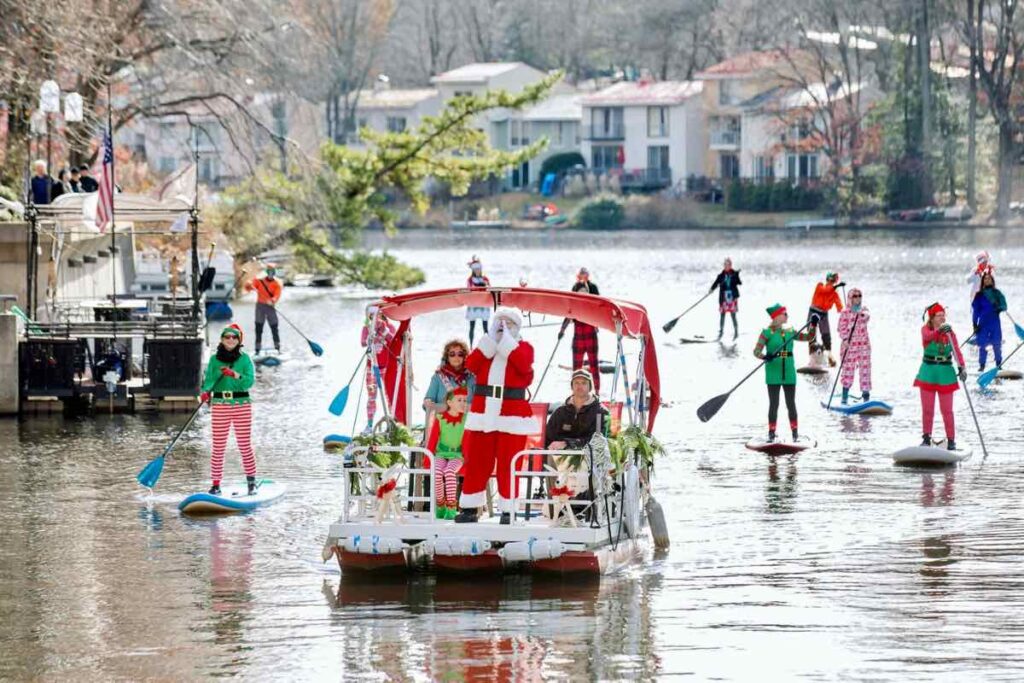 My favorite holiday event in Northern Virginia is Jingle on Lake Anne, a holiday celebration for kids at Lake Anne Plaza in Reston. It includes a petting zoo, crafts, caroling, and a tree lighting, but the highlight every year is Santa's thrilling arrival by boat.
Elves on standup paddleboards accompany Santa, adding to the fun. Children cheer as he approaches (and I find myself cheering just as loudly as they do!) After his grand entrance, Santa sits with each of his fans for pictures.
Recommended by Charlotte Geary, a commercial and portrait photographer based in Reston, Virginia. Follow Charlotte on Facebook and Instagram.
The National Museum of the Marine Corps has become a holiday destination for many families. The Museum's Leatherneck Gallery is hung with yards of garland, bows and wreaths. Two small holiday trees grace the main gallery and a 21-foot Marine Corps-themed tree was added in 2015.
On Christmas Family Day, a very magical Santa and Mrs. Claus (with a twinkle in his eye) is on hand to visit with little ones. These two can honestly calm the fussiest baby and the most frightened child, and there are activities to keep the young ones busy while they wait in line. Visitors are welcome to take as many pictures as they like, so bring your camera along. All museum activities are free and open to the public.
Recommended by Gwenn Adams, Public Relations Chief for the National Museum of the Marine Corps. Follow the USMC Museum on Facebook and Twitter.
Find more: Santa Photos and Holidays at the Mall in Northern Virginia.
Neighborhood Holiday Decorations, Multiple Locations, December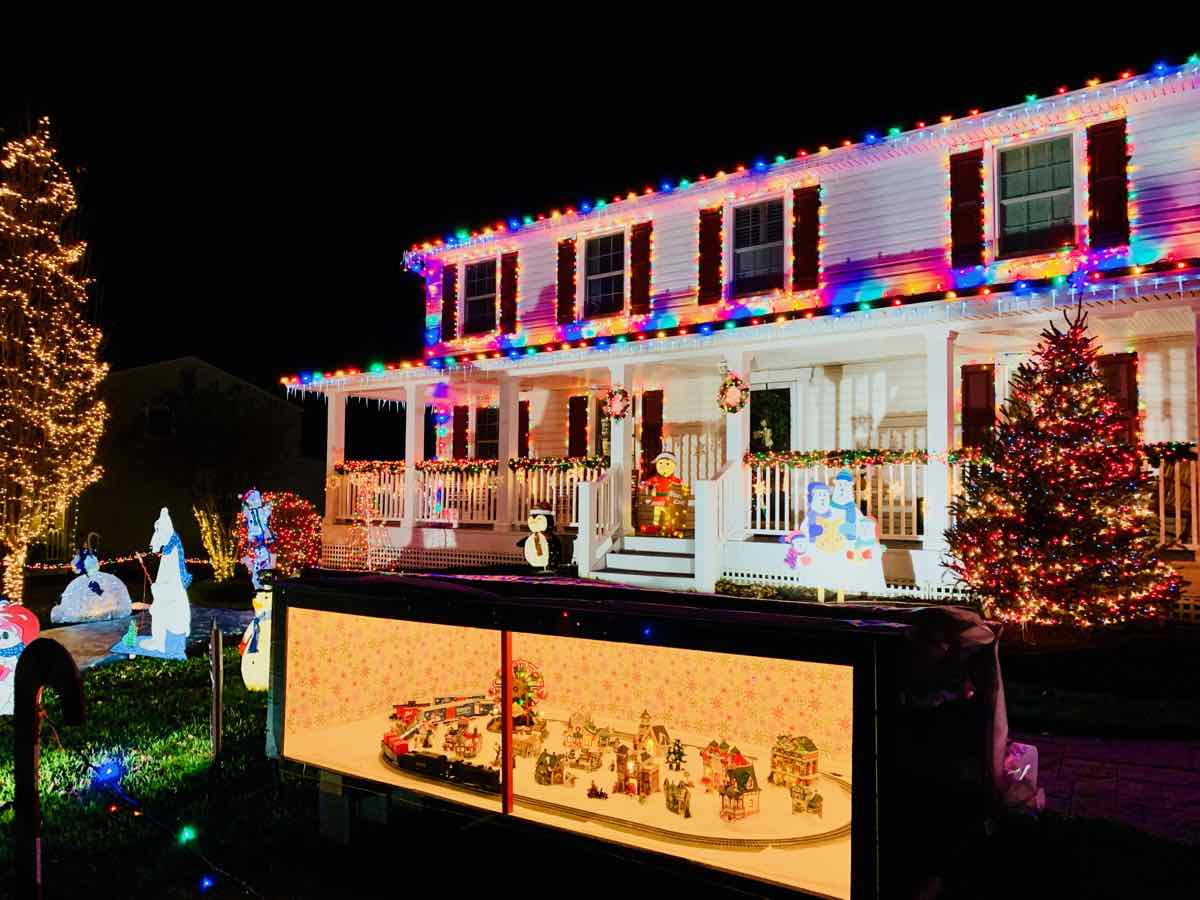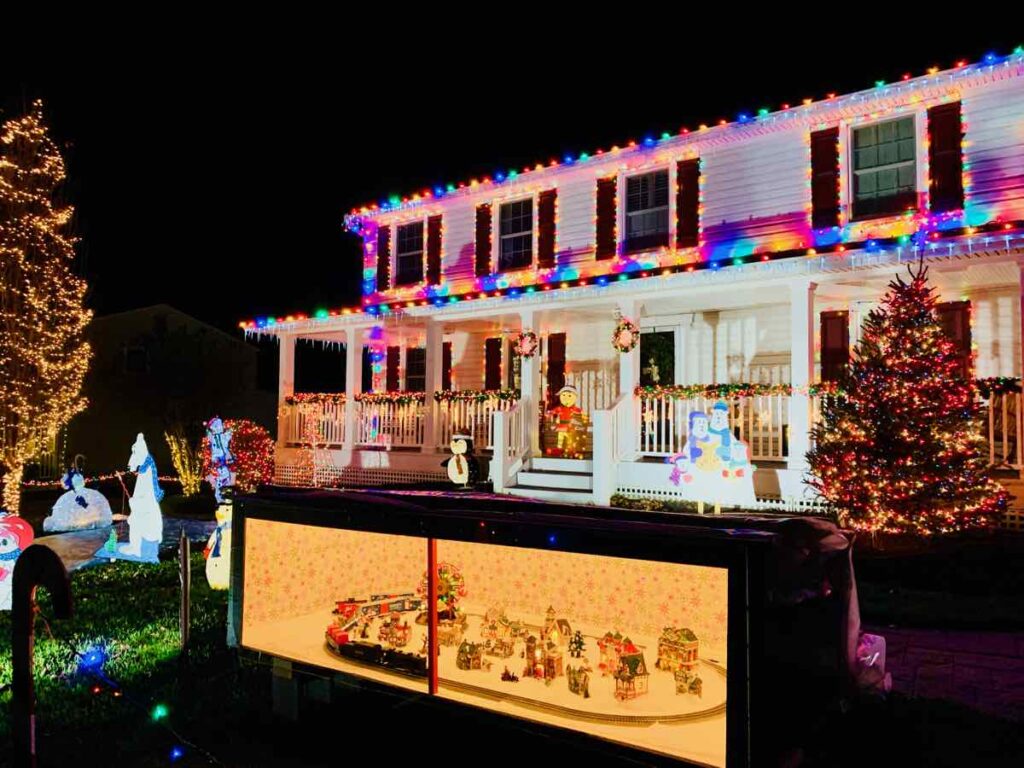 Checking out the decorations at local homes and neighborhoods is one of our favorite traditions during the holiday season. While an earlier favorite, nicknamed Candy Cane Lane (aka East Juniper Street in Sterling), has fewer decorations these days, other neighborhoods go all out.
While decorations vary year to year, you can always count on several houses decked out with kitschy, traditional, or modern holiday decor. For example, the Fox Mill neighborhood in Herndon usually has lots of decorated houses including one with fun displays in glass boxes.
Parking can be tight and crowds are on foot, so use extreme caution when driving on neighborhood streets around Christmas. We suggest you grab the first available parking spot and walk the street on foot.
Recommended by Charles McCool, how-to travel expert, author, trainer, and writer delivering expert travel tips and destination advice at McCool Travel. Follow Charles McCool on Facebook and Twitter.
Find more holiday fun: Holiday Lights in the Northern Virginia and Washington DC Area.
First Night Alexandria welcomes 2023 with a family-friendly New Year's Eve celebration in Old Town Alexandria. Follow the link for schedule updates and details.
Alexandria is just magical during the holidays and I have almost too many favorite events to count! I love First Night Alexandria, which has been an Alexandria tradition for over 20 years. Old Town is transformed into a big New Year's Eve celebration with more than 100 live performances at 22 indoor venues and a fireworks display over the river at midnight. Your First Night badge lets you into all the venues which include art galleries, historic sites, churches, and even retail shops.
The First Night event is tailor-made for the entire family, but I've also done it as a night out with friends, adding on stops at my favorite places for dinner and drinks. The streets buzz with festive excitement and good cheer, and there's a dance party at the foot of King Street leading up to the midnight fireworks.
Recommended by Claire Mouledoux, Director of Communications for Visit Alexandria and an Old Town resident. Follow Visit Alexandria on Facebook and Instagram.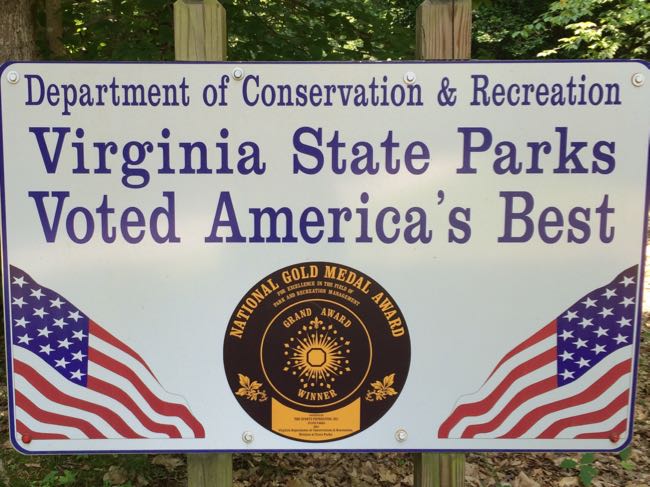 Join a guided event or create your own First Day Hikes using the links below.
I love to hike year-round and, like many people, I try to recommit to fitness when the new year begins. Happily, all Virginia State Parks offer guided and open hikes for the Annual First Day Hikes sponsored by America's State Parks.
In Northern Virginia, we are lucky to have several beautiful first-day hiking destinations close at hand. For example, kick off 2023 at:
Or explore more of our favorite Northern Virginia trails and make an active outing one of your holiday favorites. I'm hoping for good hiking weather and an active start to the new year.
Recommended by Julie McCool, Editor and Co-founder of Fun in Fairfax VA and Northern Virginia resident. Follow Fun in Fairfax on Facebook, Twitter, and Instagram.
We offer a huge thank you to all of the Northern Virginia experts who helped us discover new holiday favorites and plan a season full of happy, sparkly fun. What holiday favorites are you looking forward to most this year?
Follow us on Facebook, Twitter, Pinterest, and Instagram for more fun travel in and from Northern Virginia.