These romantic restaurants in Northern VA are perfect for Valentine's day, to celebrate a special occasion, or for a tasty couples night out. Luxurious and unique decor, a quiet vibe, and top-notch food make these our favorite romantic places to eat in Northern Virginia.
Romantic Restaurants in Northern Virginia
The romantic places on our list are perfect for Valentine's Day in Northern VA, but they're also great for a special occasion or any date night. Most of the options on our list offer fine dining, but we've included some less fancy restaurants too.
We have eaten at most of the romantic restaurants listed hee; and a few more are on our list because they are recommended by friends. We know there are many more great places to eat in the DC area. Please share your tips on romantic dining spots in Northern VA in the comments below.
Show your love with these fabulous Romantic Getaways Near Washington DC.
2941 Restaurant, Falls Church
2941 Restaurant has been appearing on "best of" lists and earning accolades for years. Tucked in an elegant setting in Falls Church, the menu emphasizes French and European flavors. Valentine's Day offers a three-course prix fixe menu for $85. 2941 is open for lunch, dinner, and happy hour specials Monday to Friday. They also serve dinner on Saturday.
Bistro L'Hermitage, Occoquan
An out of the way cottage in the scenic village of Occoquan is home to Bistro L'Hermitage. The cozy interior sets the mood for delicious French classics like escargots and Coquilles St. Jacque, and diners rave about the excellent service. The Bistro serves dinner Tuesday through Sunday, lunch on Thursday and Friday, and brunch on weekends. Allow extra time for a stroll around historic Occoquan.
L'Auberge Chez Francois, Great Falls
L'Auberge Chez Francois has been delighting diners with French-Alsatian dishes for over 60 years. The country restaurant is consistently ranked among the top fine dining places in the Washington DC region. Prices are high, but entrees are served prix fixe, accompanied by delicious courses from amuse to dessert and coffee. Downstairs, Jacques Brasserie serves more casual meals inside and on a lovely patio. L'Auberge Chez Francois is open for lunch and dinner Tuesday through Sunday and offers brunch on the weekends.
Enjoy a dose of nature with our guides to nearby Riverbend Park and Great Falls Park.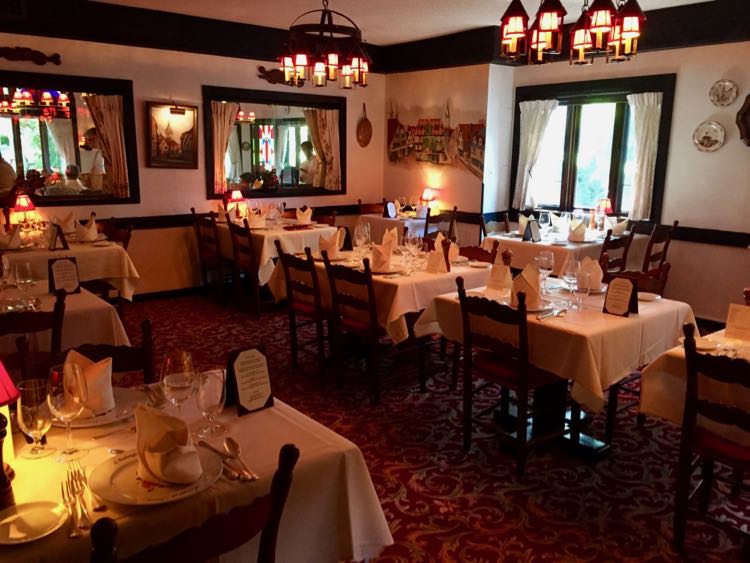 Lightfoot, Leesburg
Lightfoot is one of our go-to restaurants for a romantic couples dinner in the Leesburg area. The restaurant occupies an old bank building in the historic downtown area, and wine is stored in the original bank vault. Let the waiter know if you're celebrating a special day and your dessert may include a celebratory message. Lightfoot is open for lunch, dinner, and Sunday brunch, and offers happy hour specials on weekdays.
Read our full guide to great local restaurants in Leesburg VA.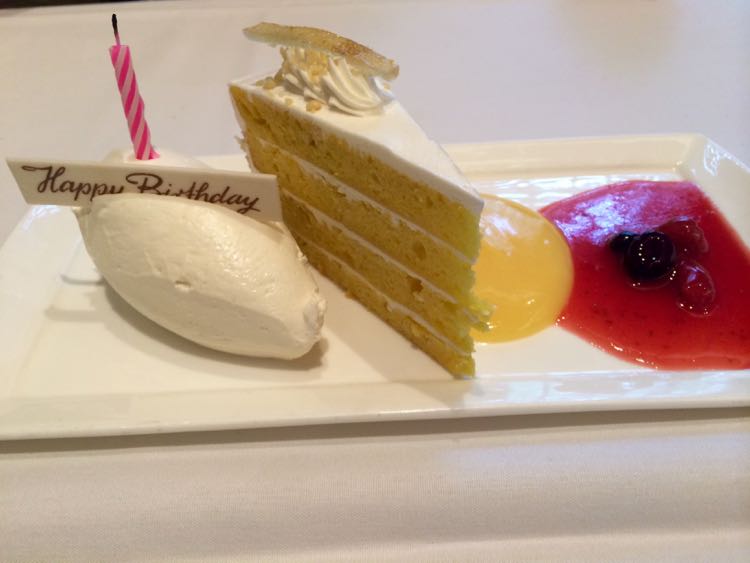 Magnolia's at the Mill, Purcellville
The small town of Purcellville offers a surprising number of excellent places to enjoy local food and drink. Magnolia's at the Mill occupies a renovated barn next to the historic train station which marks one end of the Washington & Old Dominion bike trail. The rustic interior is a nice backdrop to excellent cocktails, steaks, and seafood. After your meal, take a romantic couples photo at the wine-inspired LOVE sign, at the edge of the parking area.
Make it a day trip with our complete guide to Fun Things to Do in Purcellville VA.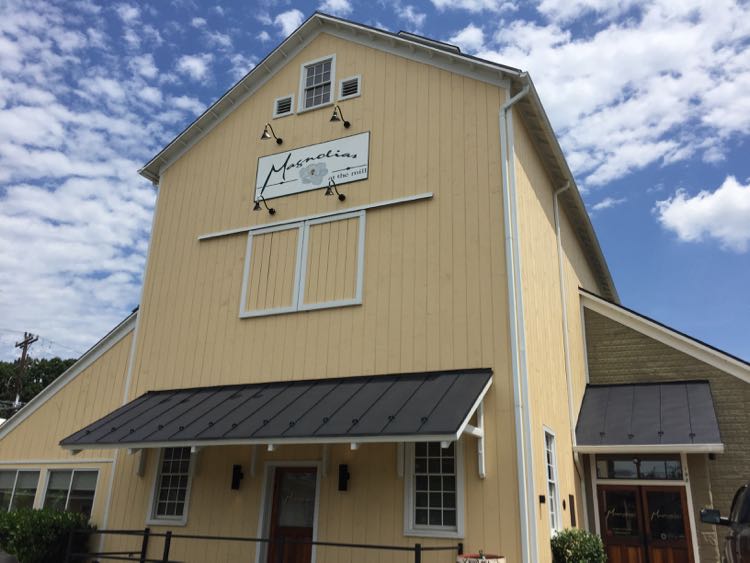 You'll find more places to show your love in these related articles:
Maple Ave, Vienna
A tiny and unassuming building on Vienna's main drag is home to innovative cuisine at Maple Ave Restaurant. The glass-enclosed "food shack" has only 10 tables, but that adds to the intimacy. The eclectic menu shifts with the seasons to highlight locally-sourced products. Maple Ave is open for dinner daily, lunch is served weekdays, and brunch is available on the weekends.
Plan your visit with our guide to Fun Things to do in Vienna Virginia.
Pazzo Pomodoro, Vienna
The attitude is more casual, but the classic Italian vibe at Pazzo Pomodoro is perfect for creating your own Lady and the Tramp moment. Linger over a big plate of fresh pasta, and follow your meal with an order of the tasty Baci de Sophia Loren, little cups of chocolate filled with cream and berries. Delicious! Pazzo Pomodoro is open daily for lunch and dinner.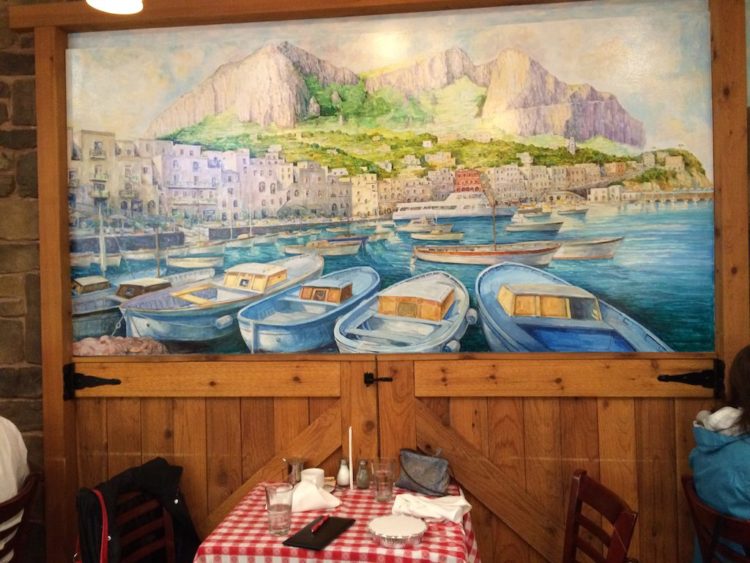 The Restaurant at Potowmack Farm, Lovettsville
The Restaurant at Patowmack Farm has been creating farm-to-table magic since before it became a trend. One of the first farm restaurants in the US, Patowmack occupies a hill at the edge of the river near Point of Rocks Bridge. Elegant and flavorful dishes are built around the farm's fresh produce, and served in a romantically lit greenhouse. Reservations are required, so plan ahead for this fabulous couple's night out. The restaurant serves dinner Thursday through Saturday, weekend brunch, and a monthly Sunday supper.
Trummer's on Main, Clifton
A romantic dinner at Trummer's is just one of the reasons to visit the charming town of Clifton. Arrive in town early to explore historic homes, local shops, and Paradise Springs, the closest winery to Washington DC. Trummer's upscale restaurant in small-town Virginia impresses diners with top quality dishes and exceptional service. If the weather is nice, consider a table on the porch. Trummer's serves dinner Tuesday through Sunday, Saturday lunch, and Sunday brunch.
Make it a day trip with our guide to Things to Do in Charming Clifton VA.
Tuscarora Mill, Leesburg
Tuscarora Mill occupies another historic building in downtown Leesburg. Many couples prefer the main dining and bar area, surrounded by signs of the former mill including antique mill equipment and rough-hewn, wooden beams. Request a table in one of the smaller rooms if you prefer more privacy. Valentine's Day features a three-course menu including a dessert course by South Street Under Bakery. "Tuskies" is open for lunch and dinner daily, and offers a special Sunday brunch menu.
Plan a romantic weekend with our complete guide: Leesburg Getaway in Northern Virginia Wine Country.
Special occasions like Valentine's Day, anniversaries, and birthdays always spur our search for romantic restaurants in Northern Virginia. But love is worth celebrating every day, and a couples night out is always in order. Wherever you choose to enjoy your next romantic meal, we wish you a happy and tasty time.
Follow Fun in Fairfax VA on Facebook, Twitter, Pinterest, and Instagram for more great places to dine and drink, things to do, and special events in Northern Virginia, Washington DC, and surrounding areas.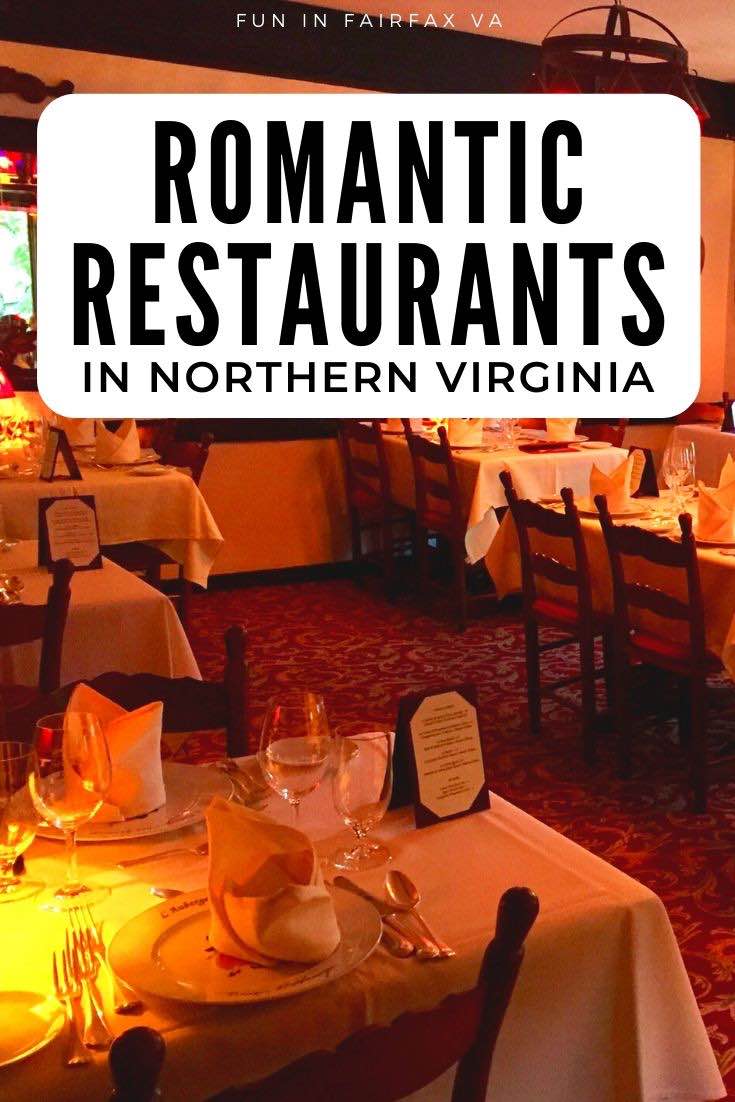 This article was published in 2019 and updated in 2020.