Meadowlark Gardens Winter Walk of Lights
Meadowlark Gardens Winter Walk of Lights is a .6 mile walk-through trail decorate with outdoor-themed and animated displays that make for a beautiful and fun holiday visit. One of the first professional displays to open each year (open November to January 6 in 2018), it provides a nice alternative to the drive-through experience at Bull Run.
We first visited Meadowlark Botanical Gardens Winter Walk of Lights in 2014, and it's been on our list for holiday lights fun ever since. Even when the weather is chilly, it's fun to bundle up and experience this lovely holiday display.
Your journey begins online when you purchase timed entry tickets from the NOVA Parks Ticket website. Your timed ticket ensures that you'll have a parking space, won't have to wait in long lines, and can enter up to 30 minutes before your ticket time. If you visit on a Monday to Thursday you can activate a $1.00 per entry discount coupon.
What You'll Find on the Winter Walk of Lights Trail
Once you enter the grounds, you'll follow a set path along paved walkways through the displays. You can walk at your own pace and spend as long as you want at each display. The pavement makes this a stroller-friendly destination, but you will have to navigate some hills on the .6 mile walk.
Meadowlark goes all out with sparkly decorations, many of which follow a garden and woods theme. The large, extensively light-wrapped trees set an impressive backdrop for the smaller displays.
There are charming animated displays—bees flit around a hive in the flower garden, a squirrel shakes his tail in a tree, a hummingbird lights on a flower and flies away, fish and frogs jump in a light-filled stream.
Not all of the animation follows the outdoor theme, but it's all a lot of fun. At the bottom of the hill, near the pond, stop to watch the Lakeside Lights animated display set to holiday music. Further on, you'll walk through a nicely lit tunnel, and near the walk's end you pass under trees that appear to be dripping with stars.
More Fun at Meadowlark Gardens Winter Walk of Lights
Before you reach those dripping trees, stop at the fire pit and buy a s'mores kit and hot chocolate to finish your visit with a nice treat. The marshmallow toasting is popular with the little ones, and a selection of nice, long toasting sticks is available to keep everyone safe.
If you have children in your group, you might want to start at the Snowflake Shoppe where you can buy light-up necklaces, wands, and other sparkly goods. Or you could finish at the shop and buy a few stocking stuffers on your way out.
Families were in the majority when we last visited, but we also saw several couples (like us). We recommend a visit even if you don't have little ones in tow.
In 2018, Winter Walk of Lights is open nightly including holidays from November 9 to January 6. Hours are 5:30 to 10:00 pm, with last admission at 9:30. Tickets are $8 for ages 2 to 12, $14 over 12.
Find more local holiday fun in these holiday articles:
Follow Fun in Fairfax VA on Facebook, Twitter, Pinterest, and Instagram for more fun things to do, places to visit, dining and drink, and special events in the Northern Virginia, Washington DC region.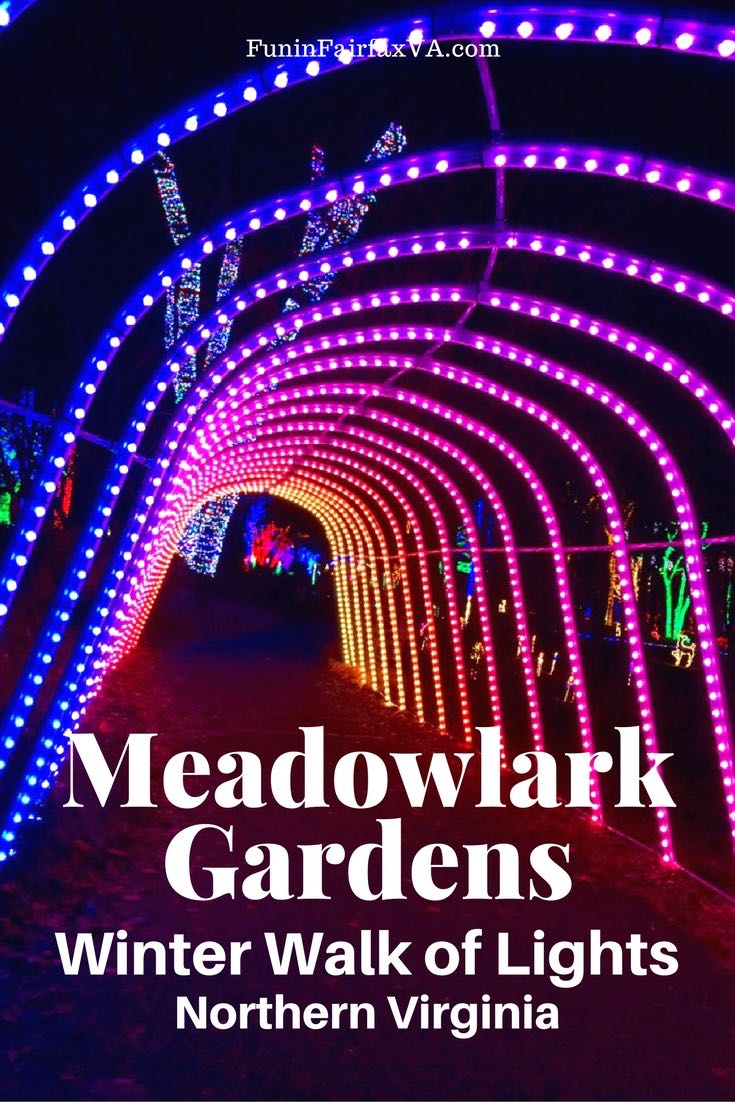 This article was originally published in 2015 and has been updated for 2018.