Updated on November 20, 2023 by Julie McCool
Meadowlark Gardens Winter Walk of Lights is a beautiful walk-through garden trail decorated with thousands of sparkling lights, perfect for a fun holiday outing in Northern Virginia. The half-mile walk features outdoor themes and animated displays along a paved, wheelchair and stroller-accessible trail.
Meadowlark's Winter Walk is one of the best holiday light displays near Washington DC, whether your goal is family fun or a romantic night out. Even when the weather is chilly, it's fun to bundle up and experience this lovely holiday lights display.
Disclosure: This article may contain affiliate links. We will make a small commission from these links if you order something, at no additional cost to you.
In 2023, the Winter Walk of Lights is open from November 11 to January 8. One of the first professional holiday displays to open each year, it provides a nice companion to the drive-through light show at Bull Run.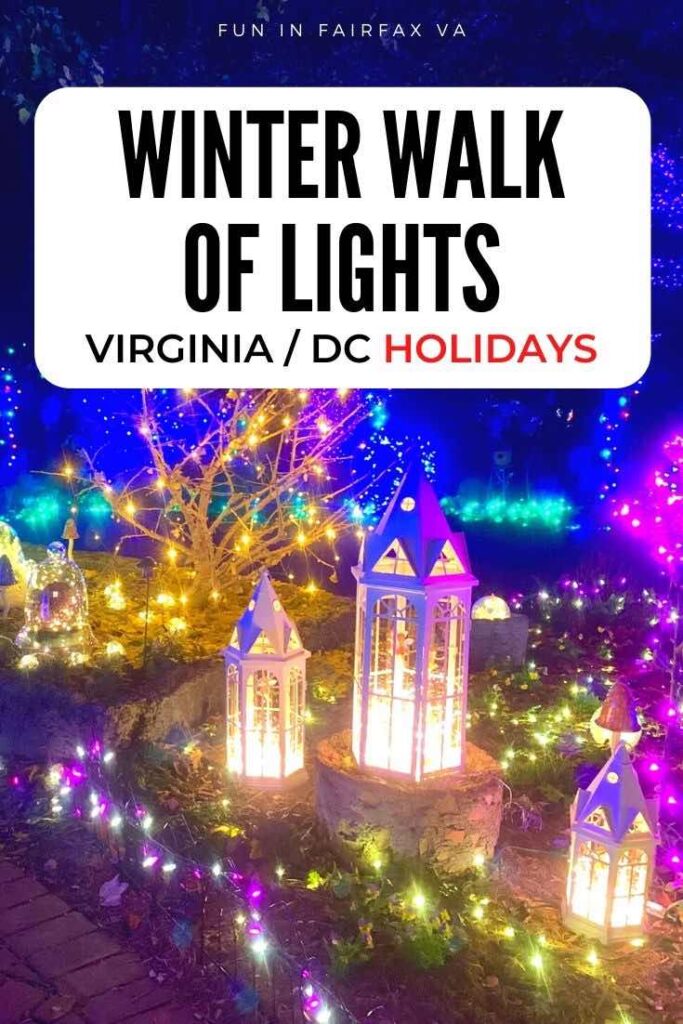 Looking for more great holiday shows in Northern Virginia? The DC Winter Lantern Festival returns to Tysons Virginia on Thanksgiving Weekend.
What is the Winter Walk of Lights?
The Winter Walk of Lights is an outdoor walk-through holiday light display at Meadowlark Botanical Gardens in Vienna Virginia. Guests follow a half-mile, paved trail surrounded by beautiful light displays. The one-way trail makes it easy to see and enjoy all of the lights in the garden.
Many of the Winter Walk of Lights displays feature flowers, insects, and wildlife in keeping with the garden location. The popular wheelchair-accessible trail attracts visitors of every age who return every year for this holiday favorite.
We first visited Meadowlark Botanical Gardens Winter Walk of Lights in 2014, and it's been on our list for holiday lights fun ever since. There are new additions every year, and old favorites return.
In 2023, walk-up tickets are only available from the NOVA Parks Ticket website for non-prime nights from November 10 to December 7. Even then, online purchase is highly recommended as availability is limited.
From December 8 to January 7 you must buy tickets online to see the show. Your timed ticket ensures that you'll have a parking space and are guaranteed entry.
What You'll Find on the Winter Walk of Lights Trail
The walk begins in the Meadowlark Gardens Visitor Center. If you have children in your group, you might want to start at the Snowflake Shoppe where you can buy light-up necklaces, wands, and other sparkly goods. You can also pick up a Light Search activity sheet and give your kids a fun extra challenge.
Once you enter the grounds, visitors follow a set path along paved walkways that wind between displays. You can walk at your own pace and spend as long as you want at each display.
The ADA-compliant, paved trail is a wheelchair and stroller-friendly destination. You will have to navigate some gentle hills on the half-mile walk.
Favorite Light Displays at Winter Walk of Lights
The Fairy Garden was full of lights and fairies in 2019, and we heard kids squeal with delight at the new display.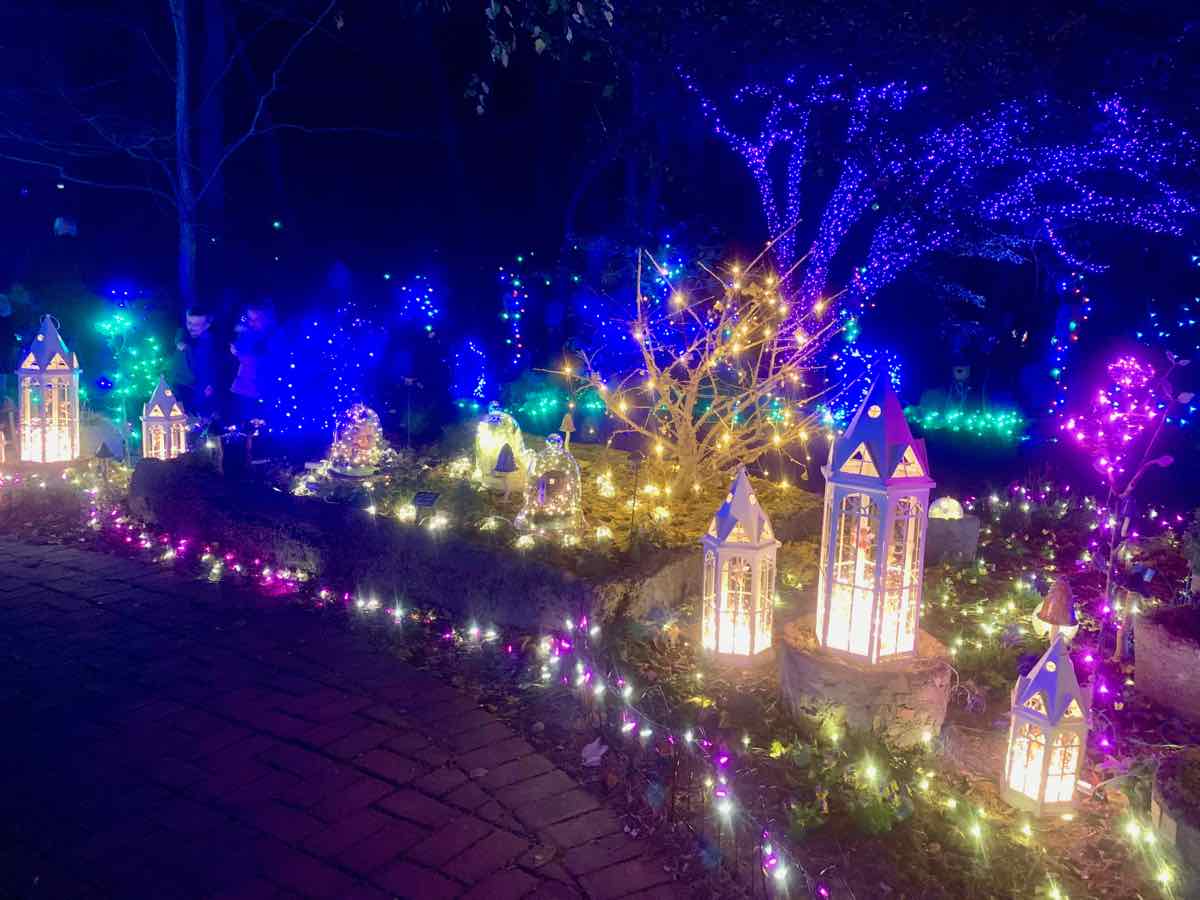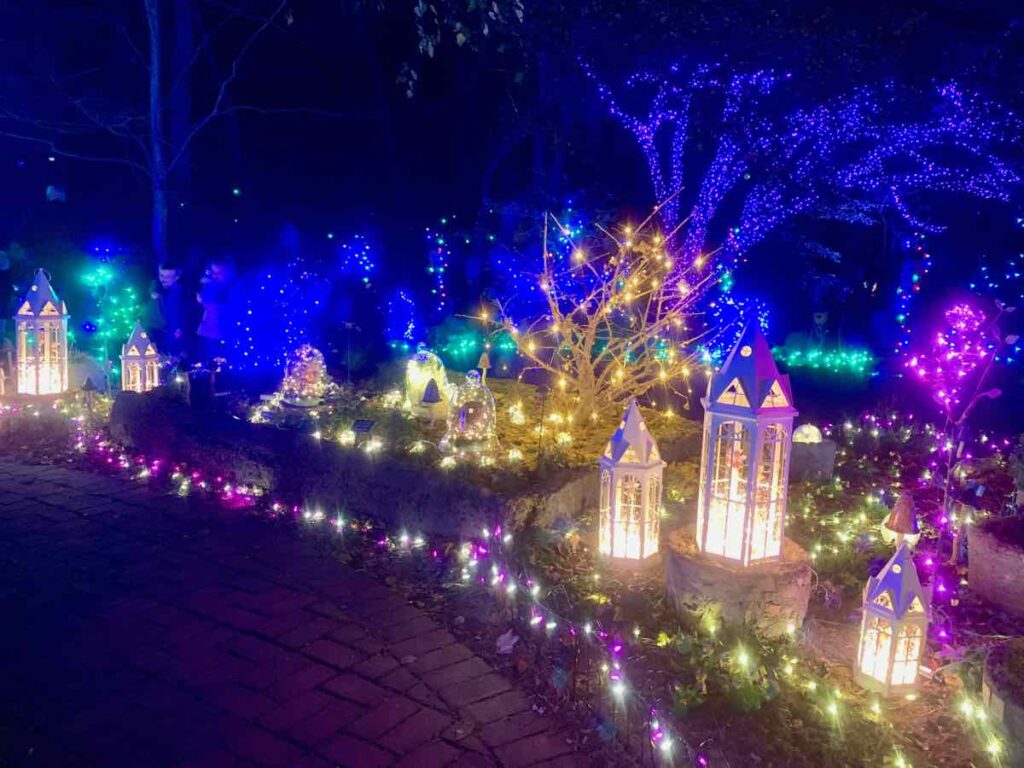 Meadowlark goes all out with sparkly decorations. The large, extensively light-wrapped trees set an impressive backdrop for the smaller displays. You'll also see traditional holiday scenes sprinkled among the outdoor themes.
Many of the light displays follow a garden and woods theme appropriate to one of the DC area's most beautiful gardens. Bears, birds, and butterflies play by the paths while pumpkins and flowers "grow" in the fields.
Photo Spots at the Winter Walk
Meadowlark has set up several places to take sparkly holiday photos, including a pretty butterfly and several spots with benches. However, you'll need a camera that can capture both lights and people.
There are charming animated displays throughout. Bees flit around a hive in the flower garden. A squirrel shakes his tail in a tree. A hummingbird lights on a flower and flies away. Fish and frogs jump in a light-filled stream.
At the bottom of the hill, near the pond, stop to watch the Lakeside Lights animated display set to holiday music. Further on, you'll walk through a nicely lit tunnel.
Near the Meadowlark Visitor Center
Near the walk's end, you pass under trees that appear to be dripping with stars. Before you reach those dripping trees, stop at the concession stand to buy a snack, hot chocolate, or cider to finish your visit with a nice treat.
Families are in the majority when we visit, but we also see several couples (like us) enjoying the show. We highly recommend the Winter Walk of Lights, even if you don't have little ones in tow.
Meadowlark Gardens Holiday Tips and Logistics
The 2023 Winter Walk of Lights is open nightly, including major holidays, from November 10 to January 7.
Hours are 5:30 to 10:00 pm, with the last admission at 9:15, November 10 – December 7. Hours are 5:00 – 10:00 during peak weeks (Dec 8 – Jan 7).
Timed entry tickets are required for prime nights but are recommended for all nights. Purchase online or at the door from November 10 – December 7. Purchase online only from December 8 – Jan 7. Capacity is limited so buy your ticket in advance to guarantee a spot.
2023 tickets are $18.00/$22.00 online/at the door during non-peak weeks (Nov 10 – Dec 7). Tickets are $18 during peak weeks (Dec 8 – Jan 7) and must be purchased online. Children 2 and under are free.
The Walk of Lights is open rain or shine, except in extreme weather. Tickets can not be refunded, but they are transferable to a different date.
Special Dog Nights allow you to share the fun and capture great holiday photos with your furry friend. Pets are not permitted, except for service animals, on other nights.
Find more information on the Meadowlark Gardens website.
Plan more holiday season fun in Northern Virginia with our holiday guides:
Follow us on Facebook, Twitter, Pinterest, and Instagram for more fun travel in and from Northern Virginia.