Updated on September 11, 2023 by Julie McCool
This Leesburg scenic drive visits pretty parks, quaint towns, historic sites, and local wineries and breweries on winding country roads along the Virginia and Maryland border. Our loop drive begins in Leesburg, just 40 miles west of Washington DC, and includes a historic ferry ride across the Potomac River.
UPDATE: On Dec 28, 2020 Historic White's Ferry announced that they are permanently closed due to the loss of their Virginia landing site. We hope this will be overturned but unless it is, the Leesburg end of this loop is no longer operating.
Disclosure: This article may contain affiliate links. We will make a small commission from these links if you order something, at no additional cost to you.
Stick to the road, or extend your outing with side trips to several historic and natural sites along the way. We've highlighted optional stops where you can enjoy a hike, paddle, bike ride, meal, classic ice cream shop, antiquing, farm stands, or a relaxing visit to a Virginia winery or brewery.
Here is a map of our recommended Leesburg scenic drive route which you can use to adjust your starting point and stops. We have lived in Northern Virginia for 25 years, and these are some of our favorite areas for a relaxed scenic drive. In fact, we revisited the whole route on May 20th to celebrate our 25th anniversary.
Our route is broken into three sections: Leesburg to White's Ferry, White's Ferry to Point of Rocks, and Point of Rocks back to Leesburg. The whole loop is about 50 miles or 2 hours long, depending on which stops you make. This is a very pretty drive even if you don't make any stops.
Tip: Several sections of this Leesburg scenic drive (including White's Ferry) are busy commuter routes, so avoid the drive during rush hours.
Explore more of the Washington DC region with our guide: 6 Fantastic Northern Virginia Scenic Drives.
Historic Parks and Sites: Leesburg Scenic Drive to White's Ferry
Begin or end your scenic drive in historic Leesburg Virginia, the Loudoun County seat. Leesburg has a lovely, walkable downtown full of antique shops, restaurants, and historic buildings. There are also several breweries in the downtown area where you can relax with a craft brew after your drive. Plan your Leesburg visit with our guides: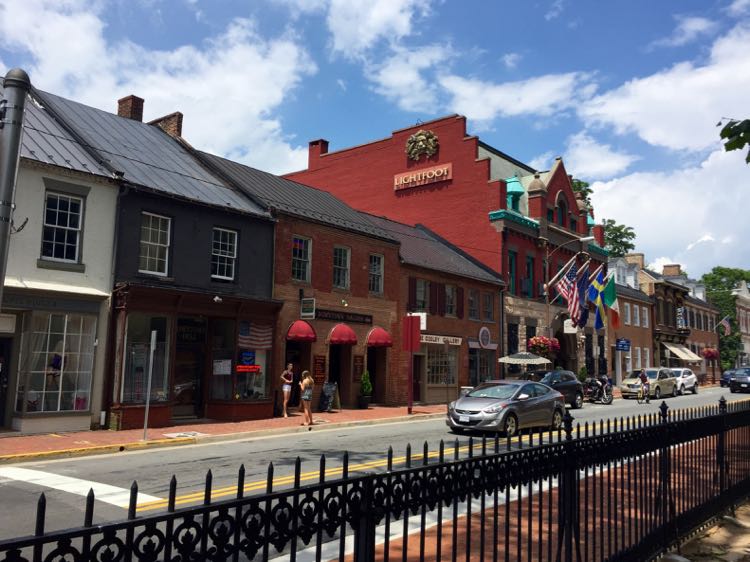 When you are ready to leave town, make your way to Route 15 north. Our first optional stop is Balls Bluff Battlefield Park, which preserves the site of a Confederate victory at the first Civil War battle in Loudoun County. The park includes interpretive trails and includes one of the smallest National Cemeteries in the United States where 54 Union soldiers are buried.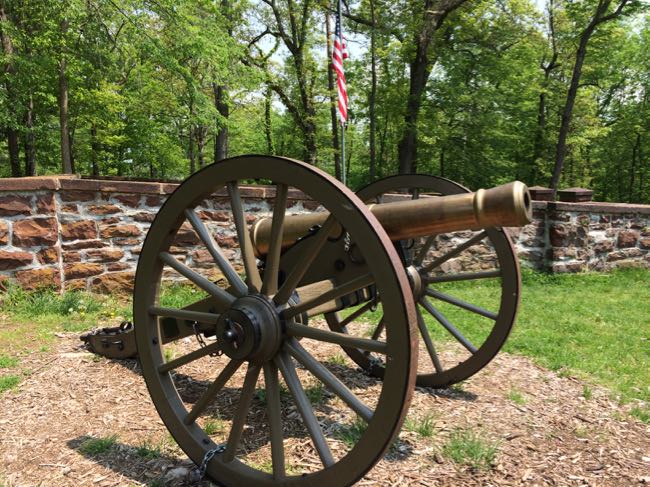 Continue north on Route 15 then turn right on White's Ferry Road. The narrow road makes a hard left turn as you reach the Potomac River, and ends at the entrance to Historic White's Ferry. This cable car ferry has been in operation here since 1872 and is the last ferry operating on the Potomac River. It carries 24 cars at a time for $5 one-way or $8 round-trip.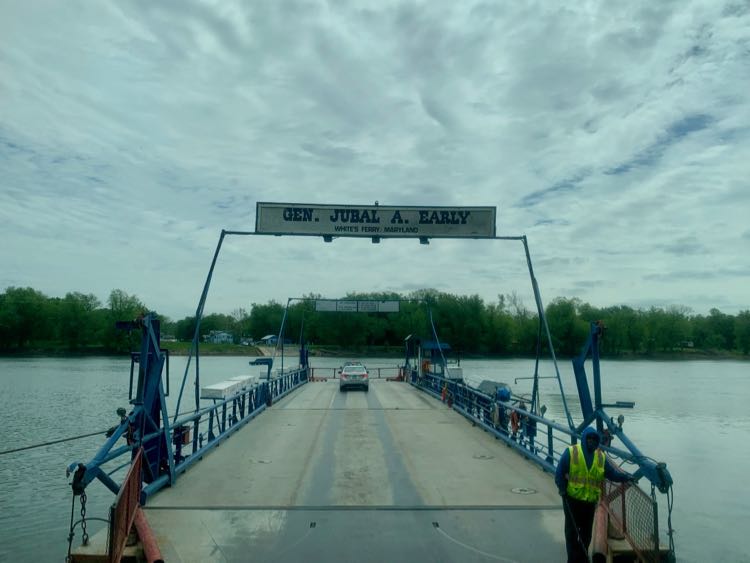 Once you unload on the Maryland side you can visit the store, grill, and picnic grounds or rent a boat in season. The ferry ride across the Potomac is short but fun and a real highlight for kids. It's safe and easy to get out of your car once the ferry is underway.
Things to do on the Leesburg Scenic Drive to White's Ferry
Country Roads and the C & O Canal Towpath Along the Maryland Border
Once you cross the Potomac your drive continues in Montgomery County Maryland, as we head northwest. A highlight of this section of the drive is the Chesapeake and Ohio Canal National Historic Park, which follows the river through Maryland. The 184.5-mile canal once carried goods and people between Georgetown in Washington DC all the way west to Cumberland Maryland. Today, the C & O Canal towpath offers miles of hiking and biking on wide dirt and stonedust path. We will highlight several canal access points on this portion of the drive.
Your first access point for the Chesapeake and Ohio Canal National Historic Park is just steps away from the White's Ferry parking area. As you drive by, note the iron trust bridge that was built in 1876 to replace an earlier wooden bridge.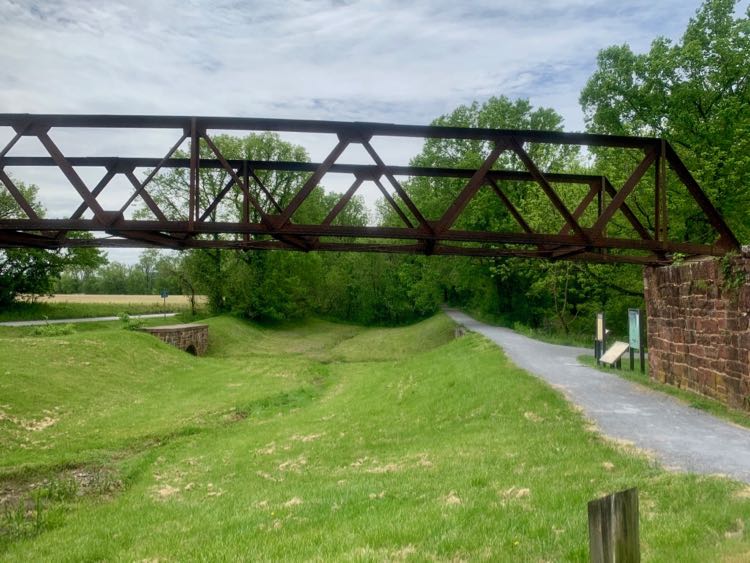 In 2.7 miles, turn left on Martinsburg Road toward Dickerson Conservation Park. This 300-acre park is a nice stop for a short walk to Potomac River views. Huge sycamore trees line the banks at this wide, quiet stretch of the river. The free parking area offers another access point to the C&O Canal towpath.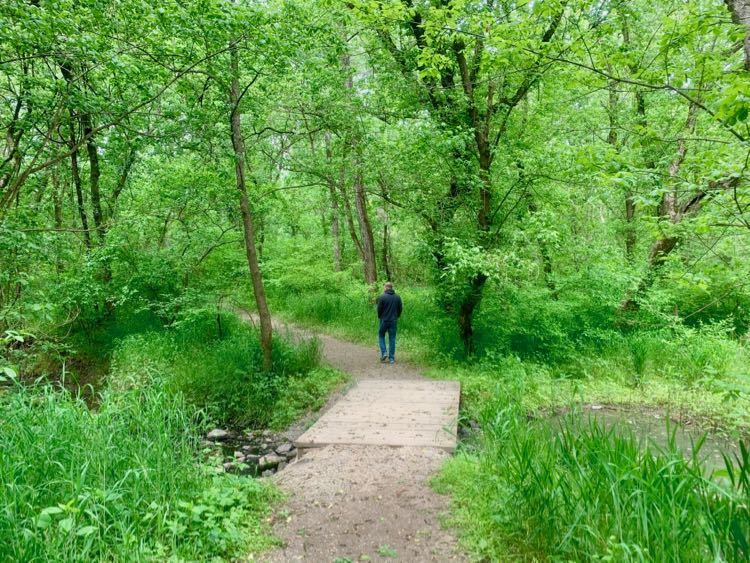 Even if you don't stop at Dickerson, you can enjoy the views on this nice stretch of country road. Notice the beautiful stone wall on your right, which is marked with "Historic Stone Fence" signs.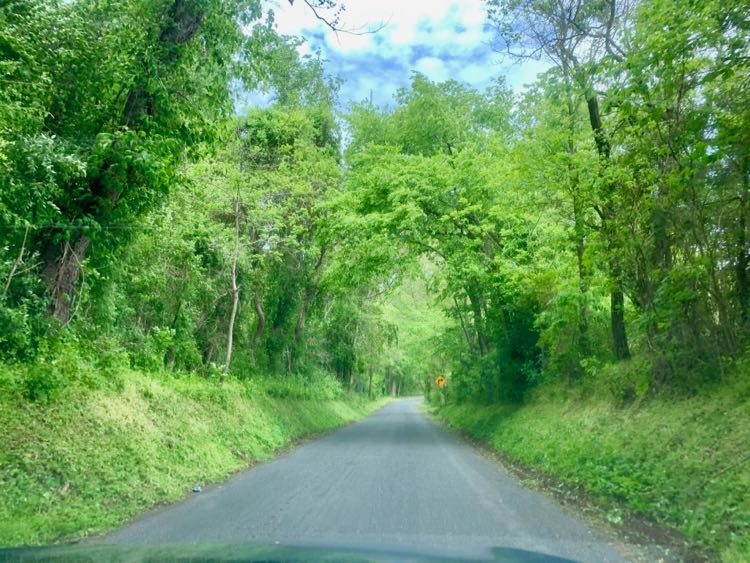 Turn left when you reach Route 28, heading toward the small town of Dickerson. Just after the road passes under a railroad, you'll see a right turn to Sugarloaf Mountain. This makes an excellent side trip, or day trip destination, for a nice hike to beautiful views on the Maryland countryside.
Plan your visit with our guide: Sugarloaf Mountain Hike to Beautiful Mayland Views. 
On this Leesburg scenic drive we're going to skip Sugarloaf and continue straight on Route 28 to our next optional stop—the Monocacy Aqueduct. There are eleven aqueducts on the C&O Canal, and the Monocacy is the largest and most elegant. Seven support structures, made of huge granite blocks quarried near the base of Sugarloaf Mountain, span the canal.
There are free parking and restroom facilities, and the aqueduct is a short walk from the lot. Hikers and cyclists can access the towpath here, and picnic tables offer an idyllic view of this engineering beauty.
Pretty horse farms and rolling fields line Route 28 as you drive through Montgomery and Frederick Counties. The next optional stop is Nolands Ferry. There is a picnic area here, but the ferry closed long ago.
If you have ice cream lovers in your group, be sure to stop at Rocky Point Creamery. This 4th-generation family farm makes 80 flavors of fresh ice cream using milk from their own cows, right here at the creamery. Kids can play on slides, and there are picnic tables where you can relax and enjoy your treat.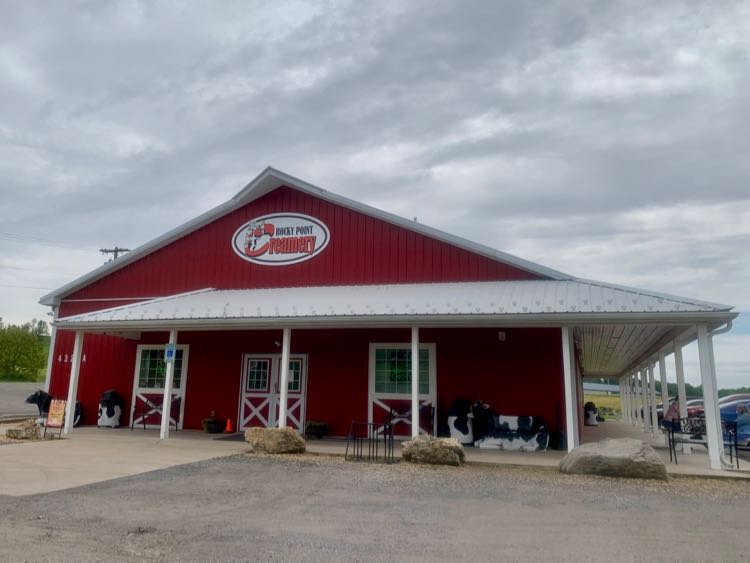 Our final stop in Maryland is Point of Rocks, a historic passenger train stop for commuters to Washington DC. A large parking area offers a convenient access point for the C&O Canal and boat ramp access to the Potomac River. At the end of Route 28, turn left on Route 15 and drive across the Point of Rocks Bridge back into Virginia. The camelback truss bridge offers pretty views as you cross the Potomac River.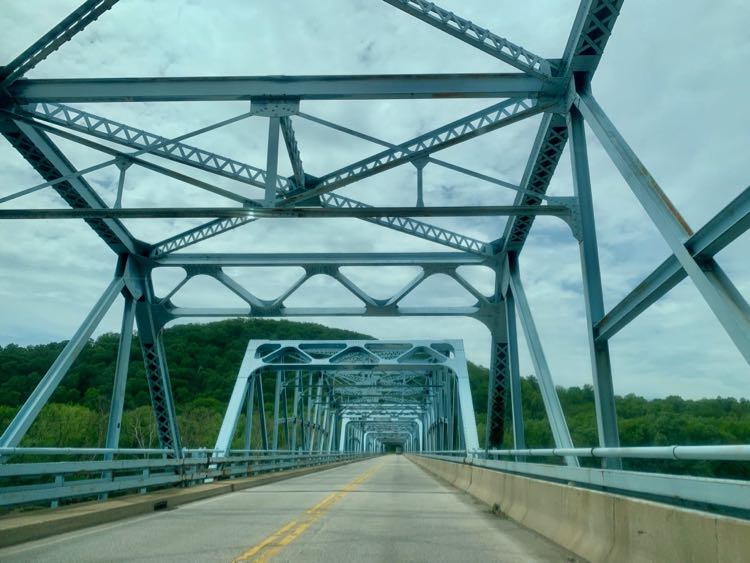 Things to Do Along the Maryland / Virginia Border
Hike or bike on the Chesapeake and Ohio Canal National Historic Park towpath.
Take a short hike to the Potomac River and access the towpath at Dickerson Conservation Park.
Take an optional side trip to Sugarloaf Mountain.
Enjoy scenic country roads, horse farms, and pretty views.
View the historic Monocacy Aqueduct and enjoy a picnic, hike, or bike trip.
Enjoy a picnic at Nolands Ferry.
Treat yourself to fresh ice cream made on a 4th-generation family dairy farm.
Stop in Point of Rocks for access to the C&O Canal towpath and the Potomac River.
Cross the Point of Rocks Bridge back to Virginia.
Northeast Loudoun County Wineries, Breweries, and Farm Stands
Our Leesburg scenic drive finishes with a drive through Northeastern Loudoun County. Enjoy country roads, farm stands, and several excellent Virginia wineries and breweries in this area. Once you leave the bridge, follow Route 15 south about 2 miles, then turn left on State Route 658 (watch for the Tarara Winery sign). In another mile, turn left on Tarara Road, Route 662.
Visit Tarara Winery to sample wine at the tasting bar, or purchase a glass or bottle and a snack and head to the pretty deck (age 21+ only). The popular winery offers a lovely view of Sugarloaf Mountain. There is also a family-friendly picnic area by a lake.
At the next intersection, turn right on Spinks Ferry Road (Route 657), leaving the pavement behind. Slow down and enjoy one of the pretty, winding dirt roads of Loudoun County. In 1.5 miles, watch for the entrances to two wineries and a brewery on your left.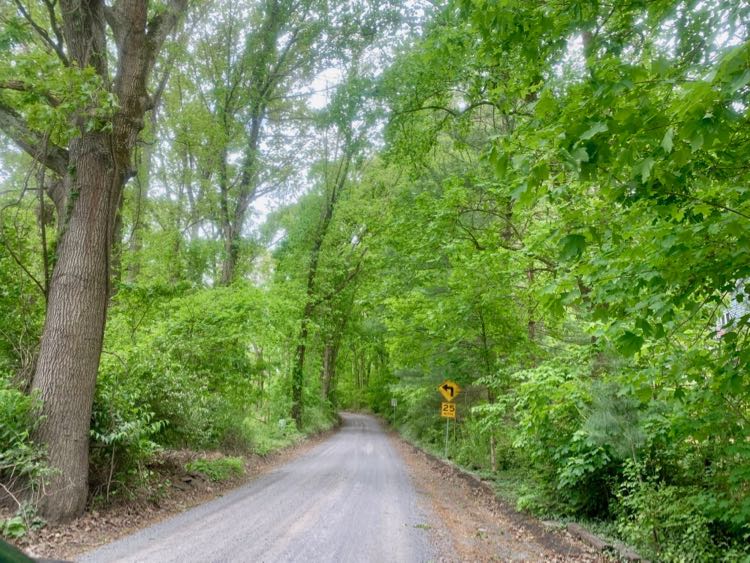 Hidden Brook Winery, one of the original 10 wineries in Loudoun County, occupies a log cabin close to the road. Enjoy wine tastings and live music in the cabin.
Follow the next driveway to Lost Creek Winery which features wine crafted from 100% Loudoun grown grapes. We like to relax and sip under the pergola or out on the spacious back lawn. The winery also offers a farm-to-table small plate pairing menu and Chef's Tasting events.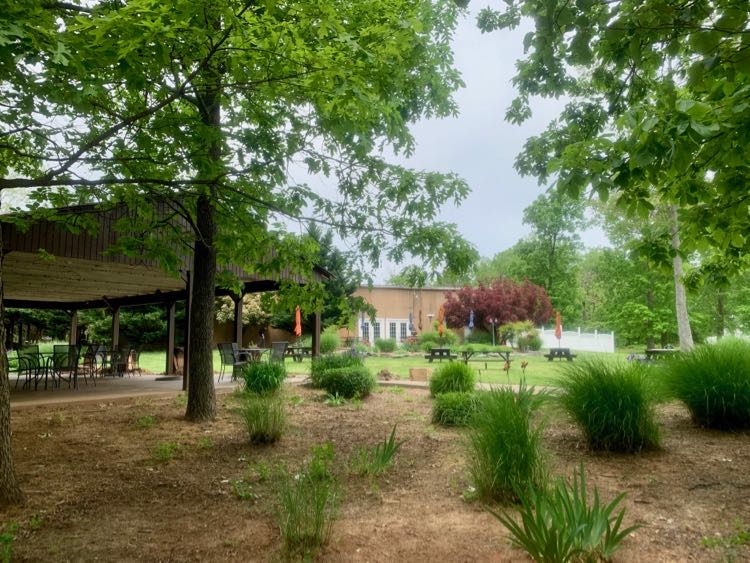 The driveway to Lost Creek also leads to Barnhouse Brewery. The large barn is a relaxed spot to sample the craft beer list and a selection of pretzels and brats. Live music on Saturdays add to the weekend fun.
Back on Route 15, turn left for the drive back to Leesburg, or turn right to shop for antiques in the quaint town of Lucketts. The Old Lucketts Store offers a big collection of vintage hip items for the home from over 35 dealers. Even if you aren't in a buying mood, it's a very fun place to browse.
A bit further north is Vanish Farmhouse Brewing, which serves craft brews and bar food in a large barn and outdoor space on Black Hops Farm.
There are several farmstands on this stretch of Route 15 where you can pick up local produce and other goods.
Things to Do in Northeast Loudoun County
Sample Virginia wine at several Loudoun County wineries.
Enjoy craft beer at two local craft breweries.
Shop for antiques along scenic Route 15.
Pick up produce and local goods at Loudoun farmstands.
The last section of our Leesburg scenic drive is complete, but you can easily extend your fun. Head to historic Waterford to connect to another scenic Loudoun County drive featuring small towns and the historic Snickersville Turnpike.
Follow us on Facebook, Twitter, Pinterest, and Instagram for more fun travel in and from Northern Virginia.