Updated on May 25, 2023 by Julie McCool
Take a scenic drive in Loudoun County Virginia on the historic Snickersville Turnpike to enjoy winding roads, beautiful views, and quaint towns. The Snickersville Turnpike is one of the most scenic drives in the Washington DC region, perfect for a leisurely day trip.
This scenic drive loop just an hour from DC combines the Snickersville Turnpike with small towns and pretty roads in Northern Loudoun County VA. Pepper your outing with craft breweries and wineries, delicious dining, and historic sites for a perfect Virginia day trip. The combination of scenery and stops offer an ideal way to spend a quiet day in the country.
Disclosure: This article may contain affiliate links. We will make a small commission from these links if you order something, at no additional cost to you.
While this scenic road makes a great day trip from DC, you can extend your journey and stay at one of the lovely rentals in Northern Virginia wine country. For example, Windswept Inn is a private cottage at the edge of Bluemont and Round Hill that is very convenient to Snickersville Turnpike.
Loudoun County Scenic Drive Route
The map shows our recommended route for a scenic drive in Loudoun County. Read on for highlights and stops you can enjoy along the way. Aldie, the start of the drive, is only an hour west of Washington DC (without traffic).
You could also start the drive in Leesburg and end your journey at one of the great local Leesburg restaurants in the historic downtown.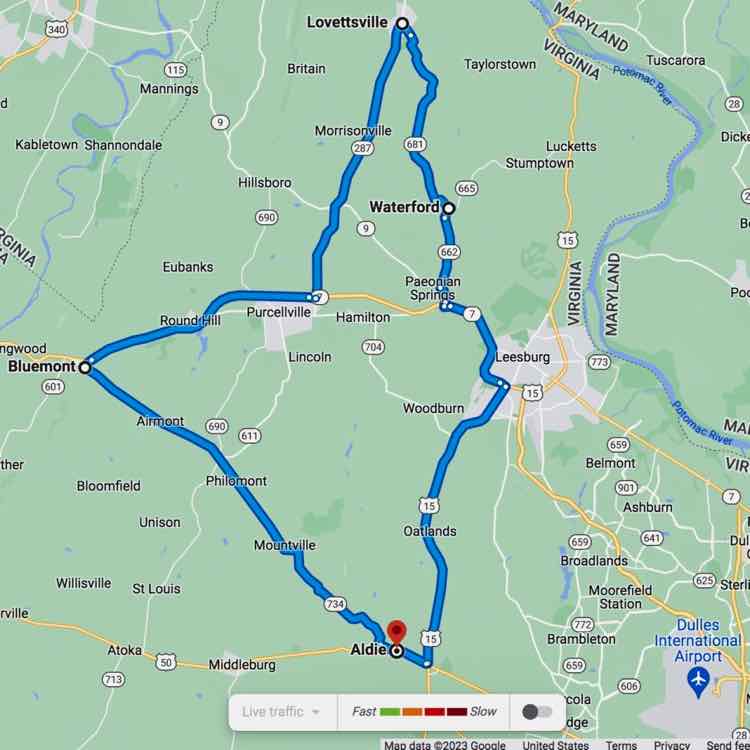 Snickersville Turnpike Scenic Drive: Aldie to Bluemont VA
The Snickersville Turnpike (SR 734) is a quiet, two-lane road, that passes farms and fields, and preserves much of its early character. George Washington traveled the road as a surveyor. By 1786 it was the first operating turnpike in America, praised by Thomas Jefferson as a success.
In 2022, the Snickersville Turnpike was added to the National Register of Historic Places. The road today still reflects the history and character of this early turnpike. While the road is only 15 miles long, there are some interesting sites to see along the drive.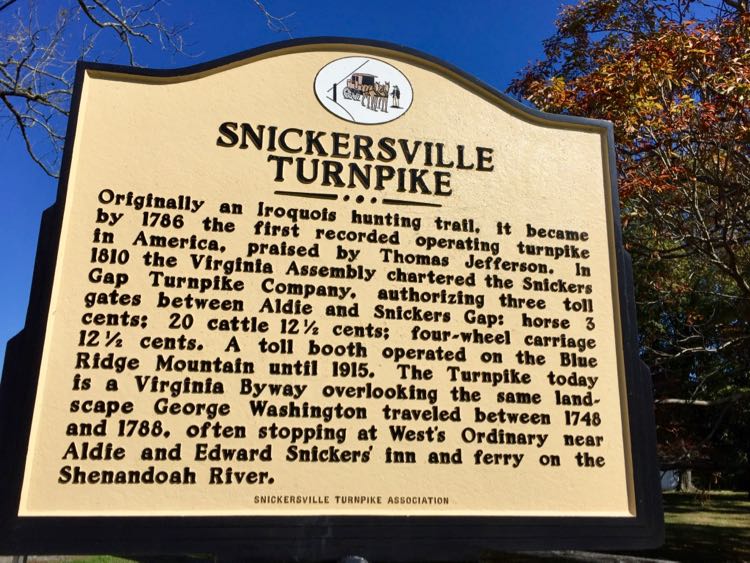 1st Massachusetts Cavalry Monument and the Battle of Aldie
The road is peaceful now, but it was once the site of fierce conflicts. One of the most intense cavalry battles of the Civil War was fought along the turnpike at a turn in the road. Here, the 1st Massachusetts Cavalry lost more than 100 men in the Battle of Aldie.
The survivors erected a monument to mark the spot where the heaviest fighting took place, on a sharp curve in the road north of Aldie. Stop and read about the battle and imagine this peaceful corner in the midst of war.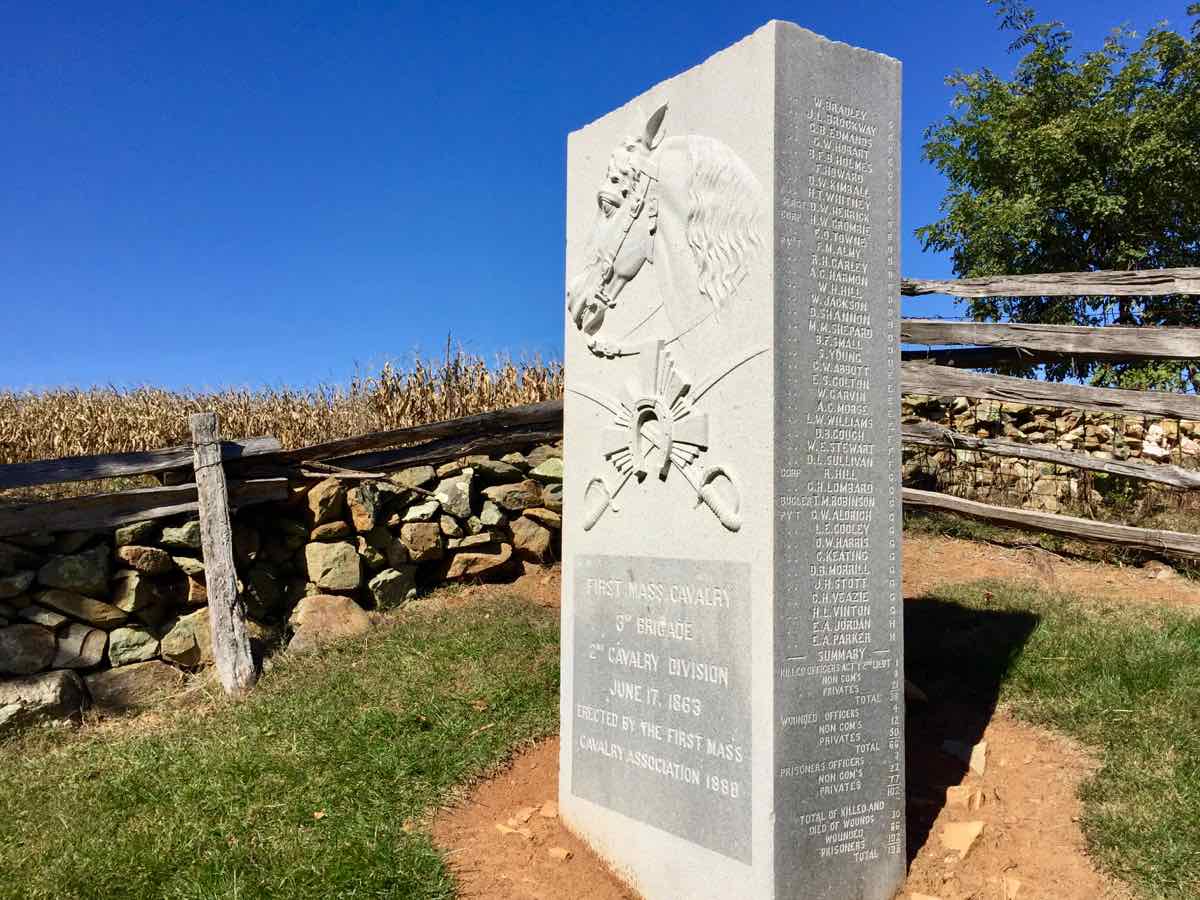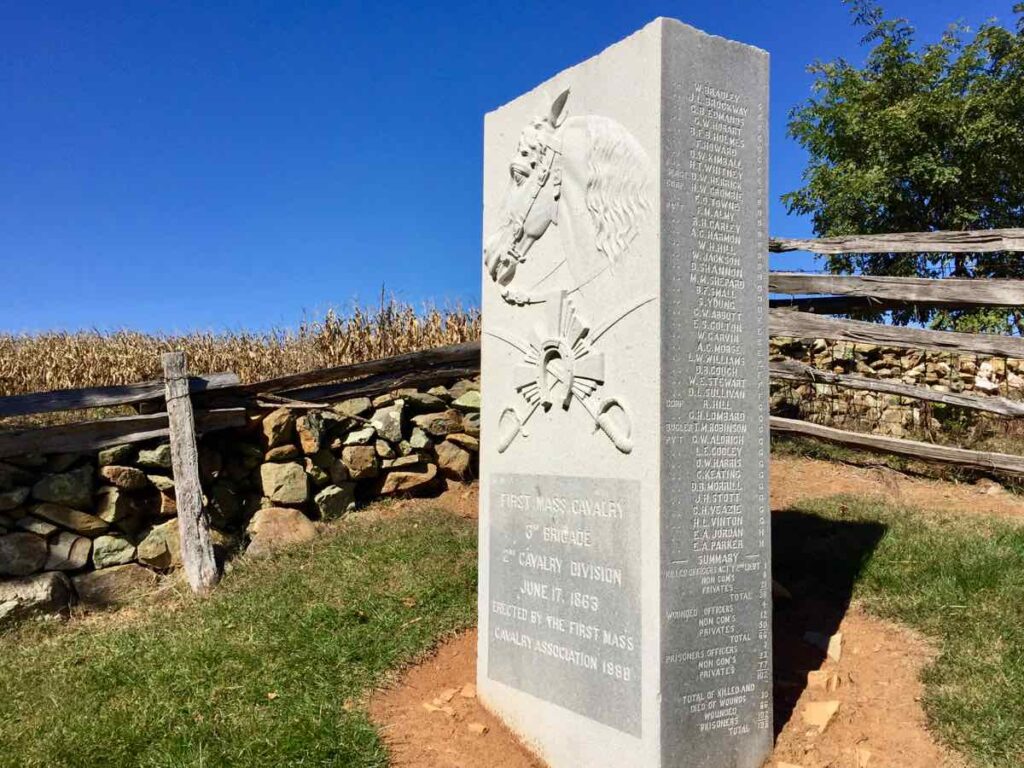 The beautiful stone wall along this section of road, where the fighting took place, still stands today. The property behind the wall is part of the Furr Farm, build in 1798 and witness to the battle on June 17, 1863. The farm is private, but this article shares details of the beautifully preserved home.
Hibbs Bridge
Further north, the road passes over the double-arched stone Hibbs Bridge. Built in the early 1800s, the bridge was preserved thanks to the efforts of a community association. Pull off onto Hibbs Bridge Road for a better look at the bridge's double-arch design.
Stone Walls and Small Towns
Homes along the turnpike span many periods. You'll see early stone and log construction, classic Victorian farmhouses, and post-Depression cottages on your drive. We're always impressed with the sturdy, beautiful stone walls that line the road.
The Snickersville Turnpike passes through the little towns of Philomont, Airmont, and Bluemont. All three towns had classic general stores though Airmont is now closed. You can still visit the stores in Philomont and Bluemont for local goods, snacks, and souvenirs.
Philomont General Store
The Philomont General Store has been in continuous operation since 1913. Stop in to see the old wooden furnishings and to pick up some local goods. We recommend the salt and pepper Virginia peanuts!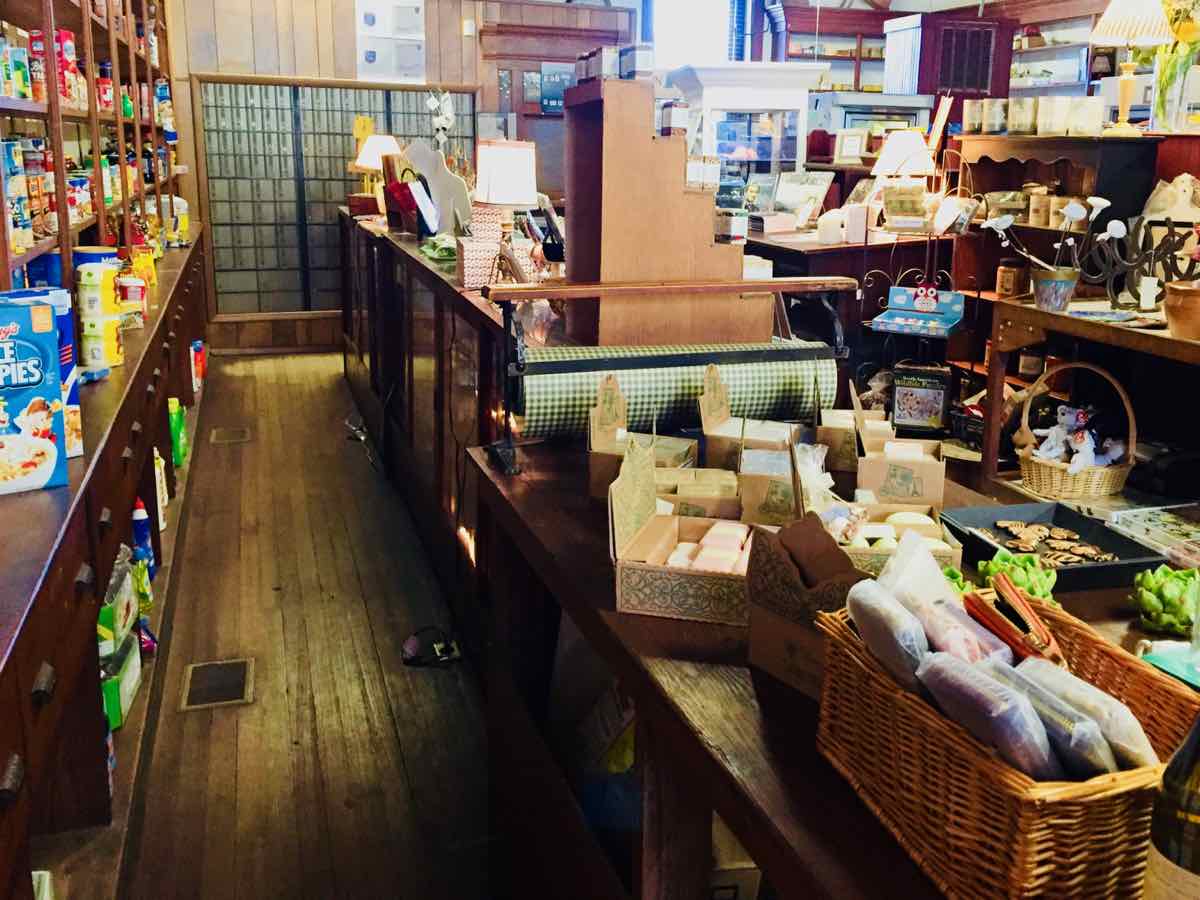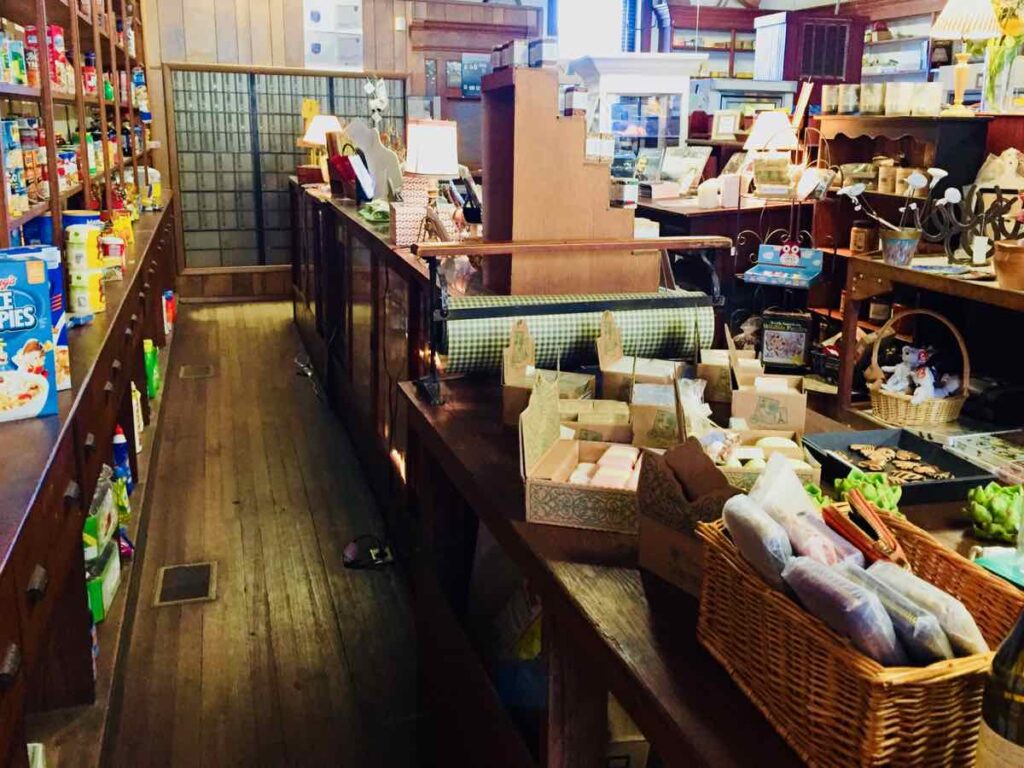 White Pump Drovers Tavern
In about a mile, at the intersection of Snickersville Turnpike and Colchester Road, is the old White Pump Drovers Tavern. This stone farmhouse operated as a tavern from the 1790s, housing "drovers" who were driving livestock to market, along with other travelers.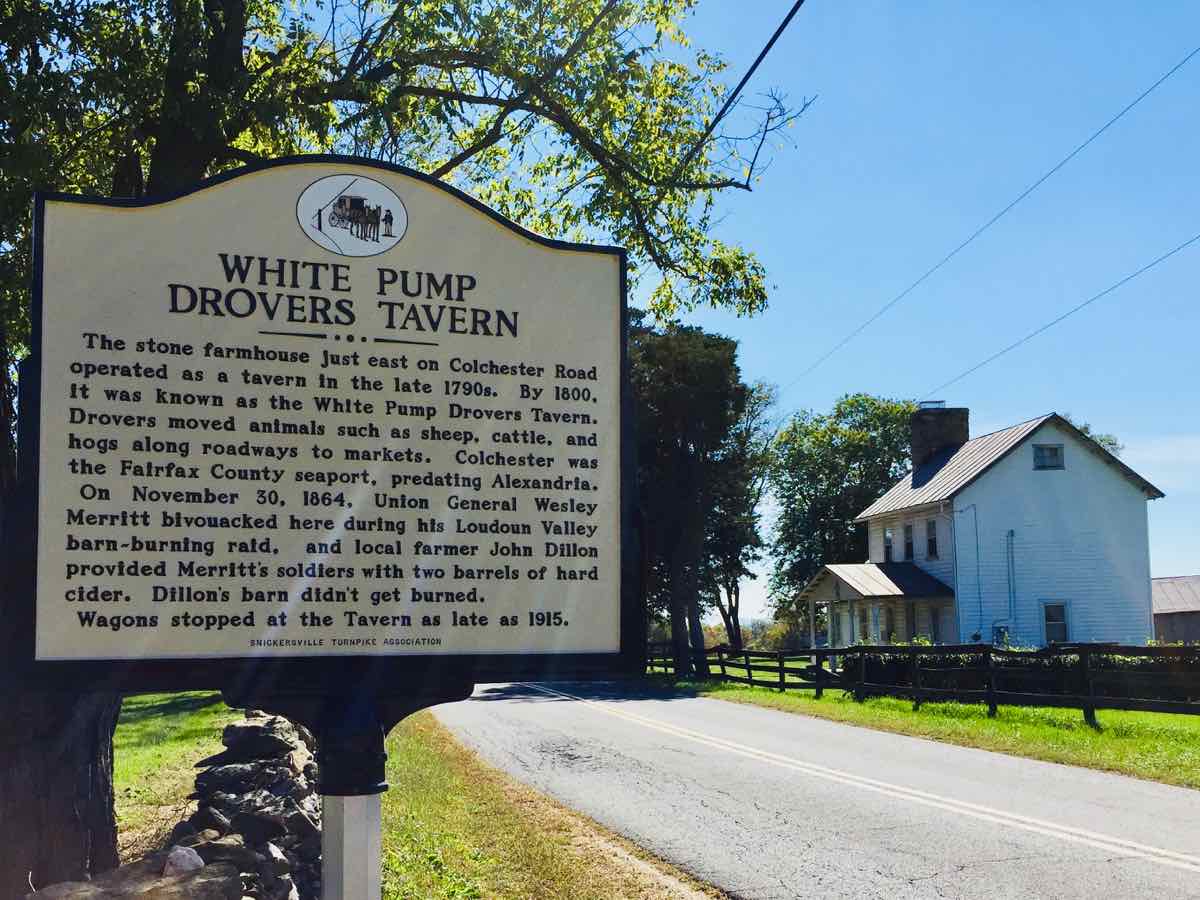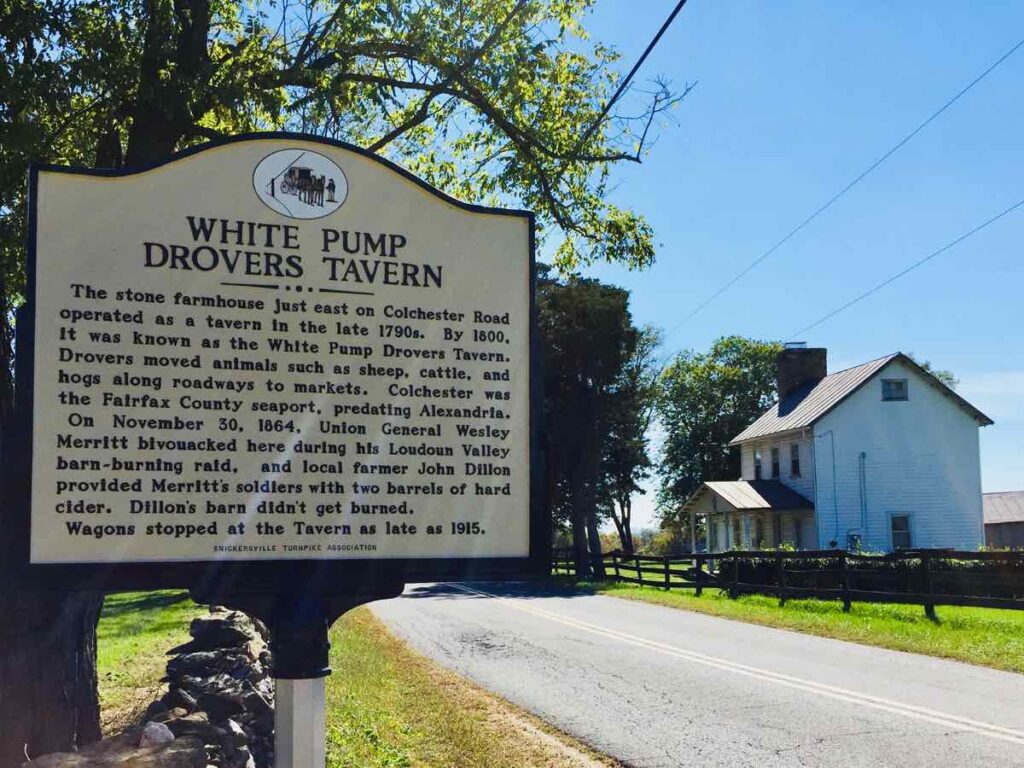 Bluemont Virginia
Near the turnpike's northern end, you'll find the lovely small town of Bluemont. A historic marker shares the town's beginning in 1731 and it's changing role as a stop at Snickers Gap.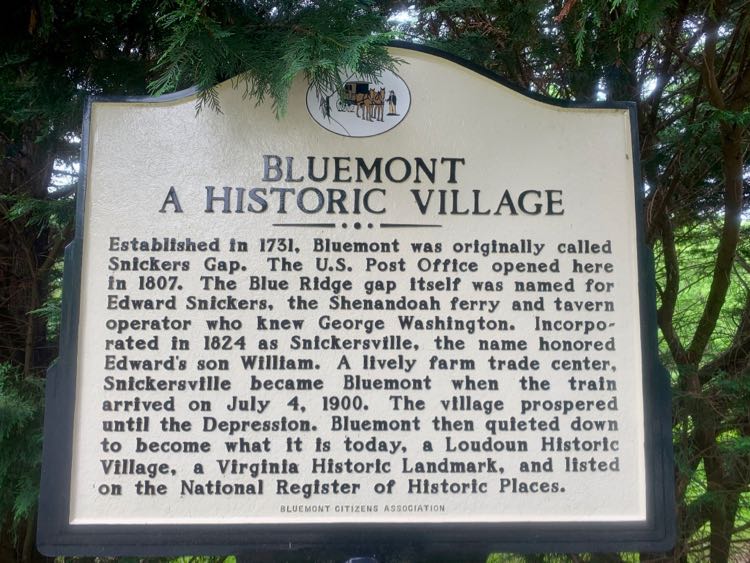 Here you will also find the bright red Bluemont General Store which has been in business since the 1840s. Be sure to stop in and pick up a treat. They often have delicious whoopie pies and classic Country Ham Sliders for sale along with a fun mix of food, decorations, local jams, and more.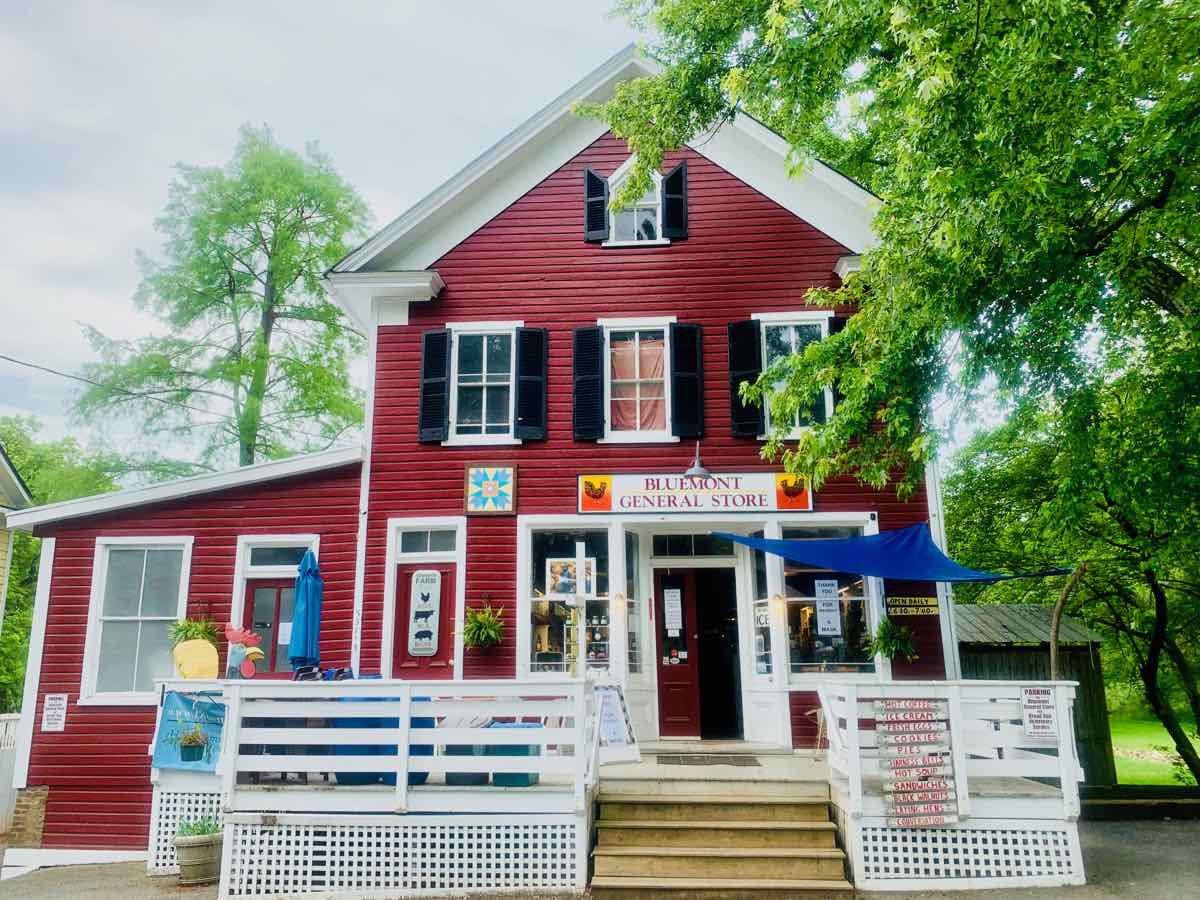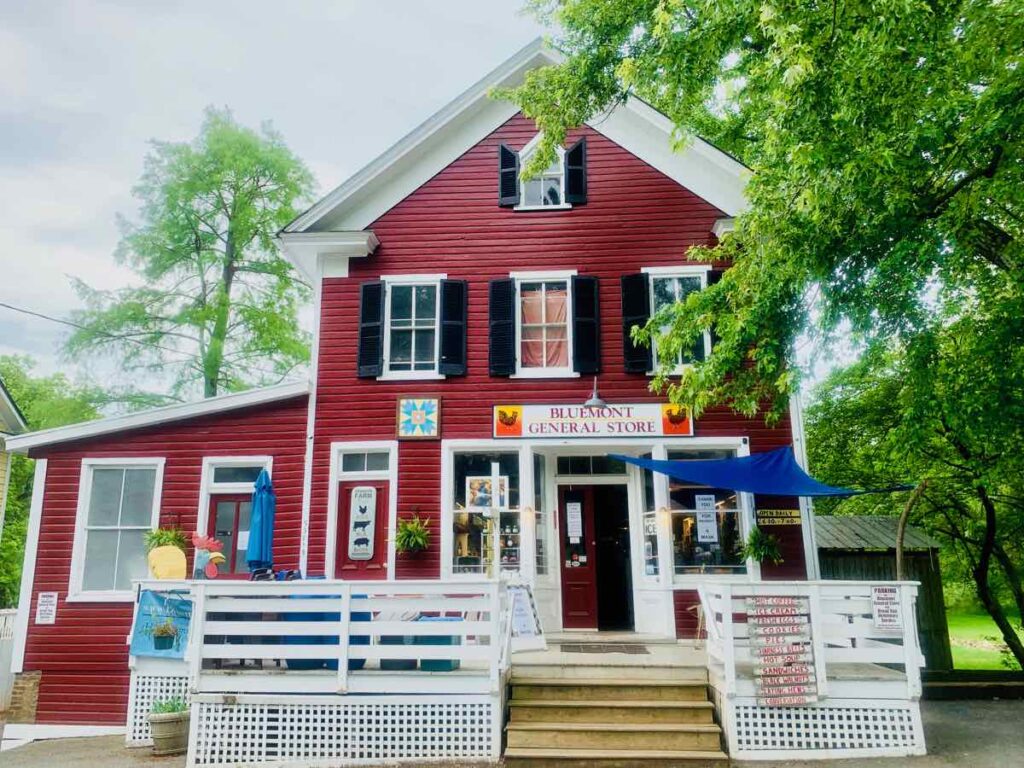 Nearby, on Foggy Bottom Road, you'll find one of the prettiest winery views in Virginia at Bluemont Vineyards. Prefer beer? Head next door to sister site Dirt Farm Brewing for tasty craft beer and that same gorgeous view.
Take a short (or optional longer) hike to a beautiful westward-facing at Bear's Den Overlook in Bluemont. After your hike, beer-lovers will appreciate the craft brews and views at nearby Bear Chase Brewing Company.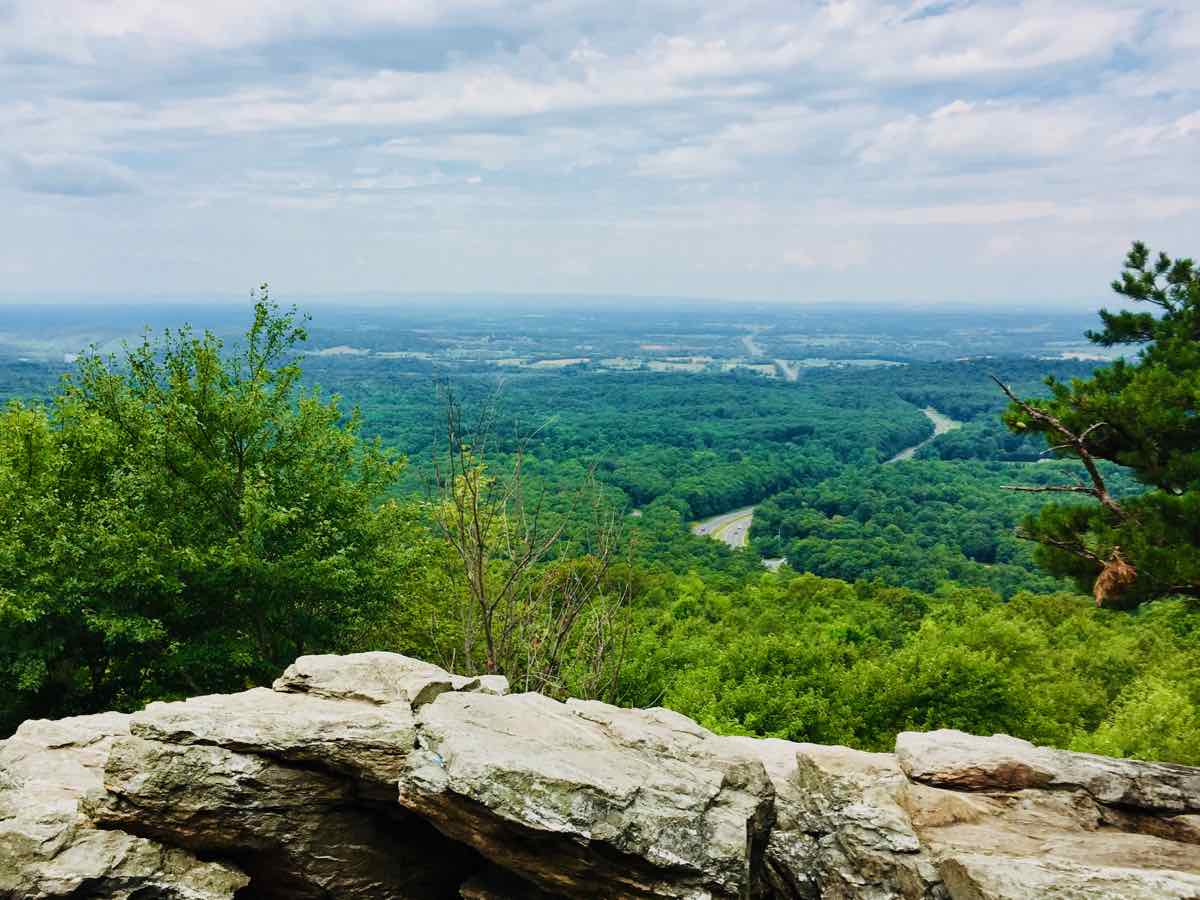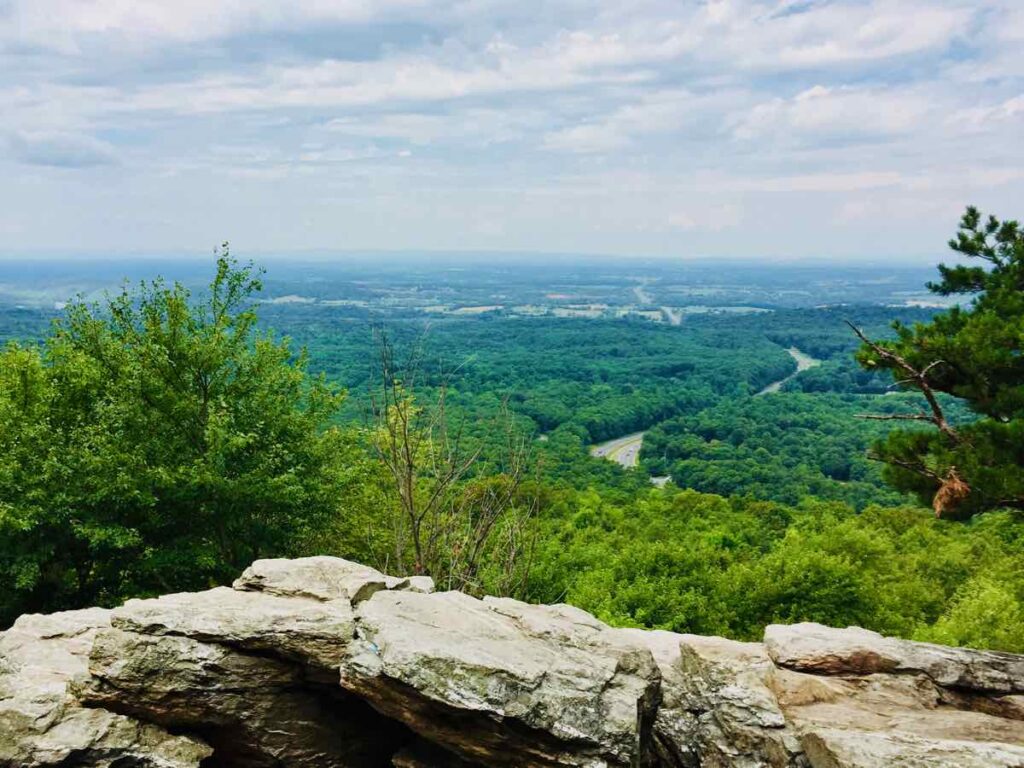 Find more NoVA hikes and parks in our guide 20 Must See Northern Virginia Hidden Gems Rich in Nature and History
Things to Do: Snickersville Turnpike Scenic Drive in Loudoun County VA
Here is a checklist of what to see and do on your scenic drive on the historic Snickersville Turnpike:
Even if you skip all of the stops, the Snickersville Turnpike is a chance to slow down and enjoy the beautiful scenery on this historic Virginia Byway.
Northern Loudoun County Leesburg Loop
Our remaining route for the scenic drive in Loudoun County passes through several quaint small towns plus Leesburg before returning to your starting point in Aldie. If you want a shorter drive you could return via Routes 7 and 15, skipping the drive north to Lovettsville.
There are many scenic roads and small towns surrounding Bluemont, but this scenic loop heads north to the towns of Purcellville, Lovettsville, and Waterford.
Purcellville Virginia
From Bluemont, it's a short drive east on Route 7 to Purcellville, a small town packed with a wealth of great places to dine and drink. From barbecue to refined dining, and rye to craft brews, there is a destination for every mood.
You can't beat the brisket, ribs, and pulled pork at Monk's BBQ and they offer a great craft beer selection. Head to Market Burger for delicious burgers, or Magnolia's at the Mill for a more romantic meal.
If you're in the mood for a drink, visit Catoctin Creek Distillery. They create quality whiskey, brandy, and other spirits from organic ingredients, and offer tastings and tours.
Need a break from the car and a chance to walk off all that deliciousness? The W&OD bike trail ends at the old Purcellville train station, and it's a good option to get in a little exercise before you continue your drive.
Lovettsville Virginia
Head north from Purcellville on the Berlin Turnpike (Route 287) for the 12-mile drive north to Lovettsville.
Alternatively, you can drive to Lovettsville via Route 690 and Wheatland Roads. They offer a quiet drive with plenty of scenery and nice wineries. Side roads lead to spots like Old 690 Brewing Company, one of the first farm craft breweries in Virginia.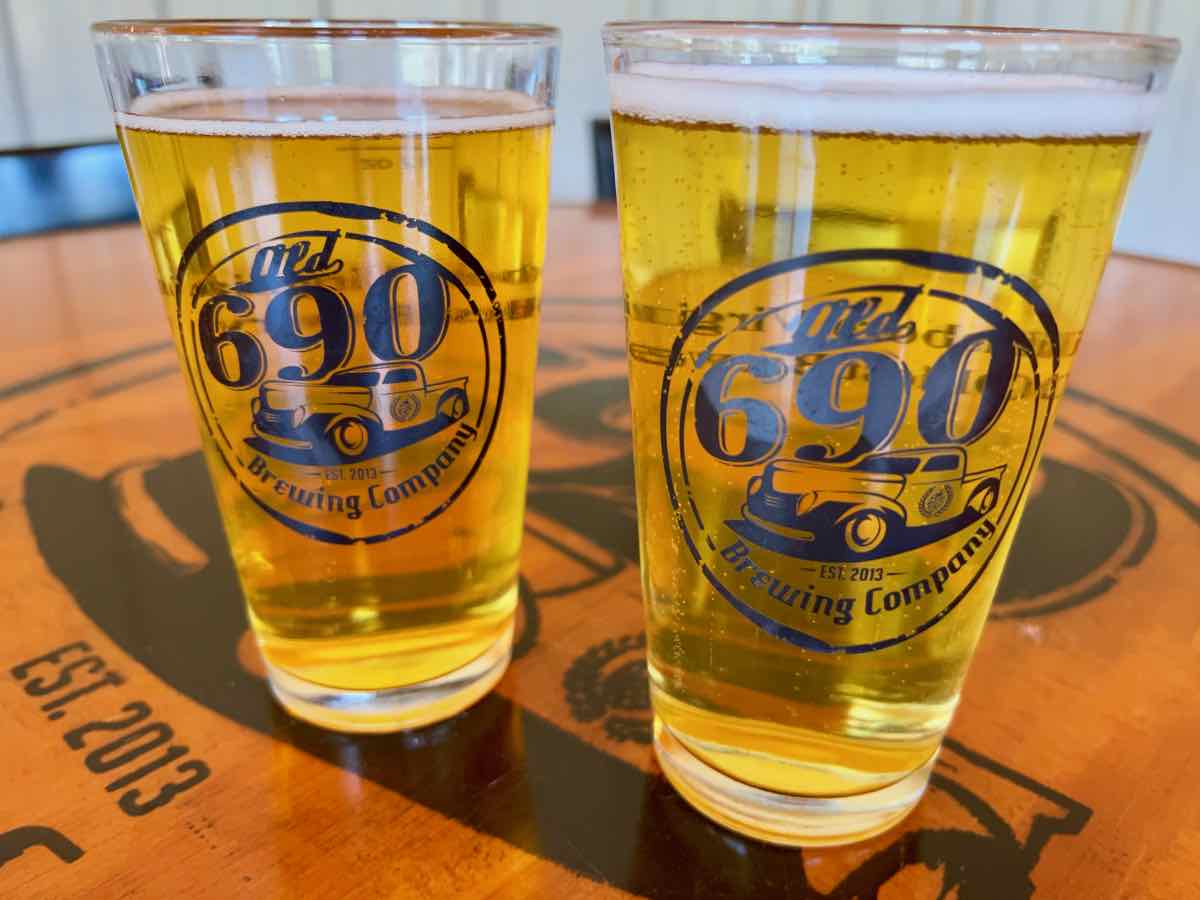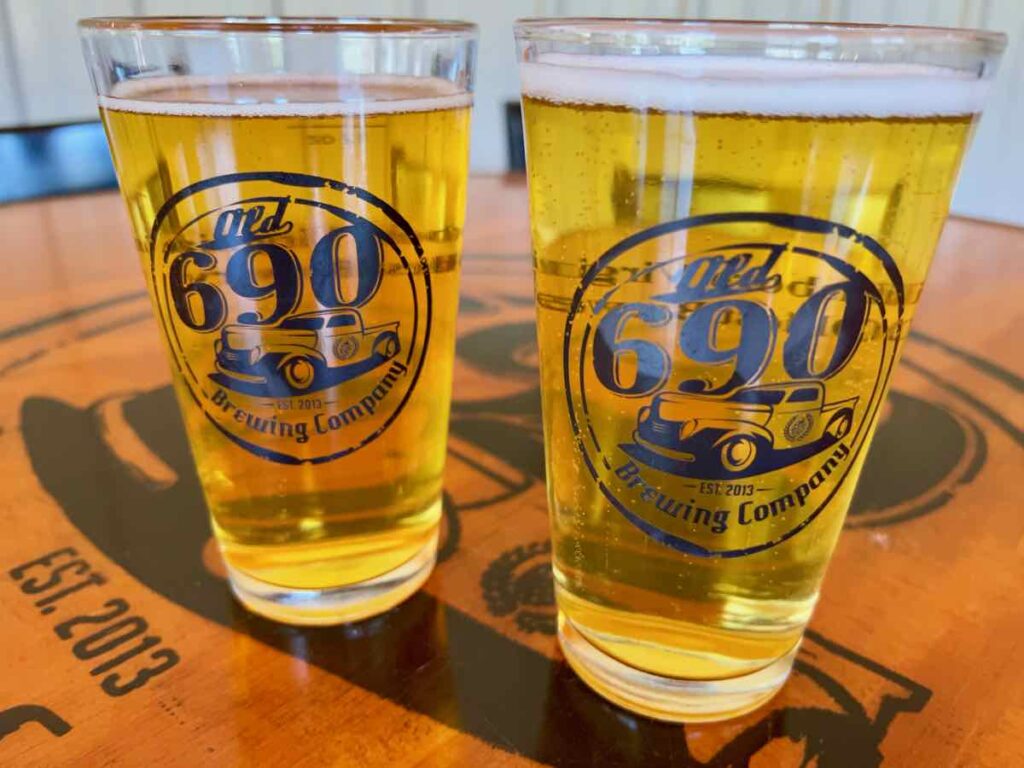 You'll also have many wineries to choose from in this area, and they all take advantage of the beautiful countryside to deliver peaceful views with their wines. We love the backyard pond with views of the foothills at Doukenie Winery in Hillsboro.
Once you reach Lovettsville, stop for a photo with the pretty LOVE sign on the "squircle" or eat at one of several restaurants in town. A short side trip on Lovettsville Road leads to the First German Reformed Church Site and a beautiful old cemetery.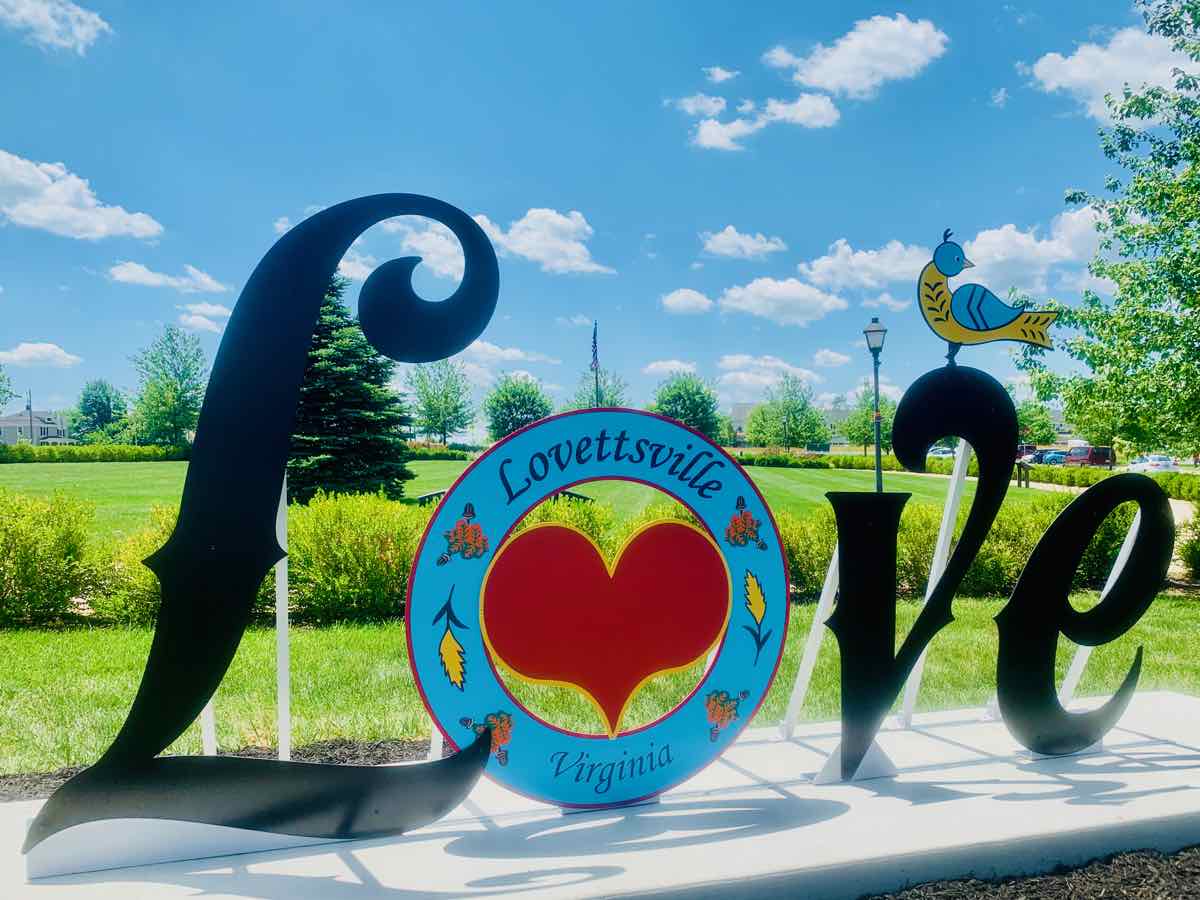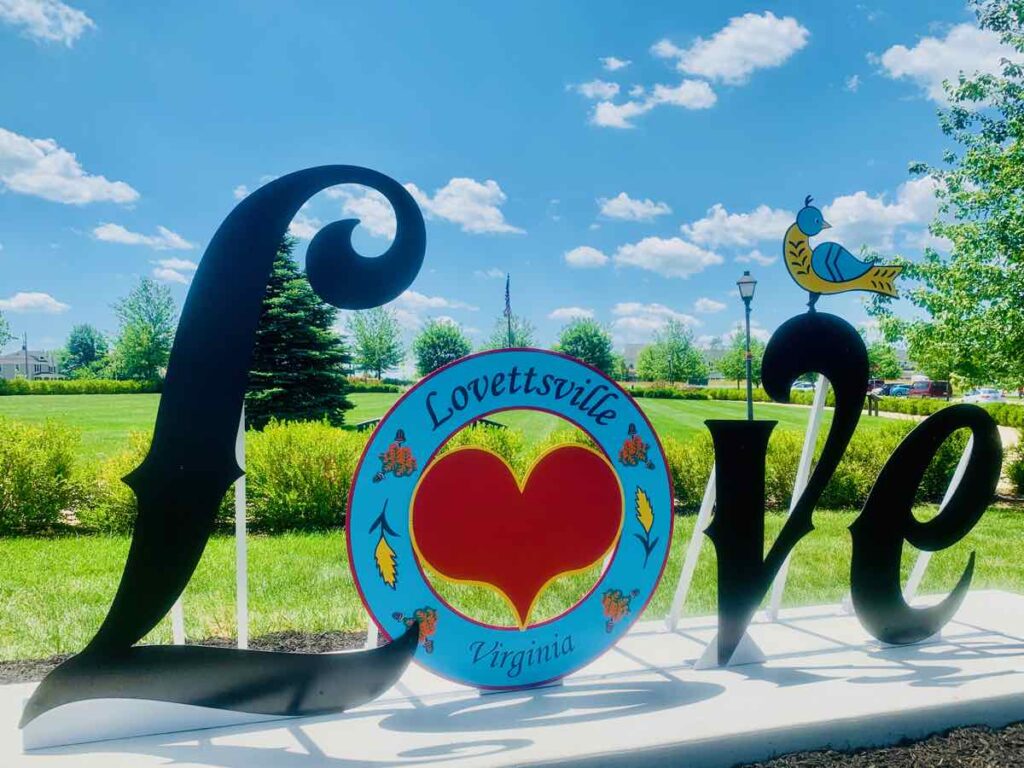 Historic Waterford Virginia
Now drive 7 miles south to visit the wonderfully preserved historic town of Waterford. This is one of the most beautiful small towns in Northern Virginia, famous for its historic homes and the annual Waterford Fair.
Founded by Quakers in 1733, Waterford was the first settlement in Loudoun County. Many of the structures that existed during its heyday as a flour milling town in the 19th century have been preserved.
Visit the Old Waterford Mill and take a short hike at the preserved Phillips Farm. You'll find the trailhead out behind the mill, along with a guide to this easy 1.5-mile out-and-back hike.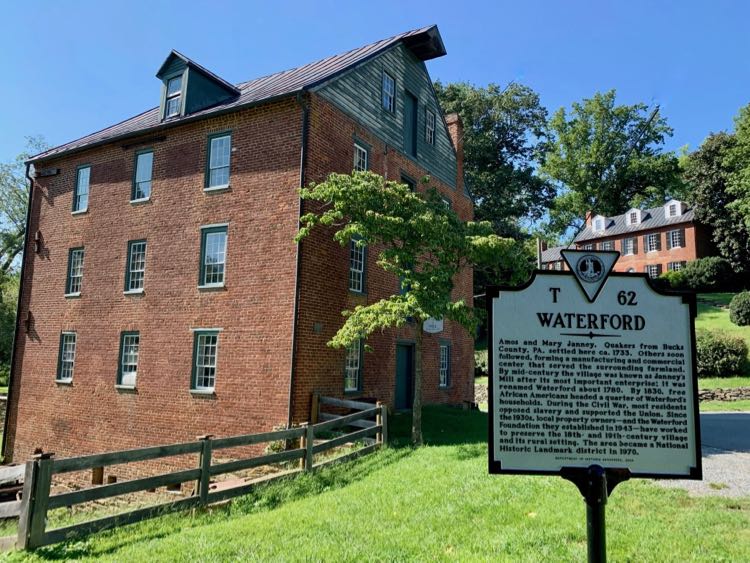 At the Union Cemetery, you'll find the graves of both Union and Confederate soldiers, as well as a segregated section where African Americans were buried.
Stroll the downtown Main Street to enjoy the scenic and historic Waterford buildings, and visit the Waterford Corner Store. The store offers unique crafts and foods created by local artisans, plus a nice selection of books about the area.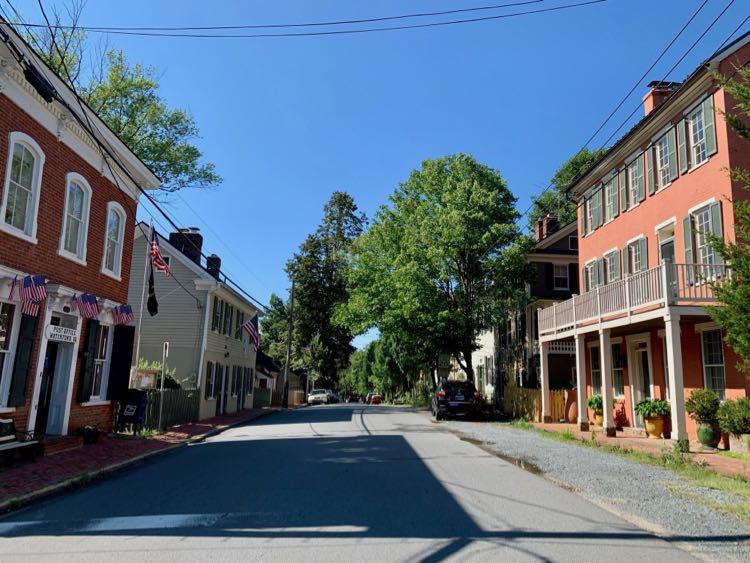 If you want to see the past come to life, attend the annual Waterford Fair, held the first weekend of October. One of the best festivals in Northern Virginia, the fair opens historic buildings for tours and fills the streets with artisans, musicians, and re-enactors.
Things to Do: Scenic Drive in Northern Loudoun County Virginia
Stop in Purcellville for a meal and a brew.
Take a walk or bike ride on the W&OD.
Head to Old 690, one of the first farm/craft breweries to open in Virginia or visit a beautiful Loudoun County winery.
Take a photo with the Lovettsville LOVE sign.
Stroll the streets of historic Waterford and visit the Waterford Corner Store.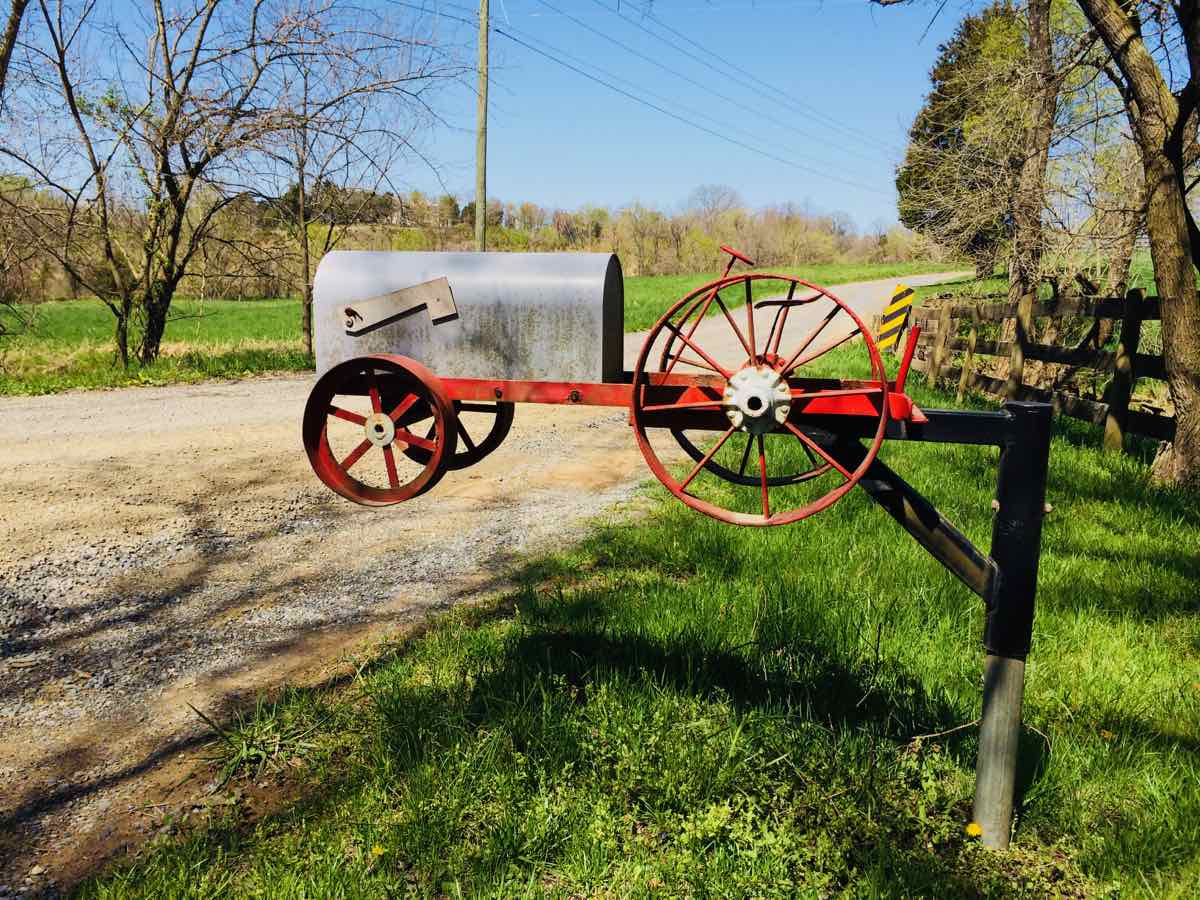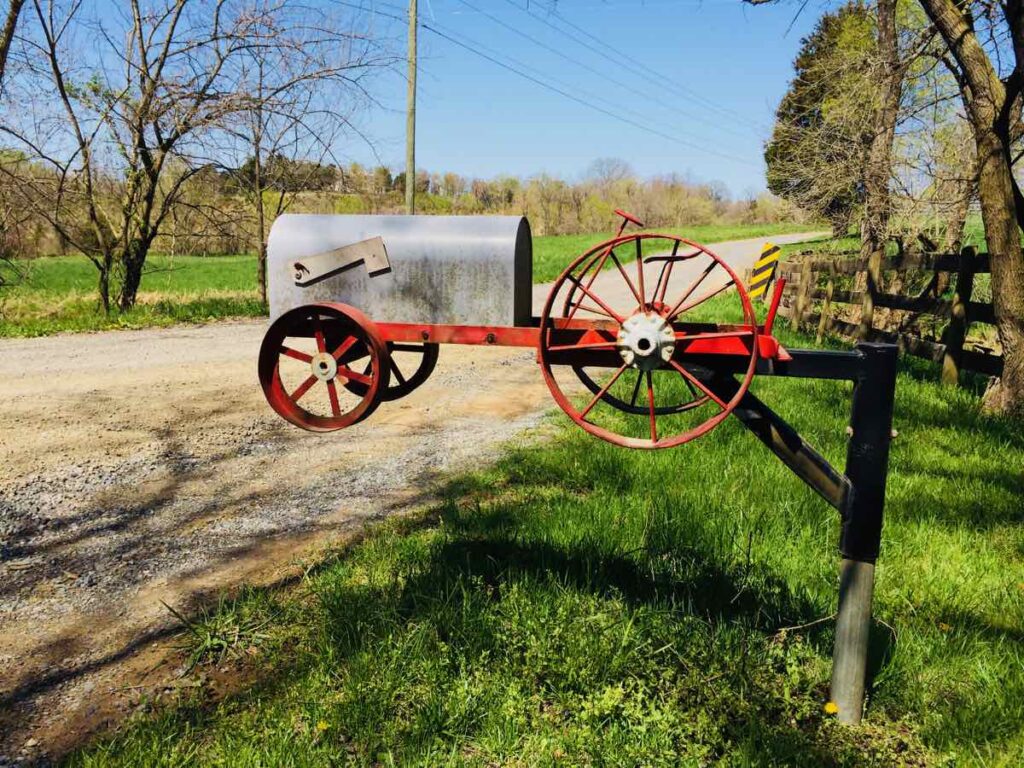 If you prefer to explore beyond the pavement, you're in luck. Loudoun County has nearly 300 miles of unpaved roads, more than any other county in Virginia. Here's a terrific route to explore the unpaved roads of Loudoun County, visiting some of the same towns we discuss here.
Leesburg Virginia
Your route back to Aldie passes through the Loudoun County seat, Leesburg Virginia. There are so many interesting things to do in Leesburg we suggest planning a separate day trip or Leesburg weekend getaway to explore the city and surrounding area. If you're hungry, there are some great local Leesburg restaurants downtown.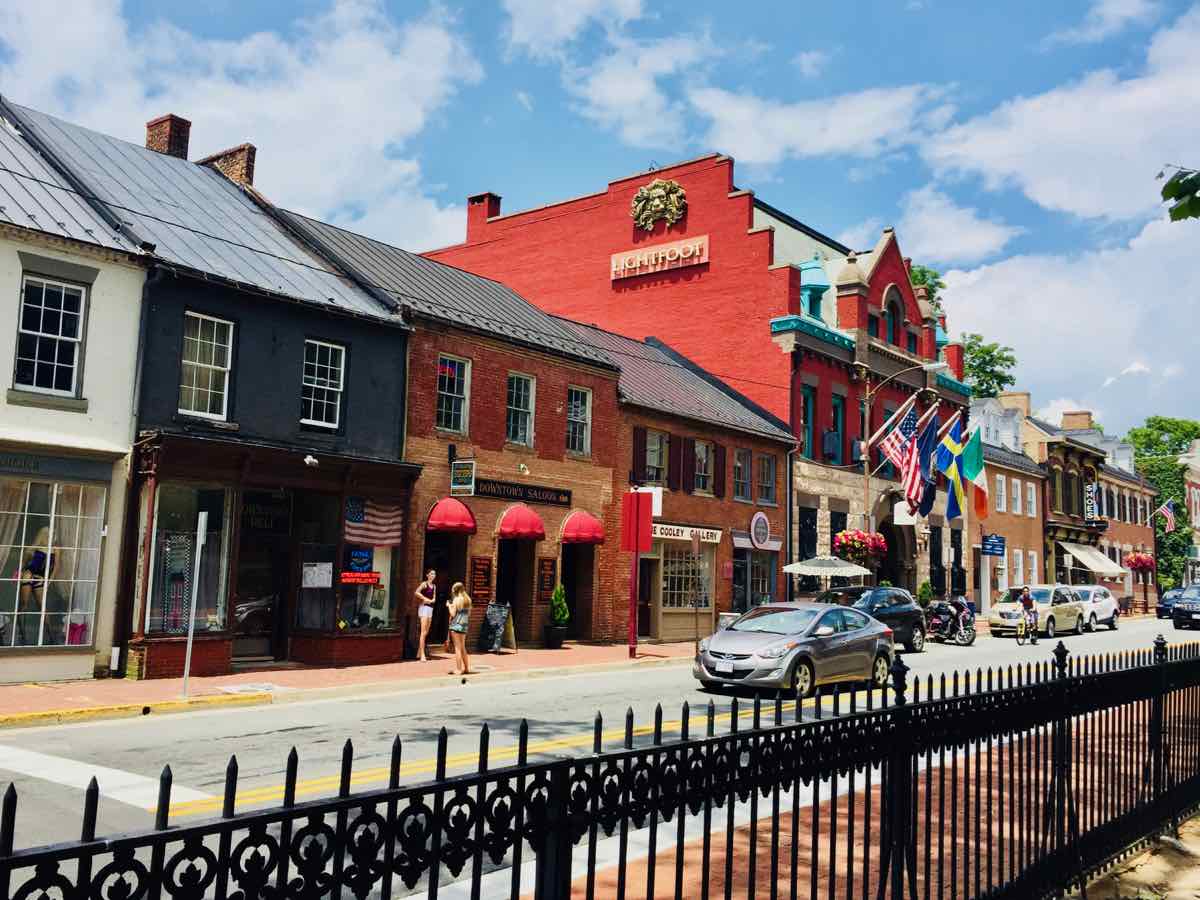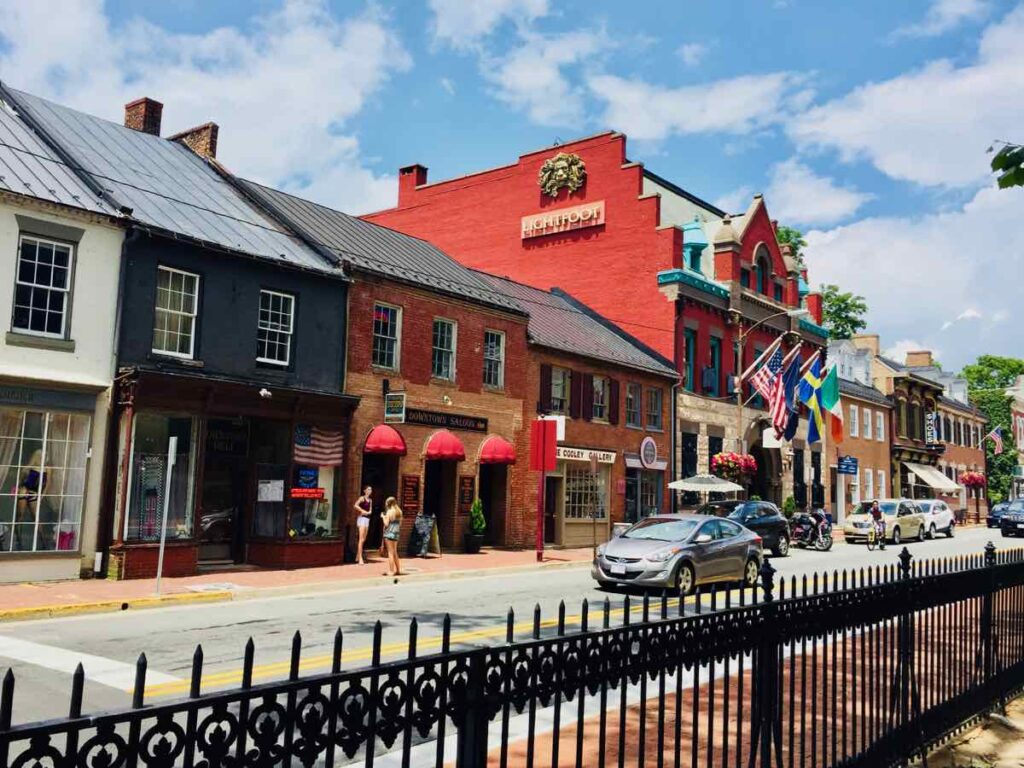 Head south on the James Monroe Highway (Route 15) for the return trip to Aldie. You'll pass historic Oatlands plus more farms and fields as you complete your scenic drive in Loudoun County.
Follow us on Facebook, Twitter, Pinterest, and Instagram for more fun travel in and from Northern Virginia.
Save it on Pinterest: