Looking for the most beautiful fall foliage in Northern Virginia (and nearby)? Here's a guide to the best places to see Northern Virginia fall foliage, for locals and visitors seeking autumn colors and fun outings near Washington DC.
The fall foliage season in the Northern Virginia area usually peaks in late October, but timing varies depending on the weather. Fortunately, Northern Virginia has a range of elevations, extending the foliage season into early November.
Our favorite places for viewing Northern Virginia fall foliage are listed below. You'll also find tips and links for tracking the colors.
Disclosure: This article may contain affiliate links. We will make a small commission from these links if you order something, at no additional cost to you.
Fall Foliage at Northern Virginia Lakes
Some of the earliest fall foliage in Northern VA emerges at the edge of lakes and ponds. Local lakes are excellent for fall color photos, as the water mirrors the lovely shades above.
Lake Audubon and Lake Thoreau, Reston
Lake Thoreau has a nice collection of trees next to the water and a stretch of trail with benches for enjoying the view. Park at the South Lakes Plaza and follow the path along South Lakes Drive for the most open water views. Extend your foliage viewing with a nice loop hike around Lake Thoreau.
You can also see colors while dining by the lake at local restaurants Cafesano and Red's Table. There are comfortable chairs and picnic tables between the two restaurants. Lake Thoreau is on our list of the best places to watch sunset in Northern VA, so consider timing your visit for the end of the day.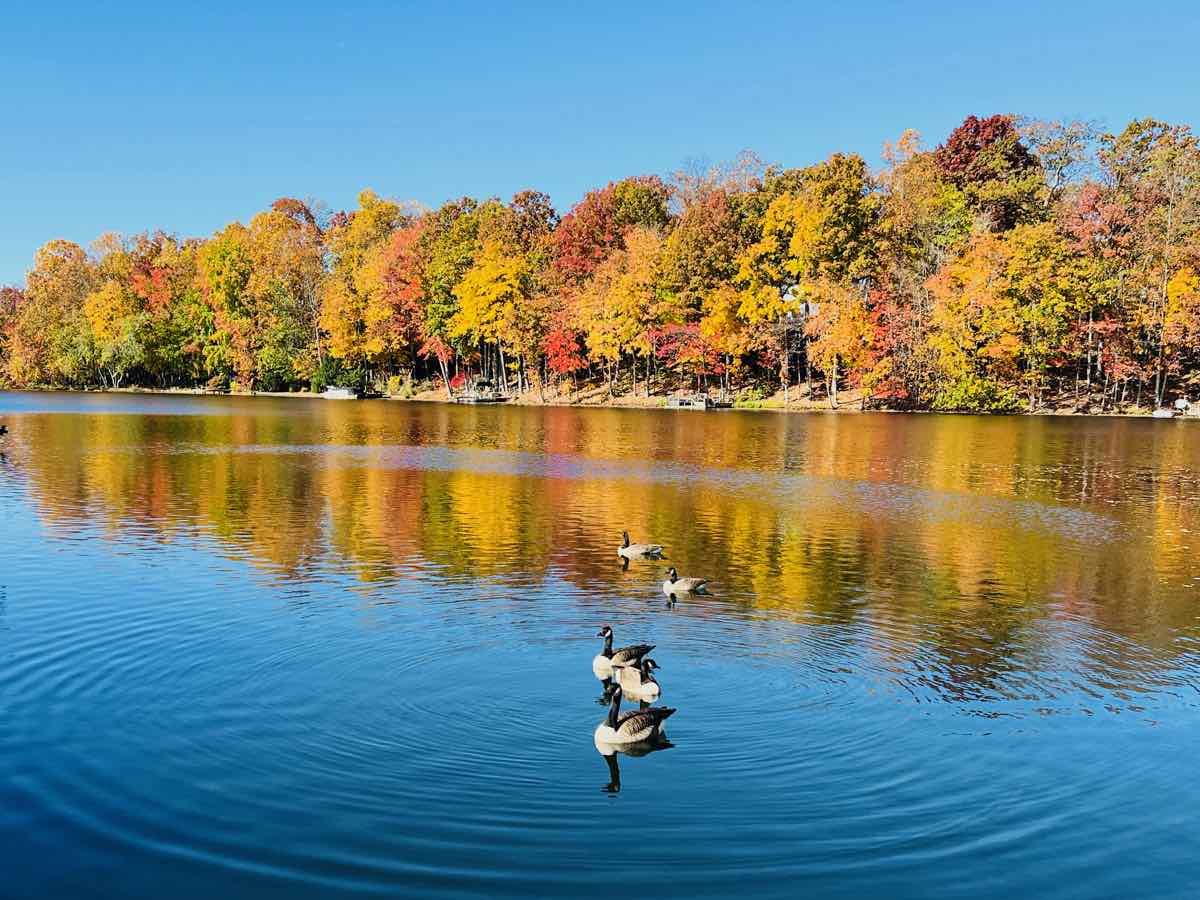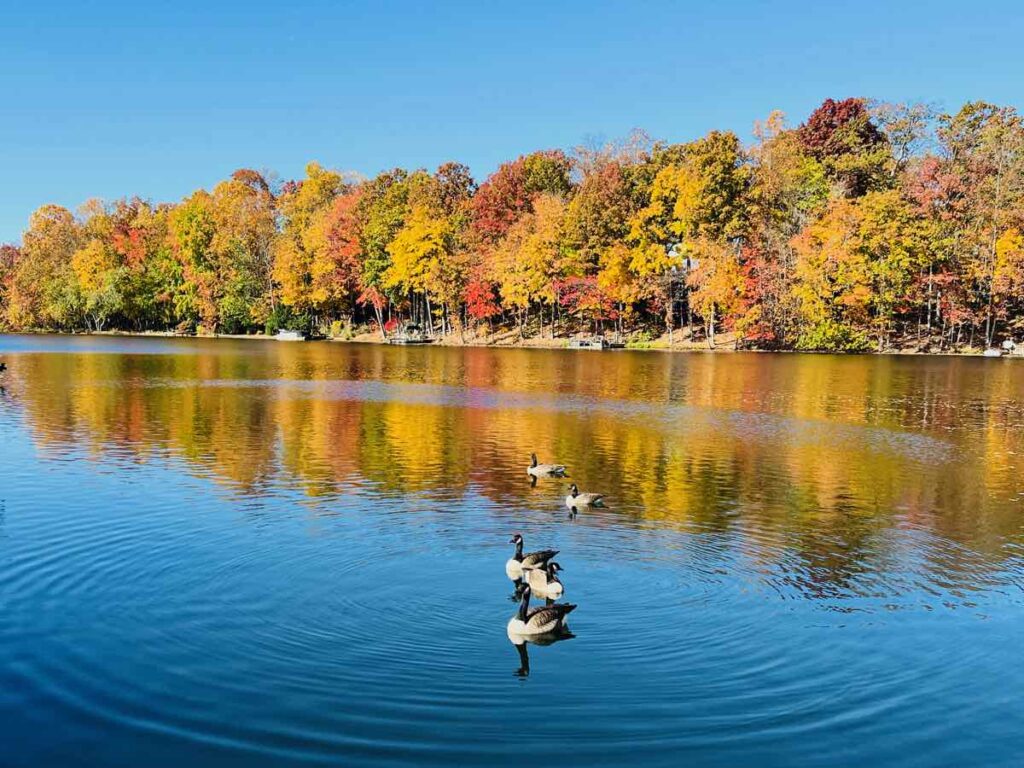 Colorful trees also line parts of Reston's Lake Audubon and Lake Anne, and both are worth a visit. Park at the Lake Audubon Pool for a nice tree-lined walk along the lake. The photo at the top was taken at the south end of Lake Audubon in October 2019. Discover more fun for your leaf-peeping trip in our guide Top 10 Things to Do in Reston Virginia.
Lake Fairfax
Popular Lake Fairfax Park is a nice spot for lakeside and woodland foliage. There are trees close to the water on one side of the lake, but the foliage is not as colorful here as at Burke Lake.
The best foliage at Lake Fairfax is usually at the far end of the lake. Walk across the dam and turn right, following the path close to the water, to reach this pretty view. Use caution because the trail near the water is eroded and steep in places.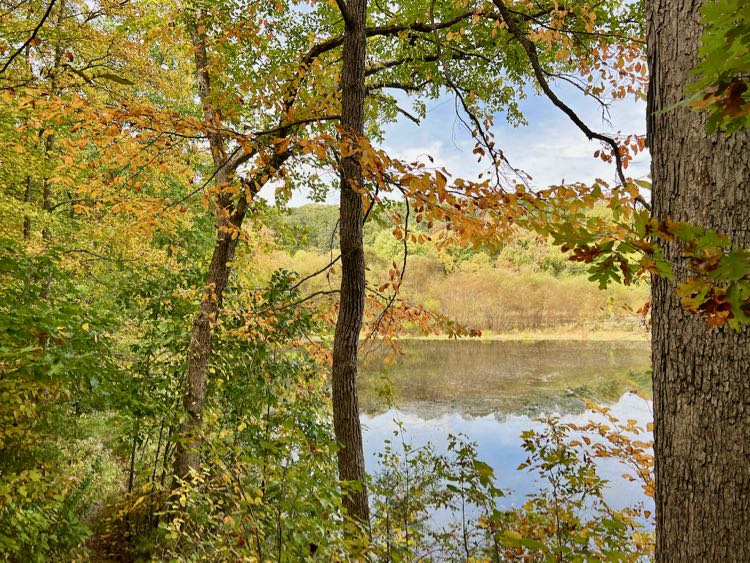 The woodland paths, which start near the sports fields and campground area, are popular for both hiking and biking. In fact, Lake Fairfax is one of the top mountain biking areas in Northern Virginia. The woods are dominated by yellow
Burke Lake
A 5-mile trail around Burke Lake offers good views of the foliage, and the park's open fields are also nice at this time of year. Turn left after you enter the park, and stop at the first parking lot on your right (near the restrooms). From here you can follow the lakeside trail or the roadway past open fields lined with fall color.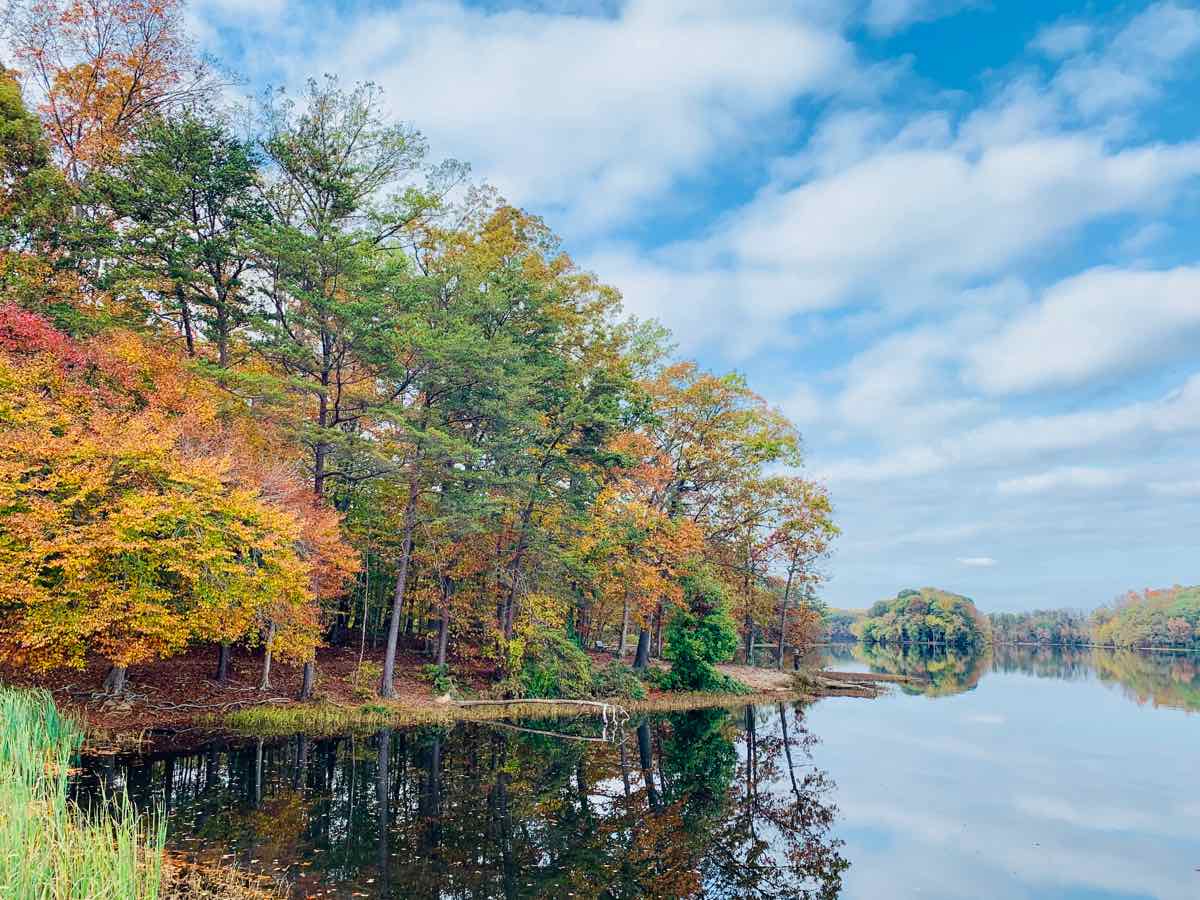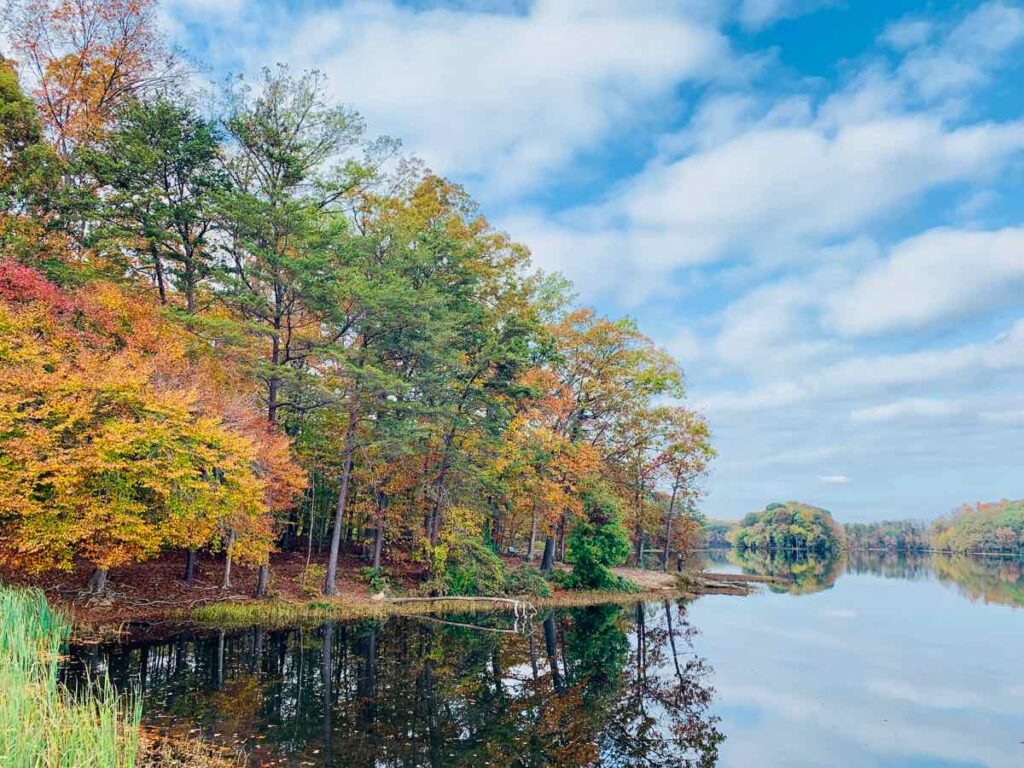 You can also enjoy the foliage from a kayak rental or a pontoon boat ride on weekends in October. Or thrill the kids with a ride on the miniature train, also open on October weekends.
Lake Accotink
Another Fairfax County lake surrounded by trees is Lake Accotink in Springfield. Hike or bike the trail around Lake Accotink, enjoy a picnic, or just sit by the pier and take in the view.
Find more scenic spots: 21 Fun Family-Friendly Parks with Trails in Northern Virginia
Scenic Northern Virginia Fall Foliage Drives
There is nothing like the return of fall foliage to inspire a scenic drive. These roadways are especially lovely when lined with autumn colors.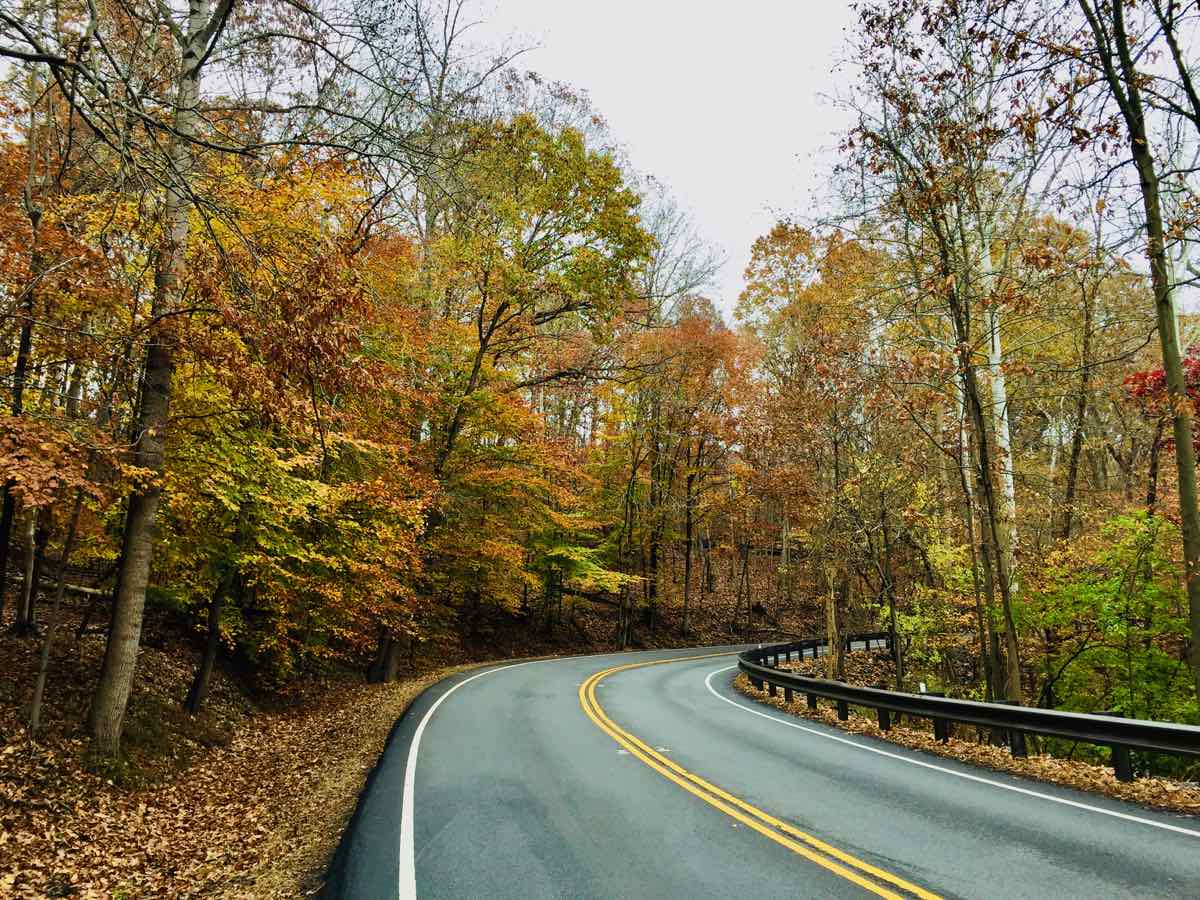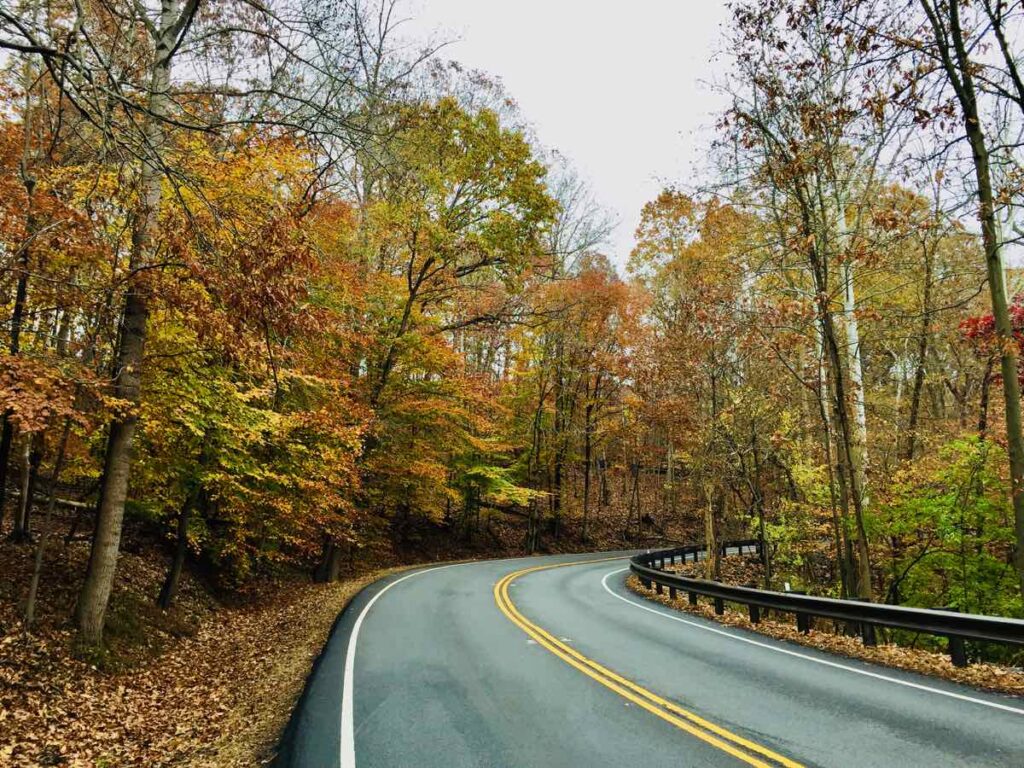 Georgetown Pike
Historic Georgetown Pike becomes a winding, tree-lined beauty once you pass the center of Great Falls. It's a pretty road any time except at rush hour, and it offers access to several wonderful parks and hikes. Stop in Great Falls Park to enjoy spectacular waterfalls and hiking.
George Washington Memorial Parkway
The northern section of George Washington Memorial Parkway, another historic and scenic road, is very pretty in autumn. Stop at one of the overlooks (only accessible if you're heading north) or hike to the Potomac River at Turkey Run Park.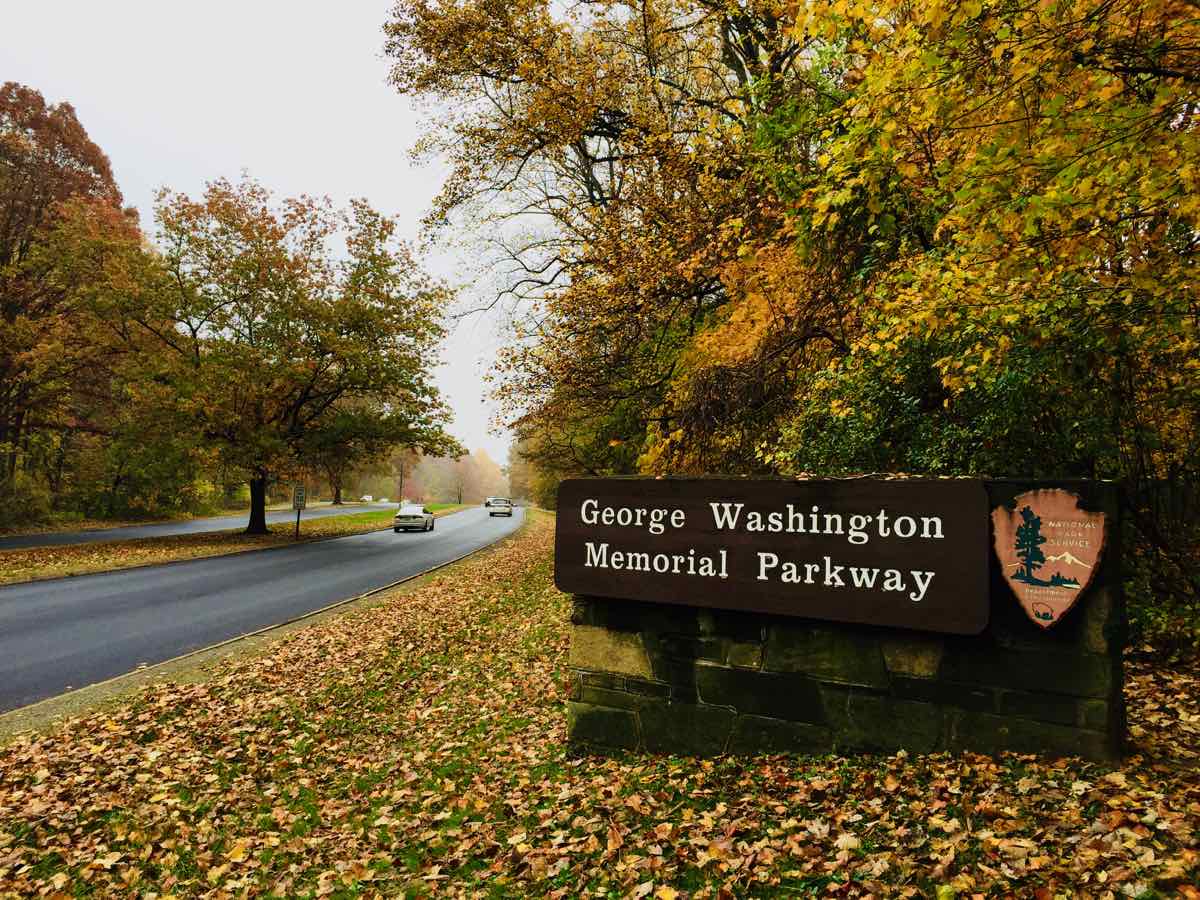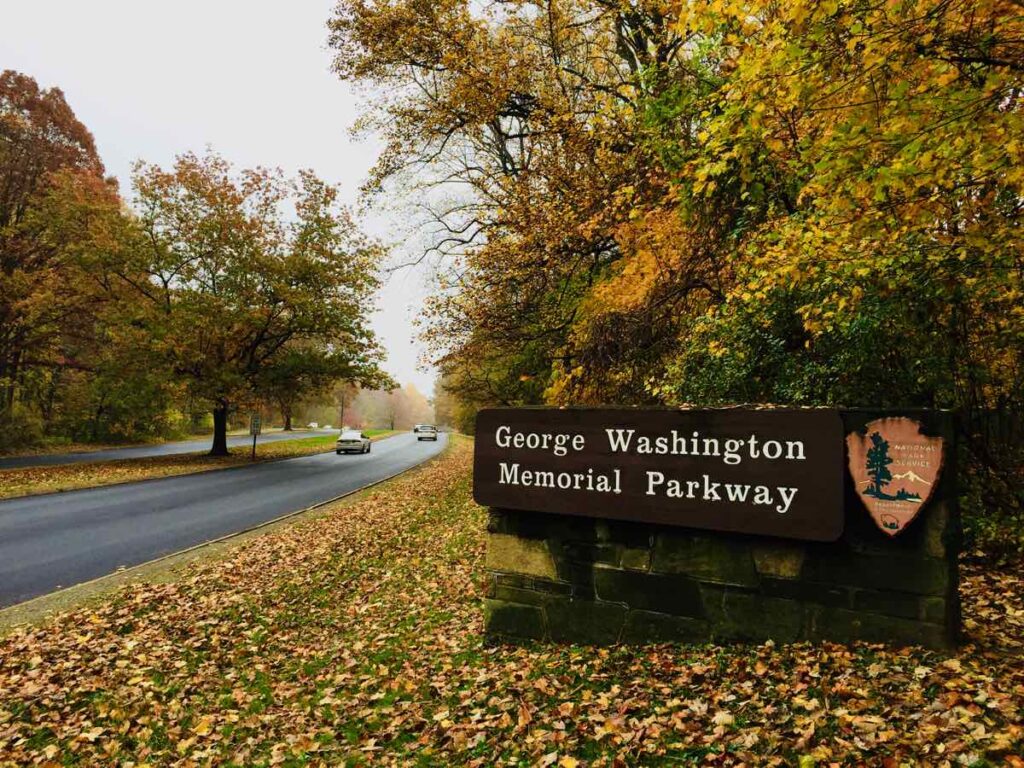 Further south, you'll see less fall foliage along the parkway, but lots of places to stop and enjoy excellent views of Washington DC. Stop at Dyke Marsh for a short easy hike on the dirt trail or Mount Vernon Trail boardwalk. Closer to George Washington's Mount Vernon, the trees are backed by Potomac River views.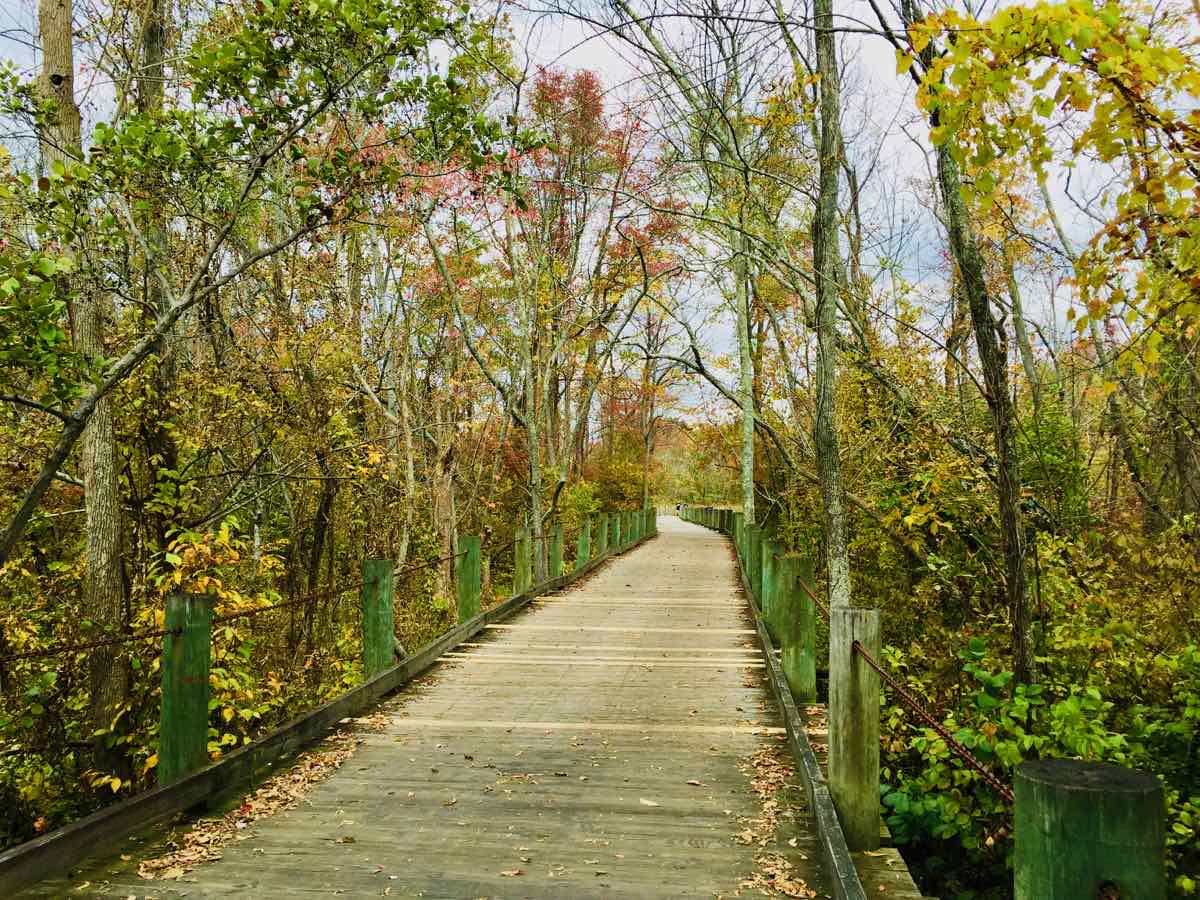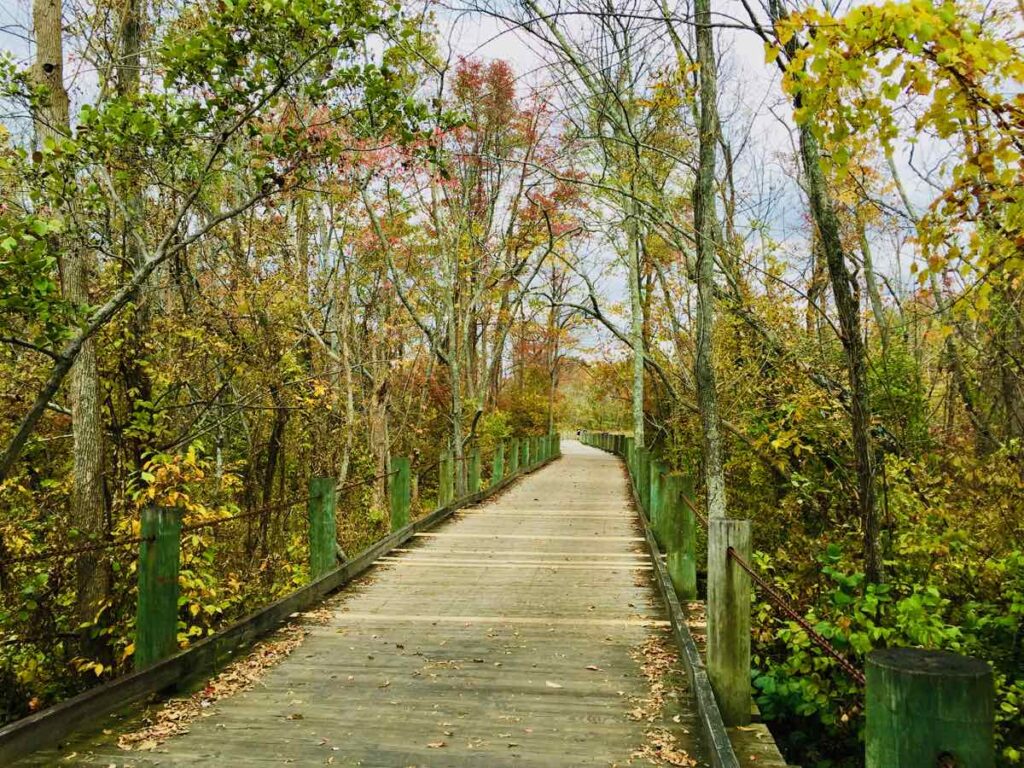 Snickersville Turnpike
A beautiful scenic drive in Loudoun County follows the historic Snickersville Turnpike from Aldie to Bluemont. This is a wonderful country drive with interesting stops, including three classic general stores.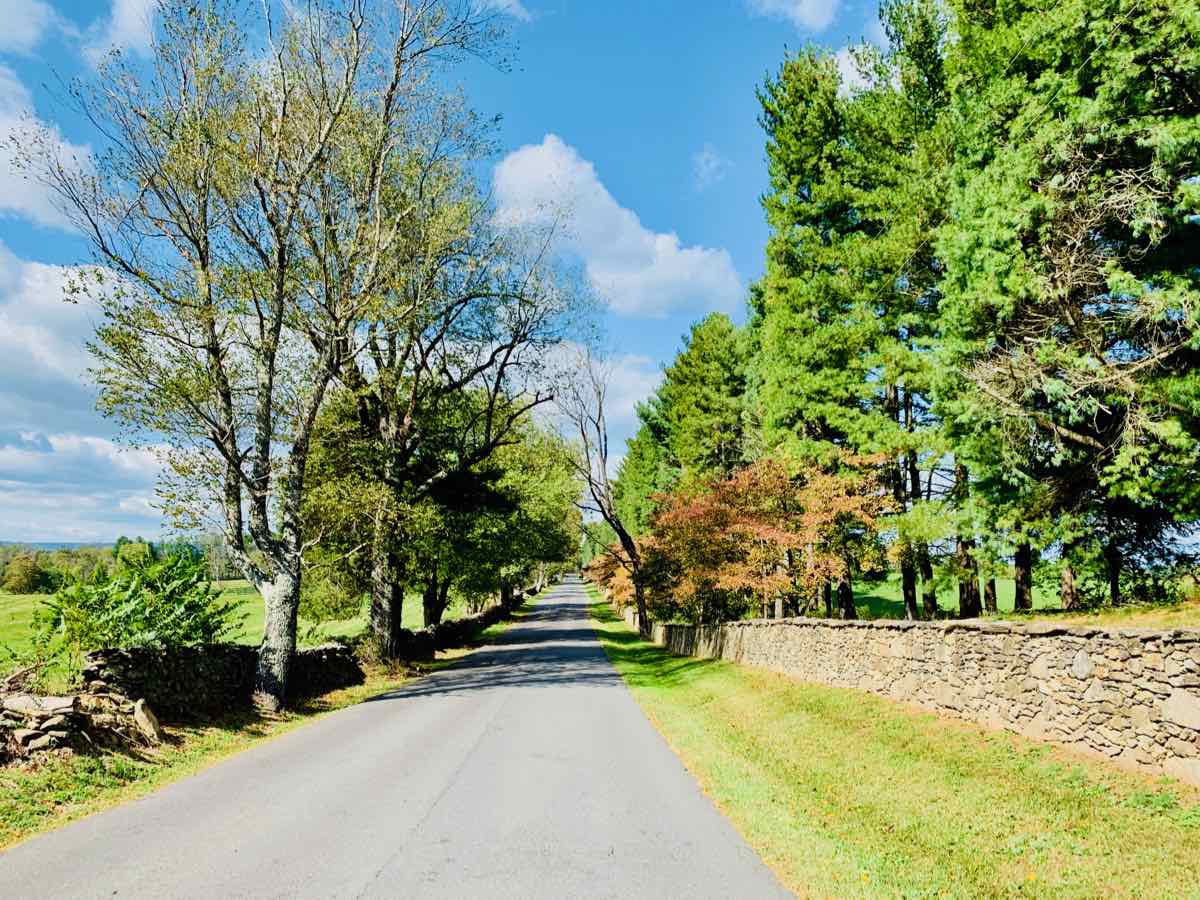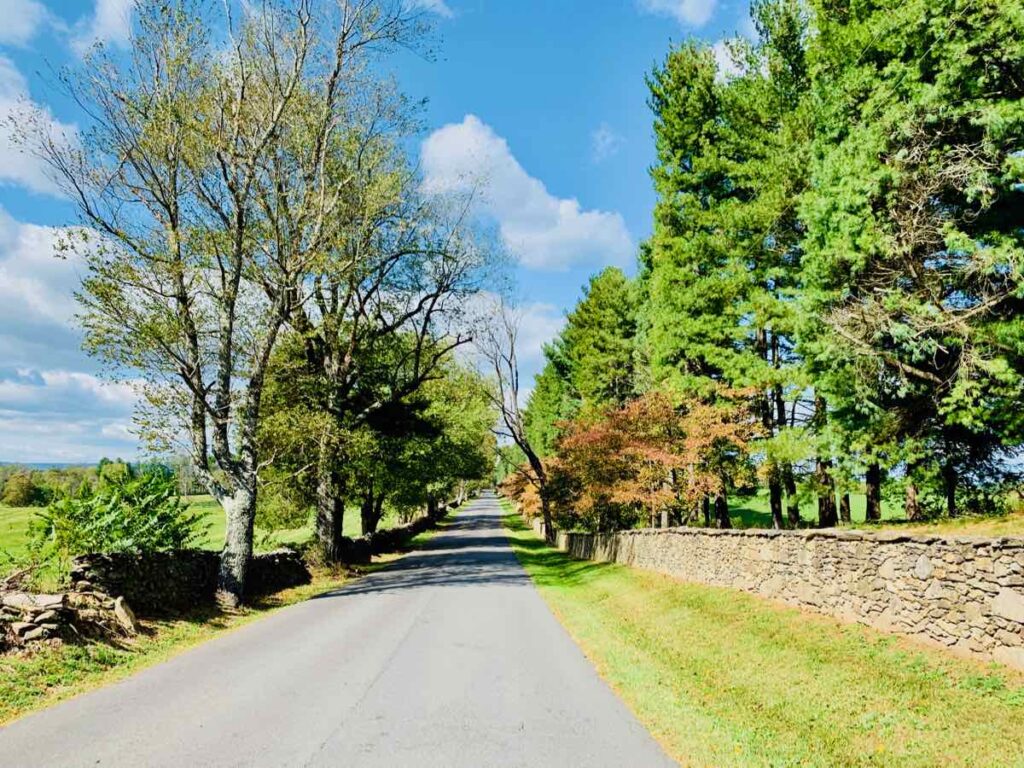 Hike to a gorgeous view at Bears Den at the end of your journey. Or just relax with an eastern Piedmont view at Bluemont Winery or Dirt Farm Brewing. Plan your visit with our guide to 15 Fantastic Fun Things to Do in Bluemont Virginia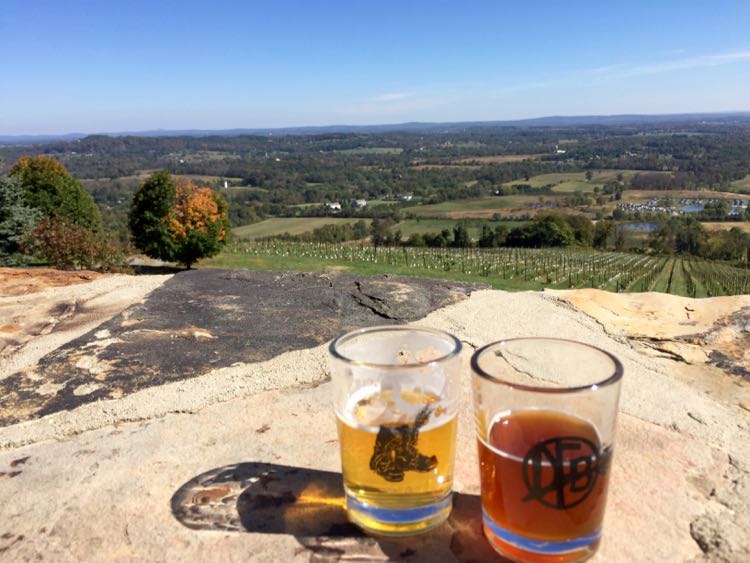 Fairfax County Scenic Byways
Another lovely way to view fall foliage is on a scenic drive on several Fairfax County Scenic Byways. Our route visits the quaint town of Clifton and lovely stops like Occoquan Regional Park. Fairfax County Parkway has pretty foliage, and the section from Lee Highway (Route 29) to Rolling Road is the most scenic and tree-lined.
A paved bike trail follows the parkway, but keep in mind you'll be biking next to traffic with little shade. You'll also find good color along Route 123, between Braddock Road and Lorton.
Explore more scenic Northern Virginia drives where you can see fall foliage.
Woodland Hikes with Fall Foliage in Northern Virginia
If you'd like a more active outing to view autumn colors, we suggest a walk in the woods at these national, regional, and county forests.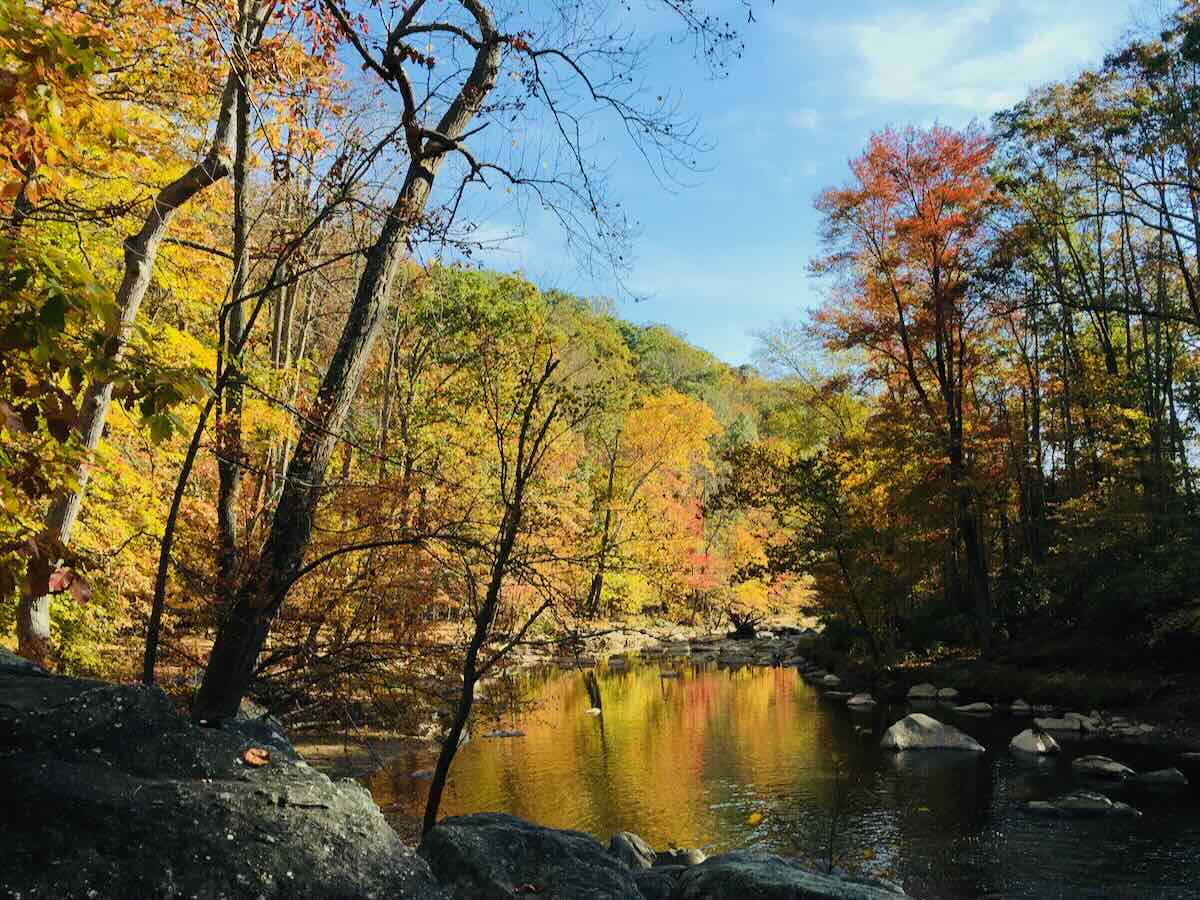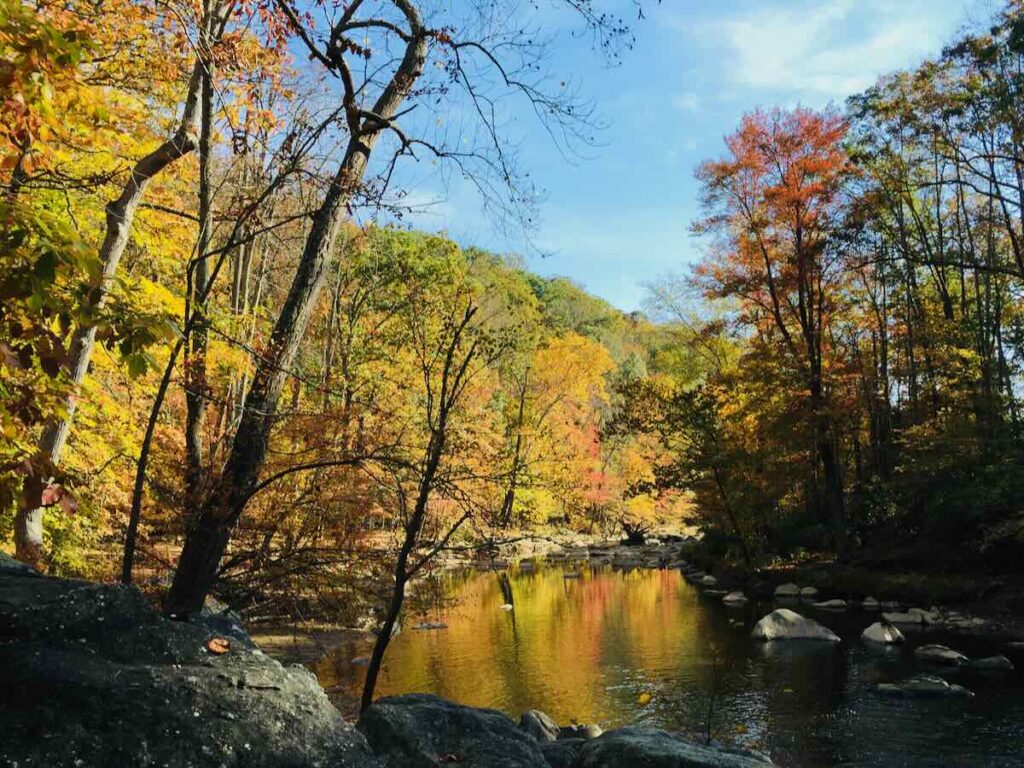 Difficult Run and Great Falls Park
The colors along Difficult Run are stunning during fall foliage season (see photo above). The trail between the parking area on Georgetown Pike and the Potomac River is mostly flat and wide with continuous stream views.
For more exercise, continue your walk on steeper trails in an uncrowded section of Great Falls Park on a Run, Ridge, and River hike.
Prince William National Forest
You will find an extensive network of trails, a scenic drive, and both paved and dirt bike trails in Prince William National Forest. Start at the Visitor Center to pick up maps and get advice from the rangers about the best foliage spots in the park.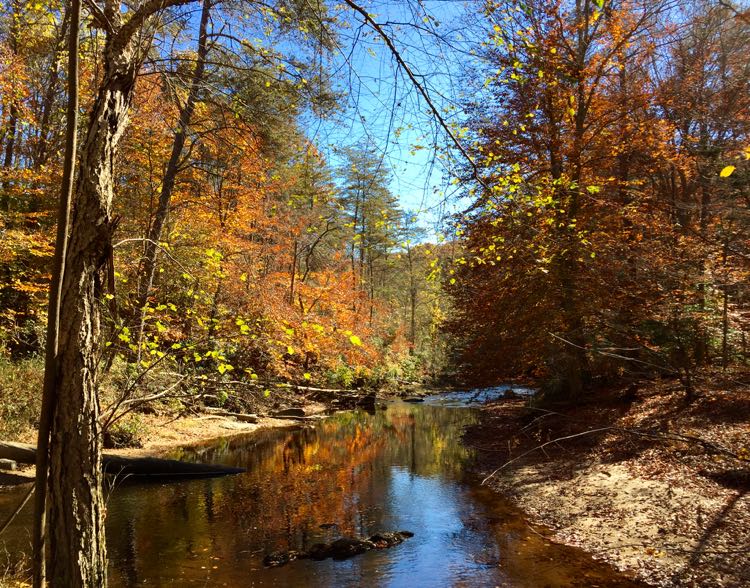 Scotts Run Regional Park
Take a Scotts Run loop hike through the woods and by the river on the Potomac Heritage Trail. You'll visit one of the prettiest waterfalls near Washington DC and enjoy beautiful Potomac River views. If you're short on time, you can head straight to the waterfall on a steeper trail.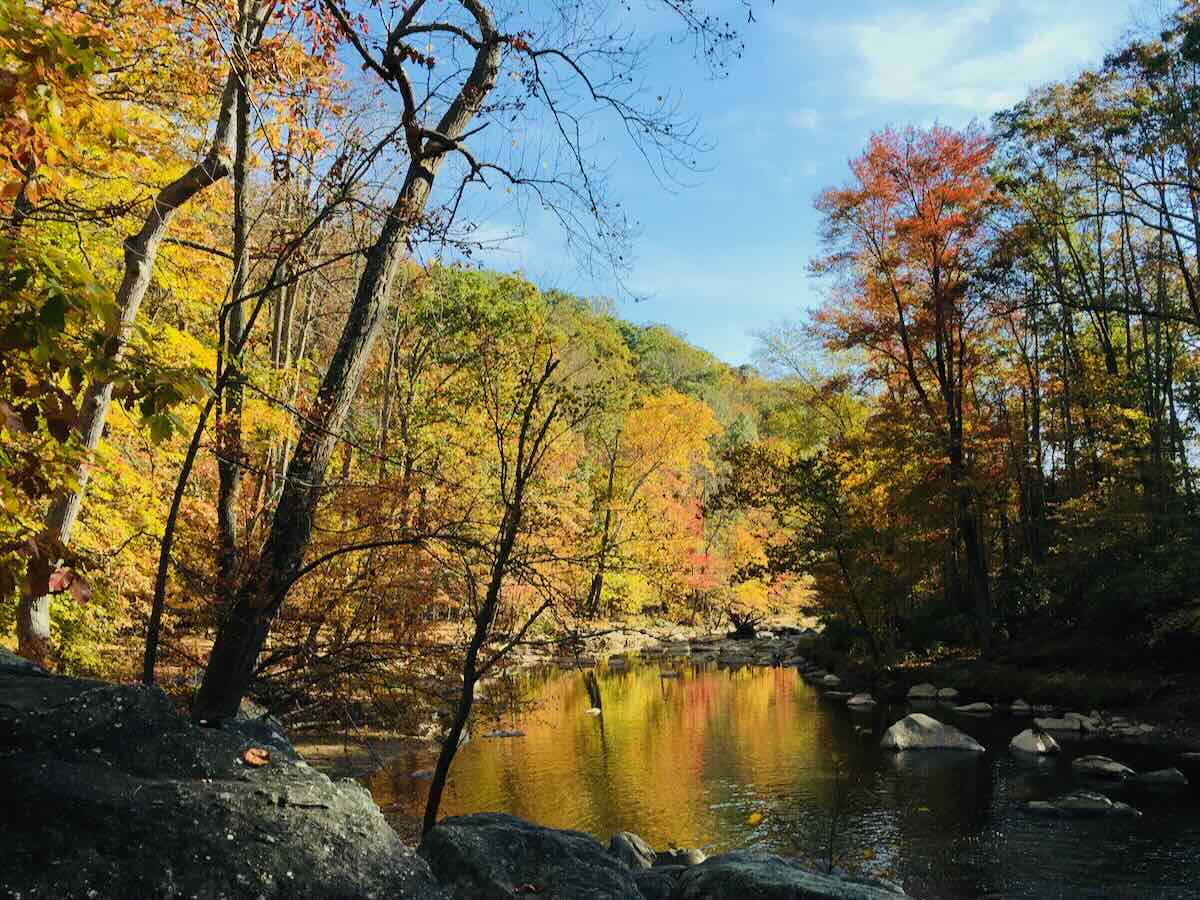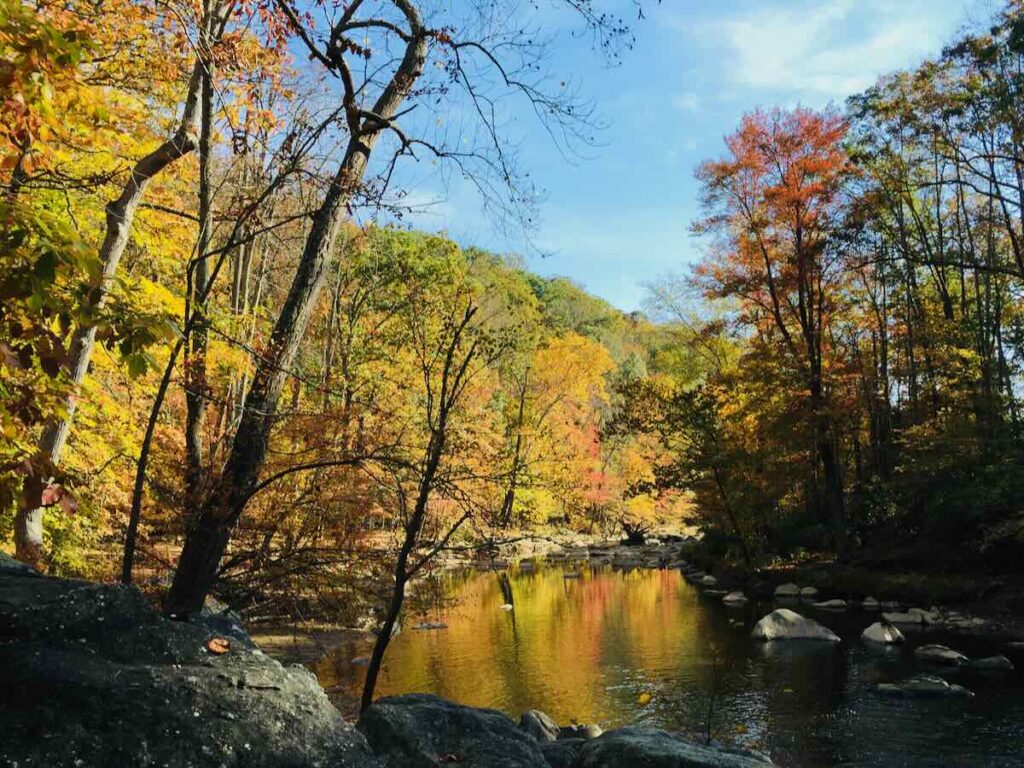 Find more beautiful trails in our guide: 16 Favorite Fall Hikes in Northern Virginia.
Favorite Northern Virginia Parks for Fall Colors
Northern Virginia parks fill will autumn colors, perfect for a leisurely stroll or a family-friendly hike. Enjoy beautiful fall foliage at the NoVA parks listed below.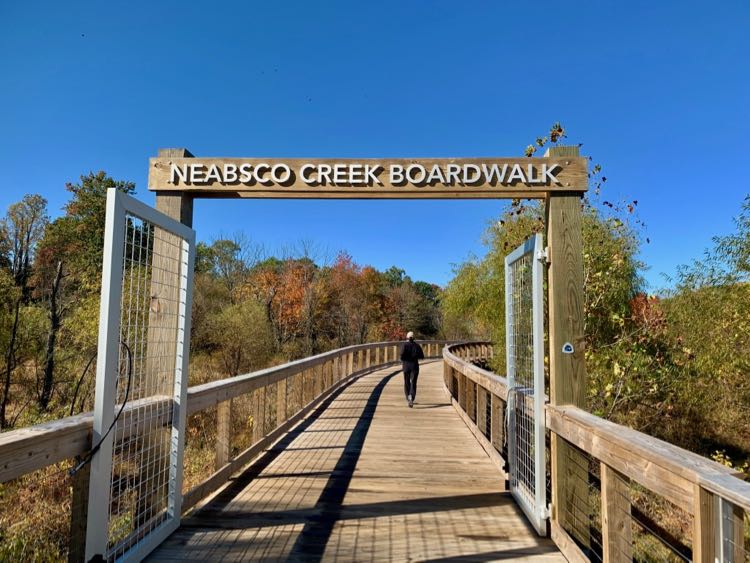 Great Falls Park
The trees surrounding the Potomac River in Great Falls Park are not the most vibrant, but they're hard to beat when you add in waterfall views. Take pictures from the overlooks, then hike at least part of the River Trail to enjoy spectacular views of Mather Gorge.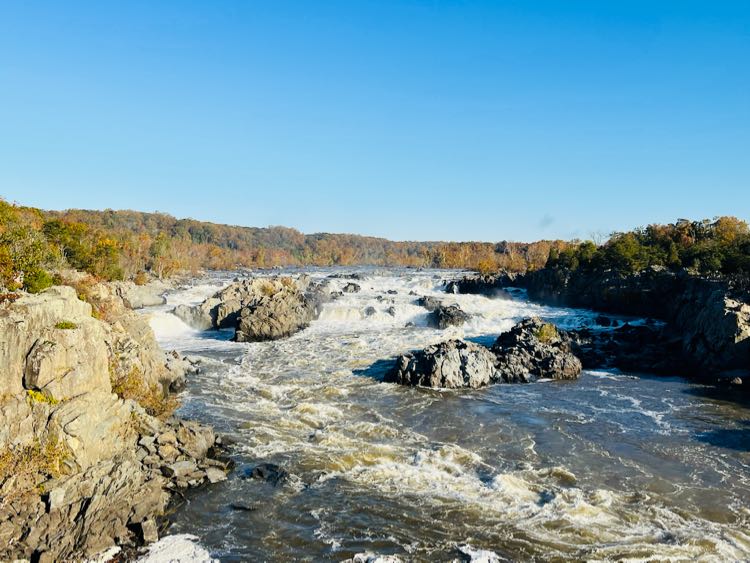 Huntley Meadows Park
An ADA-compliant, stroller-friendly boardwalk trail draws families to Huntley Meadows for a quiet walk over a marsh. Beautiful fall foliage surrounds the marsh, a perfect backdrop as you watch for birds and other wildlife in this lovely park.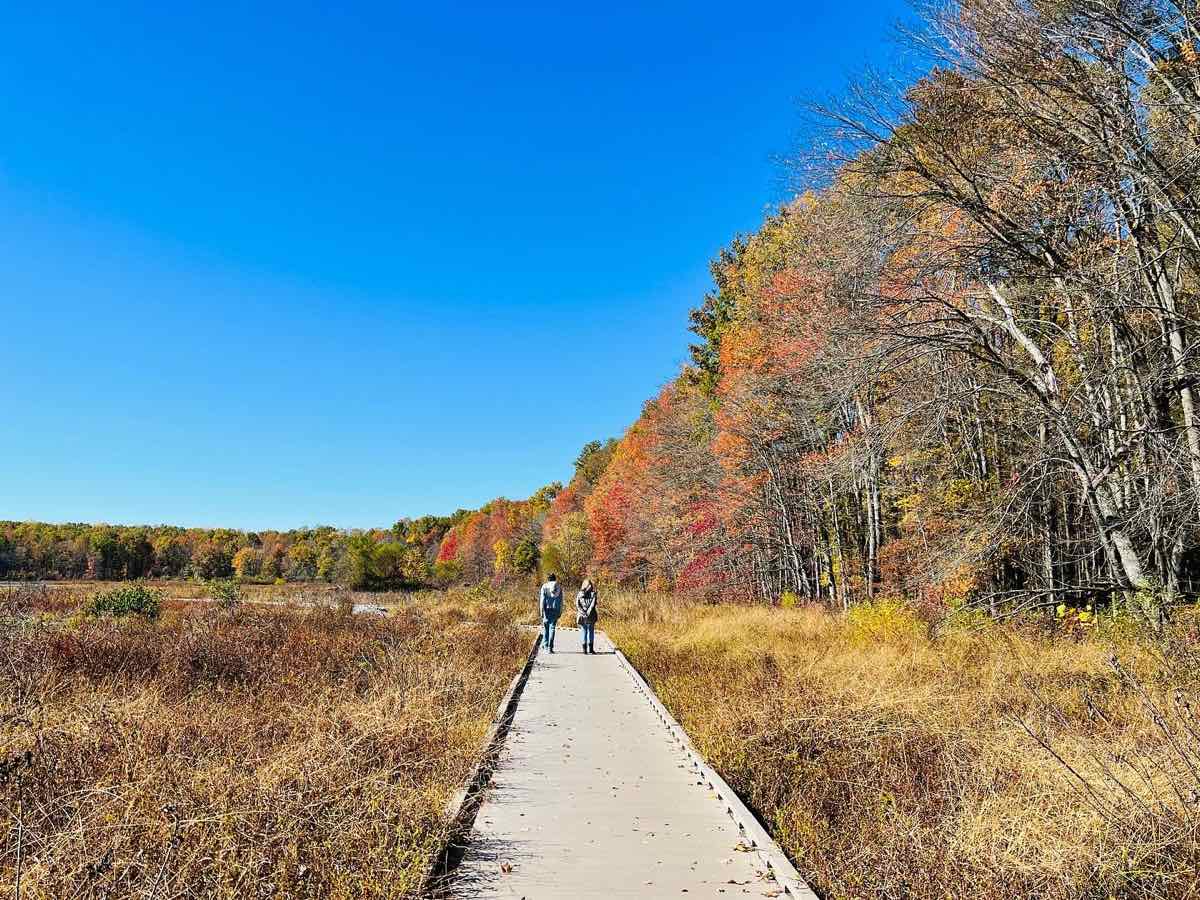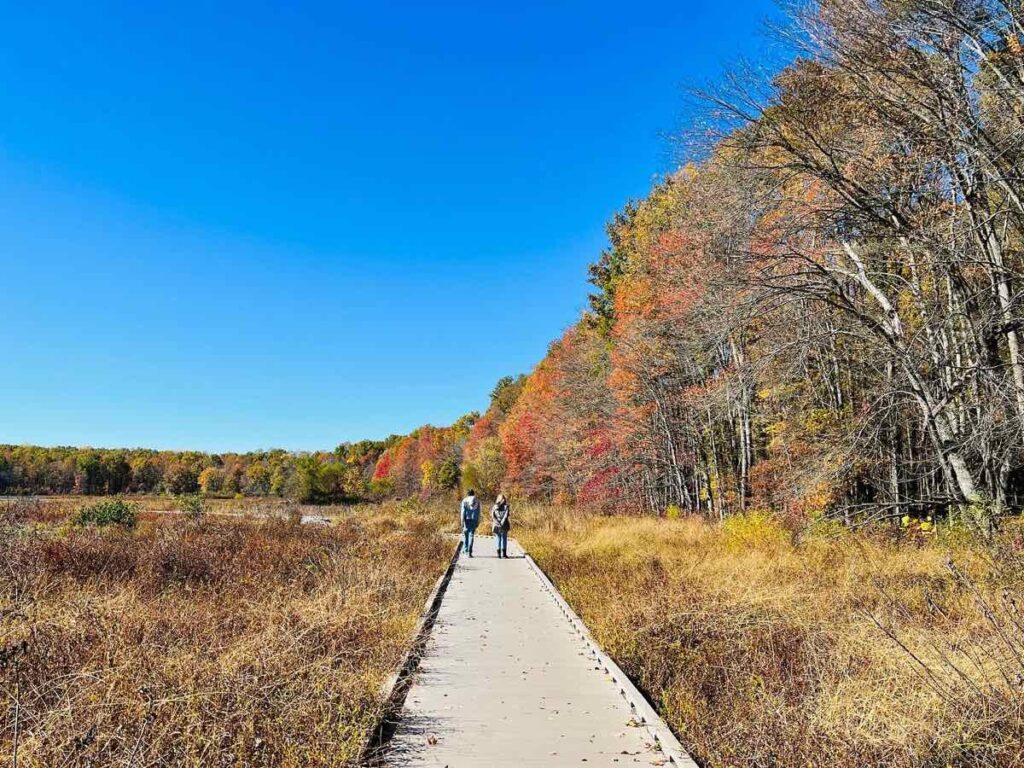 Huntley Meadows is one of 20 Must-See Northern Virginia Hidden Gems Rich in Nature and History.
Washington and Old Dominion Trail Bike Trail
Fall weather is perfect for biking, whether you prefer paved or dirt trails. Many sections of the paved W&OD Bike Trail are lined with trees that get nice Autumn color. The parallel Bridle Trail offers more wooded views perfect for hiking or biking. Woodland sections of the Fairfax Cross County Trail are another good option for off-road biking.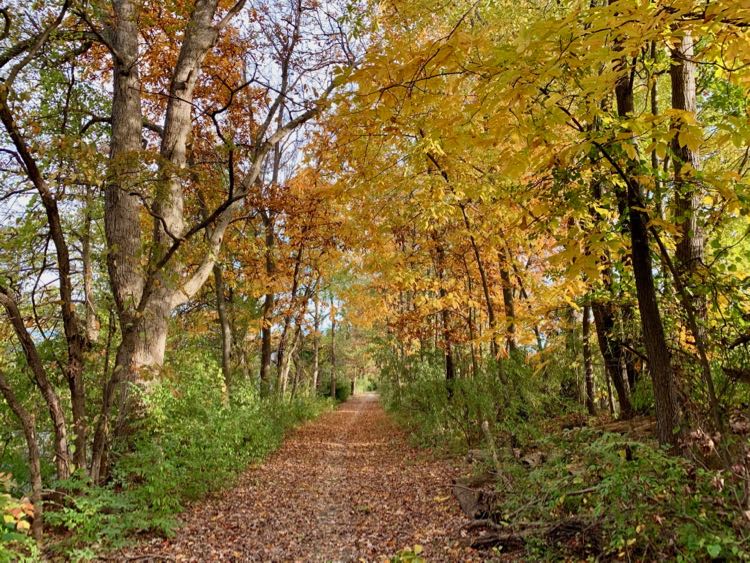 Enjoy fall foliage by bike: 15 Northern Virginia Bike Trails for Paved / Mountain Biking Near DC.
Meadowlark Gardens Regional Park
Meadowlark Botanical Gardens draws visitors throughout the year, as the plants and trees change with the seasons. You'll find bursts of autumn color around the lake and trails in the fall. Return in spring to enjoy beautiful cherry blossoms. And don't miss the annual Meadowlark Gardens Winter Walk of Lights during the holiday season.
Neabsco Creek Boardwalk
One of the prettiest easy trails in Prince William County is a great place to walk in the fall. The Neabsco Creek Boardwalk is a wheelchair-accessible, stroller, and dog-friendly 3/4-mile trail with nice Autumn views.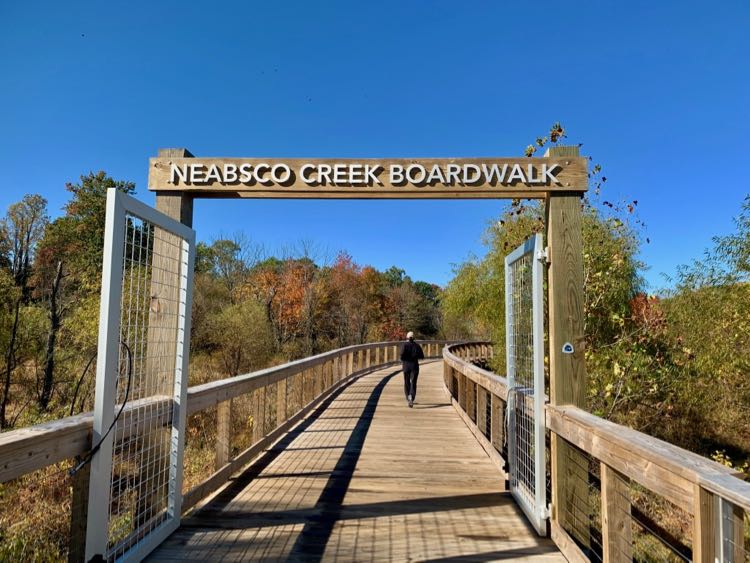 Find more easy walks in our guide 6 Beautiful Boardwalk Hikes in Northern Virginia.
George Washington's Mount Vernon
A day trip to George Washington's Mount Vernon is fun year-round. In Autumn, you'll see pretty fall colors in the trees surrounding the President's beautiful estate. Fall colors are also pretty by the Potomac River and in the woods near the Round Barn.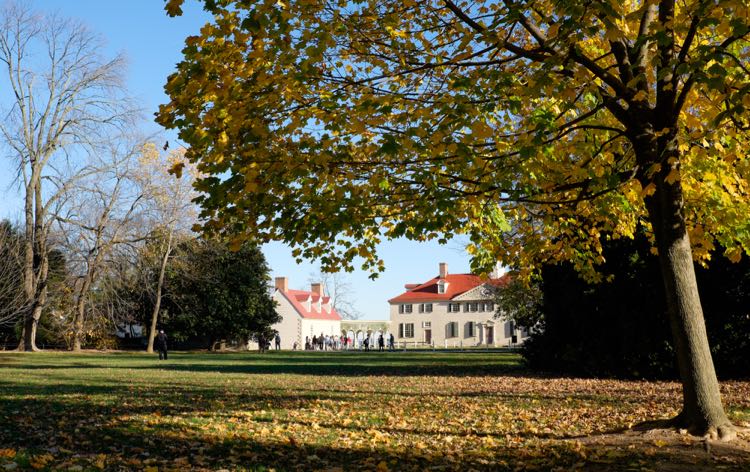 Sky Meadows State Park
A loop hike on the Appalachian and Piedmont Overlook Trails is a great way to enjoy beautiful views of fall foliage across the Virginia Piedmont. Visit Sky Meadows State Park on an October weekend to enjoy a pumpkin patch and family-friendly events.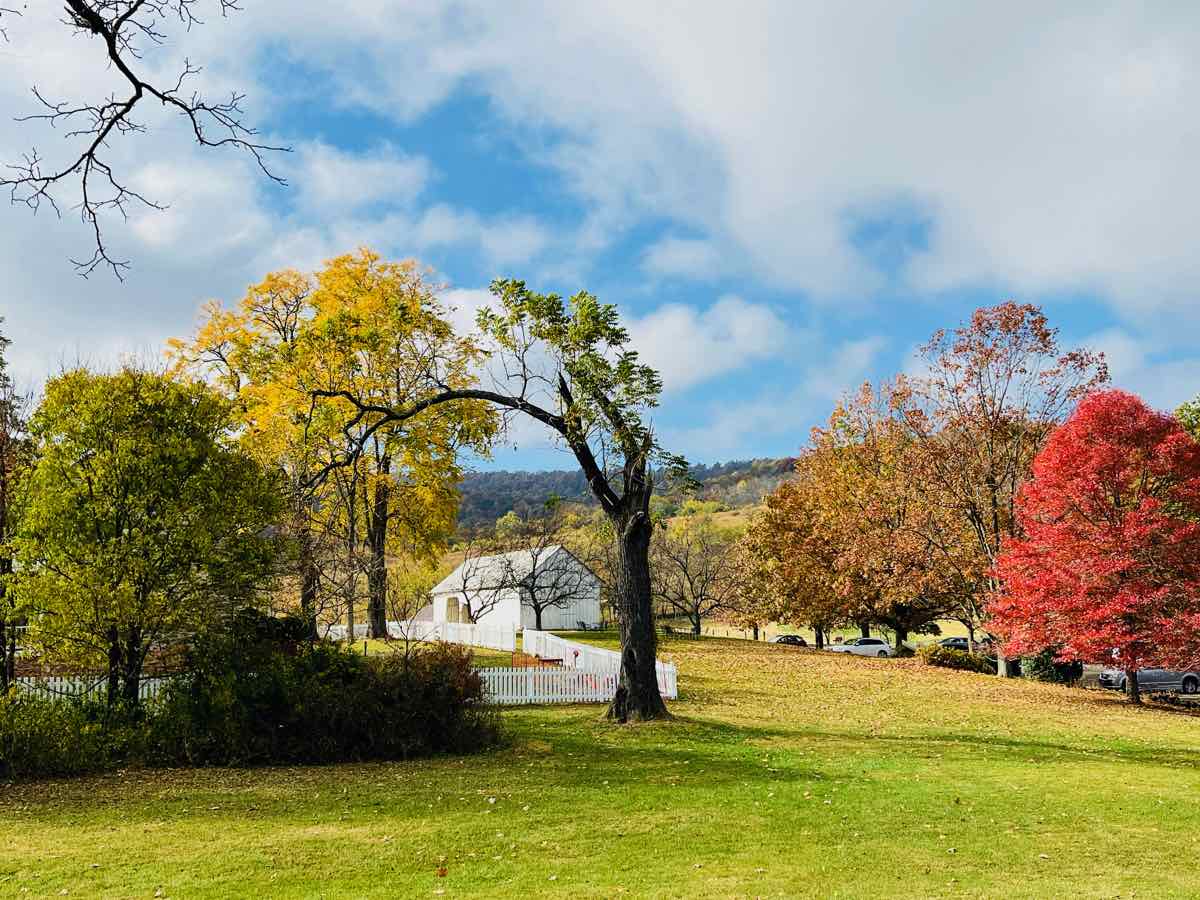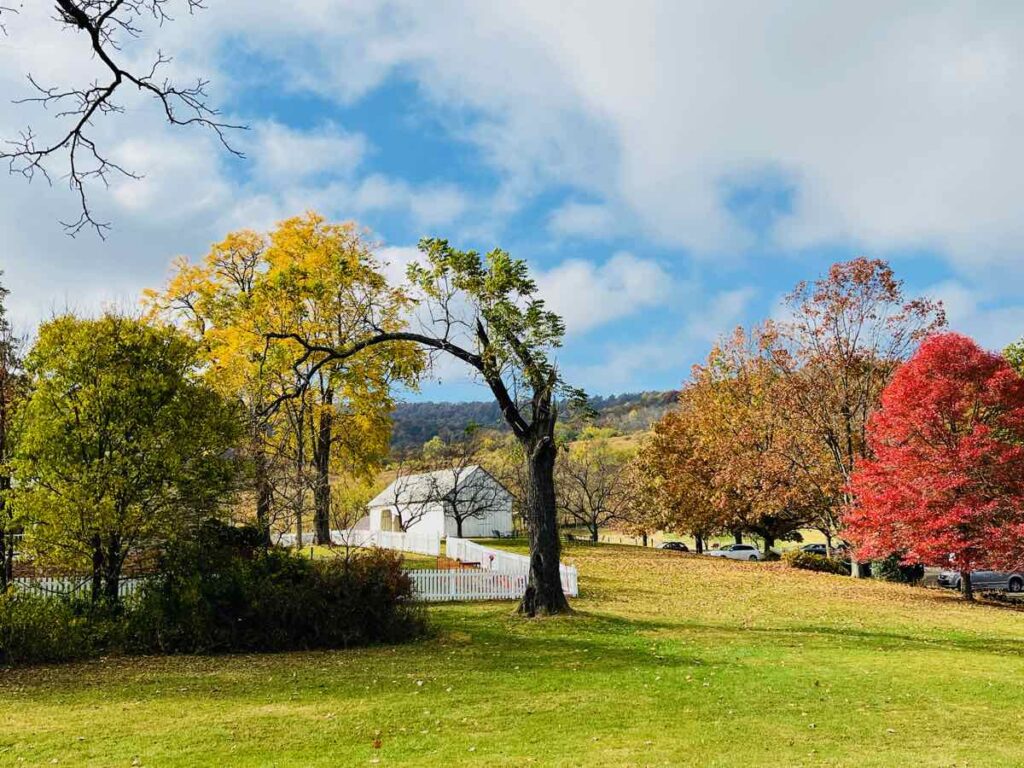 Mason Neck State Park
Fall colors often emerge first near water at low elevations. Visit Mason Neck State Park early in the foliage season for pretty colors along the Bay View and Marsh Trails. History buffs should consider a stop at Gunston Hall for a tour of the house and pretty colors on the grounds.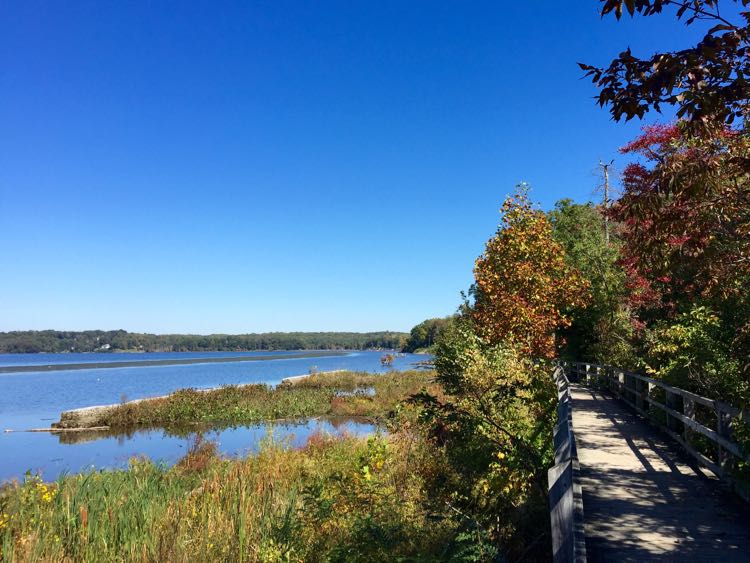 Foliage Mountain Views in the Washington DC Region
It's hard to beat autumn views from a mountaintop. Fortunately, residents and visitors to the Washington DC region can find spectacular foliage views nearby. These National Parks, National Forests, and scenic mountain drives offer fabulous mountaintop Autumn views.
Big Schloss Hike
One of the most outstanding fall foliage views straddles the Virginia and West Virginia border. The trail to Big Schloss summit is very steep and rocky for almost a mile. The payoff for your climb is a long ridge and an open, rocky summit with incredible 360-degree views of the surrounding valleys and mountains.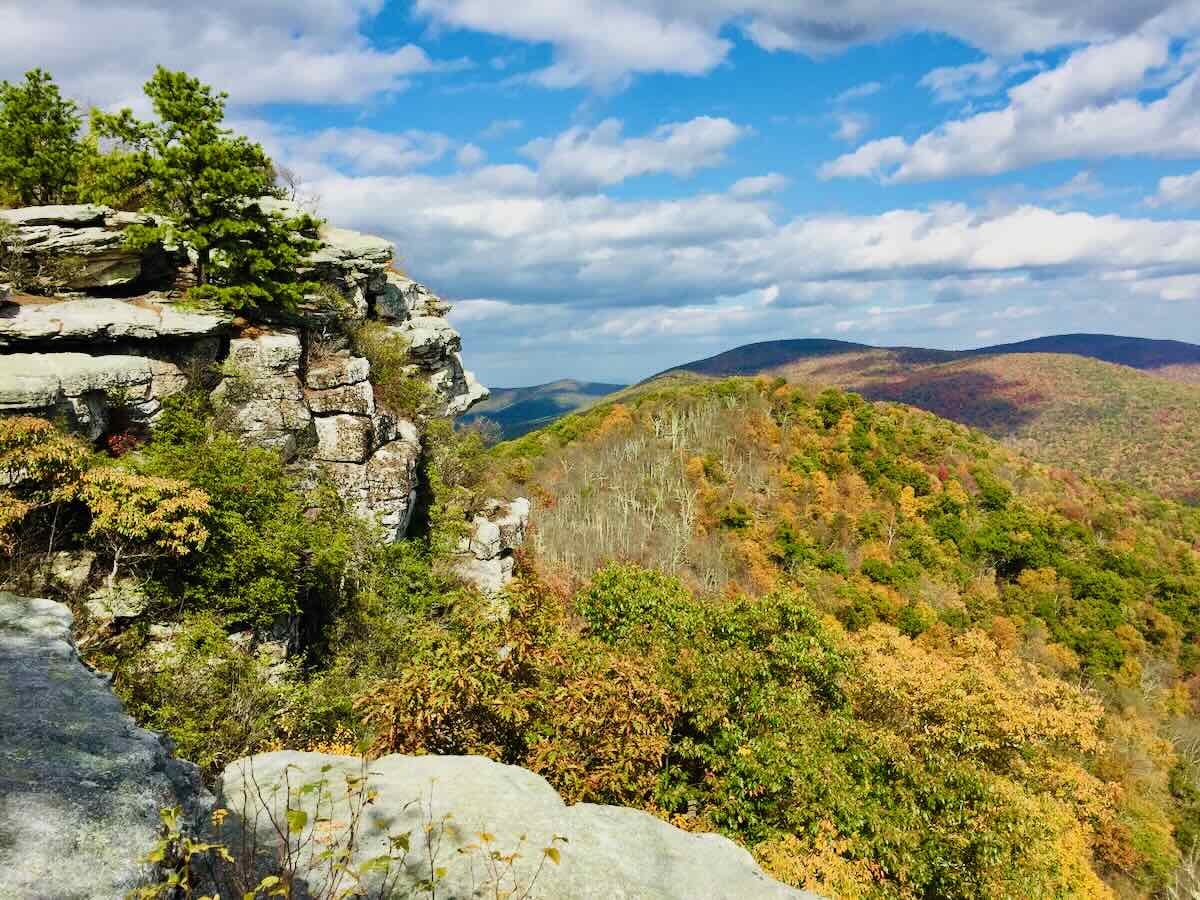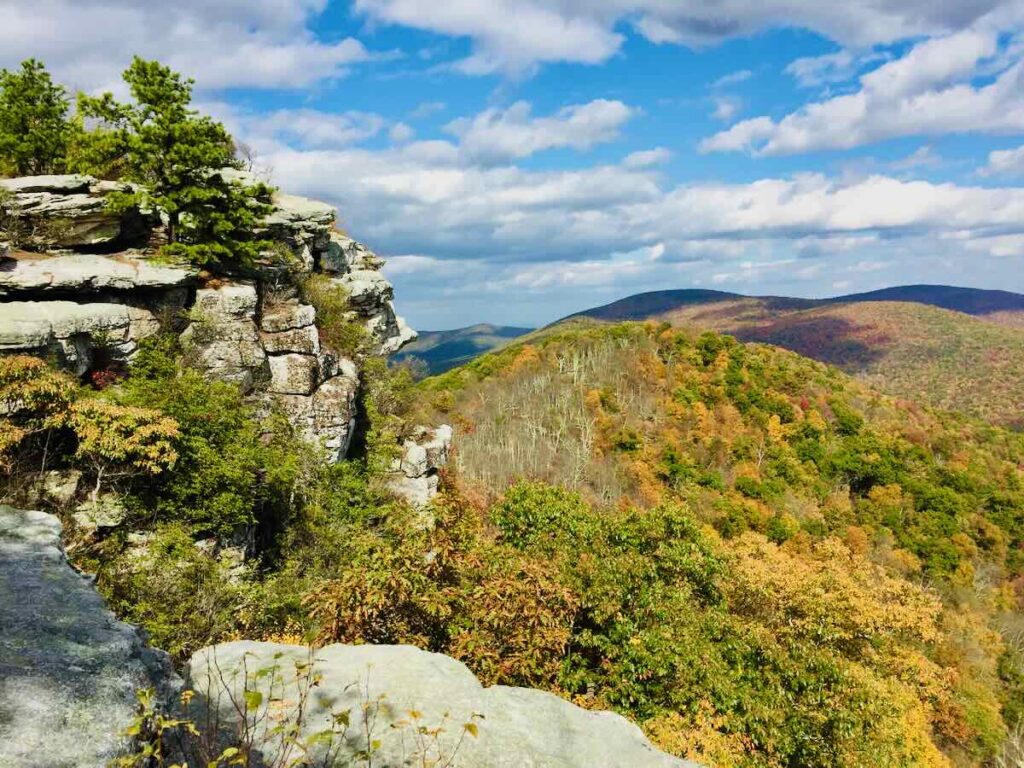 Mary's Rock Hike
Within Shenandoah National Park is another of our favorite fall view hikes. Our preferred Mary's Rock hike follows the Appalachian Trail from Jewell Hollow Overlook. This route includes two awesome viewpoints, on a 6.5-mile out-and-back trek.
For a shorter hike, follow the first mile of this route to The Pinnacles and the gorgeous view shown below.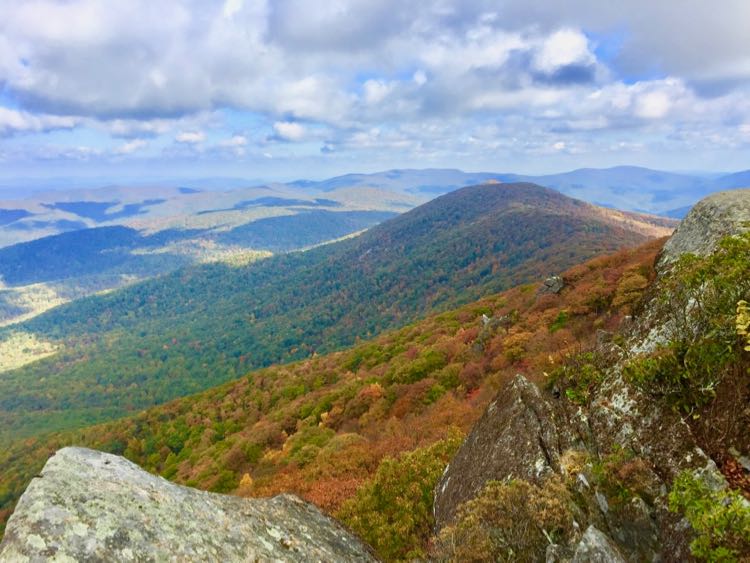 Stony Man Trails
Stony Man Summit offers three great options for an easier fall foliage hike with gorgeous views.
Climb the short, steep trail to Little Stony Man Overlook.
Hike the longer but easier trail to Stony Man Summit.
Or combine both overlooks in a beautiful loop hike.
Find maps, photos, and descriptions for all three routes in Stony Man Trail Hikes to Beautiful Shenandoah Views.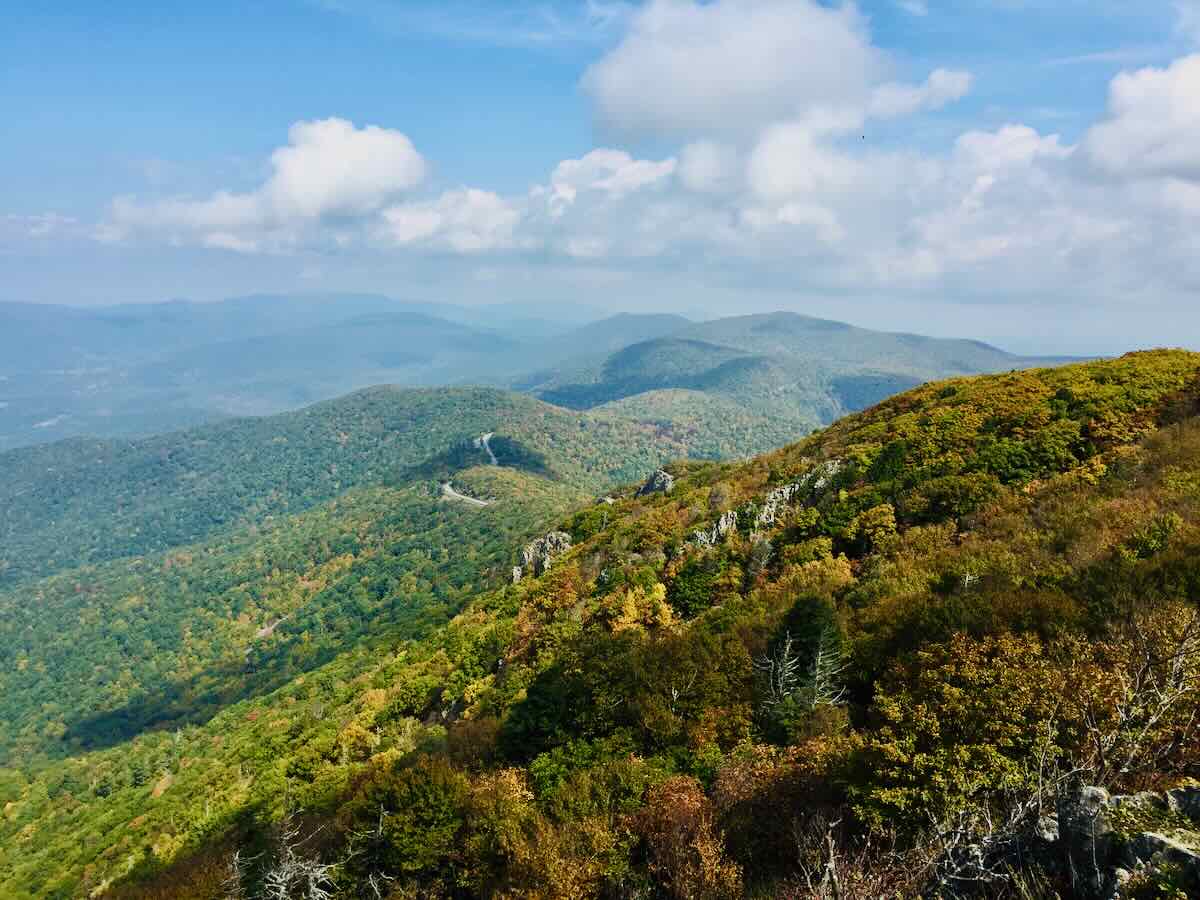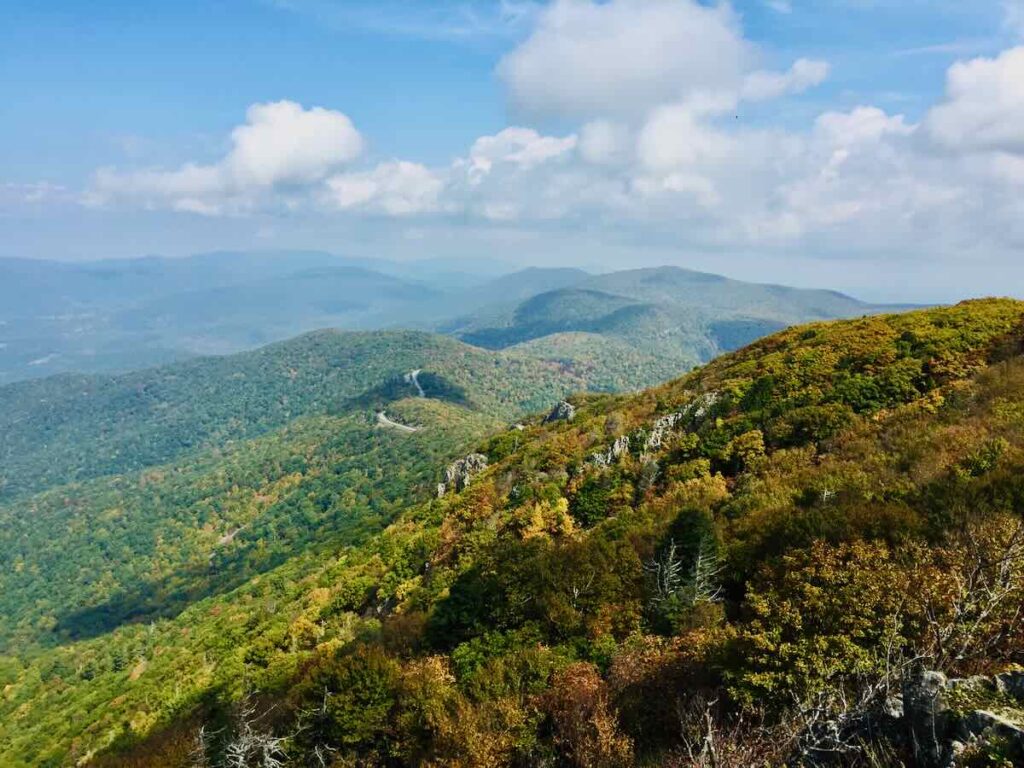 Shenandoah National Park Overlooks
You don't have to hike to enjoy gorgeous views in the Shenandoah mountains. A drive along scenic Skyline Drive, with stops at favorite overlooks and the Byrd Visitor Center, is a wonderful way to enjoy fall colors in Shenandoah National Park.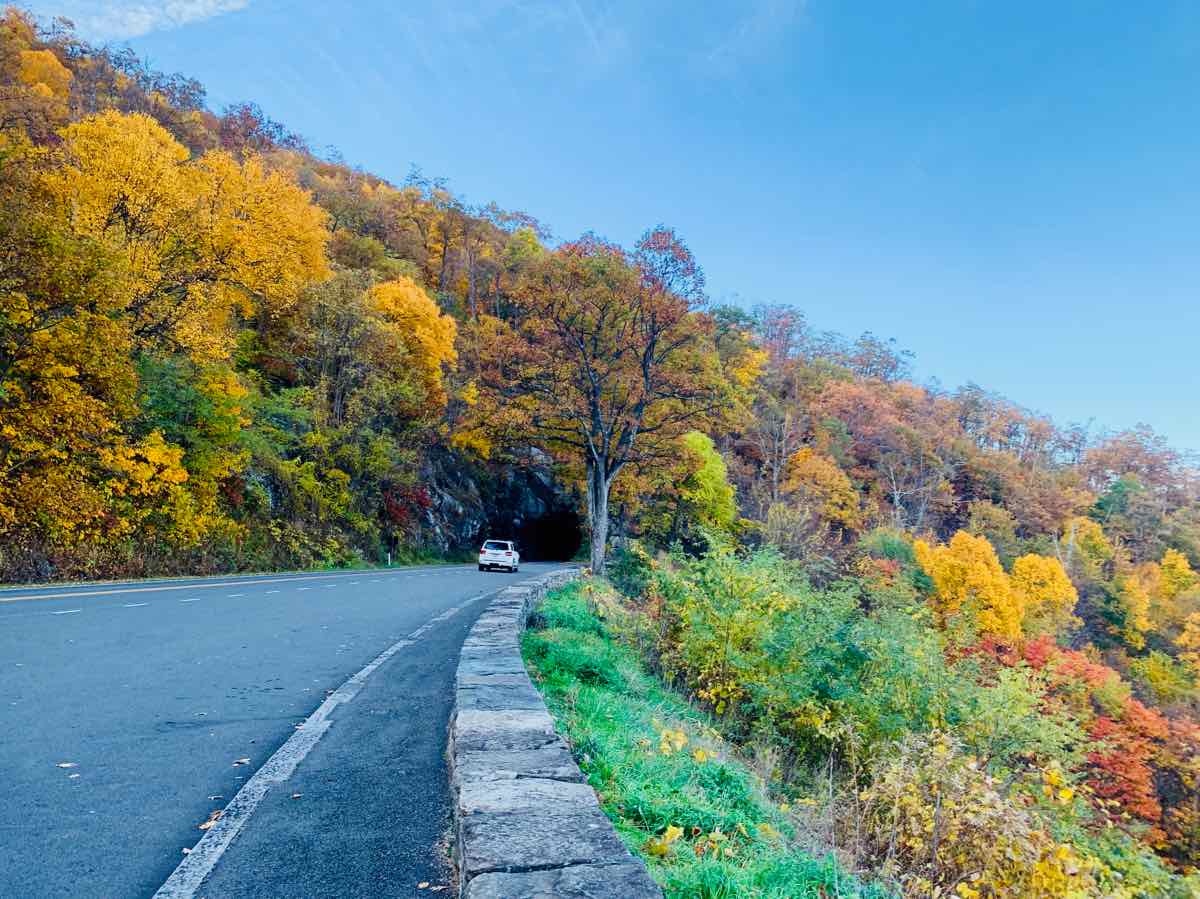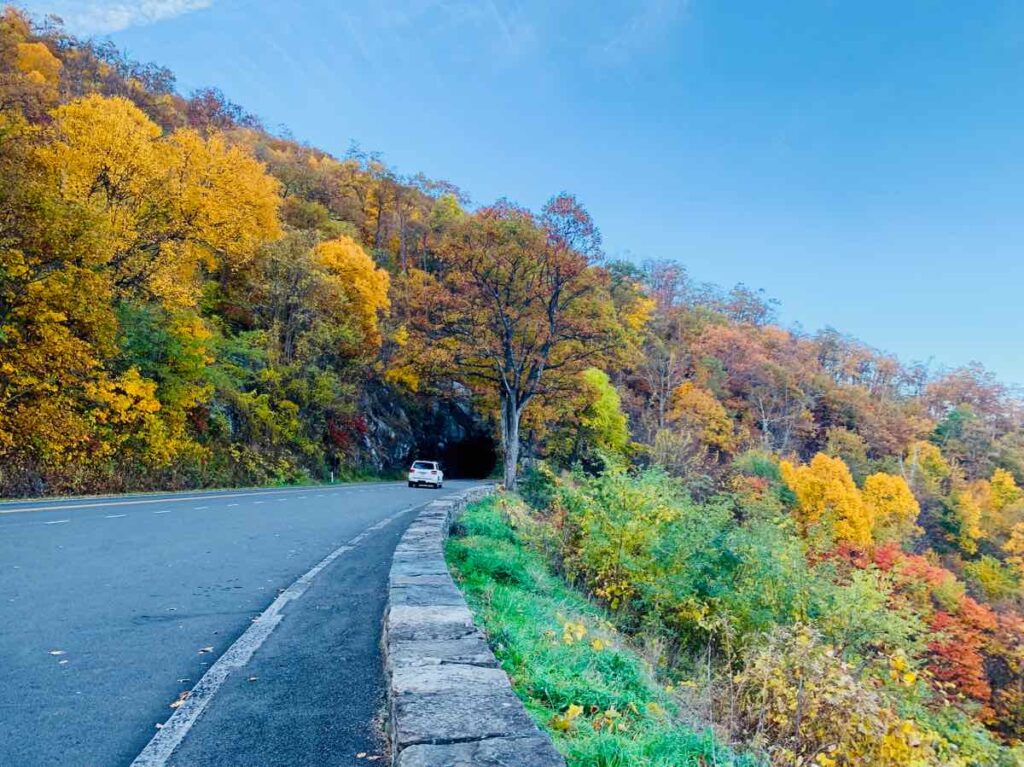 Our Shenandoah Central District day trip planner includes more hikes, the best overlooks, and things to do in the park's most scenic section.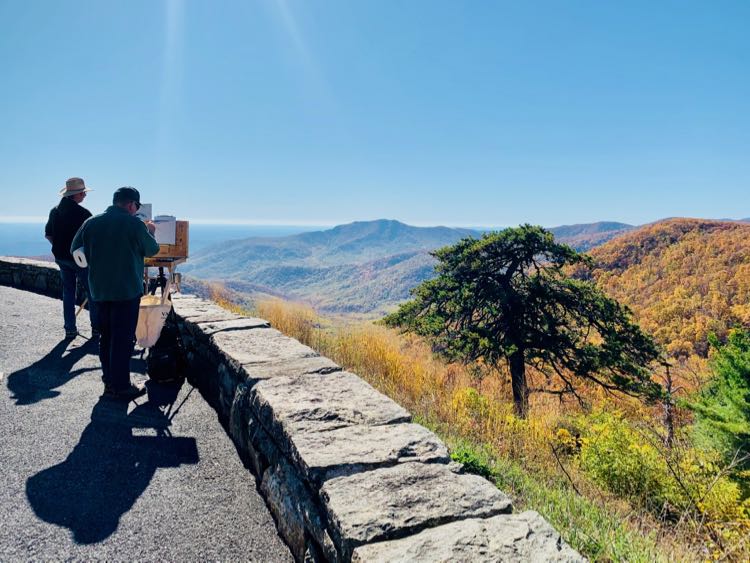 Sugarloaf Mountain
Sugarloaf Mountain rises above the surrounding Maryland fields, delivering pretty views by car or on foot. Drive to the East View Parking area for a picnic with a view. More expansive summit views are a short but steep hike from one of two upper parking areas.
Combine your Sugarloaf visit with a scenic drive along the Virginia/Maryland border.
Bonus: Fall Foliage Scenic Train Ride
A ride on the Potomac Eagle Scenic Railroad is a fun and unique way to experience fall foliage. The train leaves from Romney West Virginia, just 2 hours west of Fairfax, and travels through a scenic gorge called The Trough.
Guests ride in vintage train cars with great views of the trees, cliffs, and resident bald eagles. Fall is primetime for this great experience, and the train usually operates daily in October and early November.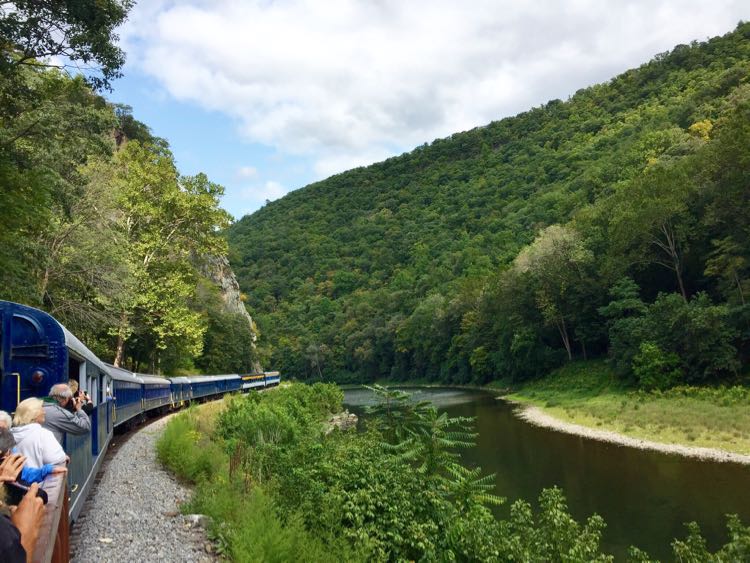 Fall Foliage Peak Season Viewing Tips
When peak Virginia fall foliage arrives, you can find nice stretches of color in almost any heavily treed area. Large populations of oak, ash, beech, and hickory trees mean golden and russet hues often dominate the view. However, you'll find splashes of bright red maples and dogwoods throughout the area.
The best fall colors result from cool sunny days and cool nights with some, but not too much, rain. Too much heat or a very dry season makes leaves brittle and dulls the color. Dry leaves were an issue in 2016 and may be again in 2023 (our fingers are crossed for great color).
Here are some online tools for tracking foliage progress in Virginia and surrounding areas. Many of these sites start posting foliage forecasts in mid to late September.
Ready for more Northern Virginia Fall Fun? and activities in the DC region:
Wherever your fall foliage outings take you we wish you crisp days, sunny skies, and beautiful autumn colors.
Follow us on Facebook, Twitter, Pinterest, and Instagram for more fun travel in and from Northern Virginia.
Pin it for later: