Updated on May 9, 2023 by Julie McCool
Explore more than 25 of the best things to do in Alexandria VA, perfect for a day trip, weekend getaway, or longer visit to Northern Virginia and the Washington DC region. Alexandria Virginia offers a unique mix of walkable neighborhoods, rich American history, foodie destinations, and natural areas to explore.
Whether you have a few hours or several days, you'll find fun and interesting things to do in Alexandria VA for every age and interest. This fascinating city really makes the most of its beautiful location on the Potomac River. That combination of natural beauty, local interest, and fascinating history make Old Town Alexandria one of our top 10 must-visit attractions in Northern VA.
Disclosure: This article may contain affiliate links. We will make a small commission from these links if you order something, at no additional cost to you.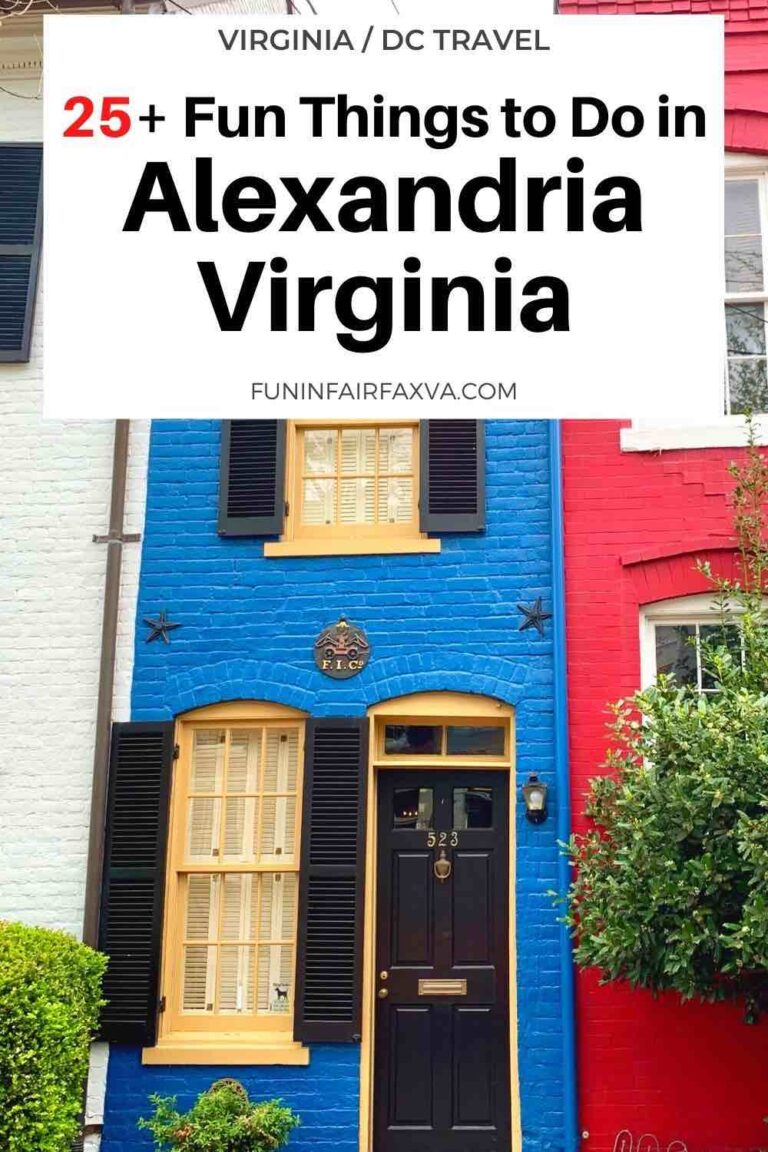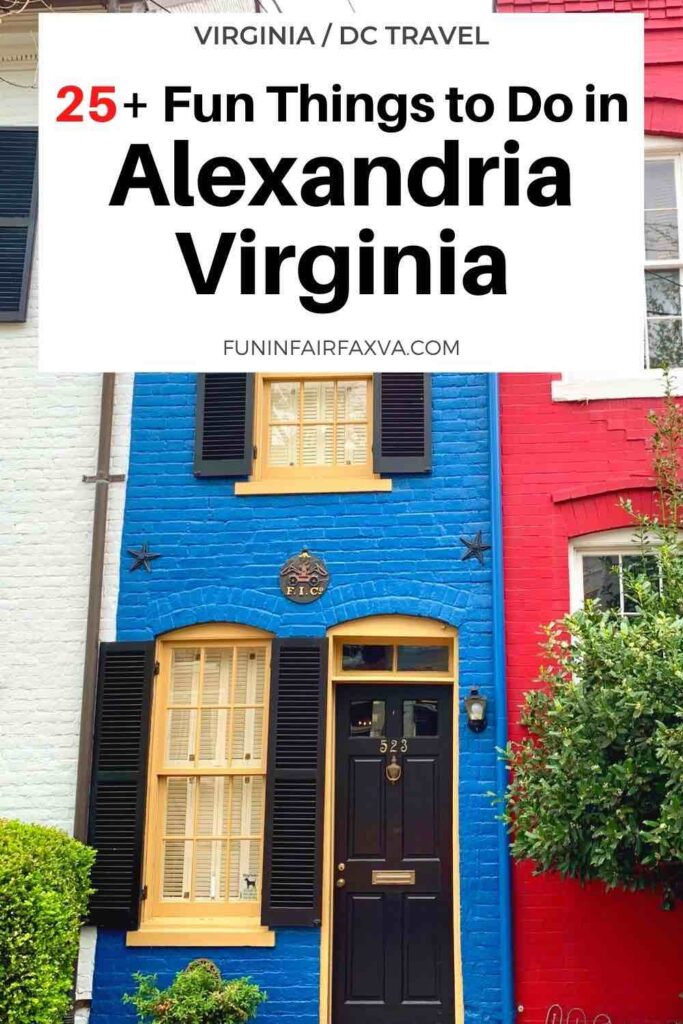 Best Things to Do in Alexandria VA
Some of the best places to visit in Alexandria are in Old Town, but there is more to see in surrounding neighborhoods and towns. And a robust calendar of special events, festivals, and exhibits means there is always something new to see, whether you're a long-time resident or a first-time visitor.
Fun activities and places to visit in Alexandria are grouped below by area.
First, we highlight fun things to do in Old Town Alexandria and on the Alexandria waterfront.
Next, we share popular annual events and some of the best places to stay in the city.
Then, we list places to visit in surrounding neighborhoods like hip Del Ray and neighboring Arlington and Fairfax Counties.
Finally, you'll find essential tips on getting to Alexandria.
Cool Places to Visit in Old Town Alexandria
Here are some of the most interesting, unique, and photogenic places to see in Old Town Alexandria. You can reach all of these places with a walk short walk around the downtown area.
The Spite House
Check out the Spite House at 523 Queen Street. rumored to have been built by a homeowner to block loiterers from the alley next to his house. At just 7 feet wide, the skinniest historic house in the US is also one of the most Instagrammable places in Alexandria.
Did you know this is one of four alley houses in Old Town Alexandria? You can see the other three alley houses at:
305 King Street
403 Prince Street
1401 Prince Street
Cobblestones on Captain's Row
Cobblestone streets were once the norm in Old Town and that history is preserved on Captain's Row. The beautiful 100 block of Prince Street, between S. Lee and S. Union, features a wide cobblestone street climbing a hill. Stately trees and homes, several built by sea captains that gave the street its name, line the street. The street is a popular backdrop for photographers and Instagrammers.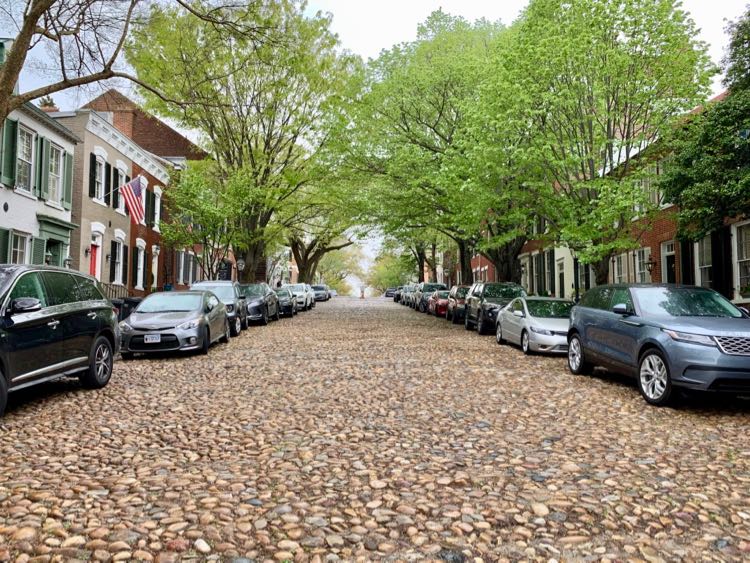 Colorful Doors and Homes
Old Town Alexandria is an architecture-lovers dream. Allow time to wander the streets and you'll see a range of home styles, lovely gardens, brick sidewalks, and beautifully decorated doorways.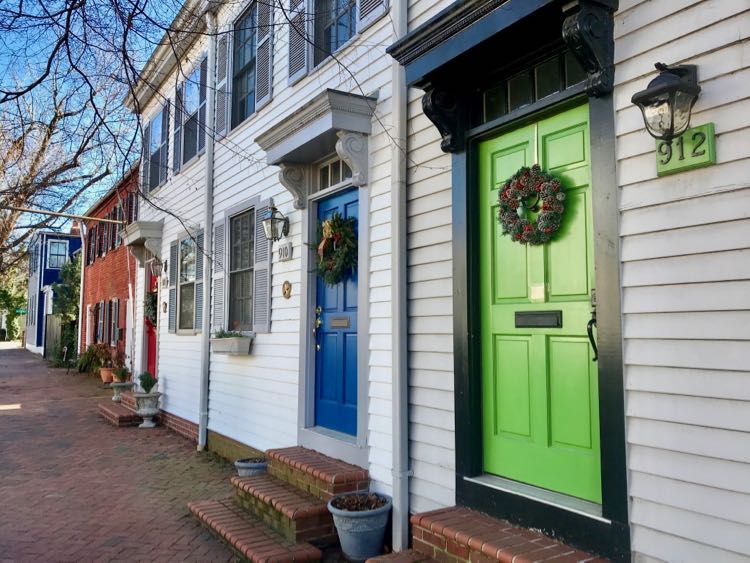 Cherry Blossoms and Gardens
Spring is a beautiful time to visit Virginia, and Old Town really shines during cherry blossom season. Visit in late March and early April to see delicate Yoshino cherry trees in bloom along King Street. As they fade, late-blooming Kwanzan trees take over, followed by Redbuds and Apple blossoms. At the same time, Alexandria gardens fill with color at houses and businesses through the neighborhoods.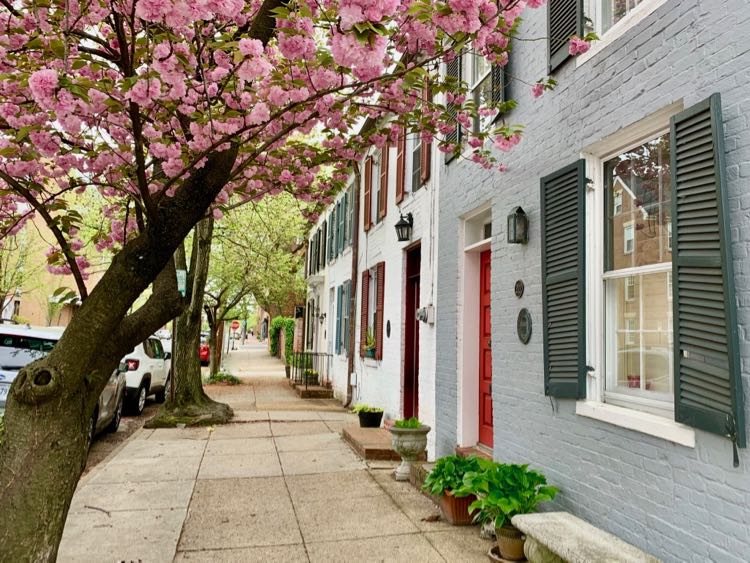 King Street Mile Shops
An excellent collection of one-of-a-kind boutiques draws shoppers to Alexandria throughout the year. Many of the most popular shops line the King Street mile, including national chains and the largest collection of unique boutiques in the DC area.
Shops and restaurants are walkable but you can also take the free King Street Trolley, which makes stops at several King Street locations. The trolley operates year-round and runs every 15 minutes.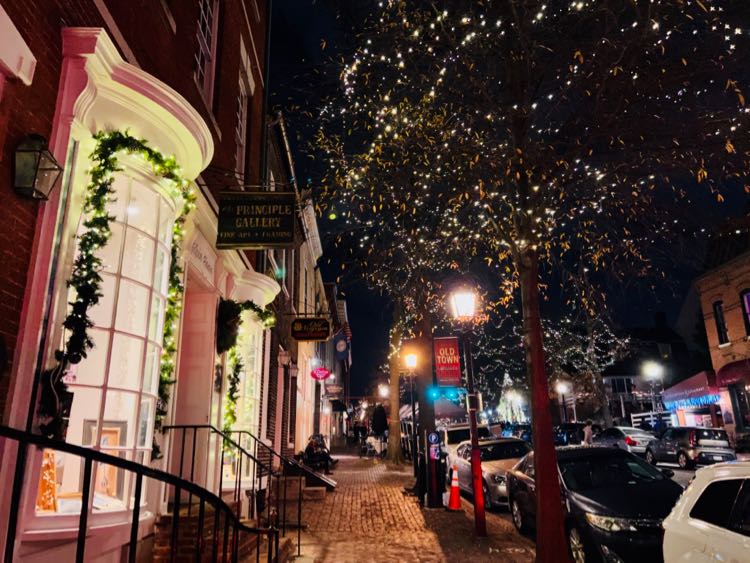 Dine and Drink
In addition to all those boutiques, you'll find a wonderful selection of restaurants in Old Town for every price point. Several favorites are sprinkled along King Street, while others, like Barca and Ada's on the River, command spots by the water. Restaurants, pubs, and bars draw folks to relax and socialize at cool spaces and outdoor patios.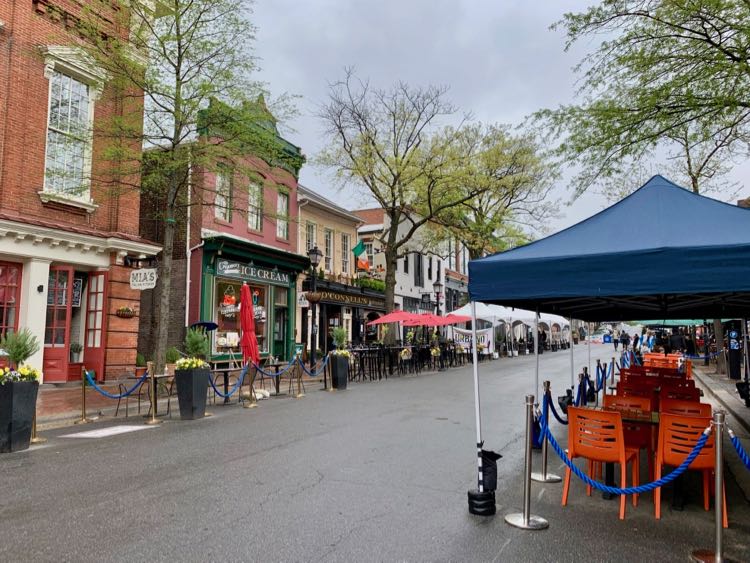 Explore American History in Old Town
History is carefully preserved in Old Town and visitors can tour several interesting historic sites. As of spring 2021, some historic sites are closed or operating with restrictions so follow the links for the latest updates.
One of the most unusual Alexandria VA attractions is the Stabler-Leadbetter Apothecary. The pharmacy and its medicines are carefully preserved from the time that the business closed abruptly in 1933. The collection of oddities and historic artifacts—including unicorn root, dragon's blood, and a medicine order from Martha Washington—are displayed just as they were in the past. In July, special events connect Harry Potter fans to these real-life potions.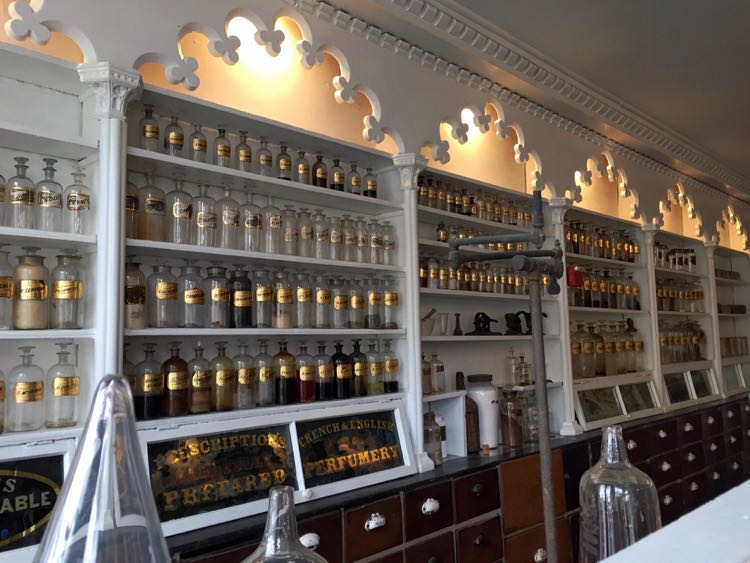 A darker history is preserved nearby. In the 1800s Alexandria was home to the largest domestic slave trading operation in the country. A small but powerful museum, Freedom House, shares the heartbreaking story of enslaved people and the slave-trading firms who operated here. A mile away, the Alexandria Black History Museum shares a broader history of the contributions and struggles of Black Americans in Alexandria and nationwide.
Other historic homes and businesses worth a visit, include Carlyle House, the Lee Fendall House, and Gadsby's Tavern Museum. Gadsby's is both museum and restaurant, and it preserves the atmosphere once enjoyed by George Washington, Thomas Jefferson, James Monroe, and other notable Amiercans.
Just outside Old Town is the George Washington Masonic National Memorial. The impressive building interprets Washington's activities as a Mason and the contributions of American Masons.
Take an Old Town Tour
Guided historic, haunted, and ghost tours are a popular and fun way to explore Old Town on foot. For example, Alexandria Colonial Tours offers a lantern-lit Ghost and Graveyard Tour through the streets of Old Town. If you'd rather ride, there are trolley tours available. Find a tour on the Visit Alexandria website.
Fun Things to Do on the Alexandria VA Waterfront
Once a busy port, Alexandria is blessed with an attractive and welcoming area along the Potomac River. Here, visitors can stroll a paved path dotted with parks, restaurants, and attractions. In fact, our favorite way to reach Old Town is by walking along the river from Jones Point Park (details below).
Here are 10 of the best places to visit and things to do on the Alexandria Waterfront:
Waterfront Park
Enjoy the view, relax, picnic, and take in the latest public art exhibit at Waterfront Park. The park is centrally located at the bottom of Prince Street so it's a great place to take a break from walking around Old Town. On our last visit, the artwork Groundswell illustrated the changing Potomac depth with wooden pilings.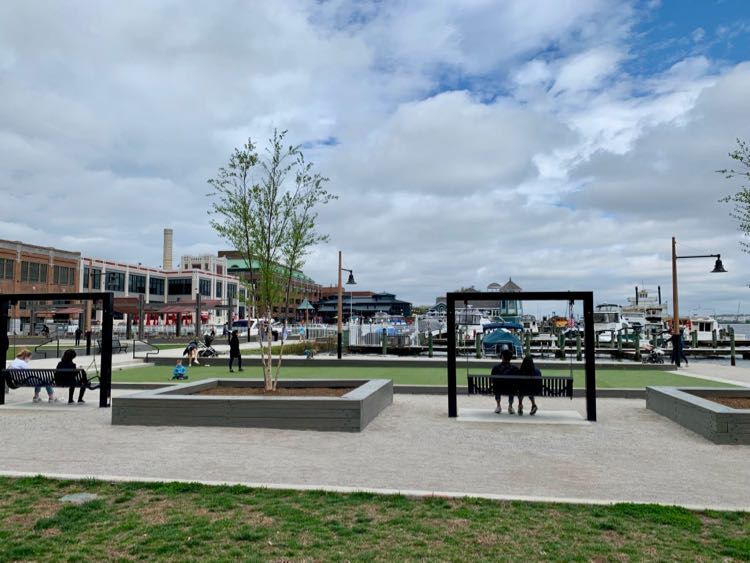 Torpedo Factory Art Center
The Torpedo Factory Art Center is one of the best reuses of a historic building we've seen. As its name suggests, the imposing brick building was once used to produce munitions, including torpedos. Today, the center provides space for over 80 local artists and hosts popular, kid-friendly events, workshops, and classes. Stop in to browse the art galleries, check out the artist studios or attend a special event. They also have clean and convenient restrooms.
There are several options to tour and travel the Potomac River from Old Town Alexandria. In March and April, Potomac cruises are a fun way to see the cherry blossoms in DC without the crowds. On weekends year-round, the Potomac Riverboat water taxi ferries visitors to National Harbor and the DC Wharf. Other cruises let you check out the monuments from a new perspective, visit George Washington's Mount Vernon, head to the ballpark, enjoy a meal, or simply relax as you cruise the river.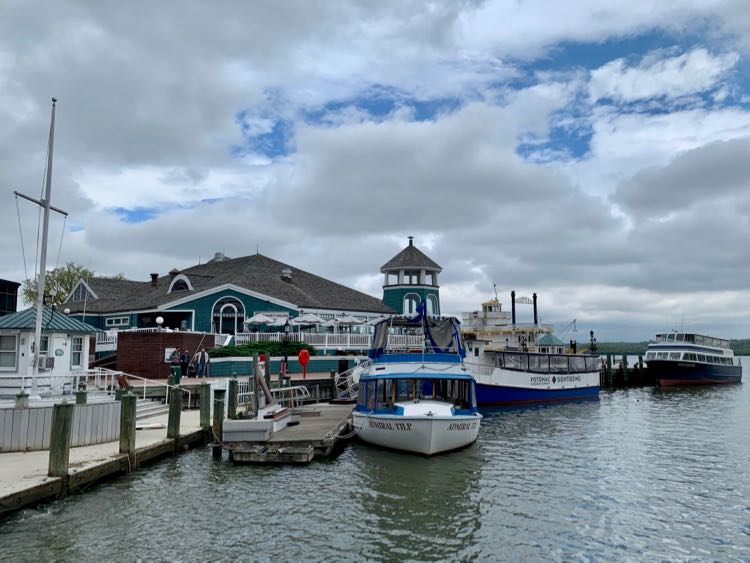 Tall Ship Providence
In 2020, the historic Tall Ship Providence opened in Old Town. Now you can sail the Potomac on a 90-minute cruise while interpreters share the history of the ship. Guests get to visit the Captain's cabin and ship's hold and enjoy the view from on deck. The Providence is a beautiful replica of the first ship authorized to serve in the Continental Navy and was John Paul Jones' first American command.
Founders Park
Just north of the Tall Ship Providence, Founders Park hosts community events and is another nice spot for a picnic. The park is a pretty place to walk with pretty gardens, flowering trees, and benches with a river view.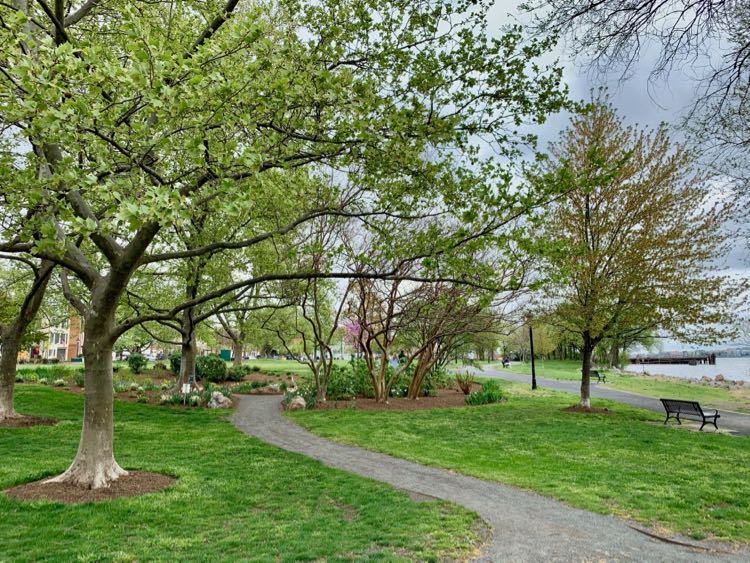 Shipyard Park
The trail winds through Shipyard Park, just south of the central waterfront. In 1783, this site at the foot of Wilkes Street was one of the first shipyards in the city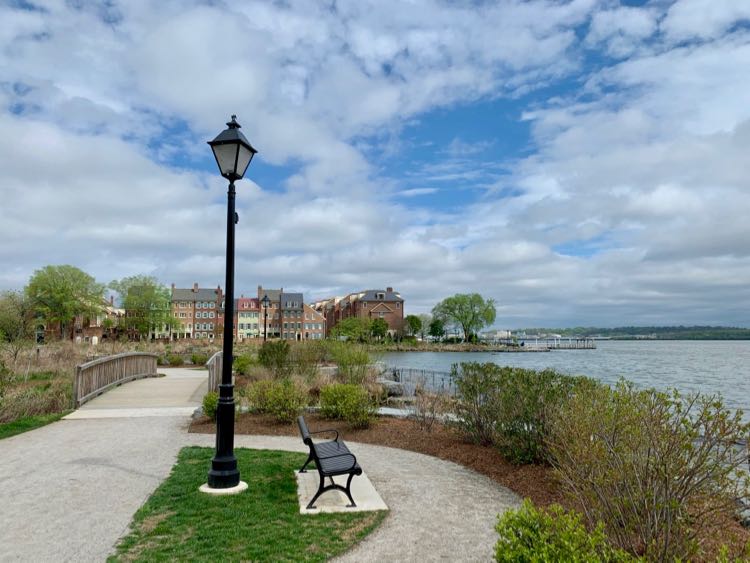 Windmill Hill Park
Just across Union Street, let the children in your group run off steam at the large playground and athletic fields at Windmill Hill Park.
Wilkes Street Tunnel
Kids of every age will enjoy a walk through Wilkes Street Tunnel, which once linked the railroad to warehouses on the river. Today the tunnel is a pedestrian and bike-friendly pass-through with beautiful brick and stonework.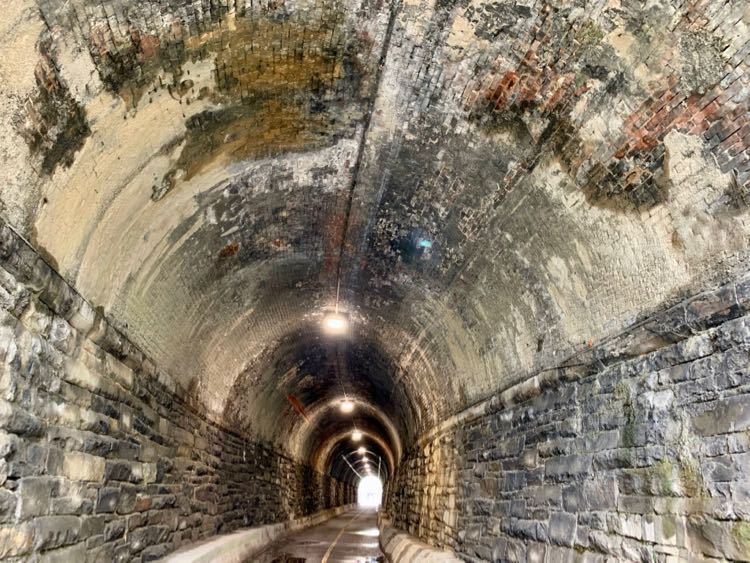 Ford's Landing Park
Continuing south along the water, stop at Ford's Landing Park to learn more about Alexandria's history. A series of historic signs explain the area's transformation from its earliest inhabitants to recent times.
Jones Point Park
Past Ford's Landing, the path merges with the Mount Vernon Trail and enters historic Jones Point Park. This small park is a hidden gem tucked under the Woodrow Wilson Bridge. Here, fishing piers, basketball courts and playgrounds, and historic sites combine at the edge of the Potomac.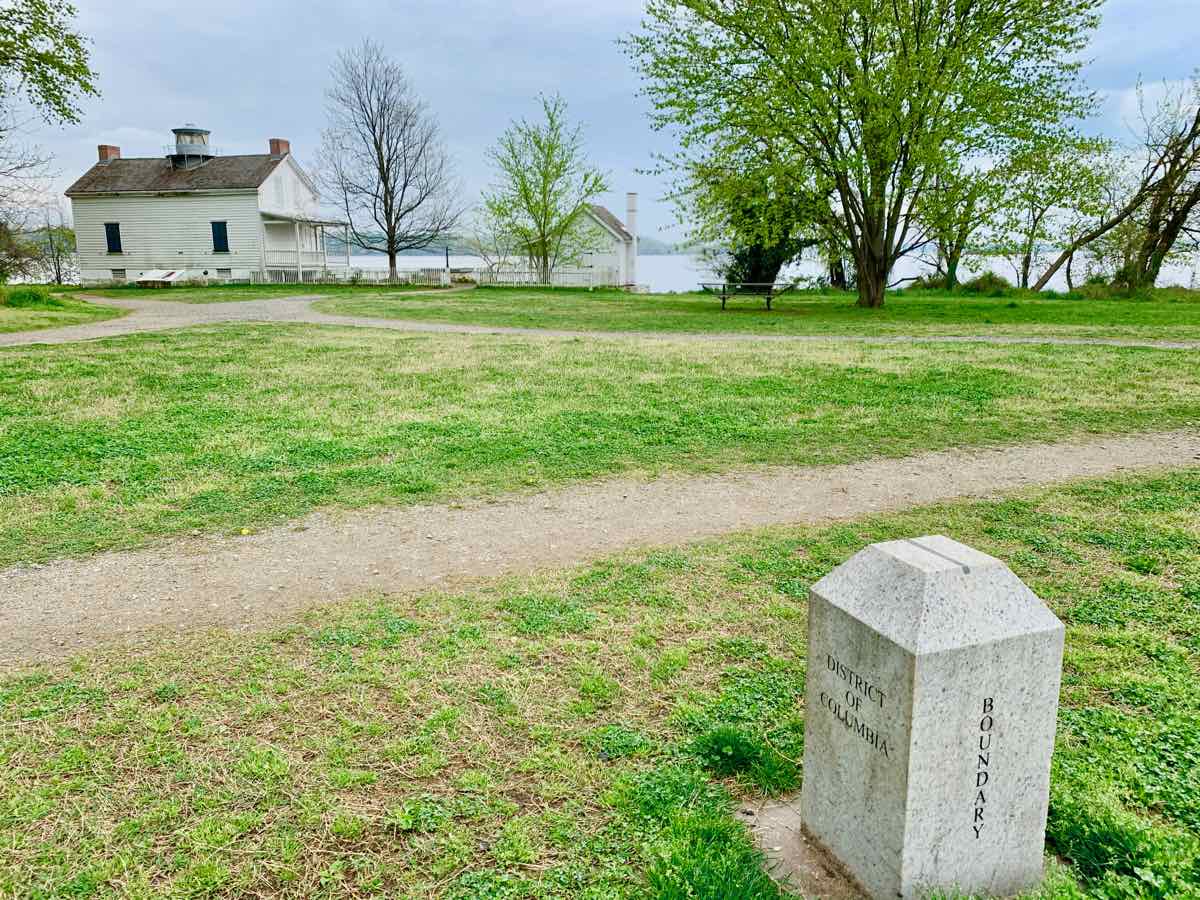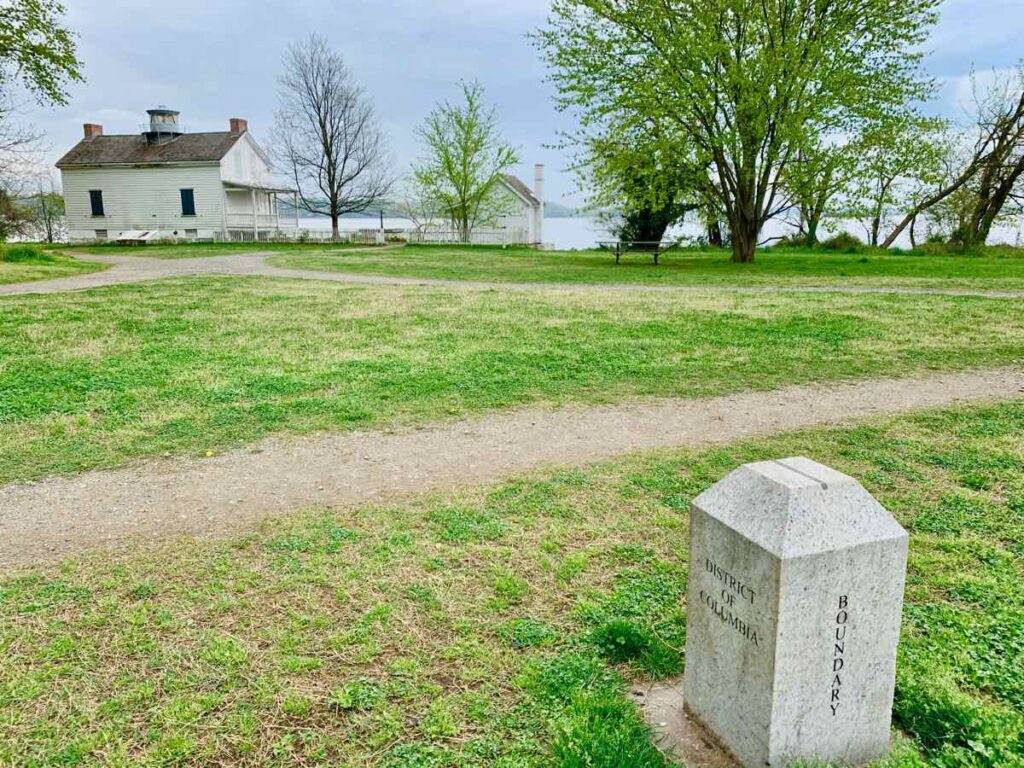 Jones Point Lighthouse, the last remaining riverside lighthouse in the Chesapeake Bay area offers a pretty spot for sunrise photos. Nearby, signs and markers explain that this was once the southern boundary of Washington DC. In fact, the very first marker for the city was set here, as the southern cornerstone.
Admission and parking are free so this is a good place to park and walk to Old Town Alexandria. It's less than a mile from Jones Point to Waterfront Park and you'll have pretty views throughout if you follow the riverside trail.
Alexandria Festivals and Special Events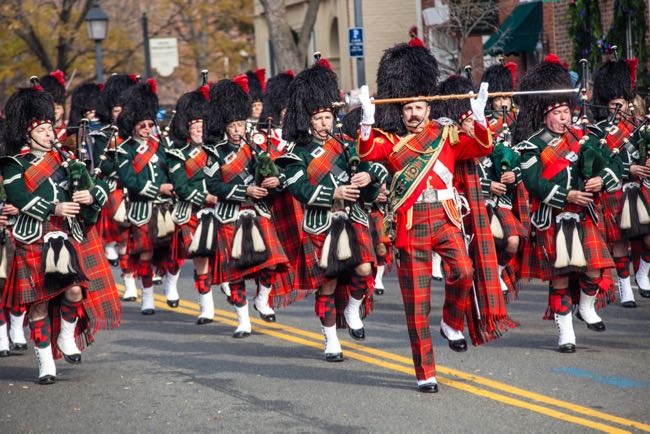 With so much history to celebrate and welcoming outdoor spaces to gather, Alexandria hosts some of the best festivals in Northern Virginia. Fireworks, parades, special events, and seasonal attractions draw visitors all year long. Here are a few favorite special events in the city. Many events were canceled or virtual in 2020, but we hope to see them return in 2021.
Looking for things to do in Alexandria VA this weekend? Check our event articles, including monthly event listings, and the Visit Alexandria calendar.
Alexandria Places to Stay in and Near Old Town
There is no shortage of great places to stay in Alexandria, including excellent hotels and a robust collection of vacation rentals. If you plan to stay in Old Town, consider these options:
Airbnbs and vacation rentals are common throughout the city, and these properties are on our curated list: 17 Amazing Northern Virginia Airbnb and Vacation Rentals:
See consumer reviews of Alexandria hotels here, or check rates and availability here.
More Great Places to Visit in and Near Alexandria
When you are ready to explore beyond Old Town, visit these cool neighborhoods, historic sites, and beautiful parks in and around the city of Alexandria.
Del Ray Neighborhood
One of the coolest neighborhoods in Alexandria, Del Ray is a great place for a meal, a drink, and some local shopping. Most of the commerce is sprinkled along a few walkable blocks of Mt. Vernon Ave.
Indulge your love of dairy with lunch at Cheesetique followed by a tasty ice cream cone from The Dairy Godmother. There are plenty of other dining options, along with a unique selection of boutiques and specialty stores.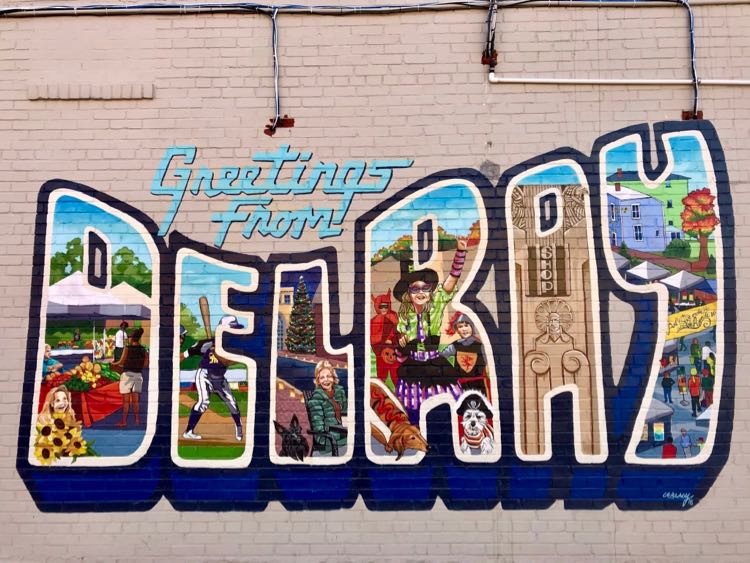 Port City Brewing Company
As they say on the glass, Port City Brewing Company puts the Ale in Alexandria. The city's favorite brewery creates an excellent line-up of craft beer, including 7 flagships and a long list of specialty and seasonal brews. Port City Porter has a regular spot in our fridge, but we also love to visit the brewery at 3950 Wheeler Ave.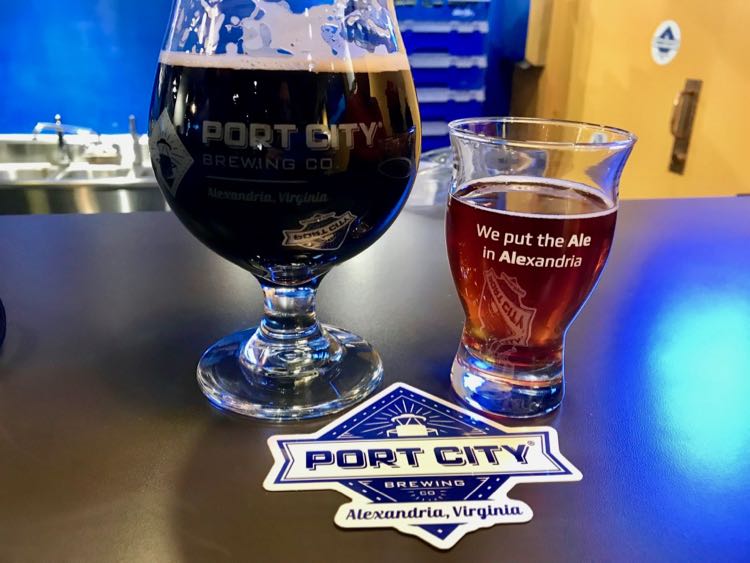 George Washington's Mount Vernon
Just 8 miles south of Old Town Alexandria is George Washington's Mount Vernon, home of America's first president. This must-visit site beautifully preserves Washington's mansion, outbuildings, and grounds augmented by an excellent museum. During warmer months, your ticket also covers a tour of Washington's Distillery and Gristmill.
Woodlawn and Pope-Leighy House
Close to Washington's Distillery is the former plantation of Nelly Custis, heir to Martha Washington. Today you can tour the stately mansion at Woodlawn, as well as the Pope-Leighey House, a beautiful Frank Lloyd Wright Usonian home. Woodlawn also hosts a popular Needlework Exhibit each year.
George Washington Memorial Parkway
Take a scenic drive on the George Washington Memorial Parkway to explore the historic and beautiful area along the Potomac. The Parkway links important historic sites like Arlington National Cemetery and Mount Vernon.
Bike or Hike the Mount Vernon Trail
You can also reach much of the same scenery and history from the paved 18-mile Mount Vernon Trail. The trail passes right through Alexandria, offering a pleasant ride along the Potomac in either direction. Heading south, you can watch a beautiful sunset over the water from Riverside Park.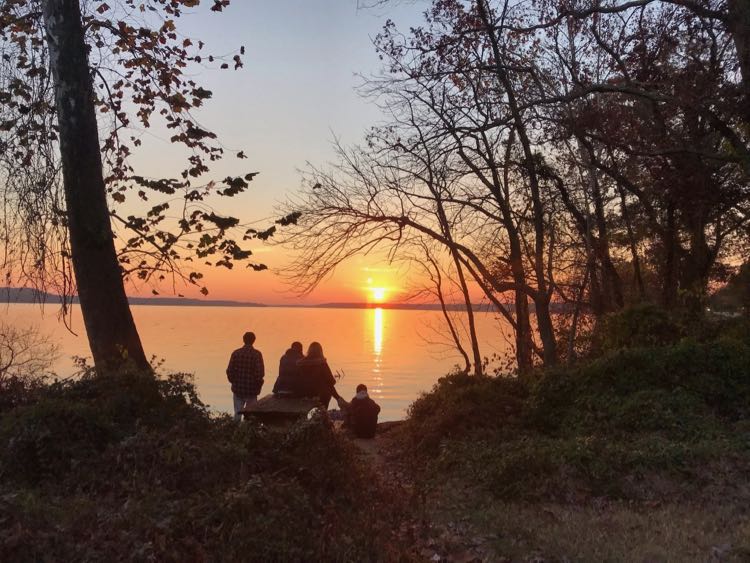 Dyke Marsh and Belle Haven
Belle Haven Park is a nice setting for a picnic or the start of a trip on the Mount Vernon Trail. At nearby Belle Haven Marina, visitors can rent sailboats, canoes, kayaks, and stand-up paddleboards for a fun trip on the Potomac River. At Dyke Marsh, hikers and bird-watchers can enjoy river and wetlands views from an easy dirt trail and boardwalk.
Huntley Meadows Park
One of the most beautiful hidden gems in Northern Virginia is just outside the city of Alexandria. At Huntley Meadows Park, an easy, wheelchair-accessible trail leads visitors through the woods and onto boardwalks over unique wetlands. This is one of the most kid-friendly parks near Alexandria, great for spotting wildlife and birds.
Alexandria VA Essentials and Tips
Getting to Alexandria
There are many ways to reach Alexandria by car, Metro, bike, boat, and train. Traffic can be extremely bad during rush hour, so use public transportation or time your drive carefully.
By car: You can drive to the city from several major routes. Alexandria is bordered by Route 395, 495, and the Potomac River. Both Route 1 and the George Washington Memorial Parkway pass through Old Town. From Maryland, take the Woodrow Wilson Bridge across the Potomac.
By Metro: To reach Old Town, take the Blue Line to the King Street – Old Town station then take the free King Street Trolley to the waterfront. If you prefer to walk, it's just over a mile east to reach the river. The Braddock Road Metro Station is closer to Del Ray and Potomac Yard.
By bike or on foot: The paved Mount Vernon Trail passes directly through Old Town.
By boat: Take the Potomac Water Taxi from National Harbor, The Wharf DC, or Georgetown.
By train: Amtrak and VRE trains stop at the ALX station near King Street.
By plane: Regan National and Washington Dulles are both airports close to Alexandria Virginia, but Regan is closest and is just a 10-minute drive or Metro ride away.
Find more information on special events and things to do in Alexandria VA on the Visit Alexandria website.
Follow us on Facebook, Twitter, Pinterest, and Instagram for more fun travel in and from Northern Virginia.