Inn-to-Inn hiking in Shenandoah National Park is a fantastic way to experience a beautiful section of the iconic Appalachian Trail in Virginia. Our DIY guide to Shenandoah inn-to-inn hiking includes essential information and a hikers first-hand account of the trip. If you have always wanted to try inn-to-inn hiking, Shenandoah National Park is an easy and welcoming place to try it out.
Washington DC area residents and visitors are lucky to have such a stunning park close at hand. Many of the best activities and facilities are in Shenadoah's Central District, just a couple of hours away. This section of the park includes excellent hikes, gorgeous overlooks, a great visitor center, and the park's two main lodges.
Shenandoah is a perfect day trip destination, but the park is even better when you have more time to explore. When you travel slowly through the park you experience nature's beauty on a deeper level.
Disclosure: This article may contain affiliate links. We will make a small commission from these links if you order something, at no additional cost to you.
Fortunately, the Appalachian Trail (AT) offers the perfect opportunity for inn-to-inn hiking in Shenandoah's Central District. The AT passes right next to overnight lodging at Lewis Mountain Cabins, Big Meadows Lodge, and Skyland Lodge. And all three stops offer takeout or sit-down dining options, so you can refuel at the end of your day.
Below is travel writer Hope Philbrick's first-hand account of her experience and tips for inn-to-inn hiking in Shenandoah National Park. This story and photos originally appeared on Hope's former site, Getaways for Grownups, and is published here with permission.
After Hope's hiking story you'll find links and tips for planning the logistics of your DIY inn-to-inn hike. And if you'd rather let someone else do the planning, we suggest two resources for hosted lodge-to-lodge hiking in Shenandoah.
Inn to Inn to Inn: Hiking in Shenandoah National Park
One luxurious way to hike part of the Appalachian Trail in Virginia.
Recently, I hiked 30 miles in three days.
It ranks as one of my grandest personal accomplishments. Before I took one step I was confident that I'd be able to do it, but I underestimated how enthralling it would feel, and not just in hindsight—though it is super fun to tell people I did it and bask in their obvious surprise—but while actually putting one foot in front of the other, mile after mile. I loved every minute of it.
Shenandoah National Park in Virginia is a spectacular beauty. Fall proved to be particularly lovely, both in terms of colored-leaf vistas and weather temperatures. If I could have mail-ordered the conditions in which to hike, I got exactly what I would have chosen. Sunny skies, crisp air, then a few hours of unexpected light rain on the last morning that blanketed the woods in mystical fog and lured wildlife out of hiding.
Shenandoah National Park offers more than 500 miles of trails, including 101 miles of the Appalachian Trail (a.k.a., the AT). Thirty miles may be a mere glimpse, but it's better than none at all and, crucially, it's "do-able." You don't need to be an athlete nor will you need to take more than a few days off work to complete this route.
This is a real hike in rugged backcountry, but the incline is moderate and there's no need to lug a tent and lots of gear (just essentials like water, snacks, lip balm, bug spray, hand sanitizer, tissues). Hiking inn-to-inn-to-inn is far more elegant than camping: at the end of the day the reward is a shower, dinner and a clean, comfortable bed.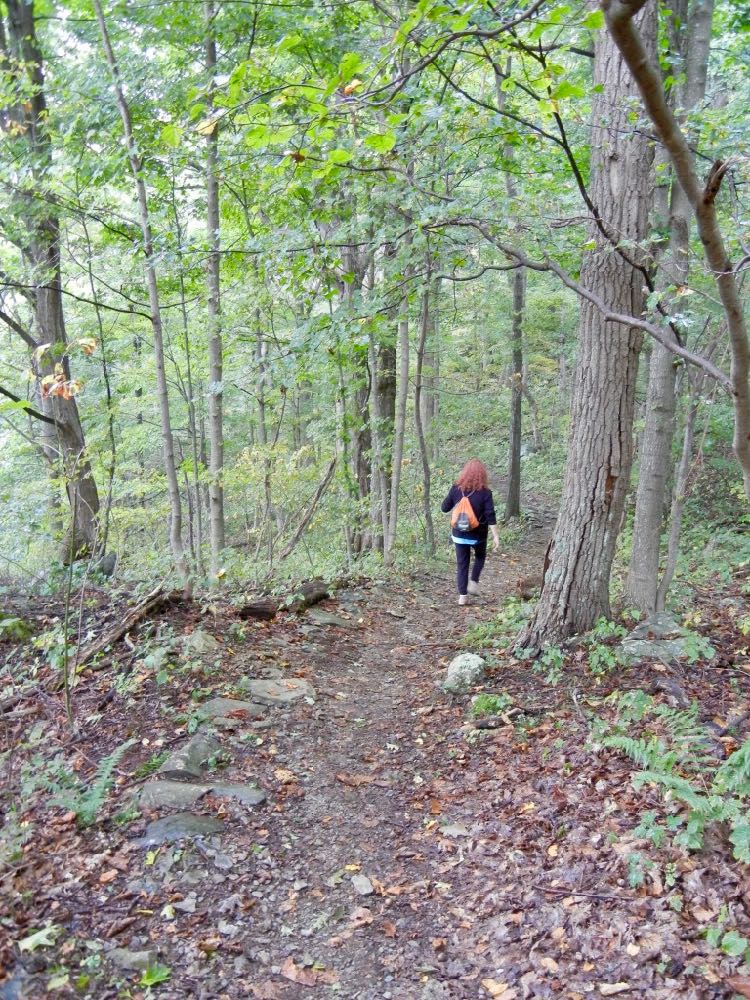 Ready, Set, Go… Inn-to-Inn Hiking in Shenandoah
Once I decided to do the hike and teamed up with fellow travel writer Jill Gleason, I started to prepare.
Training was new for me. Up until this point, I'd just decide to hike and then do nothing until the day arrived and just do it. On my last long hike, however, I'd paid a steep price with that approach: my muscles were in agony during and long after it. I decided to do that thing other people do and that I have always been happy to avoid: regular exercise.
I took daily walks, mostly around my neighborhood: I started by walking one mile per day, increasing my distance by adding a mile every week until I was walking ten miles a day.
I took a "no excuses" approach, which means that I exercised almost every day for two months, a lifetime endurance record! When traveling, I included hiking in my itineraries. When summer temps reached 80 and then 90 degrees, I woke up at 5 a.m. and made myself get up to walk before the sun rose in order to savor the coolest possible conditions. I made plans to borrow a friend's dog, meet up with whoever I could persuade to join me, and came up with other ways to vary the daily routine. I'd mix up the street route, focus on different details of the houses passed (comparing mail boxes one day, doors the next, etc.; I may now be the neighborhood authority on who favors which architectural style) and sometimes, in the most sweltering temperatures, finish my walk inside an air-conditioned mall or warehouse store. Reaching the target distance was my top priority. I missed only a few days when ill. Daily walks worked best for me because whenever I took a day off the next day felt like starting over.
Once I reached seven miles a day, I felt really confident about my physical ability to do the planned hike route, which measures about eight miles per day. I also figured out how much water I'd need to carry. Sure, the trail would be steeper and more challenging than the streets in my neighborhood, which is why I worked up to ten miles a day. Still, I worried: What if there was a lightning storm? What if we were attacked by bears? What if Jill broke an ankle? What if I got bit by ticks carrying lyme disease? All this training could not be in vain: I packed rain gear, insect repellent, noisemakers, and remembered the trail parallels Skyline Drive so it would be possible to flag down a driver in an emergency.
"You need to buy hiking shoes," my husband insisted. "Why?" I said. "That sounds like money I don't need to spend." He persisted and at Mast General Store in Knoxville, Tenn., I tried on a few pairs. Hiking boots look clunky and constricting so I opted for new hiking shoe styles that look like typical athletic shoes. Once standing with one foot in my Adidas and one in Obōz, I realized my husband was right: I needed these. My new Obōz offer more support and an elevated springy loft that may come as close to walking on clouds as I'll ever get.
I was ready.
THERE IS NO SUCH THING AS BAD WEATHER, ONLY INADEQUATE CLOTHING.

—NORWEGIAN SAYING
Day 1: Hike Swift Run Gap to Lewis Mountain Cabins
Skyline Drive runs 105 miles north and south along the crest of the Blue Ridge Mountains in Shenandoah National Park and is the only public road through the park. There are four entrances in; we entered Swift Run Gap at Route 33 in Elkton, Virginia.
The AT is just yards from the guard station at that entrance. A park ranger pointed us in the right direction and Jill snapped a selfie before we stepped between some trees onto the storied trail. It felt at once momentous and like no big deal at all: We were standing on the freaking Appalachian Trail! and it's a simple dirt path like so many others…it just so happens to stretch 2,180 miles from Georgia to Maine, but we wouldn't be going the full distance.
Under the canopy of trees, amid rocks, fallen branches, ferns, mushrooms, and tree stumps, we walked. Walked, and kept on walking.
"Wait," whispered Jill, stopping suddenly at one point. There was an eerie silence, not even birds chirping. If a tree had fallen, we would have definitely heard it. "I've never been this deep into the woods before!" she exclaimed. Really? Everyone needs to get deep into the woods now and again! It's invigorating and humbling, a way to refresh and refocus. I was happy to share the moment, and though I've ventured deep into forests before, it was my first day in Shenandoah and the quietest woods I remember.
The path was steeper than I'd imagined, though the incline sloped gracefully. Rocks and branches presented some potential tripping hazards; weariness proved to be the greatest threat to gracefulness.
IN EVERY WALK WITH NATURE ONE RECEIVES FAR MORE THAN HE SEEKS.

—JOHN MUIR
Day 1 was exciting. We were finally here doing the thing we set out to do. We were thoroughly enjoying the forest, each other's company, the friendliness of every hiker we met. The sheer beauty of the forest was enthralling; I don't think I've ever taken more pictures of trees.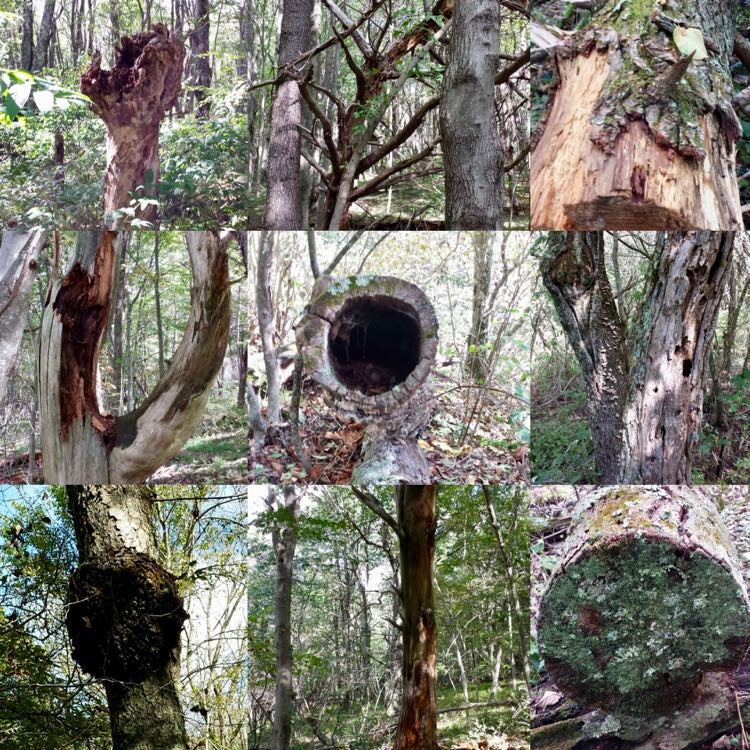 By the time we reached Lewis Mountain Cabins we were both ready to stop for the day, yet not overwhelmed by the two days ahead. We checked into our two-bedroom, one-bathroom rustic cabin (one of 10), picnicked on cold sandwiches and apples we'd packed (there's also a camp store on site that sells food and other supplies), showered, and crashed.
Our basic, clean cabin came equipped with everything we needed: functional plumbing, Internet access, a cozy mattress, heater, and solid walls/roof. Bear boxes as trash containers serve as reminders that this is indeed the woods where unexpected things can happen so take precautions. In addition to the cabins, a campground offers more rustic accommodations. After being on the trail all day, I bought an ice cream sandwich at the camp store just because it sounded good and I surely didn't need to worry about calories in this instance.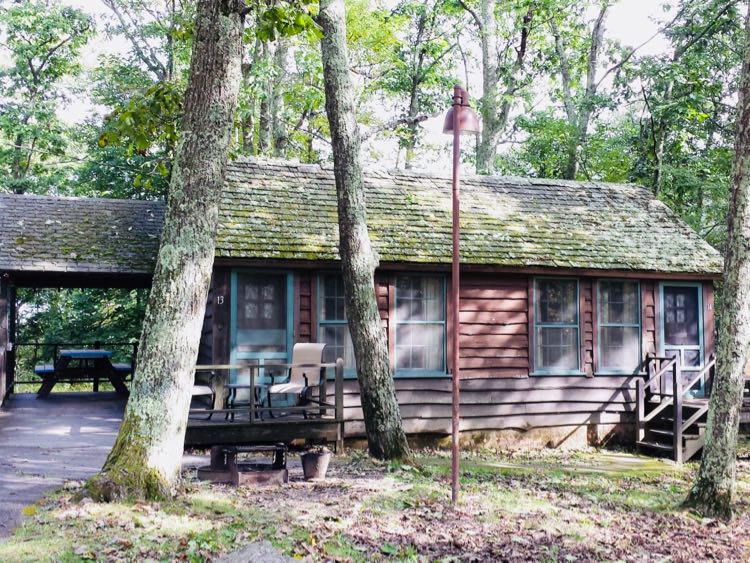 If they started farther south on the AT, Lewis Mountain Cabins can be the first opportunity in many miles that long-distance hikers have to shower, buy supplies, do laundry, and take a break off the AT. "It costs an average of $4,500 to $6,500 to hike the AT," one park ranger told me, accounting for food, supplies, campsite and other fees. He mentioned one hiker who'd lost 30 pounds in 30 days. "I told him that if he kept going and got norovirus—a real threat, it's one of the biggest problems we have out here—he'd die. His depleted body just wouldn't be able to handle it." Did he quit? "I don't know," the ranger shrugged. "I hope so. We only see hikers passing through." He offered advice about how to avoid viruses: "Never shake another hiker's hand," he warned. "Don't share or borrow anything." I used wet-wipes on my hands before eating snacks and washed with soap and water once checking into my accommodations. I've been home nearly a month now and haven't gotten sick.
Day 1 Stats:
9.72 miles*
Altitude 3,390 feet
*The published distance we hiked Day 1 is 8.3 miles, but my app recorded 9.72 miles—indeed, plan for some off-trail walking around camp before and after hitting the trail each day.
Day 2: Hike Lewis Mountain Cabins to Big Meadows Lodge
After fueling up on granola bars, bananas, and free coffee from the camp store, we hit the trail for Day 2.
WALKING: THE MOST ANCIENT EXERCISE AND STILL THE BEST MODERN EXERCISE.

—CARRIE LATET
"The AT is a national scenic trail, designed to offer a reprieve from civilization," according to the Appalachian Trail Conservancy. "It is intentionally routed away from towns, usually high on the mountains above." The stretch we hiked is near Skyline Drive, and at some points literally crosses it, but most of the time we never saw the road nor heard traffic. The trail is remote in a way that unclutters the mind and fills the lungs with joy.
I had anticipated the hike would offer grand vistas, but the views on Day 1 and Day 2 were mostly trees. Walk any distance, though, and distinctions become clear. In some sections tree bark is mostly black, in others mostly white, in others ferns are plentiful, some are dotted with mushrooms. There are sections littered with twigs and branches, others where huge boulders lean over the path, and some where rocks serve as stairs. While passing through different sections of the forest, the mood shifts.
It's like the forest has rooms.
Following the AT is easy. White swaths are strategically painted on trailside trees. Trail markers are at all trailheads and intersections. Metal bands are stamped with directional and mileage information. There never seemed to be a need to consult a map. We simply followed the arrows pointing north. We also followed the rules: Stay on the trail, take nothing, leave only footprints.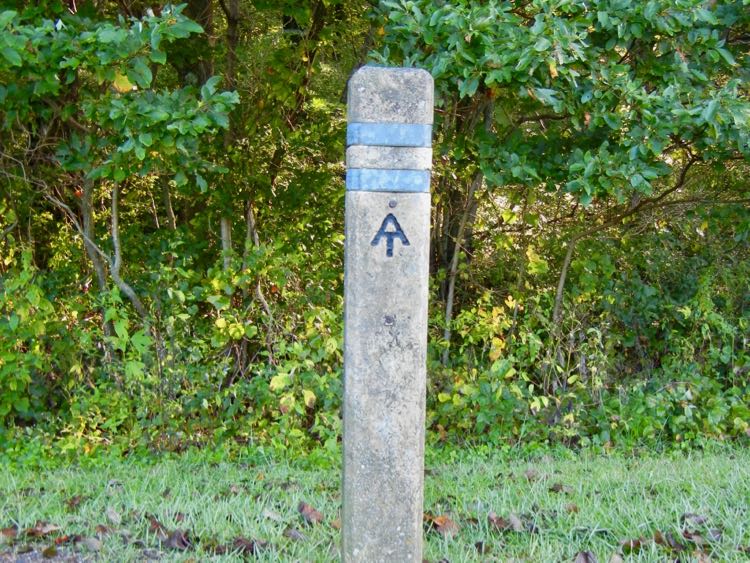 At one point, maybe seven miles into Day 2, we encountered a confusing mile marker. It seemed to suggest a short loop to our destination, Big Meadows Lodge, though the mileage didn't seem correct and the trail blaze painted on trees switched from AT white to blue. We took a few steps onto that trail then kept going, debating whether or not it was wise. Were we 'cheating' if it turned out to be shorter?
That section of the forest had a totally different vibe than anything we'd encountered up to that point. It was wetter, with streams to cross and puddles to avoid even though it hadn't rained in days. It was gorgeous, special. A few miles in, we met a couple of hikers who informed us that we could reach Big Meadows continuing this way, but it would be much longer. So we turned around, opting to stick with the AT. (Jill dubbed them 'Trail Angels,' and mysteriously, despite their advanced age, slower pace, and the fact that we'd turned around and walked ahead of them, they reached Big Meadows before us.)
Big Meadows Lodge is named for the large grassland nearby. Listed on the National Register of Historic Places in 1997, it was built in 1939 using stones cut from the Massanutten Mountains and wormy chestnut which is now virtually extinct. It offers 97 rooms, including a main lodge plus rustic cabins with fireplaces. There's also a dining room, tap room, craft shop, and Wayside station with gas pumps, another restaurant and large store.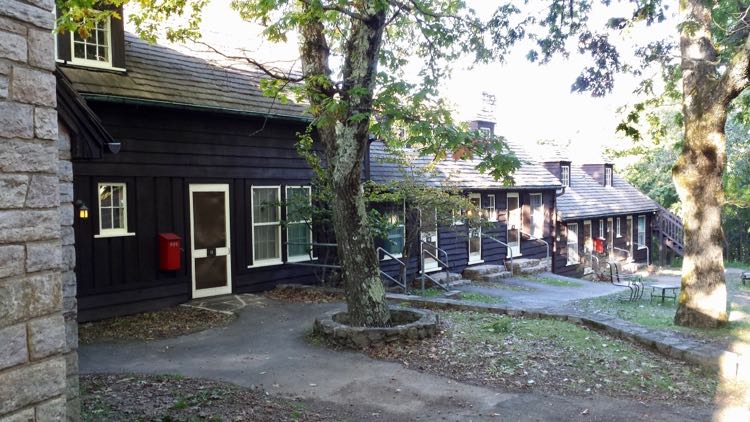 When we arrived, around 4 p.m., Jill and I headed first to Wayside for hot dinners of cheeseburgers and fries and then stocked up on snacks and T-shirt souvenirs at the store before strolling to the lodge to check in. The whole destination was bustling with people and after hours spent virtually alone it felt like we'd somehow taken a turn into a party at a mall.
The guestrooms at the main lodge are akin to remodeled roadside motels of yesteryear, clean and cozy with a retro ambiance. A step up in amenities compared to the previous night's cabin, Big Meadows is great and offers the basic essentials (shower, mattress, Wi-Fi, etc.) plus a TV, phone, HVAC system, and upholstered chair. The restaurant's menus feature American favorites like fried chicken, burgers, fried eggs, pancakes, and such. Preparations are straightforward and spot-on; I think the French fries would have tasted great in any situation, but after walking so many miles they were fantastic!
Day 2 Stats:
13.42 miles*
Altitude 3,510 feet
*Our off-the-AT detour added at least three miles to our trek, which we didn't regret at all.
Day 3: Hike Big Meadows to Skyland
By Day 3 I was loving my new hiking shoes because my feet did not hurt, and loving my daily walks because my legs did not hurt. Preparation paid off. (I did get two blisters, a small bother, already healed.)
After a hearty breakfast in the Spottswood dining room, we set out on the last leg of the trip. Finding the entrance point was a little confusing, but once on the AT we breezed along.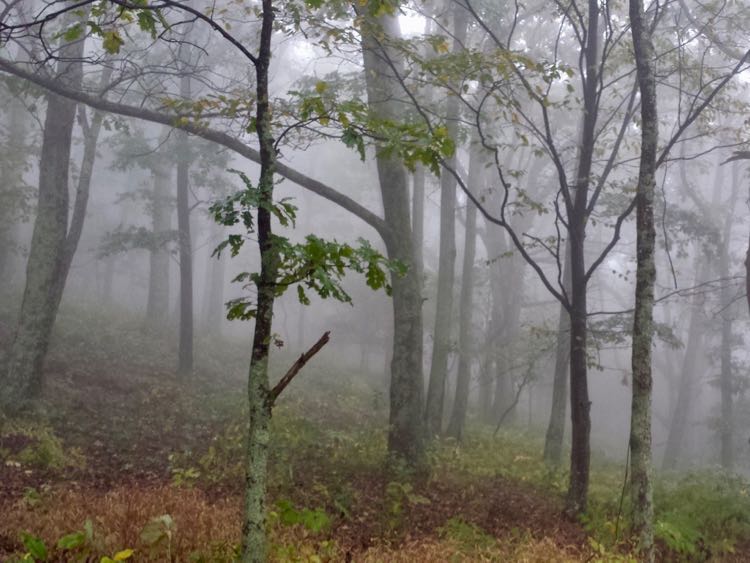 The weather forecast was wrong: There was no chance of rain until four days after we departed, but just as we headed for the trail a light rain began to fall. We forged ahead. Under the tree canopy conditions were more misty than rainy. Cloaked in fog, the woods looked amazing, felt as cozy as a hug, plus deer and wild turkeys felt emboldened to wander near the trail. Ah, nature. It's a beautiful thing.
AN EARLY-MORNING WALK IS A BLESSING FOR THE WHOLE DAY.

—HENRY DAVID THOREAU
The rain stopped and fog lifted. Day 3 is when we encountered overlooks, the realization of the sort of mental vision one has of mountain climbing, where hikers stand on rocks that jut out of the woods into sweeping views of picturesque landscapes. We encountered several such places and appreciated them all.
Each day on the trail differed, from the trail conditions to the views to the people we encountered along the way. On Day 1 we met fellow hikers who were walking the same or longer distance than we planned to cover in as many or more days; one very cute dude was doing a 12-day hike. On Day 2 we met mostly day hikers. On Day 3 we stepped aside for a group that turned out to be at least 30 people, most of whom appeared to be several years older than us.
Day 3 was the most technically challenging hike. Most of the trail was strewn with rocks, varying from stones to boulders; at three different points we had to scramble across what looked like rockslides that had occurred some time ago. We didn't need any rock-climbing gear or special equipment of any kind, but paying attention and being careful was key to avoid tripping and falling.
Skyland Resort sits at the highest elevation along Skyline Drive. Once a private resort (circa 1910), it's renovated into the most upscale accommodation I've ever discovered at a state or national park. I loved it.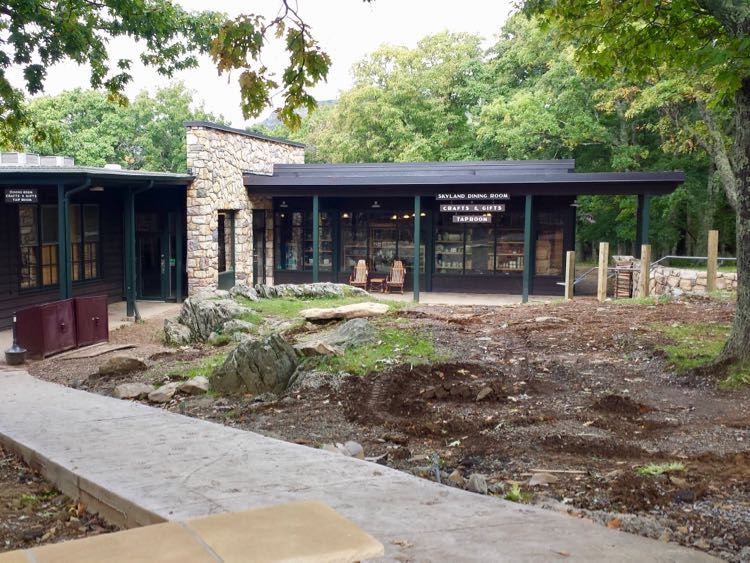 There are 178 rooms of different styles—ours, near the main office, felt like little apartments—plus a gift shop, taproom and full-service restaurant that could hold its own against any contemporary farm-to-table Southern restaurant. The food was very good, way better than expected, and a delicious reward at the end of a 30-mile three-day hike. Local ingredients as well as local wines and craft brews are on the menu; whichever Virginia-made brown ale it was that I ordered tasted like a prize.
Day 3 Stats:
10.18 miles
Altitude 3,680 feet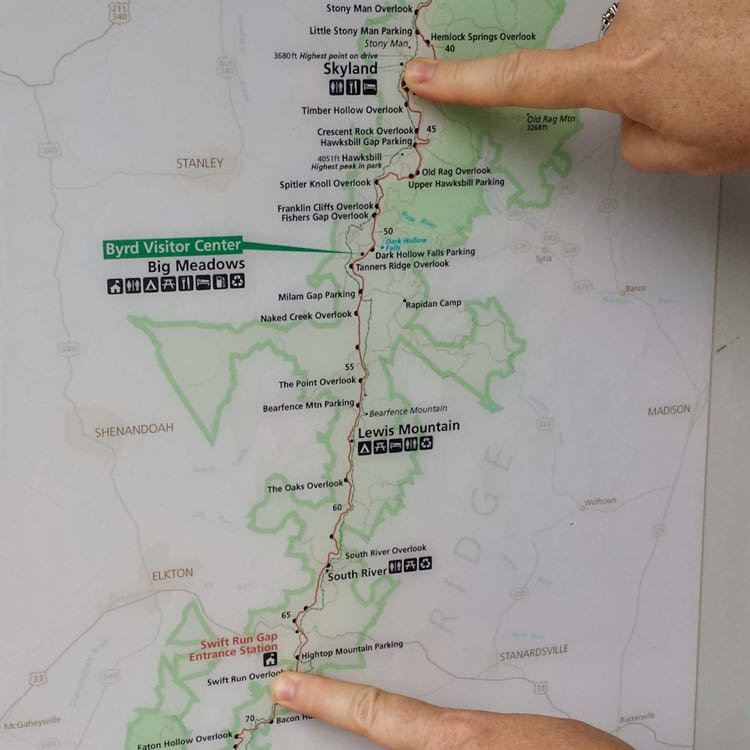 Completing the hike was bittersweet: While proud of my accomplishment, I was having so much fun that I didn't want it to end. I could have continued another day or two at least. There are multiple trails in addition to the AT near every accommodation option, so time-permitting you could add overnights to your itinerary and explore more. If inn-to-inn hiking in Shenandoah sounds daunting, you could drive from accommodation to accommodation and do shorter day hike loops. There are so many flexible options you can plan an itinerary that suits your goals.
Beyond the Finish Line…
I continue to walk most every day. Typically two to five miles, but it's an utterly new and different lifestyle for me, one I never specifically sought, would have predicted, or imagined that I would enjoy. I love it.
IT IS POSSIBLE AT ANY AGE TO DISCOVER A LIFELONG DESIRE YOU NEVER KNEW YOU HAD.

—ROBERT BRAULT
No words I write about the inn-to-inn-to-inn hike in Shenandoah National Park will accurately convey its grandeur. Photos even fall short, but they help fill in some gaps.
I'd do this same hike again for sure—if you need a hiking buddy call me! I recommend going in the same direction outlined here because ascending is easier on the legs and knees than descending. Plus, each night the lodging and dining gets better and better.
Plan ahead, book early. People I've talked to about this experience have a common reply: "I never knew it was possible to hike inn to inn in Shenandoah! I want to do it!"
I'll be looking for more inn-to-inn hiking opportunities. Stay tuned.
Inn-to-Inn Hiking in Shenandoah: Information and Tips
The Appalachian Trail was designed, constructed, and marked in the 1920s and '30s by volunteer hiking clubs brought together by the volunteer-based non-profit Appalachian Trail Conservancy. The conservancy was formed in 1925 and works in partnership with the National Park Service. It passes through 14 states, yet nearly a quarter of the trail is in Virginia!
Weather in Virginia changes frequently and can be rainy throughout the year. Be sure to pack a waterproof jacket and waterproof backpack cover no matter what the forecast says. You'll also need plenty of water, snacks, extra clothes, and a good first aid kit.
If this is your first visit to Shenandoah, you'll find lots of great information online to help with your planning.
For additional information about the park, visit the Shenandoah National Park website.
You can also call the Park Information Recording: 540-999-3500 for alerts and updates.
Check this Shenandoah National Park interactive map for a closer look at the Appalachian Trail route.
Shenandoah National Park charges a $30 entrance fee per vehicle for a 7 consecutive day pass. The fee is $25 for motorcycles and $15 if you enter on foot or by bicycle. If you plan to make repeat visits, buy an annual National Park pass instead. With just a few visits, you'll recoup the $80 price.
Shenandoah Park Lodging and Reservations
Shenandoah National Park Lodging is operated by the park's concessionaire, Delaware North. To make reservations, visit the GoShenandoah website or call 877-847-1919. While the park is open year-round, lodging is only open seasonally.
Lewis Mountain Cabins: Open early April through November; located at mile 57.5 on Skyline Drive
Big Meadows Lodge: Open mid-May through early November; located at mile 51.2 on Skyline Drive
Skyland Resort: Open late March through November; located at mile 41.7 and 42.5 on Skyline Drive
Special packages for inn-to-inn hiking in Shenandoah may be available. Click here for details.
Shuttles and Parking for Overnight Hiking in Shenandoah
There are no authorized shuttle services in Shenandoah National Park. However, there are private shuttle services available. For example, at time of publication, Nina Murphy Shuttle Service (703-946-9404) and Sharon's Shuttles (703-615-5612) both offered rides throughout the park. Shenandoah Shores Management Group also offers shuttle services in the Shenandoah region.
Be sure to book shuttles early, especially if you plan to hike during the busy fall foliage season. Hours and availability may be limited so secure a shuttle before you finalize room reservations.
If you plan to park a car overnight in the park, let a ranger or the lodging front desk know how long your car will be there. To be safe, you could request a Backcountry Camping Permit (you just fill out a form online). The permit gives park rangers information about your car and where you plan to leave it. This will ensure that rangers don't think your car is abandoned, and they have emergency contact information if needed.
With a Backcountry Permit you can park overnight at overlooks, trailheads, and throughout the park. (Note that you can not sleep in your car overnight). For the Shenandoah inn-to-inn hiking itinerary you could park near the Swift Run Gap Entrance and shuttle back to your car at the end of your hike. If you didn't get a permit, let the entrance ranger know of your parking plans.
Alternatively, you could park at Skyland and shuttle to Swift Run Gap to start your hike. We like this approach because your car (and clean clothes!) is waiting for you at your final destination. Wherever you park, do not leave valuables or any food in your car. You don't want to give people or bears a reason to see what's inside.
Guided Lodge-to-Lodge Hiking in Shenandoah
Prefer to hike with a guide? An organized, guided hike is a great choice for folks who are hiking alone, are not experienced hikers, or just prefer to let someone else handle logistics. You'll still need to be in good shape and ready to tackle the trails, but you'll have experts and company to back you up.
Here are two options for guided Inn-to-Inn Hiking in Shenandoah. Both cover the same route described above and include meals and other support. We have not tried these trips but they get high ratings from participants.
Whether you plan your own inn-to-inn hiking in Shenandoah or join a guided group, you are guaranteed to experience the beauty of nature. Happy hiking!
This article is a guest post by Hope S. Philbrick. Hope became a freelance writer and editor because she believes that work and fun should not be mutually exclusive. Her focus is travel, food, wine & spirits (as in booze, not ghosts) and she has been published in dozens of publications nationwide. Follow Hope on Instagram @21plusTravel and find more links to her articles on LinkedIn and MuckRack. Photos by HSP Media LLC.
Follow us on Facebook, Twitter, Pinterest, and Instagram for more fun travel in and from Northern Virginia.