Updated on October 6, 2023 by Julie McCool
Enjoy fall foliage in Shenandoah National Park with these 5 ways to explore the lush nature and sweeping views from Skyline Drive. Our tips will help you get the most from your Autumn visit to Shenandoah Park.
October is prime time for foliage viewing in Virginia, and the magic starts on Skyline Drive, due to its higher elevations. We usually make multiple visits to view the foliage in Shenandoah National Park during Autumn.
Disclosure: This article may contain affiliate links. We will make a small commission from these links if you order something, at no additional cost to you.
Here are 5 favorite ways to immerse yourself in panoramic views of fall foliage in Shenandoah. October is the busiest month at the park, so visit on a weekday if possible. No matter when you visit, be prepared to slow down so you can fully enjoy fall foliage in Shenandoah National Park.
1. Take in Fall Foliage From Skyline Drive
Skyline Drive stretches 105 miles through the park, hugging a ridgeline for much of the distance. The scenic roadway winds north to south, and boasts 75 overlooks offering gorgeous eastward and westward views.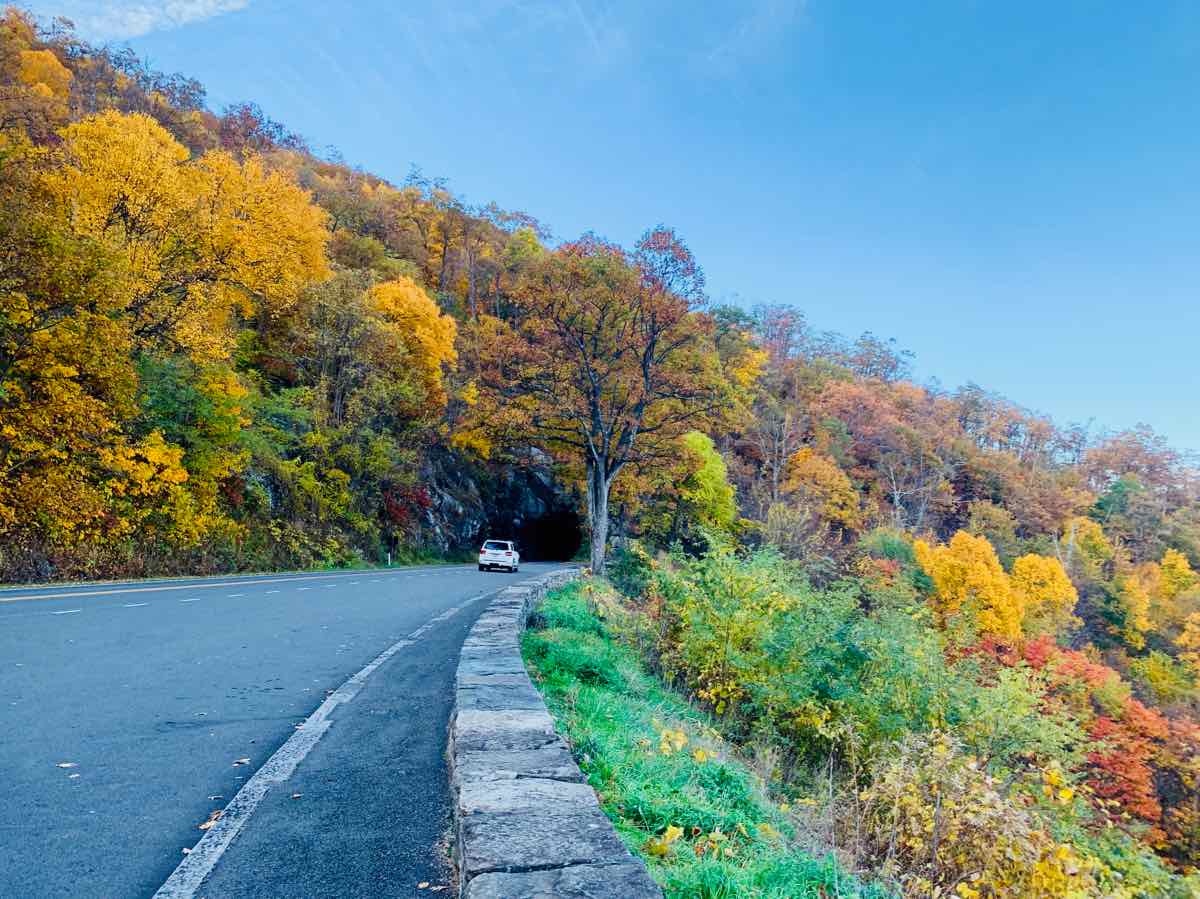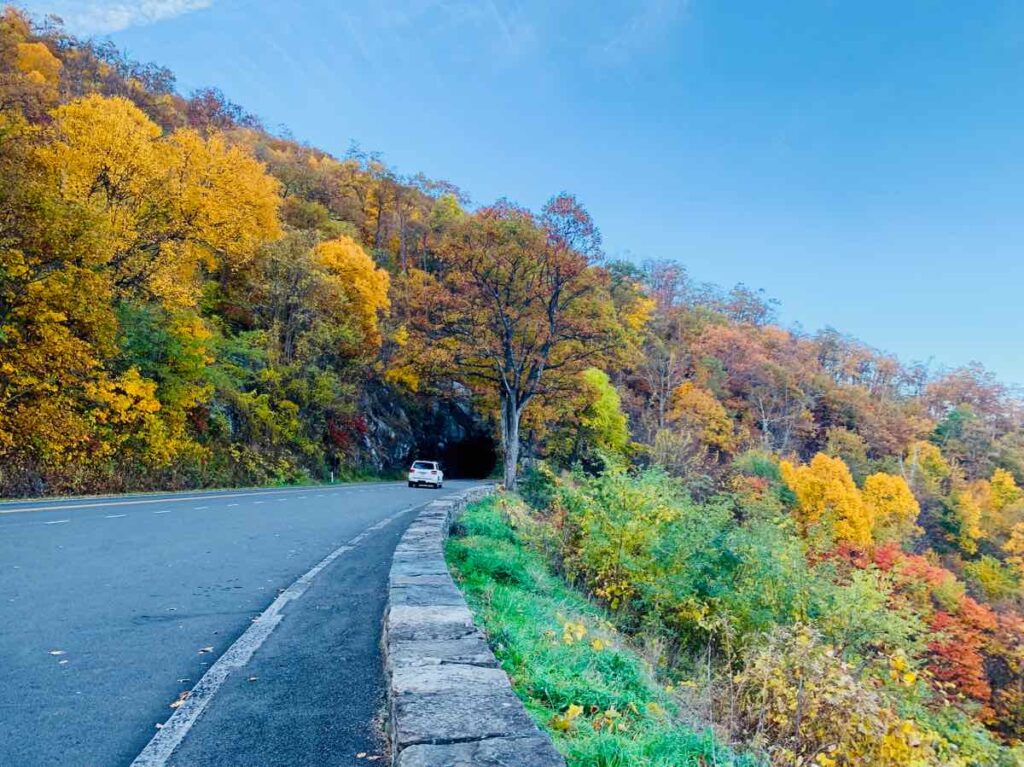 When to See Fall Foliage in Shenandoah National Park
The colors of Shenandoah usually emerge in early October. We generally see a mix of golds and greens along Skyline Drive in early October, with occasional bursts of red and orange. You'll generally see pops of color in September, filling in by mid-October.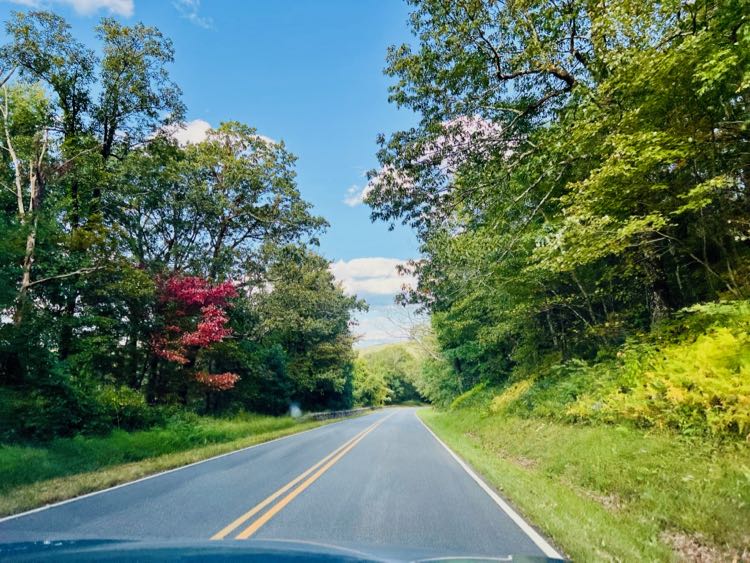 Since color develops first at the higher peaks, it's best to focus early visits on the park's Central District, between the Thornton Gap and Rockfish Gap Entrance Stations.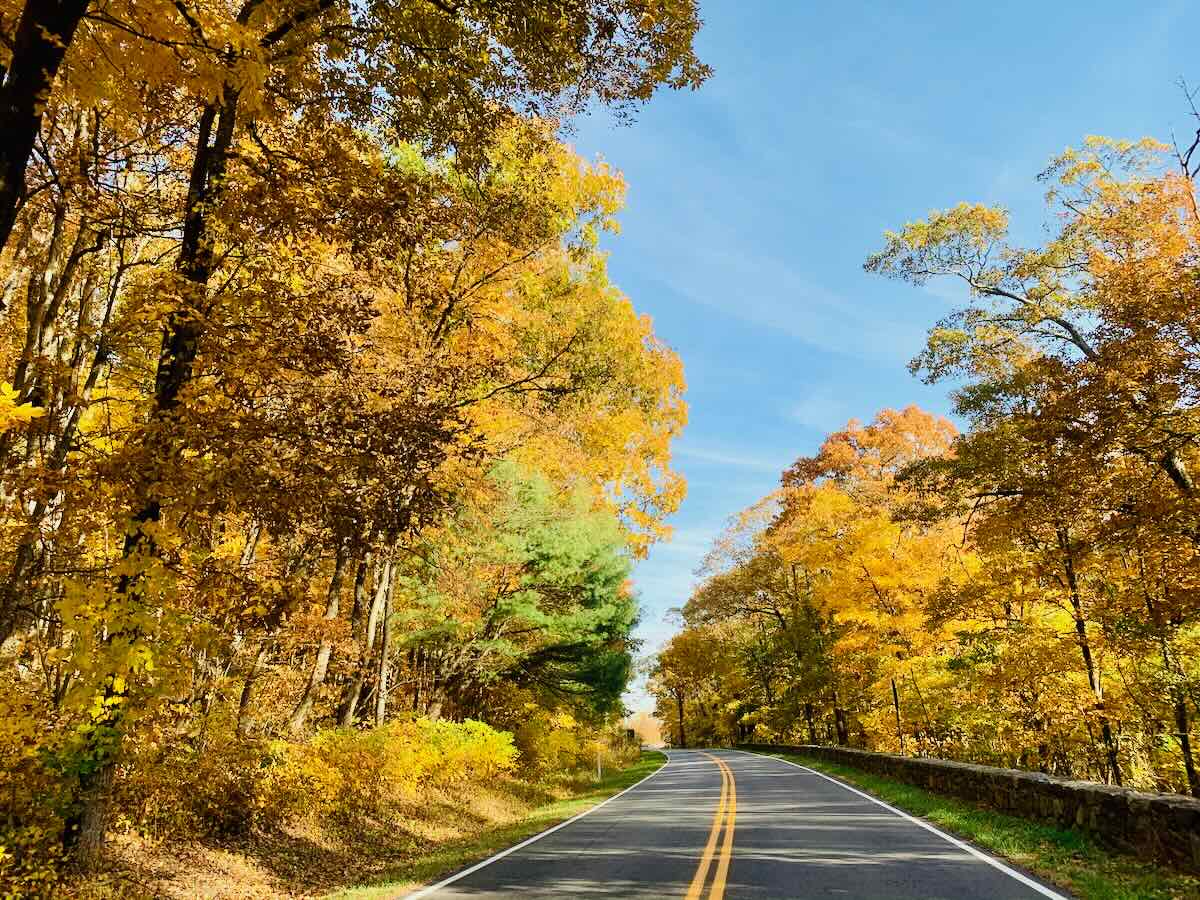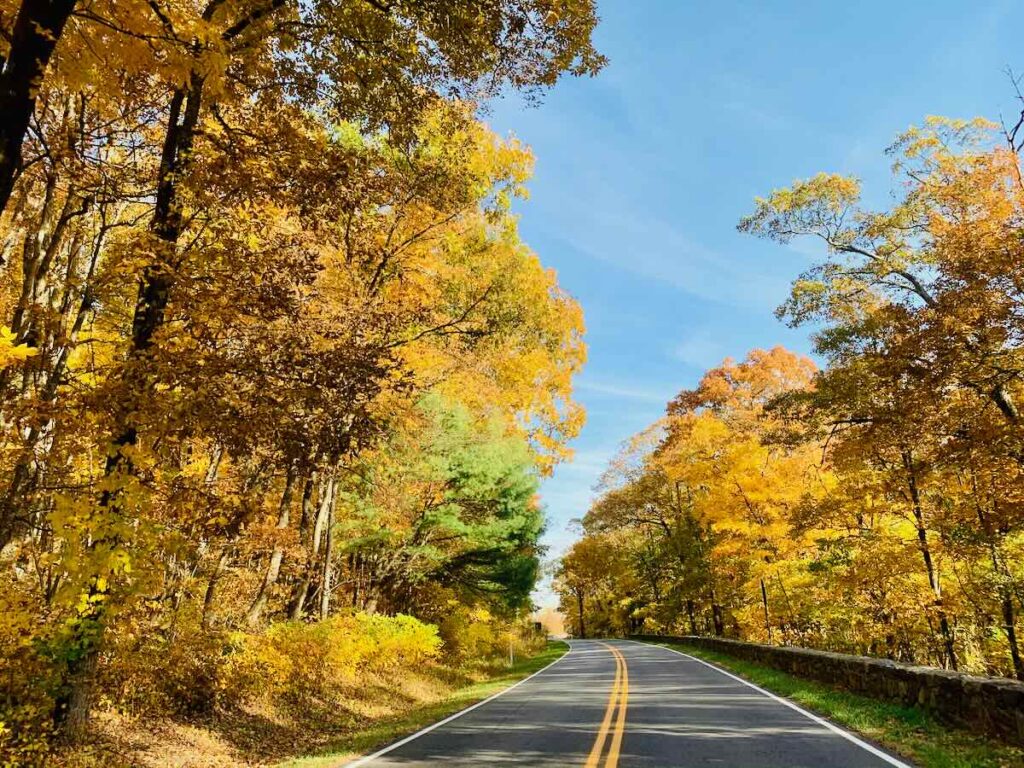 Lone maple trees at a few of the overlooks attract photographers looking for the perfect orange and red capture. From the overlooks, you'll still see a lot of green in the views, with a smattering of yellows and a few reds mixed in.
By mid-October, the higher hills fill in with much more color. Since there are more oaks than maples, yellow and gold remain the dominant colors. The views still include patches of green, but some of the trees are already bare.
By late October, many trees are brown and golds have faded, but it is still a pretty time in the park. Below is a late October view looking westward from Jewell Hollow Overlook. You may see brighter colors at the lower elevations between Front Royal and Thornton Gap.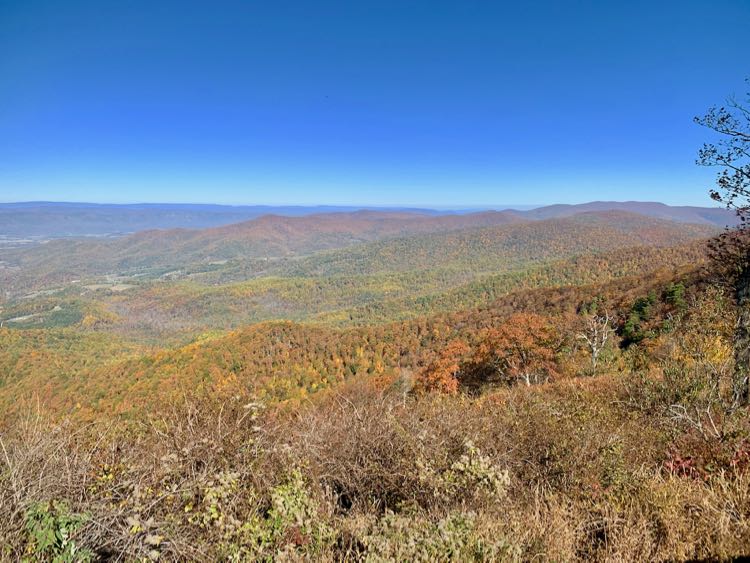 Favorite Shenandoah National Park Overlooks
With 75 overlooks on Skyline Drive, it pays to pick your stops when you're visiting during busy leaf peeper season. It's easy to get in the habit of stopping at every overlook, but you can save time by picking and choosing, especially when traffic is heavy.
Read our tips to plan a perfect Day Trip in the Shenandoah National Park Central District.
As you drive, stop at a few east-facing overlooks, and a few west-facing stops, for the best variety. For example, Hazel Mountain and Pinnacles Overlook both have beautiful eastward views. Most visitors like to get a photo from the Tunnel Overlook as well.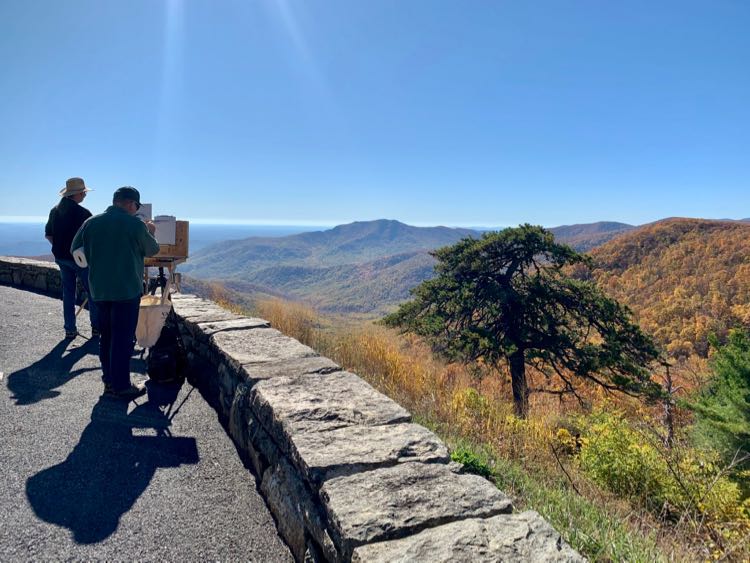 Thorofare Mountain and Old Rag Overlooks are two more of our east-facing favorites. We actually prefer the closer view of Old Rag's rocky summit from the Thorofare Mountain Overlook.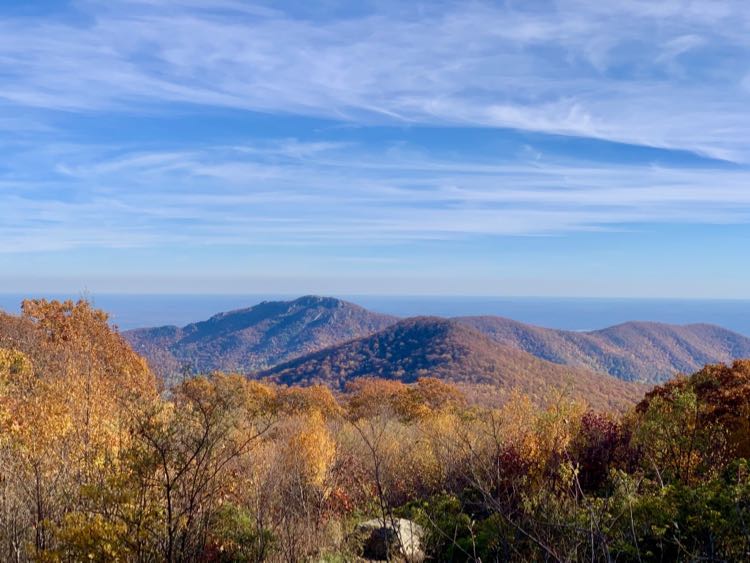 Jewell Hollow, Stony Man, and The Point all have nice westward views. Stony Man Overlook and The Point are both excellent spots to watch the sunset in Shenandoah Park.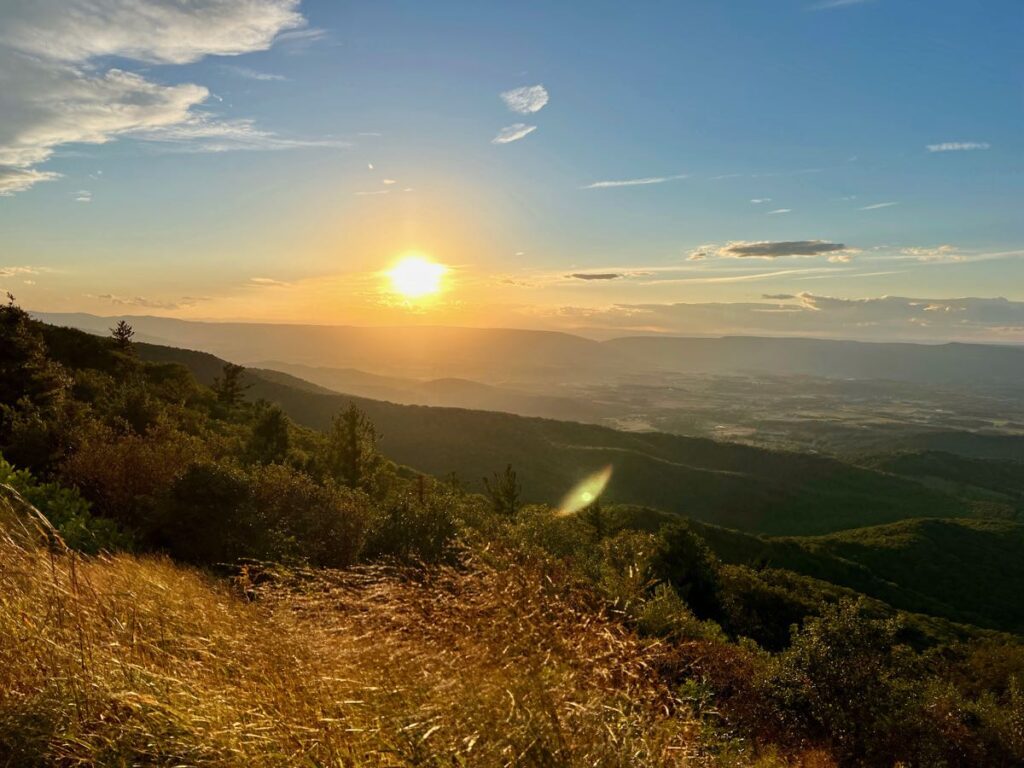 If you stop at The Point you can take a short, steep hike to a panoramic view of the Blue Ridge Mountains and Shenandoah Valley. Walk through the gap in the stone wall and follow the path downhill to a rocky outcropping. The view is outstanding!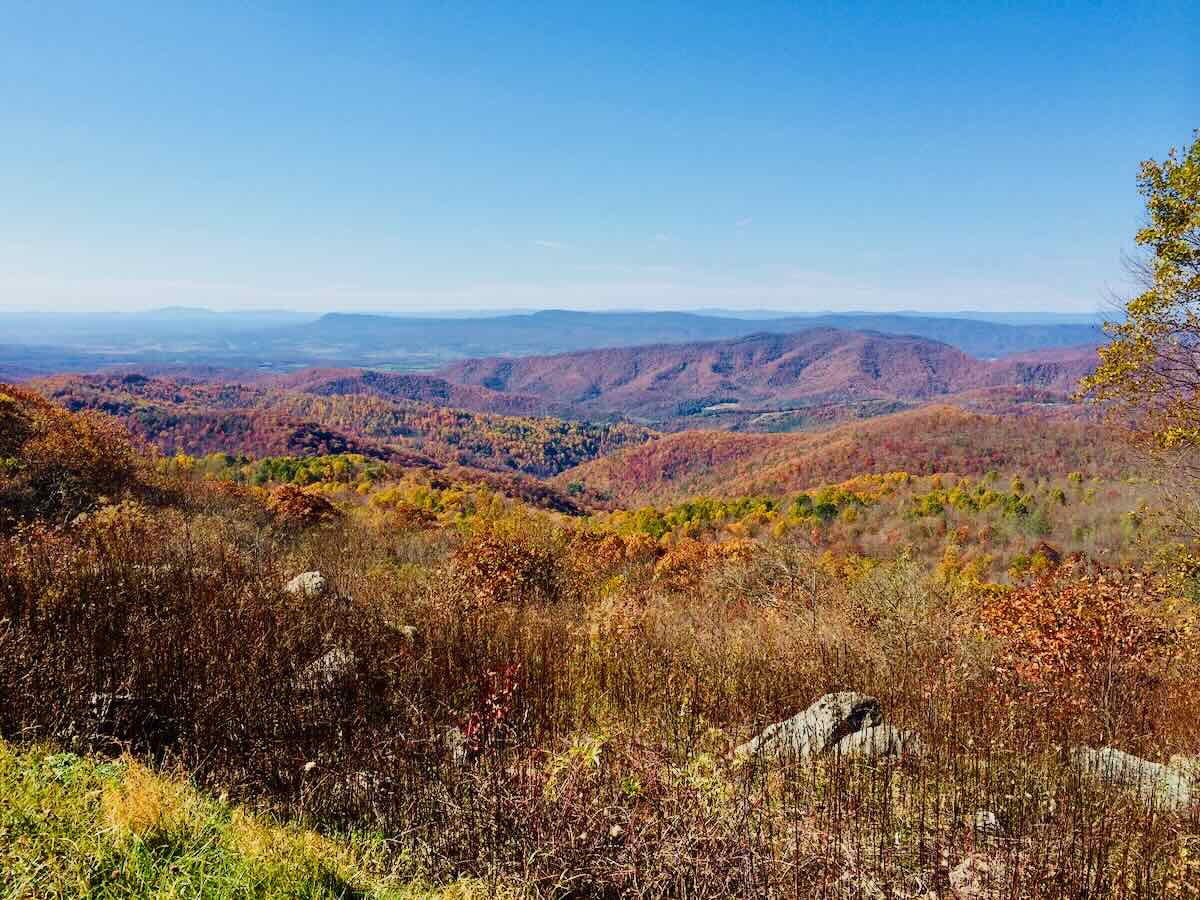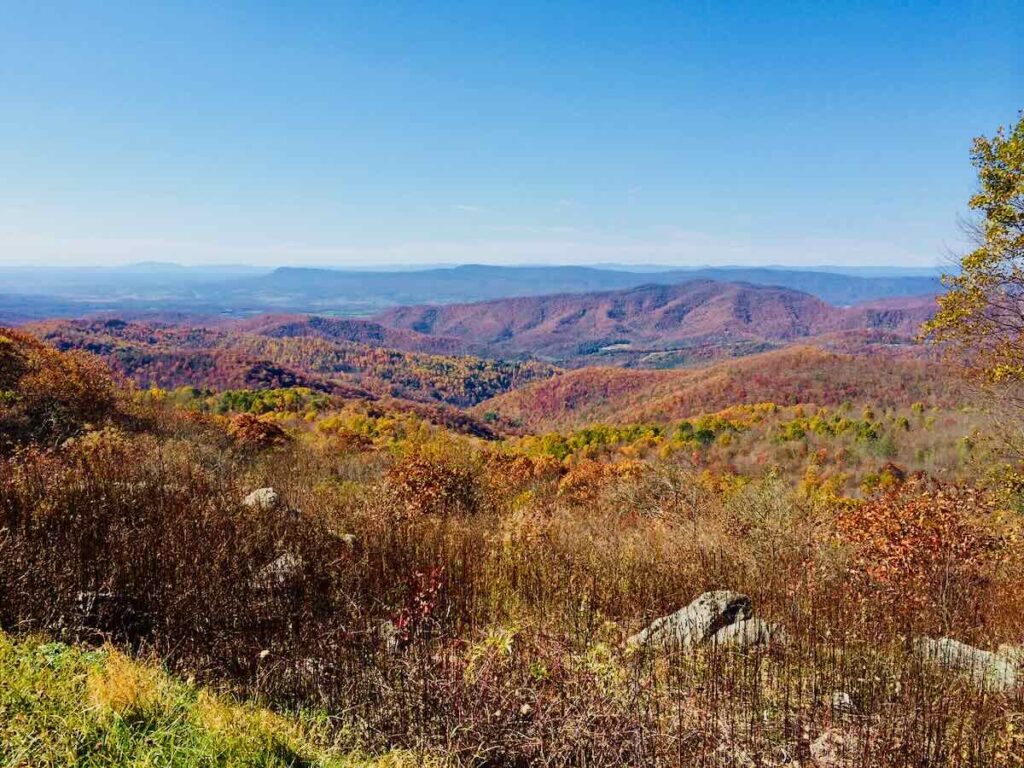 Somewhere in between all those overlooks, you will often see animals in the park, so drive slowly. We were thrilled to watch a black bear cross the road ahead of us one late afternoon. Drivers often encounter deer making their crossing or grazing near the roadway. If you see one deer there are more nearby, so stay alert. Drive slow and enjoy the journey.
2. Take a Hike to See Fall Foliage in Shenandoah
There is no better way to view fall foliage in Shenandoah National Park than from a rocky summit or overlook. Here are three of our favorite short hikes to a gorgeous foliage view, plus a longer hike with awesome views. If you want more challenge you can hike inn-to-inn on the Appalachian Trail.
The short hikes are all family-friendly, but you will have to keep a close eye (or hand) on young children. These hikes all include steep drop-offs, uneven ground, and potentially slick rocks.
Little Stony Man Overlook
The Little Stony Man Overlook hike is only .9 miles roundtrip from the parking area at mile 39.1. This hike follows a fairly steep, rocky section of the Appalachian Trail to the Passamaquoddy Trail and a gorgeous viewpoint.
Plan your trip: Stony Man Trail Hikes to Beautiful Shenandoah Views.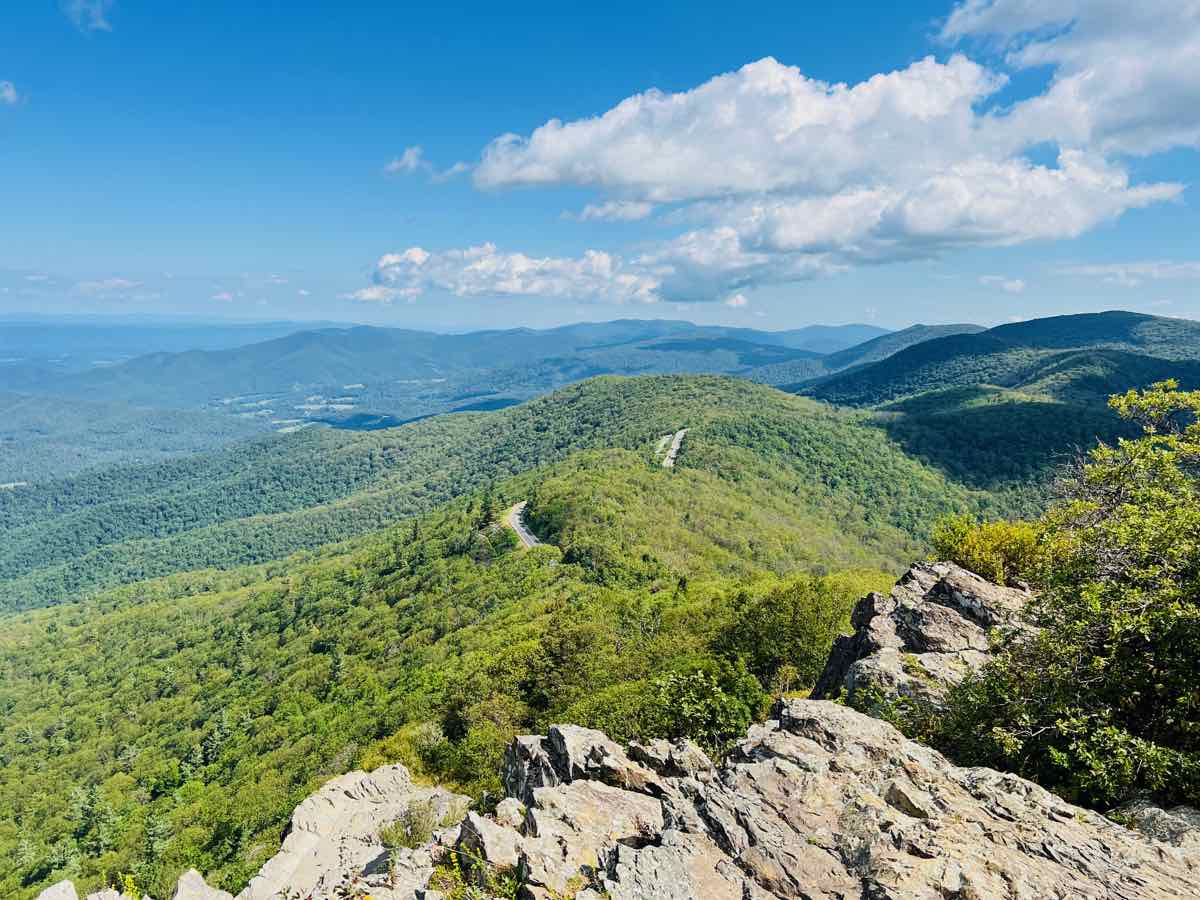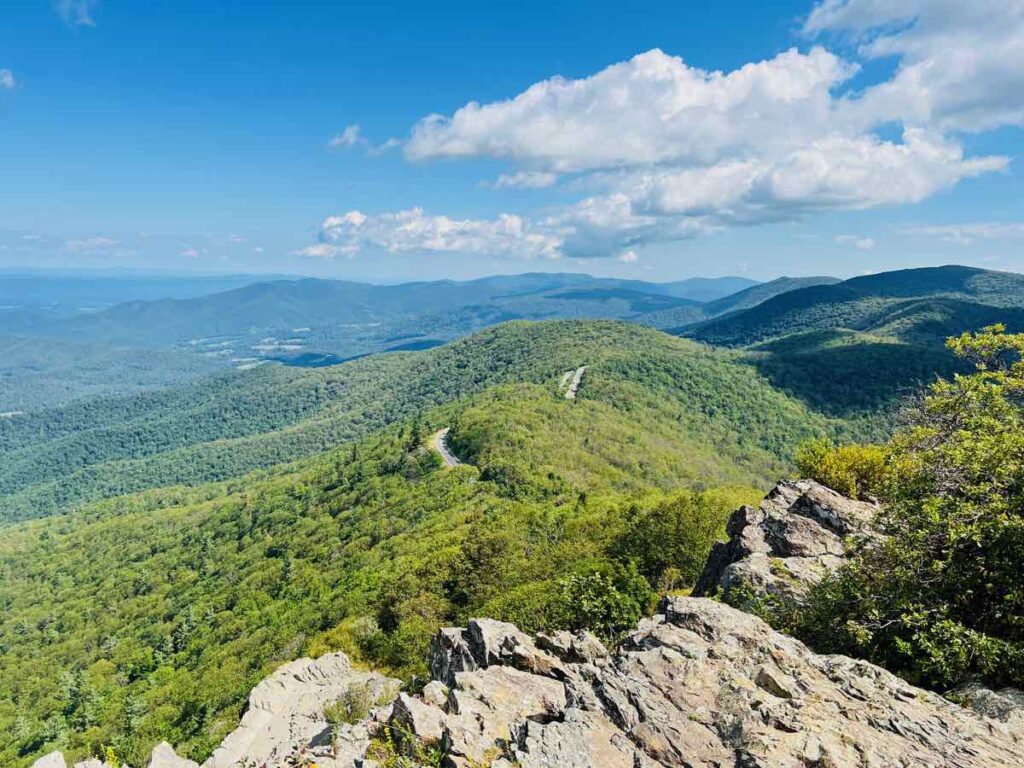 From the rocky overlook, look left and try to pick out the profile of Stony Man. To the right, you'll see a few segments of Skyline Drive winding along the ridge. Straight ahead is the town of Luray, with the ridges of Massanutten Mountain, divided by the New Market Gap, in the distance.
Stony Man Summit
The most popular hike to the Stony Man Summit begins in the parking lot just inside the northern entrance to Skyland. From the lot, it's a fairly easy 1.6-mile round-trip to the panoramic views from Stony Man Mountain, the highest point in Shenandoah National Park.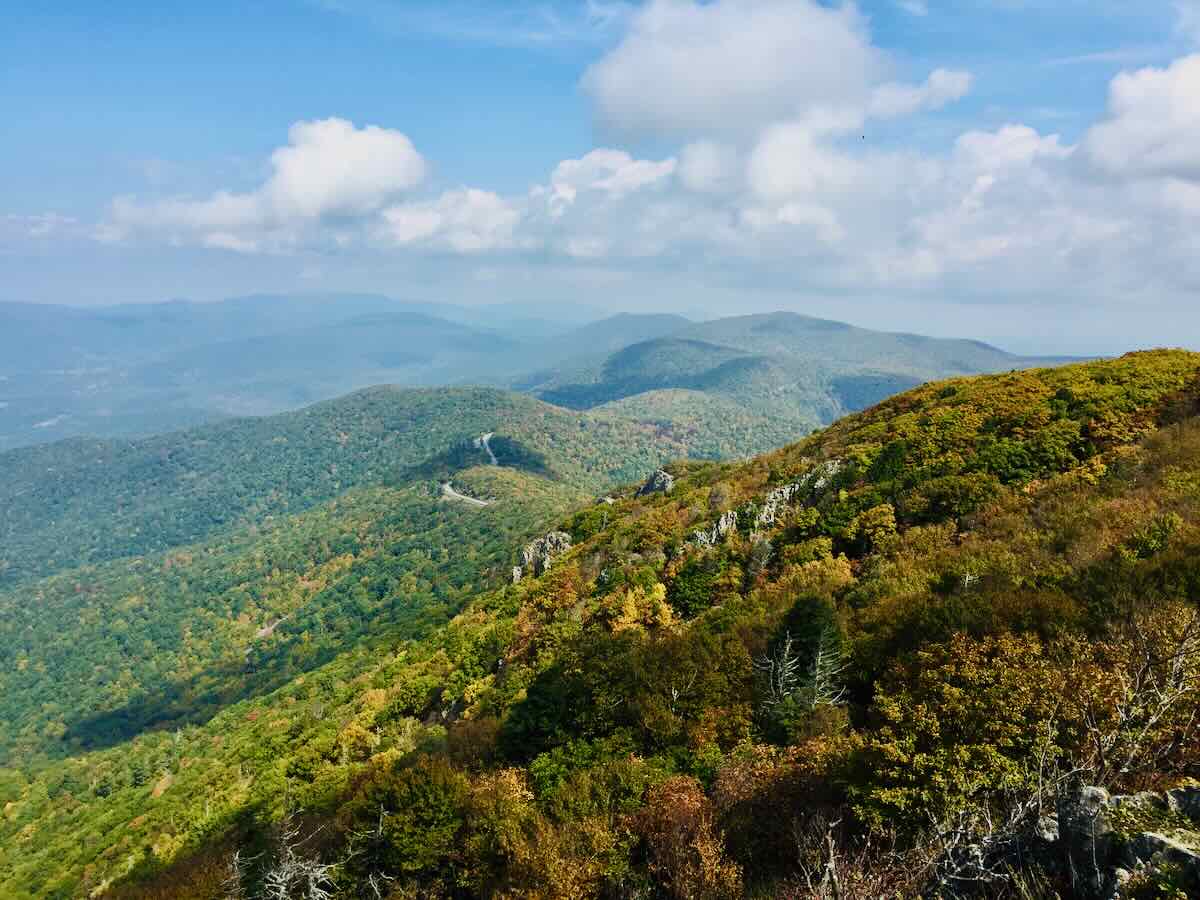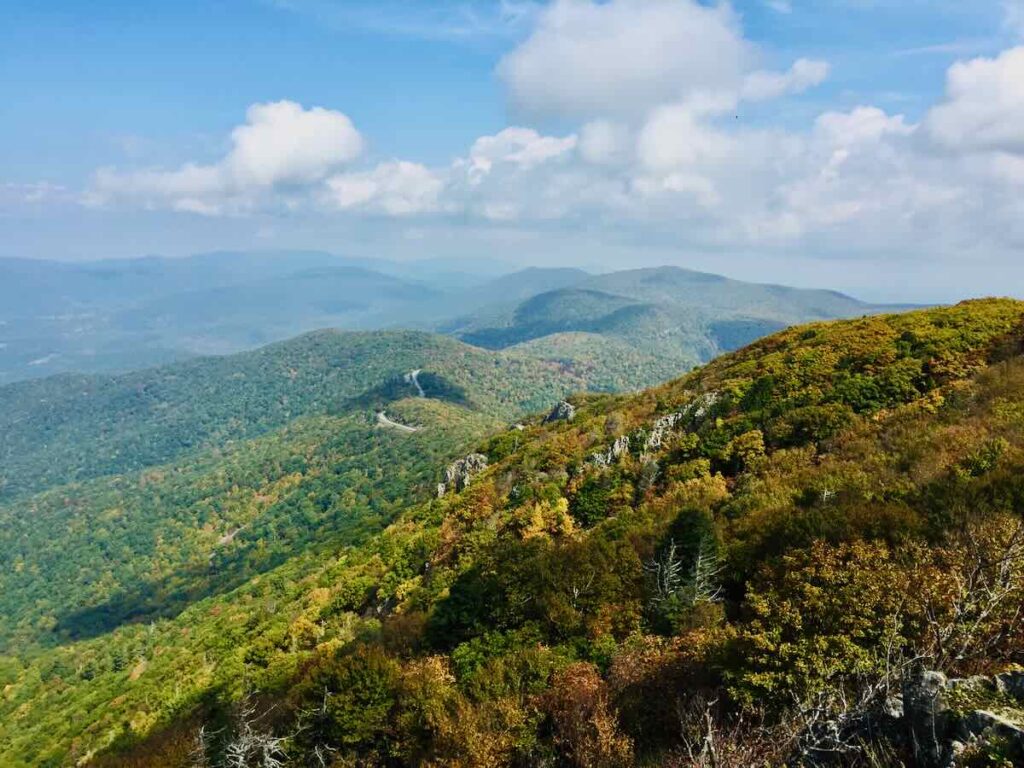 Even though this hike is longer than Little Stony Man, the path is less steep so it's actually an easier walk. The rocky outcropping at the top of Stony Man offers glimpses of the drive to the north, Skyland Resort to the west, and the ridge continuing to the south. You can also include both Stony Man Summit and the Little Stony Man overlook on a great loop hike.
Dogs are not allowed on Stony Man Summit, but you can take your pup up the AT to Little Stony Man.
Crescent Rock Overlook
Enjoy a short leg-stretcher to a view from the Crescent Rock Overlook parking area (mile 44.4). From there it's an easy .8 mile round-trip to Betty's Rock. The trail begins at the north end of the parking lot and climbs gently to the rock ledge. Again, the ledge is very exposed so keep an eye on children.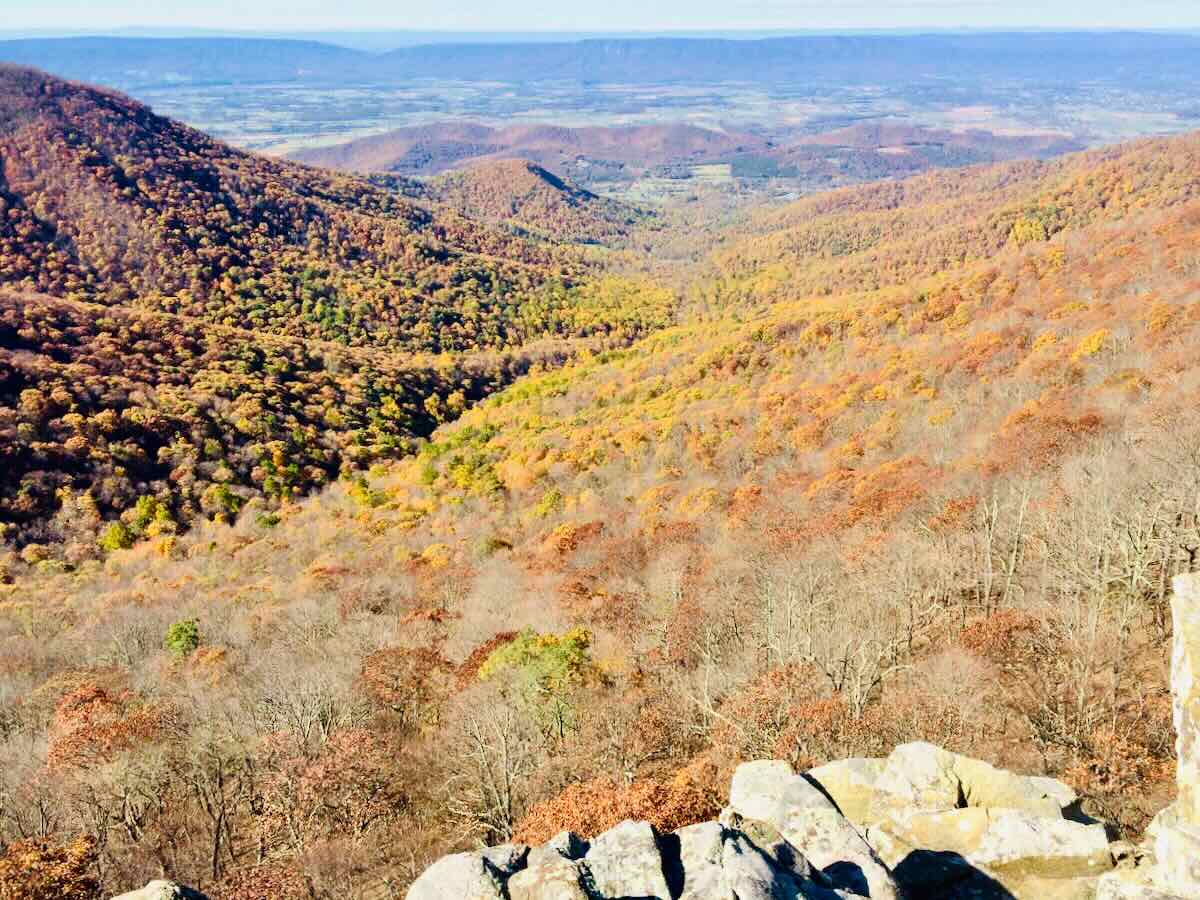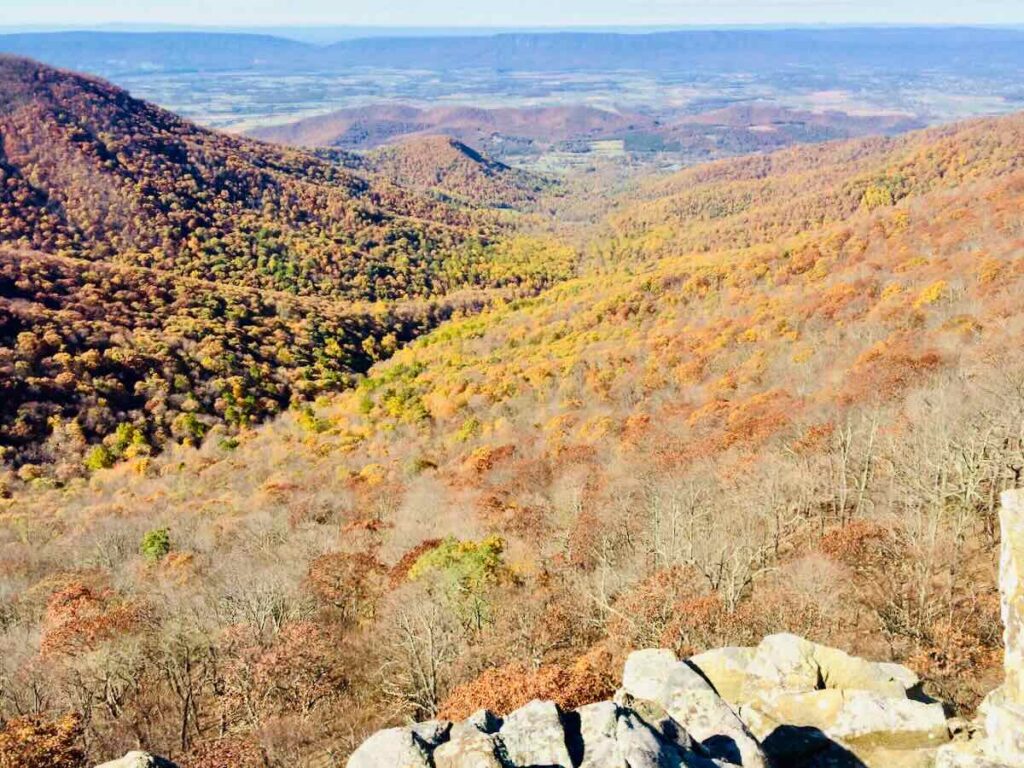 Find More: Short Hikes to Gorgeous Virginia Views.
Bearfence Mountain
Take a short but more challenging hike on the rock scramble to Bearfence Mountain Summit. The trip is only 1.2 miles round-trip, but you'll need hands and feet to climb the exposed rock ledges. If you're afraid of heights, this route is not for you. The payoff of your climb is a nearly 360-degree summit view.
Note that dogs are not allowed on Bearfence. There is an easier alternate trail to an overlook, but the view is more limited.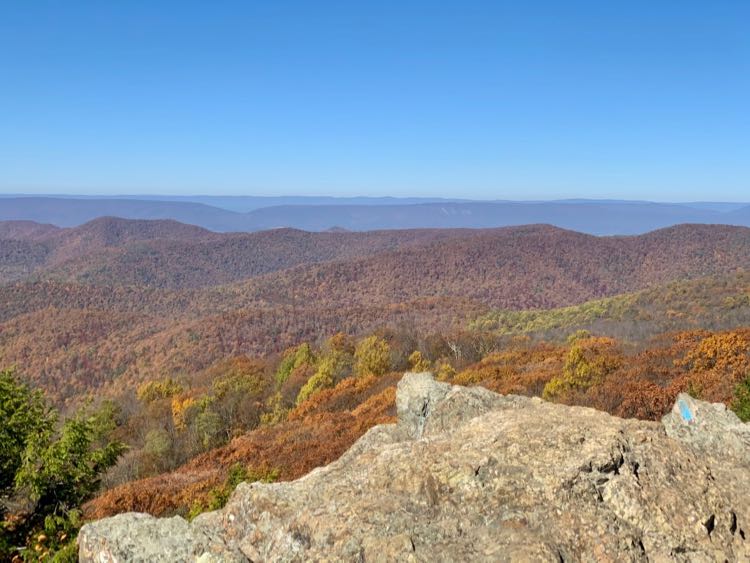 The Pinnacle and Mary's Rock
If you have time and energy for a longer hike, you will find exceptional views on the trail from Jewell Hollow Overlook (mile 36.5) to Mary's Rock. The hike is 6.5 miles out and back with some steep and moderately challenging sections.
Plan your trip with our guide to the Mary's Rock hike.
A gorgeous view from the Pinnacle is just a mile from the trailhead, so you could turn back there for a shorter trip. If time allows, continue on the Appalachian Trail to the popular Mary's Rock overlook.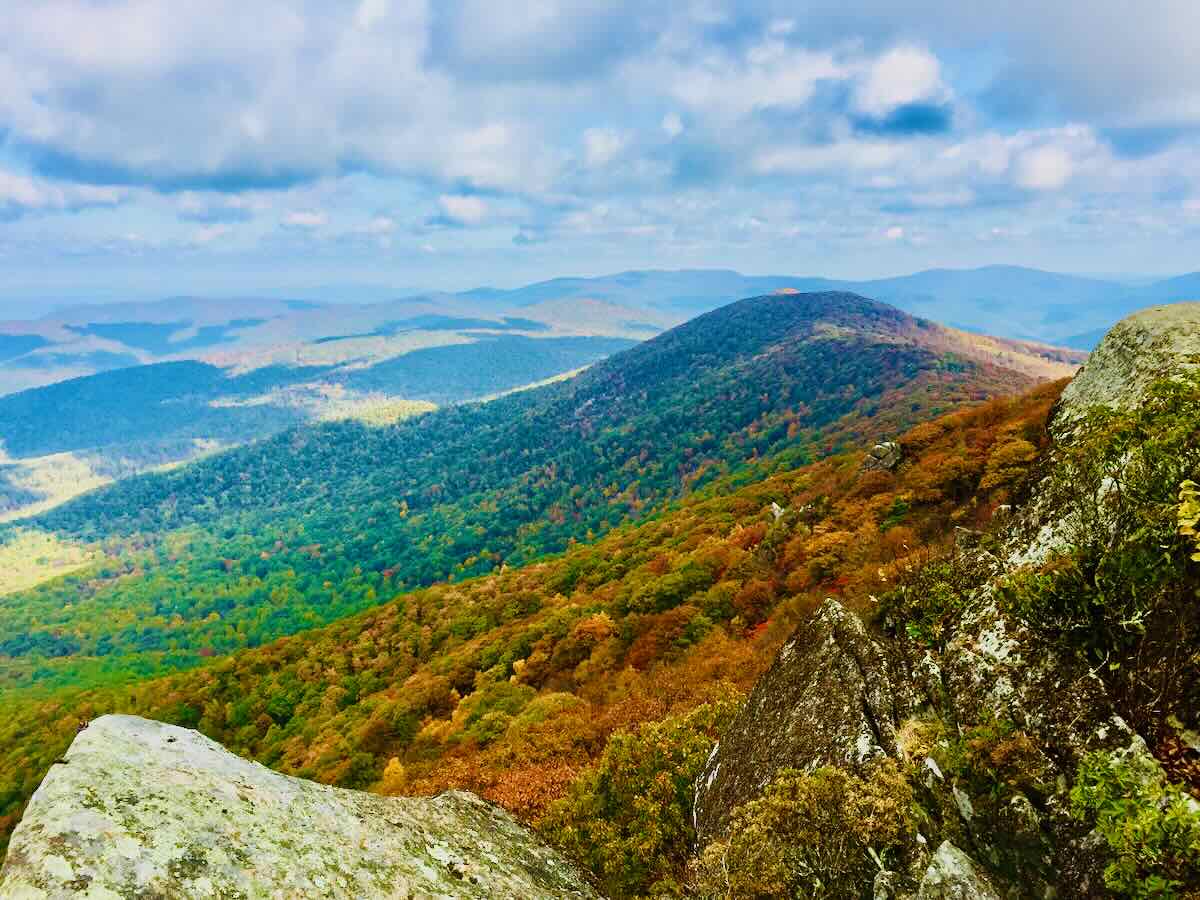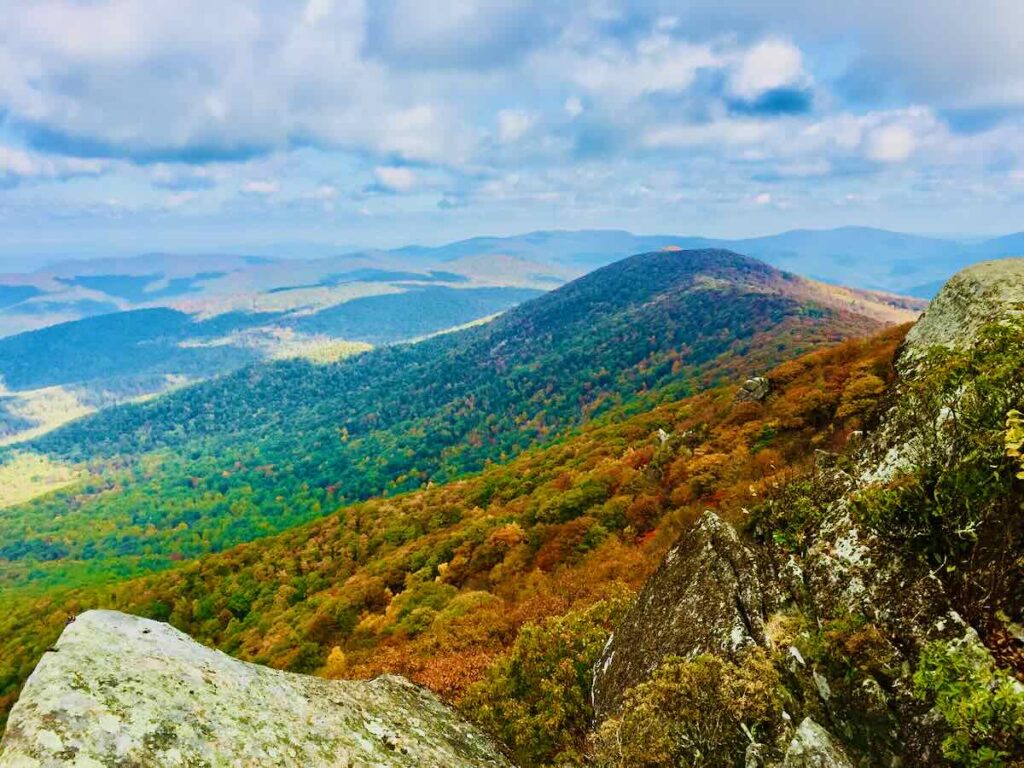 3. Enjoy a Meal with a Side of Fall Color
There are several places to eat in Shenandoah National Park, but for panoramic views head to Skyland Resort and Big Meadows. The food is not the primary reason to dine in Shenandoah, though we have enjoyed tasty meals here by sticking to basics.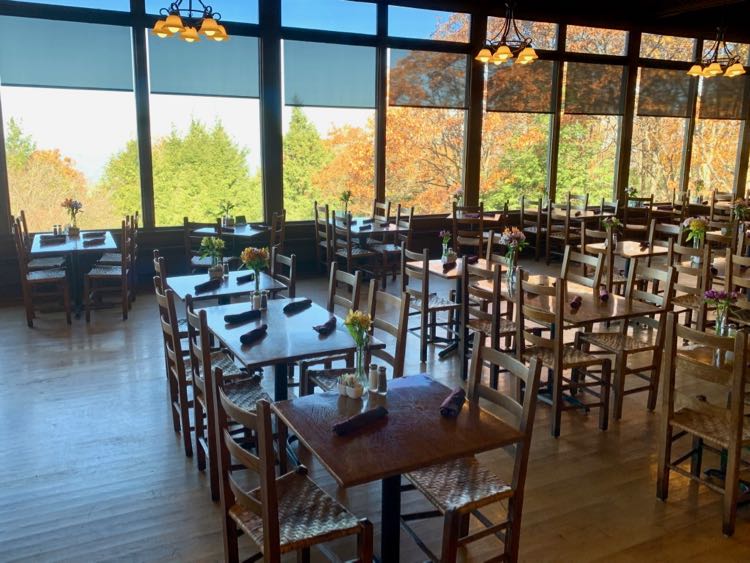 Try to time your stop during off-hours. That will increase your chances of a table by the window and faster service. If you like treats, try the Blackberry Ice Cream Pie, a popular park special.
The best view at Skyland is from the patio, which was improved in 2023 and now offers table service. One corner of the indoor dining room has a similar view and tall trees add color to other sections.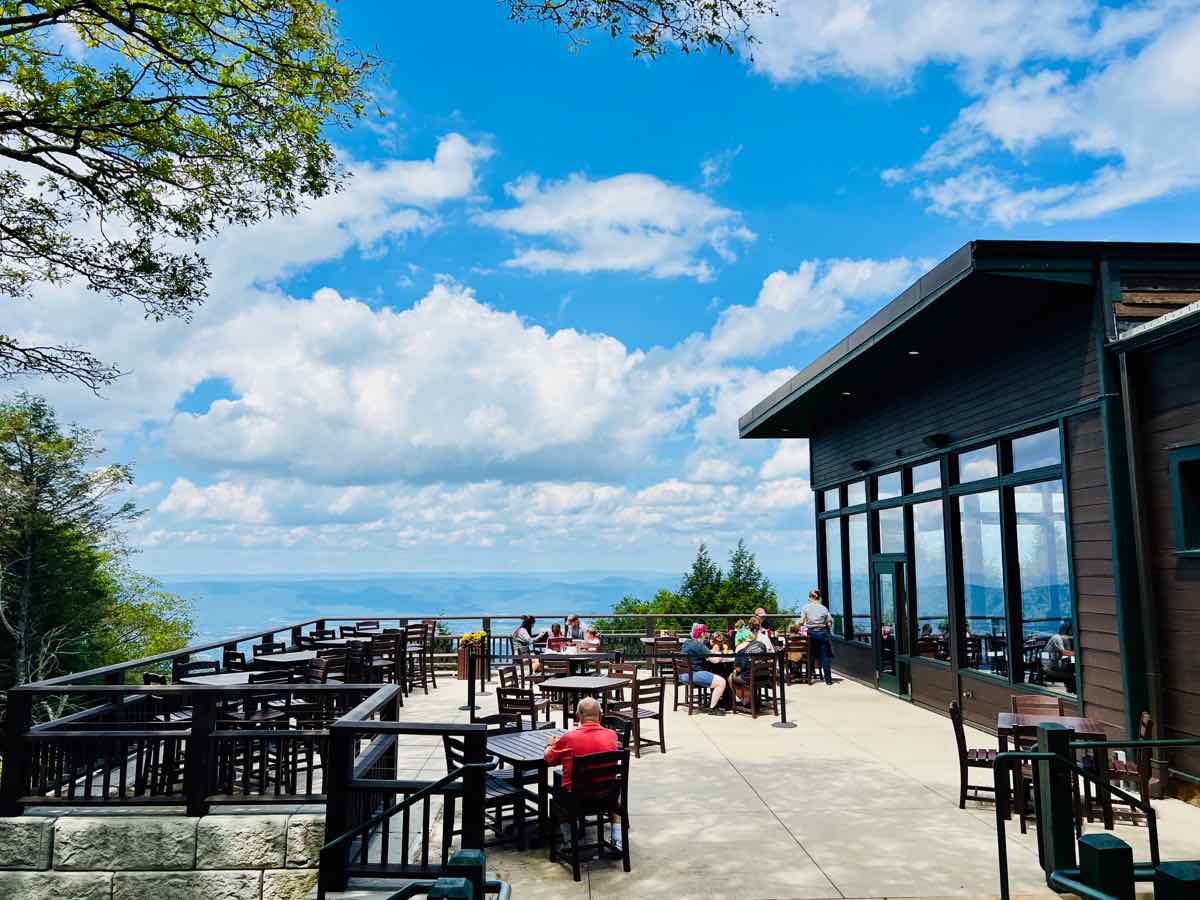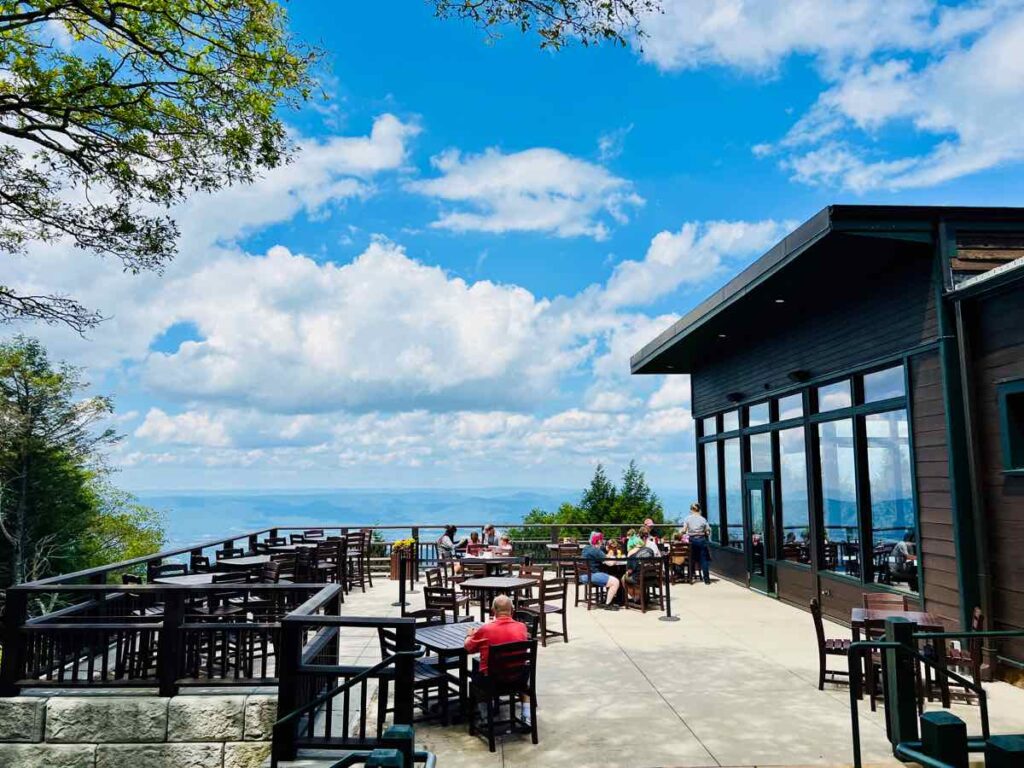 At Big Meadows Lodge, the best view is from the porch at the back of the dining room.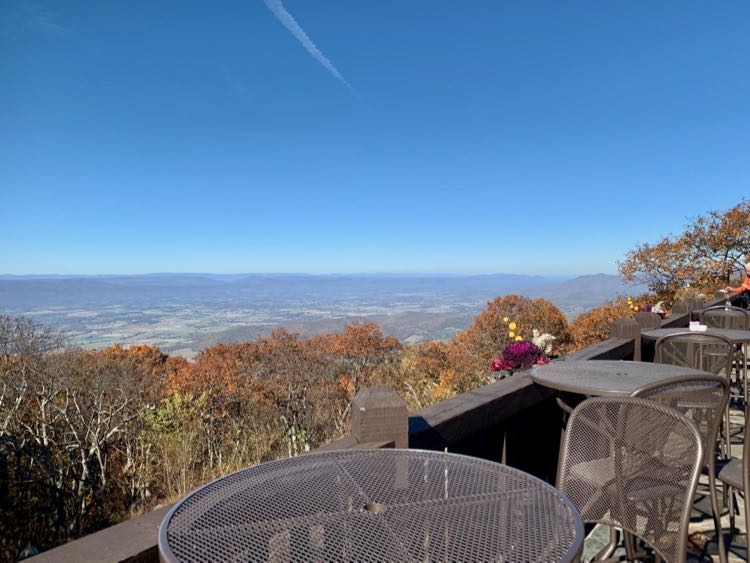 Another great option for a meal in the park is to bring a picnic lunch to enjoy from one of those fabulous viewpoints. Stop in nearby towns like Front Royal or Sperryville to pick up lunch to go.
4. Explore Park History and Nature With a Ranger
There are two Visitor Centers in Shenandoah National Park and both offer an interesting look at the nature and history of the park. The Dickey Ridge Visitor Center, at the north end of the park (mile 4.6) has exhibits, a video, and maps highlighting park nature. This is a good place to get advice on hikes and special activities if you enter from Front Royal.
The larger Harry F. Byrd Visitor Center is located at Big Meadows (mile 51). The center offers excellent displays covering the history and geology of the park and the work of the CCC on Skyline Drive. Shenandoah was the first US National Park to host CCC workers, and they built most of the beautiful stone walls and structures you see in the park.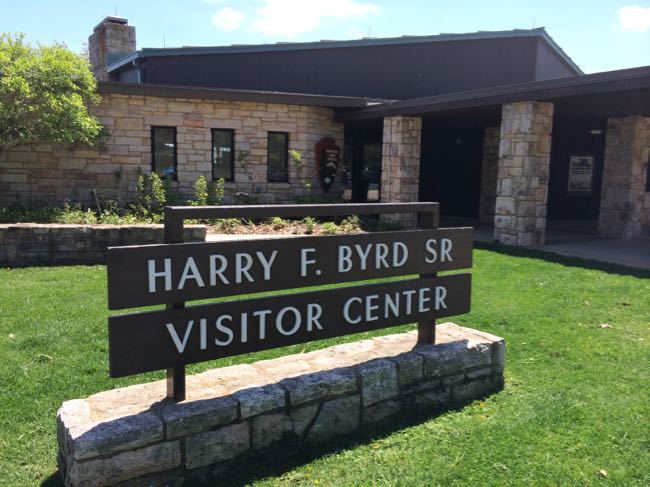 Ranger programs and guided hikes are offered at visitor centers, Matthews Arm, Skyland, and Loft Mountain. You'll receive a schedule of the week's events when you enter the park. In 2023, rangers host two great daily presentations from early September through October:
All Things Shenandoah National Park, 11:00 at Dickey Ridge VC and 1:30 at Byrd VC, Big Medows.
Wild About Bears, 11:30 at Byrd VC, Big Medows and 1:00 at Matthews Arm
If you have kids in your group, look for special Junior Ranger programs. One of our readers highly recommends the Scavenger Hike Adventures book. The book gives kids and adults things to look for along popular hikes, along with interesting stories about the people and nature in the park.
5. Plan a Getaway and Spend the Night
Shenandoah is an ideal fall getaway from Washington DC and nearby areas. One of the best ways to experience Shenandoah's fall foliage is to spend a few days in the park, hiking and exploring. When you stay in the park you can catch the sunrise and sunset from nearby overlooks.
Fortunately, there are several options for overnight lodging in the park, including lodges, cabins, and campgrounds. We recommend the lodge at Skyland for its beautiful views and central location.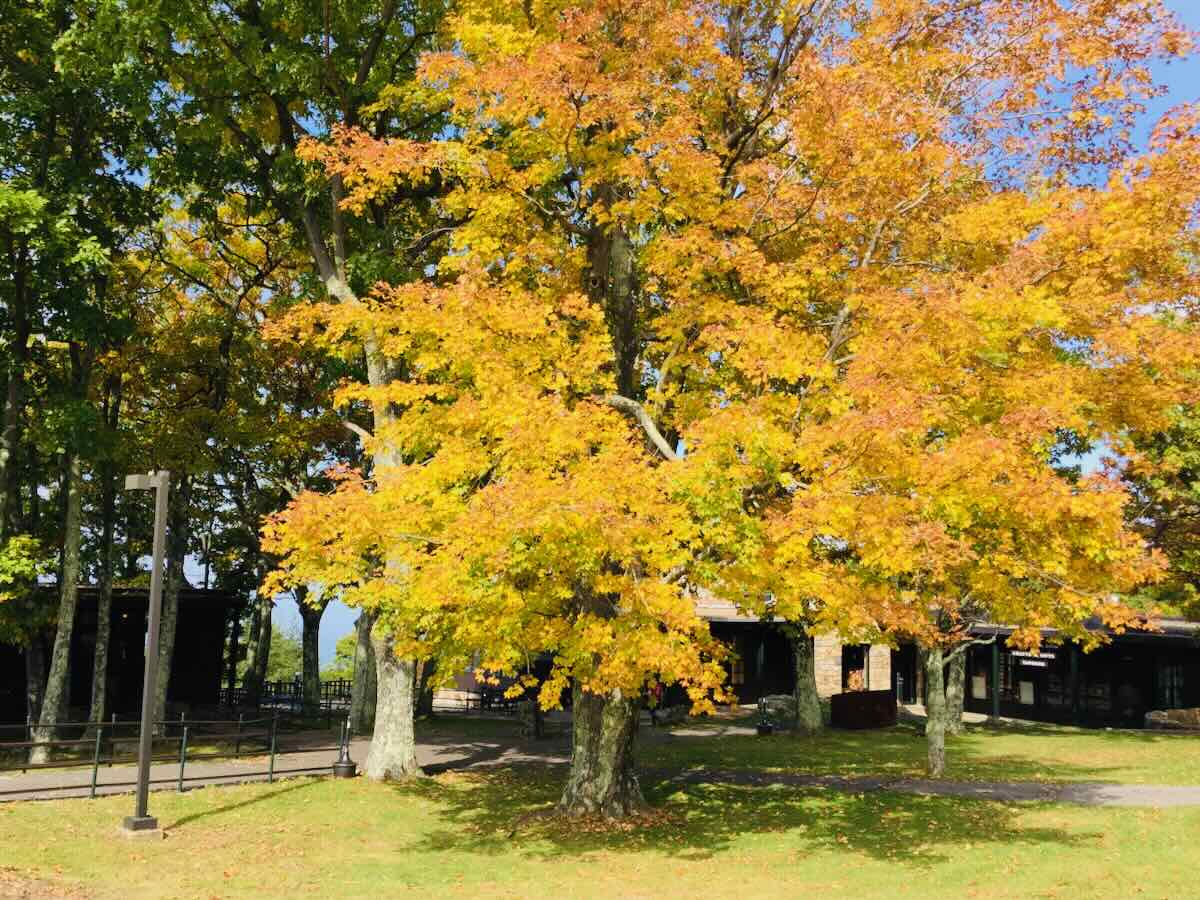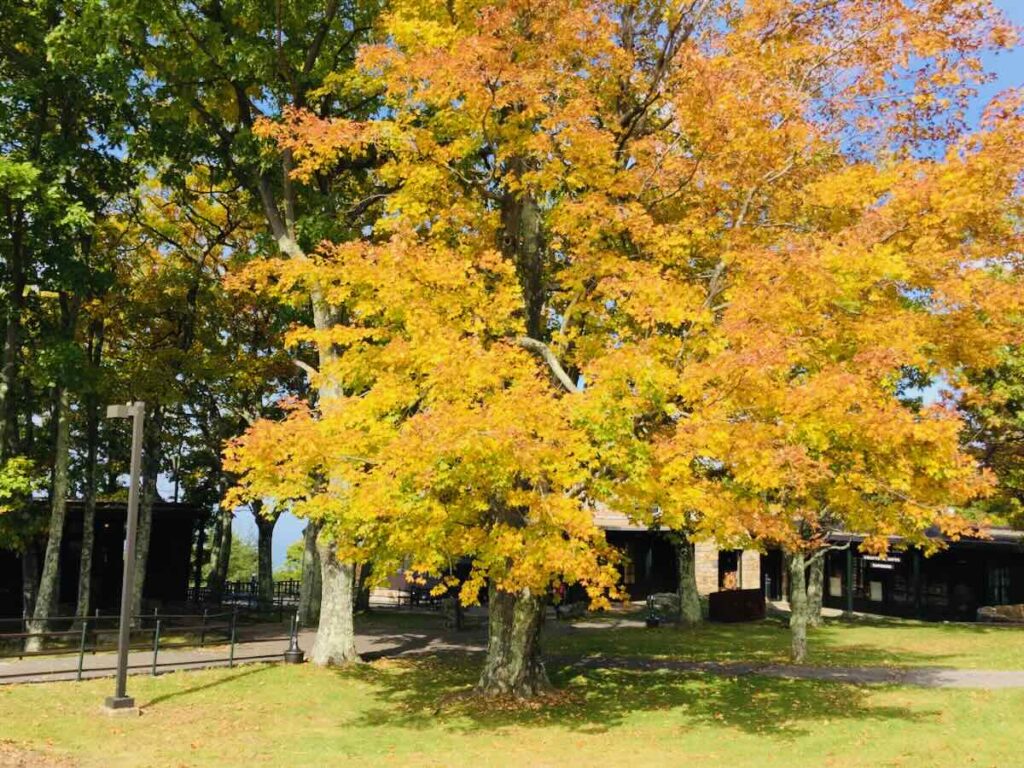 Request one of the upstairs renovated rooms in the main building for the best views and comfort. The lobby area includes a cozy fireplace, comfy couches, and a couple of rockers for taking in that great view.
If you prefer to stay outside the park, the town of Culpeper is about 30 miles from the Thornton Gap Entrance and 45 miles from the Swift Run Gap Entrance. There are lots of great places to eat and things to do in Culpeper's historic downtown.
Bonus: Horseback Riding in Shenandoah Park
Want to see the fall foliage in Shenandoah National Park from a new perspective? The Skyland Stables offer one-hour horseback riding trips until late October. The guided rides cross Skyline Drive and follow trails in the Limberlost area.
The stables also offer Pony Rides for little visitors. Visit the Go Shenandoah website to reserve your ride.
Tips for Fall Foliage in Shenandoah National Park
Whether you explore foliage in Shenandoah National Park for a few hours or a few days, you'll find beautiful views and gorgeous fall colors. It is impossible to predict when peak fall foliage will occur, but these websites will help:
Shenandoah National Park charges a $30 entrance fee per vehicle for a 7 consecutive day pass. The fee is $25 for motorcycles and $15 if you enter on foot or by bicycle. If you plan to make repeat visits, buy an annual National Park pass instead. With just a few visits, you'll recoup the $80 price.
The park is an ideal fall foliage destination in October and early November, but it's a beautiful place to visit in every season. Happy exploring!
Find more things to do in the park and places to see fall colors in Northern Virginia:
Follow us on Facebook, Twitter, Pinterest, and Instagram for more fun travel in and from Northern Virginia.