Our guide shares where to buy Christmas trees in Northern Virginia, whether you want to cut your own tree or choose a pre-cut beauty at local markets. Tis the season to bring the smell of fresh pine into your home for the holidays.
Inspire your holiday decorating: complete guide to 2022 Holiday Lights in the Northern Virginia DC Area
Christmas tree markets are listed below in two groups—cut-your-own tree farms and pre-cut markets. Within the cut-your-own group, sites are listed by county. Of course, tree availability, prices, and purchase rules change throughout the season, so always follow the link for details.
Disclosure: This article may contain affiliate links. We will make a small commission from these links if you order something, at no additional cost to you.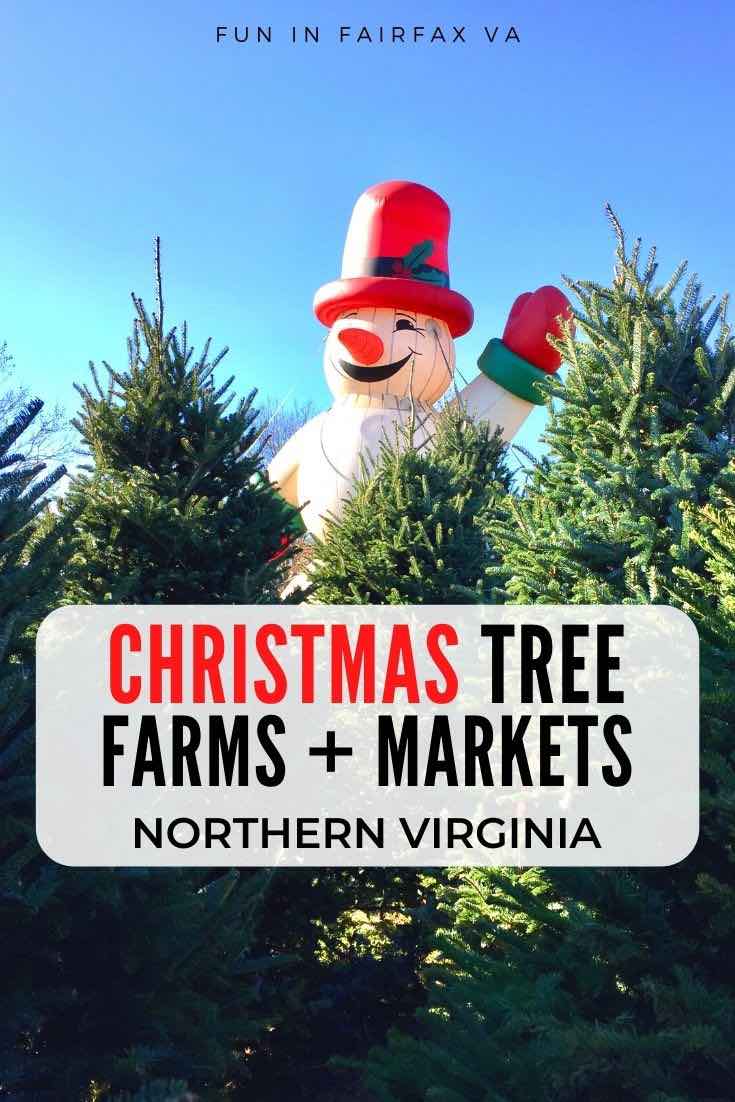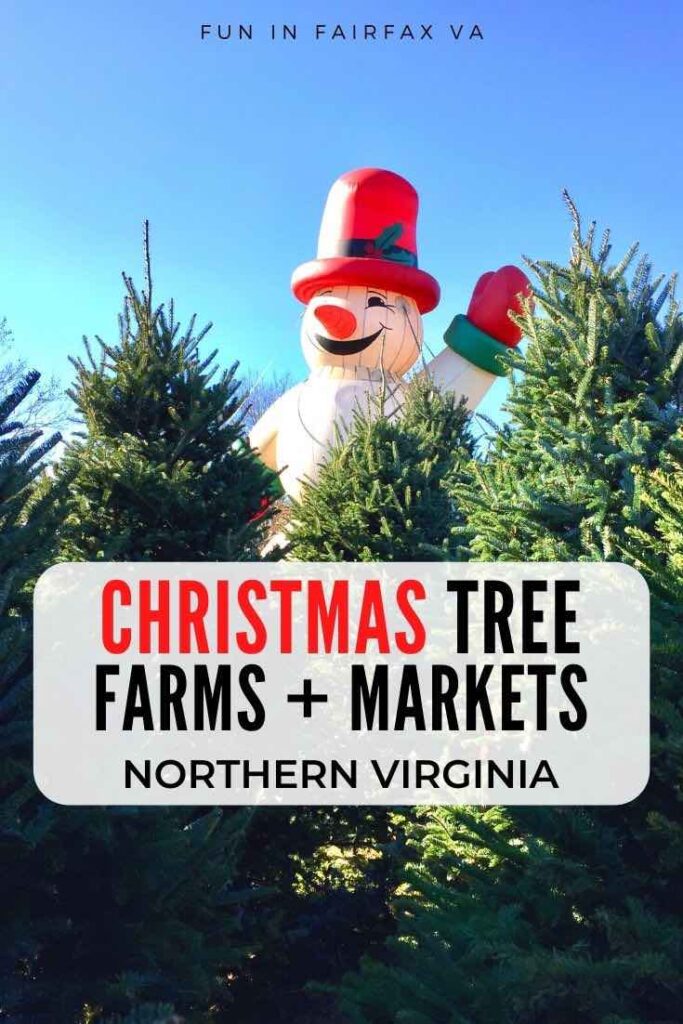 Cut Your Own Christmas Tree Farms in Northern Virginia
Build special holiday memories with your family, or your date, at these Christmas tree farms in Northern Virginia. Remember to bundle up for the cold and prepare for wet and muddy ground.
In 2022, most cut-your-own Christmas Tree markets open on the Friday after Thanksgiving, on November 25. Some are only open for a couple of weekends, while others are open until Christmas. Follow the links to check hours and schedule your visit (if required).
Fairfax County Cut-Your-Own Tree Farms
Krops Crops normally opens a field of cut-your-own trees for the holiday season. In addition, you can buy pre-cut trees, seasonal decorations, and firewood at Krop's Crops during the holiday season. 11110 Georgetown Pike, Great Falls. Combine your visit with a scenic drive on the Georgetown Pike and a visit to nearby Great Falls Park.
Loudoun County VA Cut-Your-Own Christmas Tree Farms
Blue Ridge Tree and Berry Farm offers cut-your-own trees and seasonal items (including holiday masks). In 2021, the cut-your-own Christmas tree fields opened on November 26. 13879 Bronco Lane, Lovettsville
Country Loving Christmas Tree Farms is a family farm that started in 1999. Bundle up and stop by to choose and cut your own tree or purchase one of the pre-cut trees from the Smokey Mountains. 40856 Red Hill Road, Leesburg
Loudoun Nursery has cut-your-own and container-grown Christmas trees available. The cut-your-own field is generally open on weekends from Thanksgiving to Christmas. Enjoy your holiday tree then place or plant it outside to extend the season. 16457 Short Hill Road, Purcellville
Milltown Creek Farms has choose and cut Christmas trees along with pre-cut trees. 38757 Householder Road, Lovettsville
Middleburg Christmas Tree Farm opens on November 26 for the 2022 season. Follow the link to schedule your visit to the oldest and largest Christmas Tree farm in Loudoun County. Christmas Tree Lane, Round Hill
Snickers Gap Tree Farm is a 40-year-old family farm at the foot of the Blue Ridge Mountains near Bluemont. That means you can cut your tree while enjoying an amazing view of Loudoun Valley. Make a day of it and hike to nearby Bears Den Overlook or enjoy craft beer at one of several craft breweries on the LoCo Ale Trail.
Stonehaven Farm Christmas Trees had a limited supply in 2021 but we hope to see them return in 2022. 17137 Magic Mountain Dr, Round Hill
Ticonderoga Farms has been a popular destination for many years but they are now a private event space.
Fauquier County Cut-Your-Own Christmas Trees
Hank's Christmas Trees at Hartland Farm and Orchard has cut your own Christmas trees in the field and pre-cut trees, decorations, and goodies at the market. 12230 Belle Meade Rd, Markham
Prince William County Cut-Your-Own Trees
Evergreen Acres is the largest cut-your-own Christmas tree farm in Prince William County. They provide everything you need to cut your tree and a wagon shuttle takes you out to the field. There are no pre-cut trees here so come prepared for the fun of selecting and cutting your own Christmas tree. 12801 Hazlewood Drive, Nokesville
Clarke County Cut-Your-Own Christmas Tree Farms
Family-owned Chilly Hollow Christmas Tree Farm has already sold out for the 2021 season. Next year, visit the farm in October to select your tree. The farm also sells homemade raspberry syrup, maple syrup, and other goodies. 1642 Chilly Hollow Road, Berryville
Jacobson Christmas Trees at Amazing Grace Tree Farm will open again for the 2022 season. Cut-your-own trees are available beginning the weekend after Thanksgiving. 3346 Crums Church Rd, Berryville
Moose Apple Christmas Tree Farm offers cut-your-own and pre-cut trees on their family farm. Choose and tag your tree in October and November, then return to pick it up in December. Or stop by and pick up a pre-cut tree, wreaths, and greenery. 2425 Wickliffe Road, Berryville
All of the trees at Tranco Farms are 10′ and over in 2021 (while the saplings grow). Trees are available by appointment only and you'll need a pick-up or truck to carry your giant home. 637 Oakland Lane, Berryville
Northern VA Christmas Tree Markets and Garden Centers
Garden centers and markets are popular places to buy beautiful Christmas trees. They generally have a large selection of trees and also sell wreaths, swags, poinsettias, and other holiday decorations. Some markets add visits with Santa and other holiday festivities and events to make your tree-buying even more fun.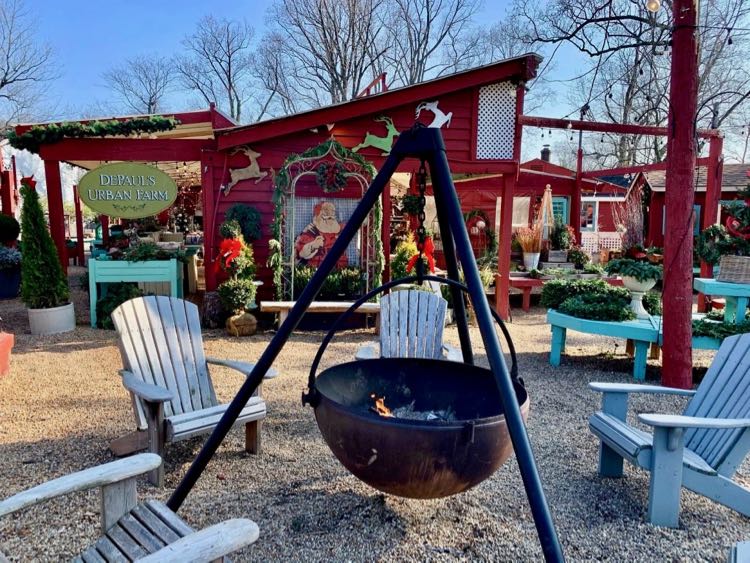 Here is a sampling of garden centers in Northern Virginia, listed alphabetically by town, that sell Christmas trees annually. Follow the link for hours, prices, and special event info.
Plan a month of fun: December Events in Northern Virginia and Holiday Fun Near DC
Alexandria: Almost Heavenly Christmas Trees. Order online and pick-up or add delivery, set-up, and removal service to your order. Landmark Mall parking lot, 5801 Duke Street, Alexandria
Burke: Burke Nursery and Garden Center, 9401 Burke Road, Burke
Centreville: Cox Farms offers pre-cut trees at the market along with decorations and tasty treats for the season. 15621 Braddock Rd, Centreville
Clifton: Update—Whitehall Farms is now an event space so there are no Christmas trees. Allow time to explore the quaint town of Clifton, take a hike on the Bull Run Occoquan Trail, and stop by Paradise Winery. 12523 Popes Head Rd, Clifton
Fairfax and Gainesville: The Christmas Shop at Merrifield Garden Center sells trees, fresh greens and plants, and lots of Christmas decor. 12101 Lee Highway, Fairfax. Other locations: 8132 Lee Highway, Falls Church, 6895 Wellington Road, Gainesville
Haymarket: Burnside Farms receives a shipment of Virginia Frazier Firs weekly, so you can buy Christmas trees that are freshly cut. Other varieties can be special ordered. Be sure to visit again in summer for pick-your-own sunflowers. 4905 James Madison Hwy., Haymarket
Reston: Reston Farm Garden Market offers a big selection of pre-cut trees and greenery. On some December weekends, they have a Christmas Choo Choo and visits with Santa for the little ones. 10800 Baron Cameron Ave, Reston
Vienna: DePaul's Urban Farm offers pre-cut Frazier Firs and plenty of festive decorations. 2599 Chain Bridge Road, Vienna
Multiple locations: Visit one of the many Meadows Farms Garden Centers to purchase your holiday tree and greenery.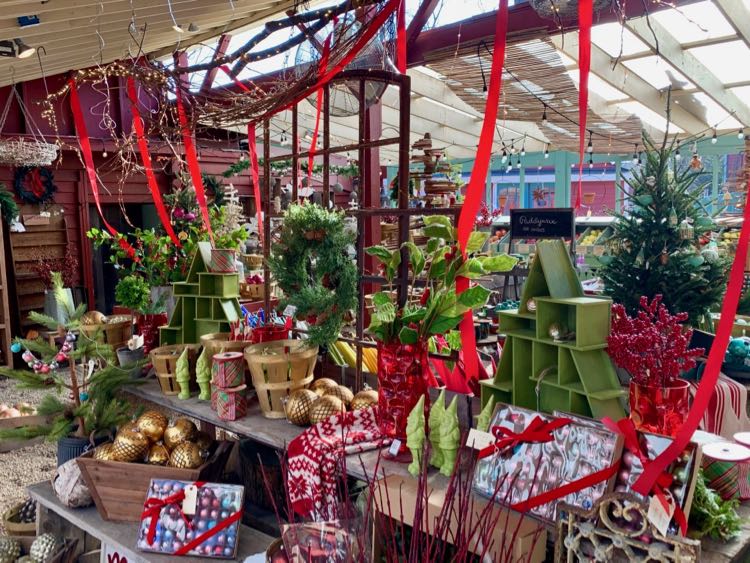 More Northern Virginia Holiday Fun
Find more ways to celebrate the holiday season in these holiday articles:
Follow us on Facebook, Twitter, Pinterest, and Instagram for more fun travel in and from Northern Virginia.