Updated on May 13, 2023 by Julie McCool
Take a Fairfax County scenic drive in Northern Virginia to explore pretty parks, quaint towns, local history, and beautiful Virginia Byways near Washington DC. Follow our scenic drive route map, or extend your outing with the suggested optional side trips. You can enjoy the scenery from your car, or stop for hikes, restaurants, shops, a winery, and historic sites along the way.
Find more places to explore in our guide Beautiful Northern Virginia Scenic Drives.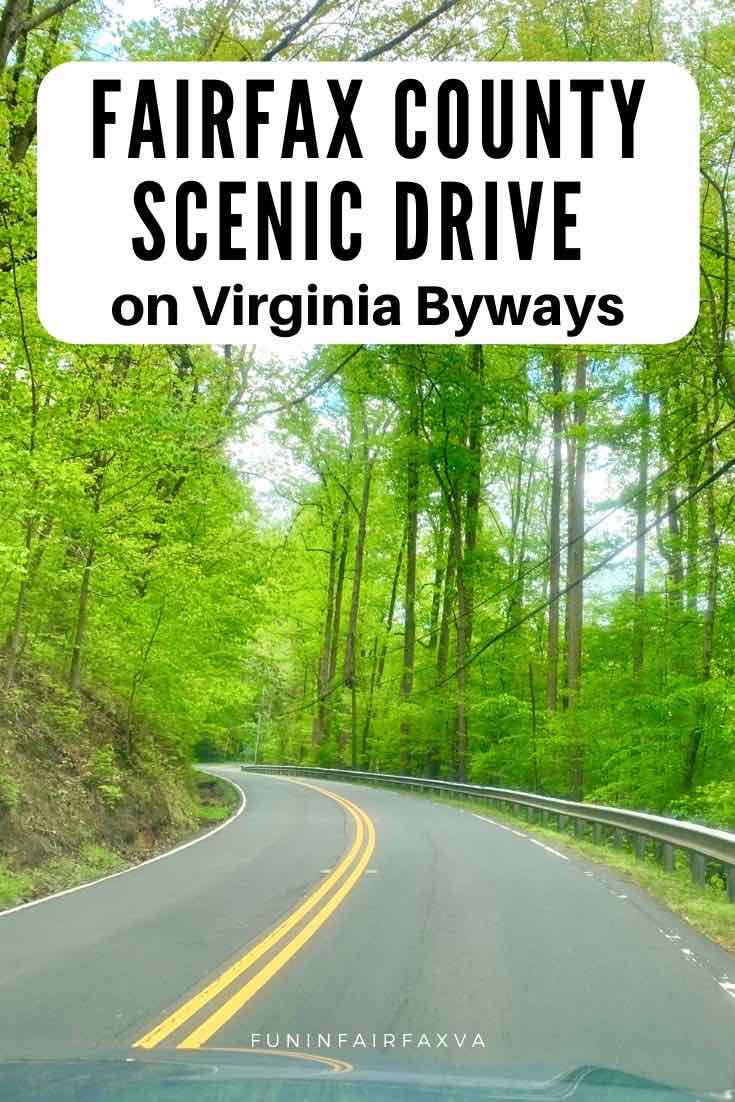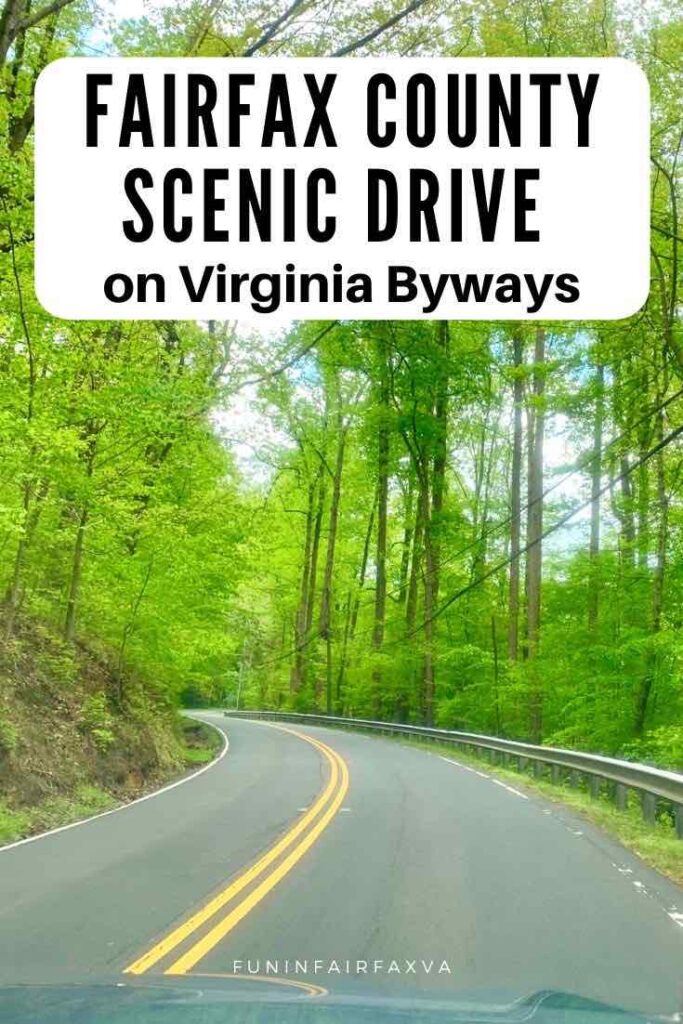 Fairfax County Scenic Drive Route and Tips
Fairfax County is the most populous county in Virginia, and suburban neighborhoods and urban developments dominate the landscape. But you can still find scenic roads that meander through smaller towns and countryside and lead to some of the county's prettiest parks.
Disclosure: This article may contain affiliate links. We will make a small commission from these links if you order something, at no additional cost to you.
Scenic Drive Route Overview
Our Fairfax VA scenic drive begins at the Hunter Mill exit of the Dulles Toll Road, travels south through the City of Fairfax to Clifton, then loops east to Lorton before returning to Fairfax. This route includes 5 designated Virginia Byways and navigates a mix of developed and rural roads. Optional side trips include the closest winery to Washington DC, a prison transformed into an arts center, and more scenic Virginia towns.
Use this map of our Fairfax County scenic drive route to plan your trip. The route we mapped out is one-and-a-half hours of drive time and 46 miles long, but you can easily adjust it by adding or eliminating stops.
Fairfax County Scenic Drive Tips
Do not attempt this drive during rush hour. Several sections of the drive are heavy commuter routes and are very congested on weekday mornings and evenings.
Construction projects often create delays and detours in busy Fairfax County. Check your GPS to avoid major backups. Fortunately, most road construction only leads to minor delays.
Our drive does not follow the most direct route between destinations. Instead, we highlight a trip that includes nice scenery and interesting stops.
Take your time and obey speed limits. While all of the roads on this scenic drive are paved, they are often winding with little to no shoulder. Be especially cautious in the downtown areas of Fairfax and Clifton.
Historic Hunter Mill Road and Fairfax VA
To begin your Fairfax scenic drive, take the Hunter Mill Road exit from the Duller Toll Road and head south. The 7.2-mile Hunter Mill Road was used as a shortcut between the city of Fairfax and Route 7 during the Civil War just as it is today. When development threatened the historic road, the Hunter Mill Defense League citizens group fought to preserve the road's residential character and secured its designation as a Virginia Byway.
Things to See on Historic Hunter Mill Road
On your left, just before the traffic light, is Cartersville Baptist Church, a congregation founded by free African-American families in the 1800s. The original church also served as a segregated school for the Cartersville community of Black families. Both the original and a second building burned, but descendants of the original congregation still worship in the current church.
The Washington and Old Dominion bike trail crosses Hunter Mill at the intersection with Hunter Station Road. There is a small parking area on the corner, and this is a nice stop for a stroll, bike ride, and to learn a little history along the trail.
Carefully cross the road to view several historical markers describing Civil War activity that occurred in the area.
The trail is mostly level between here and Vienna, so this is a stroller-friendly place to walk.
You can walk or bike from here to Meadowlark Botanical Gardens on the W&OD Connector Trail but prepare for some steep hills.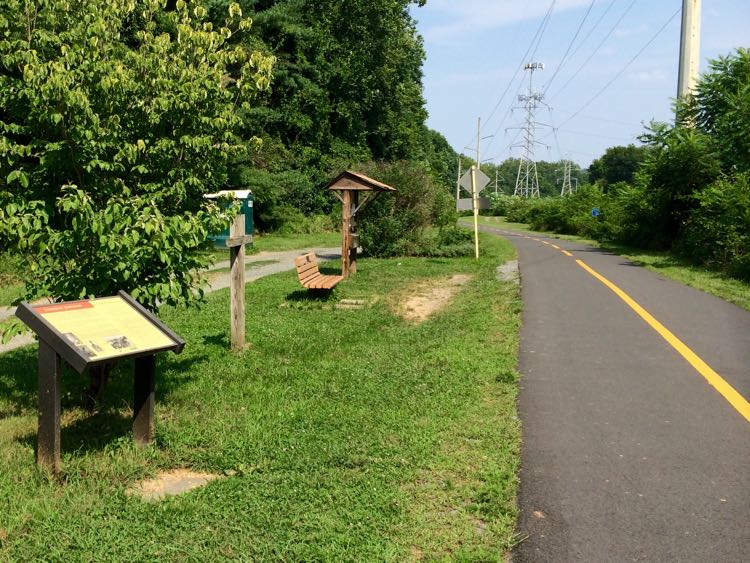 As you continue south you may see horses in the field at Angelica Run Farm, on your left at the bottom of the hill. During the Civil War, 64 captured Union horses were grazed here on their journey to Leesburg.
As you near the end of Hunter Mill Road in Oakton, watch for a massive white oak tree at the edge of the commerce on your left. This 400-year-old tree, known as the Mosby Oak, was a meeting place for Mosby's Rangers and the site of an encounter between a Union sympathizer and the Confederate group.
At the light, turn right onto Route 123 and follow it to Old Town Fairfax, passing over busy Route 66. This section of the drive is not scenic and is under construction, but prettier roads are ahead.
City of Fairfax Virginia
If you're ready for a break or a meal, Old Town Fairfax is an excellent stop. Many local restaurants line the streets of the compact, walkable downtown, including three of our favorites—Sisters Thai, the Auld Shebeen, and Bollywood Bistro. Even if you don't stop to eat, you can stretch your legs with a stroll around Main Street.
History fans should take a walk around the historic Fairfax Courthouse, built in 1800. George and Martha Washington's wills were recorded here and it was occupied by both Union and Confederate Troops during the Civil War.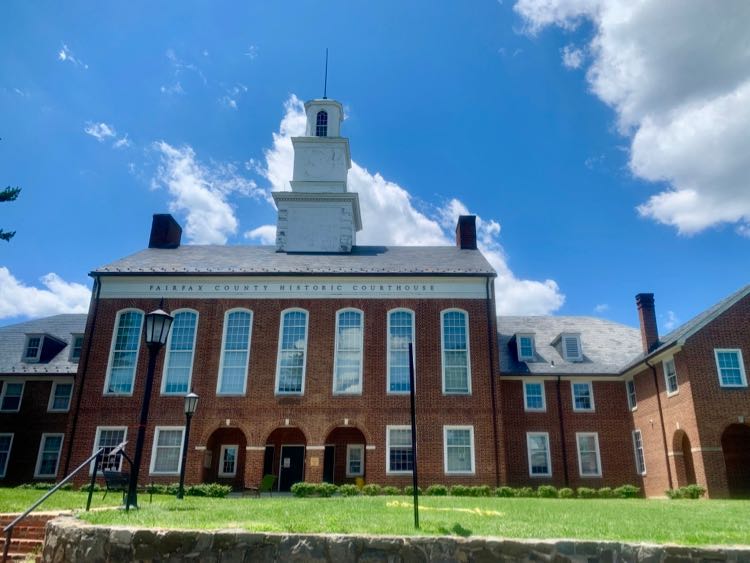 When you are ready, continue south on Route 123/Ox Road, which widens to 4 lanes. You'll see the George Mason University sports fields on your right, and the campus on your left. Continue straight at Braddock Road, and make a right turn onto Fairfax Station Road (SR 660).
Scenic Byways and Small Town Fun in Clifton Virginia
The pretty scenery returns as you turn onto State Road 660/Fairfax Station Road, the second of the 5 Virginia Byways on our drive. The two-lane country road passes historic sites and farms as it meanders toward Clifton.
Places to See on Fairfax Station Road
Our first stop, immediately on your left, is historic St. Mary's Church. The attractive Gothic Revival church was built in 1858 mainly by Irish immigrants who worked on the Alexandria and Orange Railroad. Many of these workers are buried in the small cemetery here, including James Magner who was born in County Clare Ireland and died here in 1893 at the age of 103.
St Mary's is the oldest Catholic Church in Fairfax County and is on the National Register of Historic Places. After the Second Battle of Manassas, Clara Barton tended wounded soldiers here and later founded the American Red Cross. There is a Clara Barton historical marker where we made the turn onto Fairfax Station, but the church is a more interesting stop.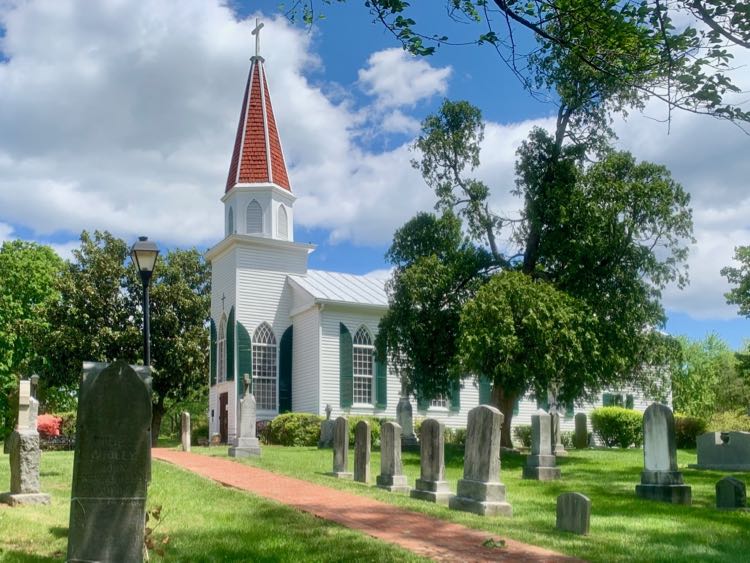 Just a bit further down the road is the Fairfax Station Railroad Museum. This volunteer-run site preserves local railroad history and presents fun, family-friendly activities for model train enthusiasts. The site includes a rebuilt Fairfax Station train depot, a red caboose, and other railroad equipment. The museum has limited hours so check the website to plan your visit.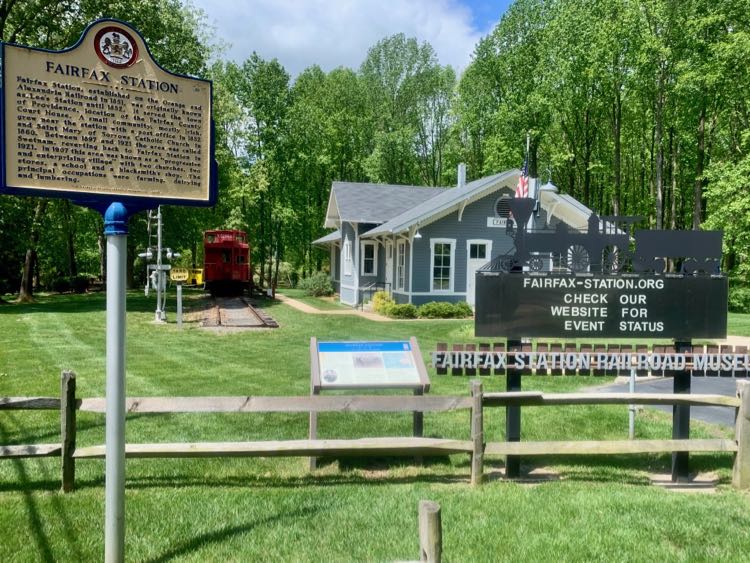 Continue your drive past horse farms and woods. When you reach the T intersection go left, then make a quick right turn to stay on Fairfax Station Road. When the road ends, turn left on Newman Road, another designated Virginia Byway.
Clifton Virginia—A Classic Main Street Town
The next highlight of our Fairfax County scenic drive is the quaint town of Clifton. This beautiful small town is an excellent place to stop for lunch, shopping, and a walk through the historic downtown.
Plan your visit with our complete guide to a Clifton Virginia Day Trip.
Downtown Clifton is best explored on foot. Look for the informational signs that share the history of numerous houses and buildings on and near the classic Main Street. Allow time for a meal at Main Street Pub, Trummers, or another local restaurant, and to browse the shops. If you have kids in your group, be sure to get a treat from Peterson's Ice Cream Depot.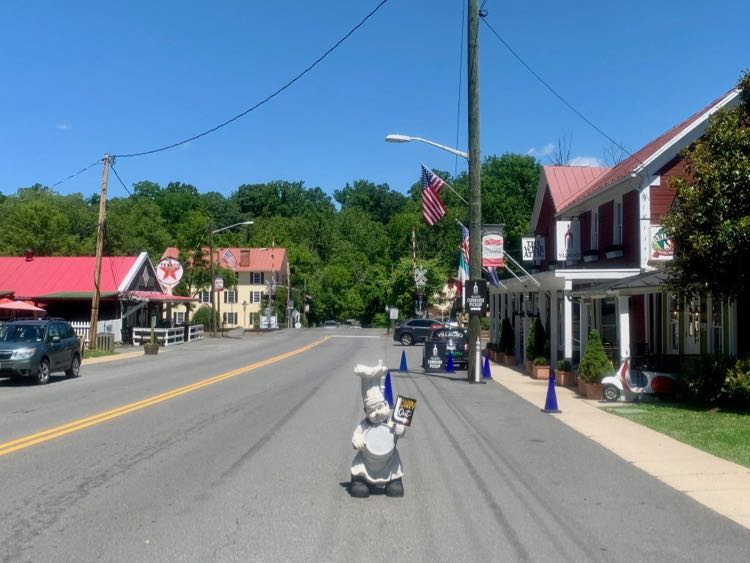 When you are ready to leave town, turn left on School Street and then take your first right on Clifton Road (SR 645). In just under a mile, turn right on Yates Ford Road, the 4th Virginia Byway on our drive. The narrow two-lane road meanders through the woods until it ends at a nice local trail and Fairfax County's oldest winery.
The Bull Run Occoquan Trail follows the Bull Run stream for 17 miles, and you can access a pretty stretch from the end of Yates Ford Road. There is ample free parking and an easy path descending to the stream. Once you reach the water turn either left or right for a nice shady hike along Bull Run.
After your hike, reward yourself with a relaxing glass of Virginia wine at Paradise Spring Winery. Fairfax County's first winery, Paradise Springs is also the closest to Washington DC. The attractive tasting barn is surrounded by patios and expansive fields so there is plenty of room to spread out.
Northern Virginia Parks to Visit on a Fairfax County Scenic Drive
After your visit to Paradise Springs, retrace your drive on Yates Ford Road. Turn right on Clifton Road (SR 6445), then right again on SR 612. Continue straight onto Henderson Road (SR 643) our 5th and final Virginia Byway on this Fairfax County Scenic Drive. Follow the road as it curves through the woods, then turn right on Hampton Road (SR 647).
Fountainhead Regional Park
Our next stop is Fountainhead Regional Park, one of the most popular destinations for off-road biking in Northern Virginia. The park maintains a system of one-way dirt bike trails with varying challenge levels. Fountainhead is also the southern end of the Bull Run Occoquan Trail, and another great place for a wooded hike with some interesting history.
Plan your hike with our guide Bull Run Occoquan Trail: Fountainhead to Bull Run Marina Hike.
If you prefer fun on the water instead of the trail, stop at the Fountainhead marina where you can rent boats and paddleboards (or launch your own) or fish from the pier. Check our guide Northern Virginia Boating and Fun on the Water for more great places to paddle near DC.
Even if you don't get out of your car, you can enjoy a pretty loop drive through the park.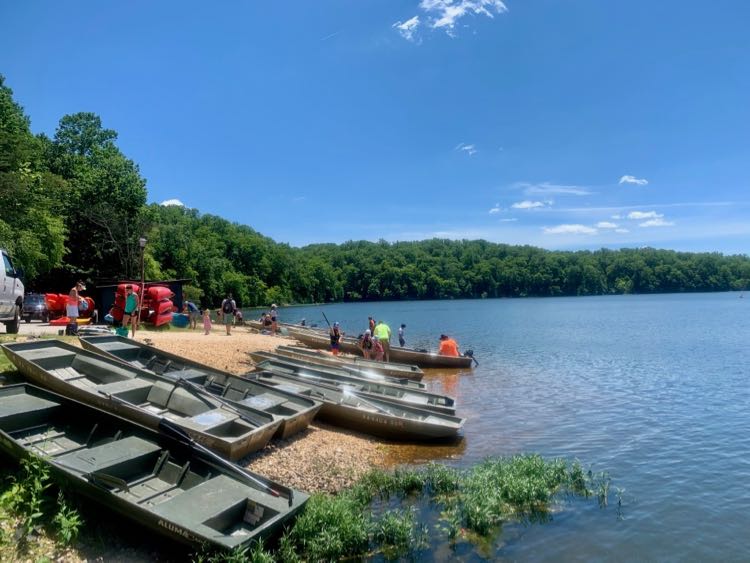 Occoquan Regional Park
When you leave Fountainhead, continue on Route 647 until it ends at Route 123. You could turn left to return to Fairfax, but we recommend a side trip to another riverside park. Occoquan Regional Park sits on the banks of the Occoquan River at the southern end of Fairfax County. The park has hiking trails, a boat launch and seasonal rentals, and a nice spot for a meal or a drink.
The Brickmakers Cafe serves casual fare and offers a good selection of Virginia beer and wine. If you sit on the patio you can enjoy a pretty view of the Occoquan River with your meal. The cafe gets its name from local history. In the late 1900s, prisoners made bricks here that were used in buildings throughout Northern Virginia and Washington DC. Be sure to check out the preserved, 100-year-old beehive brick kiln and chimney at Turning Point Plaza.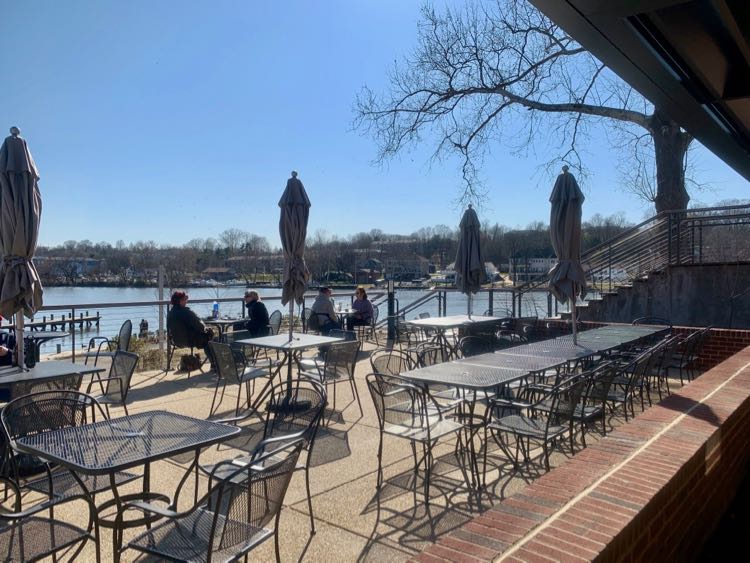 Plan your visit: Occoquan Regional Park Hike and History in Northern Virginia
Fundraising is underway for a new Turning Point Suffragist Memorial which will honor and tell the story of women's fight for the vote. You can learn about that struggle and its local significance at our next stop.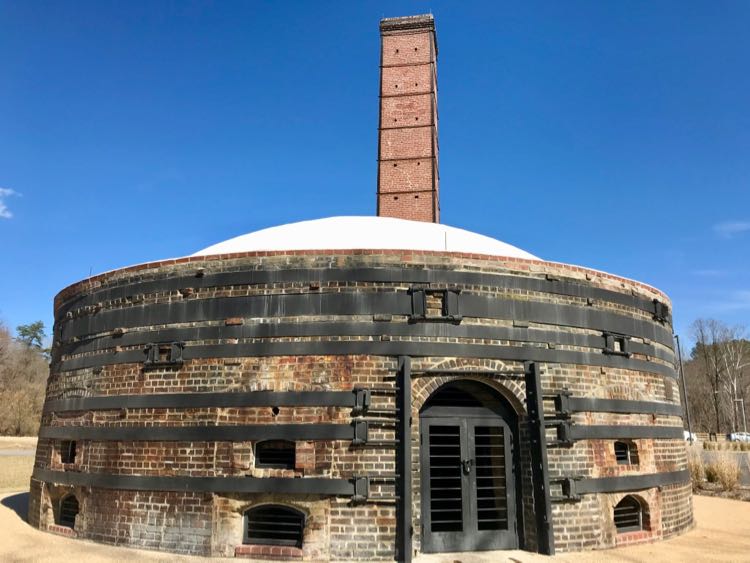 Workhouse Arts Center
Return to Route 123 and turn right, then right again to the Workhouse Arts Center. This fascinating complex transformed a workhouse/prison into a beautiful arts center and museum. Galleries and shops feature artists working in a variety of mediums. and you can take a photo with one of the only Virginia LOVE signs in the county.
The Lucy Burns Museum powerfully explains how women protesting for the vote in Washington DC were imprisoned and terrorized here. The women's experience so outraged the public that it became a turning point in the suffrage movement. The museum also tells the story of the infamous Lorton Prison.
Plan your visit and explore Workhouse Arts Center History and Art in Northern Virginia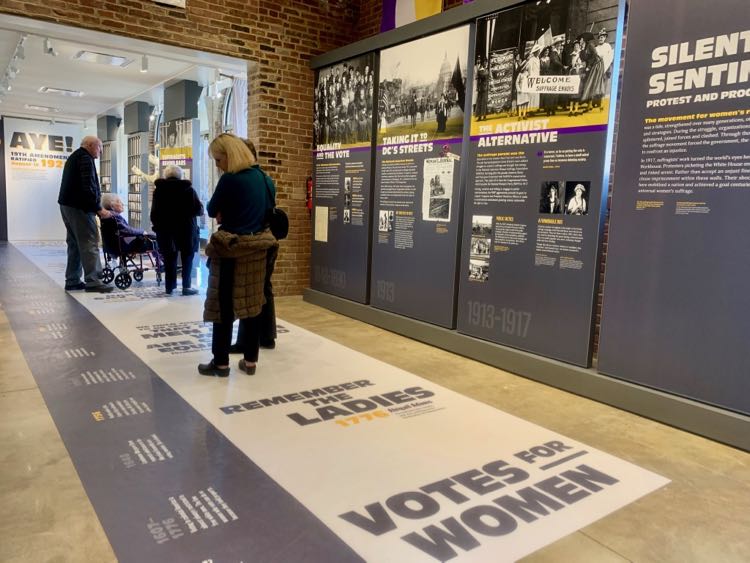 Burke Lake Park
Continue north on Route 123 to the final stop on our Fairfax County scenic drive. Burke Lake Park is one of Fairfax County's most popular lake parks. A 5-mile trail circles the lake, offering a beautiful opportunity to hike, bike, run, and picnic with nice water views.
Burke also boasts some of the best fishing in Northern Virginia, and there is a bustling marina where you can rent rowboats, fishing kayaks, and canoes. A wheelchair-accessible fishing pier and several bulkheads provide access from shore.
Children in your group will love a ride on the miniature steam engine and carousel. Burke Lake also offers mini-golf, disc golf, and picnic areas. Reserve a site in the Burke Lake campground and you can enjoy sunrise or sunset over the lake.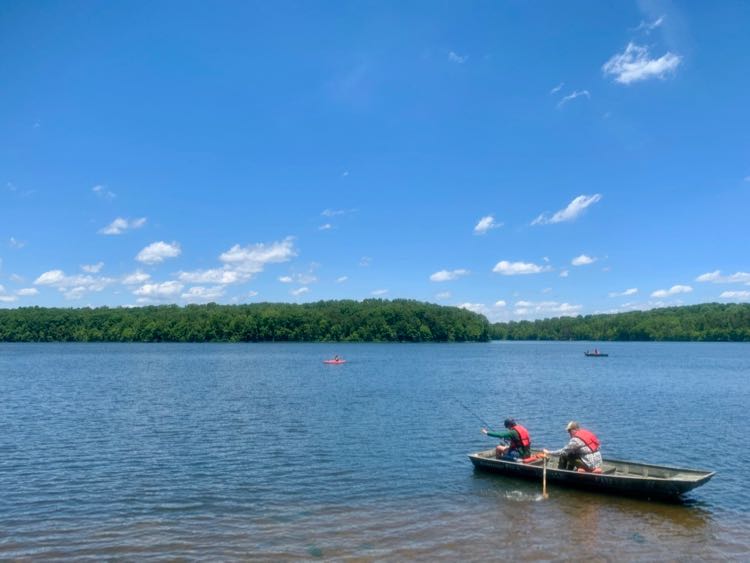 Side Trips from a Fairfax County Scenic Drive
Our scenic drive through Fairfax County is complete, but you can extend your day with side trips to several nearby sites. Use the following articles to plan an extended day out:
8 Great Things to Do in Vienna Virginia: Advice from a Local
Top 10 Things to Do in Reston Virginia: Advice from a Local
Hiking and Eagles on the Mason Neck Peninsula in Northern Virginia
Visit Meadowlark Botanical Gardens for Year-round Beauty in Northern VA
Play All Day at Lake Fairfax Park in Reston Virginia
Whether you stop for to hike, bike, boat, and fish or just stay in your car and enjoy the views, we wish you a beautiful scenic drive in Fairfax County VA.
Follow us on Facebook, Twitter, Pinterest, and Instagram for more fun travel in and from Northern Virginia.