2023 pumpkin patches in Northern Virginia deliver family-friendly Autumn fun with slides, tunnels, swings, corn mazes, and fall festivals guaranteeing happy times for all. From multi-acre corn mazes to laid-back pumpkin displays at local garden centers, there are fun Northern Virginia pumpkin patches for every budget.
Many garden centers offer scaled-down, more accessible pumpkin patches, usually open daily, and free or low-cost. Others build out huge playgrounds and charge admission. Some of these patches also made our list of the best fall festivals in Northern VA.
Read on to find the best 2023 pumpkin patches in Northern Virginia, plus corn maze destinations and more fall festivals.
Disclosure: This article may contain affiliate links. We will make a small commission from these links if you order something, at no additional cost to you.
Our list of pumpkin patches and fall festivals in Northern Virginia is grouped by paid admission and free entry, then listed alphabetically by town. Follow the links for additional details.
2023 Pumpkin Patches in Northern VA with Paid Admission
These pumpkin patches in the Northern Virginia area pack a lot of special activities and fun into their admission price. Some farms sell tickets online and weekends may sell out so get your tickets early.
Cox Farms Fall Festival, Cox Farms, Centreville, Sep 16-17, 23 – Nov 6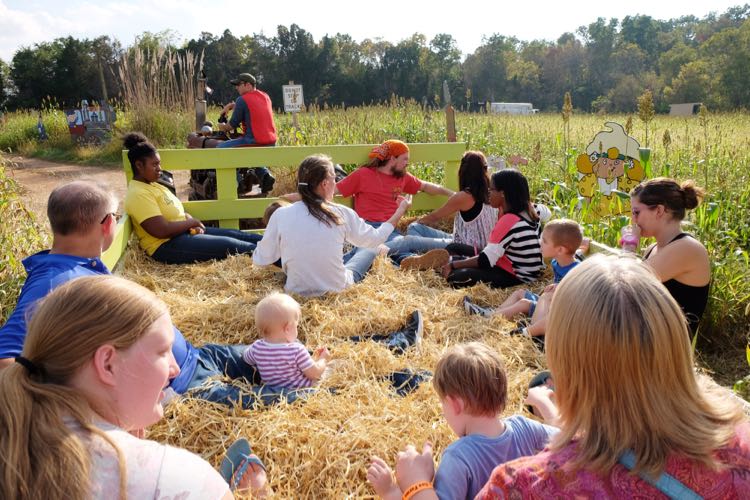 The happy mayhem of Cox Farms Fall Festival is back! One of the biggest and best fall festivals of the season, Cox is packed with slides, rope swings, farm animals, hayrides, a corn maze, and more. If you love a pumpkin patch with extra activities, Cox Farms is the place for you.
Tickets start at $10 and go up to $25 for peak days; purchase online or at the door. The fall festival is open 10:00 – 6:00; to 5:00 in November, closed on Mondays and Tuesdays.
Find more fall activities in our guide, Fantastic Ways to Celebrate Fall in Northern Virginia.
Pumpkin Village, Leesburg Animal Park, Leesburg, Sep 16 – Nov 5
Another of the local pumpkin patches with extra fun takes over Leesburg Animal Park Pumpkin Village every fall. Family-friendly activities include giant hill slides, a kid's maze, rope swings, pedal carts, moon bounces, a petting zoo, and more fall festival fun.
Visit the Leesburg Animal Park to pet and feed friendly, exotic, and domestic animals. Extra activities on the weekend include bounce pillows, a zip line, and live entertainment.
Open daily at 9:30 except closed Tuesday. $17.95 to $22.95 depending on age and date of visit.
Cox Farms Fields of Fear, Centreville, Sep 22 – Nov 4
Older kids and teens head to Cox Farms at night for the Cox Farms Fields of Fear, featuring scares in the corn maze, forest trail, and wagon rides. After the frights, hang out by the bonfire with music, games, and food. Find more scary and not-so-scary fun in our guide to Halloween in Northern Virginia.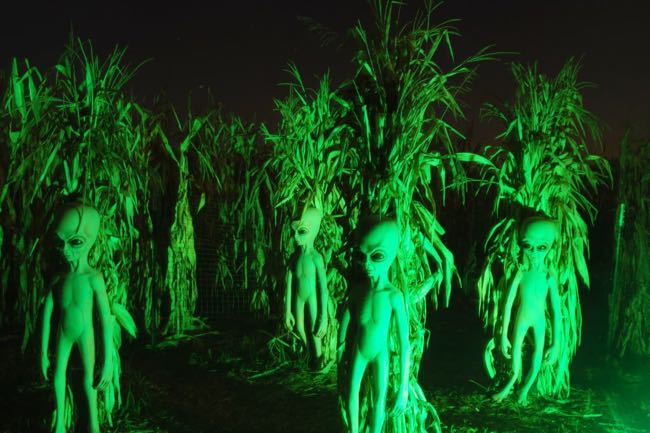 Fall Festival at Messick's Farm, Bealeton, Late Sep – October Weekends
Enjoy hours of kid-friendly fun at Messick's Farm Fall Festival, open on weekends in late September and throughout October. Get lost in the corn maze, try the giant slides and the bounce pillow, take a ride on the haywagon or barrel train, and more. $13 admission ($8 for 55 and up), 3 and under free. 10:00 – 5:00.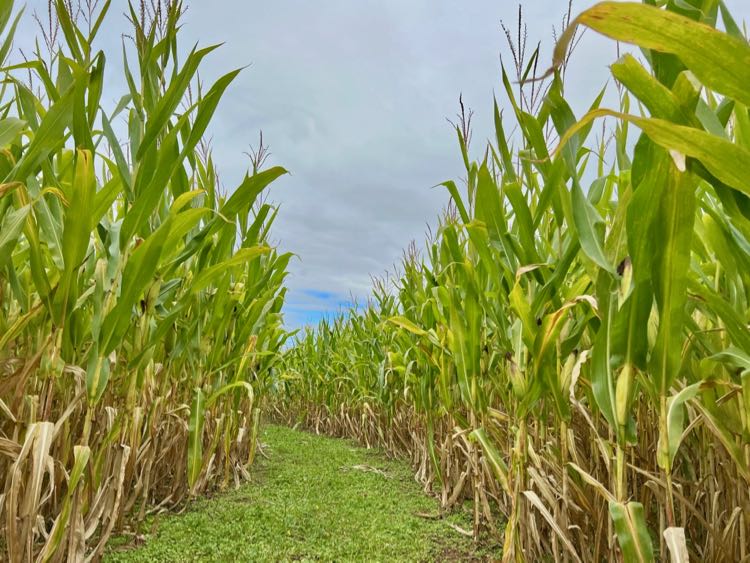 Wegmeyer Farms, Hamilton, Sep 23 – ?
Reserve your time online to visit the u-pick pumpkin field at Wegmeyer Farms. The farm grows 50 varieties of pumpkins! Wegmeyer is a great option for folks who like more traditional pumpkin patches.
Tickets are $30 and the price includes your first $30 worth of pumpkins. Open Thursday through Monday, 10:00 – 5:00.
Temple Hall Fall Pumpkin Patch, Leesburg, Sep 30 – Oct 31
Celebrate the season with a visit to the pick-your-own Temple Hall Farm pumpkin patch and sunflower field. Kids can visit the playground full of fun jumping pillows and slides. And everyone will enjoy a wagon ride and a visit with the farm animals.
Admission is $15 per person, $12 on weekdays, and includes a pumpkin and sunflowers. Open 9:00 – 5:00 daily.
Fall Pumpkin Harvest Festival, Great Country Farms, Bluemont, Oct 1 – 31
The annual Fall Pumpkin Harvest Festival at Great Country Farms delivers a whole month of kid-friendly fun. Pick your favorite from the pumpkin patch, get lost in the corn maze, explore the 5-acre play area, and more. On weekends, roast marshmallows, fire pumpkin cannons, and enjoy live entertainment. In 2023, the corn maze design honors GCF's 30th anniversary.
Purchase tickets online (recommended for weekends) or at the door. Open daily 9:00 – 5:00, until 6:00 on weekends. Weekend admission is $14/$16 child/adult, $10/$12 on weekdays. Pick your own pumpkins and some activities have extra fees.
Plan your visit: Fantastic Fun Things to Do in Bluemont Virginia. Getting there is part of the fun on this Scenic Drive in Loudoun County Virginia.
Fall Farm Days, Sky Meadows State Park, Paris, October Weekends
The Sky Meadows Fall Farm Days include independent and guided family-friendly activities in the Historic Area. October weekend events have weekly themes like "Life on the Farm," and they include live music and a children's play area. Activities are included with the regular $10 park admission.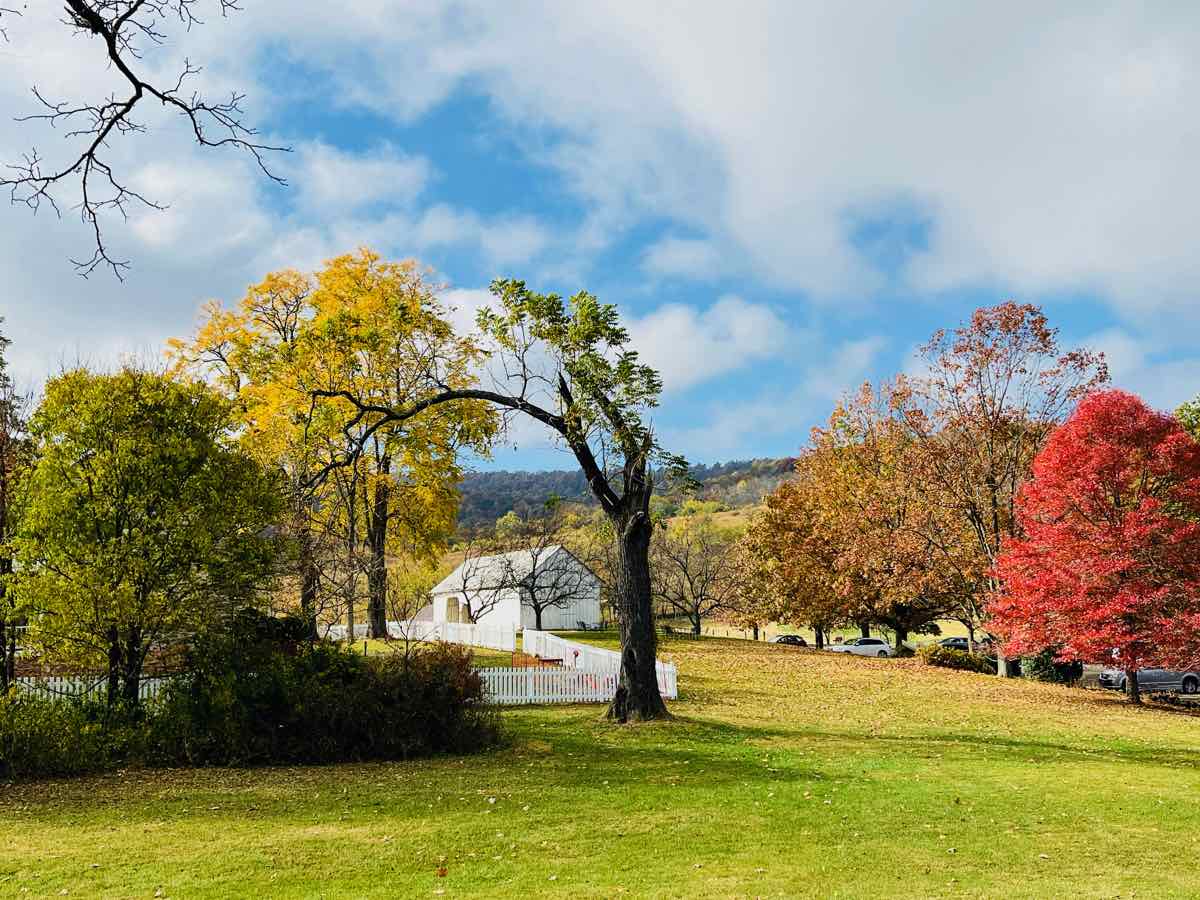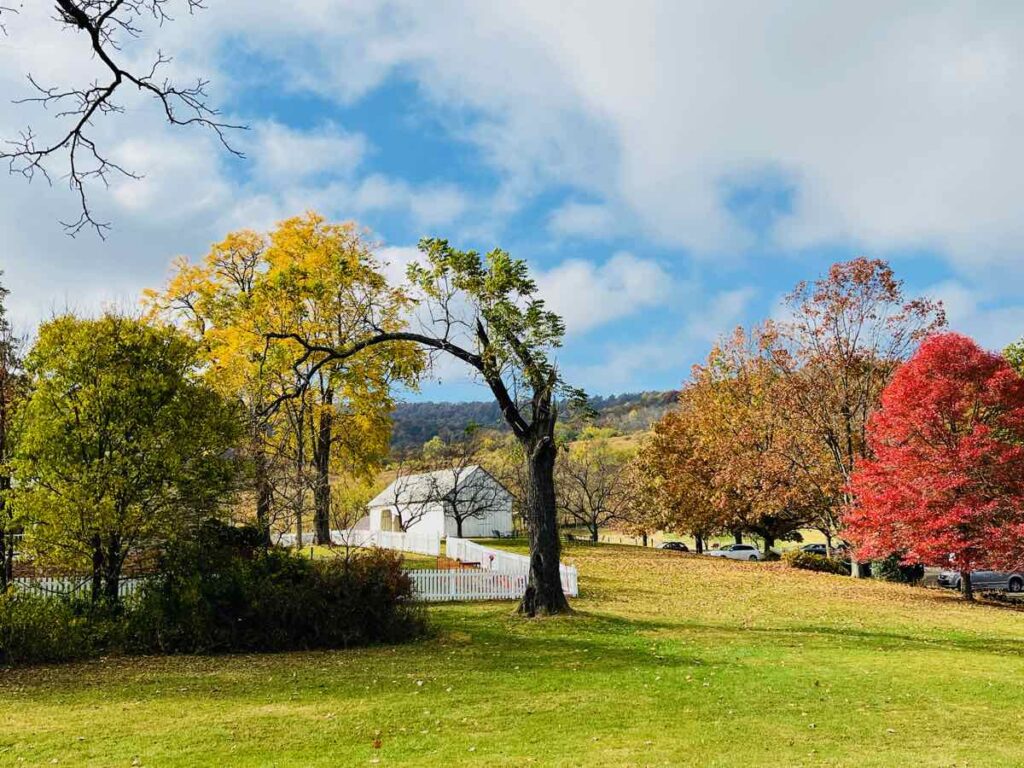 When you visit, enjoy the fall foliage and crisp Autumn air on a wonderful Sky Meadows loop hike to a view. October Saturdays and Sundays, 11:00 – 4:00.
Find more Autumn adventures with these 16 Favorite Fall Hikes in Northern Virginia.
Reston Farm Market, Reston, Sep 23 – Oct 29
The fun-filled Reston Farm Market Fall Festival celebrates the season with moon bounces, bouncy slides, an inflatable corn maze, train rides, and farm animals. A balloon artist, face painter, caricature artist, and food truck are on hand (extra fee). Purchase pumpkins, flowers, Halloween decorations, jams and treats, and all your seasonal favorites.
Tickets are $20 per child and $5 for an accompanying adult. Purchase timed entry tickets online for 90 minutes of play, Friday through Sunday, 9:00 – 5:00.
Blue Ridge Mountain Maze, Roseland, Sep 23 – Nov 5
The Blue Ridge Mountain Maze (formerly Corn Maze in the Plains) has a new location at Blue Toad Hard Cider in Roseland, about 40 minutes from Charlottesville. Enjoy a 5-acre corn maze, take a spin in the roll tubes, play corn hole, tackle the obstacle course, and more. Want an extra challenge? Come after 5:00 pm and try the Night Maze.
Day corn maze opens at 10:00 Friday through Sunday. The Night Maze, held Fridays and Saturdays, opens at dark but you can enter anytime after 5:00. Admission is $13 for ages 12 and up, $12 for ages 4 – 11, and tickets are available online or at the door.
Free Pumpkin Patches in Northern Virginia
These fall markets don't charge an admission fee, but there are often fees for activities such as hayrides. You'll also pay for your pumpkins and any other market purchases.
Nalls Produce, Alexandria
The popular Pumpkin Hill returns to Nalls Produce in late September. During your visit to Nalls, kids can play in the tunnel, visit with the chickens, say hi to the teacup pig, and locate the perfect pumpkin. Adults will enjoy shopping for fresh produce, apple cider, and specialty products.
Hartland Farms, Markham, mid-Sep – Oct
Take a scenic drive to the pretty small town of Markham for pumpkin patch festivities. Hartland Farm hosts a fall festival with play spaces, hayrides, a corn maze, and other activities. Then, pick your own pumpkin in the u-pick field. The farm stand also sells pre-picked fruit, produce, and cider. Open 9:00 – 5:00 (check for days).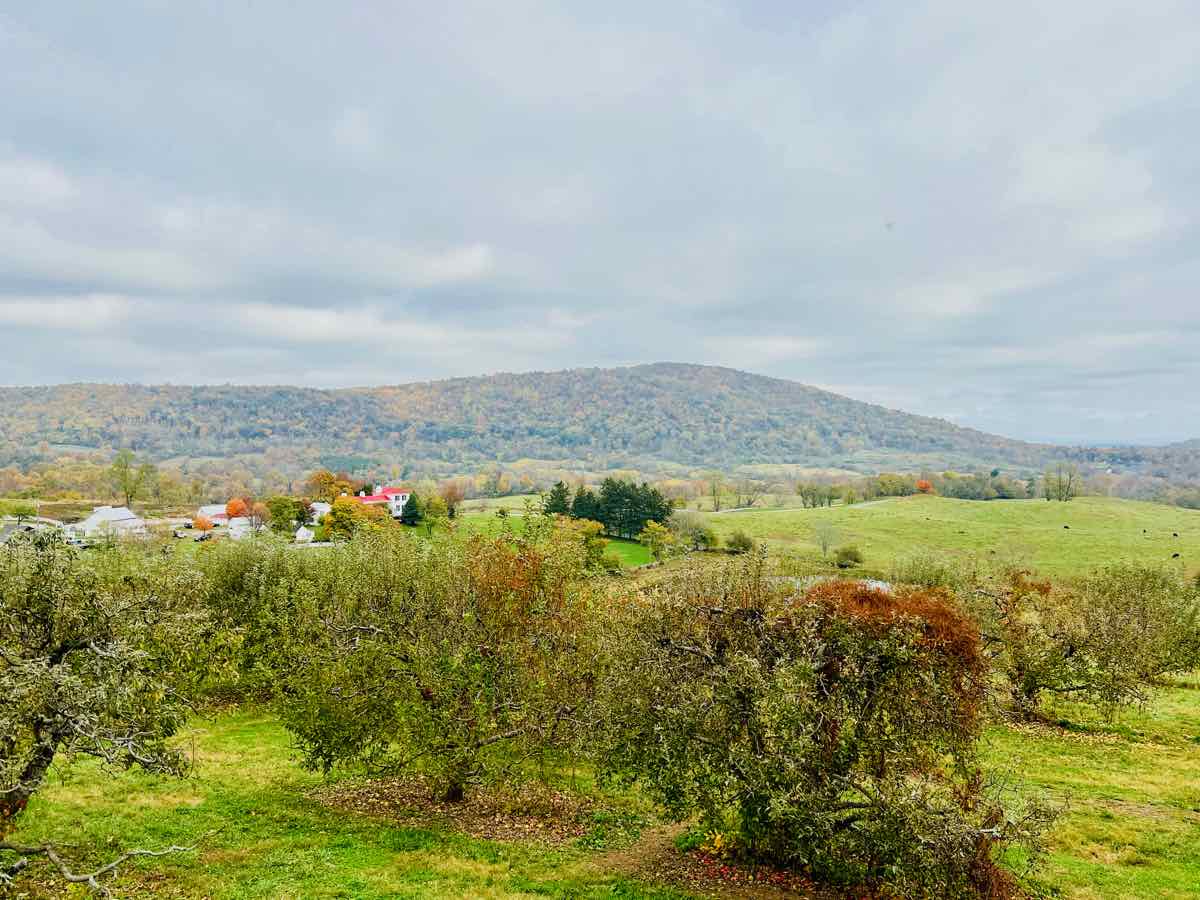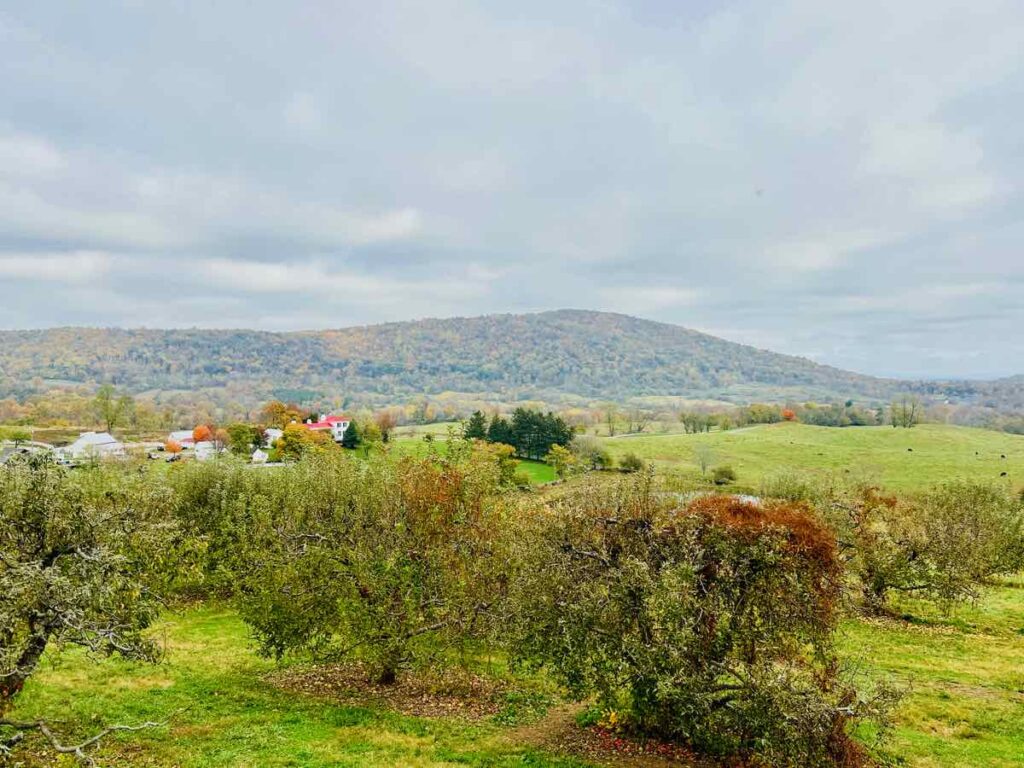 Yankey Farms, Bristow, Late Sep thru Oct Weekends
Pick the perfect pumpkin right from the vine in the giant Yankey Farms Pumpkin Patch. Visitors can also try the corn maze, visit the petting farm, take a hayride, ride the cow train, and have fun in the kid's play area.
Admission to the play area and activities is $6 but you only pay for your pumpkins if you just want to head to the u-pick pumpkin field. Friday 4:00 – 6:00, Saturday 10:00 – 6:00, Sunday noon – 6:00.
Burke Nursery, Burke, Oct 1 – 31
The annual Burke Nursery Pumpkin Patch is open with scaled-back offerings. Families can visit the pumpkin patch to capture fall photos with a perfect seasonal and Halloween backdrop. Shop a great collection of fall plants, pumpkins, cider, and Halloween decorations. 9:00 – 7:00 daily, to 6:00 Sundays.
Heather Hill Gardens, Burke
Heather Hill Gardens no longer offers a pumpkin patch play area for kids, but it's still a lovely nursery. The selection is manageable so this is a good place to let the kids pick out a Halloween pumpkin. There are several spots to take a fun Halloween or fall-themed family photo.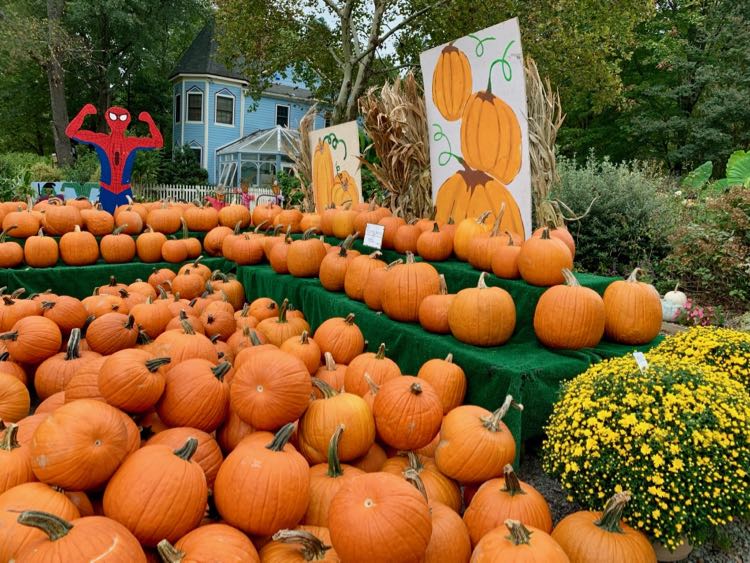 Valley View Farm, Delaplane, October
The pick-your-own pumpkin field at Valley View Farm is open throughout October. This is also one of the best places for apple picking in Northern VA. Adults get special activities too, including tastings at the farm winery and cidery. Open Friday through Sunday at noon.
Krop's Crops, Great Falls, October
Krop's Crops hosts fall fun throughout October. Play in the corn crib, visit the animals, and on weekends, take a hayride to the patch to find the perfect pumpkin. Open daily 10:00 – 6:00. Weekend hayrides are $4, open 11:00 to 4:00.
Marker-Miller Orchards, Winchester, Sep + Oct Weekends
Find the perfect pumpkin in the pumpkin patch and take a 25-minute hayride while you enjoy the mountain scenery at Marker-Miller Orchards. Kids can ride the cow train, enjoy the large playground, and sample pumpkin treats and apple cider donuts from the bakery. Admission is free and the hayride is $2. Saturday 9:00 – 5:00, opens at noon on Sundays.
On October 28, Marker-Miller hosts a Pumpkin Festival with food trucks, craft vendors, and lots of pumpkin treats.
Marker-Miller Orchards is on our list of the best places to visit in Winchester and is also one of the best spots for apple picking in Virginia.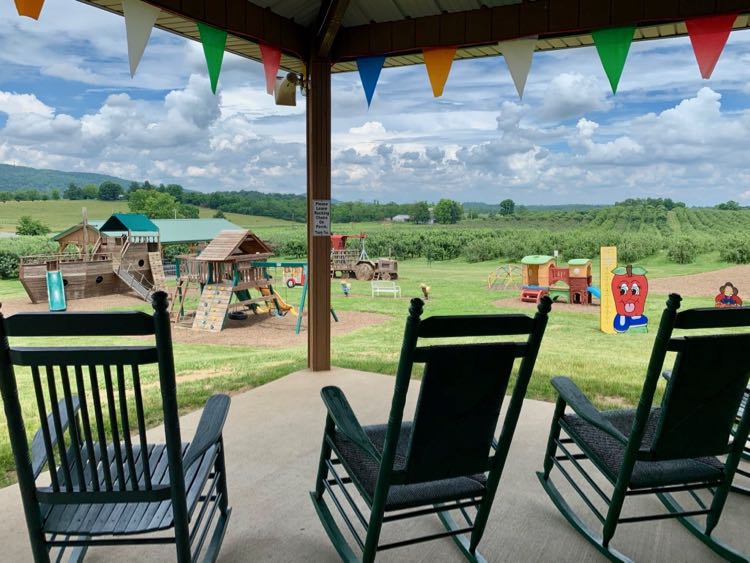 Read our complete guide for more Fun Things to Do in Winchester Virginia.
Hill High Farm, Winchester, Late Sep thru Oct
The Pumpkin Patch at High Hill Farm offers fun family activities including the largest corn maze in the area plus daytime and moonlit hayrides. Free children's activities include a petting zoo, straw maze, and play area. Daytime activities are open weekends, 10:00 – 5:00. Admission is free; the hayride and maze are $8 each.
Night activities, including a moonlit hayride (not haunted) and night maze, are open Friday and Saturday nights in October from 7:00 – 10:00.
For a separate admission, visit the Haunted Nightmares Haunted House and ratchet up the scares. The haunted house is open Friday through Sunday nights in October.
Lake Ridge Nursery, Woodbridge
The usual pumpkin patch kid's activities are closed, but you can still take fall photos and shop for seasonal plants at Lake Ridge Nursery.
Meadows Farms, Multiple Locations
There are several Meadows Farms locations in Northern Virginia that add extra Fall Festival activities. Our children enjoyed visiting the Great Falls location when they were young which included a "haunted" bus.
Pop-up Pumpkins, Various Locations
Several churches, shopping areas, and normally vacant lots open pop-up pumpkin shops during the season. Some of these short-term markets also include moon bounces, hay tunnels, and other activities for kids.
Pumpkin Patches Closed in 2023
These annual fall festivals are closed in 2023.
2023 pumpkin patches in Northern Virginia are full of fall festivals, corn mazes, hayrides, and other family fun. Our list offers plenty of choices, whether you want a full day of activities for kids, or a quiet spot to choose your autumn decorations.
Whichever fall festivals and pumpkin patches you visit, we wish you a happy time at fall festivals in Northern VA! Looking for more Autumn beauty? Our Northern Virginia Fall Foliage Finder has lots of great places for a perfect pic of fall colors.
Find more Autumn fun in our complete guide: Where to Go Apple Picking in Virginia
Follow us on Facebook, Twitter, Pinterest, and Instagram for more fun travel in and from Northern Virginia.
Pin it for Later: