The Workhouse Arts Center brings history and art to Northern Virginia in a repurposed prison with a fascinating background. The Lucy Burns Museum tells a powerful story of the prison's pivotal role in the fight for women's right to vote.
The museum opened in 2020 in conjunction with the 100th anniversary of the 19th Amendment and the Women's Suffrage Movement. The adjacent Jail Museum shares the darker history of the site's 91 years as a workhouse and prison.
Happily, visitors to the Workhouse can also tour and shop at a variety of art galleries, snap a fun photo with a LOVE sign, and extend the day at nearby destinations.
Disclosure: This article may contain affiliate links. We will make a small commission from these links if you order something, at no additional cost to you.
Lucy Burns Museum at the Workhouse Arts Center
The Lucy Burns Museum is an excellent introduction to the fight for women's right to vote in America. The museum is small but engaging. A timeline on the floor highlights shifting attitudes and laws as states granted, rescinded or ignored the rights of females.
Panels and displays explain how Suffragists demonstrated for change, enduring harassment and worse. The national story gains local importance in 1917 as women protesters were increasingly arrested and sent to prison in Occoquan and Washington DC.
On November 17, the "Night of Terror," 30 women were sent to the Occoquan prison where they were beaten and experienced horrific conditions. Hunger strikes and painful forced feedings followed, and the event gained national attention.
News of the treatment of these upper and middle-class white women increased public pressure. Finally, President Wilson announced his support for women's suffrage.
Be sure to look at the back of display panels, where you can see additional details about the women protesters. Lucy Burns was a leader of the movement who spent more time in jail than other suffragists.
The museum will also offer a Lucy Burns Treasure Hunt for kids, designed by a local South County High School student.
Jail Museum Shares History of the Lorton Prison
The suffragist story is not the only history to tell at the Workhouse. The museum also shares the changing experiences of people incarcerated in Lorton during its 91 years as a prison.
The original workhouse focused on redeeming non-violent criminals (mostly alcoholics and vagrants). Later, a medium-security reformatory and a maximum-security penitentiary were added to house violent criminals. By the early 1990s, the Lorton Prison had become an overcrowded and dangerous place, where gangs, drugs, and attacks were common.
Displays at one end of the museum explain the shift from workhouse to dangerous prison, and share stories of the men incarcerated there. Be sure to look at the book that highlights individual prisoners like Go-Go legend Chuck Brown, who began playing guitar during his time at Lorton.
For a $5 admission, guests can tour a renovated cell block, with both solitary and regular cells, including one cell that depicts the forced feeding of suffragists. Our tour was guided by former corrections officer Bill Jernigan, who worked at the Lorton Prison for 26 years. He explained how solitary confinement cells both punished and protected those inside from attacks by other prisoners. 
Fairfax County LOVE Sign
Kick-off your visit at the Workhouse LOVE sign, the first Virginia LOVEwork in Fairfax County. LOVE signs celebrate the state's "Virginia is for Lovers" tagline, and they make a fun photo opp for romantic, family, and happy pictures. The brick buildings make a nice backdrop to your photos.
Find more fun Virginia LOVEworks with our guide: Celebrate Romance and Family Fun at Virginia LOVEworks
Arts and Events at the Workhouse Arts Center
The Workhouse is one of our favorite hidden gems in Northern Virginia, and it's a brilliant reuse of this once troubled location. Former dormitories are transformed into art workshops and galleries with artists working in a variety of mediums. There are 9 galleries with more than 60 artists who create in this shared studio and classroom space.
Visitors to the Workhouse can stroll through the galleries, shop for one-of-a-kind items, and talk with the artists at work. Begin your visit at Building W-16, which has a shop, rotating exhibitions, an information desk, and restrooms. Staff can tell you which galleries are open and about any special events or classes.
From there you can explore the galleries that interest you most, or better yet, visit them all. While you have to walk outside between galleries, you'll be indoors or under the covered walkway most of the time. That makes the Workhouse a good indoor activity for rainy and chilly days in Northern VA.
One of the best times to visit is for a 2nd Saturday Art Walk. During these free monthly events, all of the galleries host receptions, and you can meet the artists. During the warmer months, there is live entertainment in an outdoor tent, plus wine and food, making this a fun date night or girl's night out destination.
In addition to 2nd Saturdays, the Workhouse Arts Center hosts fun annual events including a Workhouse Beerfest, summer concerts on Saturday evenings, 4th of July fireworks (held on the Saturday before the 4th), and spooky Halloween tours. Follow our monthly event listings to learn about special festivals and activities at the Workhouse and throughout Northern Virginia
Plan Your Visit to the Workhouse Arts Center
The Workhouse Arts Center is easy to visit and makes a great first stop on a day trip to the Lorton and Occoquan area.
Both the galleries and the Lucy Burns Museum are open Friday and Sunday noon – 5:00; Saturday 11:00 – 5:00.
Admission and parking are free except during some special events. There is a $5 charge to tour a renovated cell block in the Lucy Burns Museum.
The Workhouse is on Route 123 and the address is 1958 Workhouse Way in Lorton, Virginia.
All galleries and the museum are wheelchair accessible and there are paved, level walkways between buildings.
Visit the Workhouse Arts Center website for more information and the latest event listings.
Things to Do Near the Workhouse Arts Center in Lorton VA
You'll find plenty of interesting things to do nearby after your visit to the Workhouse and the area makes a nice day trip from Washington DC.
Hikes and Parks Near Workhouse Arts Center
Head to nearby Occoquan Regional Park to learn more about the road to women's right to vote. Here, the new National Turning Point Suffragist Memorial also honors the fight for women's vote that you learned about at the museum.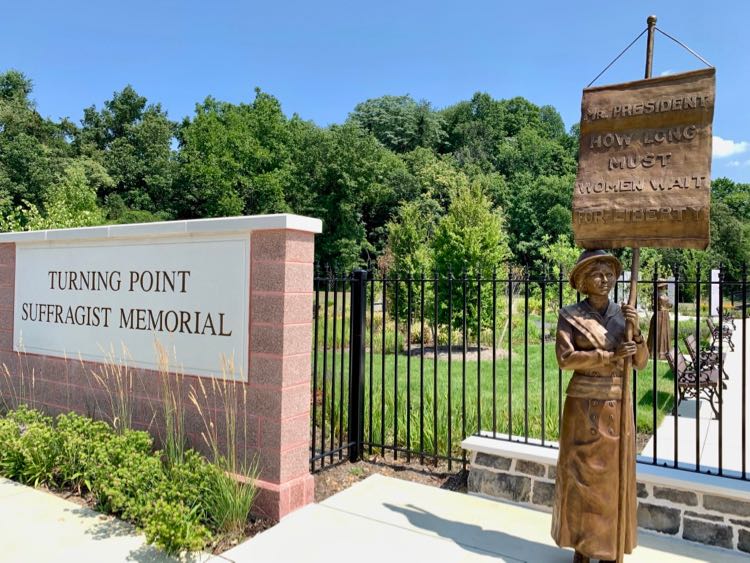 Be sure to check out the nearby beehive brick kiln, where prisoners made bricks for buildings throughout the DC area.
In addition, Occoquan Regional Park has a paved loop trail and a short but pretty woodland trail. You can also rent kayaks seasonally, and explore part of the Occoquan Water Trail, just like Captain John Smith did in 1608.
Just a few miles away, the Mason Neck Peninsula is home to several excellent places to hike and bike. Mason Neck State Park has a nice collection of easy trails, seasonal boat rentals, and a playground and Visitor Center. The Meadowood Recreation Area offers great dirt biking trails, plus meadow and woodland trails that are popular with hikers, dog walkers, and equestrians.
American History at Gunston Hall
Another highlight on the Mason Neck Peninsula for history lovers is Gunston Hall, the family home of George Mason IV. Mason was a statesman who wrote the Virginia Declaration of Rights. In his declaration, he called for fundamental rights such as religious tolerance and freedom of the press. These ideals would become the foundation of the United States Bill of Rights.
Visitors to Gunston Hall can tour the mansion and learn about Mason's role in American history. There are also hiking trails and a beautifully restored garden to explore. Gunston Hall is open daily except for Thanksgiving, Christmas, and New Years Day, and there is a $10 admission.
Where to Eat Near the Workhouse
One of the newest restaurants near the Workhouse is a particularly good option on a warm day. The Brickmakers Cafe is just down the street in Occoquan Regional Park. The cafe, which opened in 2019, has a spacious outdoor patio overlooking the Occoquan River, as well as indoor seating.
The casual menu includes sandwiches, salads, burgers, fish and chips, and more. Brickmakers Cafe also offers a good selection of Virginia craft beer and wine.
The quaint town of Occoquan, just across the river in Prince William County, is another excellent option for restaurants near the Workhouse Arts Center. We love the hidden location and delicious dishes at The Secret Garden, and they are one of our favorite spots for outdoor dining in Northern VA.
If you just want a sweet treat, visit Mom's Apple Pie, definitely one of the best NoVA pie shops.
The new Lucy Burns Museum is a fantastic addition to Northern Virginia and the Workhouse Arts Center. Whether your focus is art or history, you'll find interesting things to see and do at the Workhouse and nearby.