Updated on November 7, 2023 by Julie McCool
Take a Great Falls scenic drive to visit pretty country roads, beautiful parks and trails, and a small downtown with tasty restaurants in Northern Virginia. Our loop route begins and ends in the center of Great Falls, Virginia, just 20 miles west of Washington DC.
You can complete the Great Falls scenic drive in about an hour, but we suggest a longer outing. You'll want to allow time to visit some of the parks, trails, and local businesses along our route.
Disclosure: This article may contain affiliate links. We will make a small commission from these links if you order something, at no additional cost to you.
You can also combine this route with a Scenic Drive on the George Washington Memorial Parkway to create a longer day trip. Historic Georgetown Pike and part of the town of McLean is included in both drives.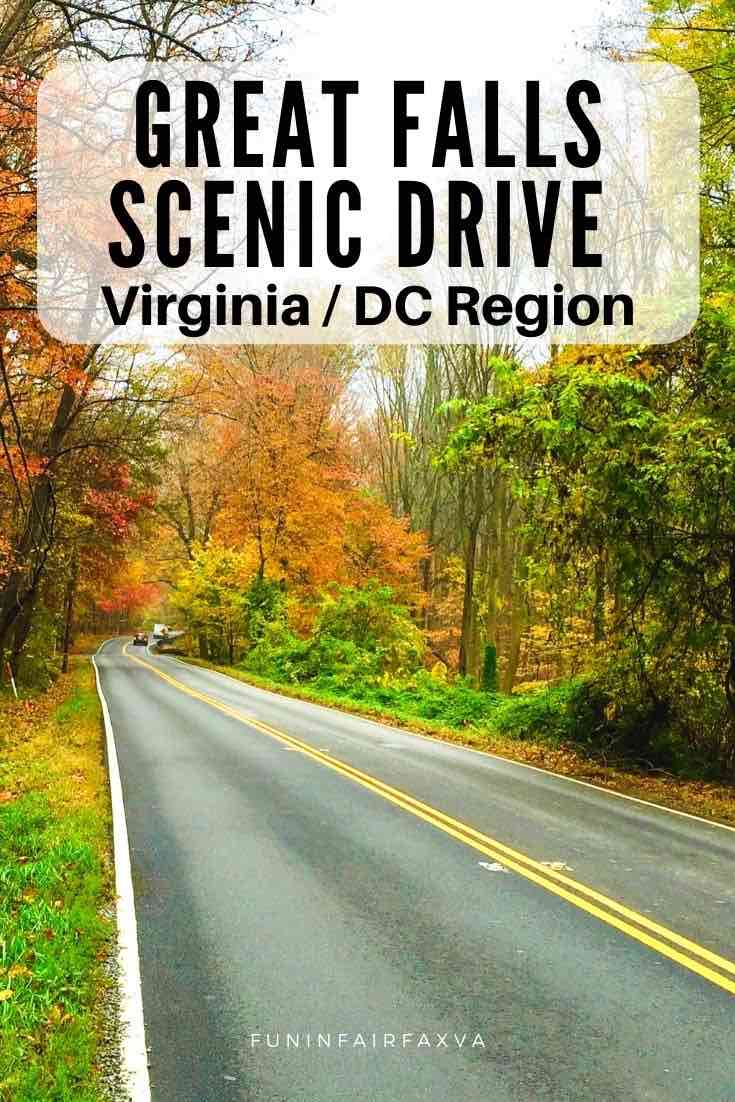 The map shows our recommended Great Falls scenic drive route. We begin at the Great Falls Grange and end at one of our favorite pubs in Northern VA, next to the town green.
Great Falls Scenic Drive: Town Center to Riverbend Park
The first part of our drive begins in the town center at the Great Falls Grange (next to the library). If you have kids along, visit the excellent playground and let them run off steam before you start your drive.
Next to the playground is the Old Forestville Schoolhouse, which is listed on the National Register of Historic Places. The original one-room schoolhouse was constructed in 1889 to serve the white children of Forestville (now Great Falls). In 1911, the school was expanded and today the building serves as an event space.
Georgetown Pike
Turn right from the Grange and drive west on Georgetown Pike. You are driving on the first Virginia Byway, built in the early 1800s with hand tools and horse-drawn equipment.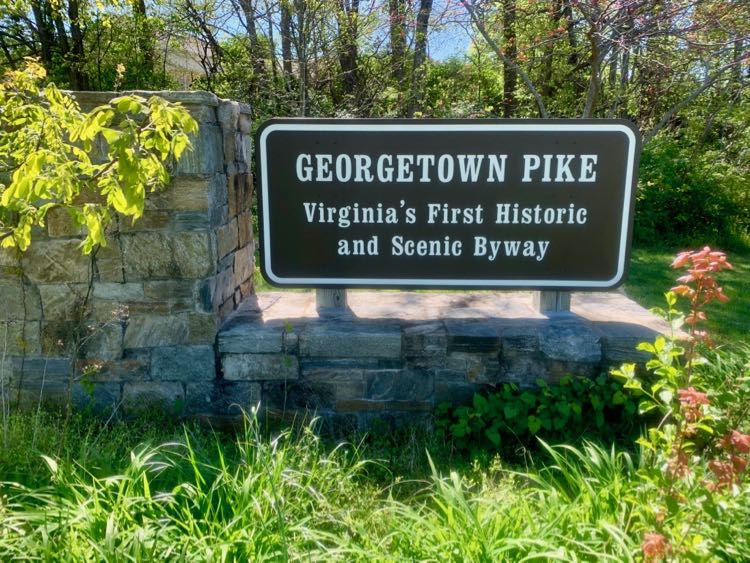 Just past Utterback Store Road, stop at Kopp's Crops to shop for local jams, produce, plants, and trinkets. In the fall you can visit the pumpkin patch and pick up seasonal decorations. During the holiday season, take a ride to the cut-your-own field or choose a pre-cut Christmas tree.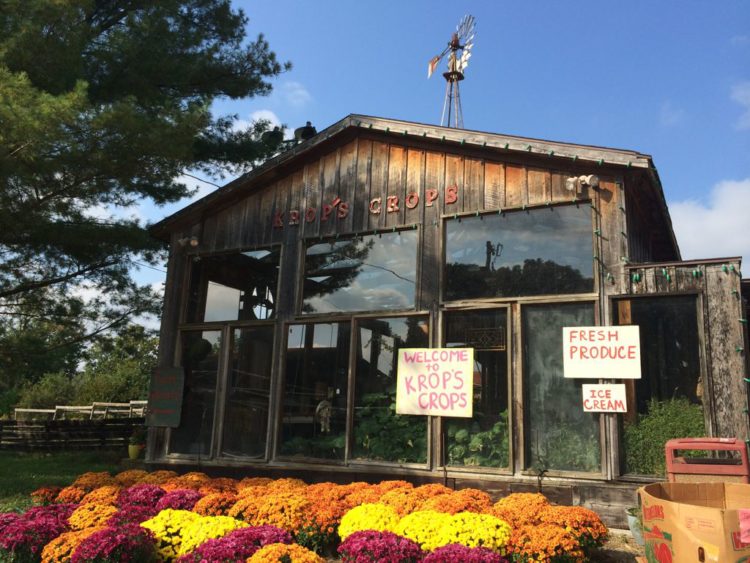 Seneca Road
Turn right on Seneca Road, heading north. This quiet country road is lined with stately homes and neighborhoods. Follow the road all the way to the end to reach Seneca Regional Park. This hidden gem in the Northern Virginia park system is a beautiful place to hike.
Seneca Park trails meander through the woods to the Potomac River and a nice segment of the Potomac Heritage National Scenic Trail. Here you can see a section of stone wall built by George Washington's Patowmack Canal Company.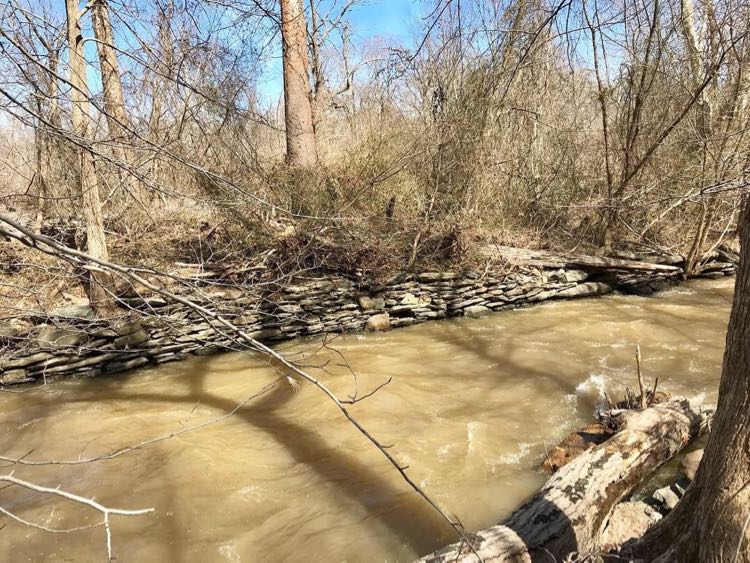 Before you leave, look for a historical sign near the parking lot. It explains a dramatic Civil War cavalry crossing here by J.E.B. Stuart's brigades. Return south on Seneca Road and turn left on Beach Mill Road.
Beach Mill Road
Narrow and twisting, Beach Mill Road is lined with large homes, rolling hills and fields, and quiet woods. Slow down and use caution as you enjoy a drive on this quiet country road. The road dips and climbs and there are lots of tight turns and a one-lane bridge to cross.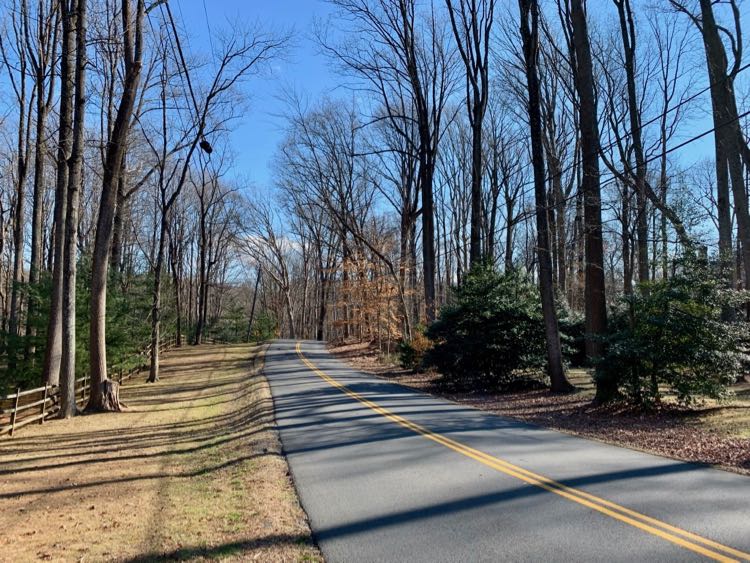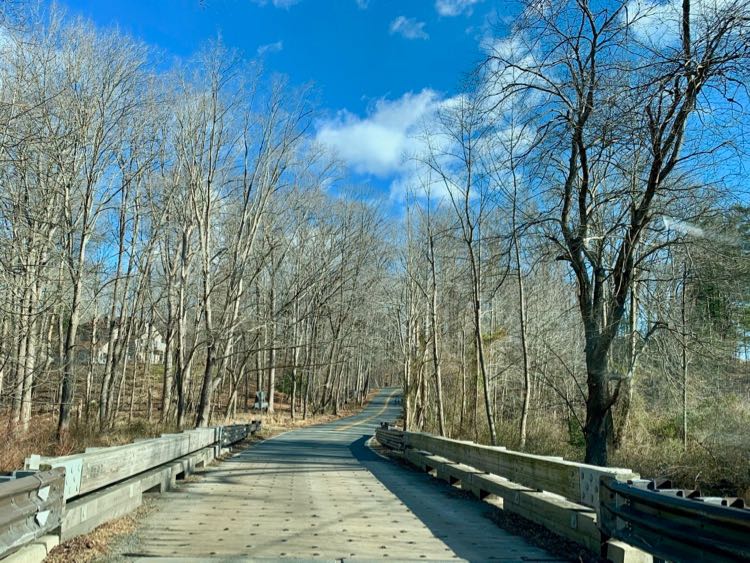 At the corner of Springvale Road is one of Northern Virginia's most romantic restaurants, L'Auberge Chez Francois. This is a wonderful place to stop for a meal or a drink. If the weather is good you can relax in the pretty courtyard with a view of the kitchen garden.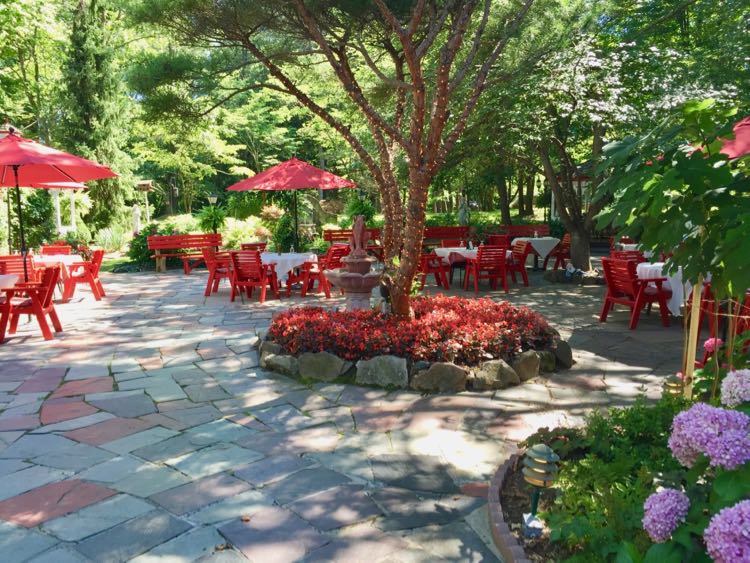 Round the corner and then head left to continue on Beach Mill Road. When the road appears to end turn right on Walker Road, then left on Beach Mill. In just under 1.5 miles the road ends. Turn right on River Bend Road.
River Bend Road and Park
In just half a mile, take a sharp left turn on Jeffrey Road to visit the Potomac River at Riverbend Park. There is no park sign coming from this direction so keep an eye out for the turn. Follow Jeffrey Road less than a mile to the park entrance.
Riverbend Park is another of our favorite outdoor spots in Northern VA. Here you can hike, paddle the Potomac (in season), learn about the area's geology and early inhabitants, or just relax with a pretty river view. The park is a year-round destination.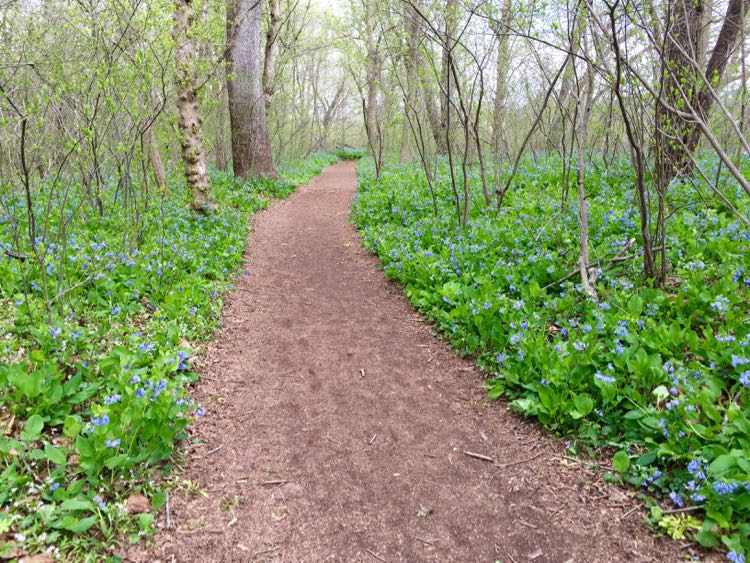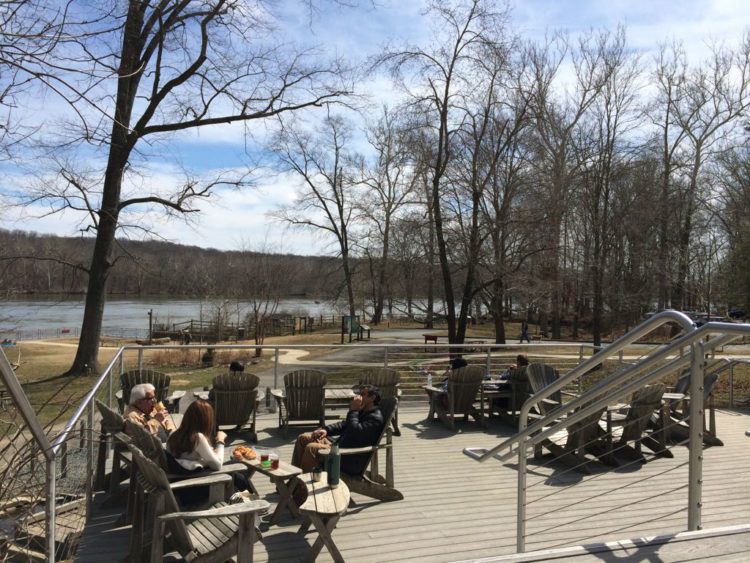 Scenic Drive from Riverbend Park to Great Falls Center
When you leave the park turn left on Jeffrey Road then left on River Bend Road. At the light, turn left on Georgetown Pike, heading east. Soon, you pass Great Falls Park. You could visit now but we'll return to the park further on our drive.
Georgetown Pike to Scotts Run
Georgetown Pike narrows and twists as you navigate rolling hills. Slow down and watch for cross traffic and hikers. The road here is especially pretty when fall foliage colors the woods.
Watch for horses in the field as you pass the Madeira School, a private girls school with a 70-year-old equestrian program.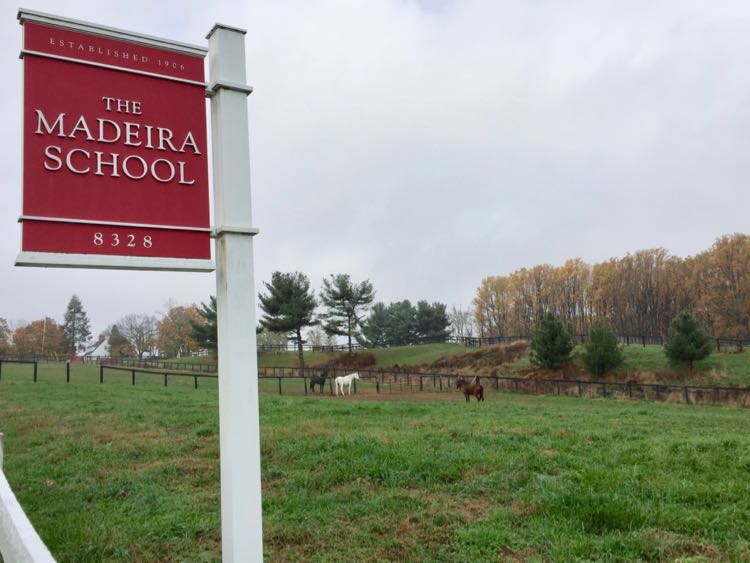 Scotts Run Regional Park
Scotts Run Regional Park is the next stop on our Great Falls scenic drive. Here you can take a hike to one of the closest waterfalls to Washington DC. This is a great hike for kids as long as they can manage a steep hill and a stream crossing on concrete pillars.
The direct trail to the waterfall is two miles out-and-back. We prefer a 3-mile Scott's Run loop hike that combines the falls with woodland trails and a section of the Potomac Heritage Trail.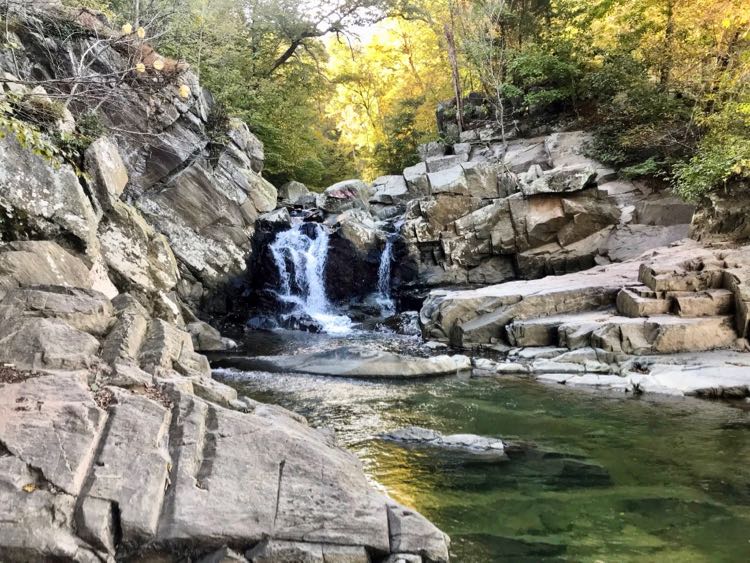 Our next scenic road is Swinks Mill Road, almost directly across from the Scott's Run parking area.
Swinks Mill Road and Old Dominion Drive
The next two roads on our scenic drive do not have any stops. We include them here so we can loop back to Great Falls Park without backtracking on the road we just drove. This section of the drive passes through part of the town of McLean.
Note the house on the corner as you enter Swinks Mill Road. Built around 1878, this was the miller's house for Swinks Mill. The mill operated here from 1877 to 1908, grinding corn, wheat, and rye. Follow Swinks Mill Road south less than .5 miles then turn right on Old Dominion Drive.
As you drive Swinks Mill and Old Dominion roads watch for giant homes sprinkled along the way. Many diplomats, government officials, and TV news personalities live in McLean, and that is reflected in the homes. At time of publication, homes for sale on these roads ranged from $2 to $8 million dollars!
Great Falls Park
In 4.5 miles Old Dominion Drive intersects with Georgetown Pike where you passed earlier. Go straight ahead at the light and you enter Great Falls Park. This national park is a popular day trip from Washington DC. Residents and visitors to the DC region flock to the park to see dramatic waterfalls and narrow Mather Gorge.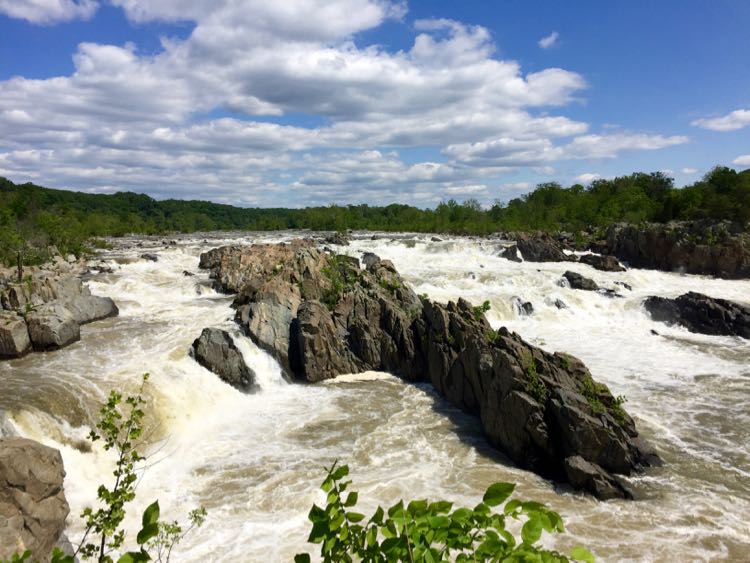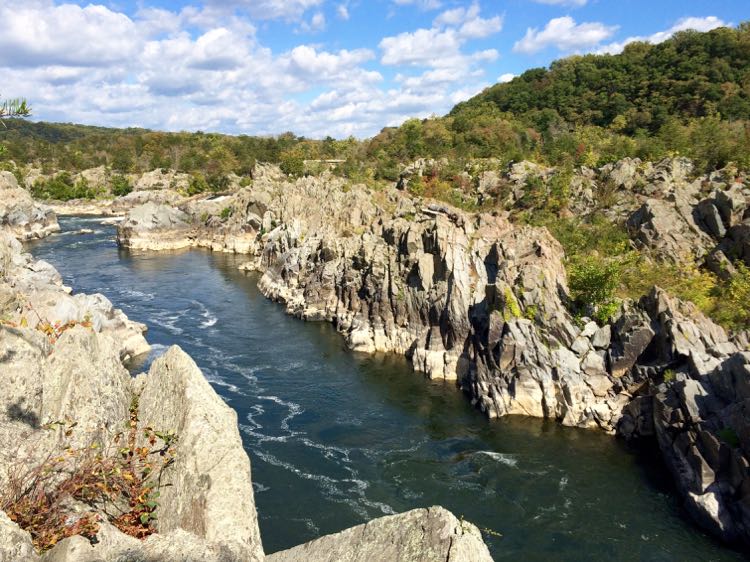 You can easily spend hours hiking, picnicking, and exploring history at Great Falls. Plan your visit with our park guides:
Note that Great Falls has a $20 entrance fee, or you can use your National Park Pass to enter. The park is very busy on warm weekends and the wait to enter can be over an hour long. If there is a crowd when you visit, consider these 10 Great Falls Park Alternatives When Entry Lines Are Long.
When you leave the park, turn right on Georgetown Pike for the drive back to Great Falls center. In spring, watch for cherry trees in bloom as you pass Ad Hoc Road.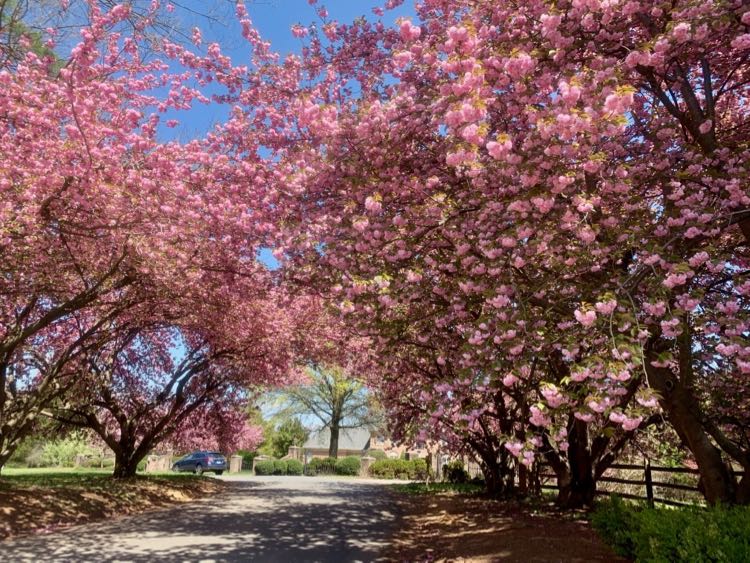 There are several great restaurants just past the Grange (where you started your drive). We love the casual pub atmosphere at The Old Brogue and their patio is one of our favorite spots for outdoor dining in Northern Virginia.
Other good dining options include Bollywood Bistro and Finn Thai. If you prefer a sweet treat, stop at Great Falls Creamery for a tasty cone.
Things to Do on the Great Falls Scenic Drive
Stop at Krop's Crops to shop for produce and treats. In fall, visit the pumpkin patch.
Follow Seneca Road to the end for a hike through Seneca Regional Park, then backtrack to Beach Mill Road.
Beach Mill is a narrow, twisting road that passes the top-rated L'Auberge Chez Francois. Stop in for brunch, lunch, or a glass of wine.
Make a short side-trip to Riverbend Park for an easy hike along the Potomac River.
Hike to a pretty waterfall near Washington DC at Scott's Run Nature Preserve.
Enjoy scenic roads dotted with giant homes.
Stop at Great Falls Park for waterfall views and a hike along Mather Gorge.
Stop in the center of Great Falls for a meal or drink at The Old Brogue, Bollywood Bistro, or another Great Falls restaurant.
Even if you skip the hikes and parks, our Great Falls scenic drive is a pleasant way to slow down and enjoy one of Northern Virginia's pretty, small towns.
Plan more relaxed outings with our guide to 6 Beautiful Northern Virginia Scenic Drives Near Washington DC. Happy exploring!
Follow us on Facebook, Twitter, Pinterest, and Instagram for more fun travel in and from Northern Virginia.