Updated on November 7, 2023 by Julie McCool
These tasty Northern Virginia area pubs serve up rich, traditional meals that are especially welcome on a chilly day. We love to relax with a pint of Smithwicks or Guinness year-round, but pubs are especially cozy when the weather turns cold. Whether the source is Irish or English, they are sure to offer rich stews and casseroles, and our favorite, fish and chips.
Happily, many Virginia pubs have patios that make them a great option for outdoor dining on warmer days.
Disclosure: This article may contain affiliate links. We will make a small commission from these links if you order something, at no additional cost to you.
Northern Virginia Area Pubs
Here are some of our favorite Northern Virginia area pubs where we've enjoyed a meal and a pint. This is not a comprehensive list as there are many more pubs on our list to try. (Please leave your suggestions in the comments below).
You'll find even more Irish Pubs in our guide to St Patricks Day Celebrations in Northern Virginia.
The Old Brogue, Great Falls
We frequent The Old Brogue when cold winter nights call for a steaming bowl of Guinness Beef Pie, or warm spring days prompt a pint on the patio. The enclosed patio out back has two stoves so it's even welcoming in cooler months. The Brogue is our favorite stop close to Great Falls Park and Riverbend Park. Before or after your meal, take a Great Falls Scenic Drive on Pretty Country Roads in Northern Virginia.
The Brogue's fish and chips are delicious, and we're also fond of the Irish Beef Pie, the Irish Banger Rolls appetizer, and the salmon salad (especially in summer). The pub's bar is small, but the main room has plenty of booths and tables to host the crowds. If you're in the area for breakfast, stop in Katie's Coffee Shop next door.
Check out our guide to 25 Tasty Options for Northern Virginia Outdoor Dining for pubs and more.
The Auld Shebeen, Fairfax
Located in Old Town Fairfax, The Auld Shebeen offers traditional dishes in a nice Irish Pub setting. Ask for a table in the cozy front seating area, or grab a stool at the long bar. We've enjoyed the Burdock's Fish and Chips and the St. James Gate Beef Stew, along with a pint, of course.
The restaurant gets very busy (and a little loud) on the weekends when Irish trad music is on offer. But it's a fun vibe if you're ready to clap along. Monday nights are a great time to visit when traditional Irish specials are only $9.95.
Hawk and Griffin British Pub, Vienna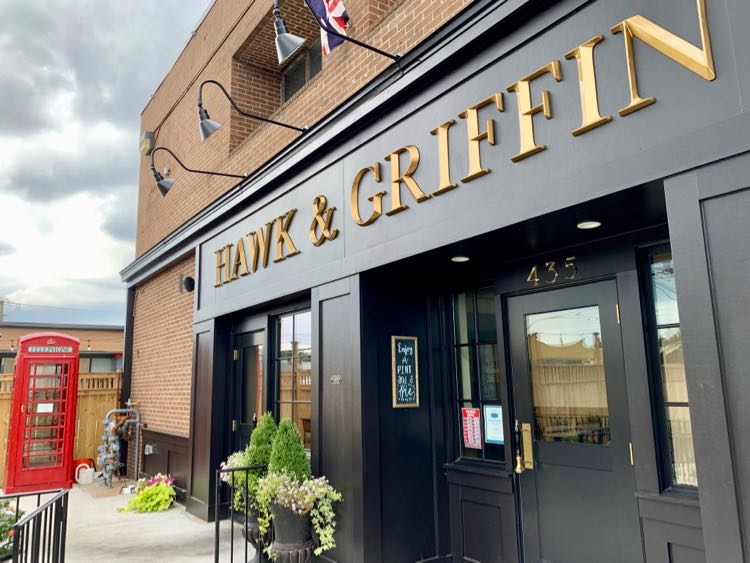 A newer player among Northern Virginia area pubs, Hawk and Griffin occupies a convenient spot on Maple Street in Vienna. Here diners will find a welcoming interior with tables, booths, a bar, and two snugs plus an outdoor patio.
The Hawk and Griffin offers all the traditional favorites, from Scotch Eggs to Steak and Stout Pie, plus a full bar with an impressive Gin & Tonic selection. Co-owner Michael Burgess owns the nearby Pure Pasty Shop, and you'll find his award-winning hand pies on the menu. We highly recommend the Fish and Chips, some of the best we've found in Northern Virginia area pubs.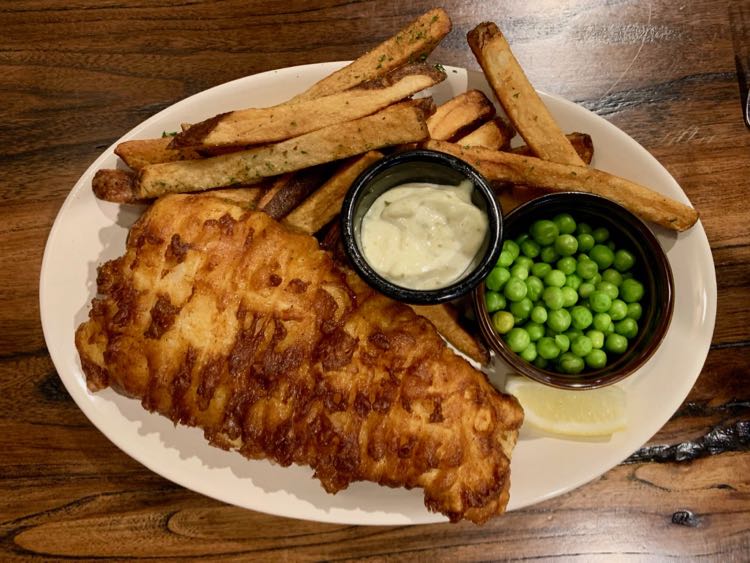 Nearby fun: 8 Great Things to Do in Vienna Virginia
Hunter's Head Tavern, Upperville, Virginia
Another English Pub we love is Hunter's Head Tavern in Upperville Virginia. The tavern is a tasty stop on a scenic drive through Loudoun County or after a hike at Sky Meadows State Park. The pub's menu is sourced with organic local farm meats and produce harvested from neighboring Ayrshire Farm, which shares the same owner.
The food is fresh and delicious, whether you stick to traditional fish and chips or focus on salads and vegetables. In winter, try to score a table by the fireplace. In summer, we recommend a spot in the lovely courtyard patio.
Visit the Tavern on a Hunt Country scenic drive.
Griffin Tavern / Dark Horse Irish Pub, Flint Hill, Virginia
Note: The tavern is under new ownership and is now called the Dark Horse Irish Pub. The new owners promise the same tasty pub food and beautiful setting.
One of our favorite places to stop after a day trip to Shenandoah National Park. is Griffin Tavern in Flint Hill. We've stopped in for a quick pint on the porch, and returned for a casual burger and fries on the deck. The friendly atmosphere, lovely porch and deck area, and beautiful dining room are all comfortable places to dine at this English Pub.
Favorite dishes like fish and chips and Shepard's Pie are worth the drive as well. And a lovely drive it is. We highly recommend a scenic route through Flint Hill when you are heading to Shenandoah from the DC area Find info on our route in 5 Ways to Enjoy Fall Foliage in Shenandoah National Park.
Galway Bay Irish Pub, Annapolis, Maryland
There are some lovely pubs in Annapolis, Maryland's historic downtown. We highly recommend a stop at Galway Bay for Irish standards, delicious seafood, and a taste of their imported Irish Egg Nog. The restaurant's cozy, brick interior offers comfortable seating areas and a nice long bar. We especially love the decor in the back room.
On our last visit, we over-indulged on Crab and Oysters Chesapeake, a filling combination of crabcake and fried oysters with chips. In winter, be sure to try the handcrafted, custom-made Irish eggnog "from the rich pastures of County Cavan near Dublin." So delicious!
Plan your visit: Weekend Getaway to Annapolis Maryland.
Looking at all of these pictures has made us hungry! Fortunately, there are many wonderful Northern Virginia area pubs so we won't be getting bored with our fish and chips options anytime soon.
Check out these articles for more great places to eat in Northern Virginia:
Happy dining!
Follow us on Facebook, Twitter, Pinterest, and Instagram for more fun travel in and from Northern Virginia.