Updated on November 21, 2023 by Julie McCool
Here are the best hikes in Northern Virginia for all skill levels, at beautiful parks and epic trail networks close to Washington DC. These hikes in Northern VA lead to waterfalls, scenic views, wildlife, rock scrambles, and historic sites for outdoor fun without a longer drive to Shenandoah National Park.
Best Hikes in Northern Virginia
My picks for the best hikes in Nothern VA are based on my personal experience during 25+ years of hiking in the DC area. I have hiked the entire Fairfax Cross County Trail (40 miles) and Bull Run Occoquan Trail (18 miles), plus many more NoVA trails. Fortunately, many of the best Northern Virginia hikes can be tackled in segments or extended with connecting trails.
Disclosure: This article may contain affiliate links. We will make a small commission from these links if you order something, at no additional cost to you.
These hikes in Northern Virginia are grouped by county with Fairfax County listed first. Read on or jump ahead to trails in Alexandria and Arlington, Fauquier and Loudoun County, and Prince William County.
Best Hikes in Fairfax County VA
Fairfax County Park Authority maintains about 330 miles of trails offering some of the best hiking in Northern Virginia. In addition, NOVA Parks and the National Park Service maintain trails at parks in Fairfax County. Four long trail networks cross the county, providing many miles of scenic dirt and paved trails to hike and bike.
Fairfax County trails vary, with a mix of natural, paved, gravel, and stone dust surfaces. The mixed surfaces offer a nice range of difficulty, and there are many easy hikes and trails perfect for families.
Great Falls River Trail, Great Falls Park
Perhaps the most beautiful hike in Northern Virginia, the Great Falls River Trail features spectacular views of waterfalls, the Potomac River, and Mather Gorge. Connecting trails share the park's interesting history including sections of a canal system spearheaded by George Washington.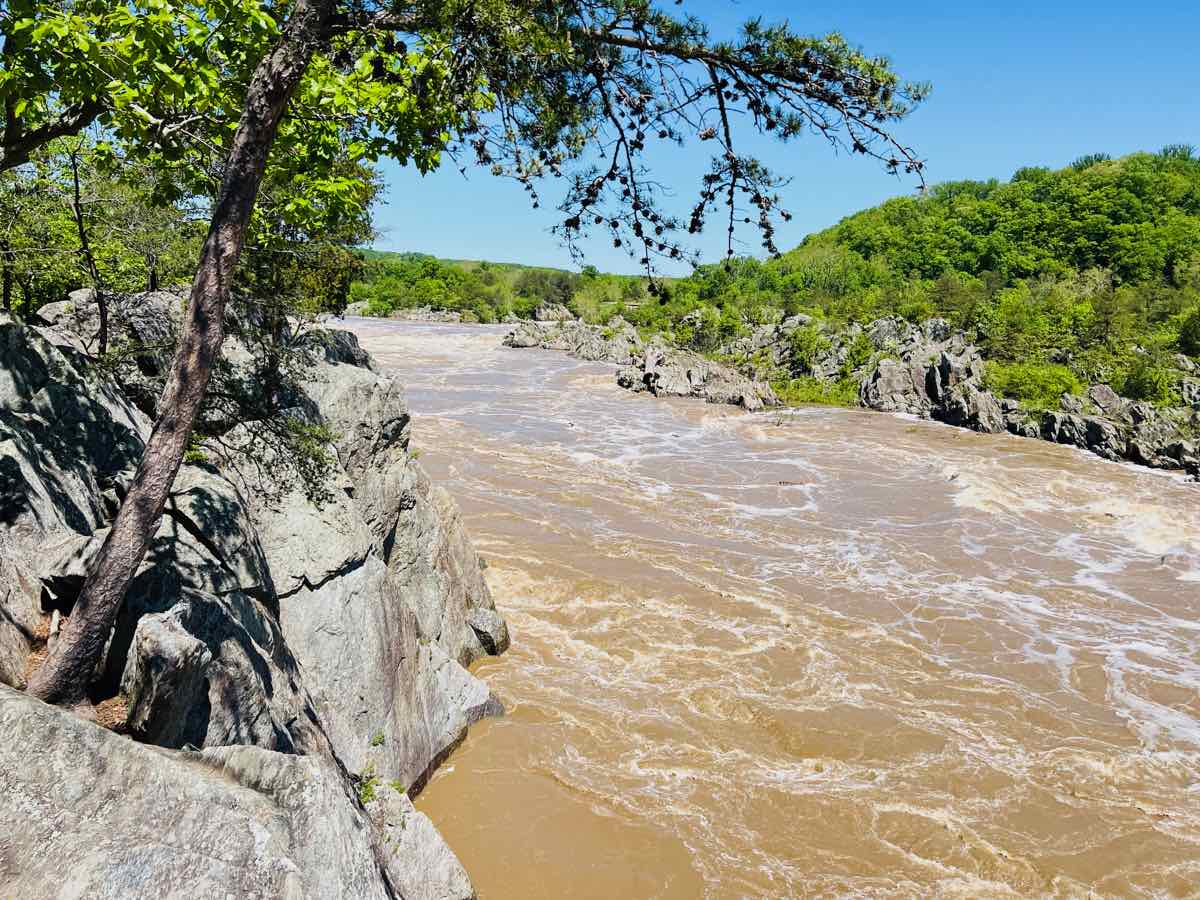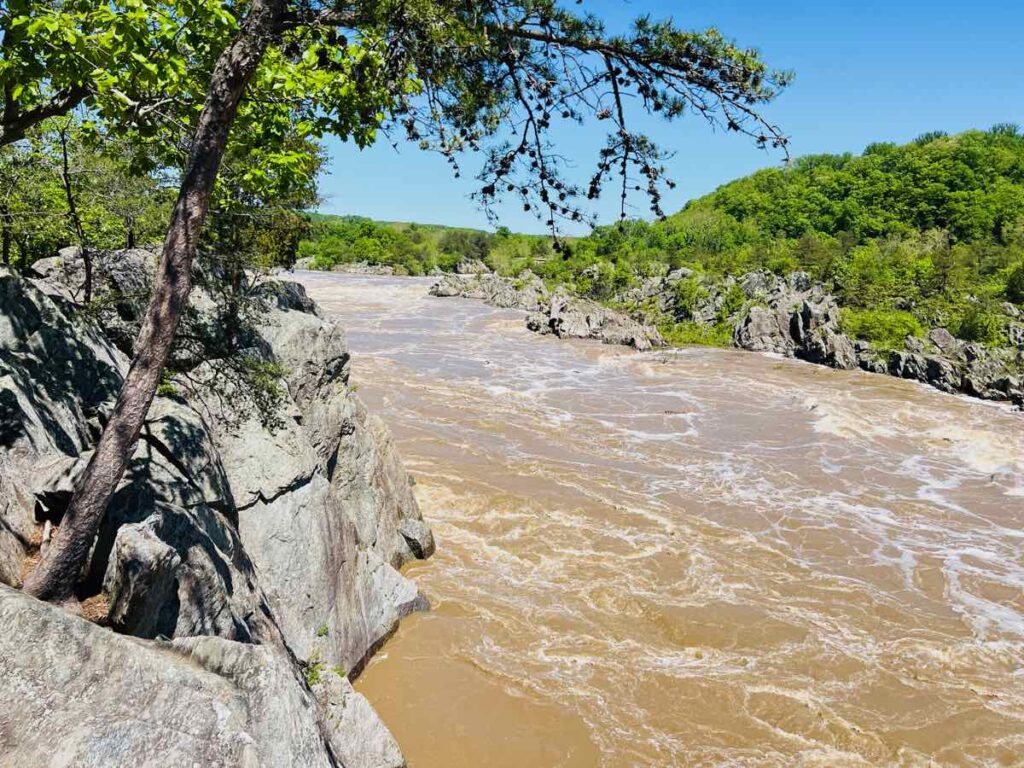 It's easy to create Great Falls River Trail loop hikes with increasing difficulty:
Take the River Trail .5 miles to the Mather Gorge Overlook then return on the Canal Trail. This loop is one of the best hikes in Northern Virginia for kids and a great winter hike, especially with snow on the ground.
For more challenge, continue on the River Trail to Sandy Landing and return on the Mathidaville Trail.
For a longer, steeper loop, hike the River Trail to the end and return on the Ridge and Carriage Trails.
Great Falls Park entrance fee is $20 per vehicle or enter free with your National Park Pass. (The excellent Visitor Center is currently closed.)
Riverbend Park Potomac Heritage Trail, Great Falls
Enjoy a more peaceful section of the Potomac River from the trails at Riverbend Park. Here are 3 great hikes in Riverbend Park: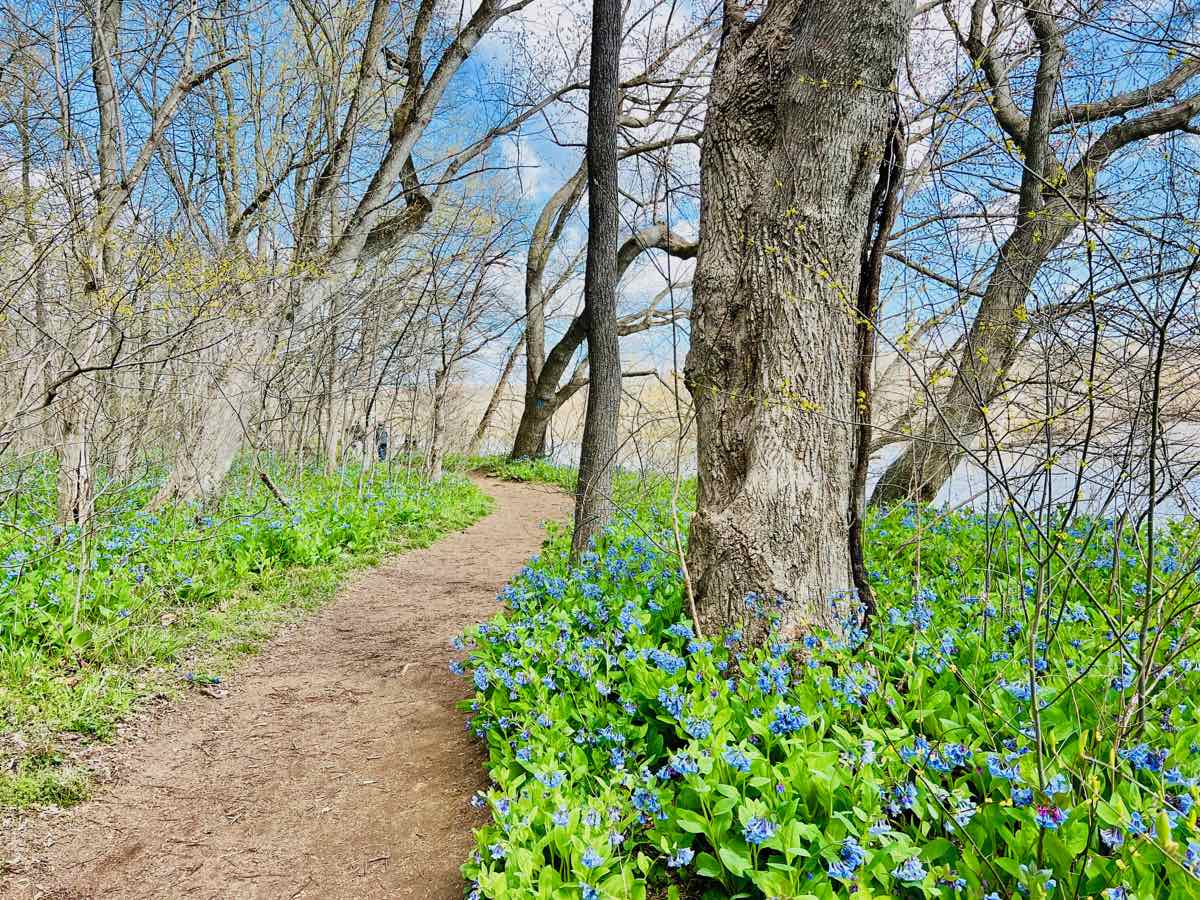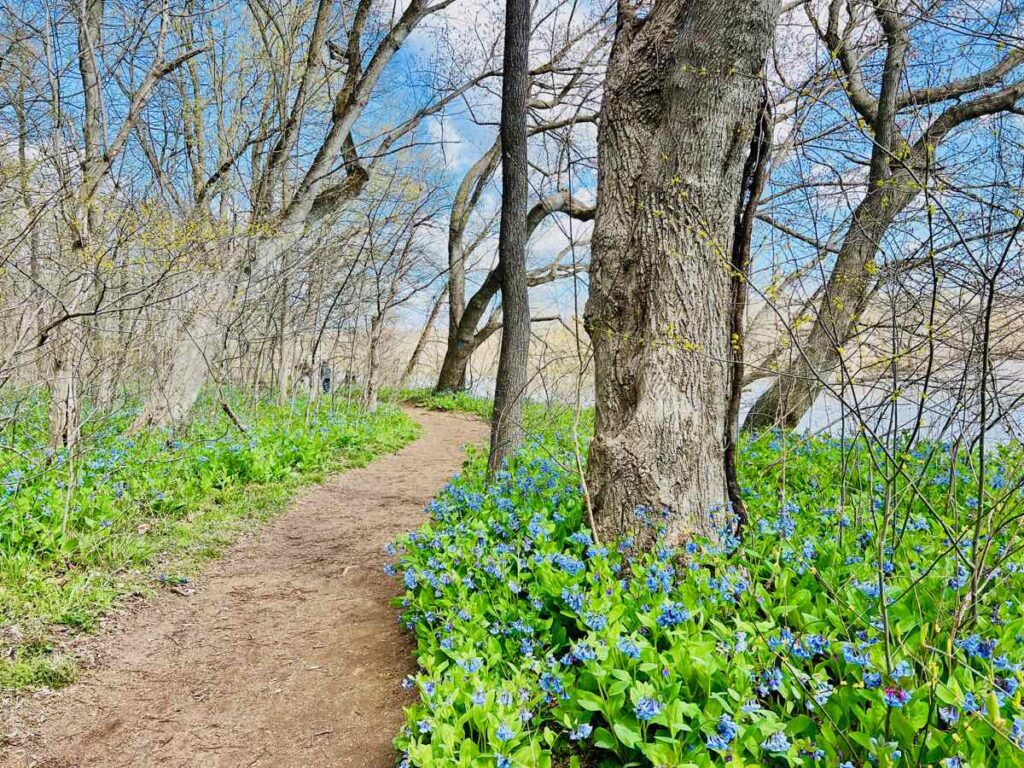 In April, the sandy riverbank fills with wildflowers, creating one of the most beautiful spring hikes in Northern VA. The Visitor Center deck is a nice picnic spot and in the summer, you can rent kayaks and jon boats for a fun time paddling on the river.
Seneca Regional Park, Great Falls
One of the best alternatives to busy Great Falls Park is the peaceful woodland and riverside hiking at Seneca Regional Park. A network of trails through the woods lead to the Potomac River and the Potomac Heritage National Scenic Trail.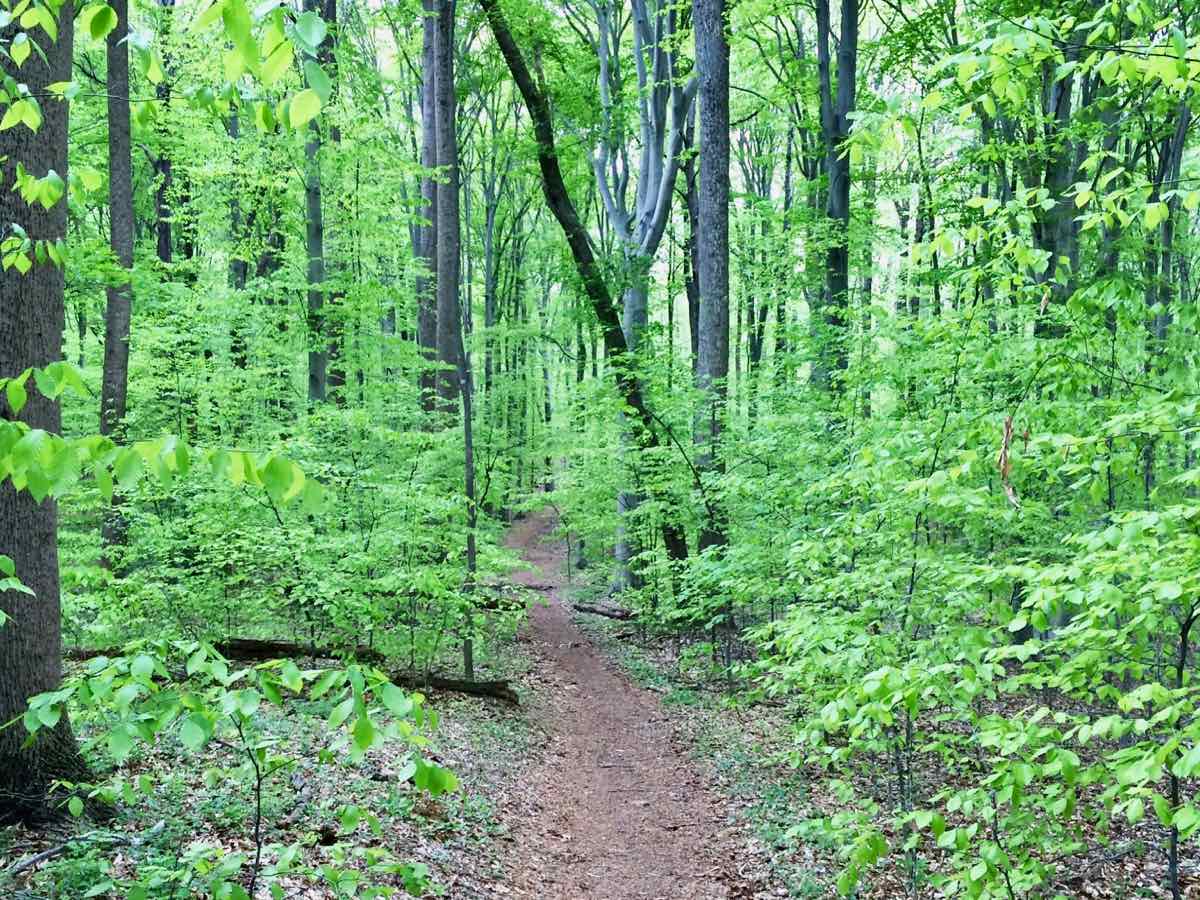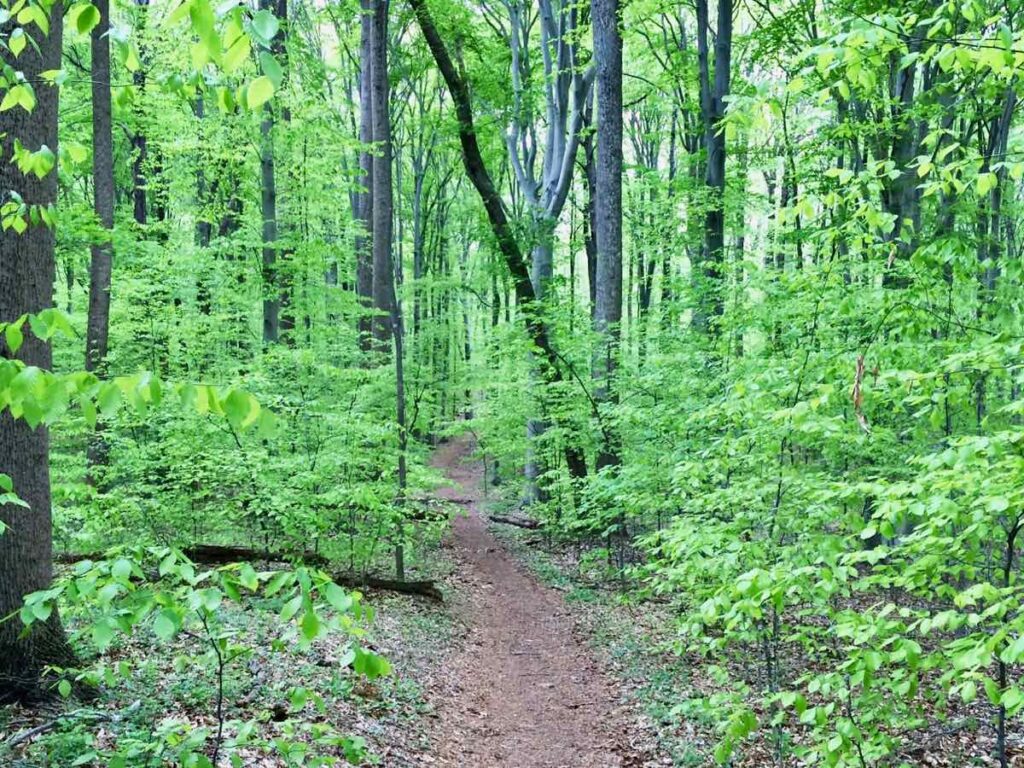 One of my favorite hikes in Seneca Park is a 3-mile loop with some steep sections and great views. The hike combines the Seneca Connector Trail, part of the Potomac Heritage Trail, and an orange-blazed return trail. This loop hike also passes a 1700s stone wall that was part of George Washington's Potowmac Canal.
Difficult Run to Great Falls Park, McLean
The Difficult Run hike covers my favorite section of the Fairfax Cross Country Trail (aka the Gerry Connolly Cross County Trail) from Georgetown Pike to the Potomac River. It's an easy 2-mile out-and-back hike from the parking lot to the Potomac River on a dirt path with some rocky sections.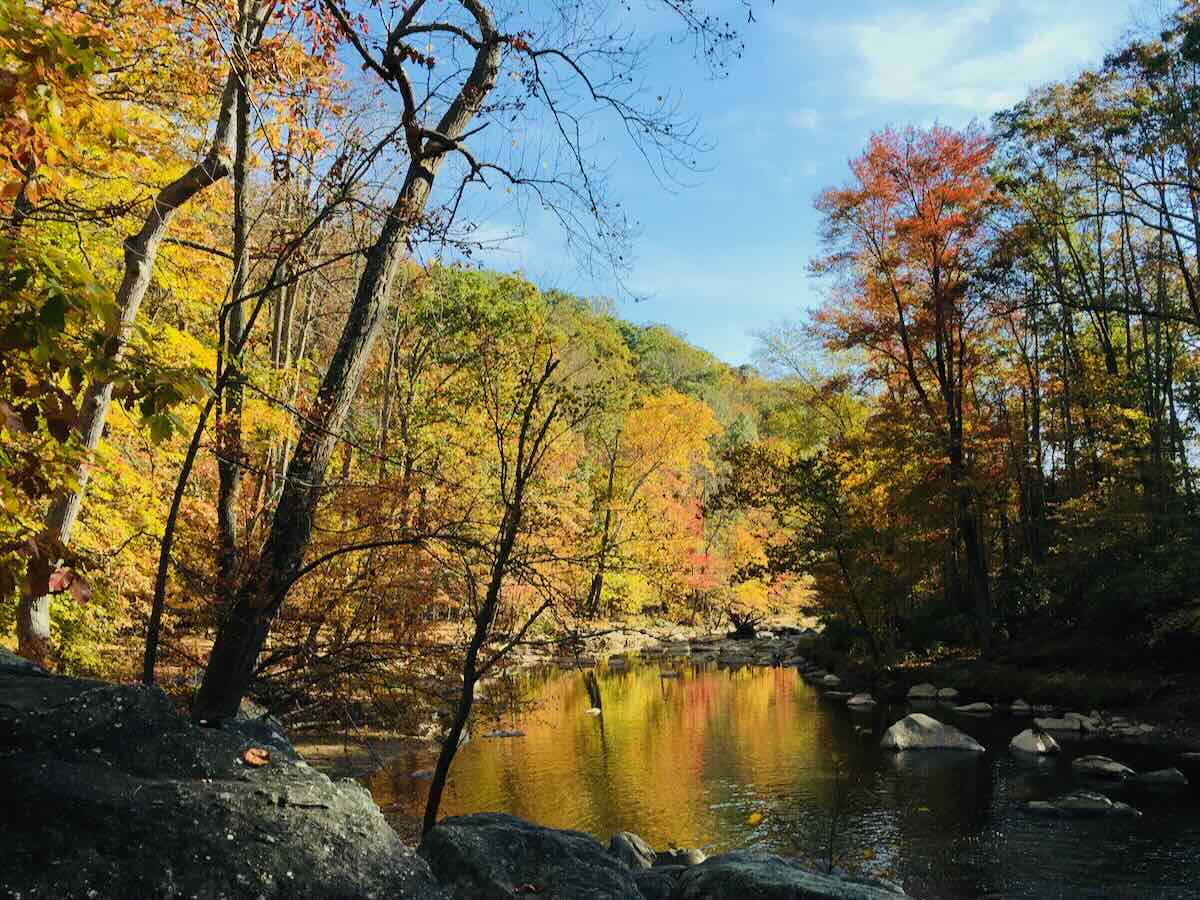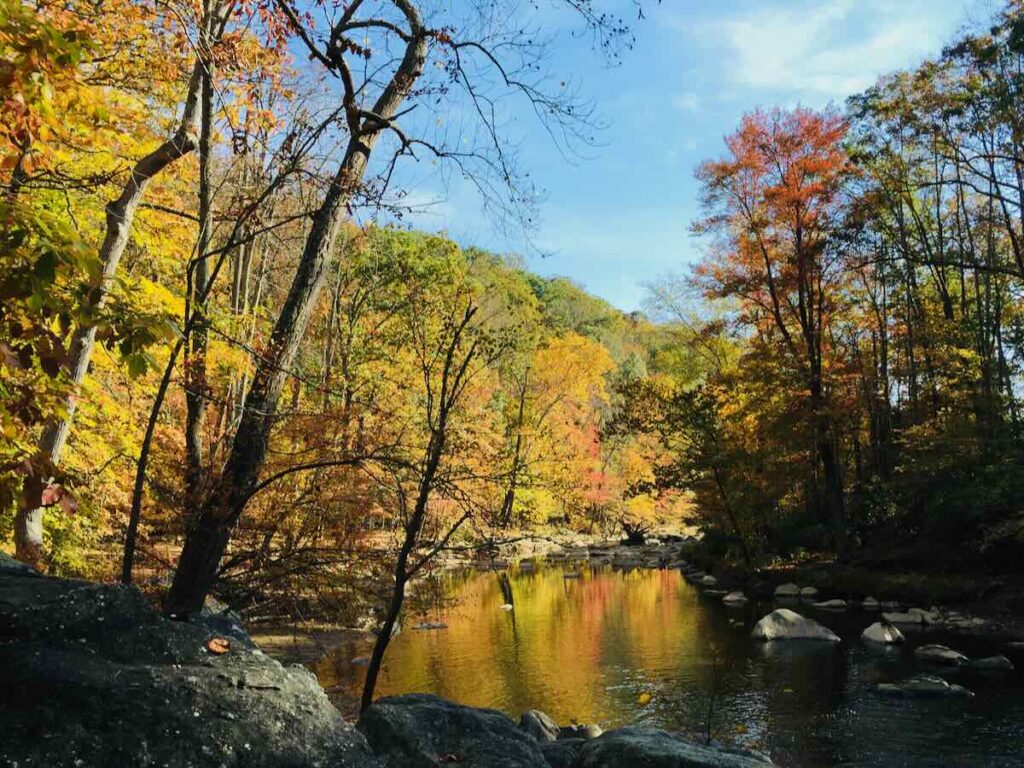 For steeper climbs and more distance, try the Difficult Run, Ridge Trail, and River Trail hike in Great Falls Park. You can also start this hike from Leigh Mill Road to cover more of the Cross County Trail.
Extend your visit with a scenic drive through Great Falls and a stop in the town center for great pub food and tasty homemade ice cream.
Scotts Run Waterfall Hike, McLean
The best waterfall hike in Northern Virginia, and the closest to Washington DC, is at Scotts Run Nature Preserve. Most hikers take the Potomac Heritage Trail for a 1.5-mile hike to the waterfall and back. Hiking guides rate this trail as easy but be prepared for two stream crossings on concrete pillars and a very steep hill leading to the falls.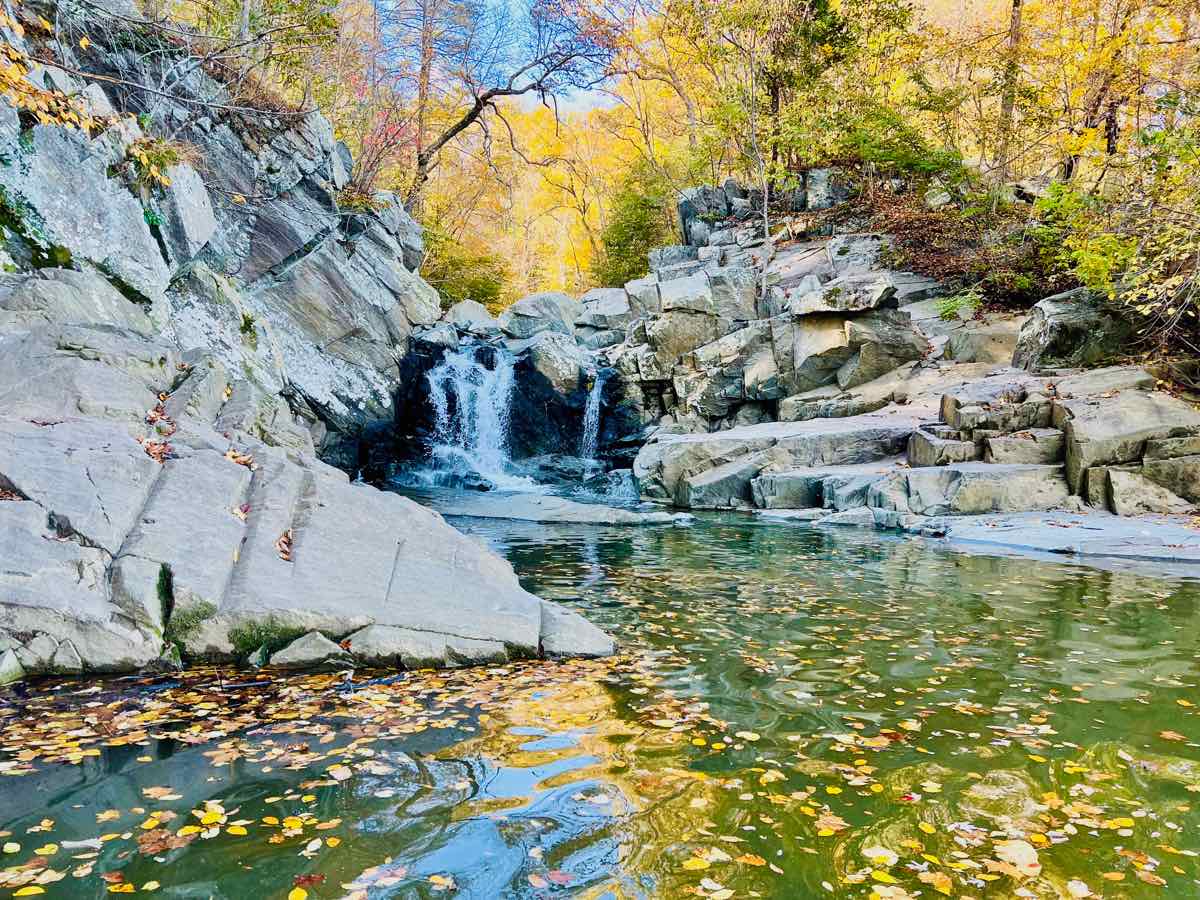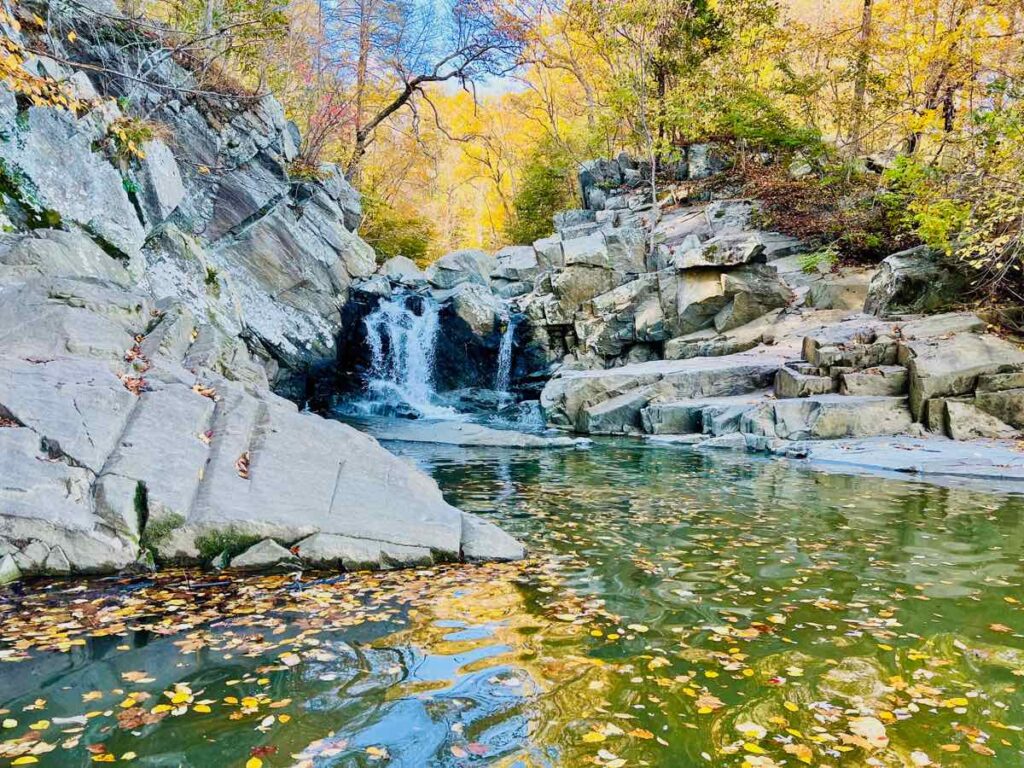 I prefer a longer 3-mile perimeter trail that explores more of the park's woodlands, rugged cliffs, and a great view from the Stubblefield Falls Overlook. Colorful woods during fall foliage season make Scott's Run one of the best fall hikes in Northern VA.
Mason Neck State Park, Lorton
Mason Neck State Park offers a great collection of easy hikes at the edge of Belmont Bay. Small sandy beaches, a pretty boardwalk, and woodland trails lead to peaceful views of the bay and marsh. Here are three of the best hikes on the Mason Neck Peninsula:
The 1-mile Bay View Trail loop includes a boardwalk over the marsh and great views of the bay
Hike a 4-mile out-and-back to a bird blind with a nice view of Kane's Creek. I watched two eagles fishing here during one visit.
A 1.5-mile out-and-back hike on the paved Great Marsh Trail leads to a marsh view and a good spot for birding.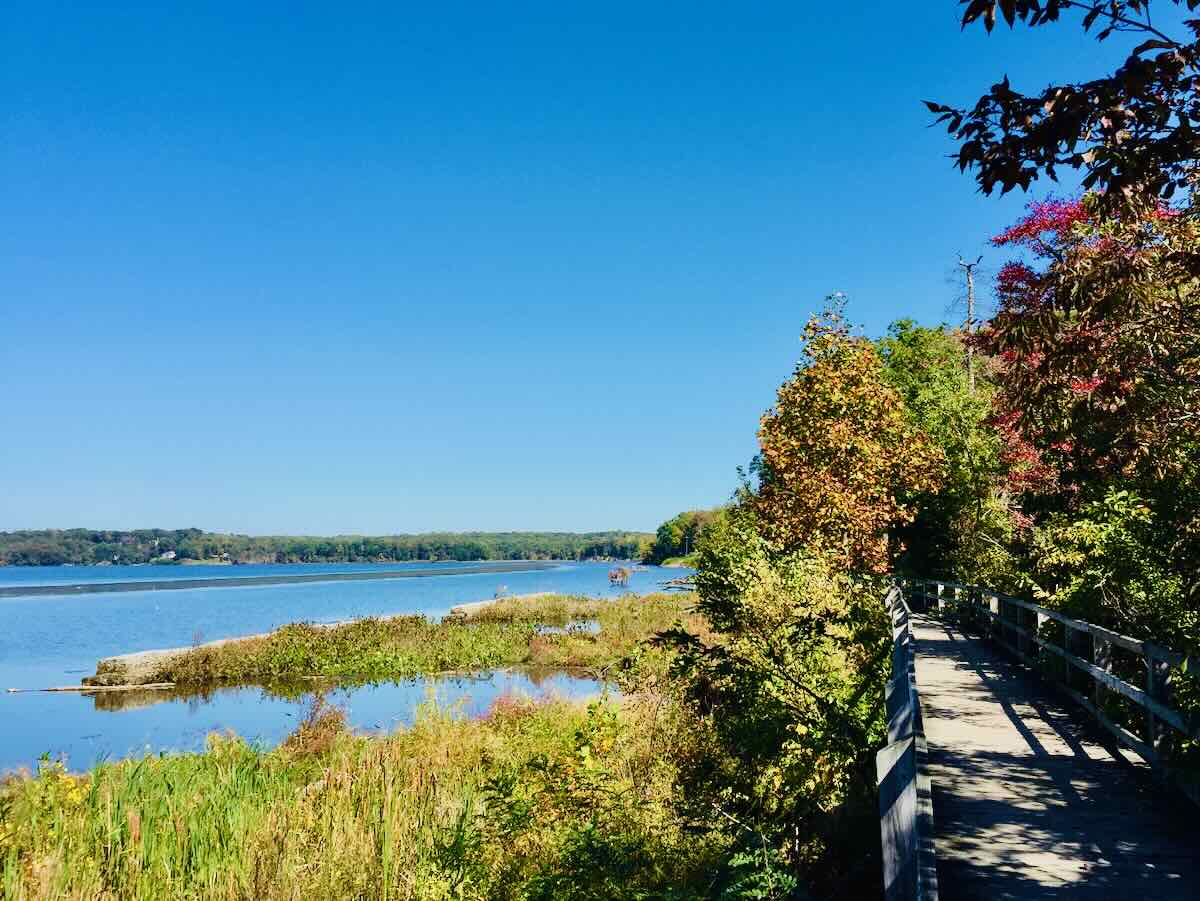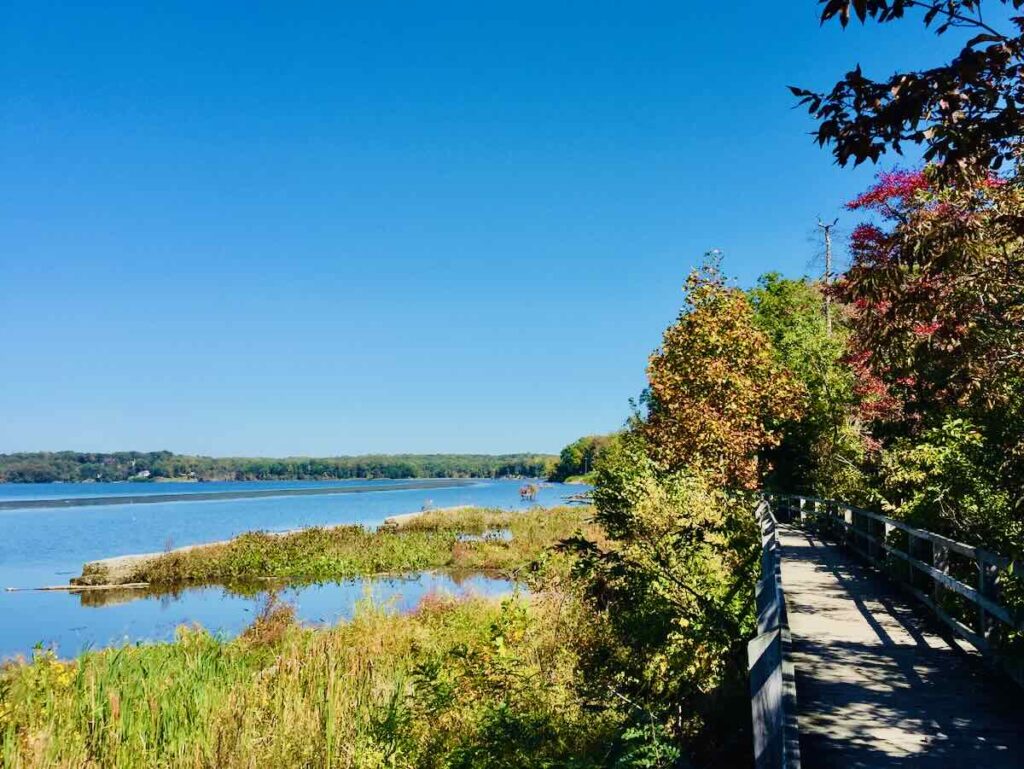 The Mason Neck Peninsula is also home to the Elizabeth Hartwell National Wildlife Refuge, historic Gunston Hall, the Pohick Bay waterpark, and one of the best campgrounds in Northern Virginia.
Burke Lake Park, Fairfax Station
A scenic 4.7-mile trail loops around the lake at Burke Lake Park. The Burke Lake Loop is a popular, easy trail for hikers, runners, dog walkers, and cyclists. The dirt surface is well-maintained and there are nice lake views throughout the hike.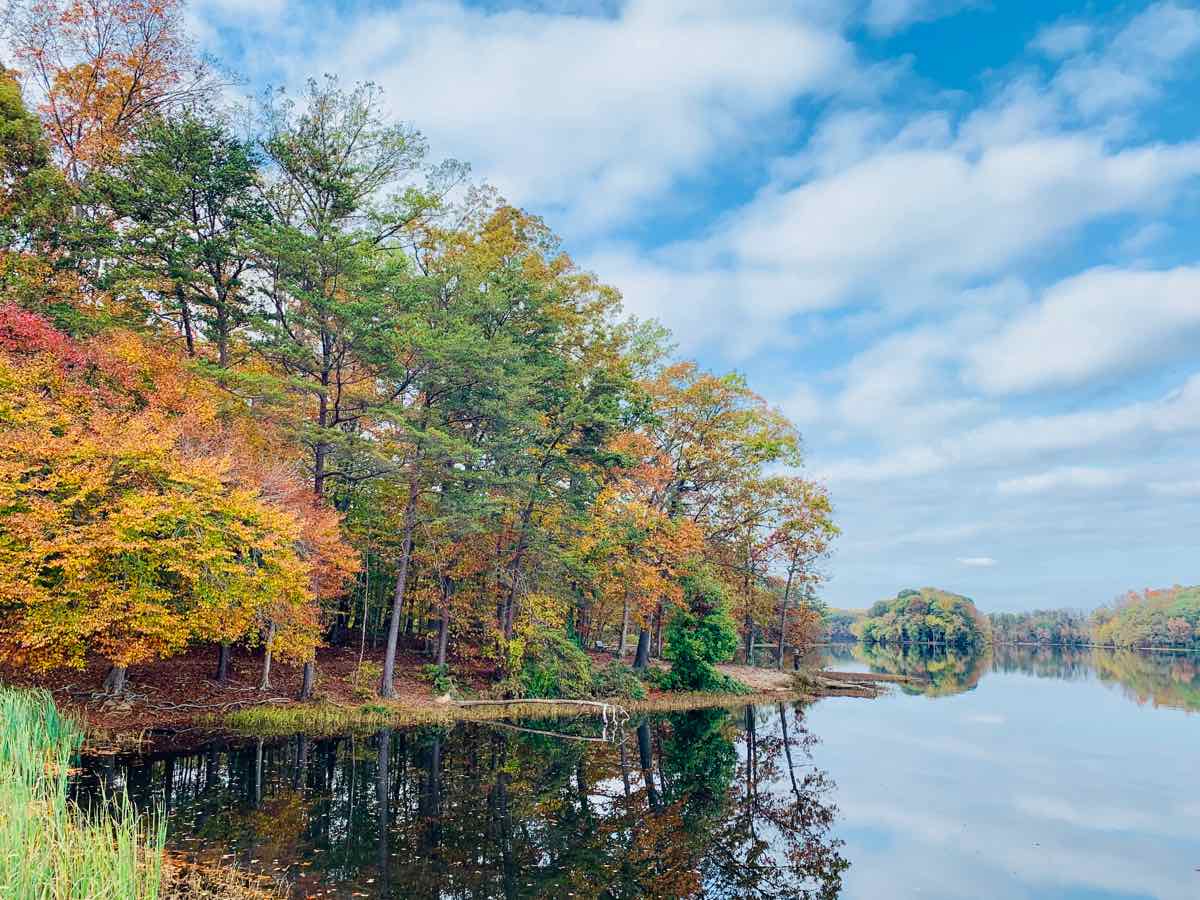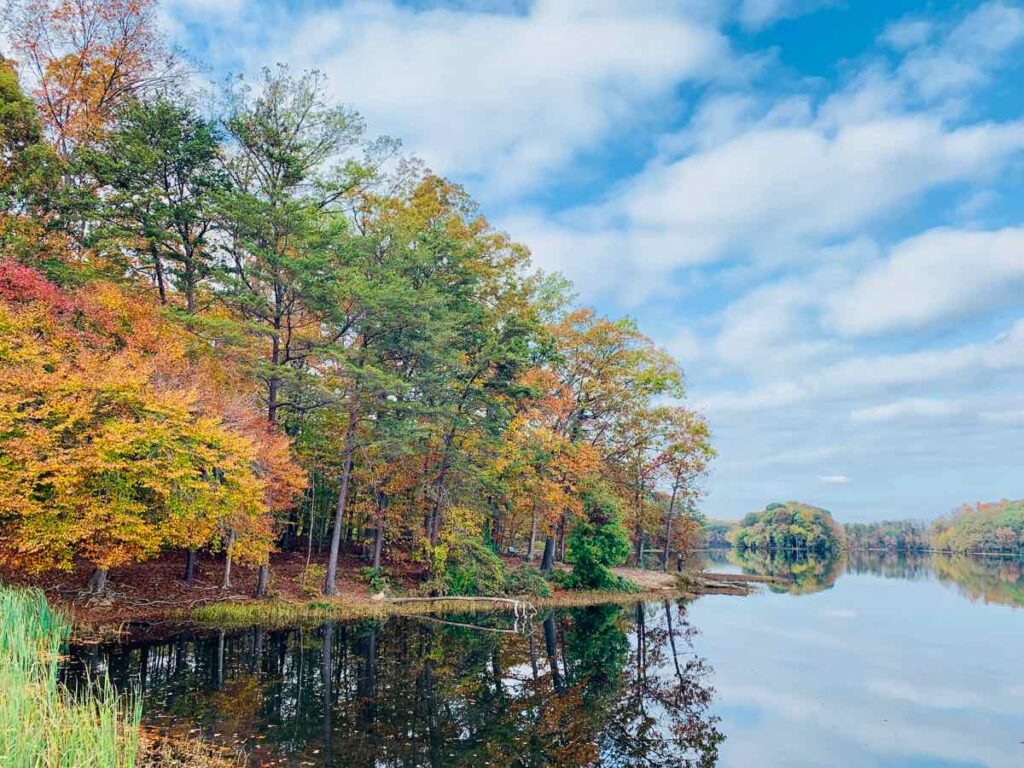 I like to park near the mini-golf center (with bathrooms nearby) and hike clockwise around Burke Lake. A flatter, wheelchair-accessible section of trail leads from the DWR boat ramp across the Burke Lake Dam. A third option is to park near the Marina for hiking, fishing, and boating on Burke Lake.
After your hike, kids can ride the miniature train and carousel or play a round of mini-golf (seasonal). You'll also find good hiking trails at Lake Fairfax Park, which is popular with mountain bikers, and Lake Accotink. All three lake parks also have nice picnic areas.
Bull Run Occoquan Trail, Clifton
The Bull Run Occoquan Trail (BROT) is an excellent 18-mile hiking trail through hilly woods and level streamside sections. The trail begins at Bull Run Regional Park and follows the edge of Bull Run south to Fountainhead Regional Park.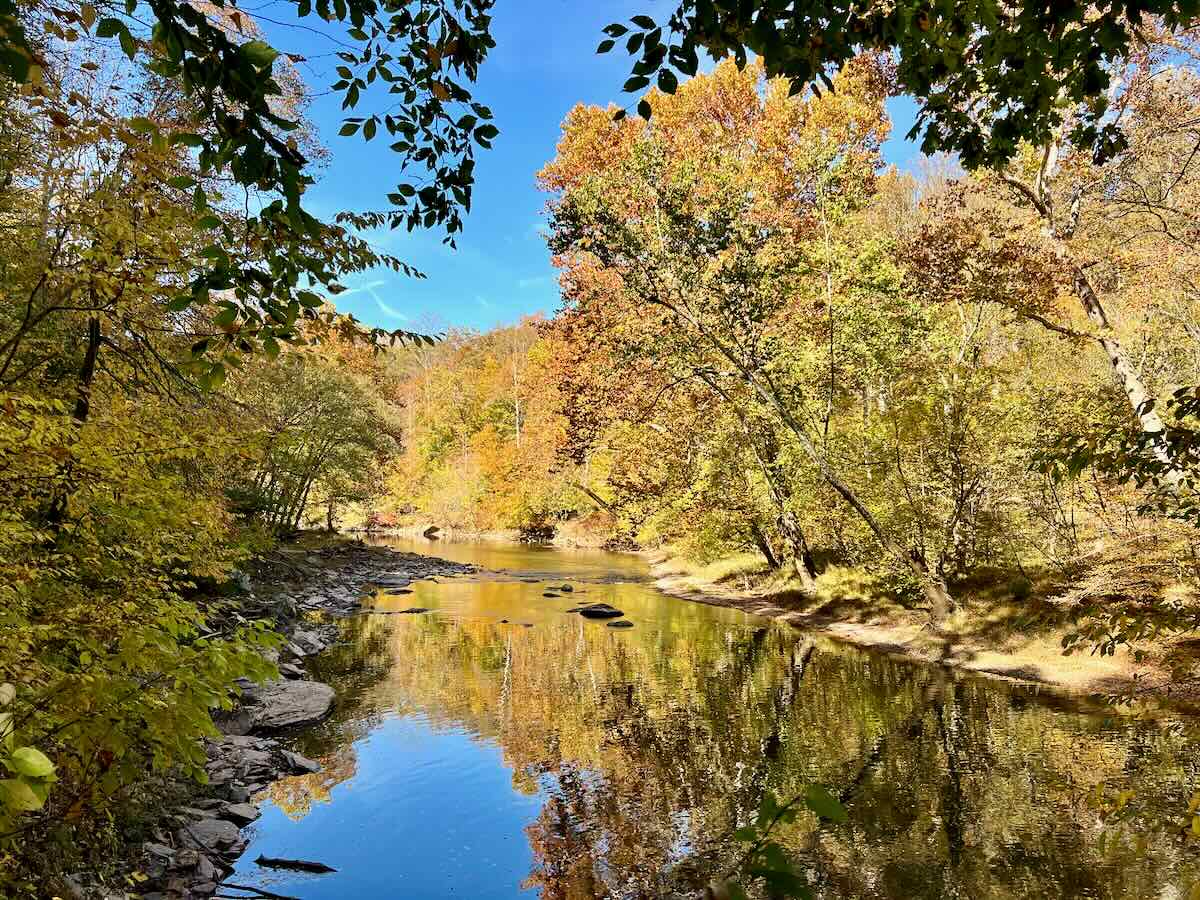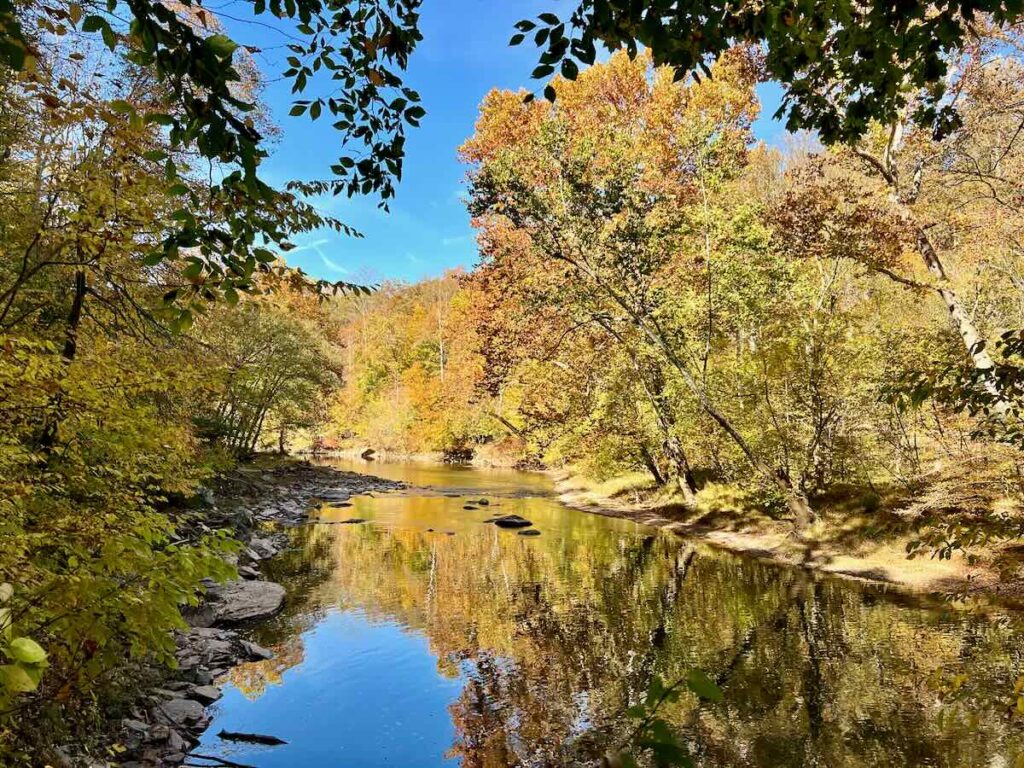 My favorite hike on this trail is the BROT Central Section in Clifton. From the trailhead at the end of Yates Road in Clifton, hike a mostly easy 2 or 3-mile loop with one steep section. Or tackle a 4-mile stretch from Yates Ford to the Bull Run Marina, navigating some steep hills through the woods. After your hike, enjoy a stop at Paradise Springs Winery and the quaint town of Clifton.
Virginia Bluebell Trail and BROT, Centreville
Two great Northern Virginia hikes start from the same trailhead in Bull Run Regional Park. The north end of the Bull Run Occoquan Trail (BROT) crosses a boardwalk over wetlands leading to streamside woods. For an easy 1.5-mile loop, combine the first mile of the BROT with the lovely and popular Bluebell Trail (one of the best NoVA nature trails).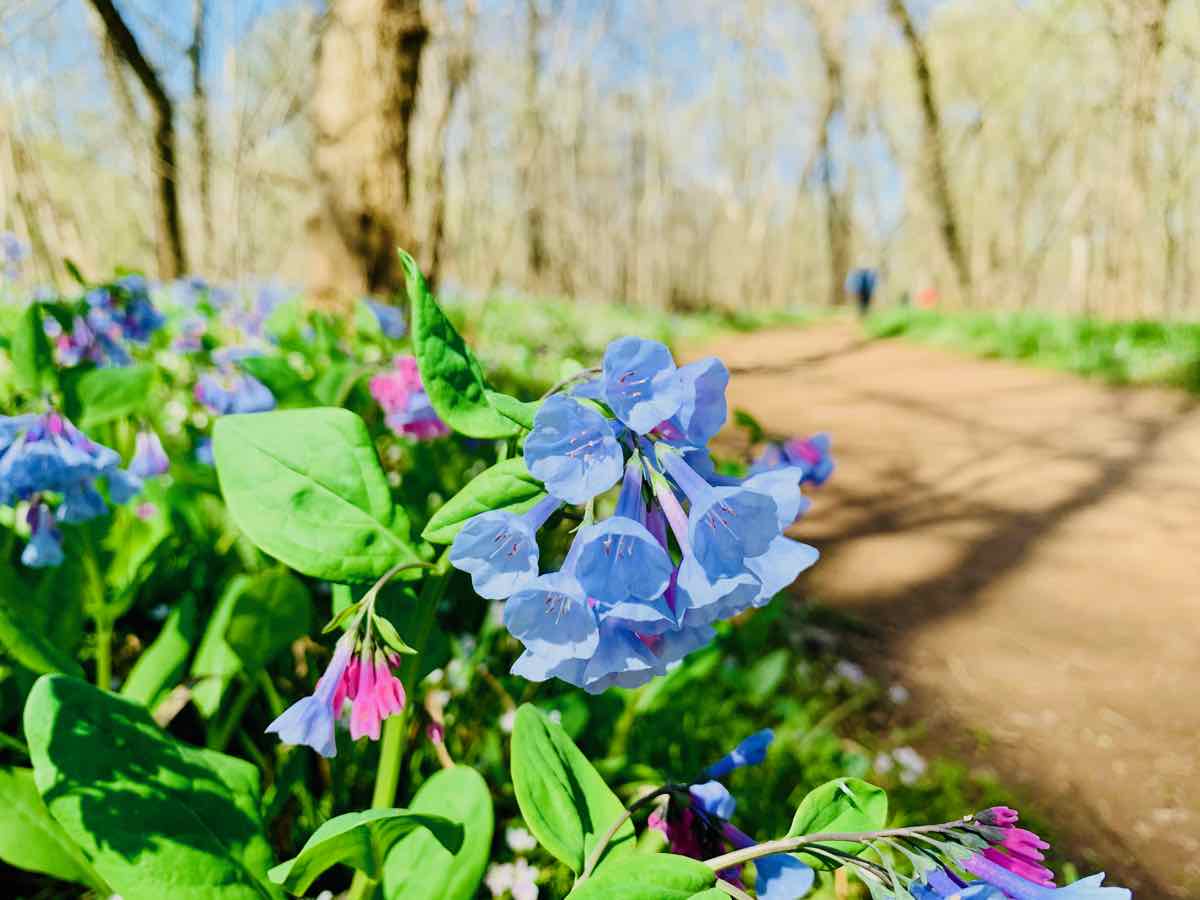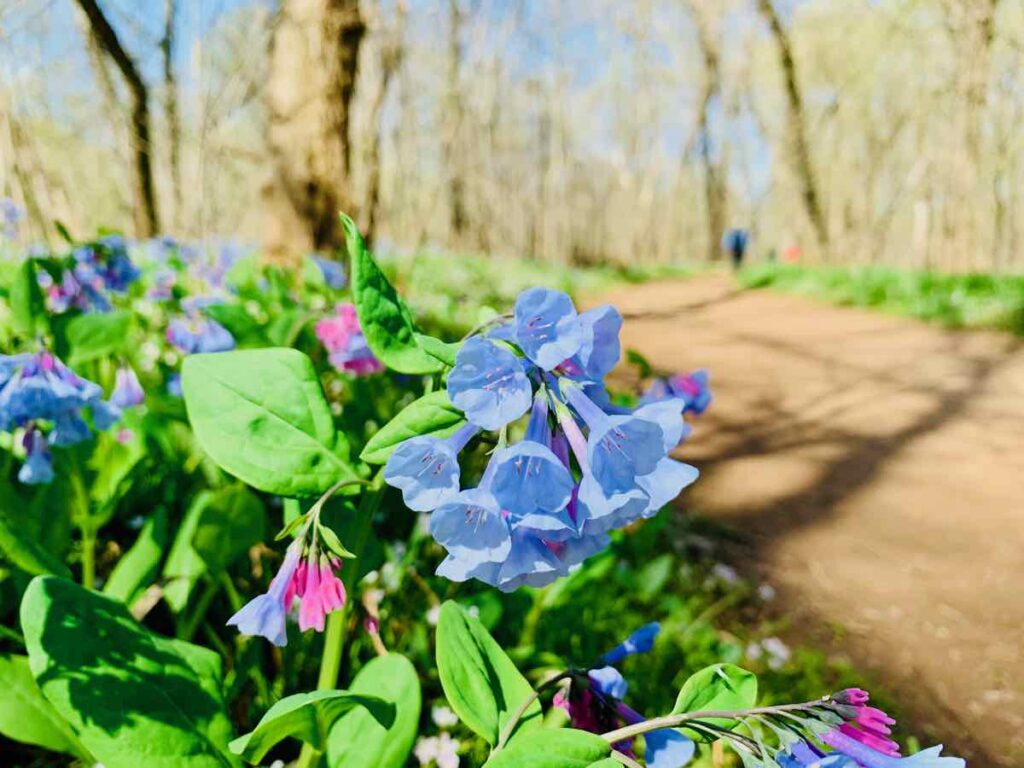 For a more challenging hike, continue south on the 18-mile-long BROT. This section of the trail includes streamside paths, woodlands, and several steep hills. The trail also passes an interesting Civil War emplacement.
I also recommend the southern end of the Bull Run Occoquan Trail (BROT) covering 6.5 miles from Fountainhead Park to the Bull Run Marina. The trail includes steep hills and woodlands plus historic cemeteries and a section of the 600-mile Washington Rochambeau Wagon Route.
Best Hikes in Arlington and Alexandria County
You won't find much elevation gain, but there are some pretty hiking trails in Arlington and Alexandria. These parks and trails offer easy hikes very close to Washington DC.
Huntley Meadows Park, Alexandria
An easy hike at Huntley Meadows Park follows dirt trails through the woods to one of the most beautiful boardwalks in Northern Virginia. The half-mile boardwalk stretches over a unique wetland habitat known as a hemi-marsh.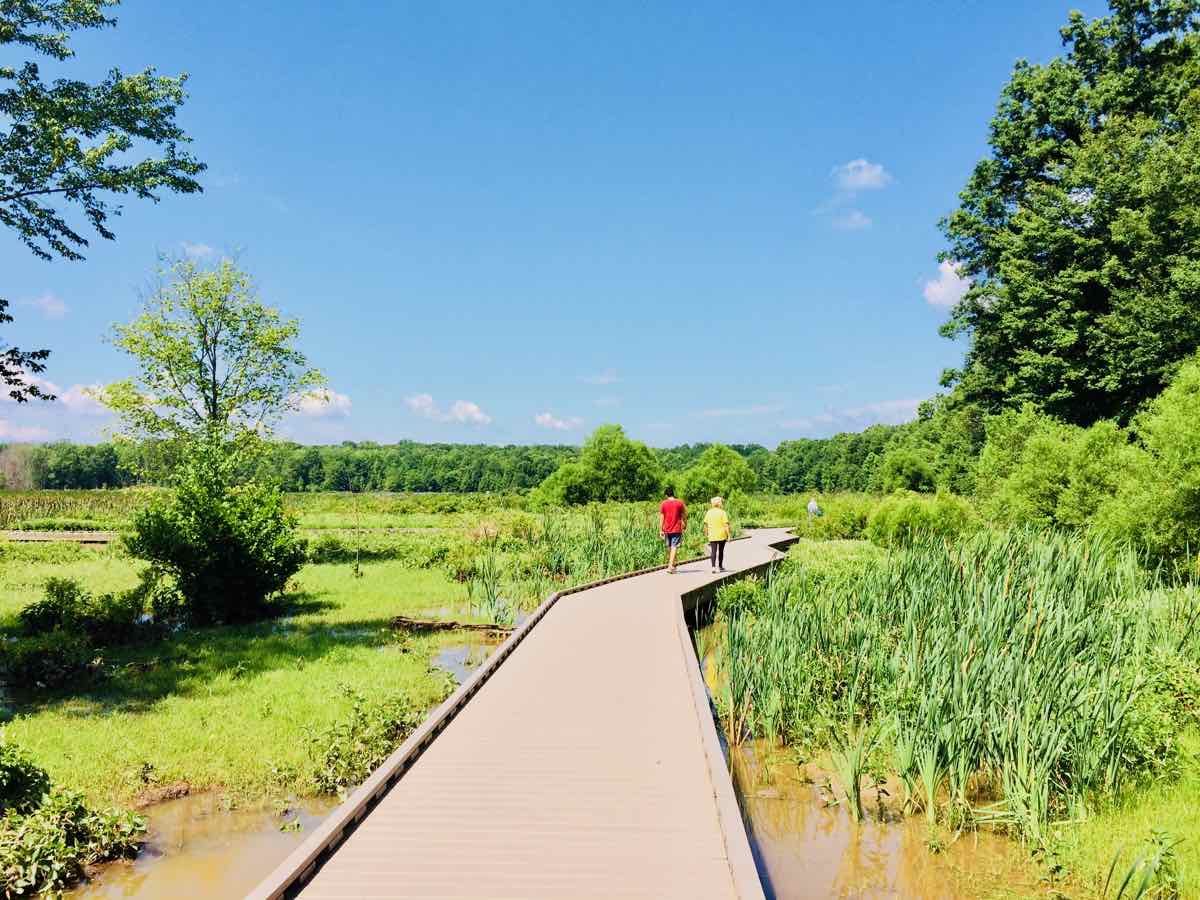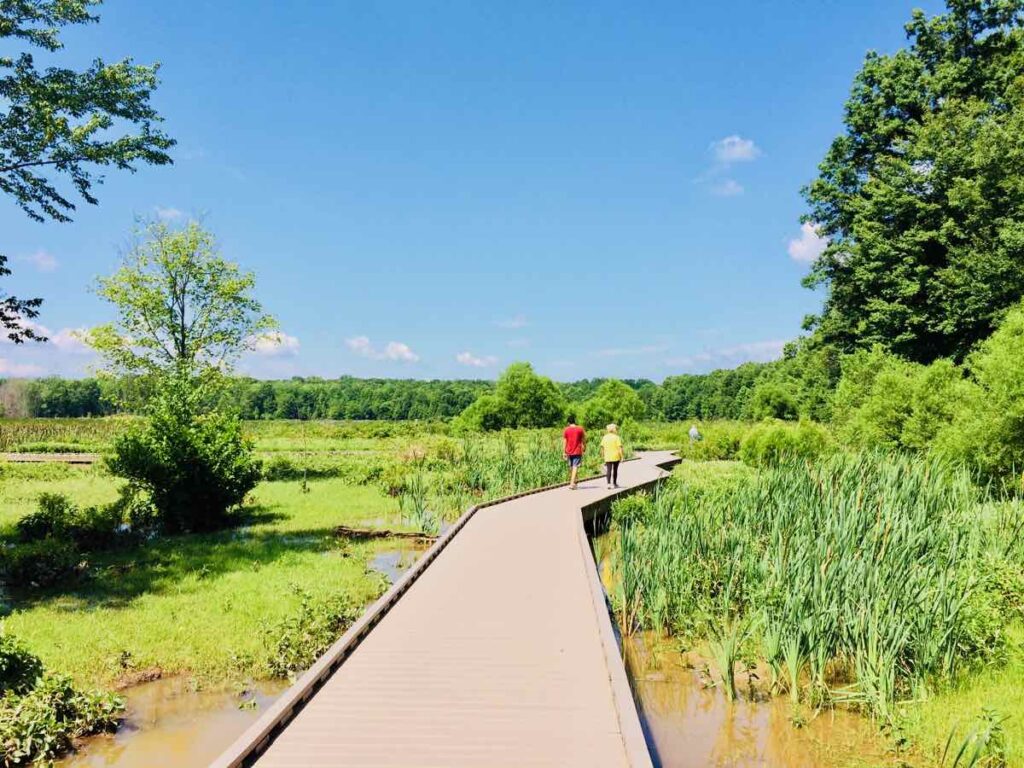 Birds and wildlife abound at Huntley Meadows, and it's one of the most popular birding spots in Northern VA. Hikers may also see beavers, otters, turtles, snakes, and more from the boardwalk and the park's Observation Tower. All that nature in the midst of urban neighborhoods makes Huntley Meadows Park one of my favorite hidden gems in Fairfax County.
Dyke Marsh and Mount Vernon Trail, Alexandria
The paved Mount Vernon trail stretches 18 miles from Theodore Roosevelt Island to George Washington's Mount Vernon. The popular trail follows the edge of the Potomac River offering excellent views across the river to Washington DC.
The whole Mount Vernon Trail is great for biking, but the section near Belle Haven and Dyke Marsh is nice for easy an hike. Dyke Marsh is a small park with a single trail out to a boardwalk view. The connecting Mount Vernon trail also includes a pretty boardwalk over the marsh. Use caution on the narrow shared trail, especially on busy weekends.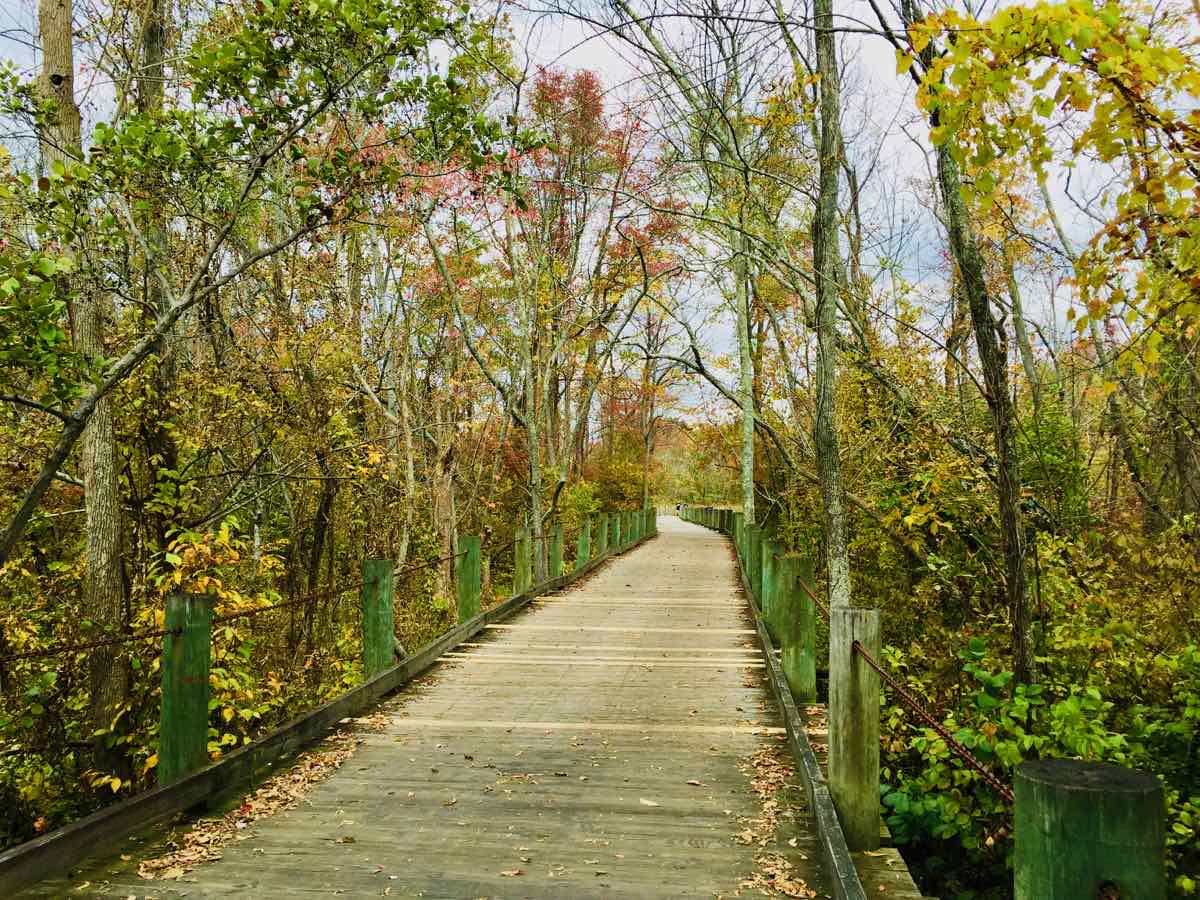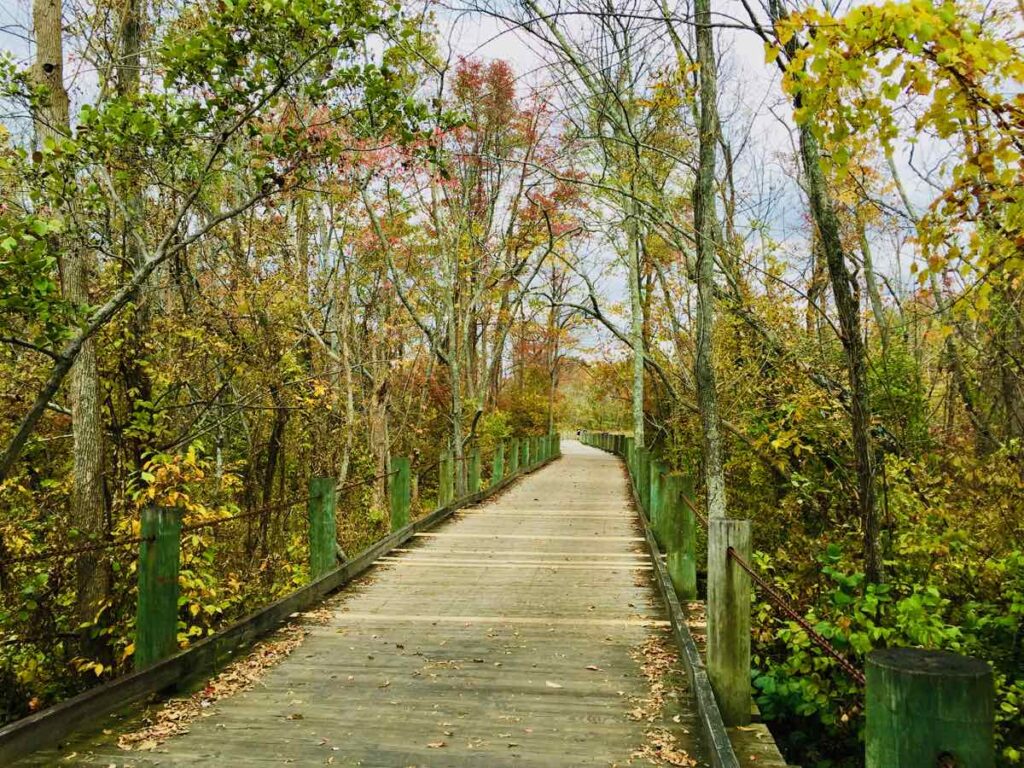 Theodore Roosevelt Island, Arlington
For an easy and interesting hike close to Washington DC, head to Theodore Roosevelt Island. The island is part of the National Park System and includes 2.5 miles of trails and a plaza honoring America's 26th president. My favorite section is the long boardwalk on the Swamp Trail.
Take a hike around the lower island then climb the hill to a plaza honoring Theodore Roosevelt with a huge statue and pretty water features. There is limited free parking (accessed northbound on the Georgetown Parkway) near the footbridge to the island. From the same parking lot, hike the Potomac Heritage Trail to a small waterfall at Windy Run.
Best Hikes in Loudoun County and Fauquier County
The edge of the Blue Ridge Mountains in Fauquier and Loudoun County offers the best mountain hiking in Northern VA. Several of these hikes follow the Appalachian Trail and lead to stunning views, while one covers an interesting Civil War battle site.
Bears Den Overlook, Bluemont
The Bears Den Overlook trail is one of our favorite Northern Virginia hikes for kids. The climb to the overlook is just .5 miles on the Appalachian Trail with about 300 feet in elevation gain. At the overlook, two rows of huge boulders give hikers a spot to enjoy the stunning westward view (it's a great sunset spot!).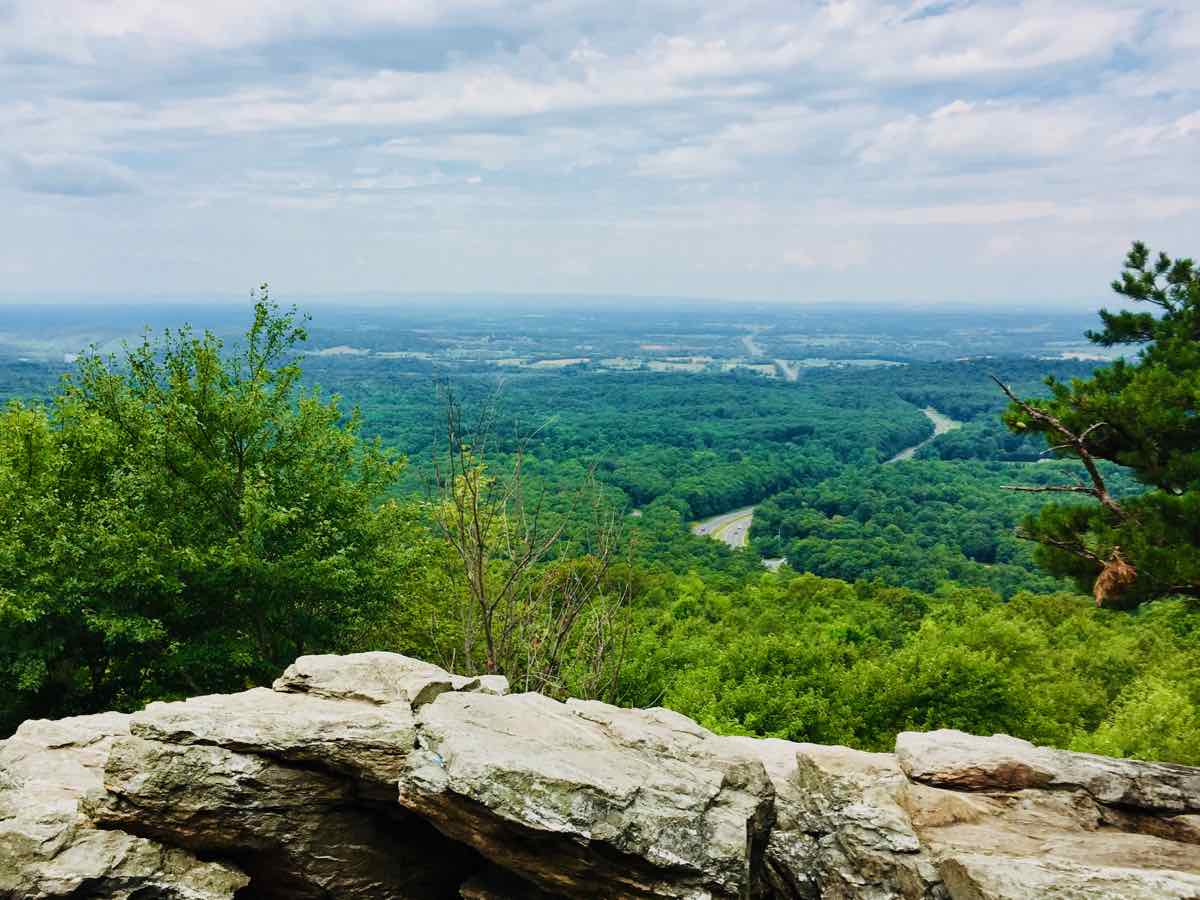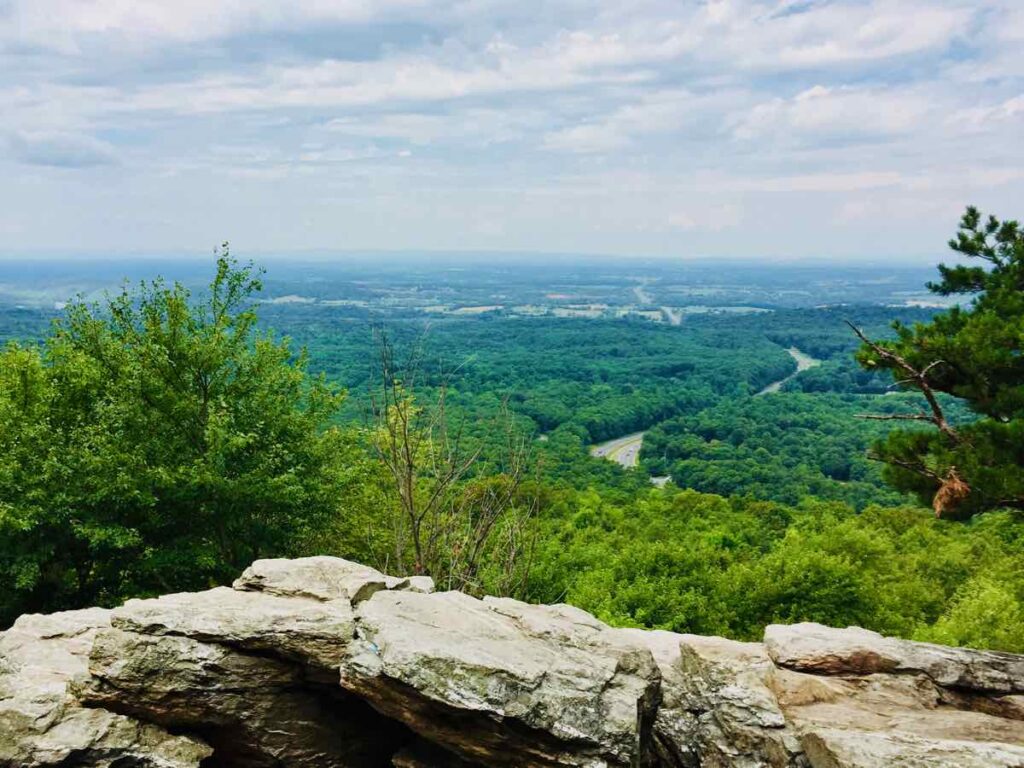 For a more challenging hike, continue past the overlook and tackle more of the Appalachian Trail's roller coaster section. Allow time after your hike to sample great breweries, wineries, and more cool places to visit in Bluemont.
Raven Rocks, Appalachian Trail, Bluemont
The Raven Rocks hike is one of the most difficult hikes in Northern Virginia because of the steep rocky terrain. It's a 5.5-mile out-and-back trip on the Appalachian Trail to a summit with dramatic clifftop views. The hike follows the roller coaster section of the AT, climbing and descending 3 times on the way to the viewpoint. An alternate challenging route starts at the Cool Spring Battlefield.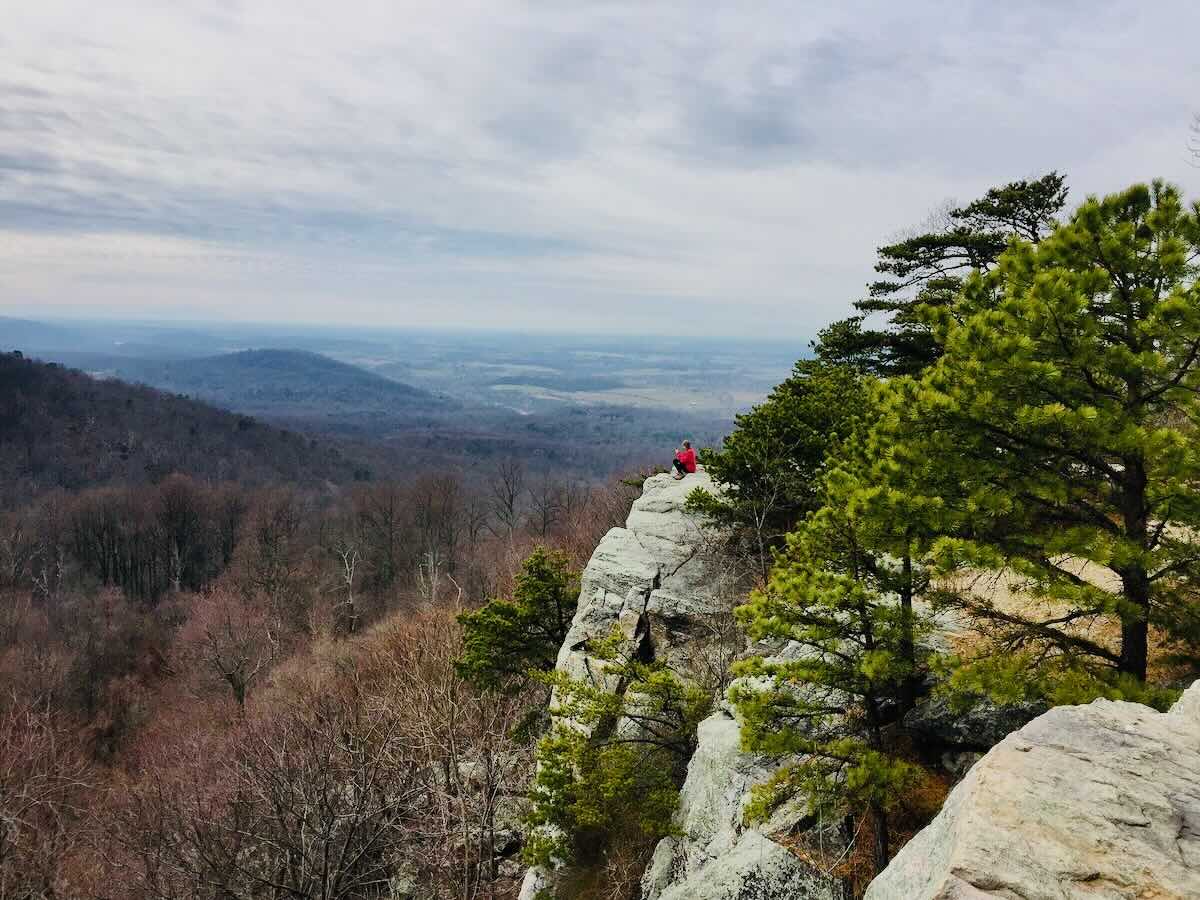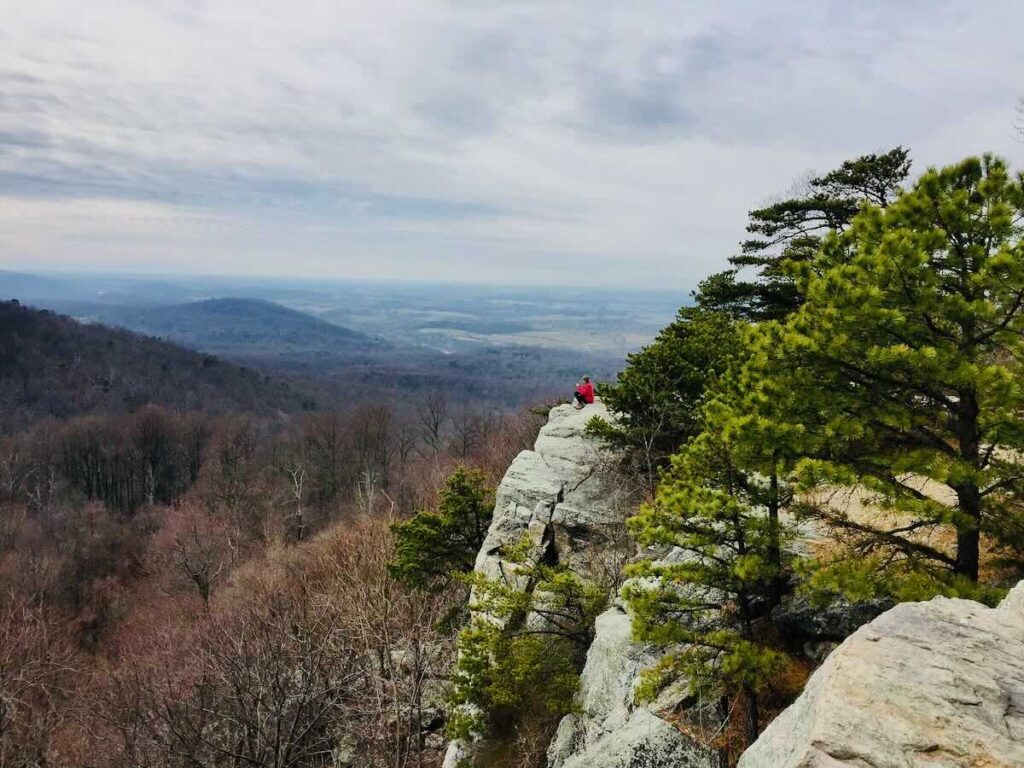 After your hike, reward yourself with fantastic views at Dirt Farm Brewing, Bear Chase Brewing, Bluemont Vineyard, or Twin Oaks Winery (nice sunset view). Nearby vacation rentals like the Windswept Inn cottage make a great base for exploring Blue Ridge Mountain hikes in Northern Virginia.
Sweet Run State Park, Hillsboro
Sweet Run State Park opened in 2023 with 11 miles of well-marked and maintained trails offering easy to moderate hikes through woods, fields, and wetlands. Virginia's newest state park (and Loudoun County's first) preserves almost 900 acres at the edge of the Blue Ridge Mountains.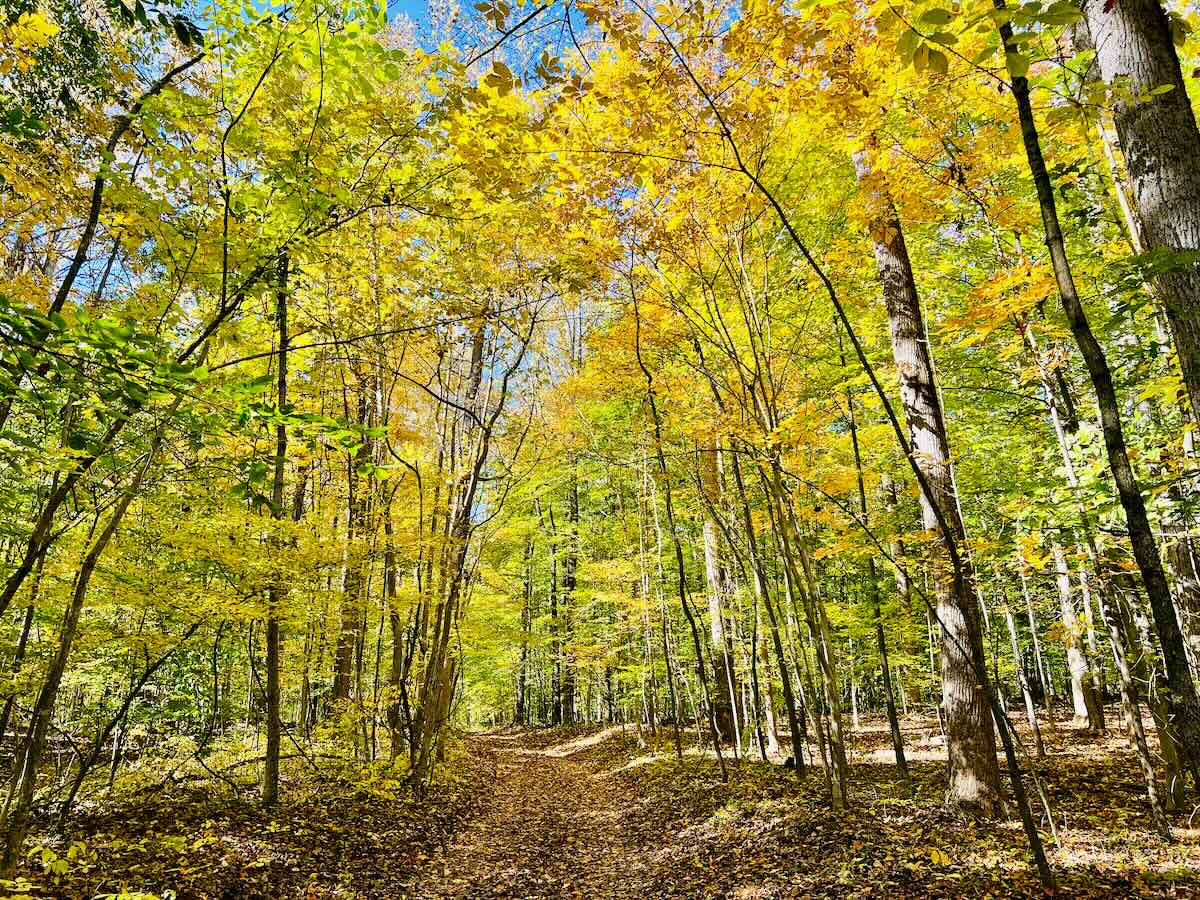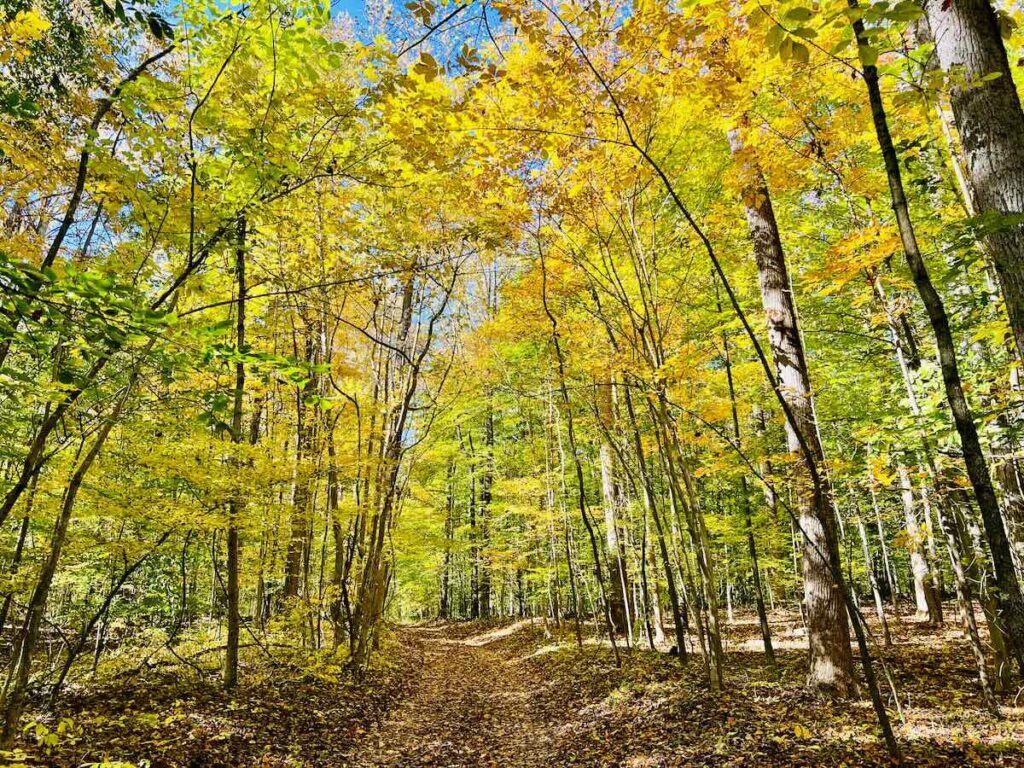 The Farmhouse Loop is a pretty trail through the woods, sometimes passing abandoned farmhouses and stone walls. Connect to the Arnold and Legacy Loop trails to reach lovely Gordon Pond, a nice picnic and fall foliage spot. Leashed dogs are welcome on park trails and most are open to equestrians.
Sky Meadows State Park, Paris
At Sky Meadows State Park hikers can enjoy beautiful mountain hikes without driving all the way to Shenandoah. The park offers 24 miles of hiking trails including 3 miles of the Appalachian Trail.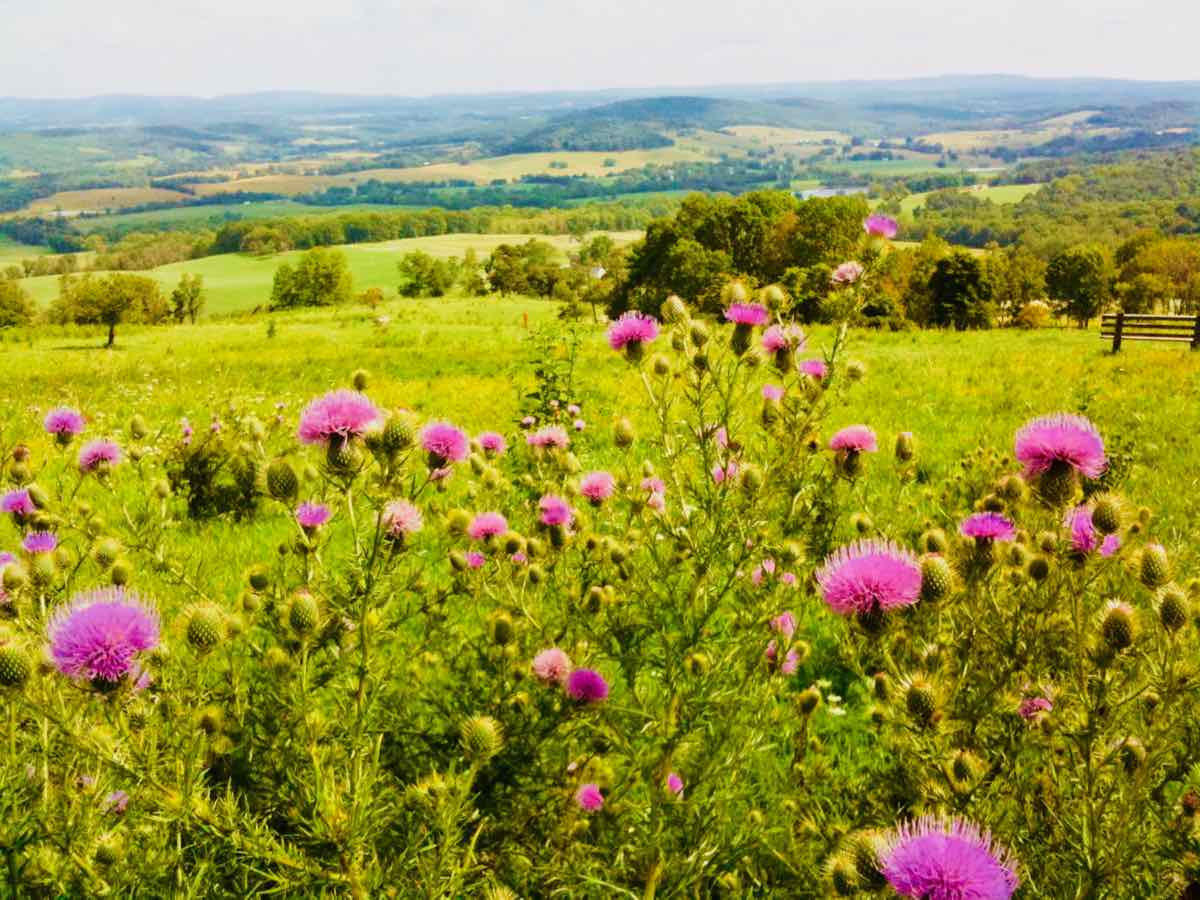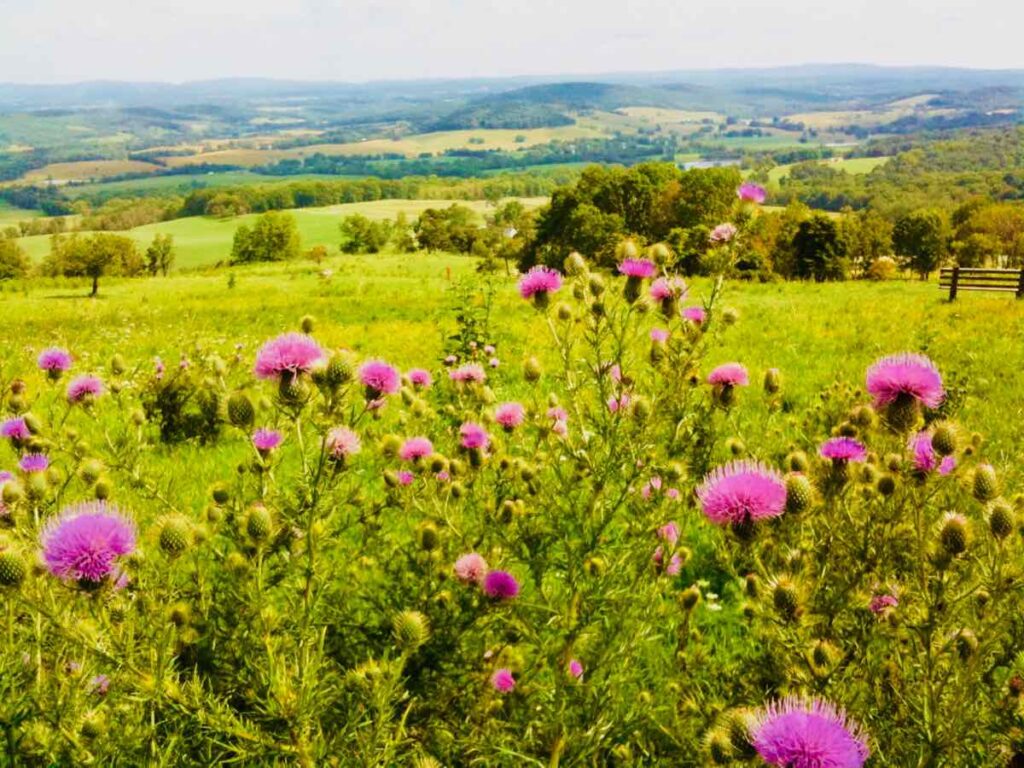 For a moderate challenge, take a moderate 4-mile loop hike in Sky Meadows on the South and North Ridge Trails to the beautiful Piedmont Overlook viewpoint. Or add more difficulty and mileage by including the Appalachian Trail and Ambassador Whitehouse Trail in your loop. The longer route adds a second viewpoint and more elevation gain.
Ball's Bluff Battlefield, Leesburg
One of the best hikes in Northern Virginia for history lovers crosses the fields and woods at Ball's Bluff Battlefield. This quiet park was once the site of fierce fighting during the Civil War. Today visitors can learn about the battle while hiking park trails.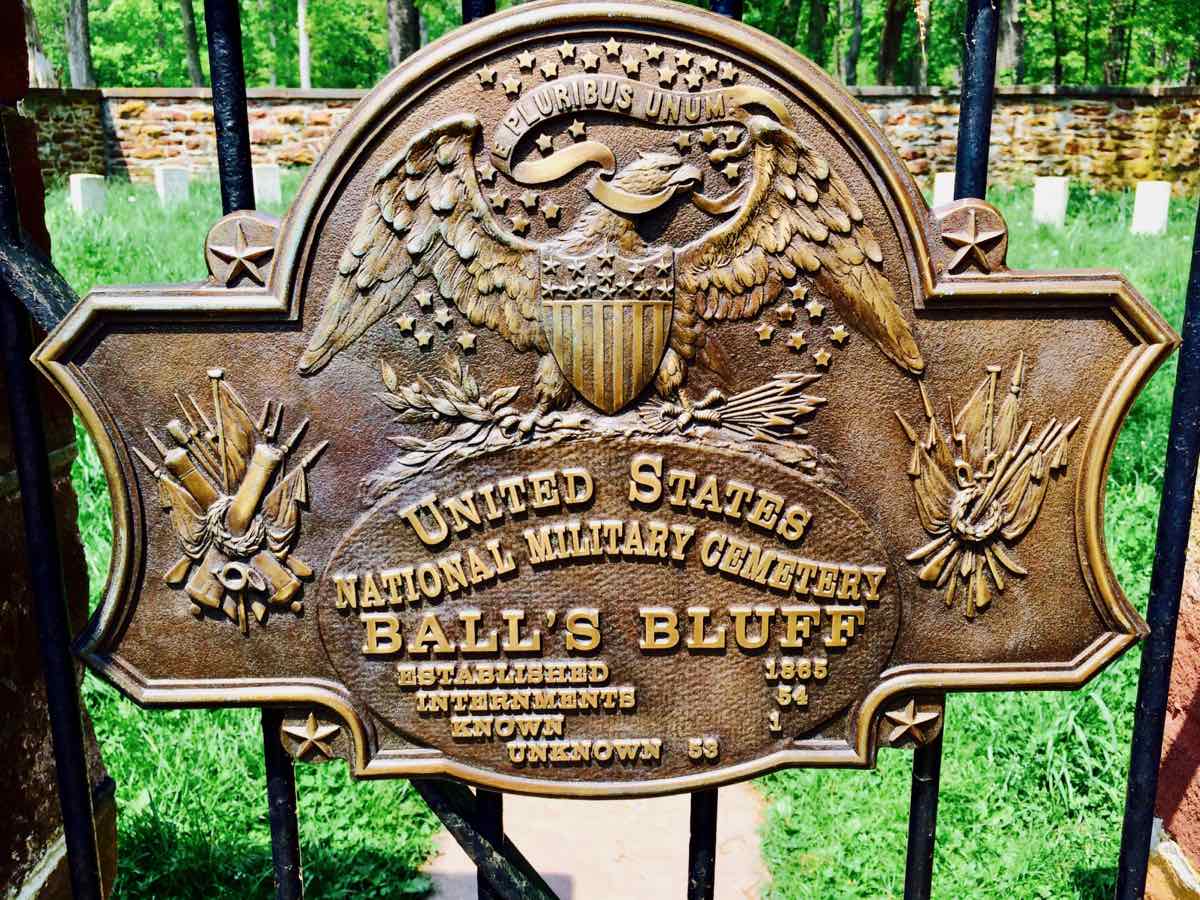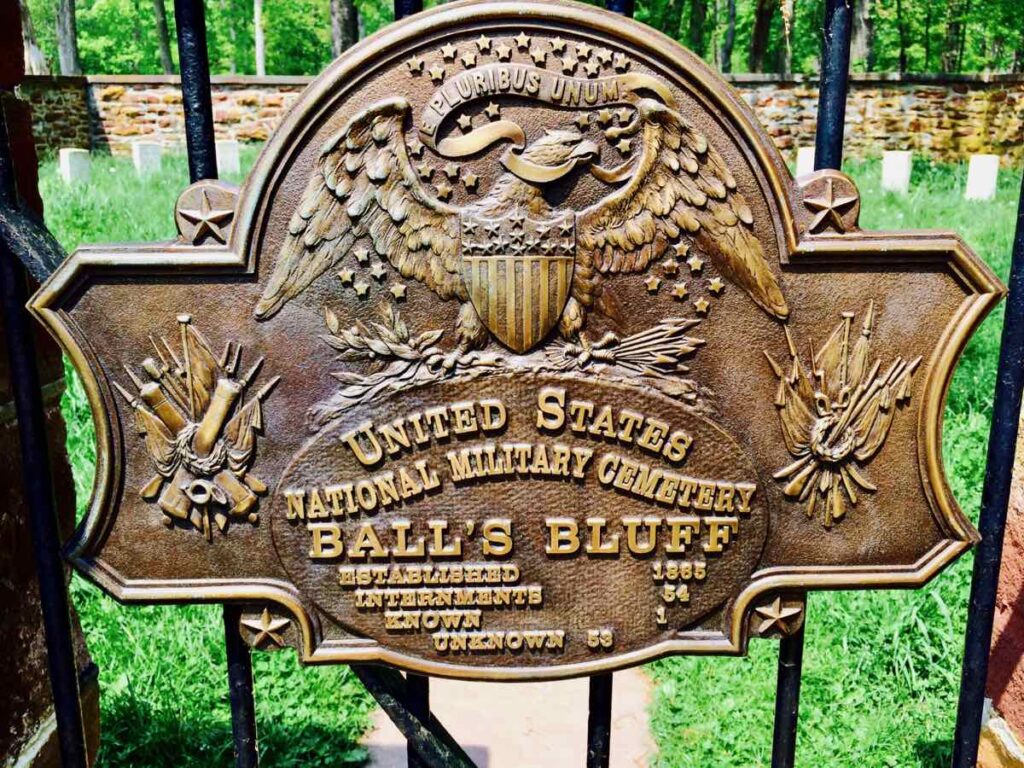 The Balls Bluff Interpretive Trail leads to one of the small National Military Cemeteries in the country, where 25 headstones mark the resting place of 45 soldiers. Beyond the cemetery, steep trails lead down to the Potomac River.
Best Hikes in Prince William County
The National Park Service maintains excellent trails at Manassas National Battlefield and Prince William Forest. Both sites offer a wonderful mix of nature and history. Other trails include a Virginia State Park and a pretty wetlands boardwalk.
First Manassas Loop, Manassas National Battlefield
Hike through history on the 5.5-mile First Manassas Loop Trail at Manassas National Battlefield Park. The land has been preserved to look much as it did when the first major land battle of the Civil War was fought here.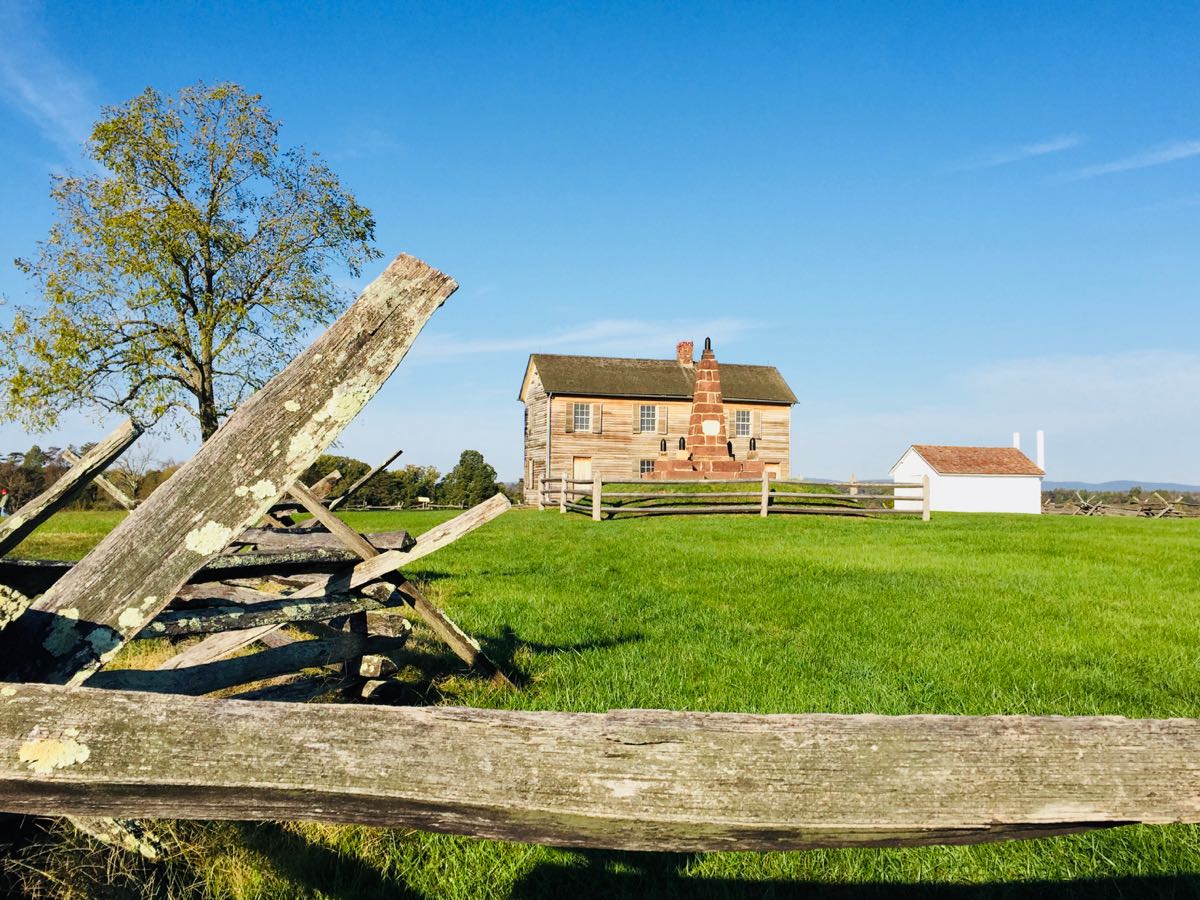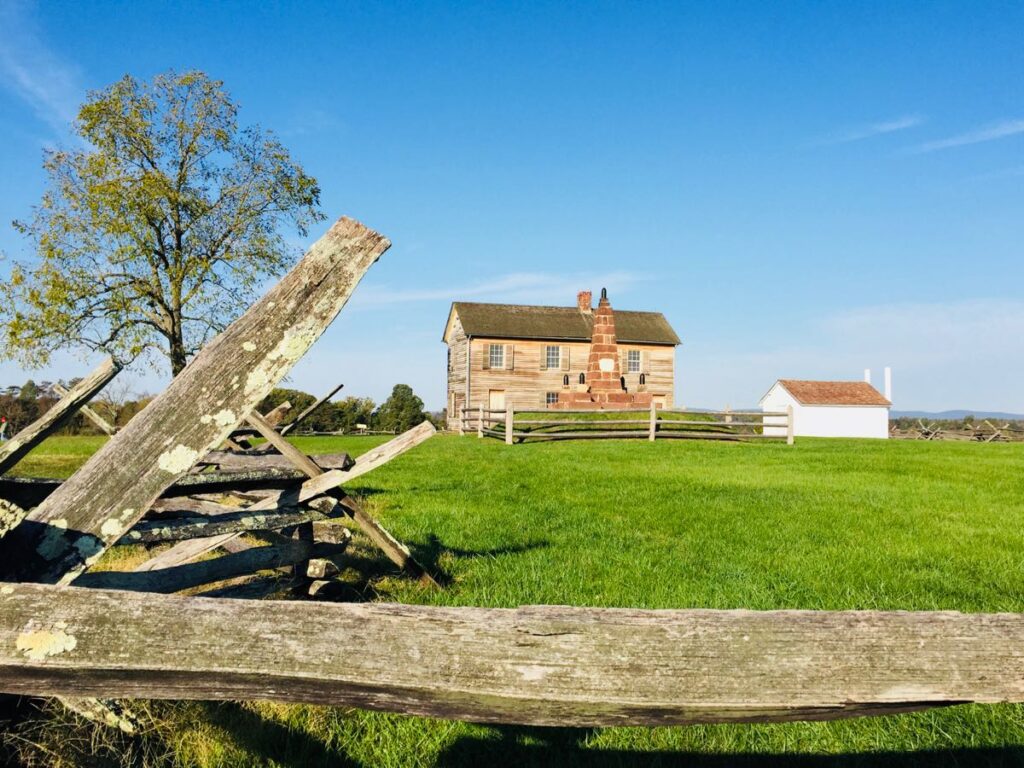 Hikers follow the movement of Union and Confederate soldiers during the battle. The trail passes through woods and open fields passing many historic sites including the Stone Bridge, Stone House, and Henry Hill. Hikers can begin the loop at the park's Visitor Center or the Stone Bridge parking area.
Nearby Conway Robinson Forest offers shady easy hiking with a lesson in forestry. The 3-mile Blue Trail loops through the woods passing old-growth hardwoods and newer pine forests. Signs along the trail explain forest management and how it has affected the woods here.
Prince William Forest, Triangle
The National Park Service maintains 37 miles of trails and fascinating historic sites in Prince William Forest. My favorite short hike in the park, the 1.4-mile Laurel Loop Trail, is perfect for a family outing. The trail descends a wooded hill to Quantico Creek and a scenic, rustic bridge. It's easy to create a longer hike with connecting trails.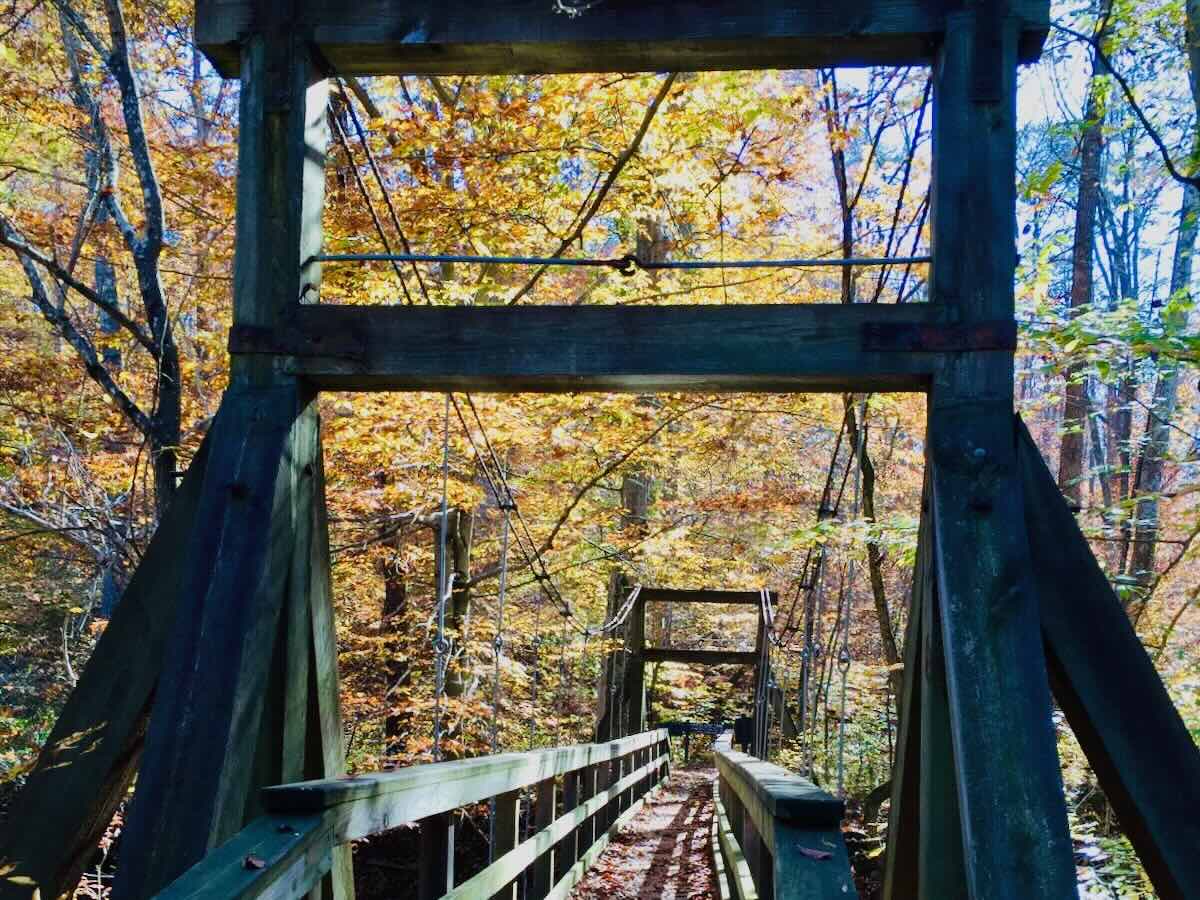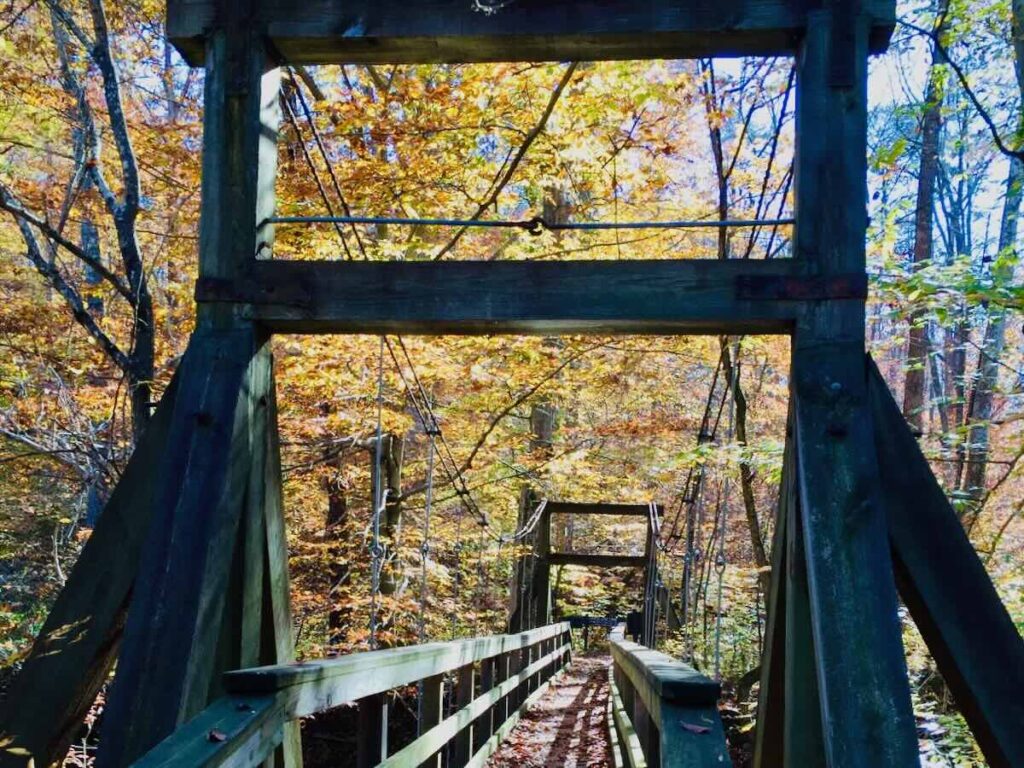 Prince William Forest once served as a summer camp for low-income children and later as a training ground for spies. Today, visitors can rent preserved cabins built by the CCC or stay in some of the best campgrounds near DC.
Neabsco Creek Boardwalk, Woodbridge
Here is an easy Northern Virginia hike for kids and nature lovers of all ages. The Neabsco Creek Boardwalk stretches 3/4 miles over the creek and wetlands in this 300-acre wildlife preserve. For a longer hike, continue on the Potomac Heritage Trail through the Julie J Metz Wetlands Preserve and into Leesylvania State Park.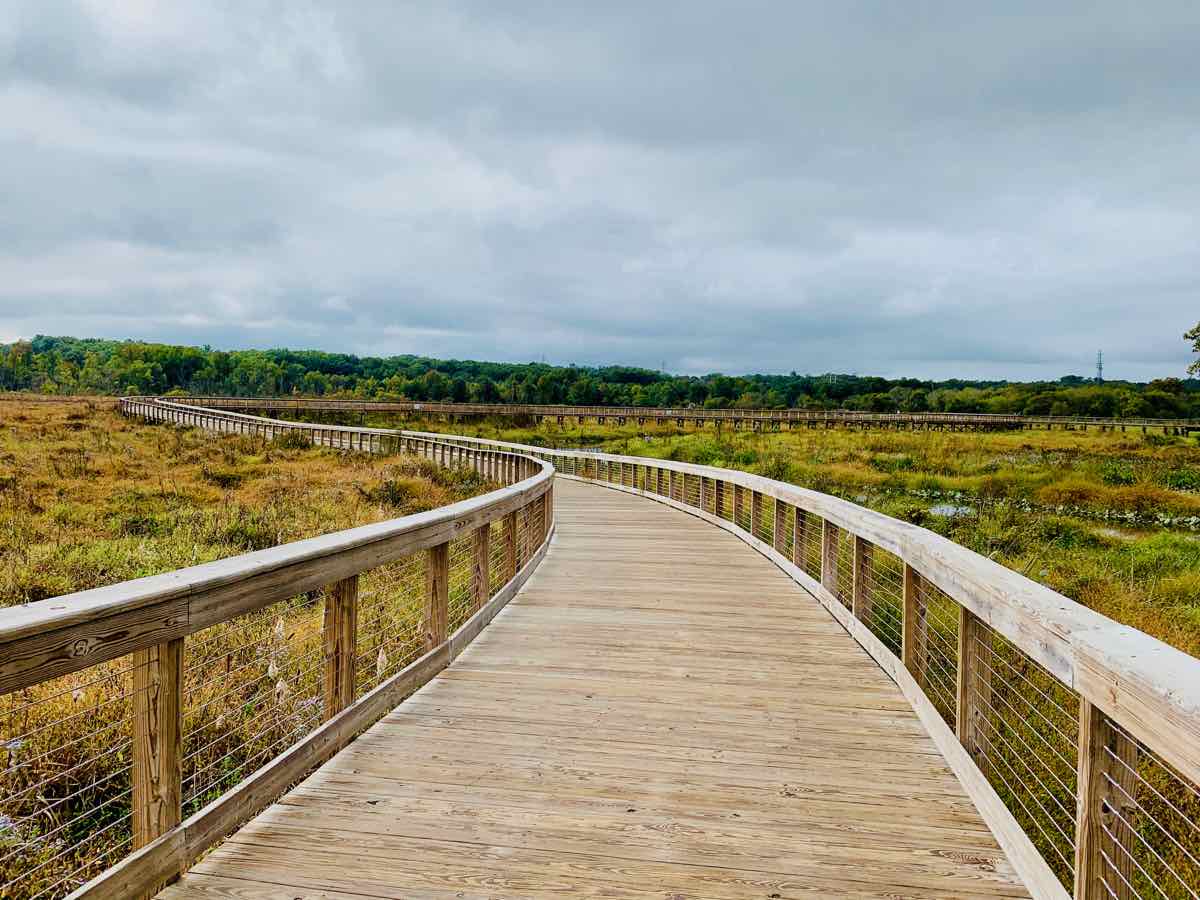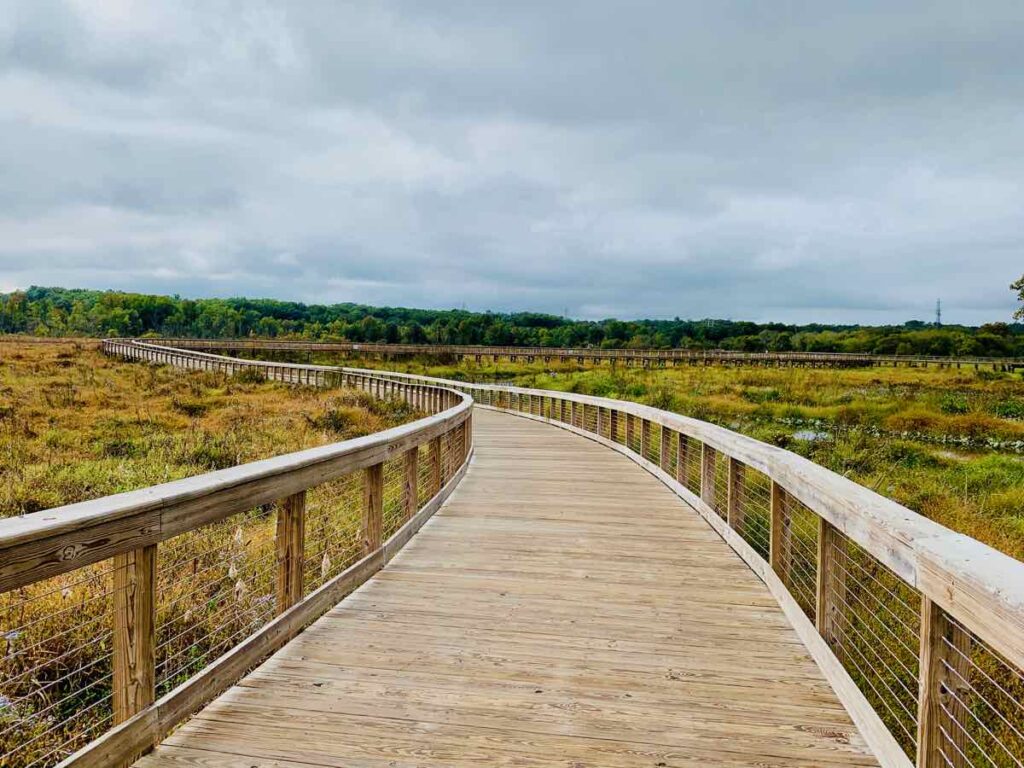 The stroller-friendly and wheelchair-accessible trail is a beautiful spot for bird-watching. Keep an eye out for great blue herons, eagles, and songbirds plus turtles, muskrats, frogs, and fish that make their home in the wetlands. Kids will also enjoy the nice playground near the trail parking area.
Leesylvania State Park, Woodbridge
A history-filled loop trail and beautiful water views make Leesylvania State Park a favorite hiking spot. The 2-mile Lee's Woods Trail is an easy walk through the woods past historic sites including a Civil War battery at Freestone Point and the Lee and Fairfax ancestral home sites.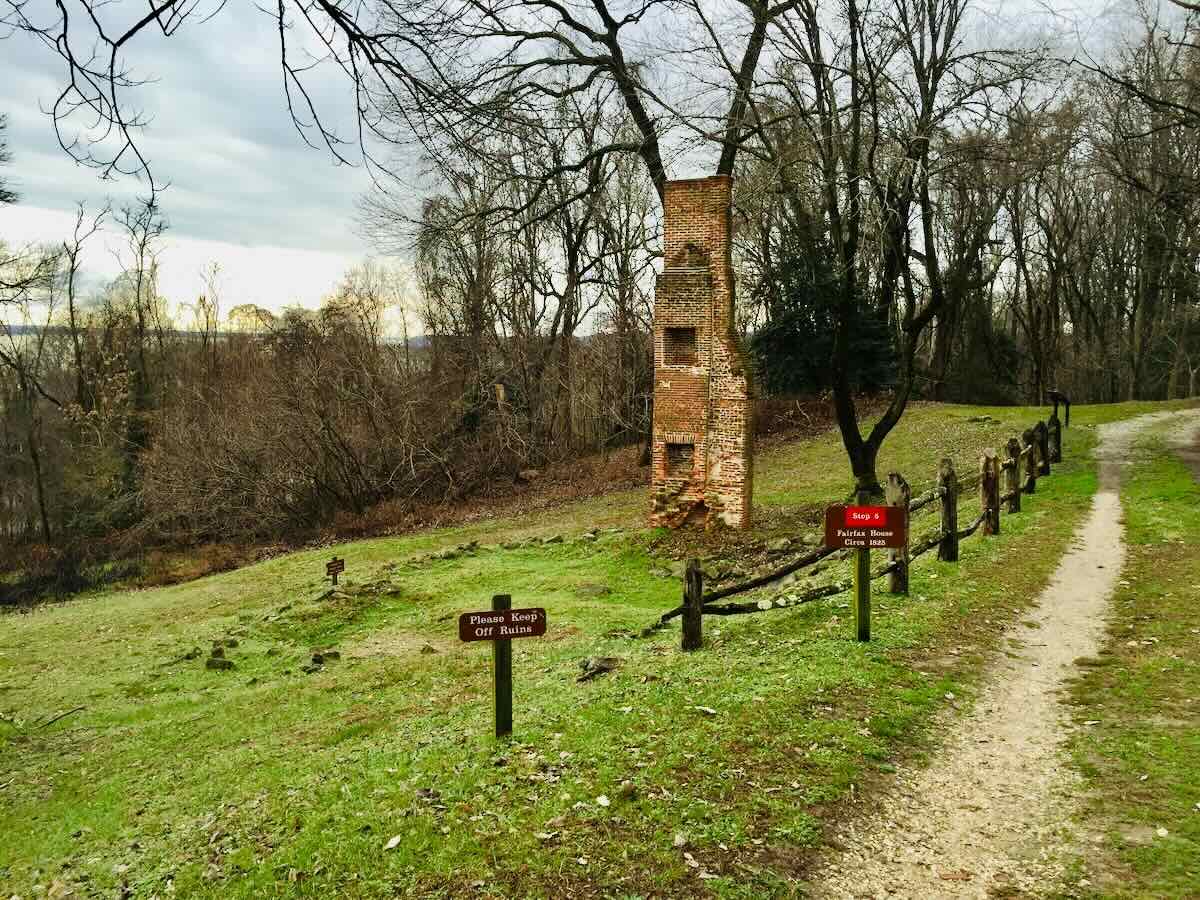 Leesylvania's sandy beach and fishing pier face east, making the park one of the best places to watch sunrise in Northern Virginia. Be sure to walk out onto the pier, where you can stand over the water with one foot in Virginia and the other in Maryland.
While there are many beautiful hikes in Northern VA (see my complete hikes list here), you'll have to head to the mountains for longer climbs and views. Plan a day trip to Shenandoah National Park for more fantastic hikes in Virginia. Or head west to the Washington and Jefferson National Forests for short but gorgeous hikes to Big Schloss and Tibbet Knob. Happy hiking!
Follow us on Facebook, Twitter, Pinterest, and Instagram for more fun travel in and from Northern Virginia.
Pin it for Later: