Updated on November 7, 2023 by Julie McCool
The three mile out-and-back Tibbet Knob hike delivers gorgeous views and a rocky climb along the West Virginia border in George Washington and Jefferson National Forest. Views from the summit are not as spectacular as those from nearby Big Schloss, but the trail is less busy so it's a good alternative hike.
Disclosure: This article may contain affiliate links. We will make a small commission from these links if you order something, at no additional cost to you.
The protected National Forest land covers nearly 1.8 million acres along the Appalachian Mountains of Virginia, West Virginia, and Kentucky. Both the Tibbet Knob hike and Big Schloss are accessed from the same parking area, which has convenient bathrooms, picnic tables, and camping spots.
Tibbet Knob Hike Details
The Tibbet Knob hike begins across the street from the Wolf Gap Recreation Area parking lot. Look for the trailhead sign and follow the yellow blazes as you climb a moderately steep and rocky trail along the Virginia and West Virginia border.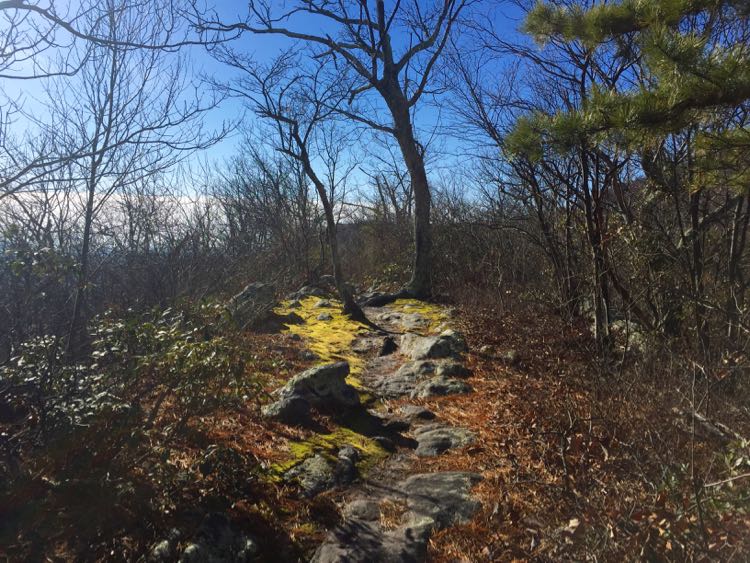 You'll enjoy nice views from a mini-summit early in the hike.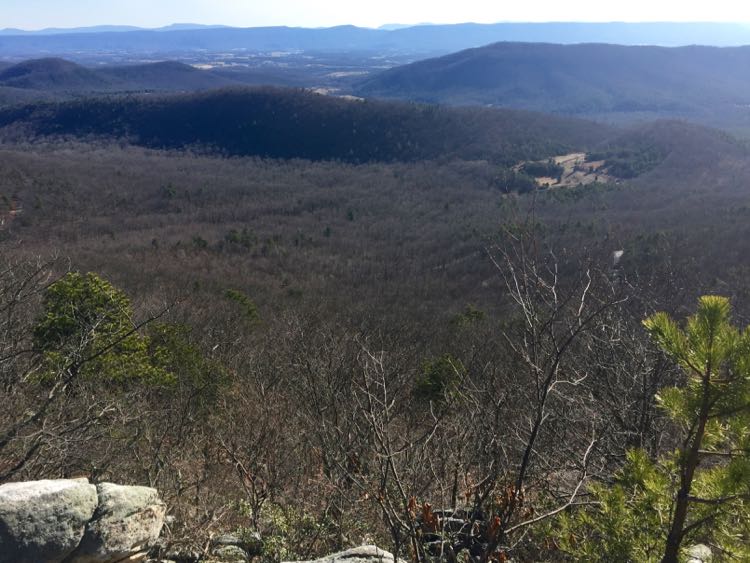 Closer to the true summit, the trail climbs two short, but very steep rock scrambles that could be challenging for small children. Rock lovers will enjoy a chance to explore the outcroppings before the final push to the summit.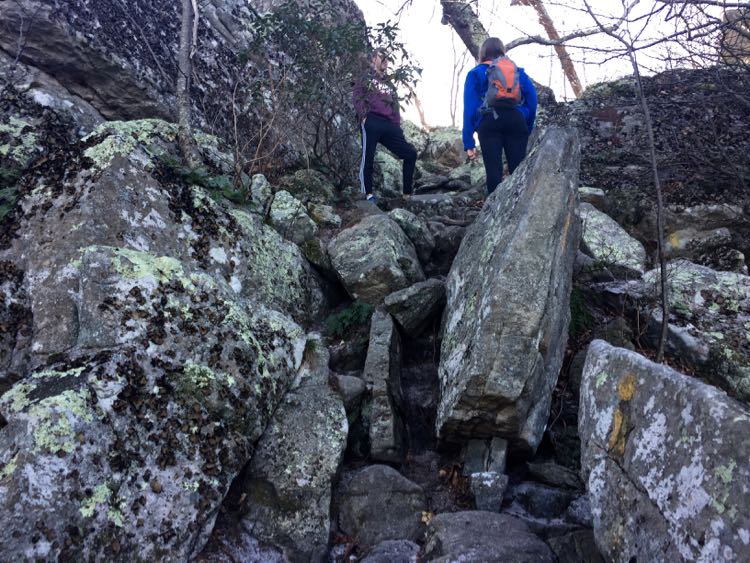 Beautiful summit views are the payoff for your effort. Rocky outcroppings along the summit are perfect for a lunch stop before your return hike.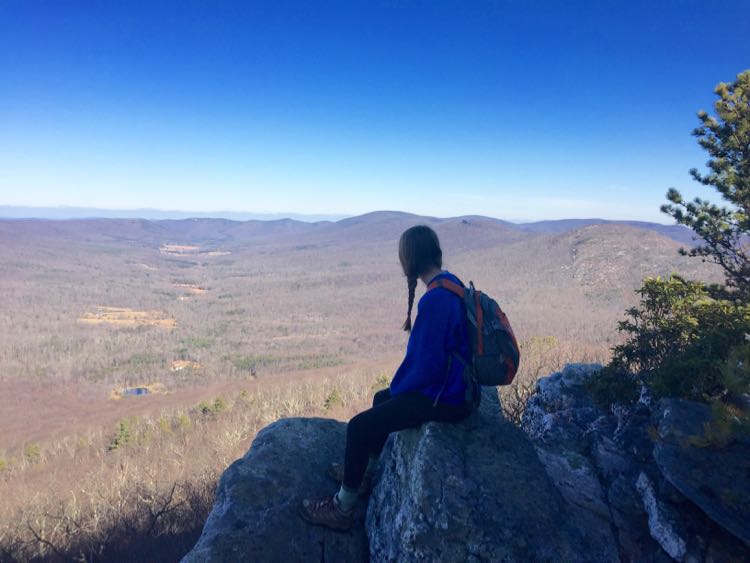 Increase the challenge and maximize the views by combining the Tibbet Knob hike with the climb to Big Schloss, for a combined 7 miles of hiking (with a convenient half way pit stop at the parking area restrooms).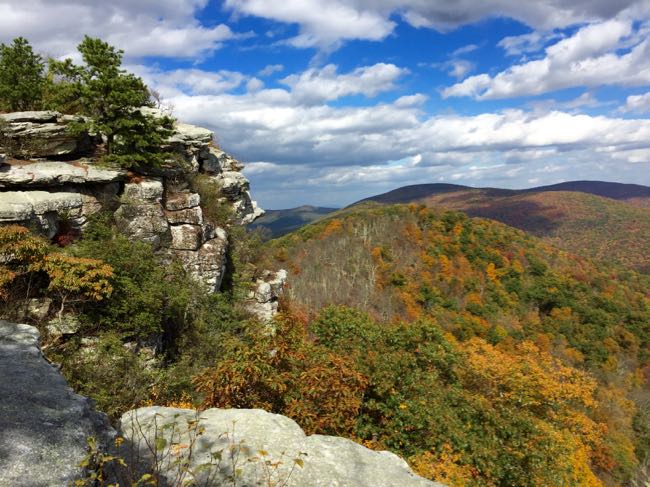 Make Your Tibbet Knob Hike a Weekend Getaway
It's about a 2-hour drive from downtown Washington DC to the Wolf Gap Campground on routes 66 and 81. While that's a bit of a trek, the scenery is very pretty once you get past Gainesville.
Make your driving effort pay off by combining your hike with a stay at one of the cool towns in the Shenandoah Valley. The stretch from Winchester to Harrisonburg offers plenty of options for unique stays and delicious dining, plus the chance to enjoy wineries, breweries, museums, and scenic country roads. Check out our recommendations here: Northern Shenandoah Valley Road Trip: Winchester to Harrisonburg.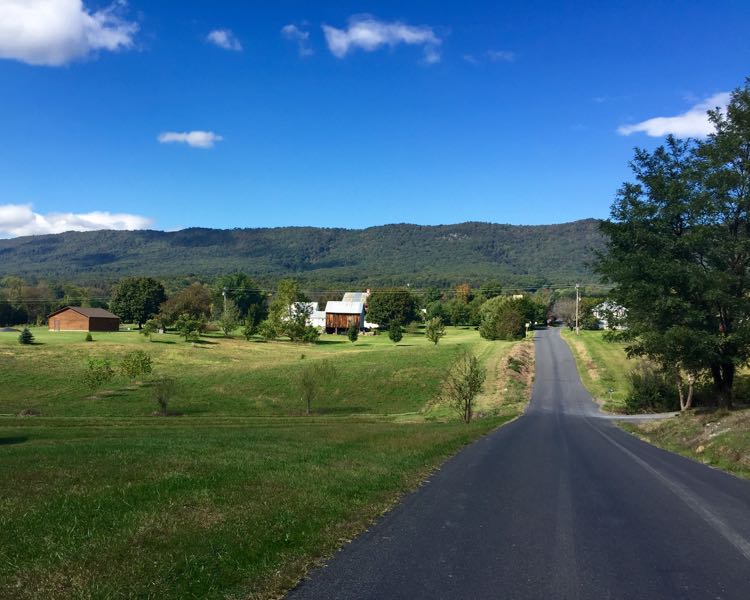 Whether you make it a day trip or a weekend getaway, a single hike or a Big Schloss combo, your Tibbet Knob hike will definitely give you a nice workout and fantastic scenery. Let us know what you think when you climb Tibbet Knob.
Follow us on Facebook, Twitter, Pinterest, and Instagram for more fun places to explore in Northern Virginia and surrounding areas. Thanks!