The DC Winter Lantern Festival in Northern Virginia is a beautiful walk-through display of stunning Chinese lantern sculptures and interactive displays. The new festival, opening for the first time at Tysons Lerner Square, is a wonderful addition to DC area holiday light shows.
The Winter Lantern Festival features over 10,000 handmade lanterns, from tiny flowers to huge, 30-foot-high sculptures. More than 100 expert Chinese artisans created these beautiful lanterns, continuing a long cultural tradition.
The 2022 DC Lantern Festival opens just in time for the Christmas break and is open daily during Christmas week, including Christmas and New Year's Day. The festival is open weekends until mid-February adding festive fun to chilly winter weekends. Read on for photos, tips, and essential information for your festival visit.
Disclosure: This article may contain affiliate links. We will make a small commission from these links if you order something, at no additional cost to you.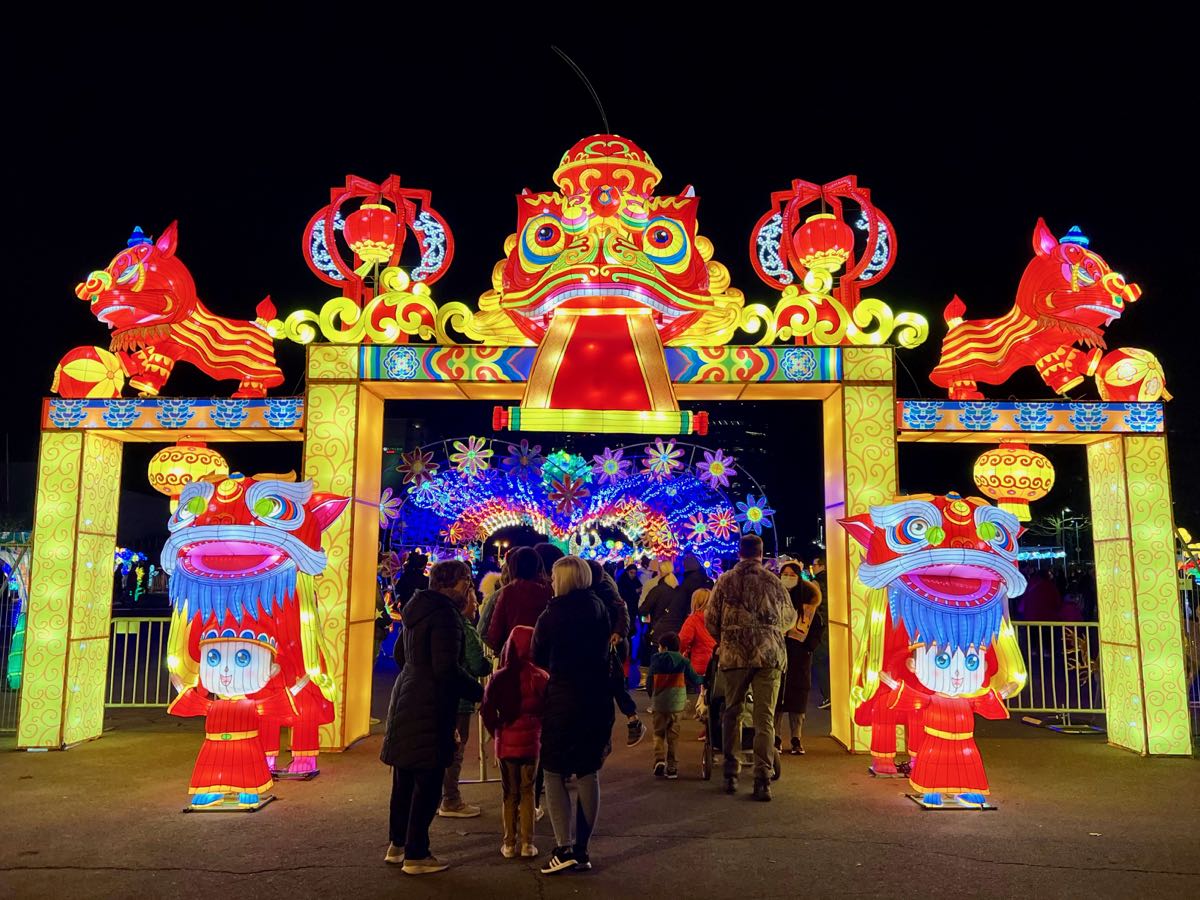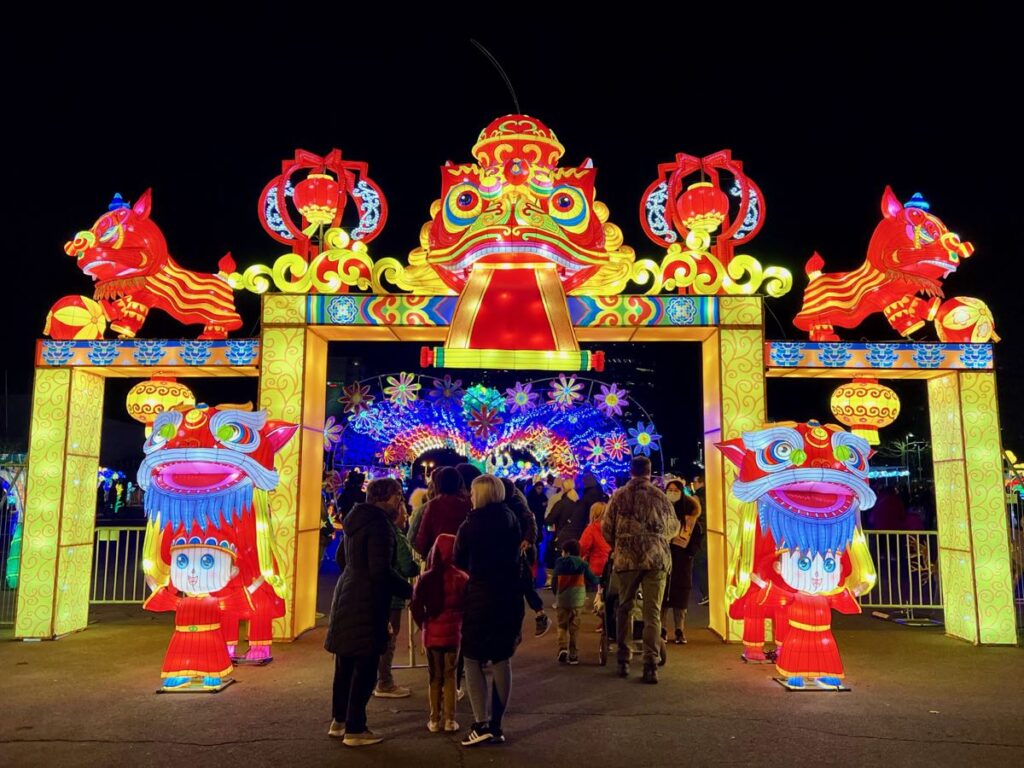 Looking for more fun holiday light shows? We highly recommend the Meadowlark Gardens Winter Walk of Lights, a beautiful walkthrough display in Vienna VA. In addition, the Bull Run Festival of Lights Holiday Drive-Through in Centreville VA has been a family favorite for many years.
We attended a media preview of the DC Winter Lantern Festival in Tysons VA. All photos, text, and opinions are our own.
What to Expect at the Winter Lantern Festival
Like other Chinese lantern festivals that have visited Northern Virginia (including LightUp Fest and Luminocity) lantern sculptures are an eclectic mix. The Tysons Lantern Festival theme highlights Chinese myths, legends, and zodiacs. In addition, sculptures feature animals and scenes both real and imagined.
Check out our Winter Lantern Festival video for a quick overview of festival highlights.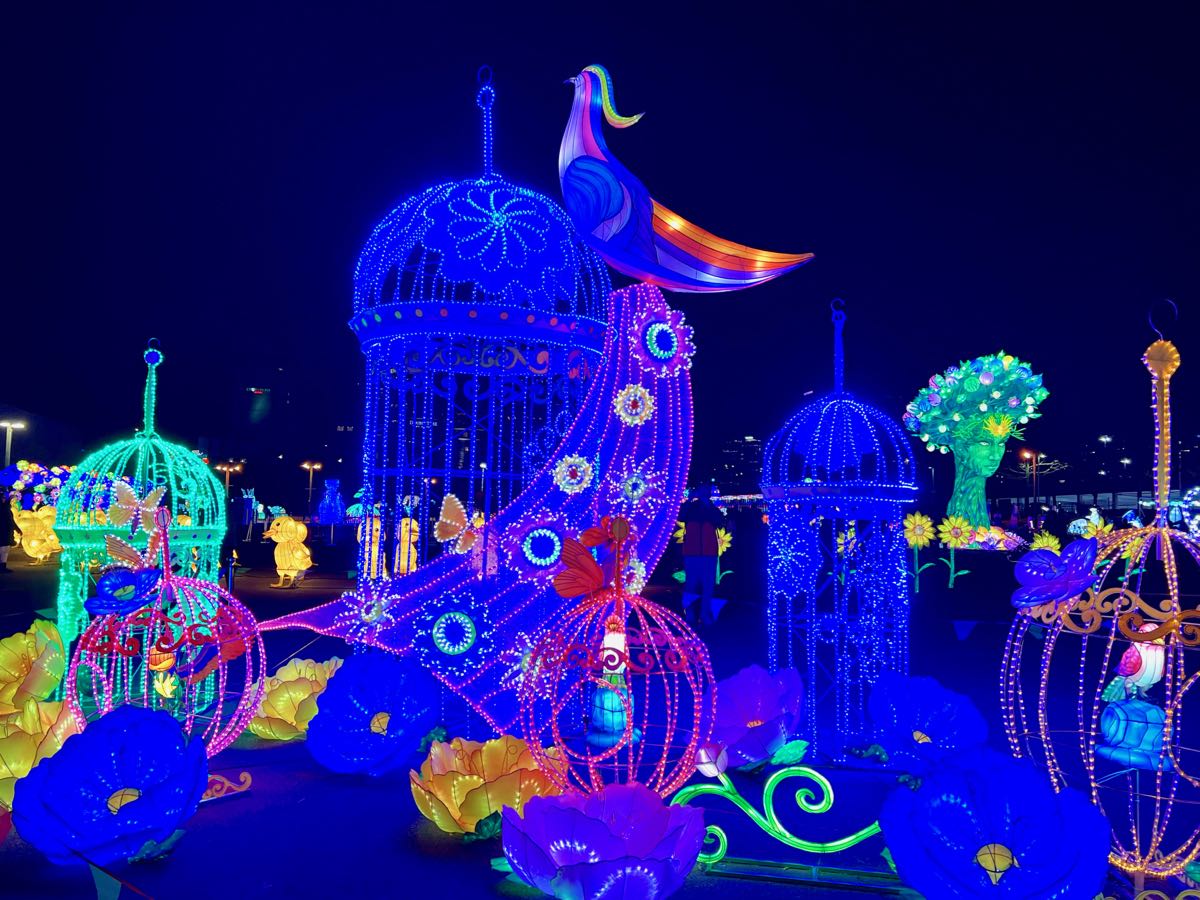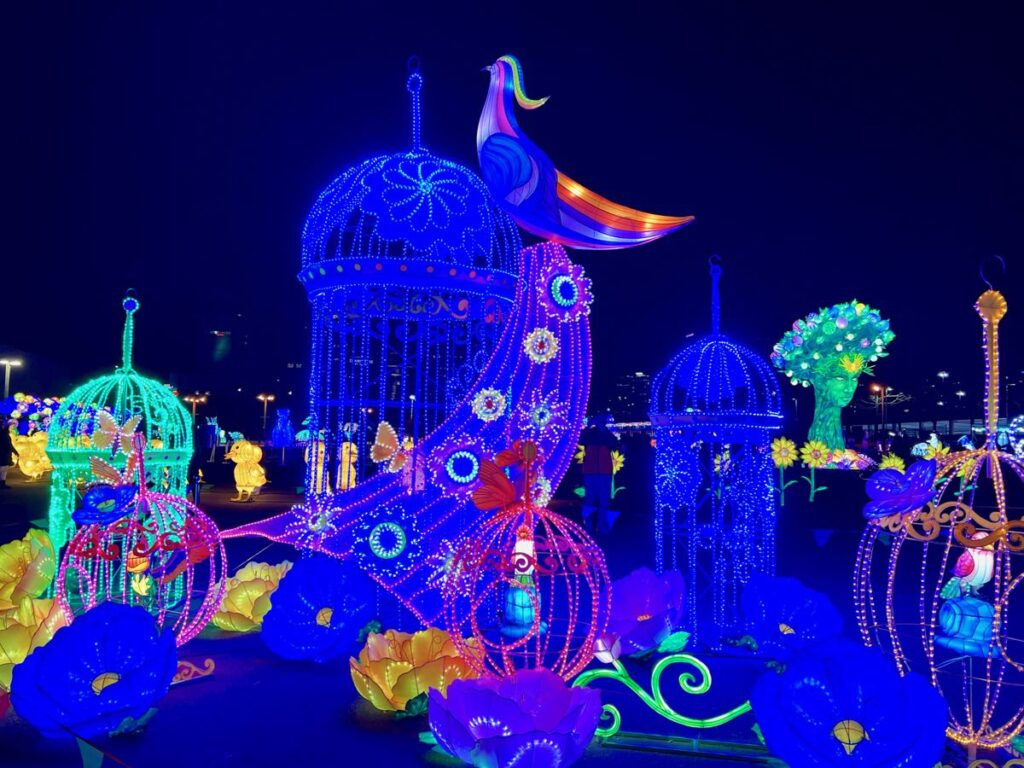 Winter Lantern Festival sculptures are installed throughout the spacious, paved space at Lerner Square. The parking-lot like setting is not the most scenic, but it allows a lot of room to spread out. The number and size of the lantern sculptures displayed is impressive. Interactive elements and live performances add fun for all ages.
Colorful lanterns in themed groups stretch the length of the square. Large displays fill the middle and both sides of the lot, so you'll likely need more than one trip from end-to-end to see them all. Prepare for a lot of walking!
Each lantern display creates a spectacular backdrop for family photos. There are multiple tunnels of flowers and planets, a brightly-lit maze, and giant sculptures to see.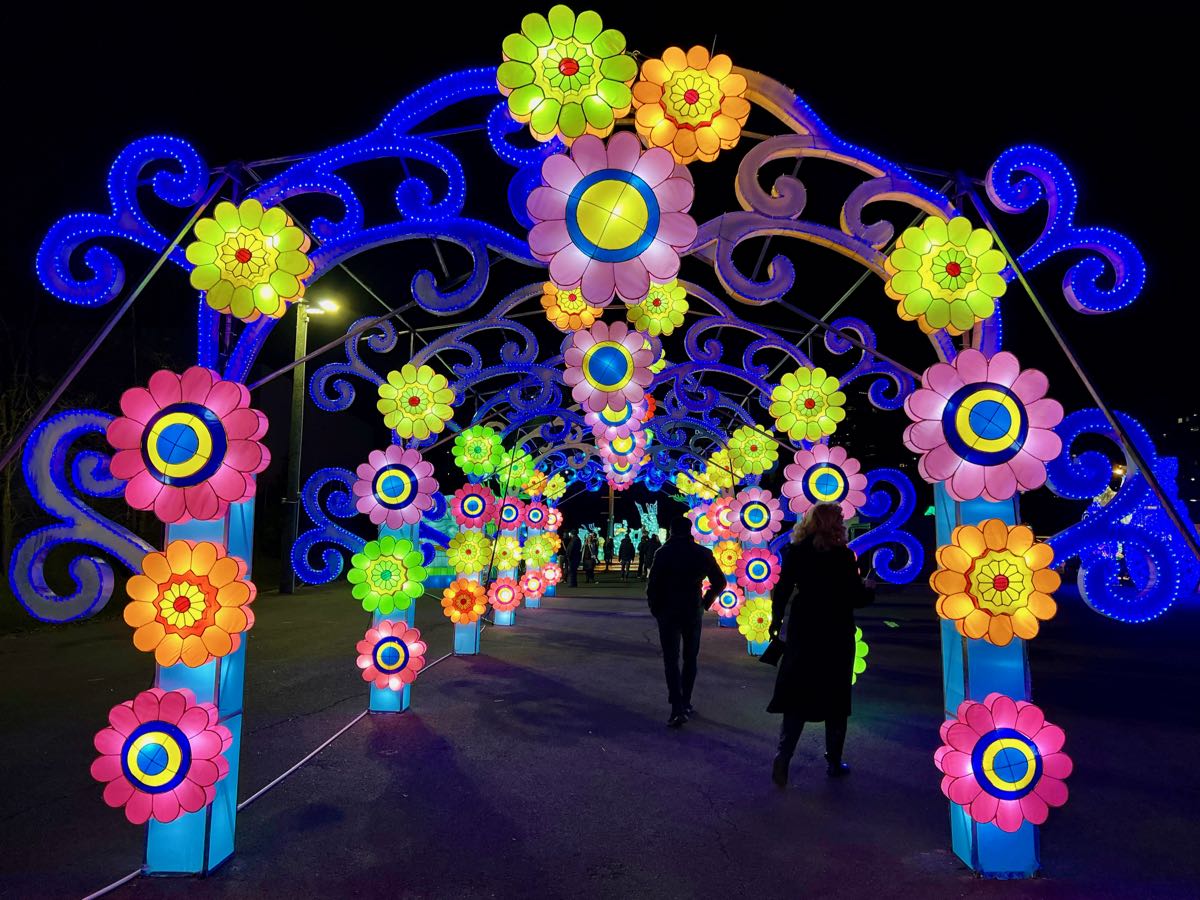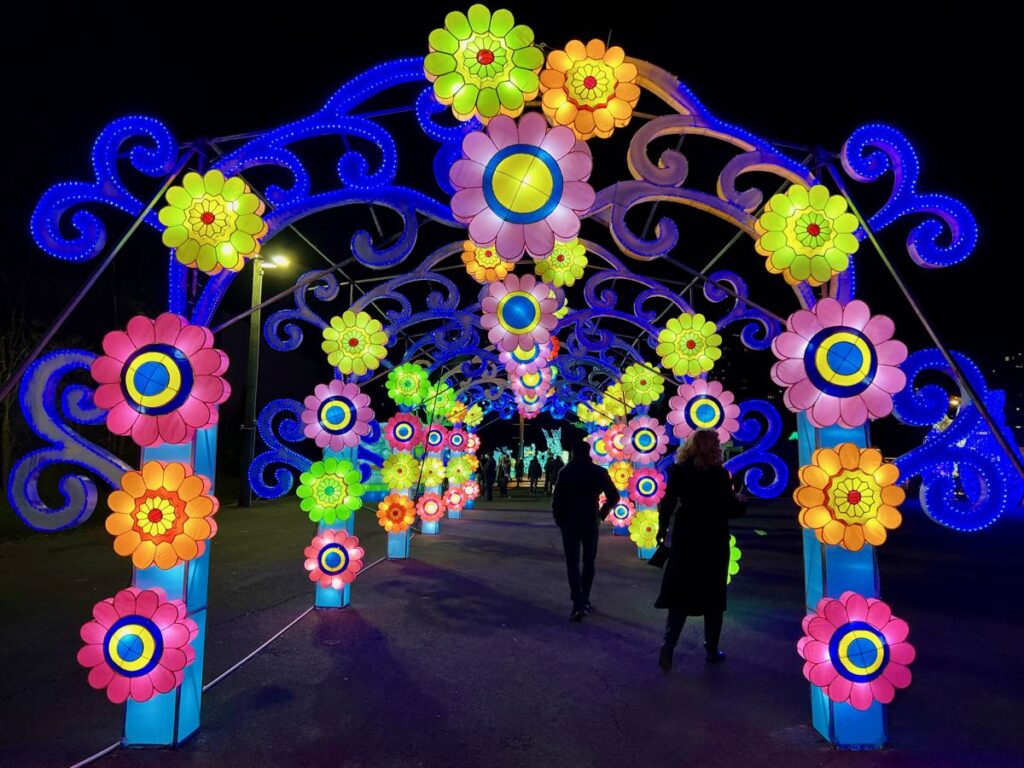 Animated venus fly traps and alligators chomp, while squirrels, cats, chicks, and other cute critters greet young visitors. Dragons, mythical beasts, and colorful sea creatures will dazzle children and adults alike.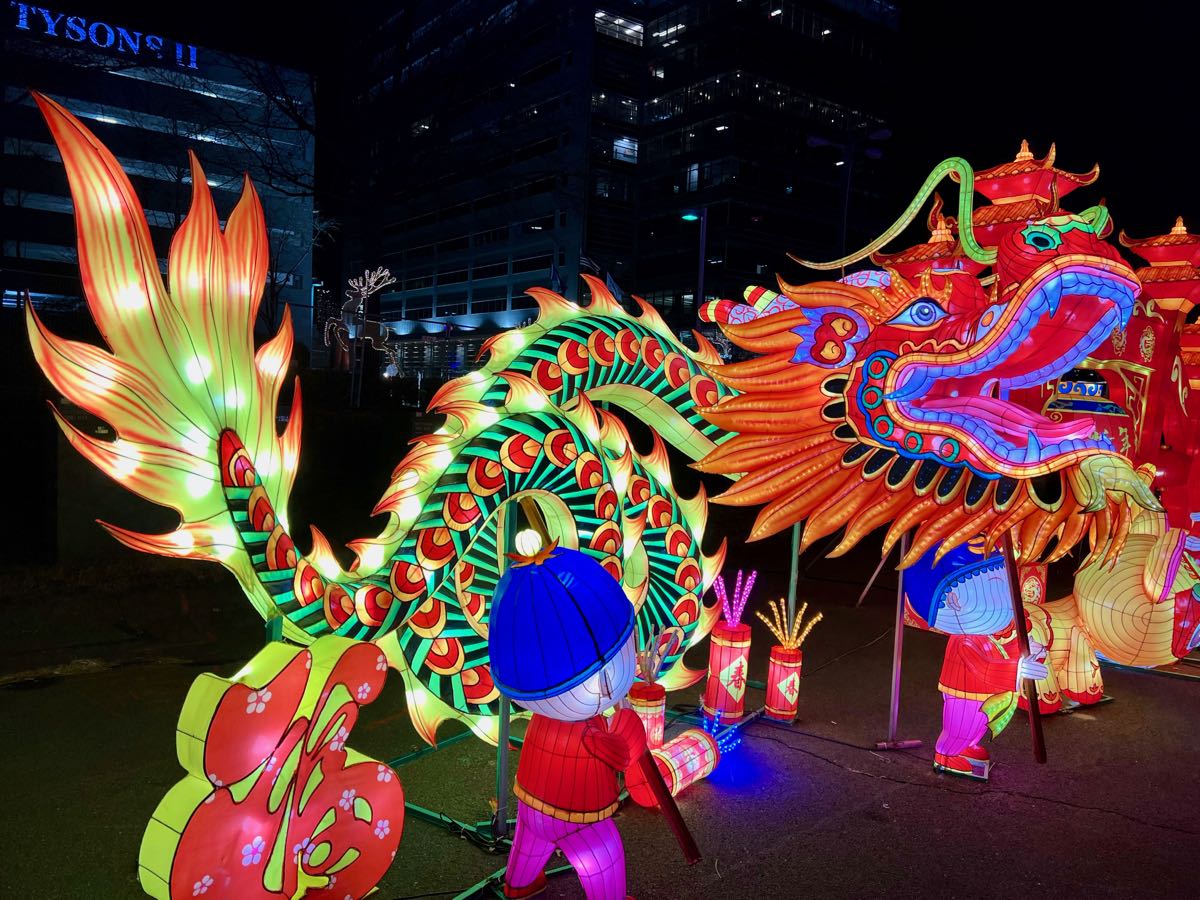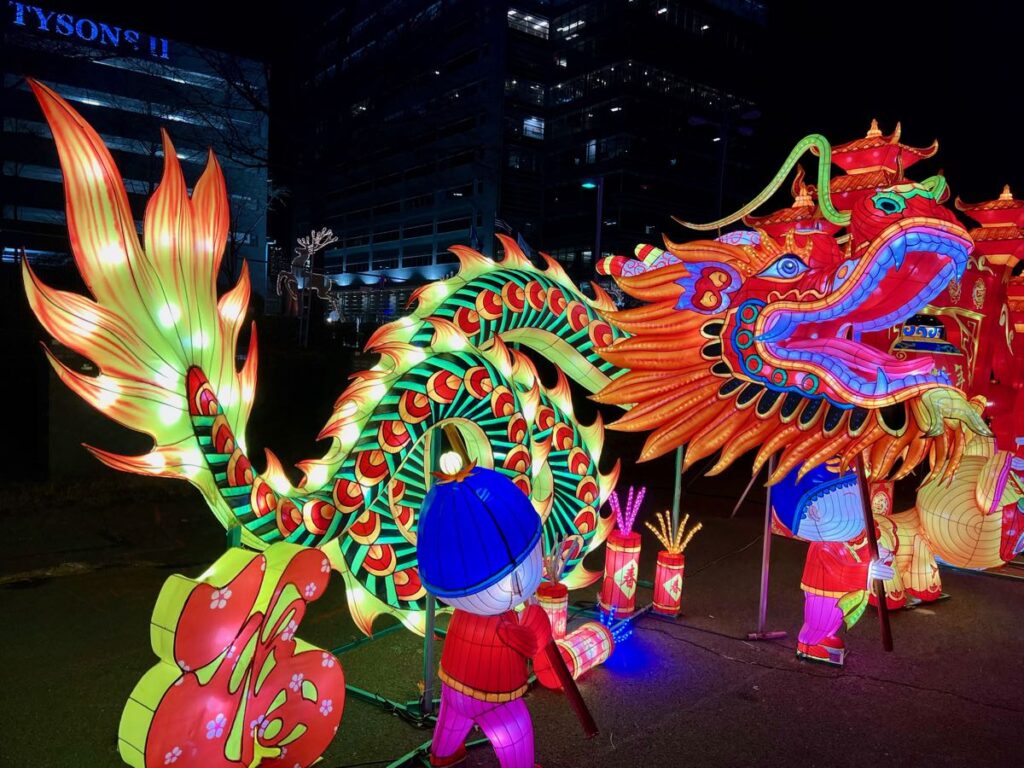 Interactive Family-friendly Lantern Festival Activities
In addition to the sculptures, there are a lot of interactive displays (more than other lantern fests we've attended). The mix of dazzling displays and hands-on elements make the DC Winter Lantern Festival extra fun for kids and families.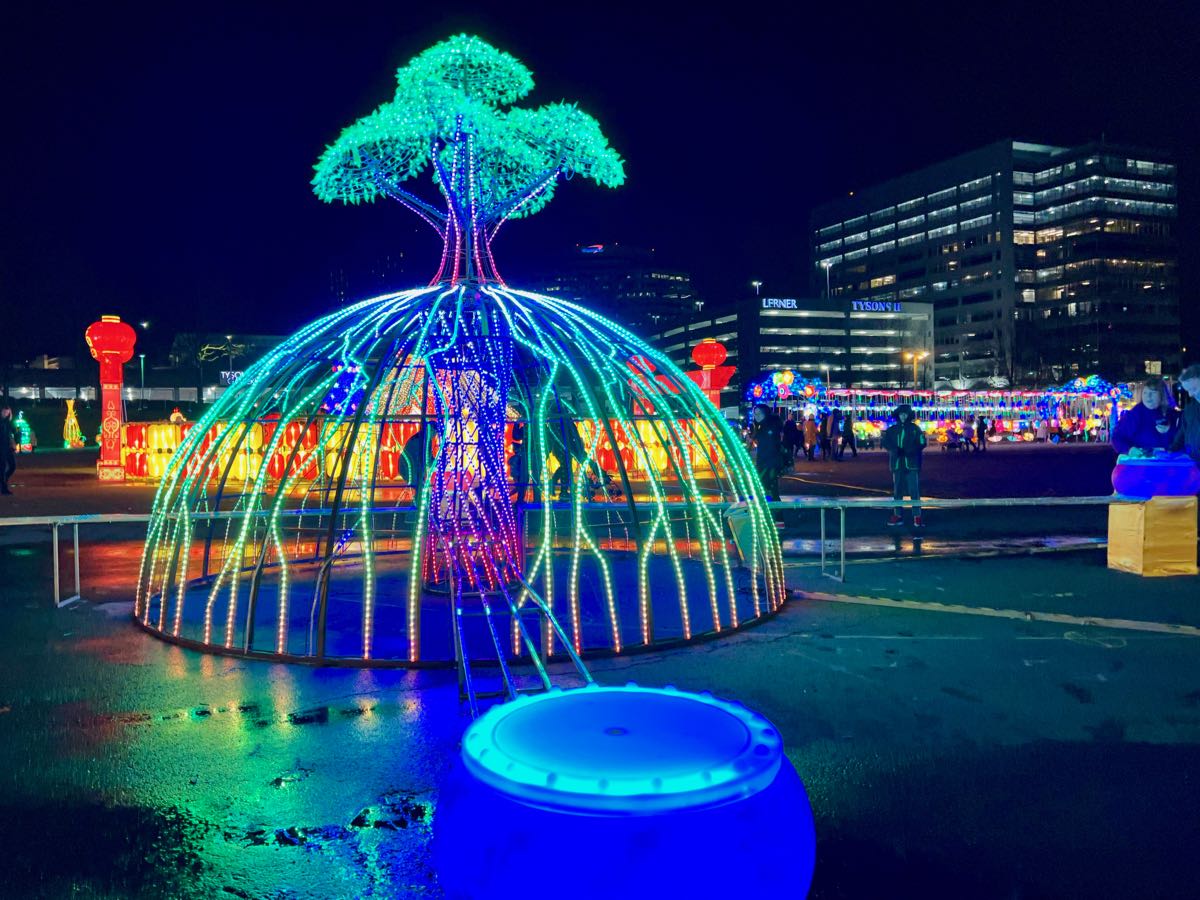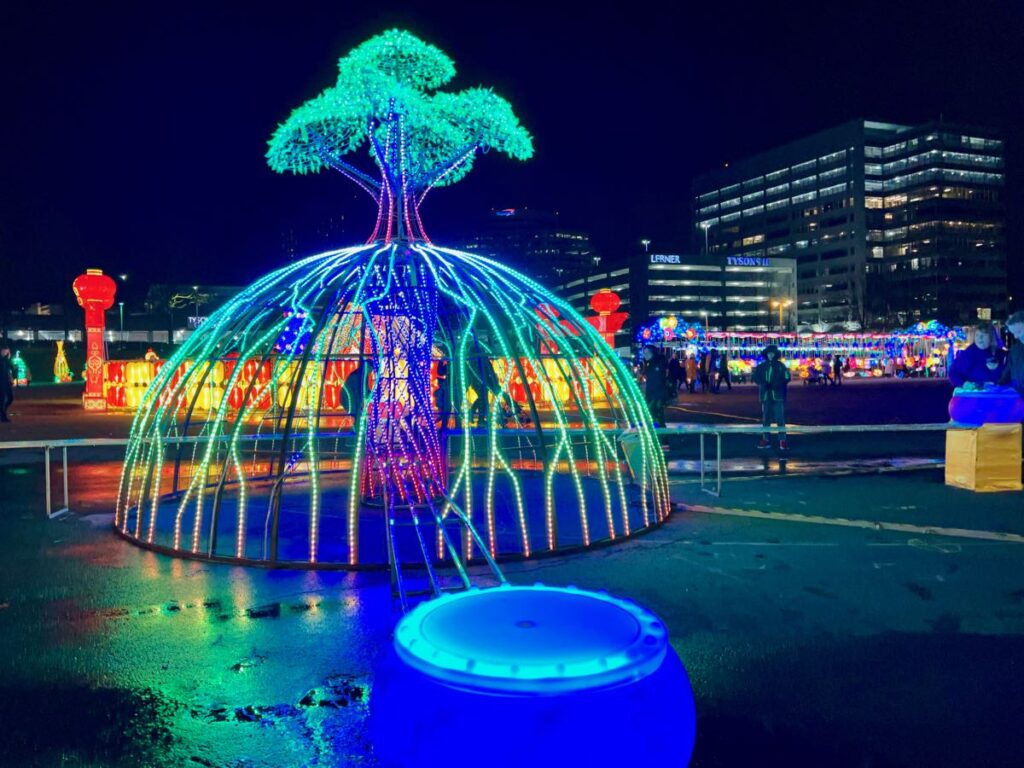 Here are some of the adult and kid-friendly activities at the Winter Lantern Festival:
Light-up plastic swings and see-saws bring new flare to playground favorites.
Give the little ones a spin on a short human-powered roller coaster.
Pop the kids into a Kaleidoscope tube for cool photos (and a moment's rest).
The whole family can bang brightly lit drums to send streaks of colored lights to a central "tree".
Get fun selfies and pics next to favorite lantern creatures, some of which move.
Several brightly lit tunnels are a perfect setting for family photos.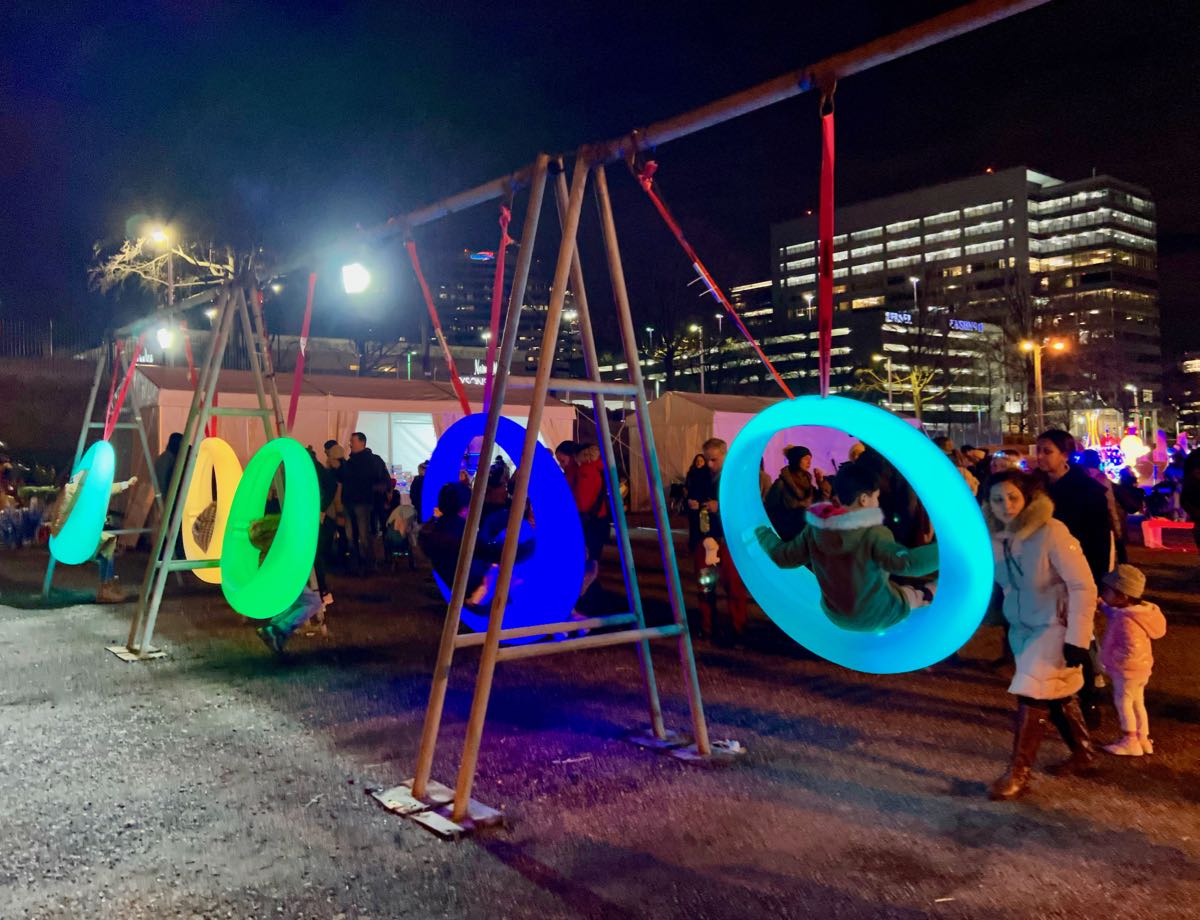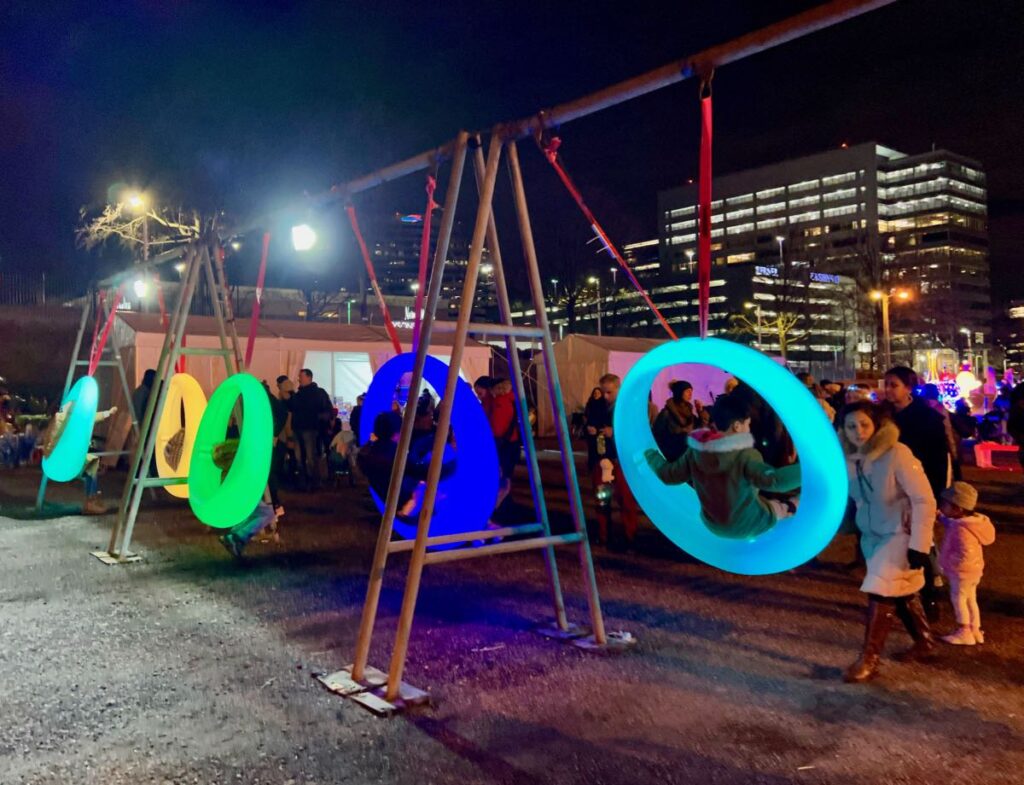 In addition to the interactive displays, live performances are held throughout the evening. Some performances are on a stage near the back of the festival while others are held between displays. For example, jugglers and a martial arts group performed during our visit.
There are two on-site food trucks and a tent selling hot chocolate to hungry and thirsty festival-goers. A small booth sells light-up wands and toys.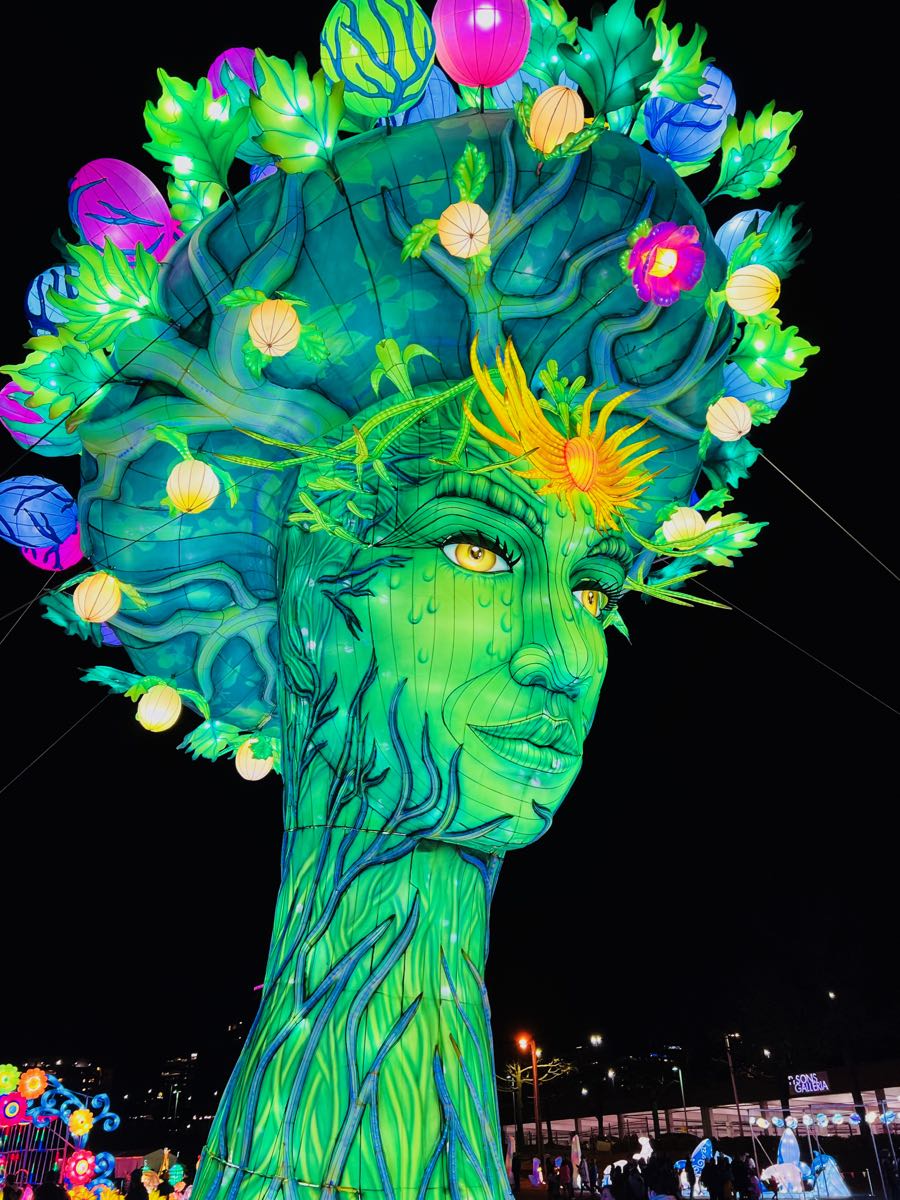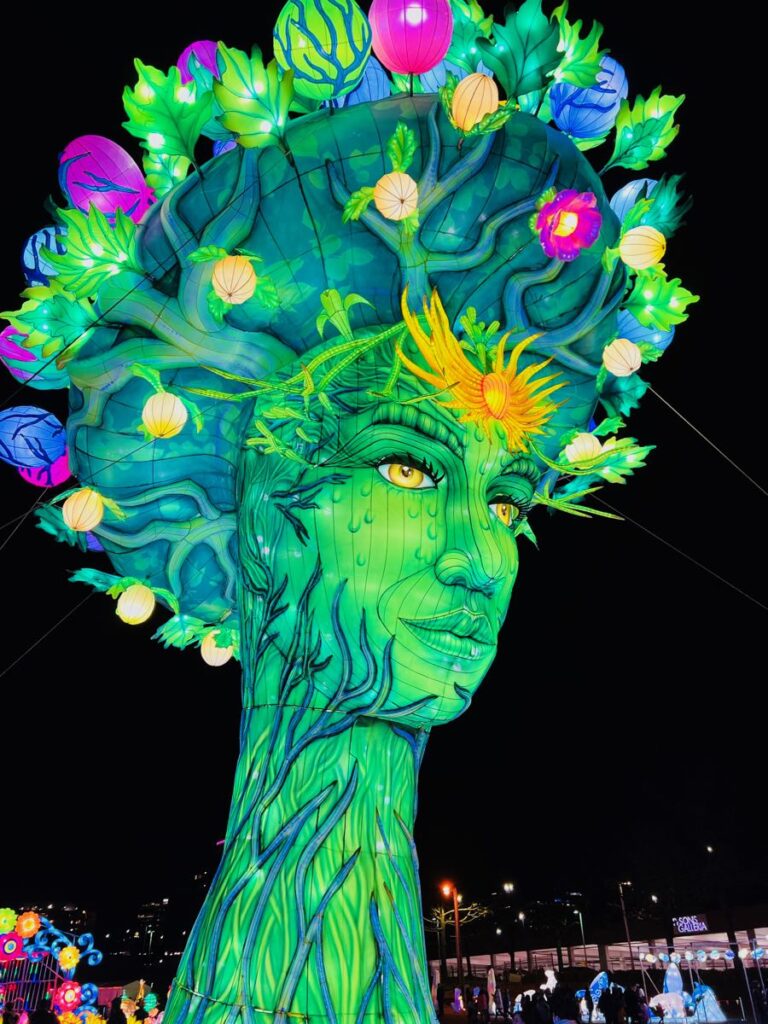 5 Tips for DC Winter Lantern Festival Visitors
Here are 5 tips for a happy lantern festival visit:
Dress warm. The entire festival is outdoors and there are no covered or heated areas. The festival may need to close during rain, snow, and high winds so check for inclement weather closures.
Prepare to walk. Lantern displays are spread out over the full paved lot, so wear comfortable shoes. There are light-up benches near the back if you need a rest.
Watch your footing. Covered power cords stretch between displays, so keep an eye out so you don't trip.
Food is limited. There are two food trucks at the festival. A Philly Cheesesteak truck sells subs, chicken strips, corn dogs, and fries while another truck offers treats. There are lots of great restaurants in the malls if you want a more substantial meal.
Take the metro. While parking is available, the metro is an excellent way to reach the festival. Lerner Square is just a .4-mile walk from the Tysons Corner Metro stop.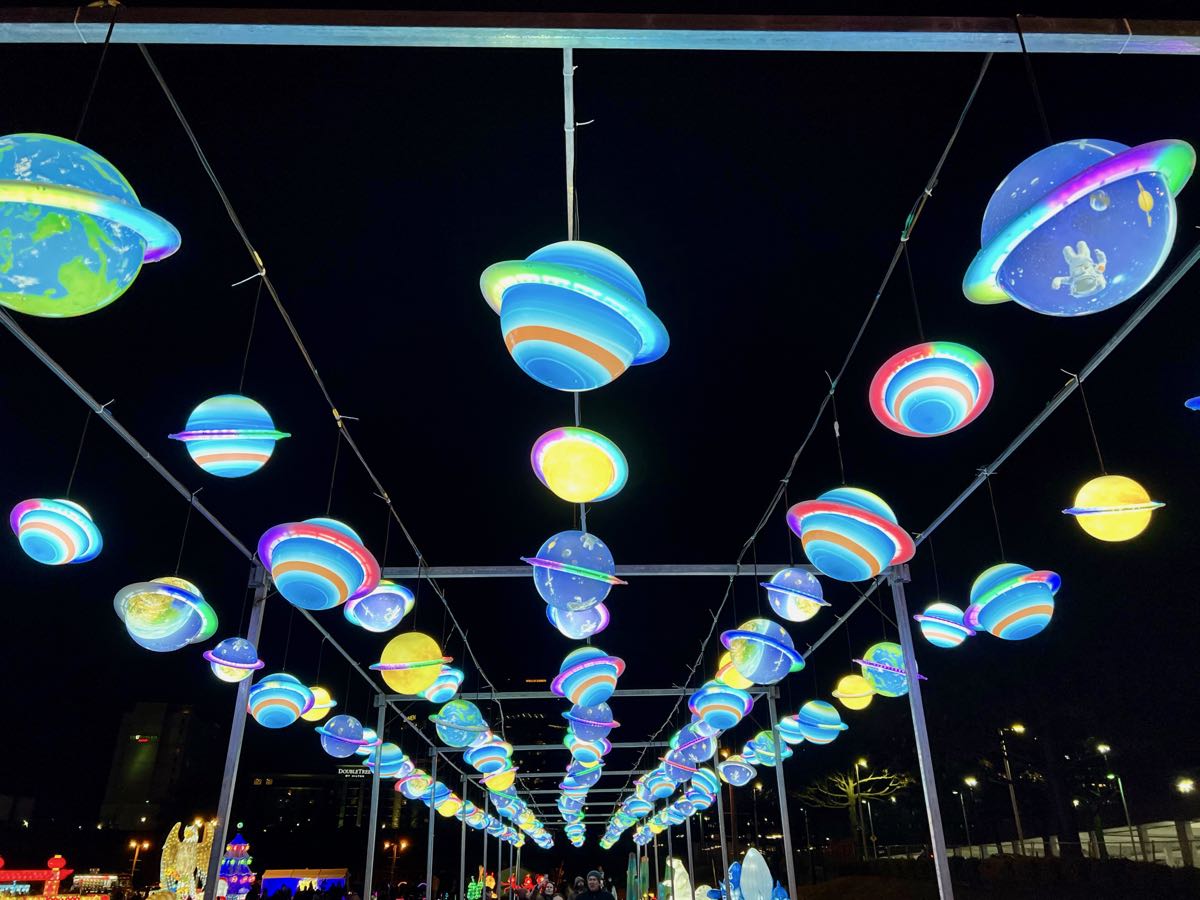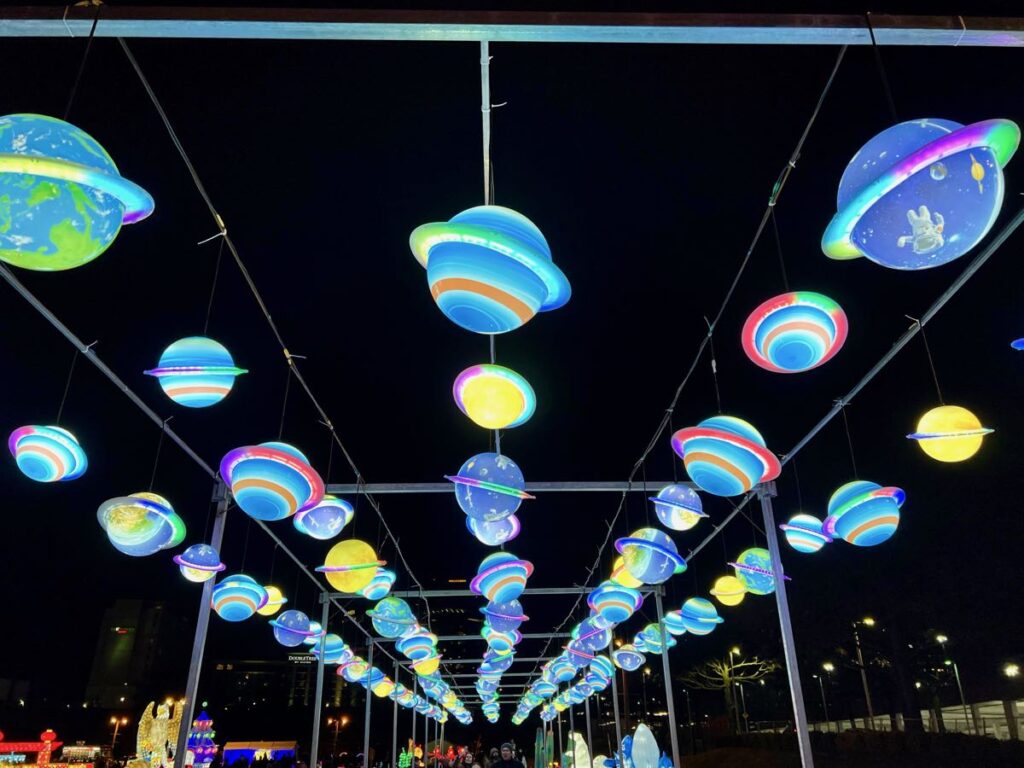 FAQ: Visiting the Winter Lantern Festival
Here is essential information and answers to frequently asked questions about the Winter Lantern Festival in Tysons Virginia
When is the Winter Lantern Festival open?
How much are tickets to the Winter Lantern Festival? Is there a discount code?
Tickets to the Winter Lantern Festival are $29.99 for adults and $19.99 for kids 3 – 12 (under 3 free) plus a $2 service fee. Use discount code LUNAREVE for a 30% discount through February 12th.
Where is the Tysons Winter Lantern Festival located?
The DC Winter Lantern Festival is located at Lerner Square in Tysons Corner, 8025 Galleria Drive. The festival area is located between the Galleria and Tysons Corner malls, where the annual Cirque du Soleil show is held in summer.
Is parking available at the Lantern Festival in Tysons?
Yes, there is dedicated parking for Lerner Square close to the festival entrance for $15. However, we recommend dining and shopping at either Tysons Galleria or Tysons Corner Center mall so you can take advantage of their free parking before or after you visit the festival.
Can I reach the Lantern Festival by Metro?
Yes, the Dulles Metro Tysons Corner stop, on the Silver Line, is right next to Lerner Square. It is a short walk from the metro station to the festival entrance.
Is the Winter Lantern Festival good for kids? For adults?
Yes, the Winter Lantern Festival is fun for all ages. Kids and families will enjoy the mix of interactive elements and animated displays. Adults and couples will enjoy lots of fun photo opps.
How long does the Winter Lantern Festival take?
Allow at least 60 to 90 minutes to see and interact with the DC Lantern Festival displays. You may want to stay longer to see live performances and get a meal from the food truck.
Where can I find more information about the Winter Lantern Festival?
Visit the DC Winter Lantern Festival event website for more information and to check for weather-related closures.
Where can I stay near the Tysons Winter Lantern Festival?
Is the Winter Lantern Festival in Tysons wheelchair accessible?
Yes, the festival is wheelchair accessible and the Lerner Square lot is paved and level. Accessible event parking is across the street from the festival. entrance. The lantern displays are spread out over a large area so could be difficult for folks with limited mobility who do not have a wheelchair.
The DC Winter Lantern Festival is the best Chinese lantern display we have seen in the Northern Virginia/DC area. There are a lot of beautiful lantern sculptures to see, and hands-on elements and performances add extra fun to the event. So bundle up and add this new festival to your holiday season and winter fun list.
Follow us on Facebook, Twitter, Pinterest, and Instagram for more fun travel in and from Northern Virginia.
Save it to Pinterest: