Hike the new Neabsco Creek Boardwalk Trail and enjoy beautiful wetland scenery from an elevated boardwalk in Prince William County, Northern Virginia. The accessible boardwalk winds 3/4 miles over an Occoquan Bay wetland, and connects to nearby parks via the Potomac Heritage National Scenic Trail. The boardwalk opened on National Trails Day in 2019, part of Prince William's newly named Neabsco Regional Park.
We are suckers for a nice boardwalk hike, and Neabsco Creek really delivers. The gently curving path guarantees nice views over the marsh, and there are several benches where you can relax. This is an excellent trail for bird-watching, and we saw herons, mallards, and blackbirds during our hike, along with turtles and one giant praying mantis.
Here's a short video introduction to Neabsco Creek Boardwalk:
Find more great trails in 6 Beautiful Boardwalk Hikes in Northern Virginia.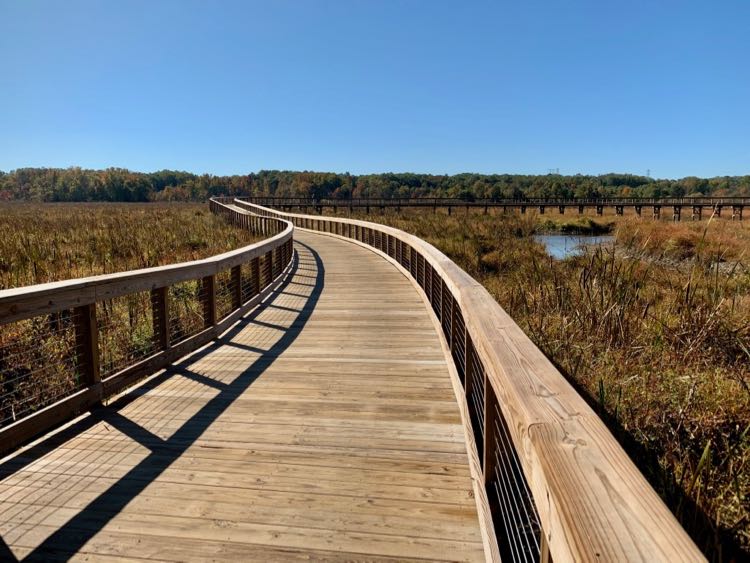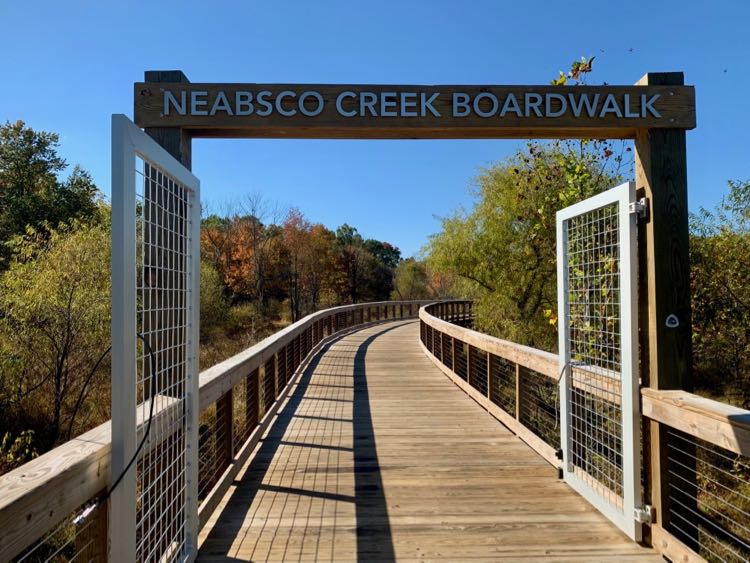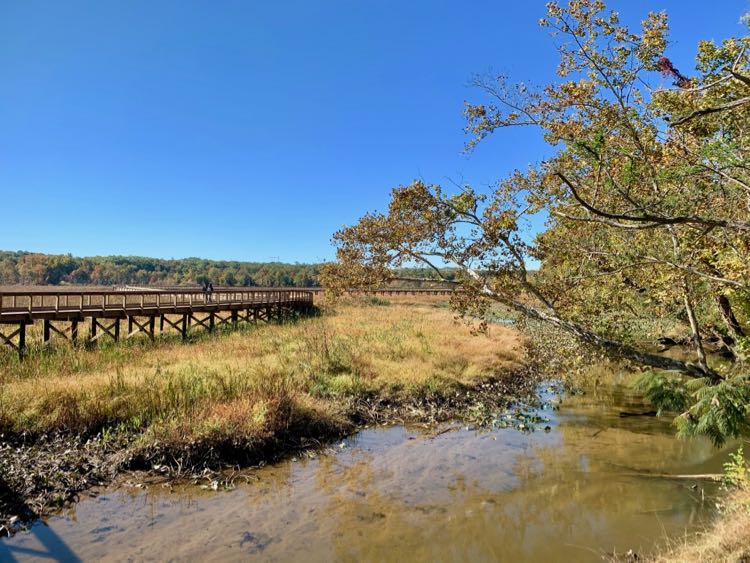 About the Neabsco Creek Boardwalk
The Neabsco Creek trail is fully ADA compliant, so it's an excellent hiking option for folks with limited mobility, young children, and strollers. The boardwalk also welcomes leashed dogs, and we saw several enjoying the trail during our visit.
The boardwalk's design makes it ideal for a relaxed hike in Northern Virginia, especially if you are hiking with kids:
The elevated boardwalk is 10 feet wide, with a rail on each side for most of the trail, so there is plenty of room for a group walk.
The trail crosses the creek several times, and those crossings are perfect for turtle-watching.
Several benches are sprinkled throughout the boardwalk, perfect for bird-watching or just taking a break.
There are larger platforms at each end of the trail. On one end, a two-story platform let's you get close to the water, or take in the view from above.
Near the trail's midpoint, a  two-story observation deck offers a broad view of the wetlands. This will be a convenient entrance point when the parking lot, currently under construction, opens. Scroll down for details on entrances and parking for the Neabsco Creek Boardwalk hike.
There is no shade over the boardwalk, and the wetlands can be buggy in warmer months. Bring plenty of water, and be prepared with sunscreen and bug spray.
Neabsco Creek Boardwalk Trail on a Fall Day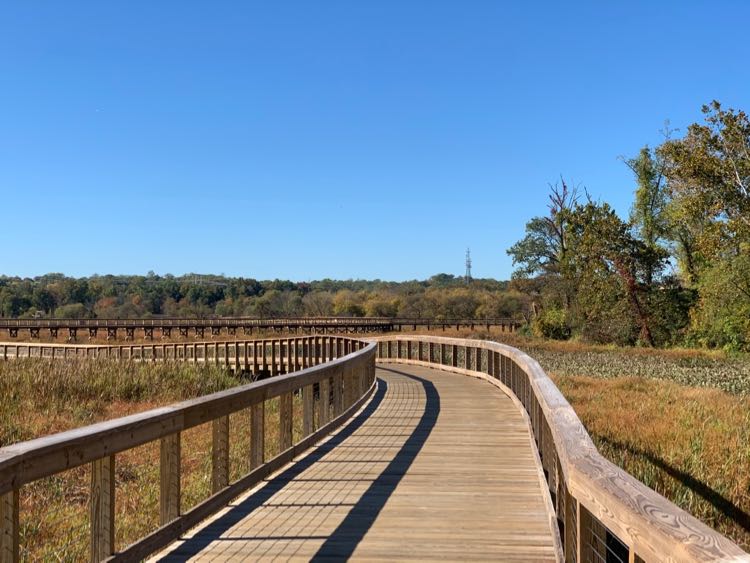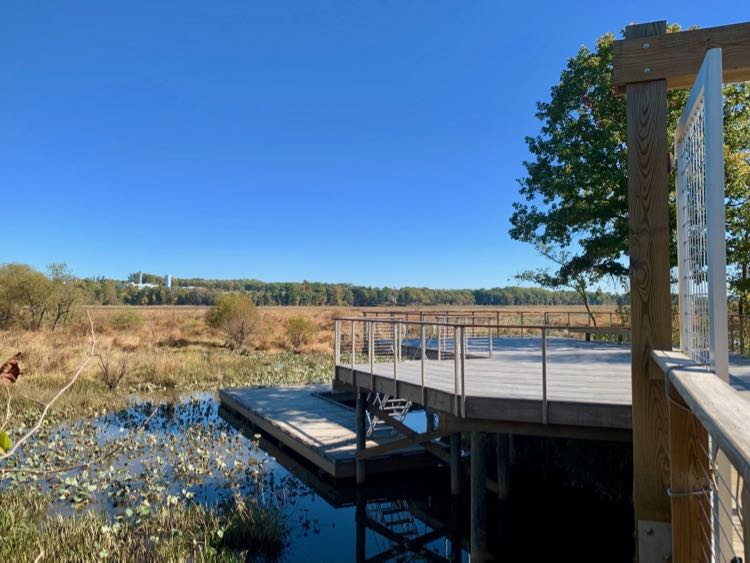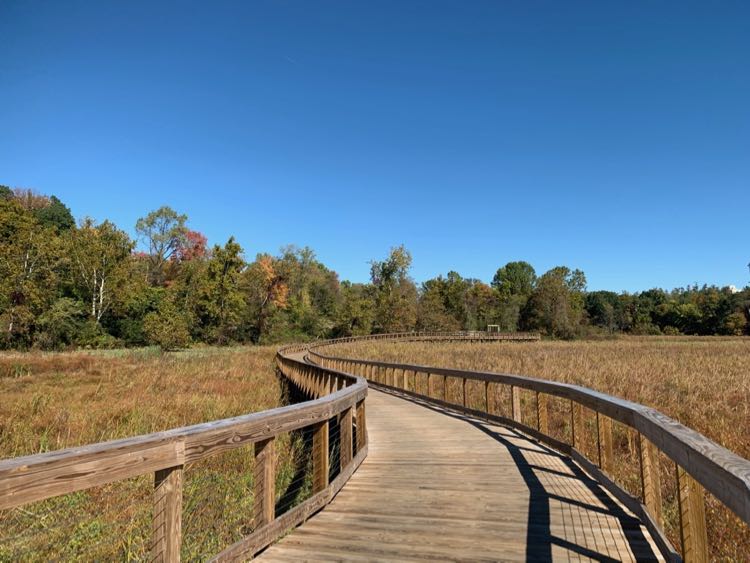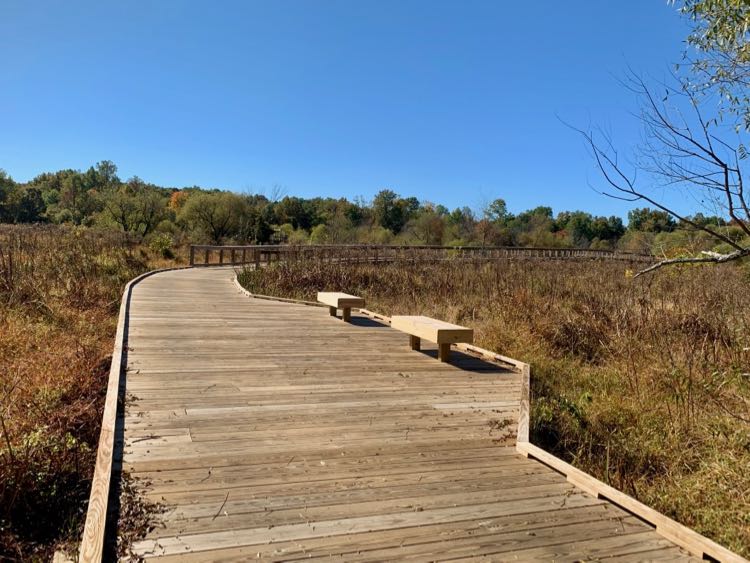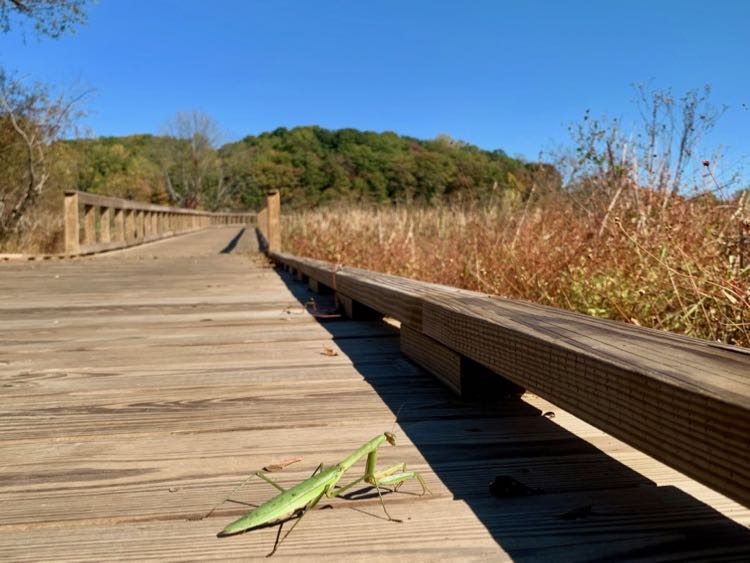 Neabsco Boardwalk Trail Directions and Parking
Entry to the Neabsco Creek Boardwalk is free and the boardwalk is open 6:30 to 8:00 daily. There are three parking lots close to the boardwalk, and all offer free parking:
Rippon Landing Park is the primary access point for the boardwalk. The park has a playground, picnic pavilion, and port-o-potty. A level, paved, wheelchair-accessible trail leads to the north end of the boardwalk.
Access the south end of the boardwalk from the Neabsco Eagles Park parking lot. Turn right as you enter the park and drive around the corner to the end of the lot. Look for blue signs marking the dirt trail to the boardwalk. This trail is rocky and uneven, so it's not accessible for strollers or wheelchairs.
You can also park at the Julie Metz Trailhead to access the south end of Neabsco Boardwalk. There were no maps when we visited, and a section of trail was underwater, so we prefer to hike in from Eagles Park or Rippon Landing.
Use this map to plan your route and locate things to do near Neabsco Creek Boardwalk listed above.
More Hikes and Things to Do Near the Boardwalk
To create a longer outing, combine the Neabsco Creek Trail with these nearby parks and segments of the Potomac Heritage National Scenic Trail.
Walk to the south end of the boardwalk and follow a narrow boardwalk and dirt paths to the Julie Metz Neabsco Creek Wetlands Preserve.
From the Metz Wetlands, continue on the Potomac Heritage Trail into and through Leesylvania State Park. Alternatively, hike back to your car and drive 3 miles to Leesylvania. Once in the park, we recommend a nice Leesylvania State Park Hike Through History.
From the north end of the boardwalk, follow the paved path to Rippon Landing Park and up the hill to Rippon Lodge Historic Site. Rippon Lodge was a successful plantation built in 1747. Take a guided tour to learn about how the lodge and it's owners have changed over the years, then explore the grounds, garden, and historic cemetery. There is a nice, shady picnic area where you could stop for lunch.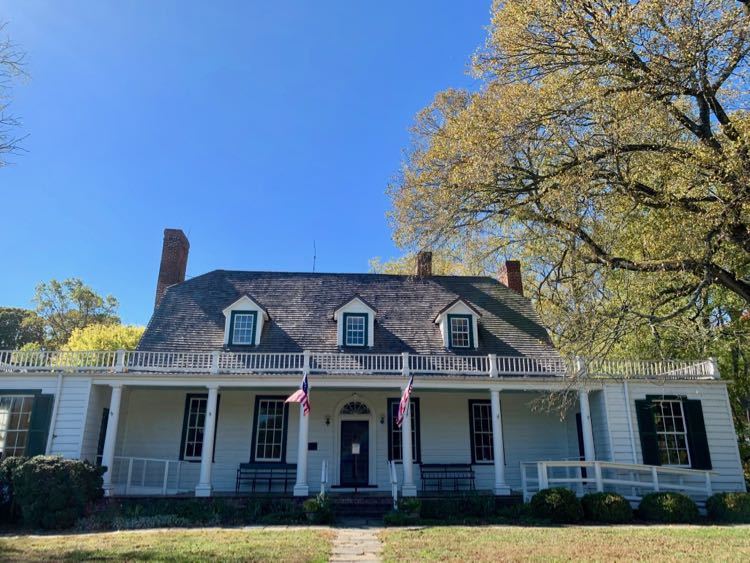 More Places to Hike Near Woodbridge Virginia
Eventually, the Potomac Heritage Trail will connect the boardwalk and Occoquan Bay National Wildlife Refuge to the north. Until that trail segment is complete, drive 5 miles northeast to enjoy 3 miles of trails in the refuge.
Eight miles to the west, Prince William National Forest is another excellent destination for hiking and biking. Plan your visit with our guide to Prince William Forest Park.
Across Occoquan Bay in Fairfax County, about a 25-minute drive from the Neabsco Boardwalk, is more excellent hiking at Mason Neck State Park. Plan your visit with our guide to trails and things to do in the park: Mason Neck State Park: Nature and Outdoor Fun in Northern Virginia.
If you love wetlands and boardwalks, be sure to also visit Huntley Meadows Regional Park, one of the hidden gems of Fairfax County.
Have you visited the Neabsco Creek Boardwalk? Please share your feedback and tips in the comments below. Happy hiking!
Follow Fun in Fairfax VA on Facebook, Twitter, Pinterest, and Instagram for more fun things to do, places to visit, dining and drink, and special events in the Northern Virginia and Washington DC region.