Updated on November 13, 2023 by Julie McCool
Lake Accotink Park in Springfield is the middle child of the Fairfax County lake parks—smaller than popular Burke Lake, not as active as Lake Fairfax, but with a charm all its own. The 55-acre lake stretches from a dam at the park's southern end to marshes and the Accotink Stream Valley to the north.
With plentiful free parking and proximity to the beltway, Lake Accotink is a nice spot to spend a day biking, hiking, boating, or just lazing by the water.
Disclosure: This article may contain affiliate links. We will make a small commission from these links if you order something, at no additional cost to you.
Hiking at Lake Accotink Park
Update: The Lake Accotink Trail is closed near the dam until 2023 for bridge construction. Hikers can not complete a full circuit around the lake until the new bridge opens.
A 4-mile loop trail circles Lake Accotink and part of Accotink Creek. The Lake Accotink Loop Trail, which includes part of the Fairfax Cross County Trail (CCT), is popular with hikers and cyclists.
This is a mostly easy hike with a few short steep sections. The trail surface is dirt and stonedust with paved sections at the northern end. The full Lake Accotink loop includes a short section where you exit the park and follow Danbury Forest Road then reenter the park. Other than the neighborhood section, the trail is wooded and scenic.
If you don't want to cover the full 4-mile loop, focus on the eastern side of the lake. The trail here is part of the CCT and hugs closer to the shore with some nice viewpoints.
There are several places to access the trail but we recommend parking near the marina. From here you can cross the wooden footbridge on the eastern side of the lake to hike the loop counter-clockwise. Alternatively, cross below the dam and up the west side of the lake to hike clockwise.
The entire Lake Accotink Trail is open to cyclists. Don't have a bike? On weekends, you can rent bikes at the park for $10 per hour, and $5 for additional bikes.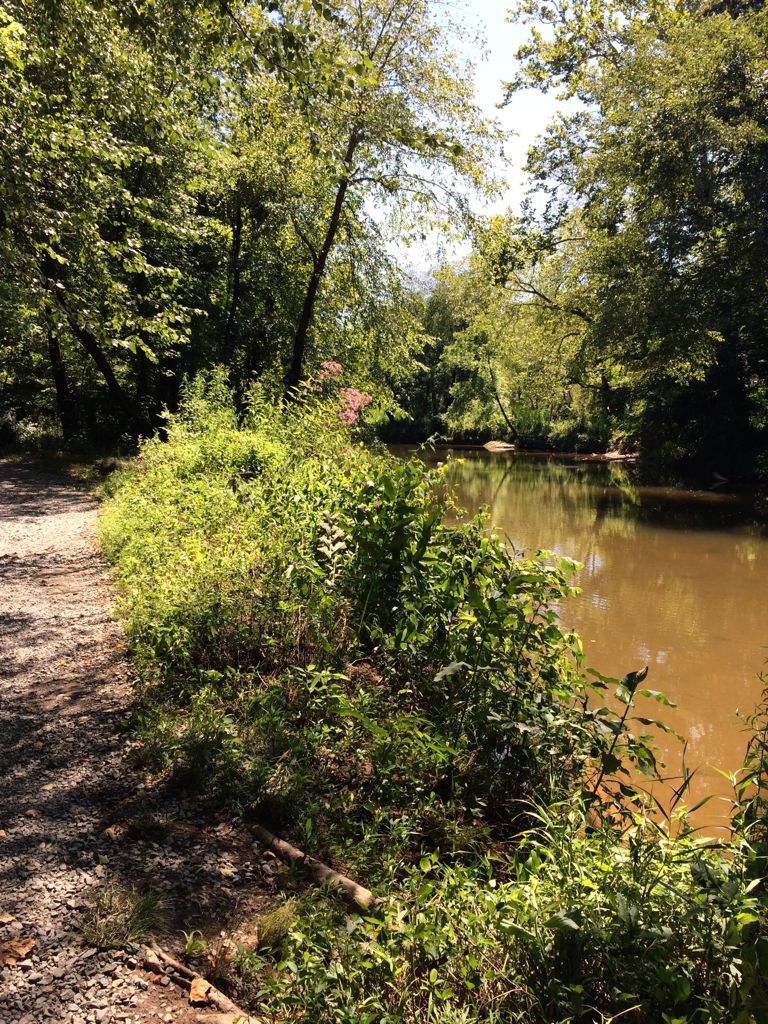 Can you Swim at Lake Accotink Park?
No, unfortunately swimming and wading are not allowed at Lake Accotink. In fact, swimming is also prohibited at Burke Lake and Lake Fairfax, the other Fairfax County lakefront parks.
Poor water quality and a silty bottom with fishing and other debris make the lake hazardous for human contact. This is also why paddleboarding is prohibited at Fairfax County lakes.
Boating at Lake Accotink Park
If you're looking for a more relaxing activity, you should not pass up the sparkly awesomeness of the Accotink paddle boats. For only $15.00 for 2, or $26 for 4, you can paddle the lake for an hour in shiny, kitschy comfort.
The Lake Accotink Marina also offers single and tandem kayaks ($12/$17 per hour). Or you can bring your own boat and use the park launch for $6.
Stand-up Paddleboards (SUPs), windsurfing, and gas powered boats are not allowed at Lake Accotink.
Other family-friendly options include the Lucky Duck 9-hole mini-golf course, picnic areas, and a lake tourboat. The antique carousel is currently closed, but the snack bar is open with soft serve ice cream available.
Like all Fairfax County parks, Lake Accotink has special activities and events—Campfire Saturdays combine nighttime nature with campfires and s'mores and there are free summer concerts every year.
Family Fun at Lake Accotink Park
In addition to hiking, biking, and boating, visitors to Lake Accotink Park can fish, picnic, and play. Seasonal activities from April through October include:
A refurbished carousel
A 9-hole mini-golf course
Multiple picnic areas
A new playground with a big climbing tower opened in November 2023
There are restrooms and a seasonal snack bar near the marina.
Lake Accotink Park Essentials
Lake Accotink Park is located at 7500 Accotink Park Road in Springfield, Virginia. The park is open from dawn to dusk.
Admission to Lake Accotink is free and there is ample free parking.
Find the latest information on park events and the latest alerts on the Fairfax County park website or call 703-569-3464.
Location Tip: GPS maps may send you to a smaller parking area on Heming Ave. Our map link shows the larger parking area near the train trestle, dam, and marina. Look for the intersection of Accotink Park Road and Highland Street then follow the signs.
Whether you stop in for a quick visit or spend the day hiking, fishing, and playing, Lake Accotink Park is a great resource for outdoor fun in Northern Virginia.
Follow us on Facebook, Twitter, Pinterest, and Instagram for more fun travel in and from Northern Virginia.