Updated on March 29, 2023 by Julie McCool
Here are 8 great spring hikes in Northern Virginia with beautiful views and interesting stops, perfect for fun outings close to Washington DC. These are the best easy spring walks in the area because they fill with spring flowers and usually aren't too waterlogged.
Spring hikes are an excellent antidote to the dark days of winter when the air was cold and the trails too icy to tempt us. When warmer spring weather arrives, we look for trails that can stand up to rain and snowmelt. These spring hikes in Northern Virginia offer nice views and interesting things to see along the way.
Disclosure: This article may contain affiliate links. We will make a small commission from these links if you order something, at no additional cost to you.
These 8 great spring hikes in Northern Virginia cover 3 to 5 mile walks, over easy to moderate terrain. Some of the hikes are stroller friendly, and one is wheelchair accessible. Some of these hikes also appear in our guide to the best nature trails in Northern Virginia.
Looking for cherry blossoms without the crowds of the DC Tidal Basin? Check out our insider's guide to the best places to see Cherry Blossoms In DC, Maryland, and Virginia.
1. Potomac Heritage Trail at Riverbend Park
The Potomac Heritage Trail at Riverbend Park is one of the best spring hikes in Northern VA for an easy walk in nature. This is an excellent family hike, with an easy trail and lots to see.
In early April, the sandy trail is bordered by a profusion of beautiful Virginia Bluebells. The delicate blossoms cover the ground and fill the woods with color.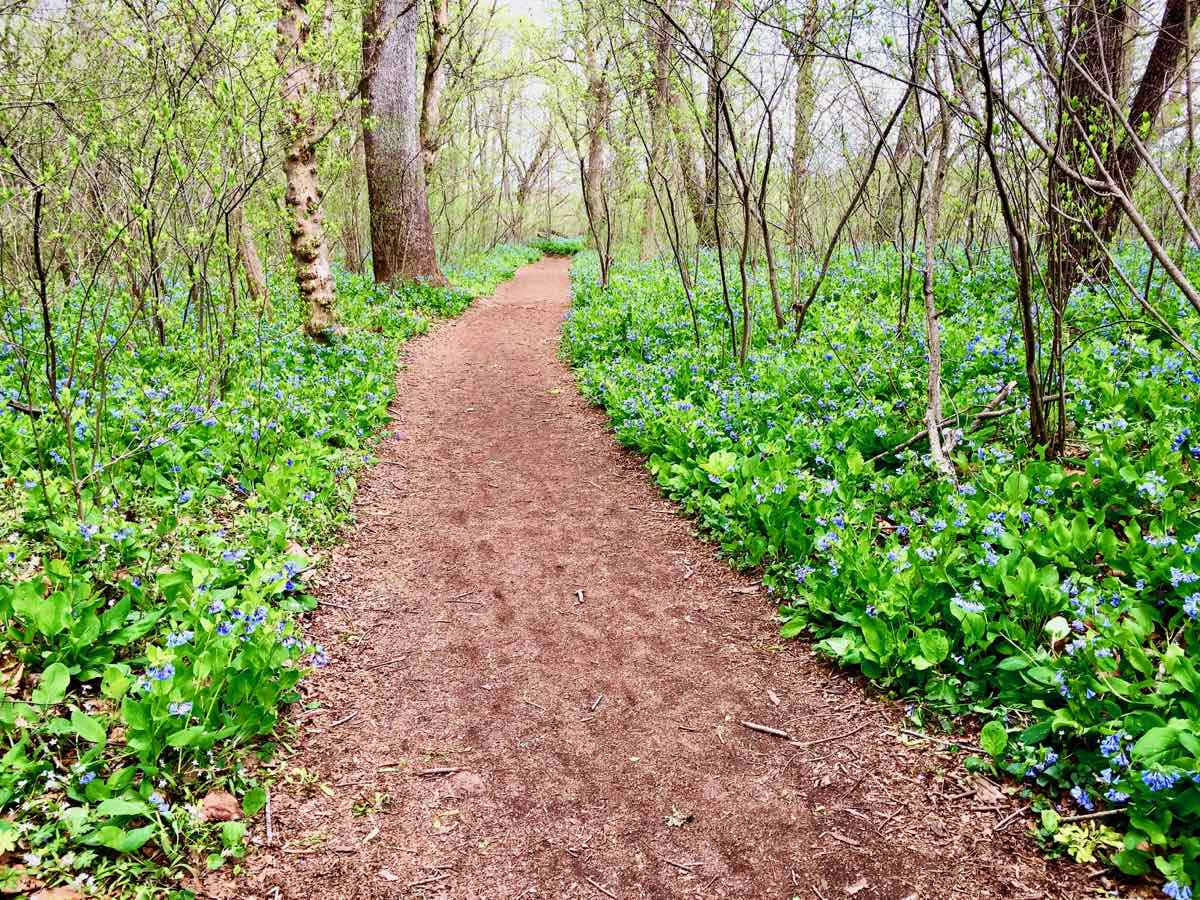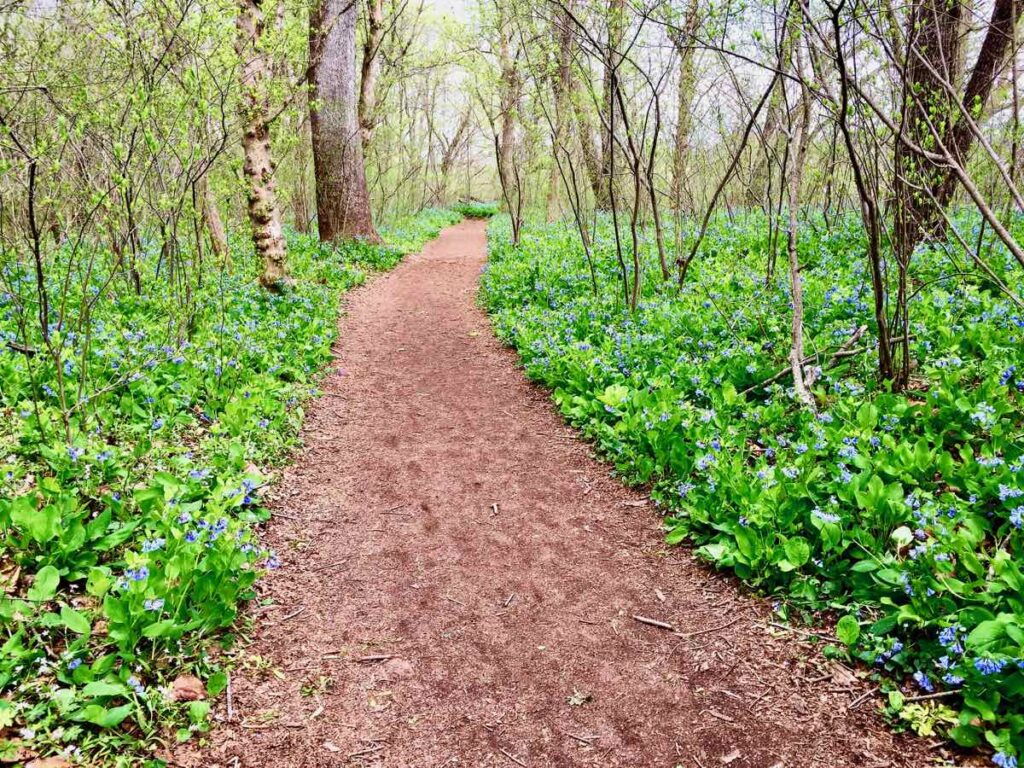 Above the trail, white Sycamore trunks stand out against blue skies, while birds swoop over the Potomac River. Bluebells are a highlight, but you'll also see trillium, mayapple, and other wildflowers beside the trail. Take our guide to Spring Wildflowers in Northern Virginia with you and see how many varieties you can find.
The trail at Riverbend is level and close to the river except for a 600-yard cutback that takes a steep detour over a bluff. Begin your hike at the Riverbend Park Visitor Center, which offers educational displays and restroom facilities.
2. Bluebell Trail at Bull Run Regional Park
As the famous cherry blossoms fade, Virginia Bluebells take over. The beautiful Bluebell Trail at Bull Run Regional Park is another of the prettiest spring hikes near DC. The easy 1.5-mile loop borders two streams, Cub Run and Bull Run.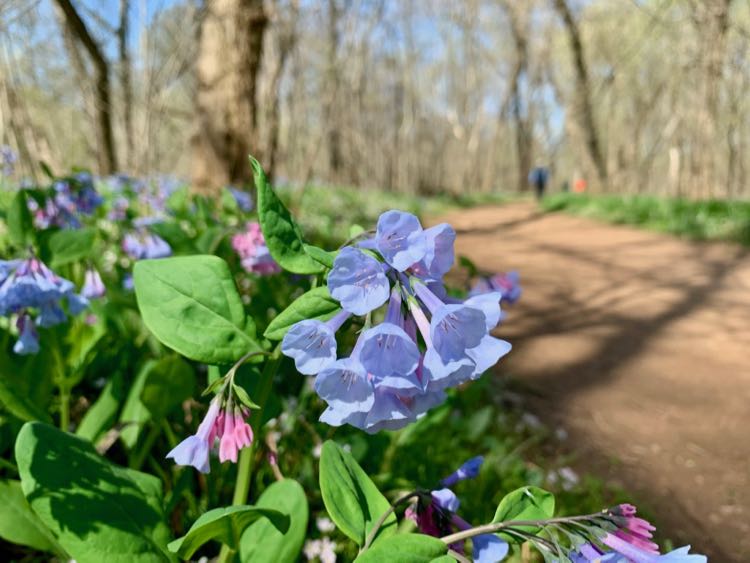 Part of the loop overlaps with the northern end of the Bull Run Occoquan Trail (BROT). That makes the Bluebell Trail ideal for a short kid-friendly hike, but easy to extend with a longer and more challenging hike on the 19-mile BROT.
Virginia Bluebells generally emerge in late March and reach peak bloom in early to mid-April. Hikers on the Bluebell Trail walk through a sea of gorgeous pink and blue blossoms, which surround the path on both sides.
Long boardwalks over a marshy area at one end of the loop offer more to see. With free entry, ample parking, and plenty of spots to picnic and play, Bull Run Park makes a lovely day trip from Washington DC.
If you love wildflowers, also add the stunning Trillium Trail Hike to your list.
3. Washington & Old Dominion Connector and Meadowlark Gardens
The Meadowlark Botanical Gardens Connector Trail is a paved 1.25-mile pathway linking the W&OD bike trail to Meadowlark Botanical Gardens. The connector is very steep as it approaches Meadowlark Gardens, so you'll get a good workout.
The Connector Trail is an especially beautiful spring hike when your efforts are rewarded with late-blooming cherry trees at a curve near the park.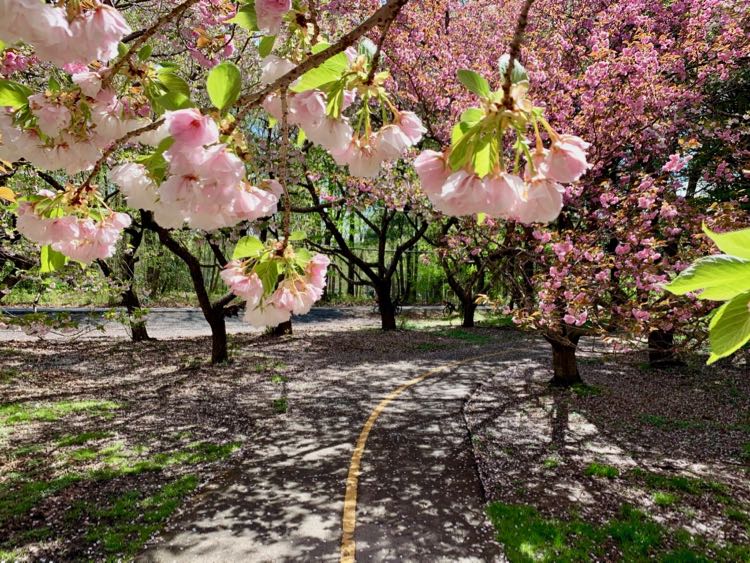 If your outing includes strollers or children, you're better off parking at Meadowlark to walk the more forgiving trails inside the garden and near the lot. There is a pretty picnic spot near the parking area (no picnicking inside the garden). Crabapple trees line the nearby paved trail with spring blooms.
The small entry fee to Meadowlark is well worth your access to more flowering trees and plants. Cherry trees line the lower pond and magnolias bloom near the visitor center. Of course, there are more lovely flowers throughout the gardens.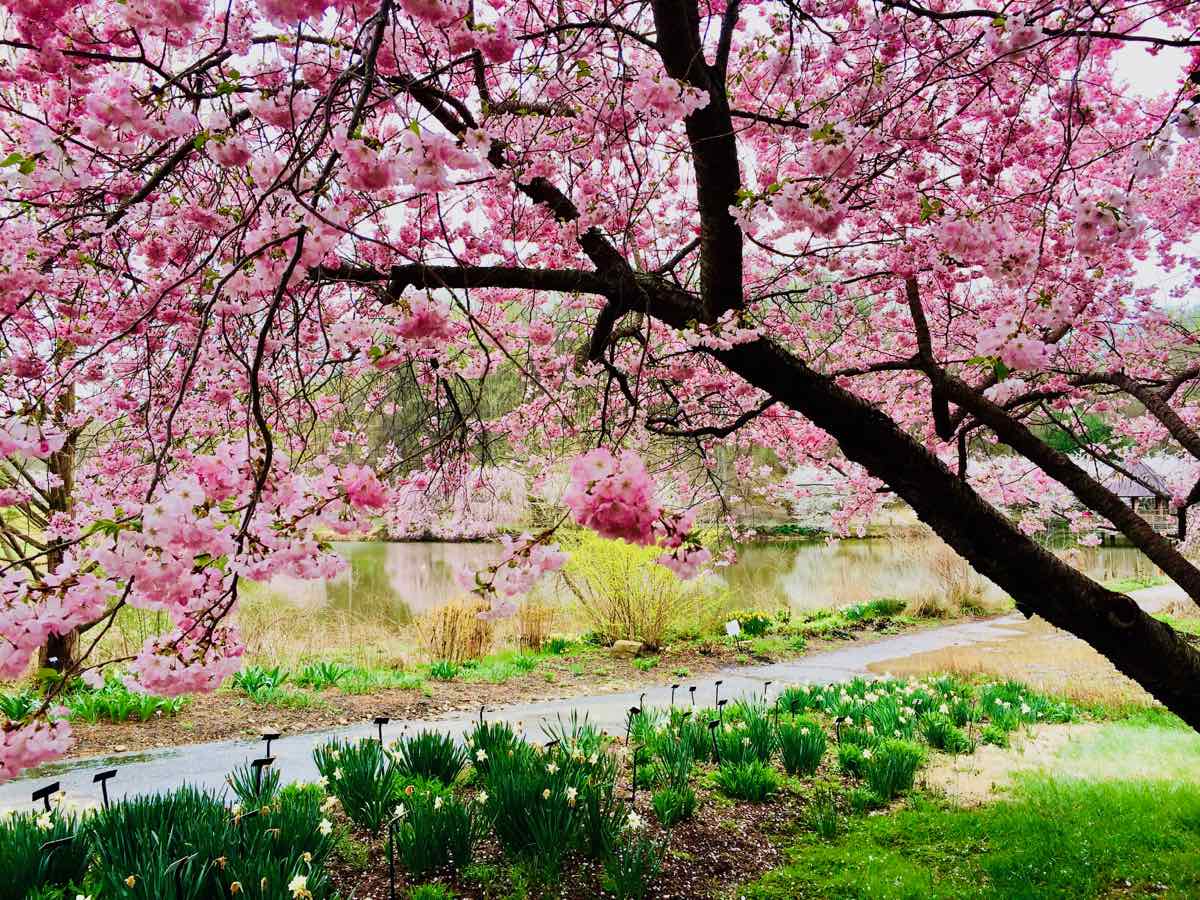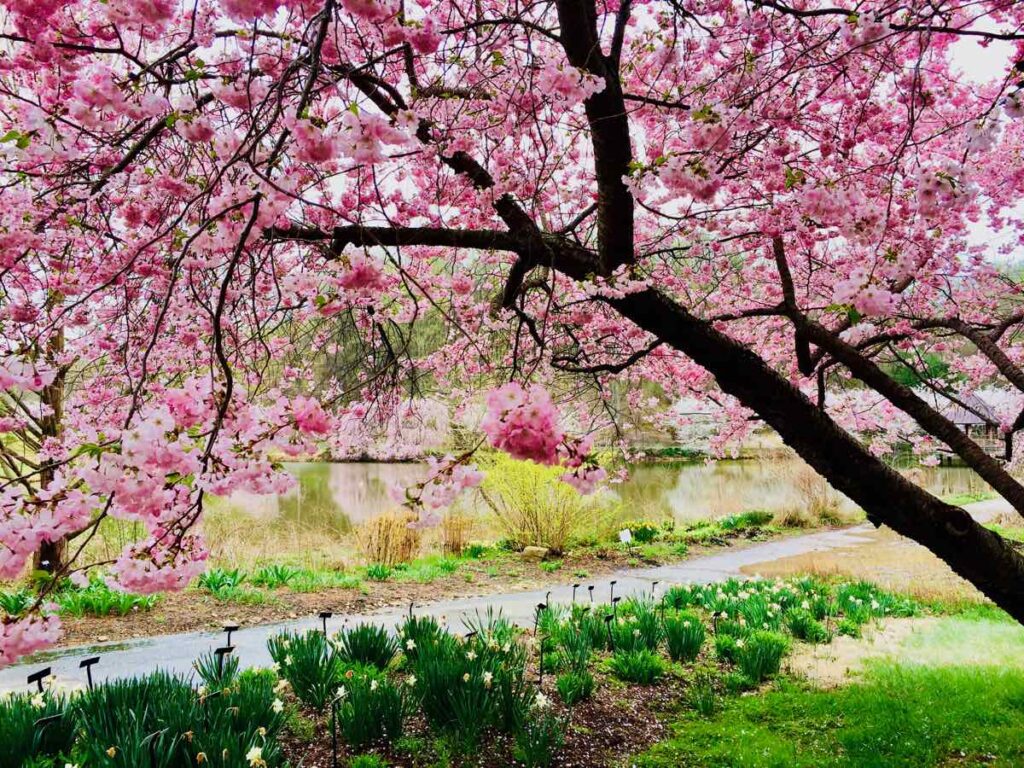 Find more family-friendly trails in our guide Wheelchair Accessible and Stroller Friendly Trails in Northern Virginia.
4. Burke Lake
The 4.5-mile trail around Burke Lake makes our great hikes list every season. In spring, the wide dirt loop trail stays relatively dry even after a storm. Birds are especially active as they battle for a mate. Trees and flowers are vibrant in their new green colors.
The path around the lake is mostly level so it's a good option for families and is also a popular bike trail. A paved portion of the trail is wheelchair accessible and offers ADA-compliant fishing platforms.
In early April, a scale-model train ride and carousel began weekend operations, so there is extra fun if you're hiking with kids. Return in Autumn to enjoy Burke Lake surrounded by colorful fall foliage.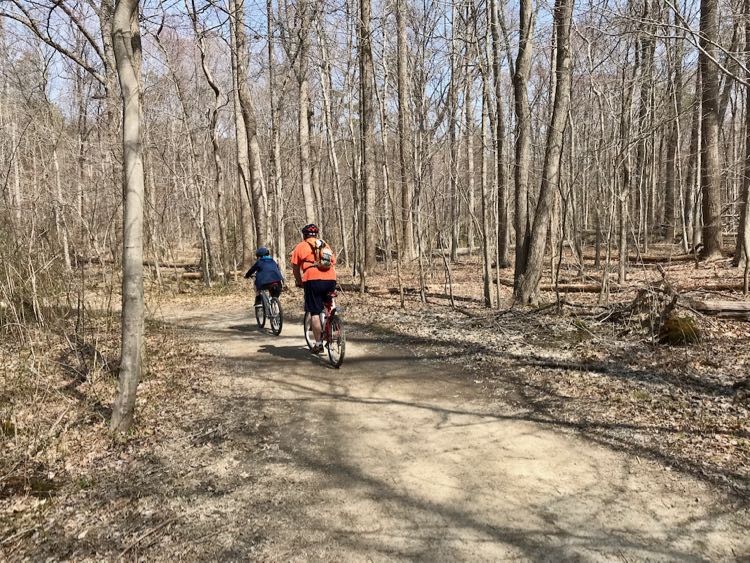 5. Theodore Roosevelt Island
Theodore Roosevelt Island offers one of the best spring hikes close to Washington DC. In fact, the island is technically part of DC, but the parking and access are in Virginia. The trail can be muddy after heavy rains and when the Potomac River floods. Even then, the island offers an easy spring walk with interesting sights.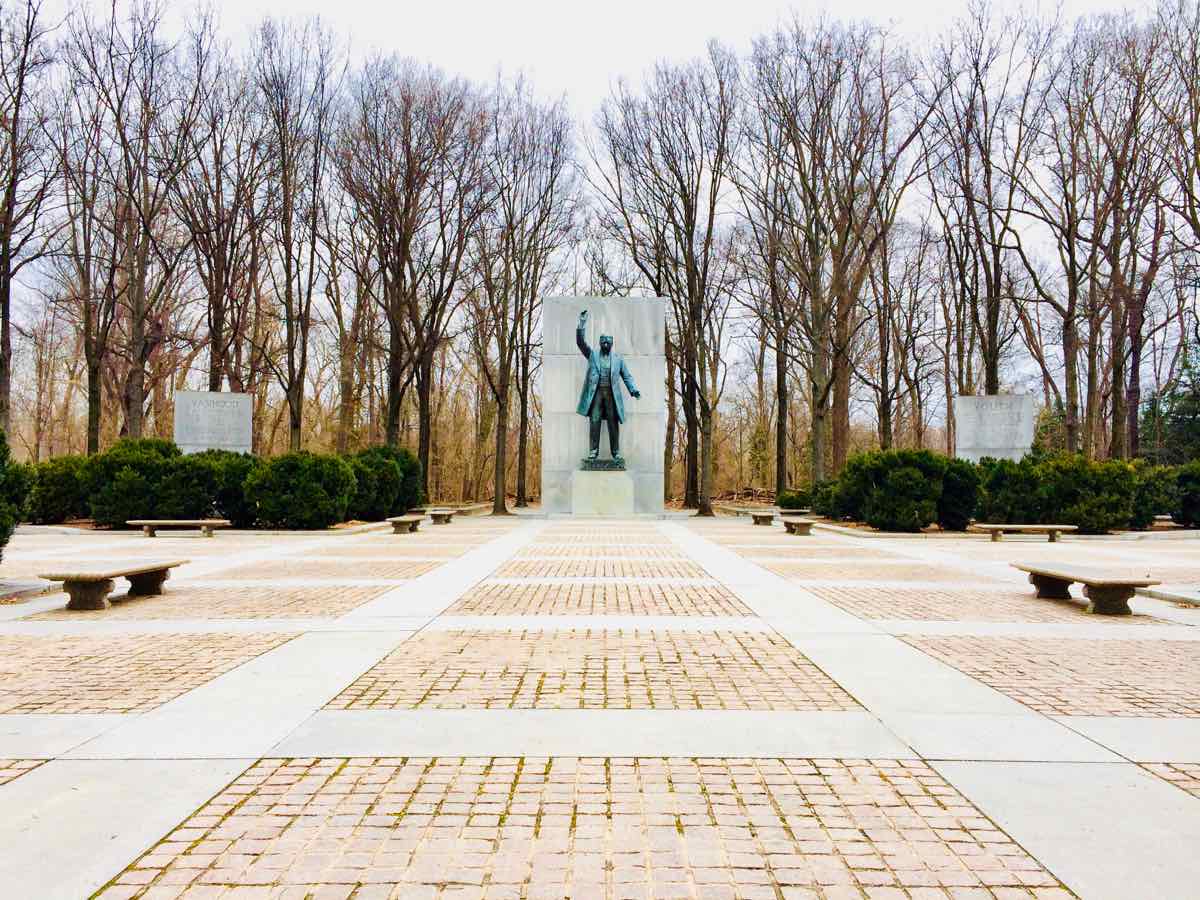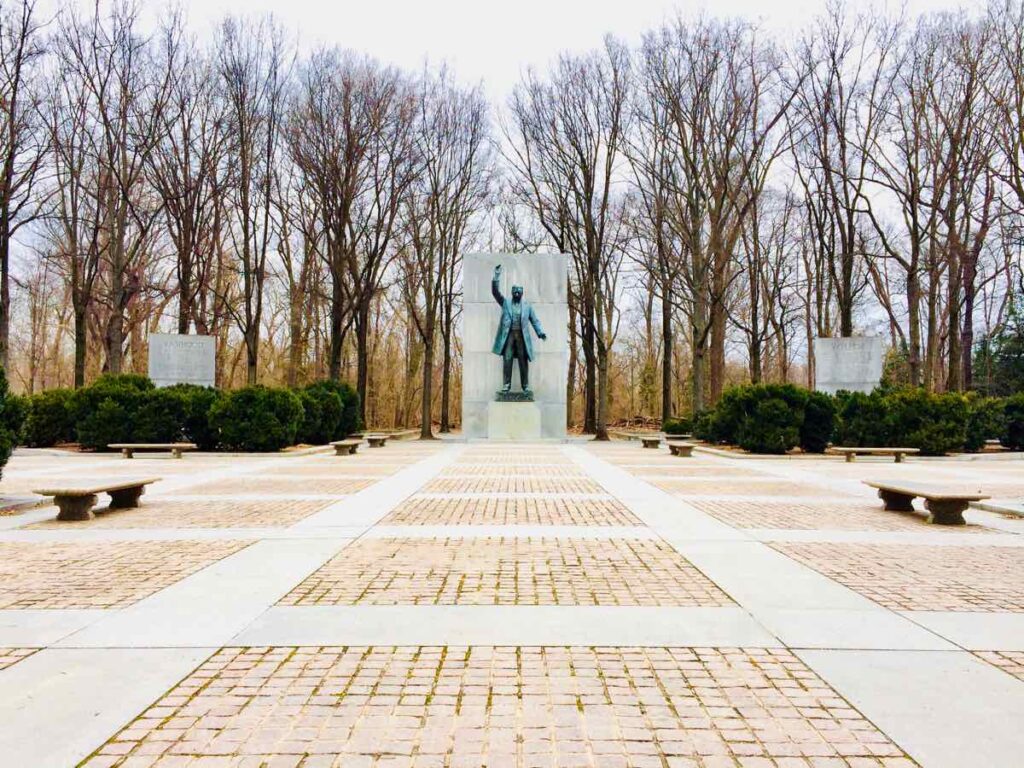 Roosevelt Island trails are popular with birders, joggers, families, and workers out for a break. Hikers enjoy dirt paths, a long boardwalk, and interesting history at the plaza that tops the island.
Follow the mostly level Swamp Trail to see wetland birds and peeks of DC across the river. Then climb the low hill to see the park memorials to Theodore Roosevelt (a good picnic spot).
Return in late spring and summer to see the wetlands transformed into a green oasis.
6. Glade Stream Valley Trail and Walker Nature House
In Reston, the Glade Stream Valley Trail and Walker Nature House combine a paved path by a wetland and a fun nature center. The Glade stream was improved to reduce flooding and erosion, and it's now a lovely spot for spring hikes. Keep an eye out for eagles, foxes, and other wildlife in the wetland.
Begin your hike at Twin Branches Road and follow the signs that point toward Hunters Woods. This route adds some hills to your walk. Alternatively, you can park on Soapstone Road and enjoy a level section of the paved path that is stroller and wheelchair-friendly.
Dirt trails through the woods connect to the Walker Nature Center, which offers information about local nature, along with bathrooms and a water fountain.
The nearby Lake Thoreau Loop Trail in Reston is another nice option for spring hikes in Northern VA. A few miles away is an interesting trail around Lake Anne that passes through some of Reston's oldest neighborhoods. With over 55 miles of paved and natural trails, easy hikes are among the best things to do in Reston.
7. Manassas National Battlefield
Many of the trails at Manassas National Battlefield cross open fields that were the scene of the Civil War battles of First and Second Manassas. That makes them a good choice in spring before the heat and humidity of summer arrive.
Take the First Manassas Loop Hike for a fascinating walk through history. Or enjoy a shorter easy walk on the long boardwalk near the historic Stone Bridge. A third option is to explore the area near the Visitor Center on the Henry Hill loop trail.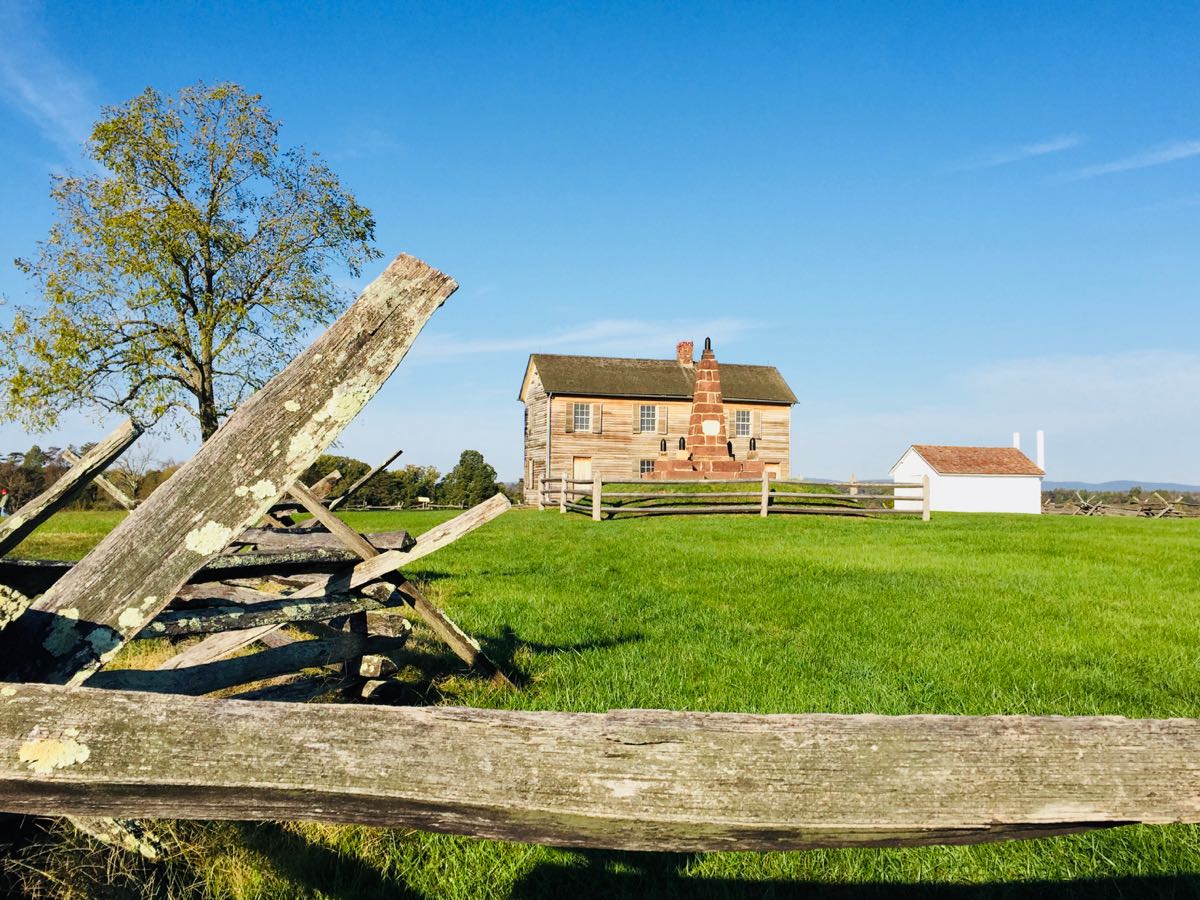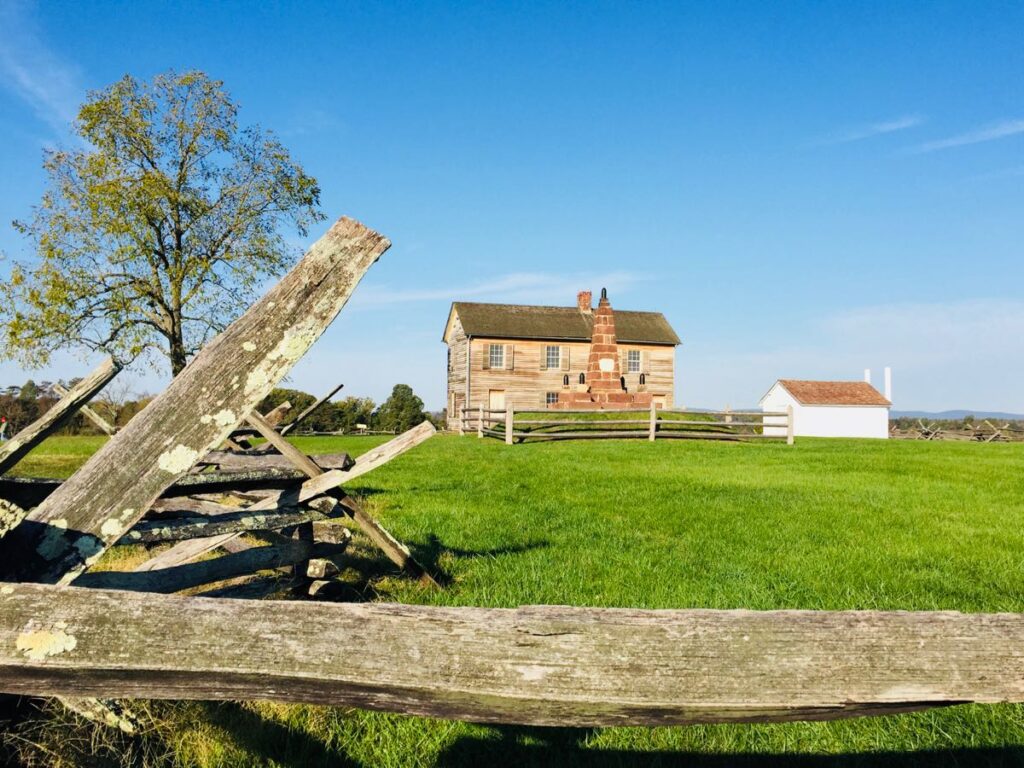 Manassas is beautiful now, but a walk across the battlefields highlights the difficult conditions and battles fought there by patriots from the north and the south.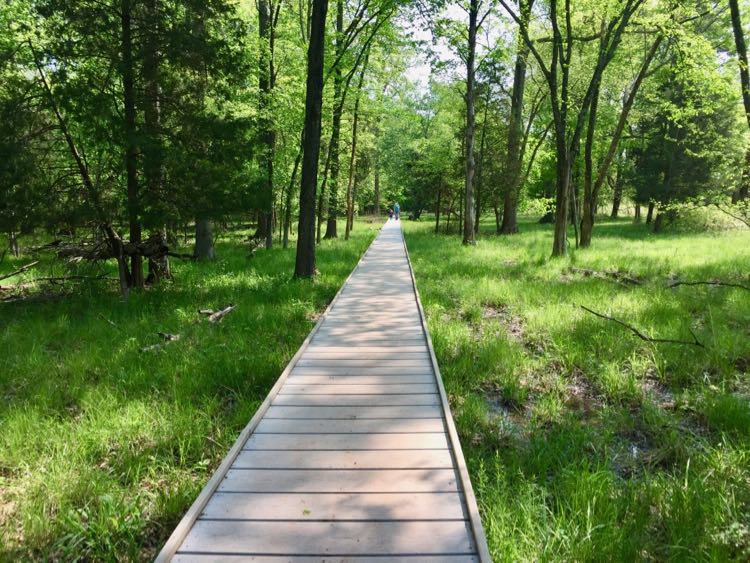 Explore the region with our guide to Prince William County Virginia Sites for History and Hiking.
8. Huntley Meadows Park
Visit a unique hemi-marsh on the Huntley Meadows Park hike, a hidden gem in the Fairfax County Park system. The wetland is one of our favorite spring hikes with kids when the plants, animals, and birds emerge from their winter naps.
Walk the 2-mile loop trail from the Visitor Center through the woodlands and over the beautiful marsh boardwalk. Huntley Meadows's wide stone dust trail and boardwalk are stroller-friendly and ADA compliant.
You may see resident beavers and deer, and you are sure to see turtles and a great variety of birds. On one visit, beavers had built their dam over part of the boardwalk, offering a close-up look at nature.
The Observation Tower is a lovely place for a picnic and to enjoy the view. After your hike, stop in the Visitor Center to learn more about the unique nature that calls Huntley Meadows home.
Explore more: 20 Must-See Northern Virginia Hidden Gems Rich in Nature and History.
BONUS: Arlington National Cemetery
Arlington National Cemetery is a good choice for spring hikes devoted to solitude and reflection. To really appreciate the magnitude of our nation's heroes and loss, we recommend a long walk on the streets throughout the cemetery.
In spring, you'll see beautiful blooming cherry trees and haze-free views of DC, and the paved streets are usable even after heavy rain.
Arlington Cemetery is not a place for play. Picnicking, jogging, and biking are not allowed, and visitors should use decorum in this solemn place. Venture beyond the main bus stops, and take time to honor the heroes at rest in this beautiful and heart-breaking cemetery.
These spring hikes in Northern VA are a fantastic opportunity to see the changing season. Return to these hikes throughout the season to see the views transformed as green returns and blooms emerge. Whichever spring trail you choose, you will find something new to see on every outing.
Plan a whole season of spring outings with these related articles:
Thanks for visiting and happy hiking!
Follow us on Facebook, Twitter, Pinterest, and Instagram for more fun travel in and from Northern Virginia.