Updated on May 9, 2023 by Julie McCool
Explore shady trails on an easy Conway Robinson Forest hike through pine and old-growth hardwoods near the Manassas Battlefield. Take a loop hike on the 3-mile Blue Trail, or add a little challenge and distance on a network of trails through the woods The Conway Robinson State Forest is a fun destination for hikers, dog walkers, mountain bikers, and equestrians in Northern Virginia.
Informational signs along the Blue Trail describe principles of forest management and how they have affected the woods here. These signs add extra interest and make the Robinson Forest hike perfect for young learners. Families with school age children can use the forest to study the trees and plants
Disclosure: This article may contain affiliate links. We will make a small commission from these links if you order something, at no additional cost to you.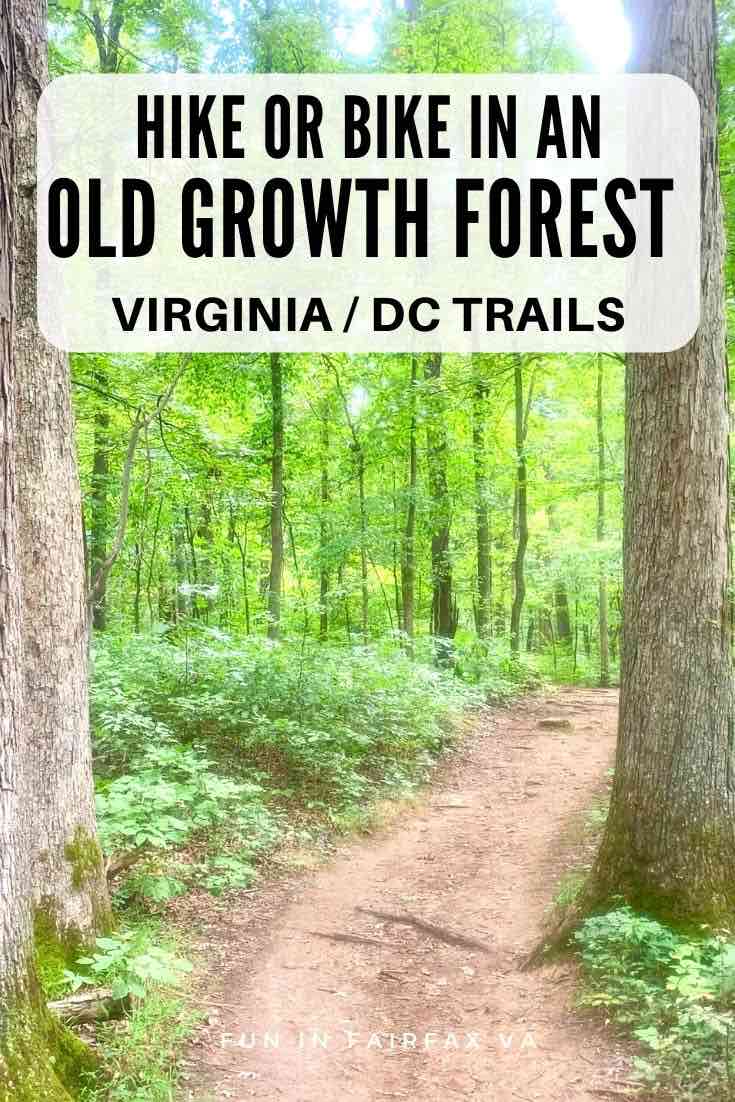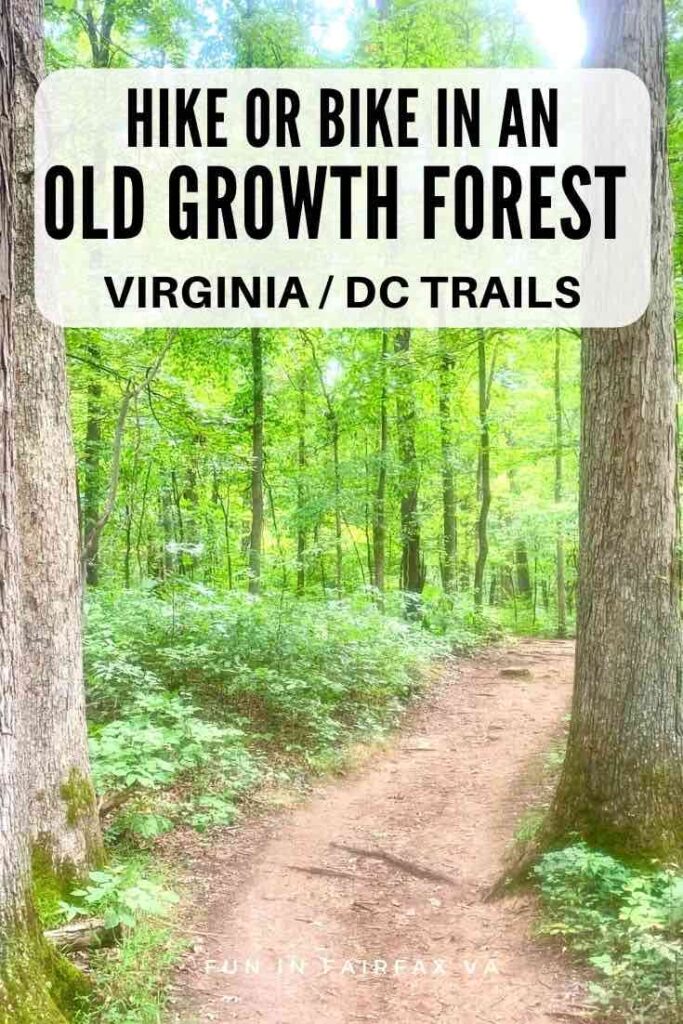 Things to Do at Conway Robinson State Forest
While Manassas National Battlefield draws many visitors to Prince William County, the State Forest next door is visited mostly by locals. Easy access and free parking make this a convenient place to get a dose of nature without a long drive to the mountains.
Trail distances are modest and you will hear local road noise and airplanes throughout the forest (it is Northern Virginia, after all). Still, this is a nice destination for a short hike or an outing with kids or your furry friend.
Hike: There are 5.1 miles of hiking trails in the forest (find a trail map here). Colored blazes mark the network of dirt trails and they are easy to navigate. However, roots, rocks, and muddy sections make the trails unsuitable for strollers or folks with mobility issues. Leashed dogs are allowed on all trails. The Blue Trail described below is a pretty 3-mile loop hike around the perimeter of the forest.
Bike: All of the trails in the forest are open for mountain biking. While the blue trail is good for beginners, the orange trail at the northern end of the park includes more challenging rocks and hills. Other trails cut through the center of the forest, so cyclists can create longer loop rides.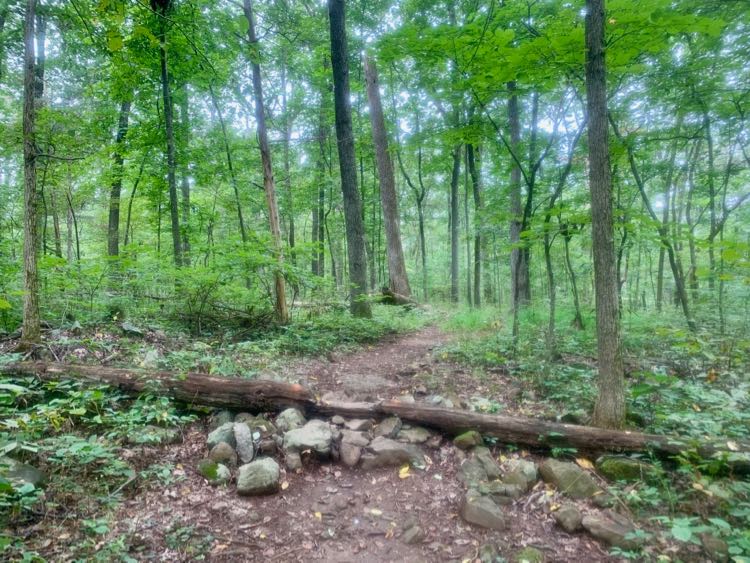 Ride: Equestrians are also welcome in the Conway Robinson State Forest, and they share the same trail with hikers and bikers.
Learn: Conway Robinson is a managed state forest. Watch for informational signs along the Blue Trail that describe how the state manages and maintains forest health. This creates a fun opportunity to learn about nature while you get some exercise.
Picnic: There are several shady picnic tables and a covered pavilion in the parking area. This is a nice spot for a picnic after your hike.
Hiking is open to anyone, but you need a State Forest Use Permit to bike or ride at Conway Robinson. The forest trails are shared and two-way, so stay alert for oncoming traffic and be prepared to yield.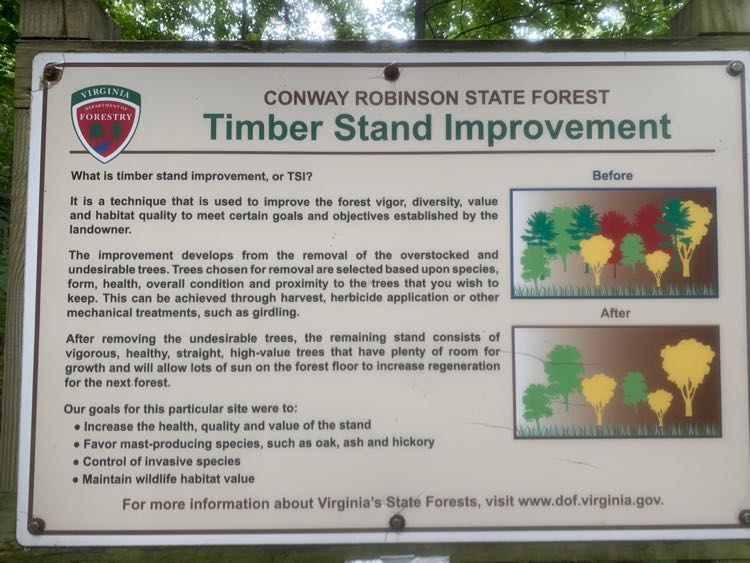 Enjoy a Shady Loop Hike on the Blue Trail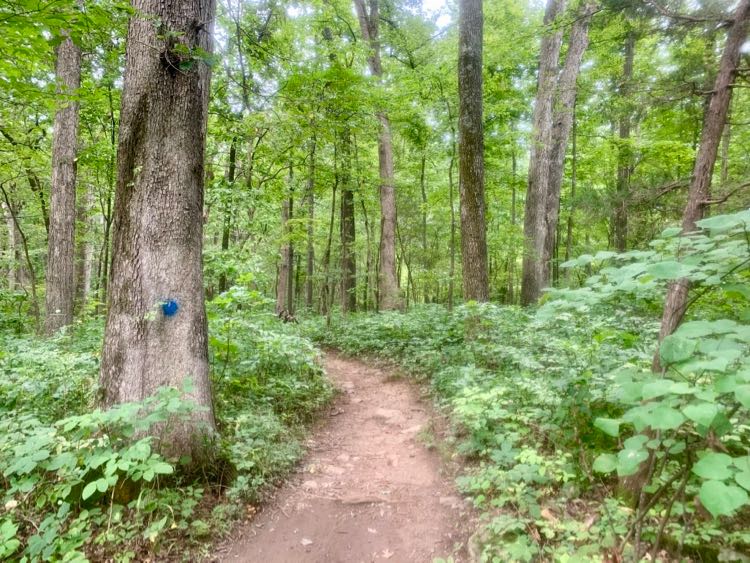 The 3-mile Blue Trail loops through the outer portions of the park. It's a lovely, easy trail that introduces visitors to several different forest environments. The trail is dirt and mostly level, but roots, rocks, and mud make the surface uneven. Even in summer after a dry spell, I encountered several very muddy sections.
At the trailhead, a sign explains a little bit about Conway Robinson. He was a lawyer, historian, and author, born in 1805, with an impressive series of accomplishments at a young age. The trail enters the woods and descends through the trees, crossing a small bridge. Watch for birds, wildflowers, and wildlife as you enjoy the shady walk.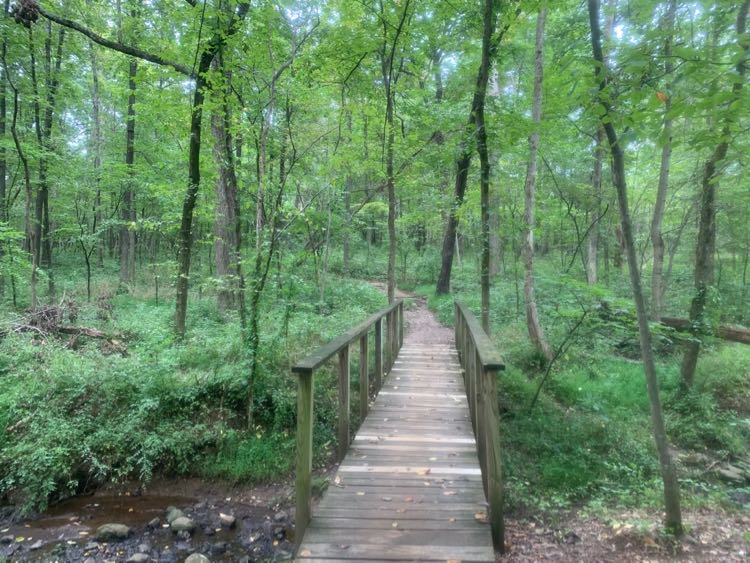 Eventually, the trail emerges from the hardwood forest and turns left on a level, straight, and more open forest road. Keep an eye out for signs that describe how trees have been thinned or harvested to manage forest health. Wildflowers and small pines border the path through this sunny section until you return to shady woods amid tall pines.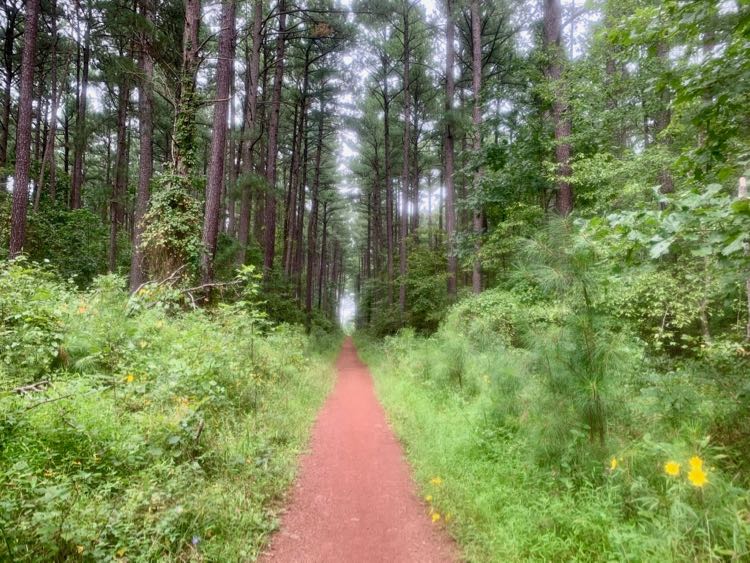 Soon the trail curves left, returning to the hardwood forest. Continue to follow on the Blue Trail, or add a little distance and challenge to your Robinson Forest hike with a side trip on the Orange Trail. I hiked this section hoping for a good view of Little Difficult Run, on the park's northern border. There is no view, but I still enjoyed the rocky hills and switchbacks on the Orange Trail. In .7 miles, turn right as the trail rejoins the Blue Trail.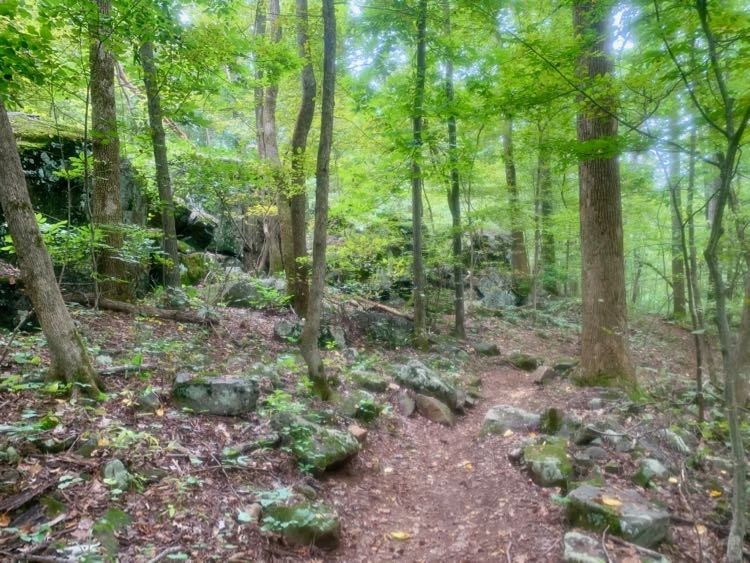 The final stretch of the Blue Trail climbs gently through the forest, returning to the parking area.
Conway Robinson State Forest Essentials
Conway Robinson State Forest is located in Gainesville Virginia, just west of Manassas National Battlefield. Enter the 444-acre forest from Route 29, near Route 66 exit 43B. Here is a map link for directions to Conway Robinson State Forest.
There is no entrance fee and parking is free. If the lot is full, you can park on the access road as long as you don't block traffic.
There are a few picnic tables and a pavilion in the parking area. There are no restrooms or trash facilities. Pack out your trash!
Dogs are welcome on all trails but must be on a leash.
Bikers and equestrians must have a State Forest Pass, which you can purchase online.
The Conway Robinson Forest is open from 7:00 to 7:00 daily, year-round.
Signs at the trailhead show a map of the forest trails and share information about Conway Robinson.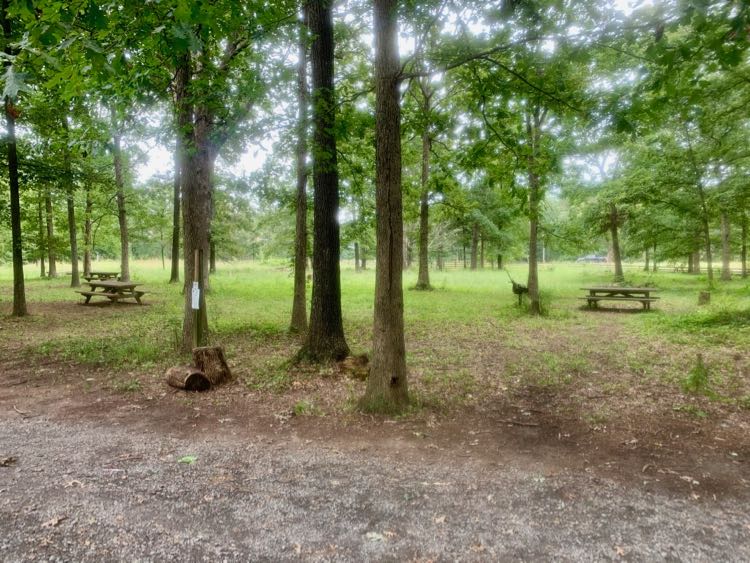 More Things to Do in and Near Conway Robinson State Forest
Planning a day trip from Washington DC? Combine your Robinson Forest hike with one of these nearby destinations.
We have explored the parks and trails of Northern Virginia for over 25 years, but Conway Robinson State Forest was new to us. The forest is easy to reach and navigate and it offers some unique opportunities to learn and explore. Add a Conway Robinson hike to your list of fun things to do in Prince William County Virginia.