Book the lovely and peaceful Windswept Inn cottage vacation rental for a perfect getaway in Virginia Wine Country. This cute cottage is located on a quiet country road in Round Hill, in northern Loudoun County VA.
The central location is close to the quaint towns of Bluemont, Purcellville, and Middleburg. You'll have easy access to wonderful wineries, tasty restaurants, great hikes, quaint shops, and more.
We stay in a lot of vacation homes, and great reviews are a critical factor for choosing a rental. The Windswept Inn delivers, with lots of 5-star ratings and glowing guest reviews. The private cottage has three bedrooms and one bath so it is ideal for a couple or small family. Windswept Inn is also popular as a pre-wedding space and can accommodate up to six guests.
Disclosure: This article may contain affiliate links. We will make a small commission from these links if you order something, at no additional cost to you.
The Cottage at Windswept Inn
The bright exterior at Windswept Inn highlights the cottage's earlier role as a 3-stall garage. In fact, the right stall can still serve that role though it doubles as an open gathering space. The other stalls, however, have been completely transformed into comfortable living spaces.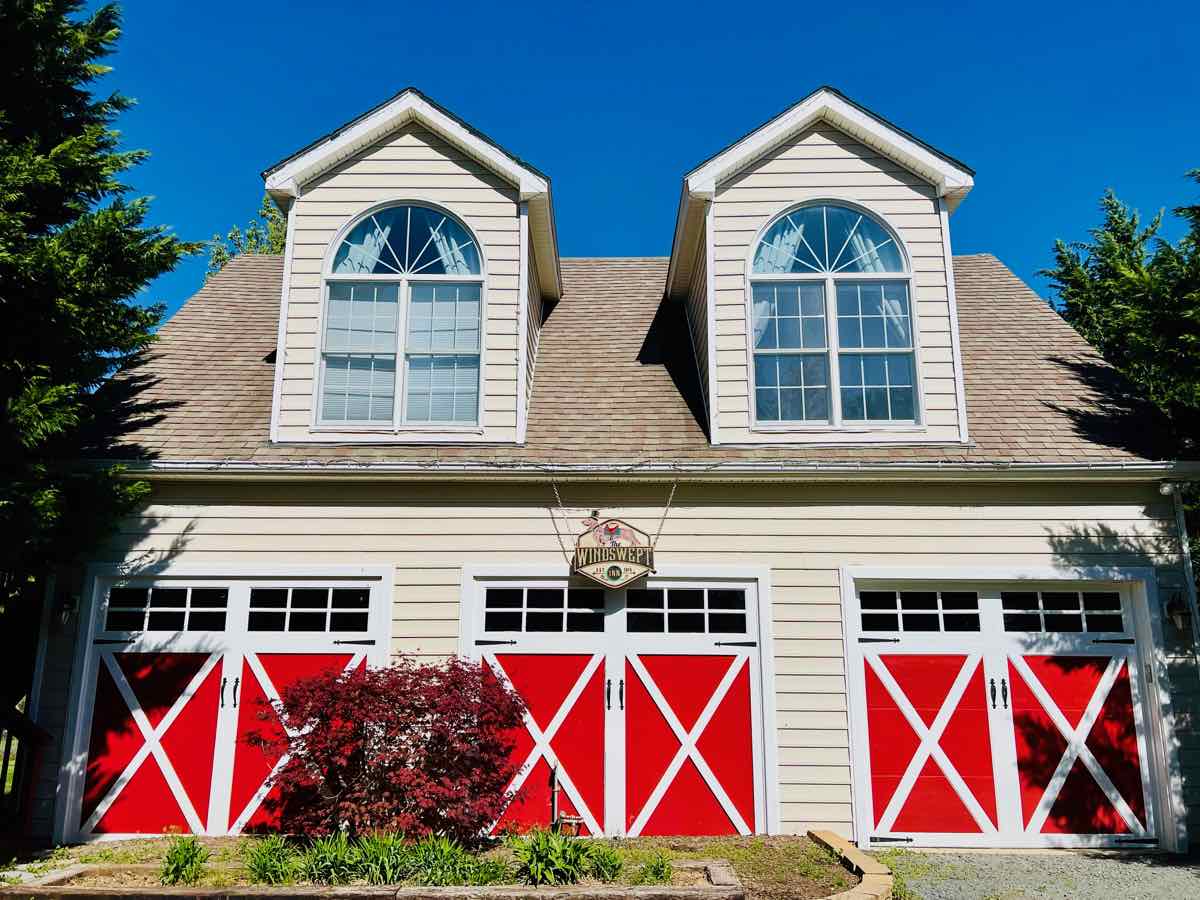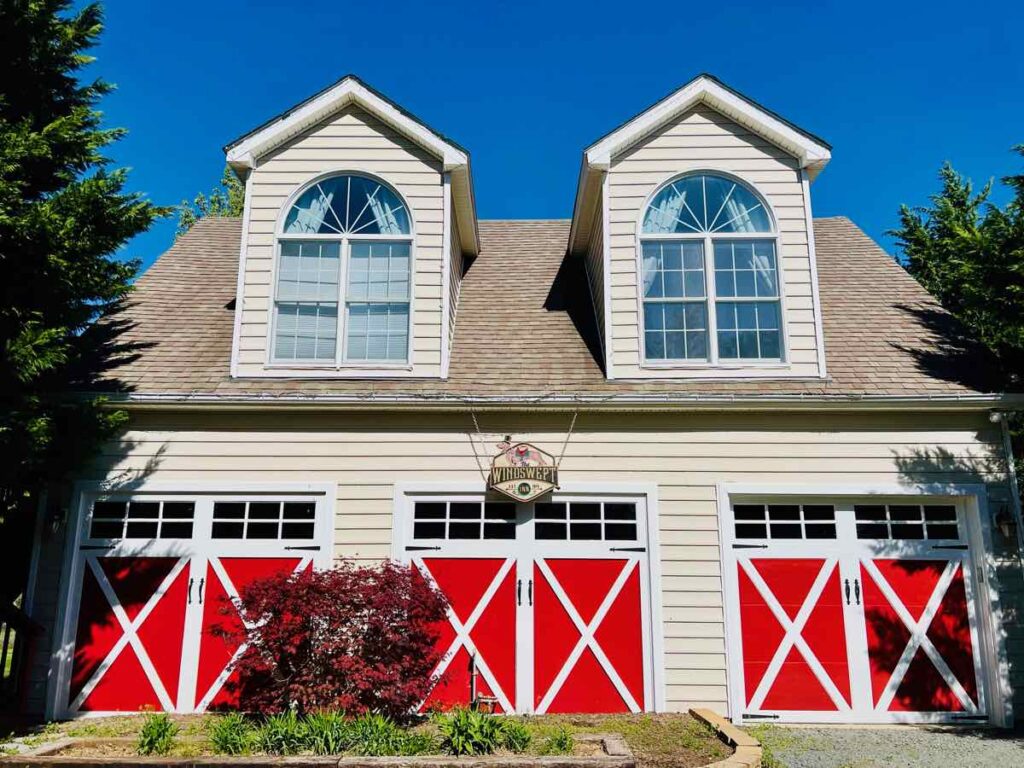 Guests enter the cottage through a side door, walking into an open garage stall that can be used as an extra gathering space or kid's play area. The heated/air-conditioned space has a sealed floor covered with astroturf and artwork on the walls, so it's not a traditional garage stall. There is a full fridge in a small side area, and a folding table and chairs that can be set up as needed. There is plenty of outdoor parking even for large vehicles.
We took the photos published here during our stay and you can also check out our Instagram video of the cottage. You'll find additional photos on the Windswept Inn website.
Common Spaces
The Windswept Inn's common spaces include a nicely outfitted kitchen with a dining table, a cozy living room, and a spacious bathroom, all on the first floor.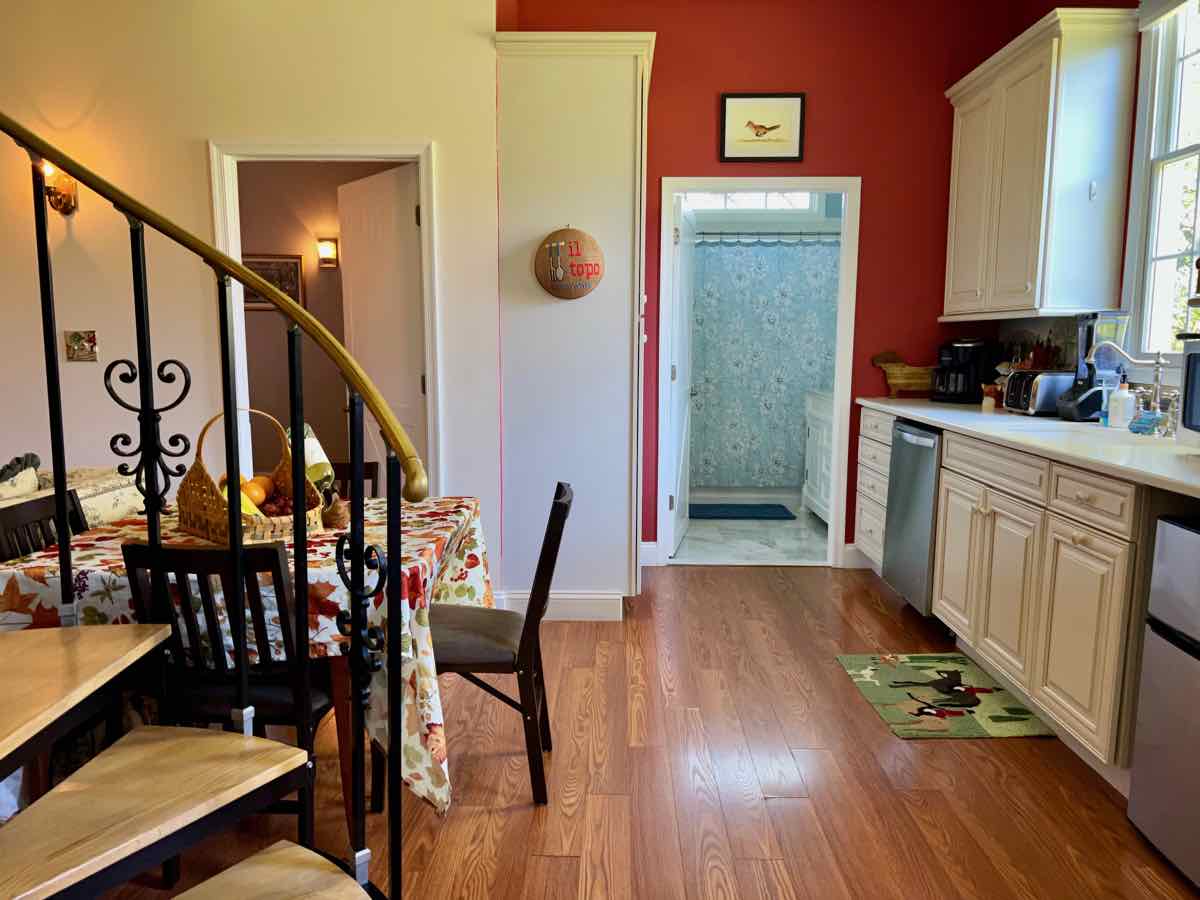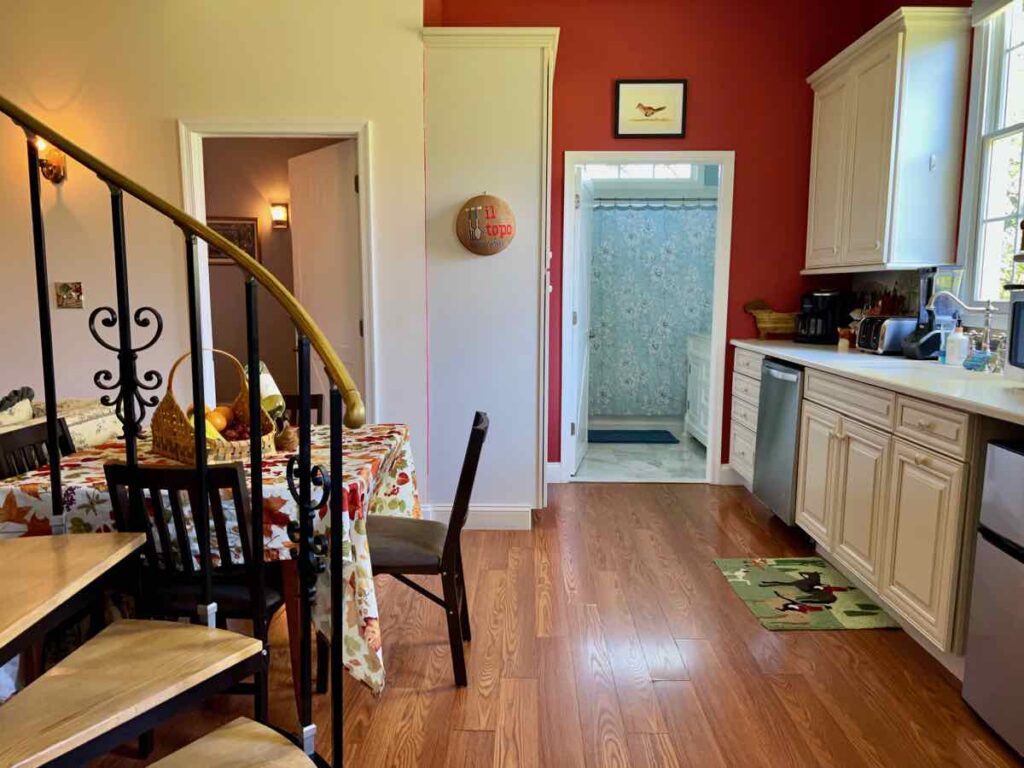 The kitchen is well stocked with plenty of dishes and cooking equipment. We appreciated the convenience of having a dishwasher, large sink with disposal, and stove/oven combination at hand. A small refrigerator keeps essentials handy, while a full fridge off the garage offers extra food storage. The cottage also includes a washer and dryer.
Across from the kitchen equipment is a dining table set with four chairs and tucked against the living room couch. It's a good set-up for two people, but you'd have to pull the table into the kitchen space to seat more. The table can seat six with an additional leaf, or you can set up the larger table in the garage space.
The open living room area features a pretty two-person couch plus two additional side chairs, built-in bookcases, and a gas fireplace. Again, the setup is perfect for a couple. The couch is small but cozy, perfect for snuggling in front of the fire (or the TV).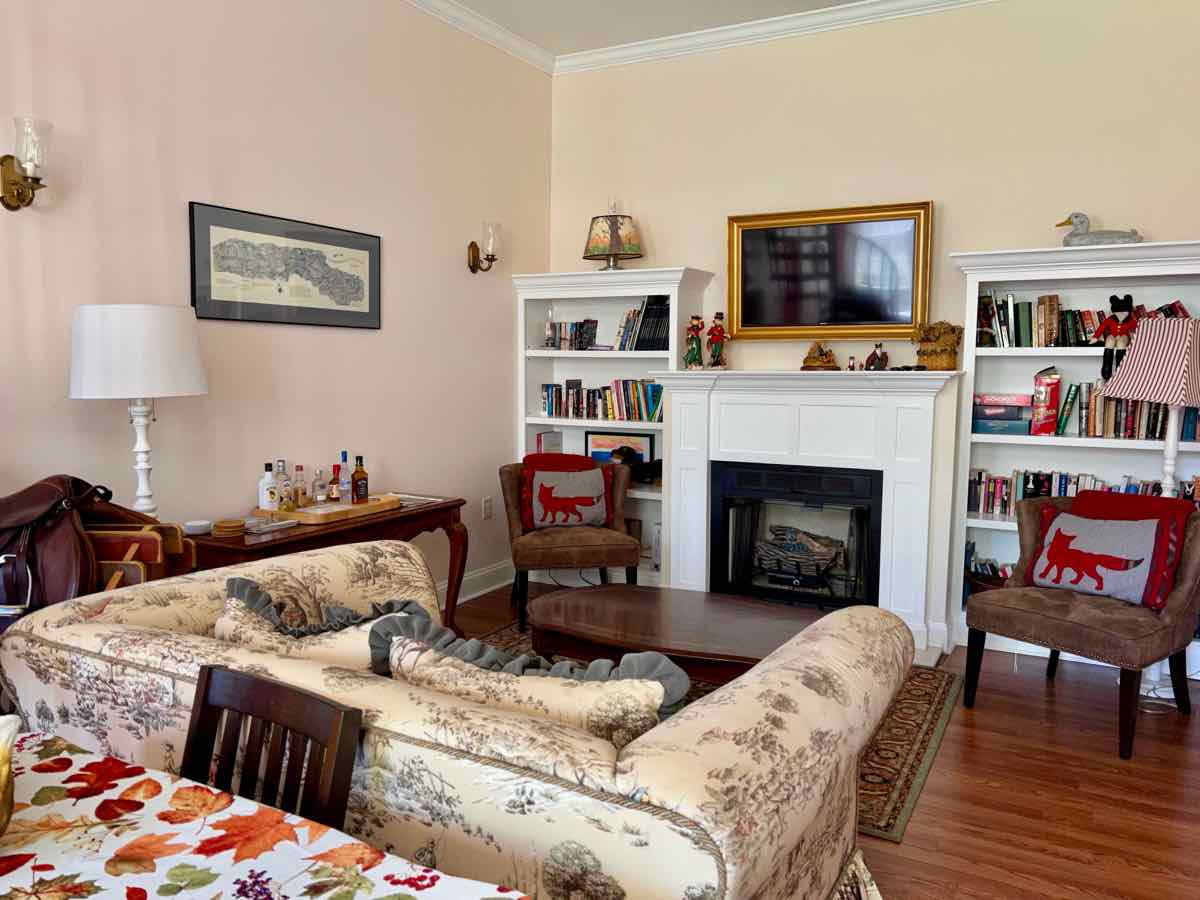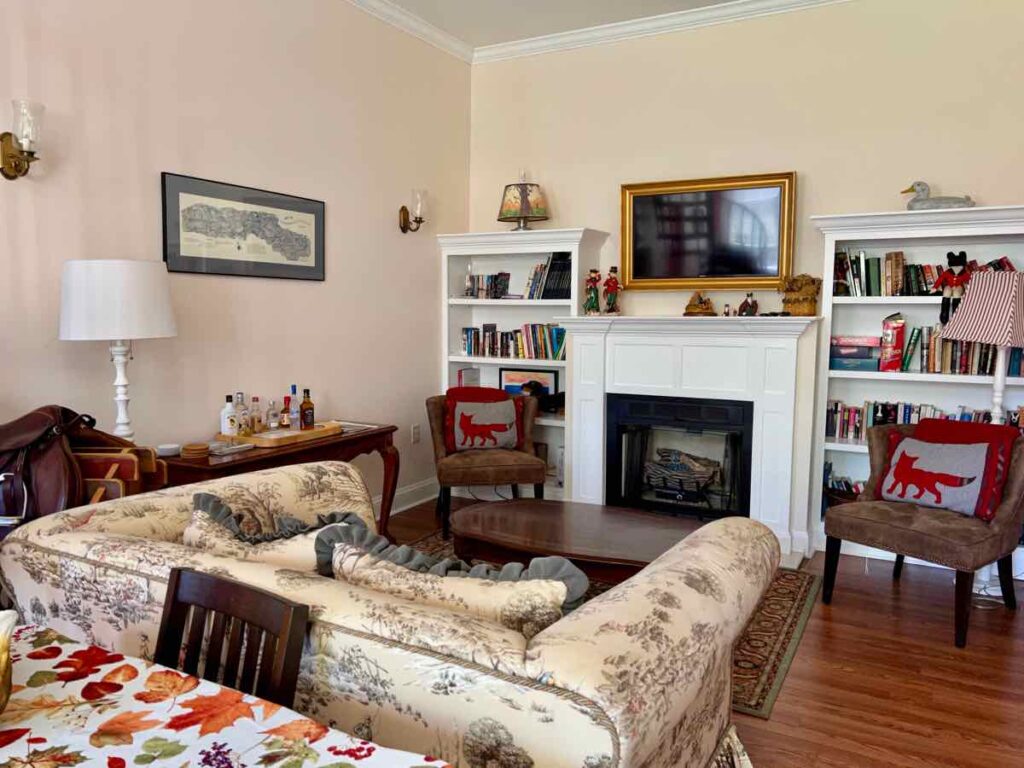 A spacious tile bath with dual sinks, heated floors, and a deep tub with shower complete the living space. Guests can enter the bath from the kitchen or from the adjacent master bedroom. This is the only bathroom, so upstairs guests need to navigate the spiral staircase to reach the first floor.
Comfortable Bedrooms
The Windswept Inn vacation rental boasts 3 large bedrooms with very comfortable beds. The master bedroom is on the first floor and includes a beautiful king bed. A pretty armoire provides storage.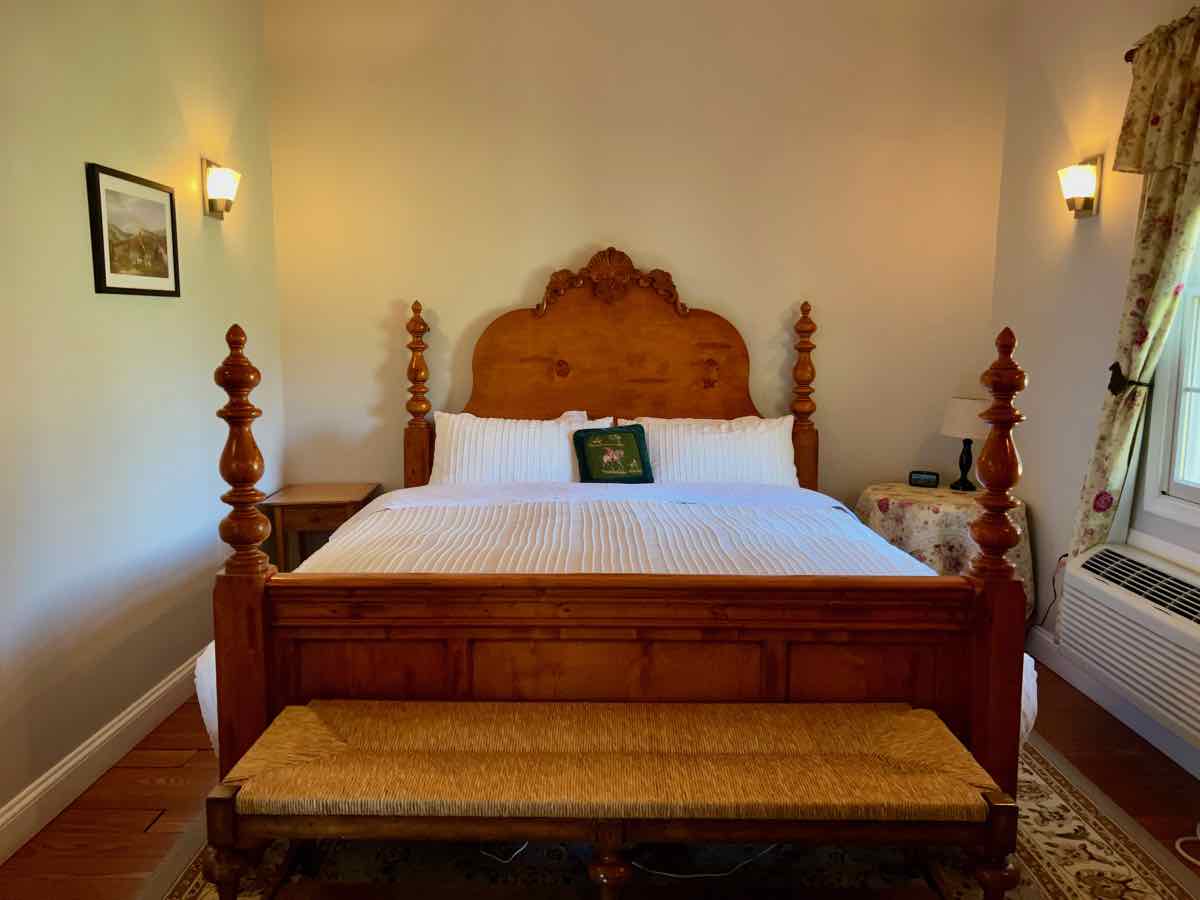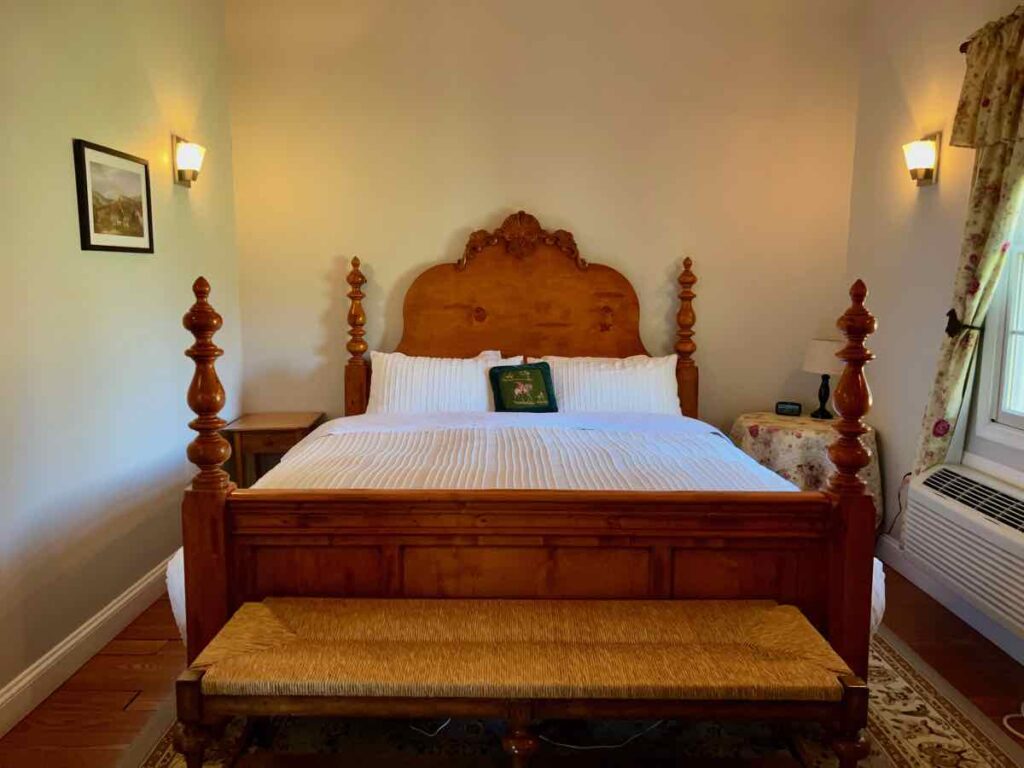 Guests climb a spiral staircase to reach the two upstairs bedrooms. Both rooms are very similar, with 2 queen beds and a large dormer window with a window seat. The window seats are bright and comfortable providing a nice spot to work, read, or relax.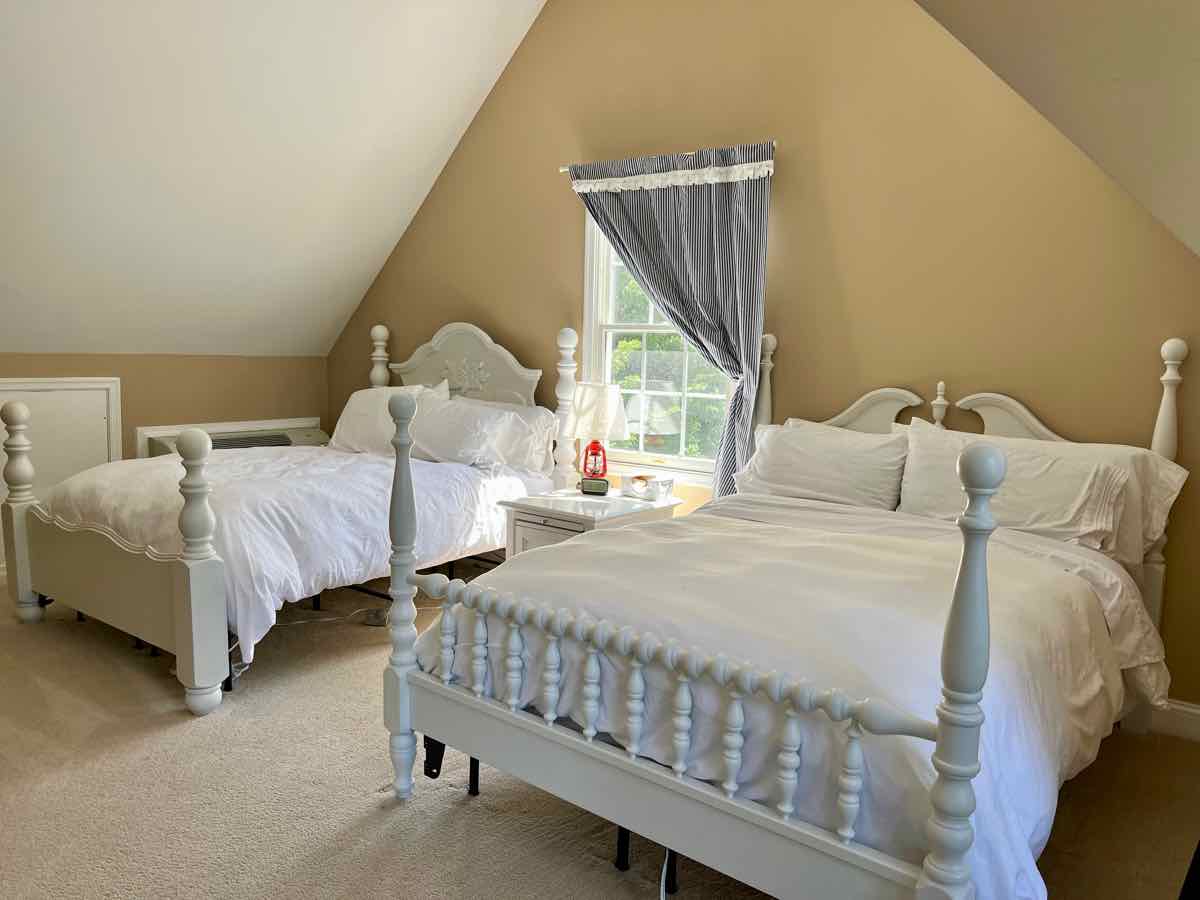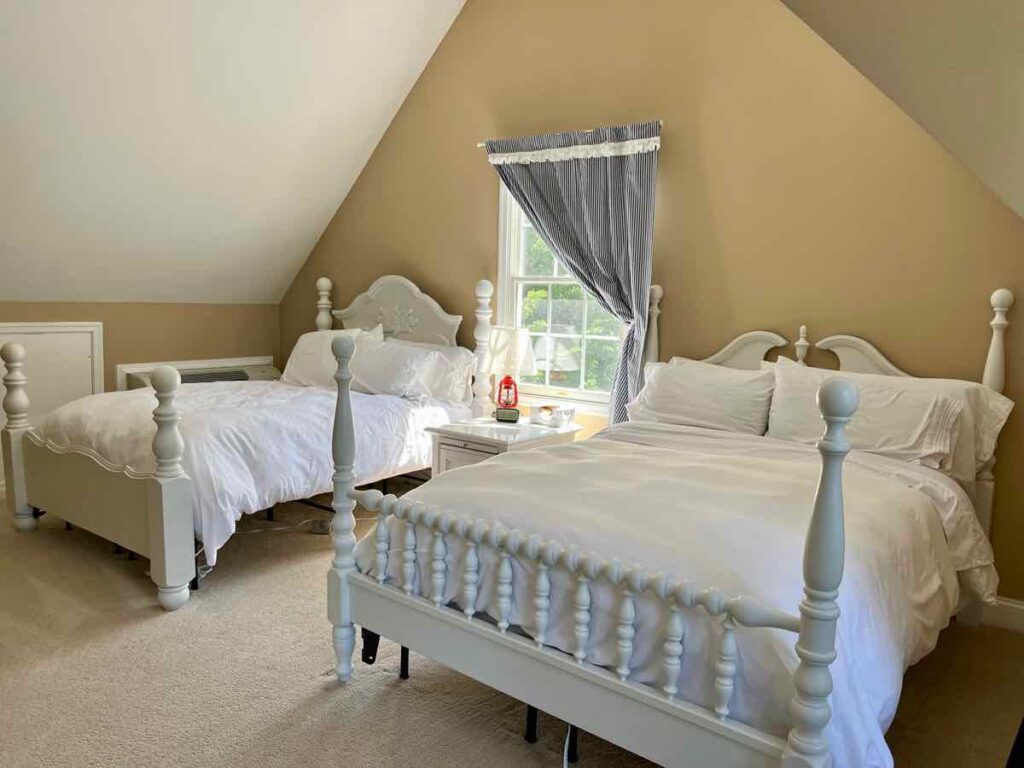 Special Amenities
The Windswept Inn owners' goal is to offer the privacy and convenience of a vacation rental with the extra service of an inn. The owners greet every guest and are ready to help with advice on the area. Jennifer and Eric have lived here for more than 15 years so they know the area well. In fact, you'll find a list of recommended restaurants and area wineries inside.
Another nice extra—the kitchen is stocked with the basics and can be further provisioned to order. Just provide a list and Windswept Inn will be ready with your groceries on arrival.
A basket of fruit and a bottle of wine (held by a cheeky fox) greet guests on arrival. Extra kitchen amenities include a Keurig coffee pot combination with a generous supply of coffee pods. Kitchen staples are covered and the pantry is stocked with some snacks and quick foods like instant oatmeal, boxed cereals, mac and cheese, and more.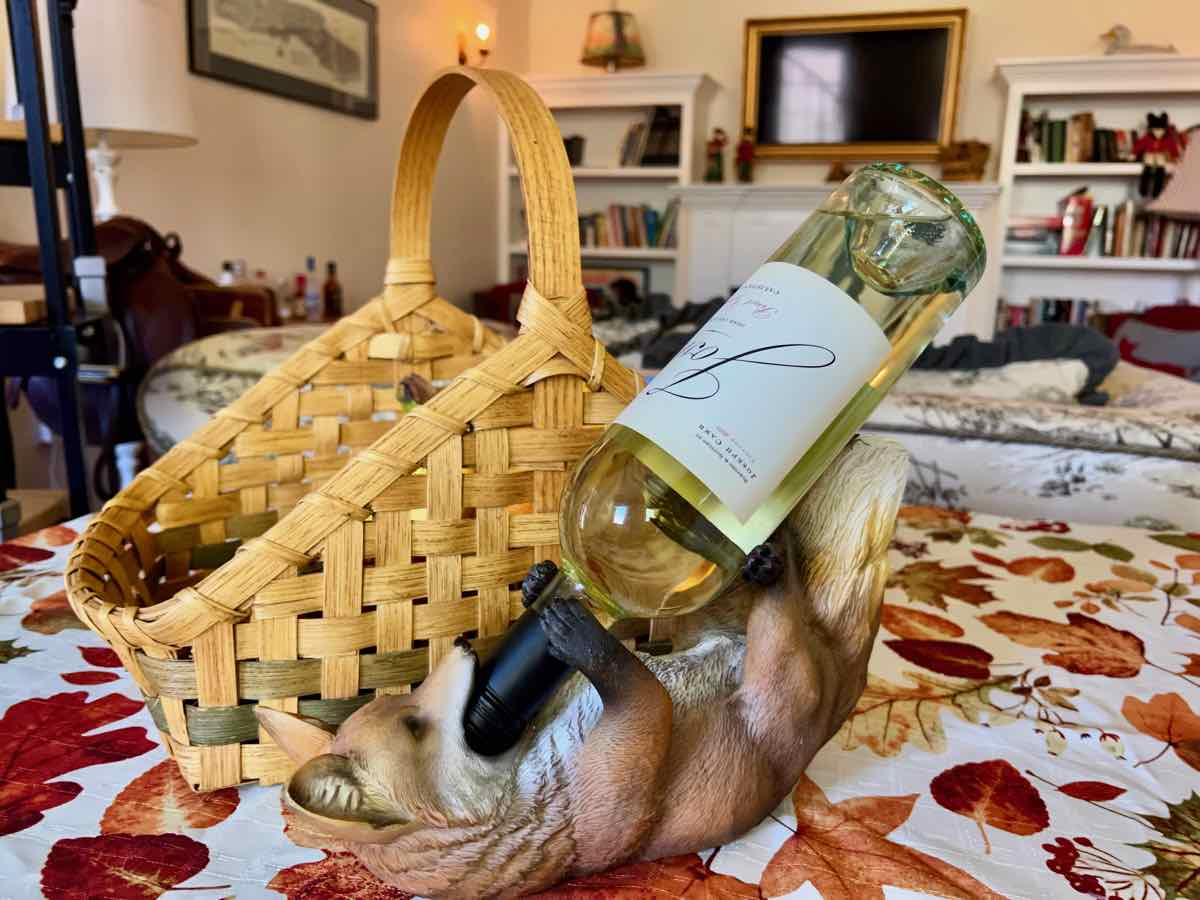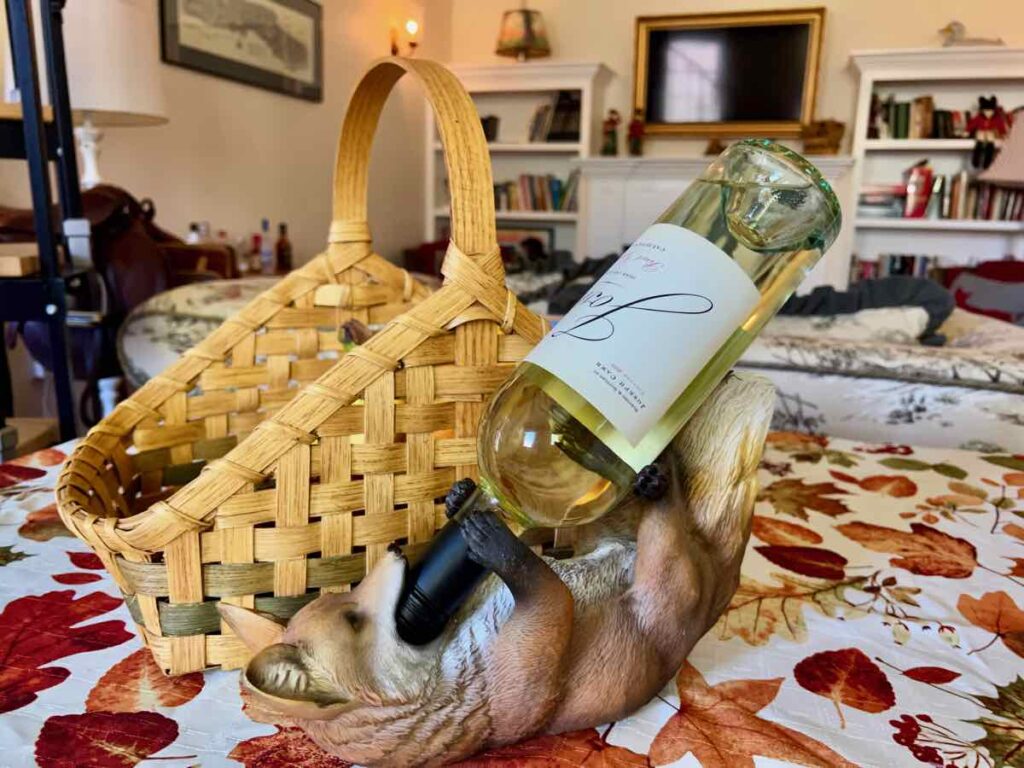 The decor is lovely throughout and it honors the region's Hunt Country heritage and the owner's dachshunds. The living room TV, which is framed to look like a painting, is outfitted with Netflix and Roku. The free wifi is very good and there is a nice selection of books and a few games.
Outdoor Spaces and Activities at Windswept Inn
The Round Hill cottage is part of hosts Jennifer and Eric's 26-acre property. A large lawn stretches behind the house to the woods. Here, guests will find a spring-fed, stocked pond with nearby benches where you can relax or fish. In fact, fishing gear is available to borrow.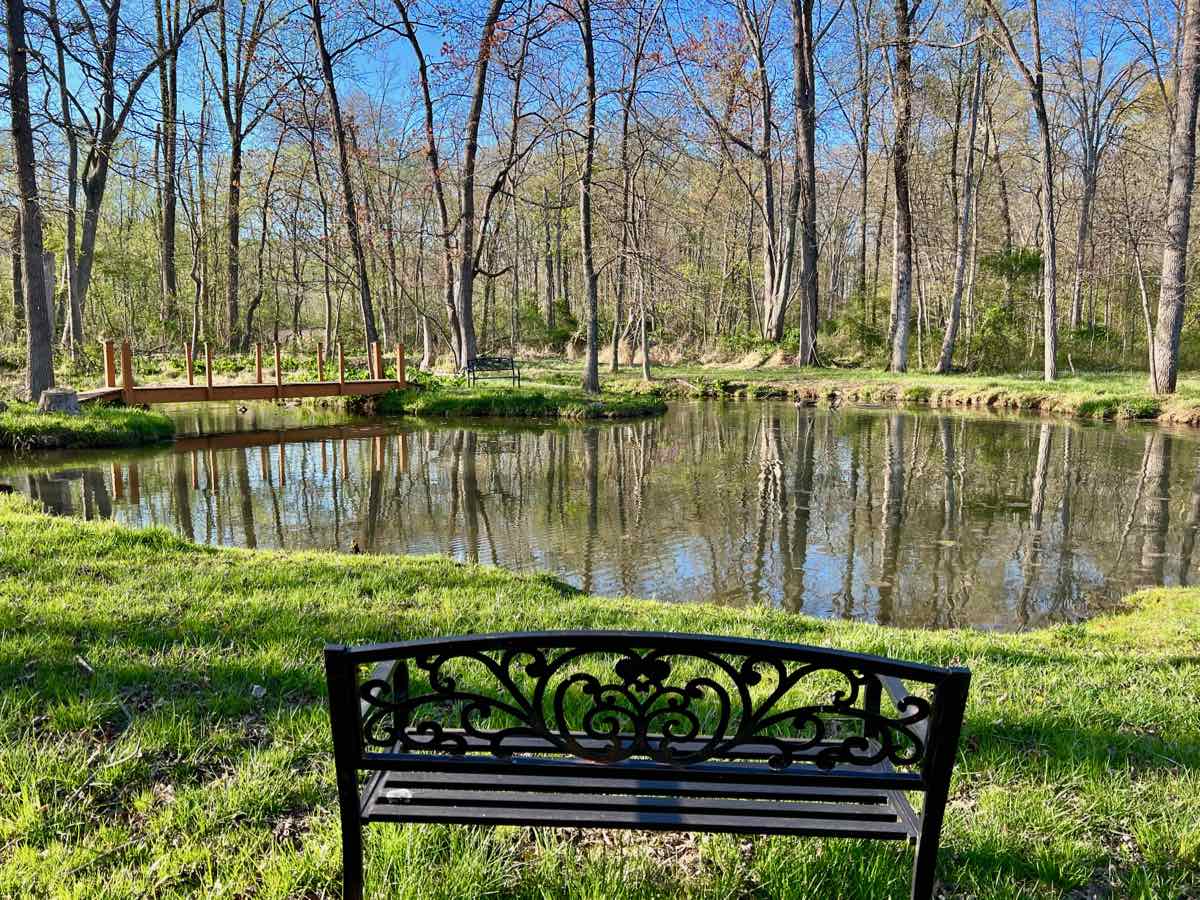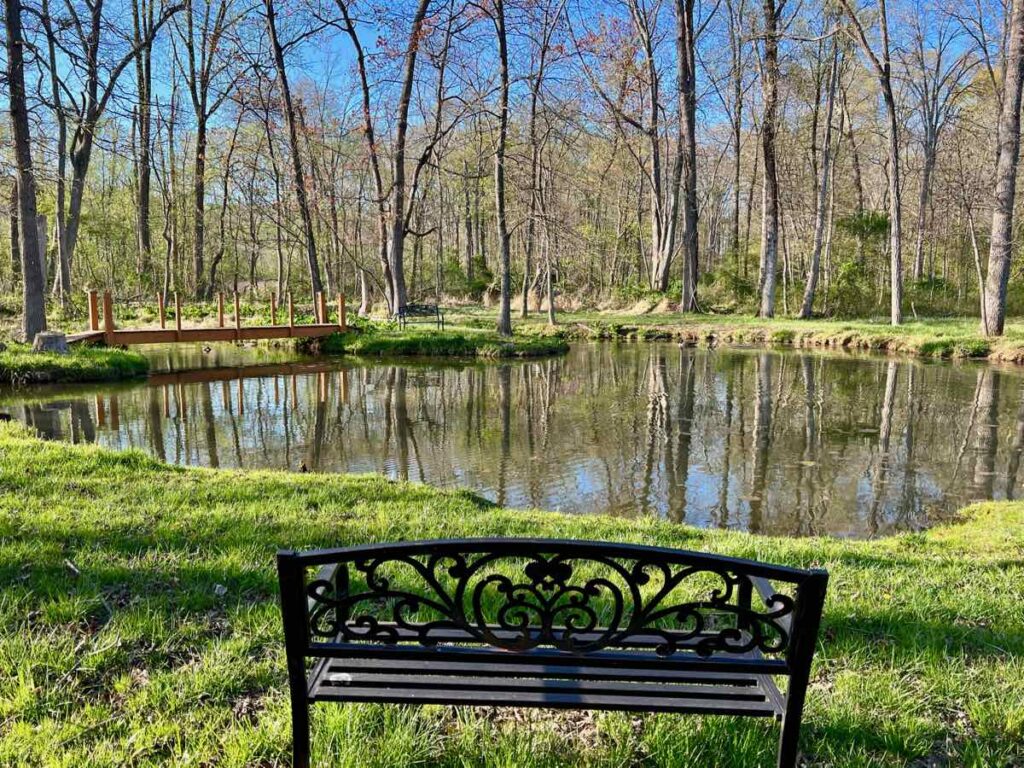 Judging by the Guest Book entries, the pond is a favorite spot for visiting children some of whom caught their first fish here. A nearby fire pit offers another space to hang out in the evening.
When you're ready for a little exercise, take a quiet walk on the private gravel road. It's 1.5 miles from the house to Snickersville Turnpike, and you'll pass a pretty pond and pastures with donkeys and horses on the way.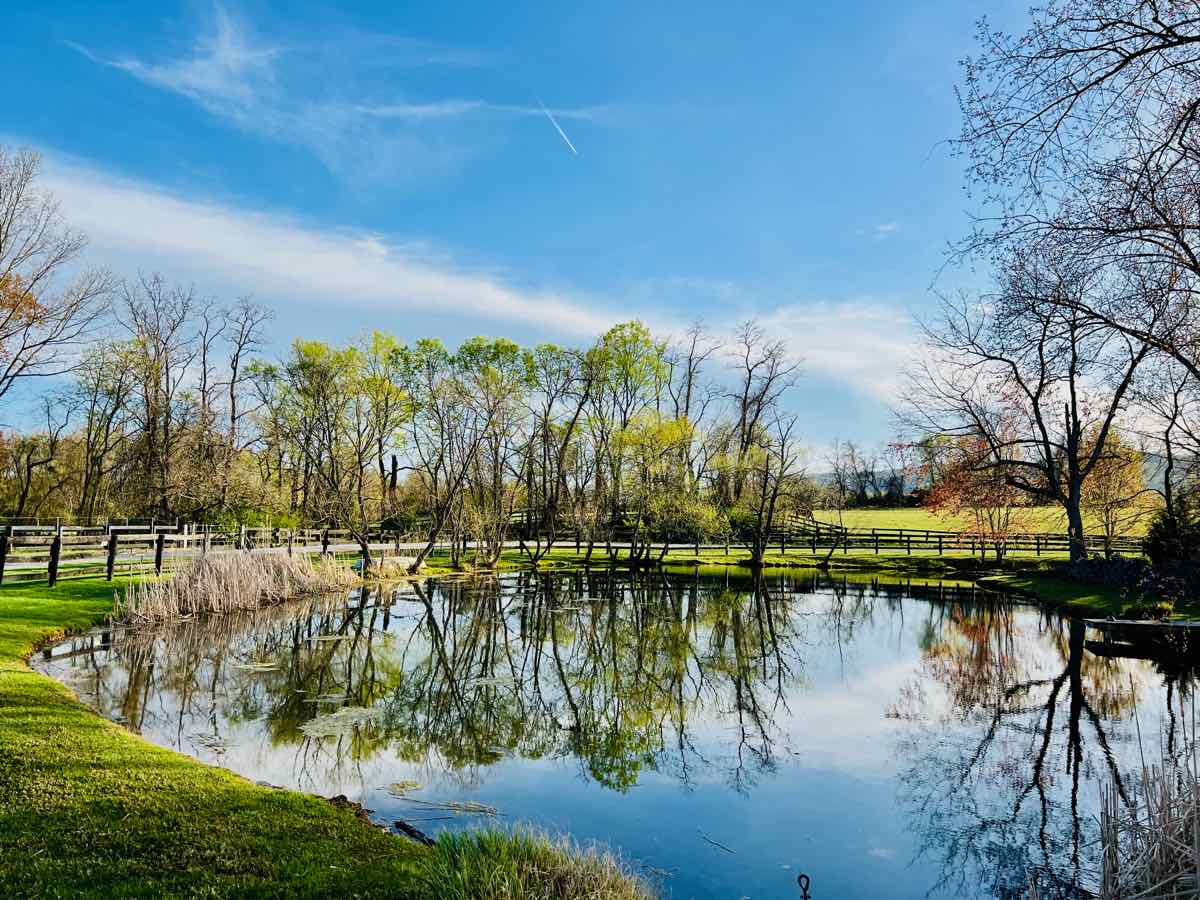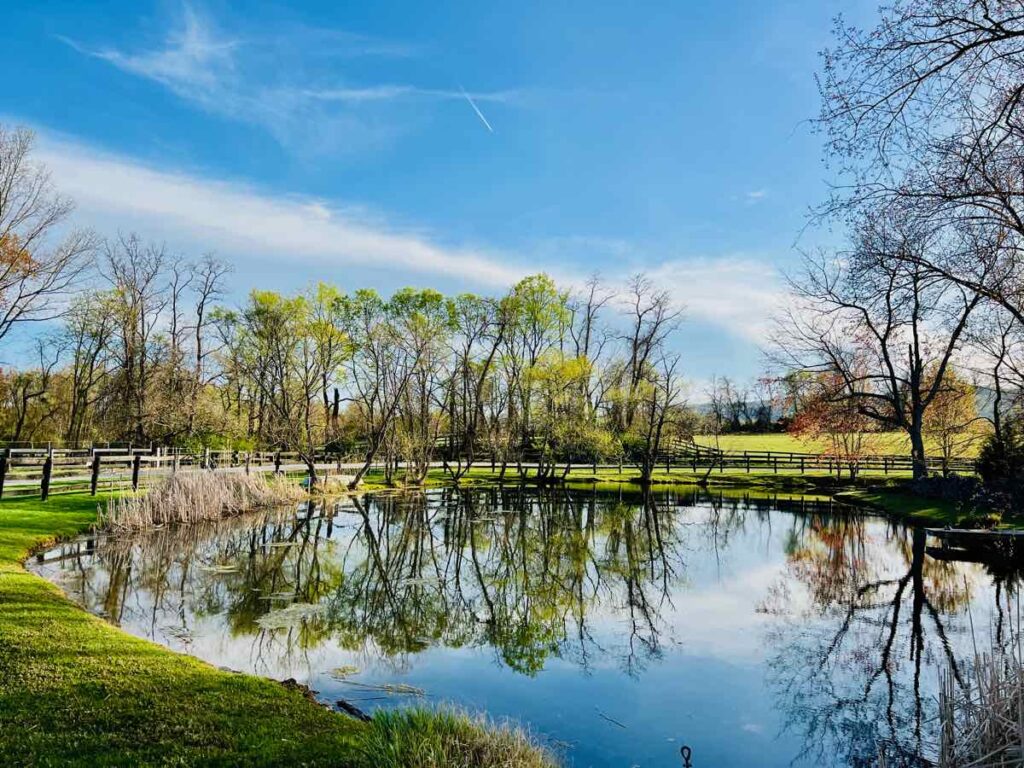 One thing we missed during our stay is a comfortable outdoor spot to sit near the cottage. Fortunately, a new deck with a grill is coming soon. In addition, the owner plans to add Adirondack chairs under a pretty backyard tree.
Windswept Inn Essential Info
Here is essential information about the Windswept Inn cottage rental:
Windswept Inn can accommodate up to six guests. The master bedroom is on the first floor and the additional bedrooms are reached via a spiral staircase.
Find more information and photos on the Windswept Inn website.
The cottage is located in Round Hill, Virginia, close to Route 7.
Book your stay and see guest reviews on the Wine Country cottage listing on VRRBO or on Airbnb.
Things to Do Near the Windswept Inn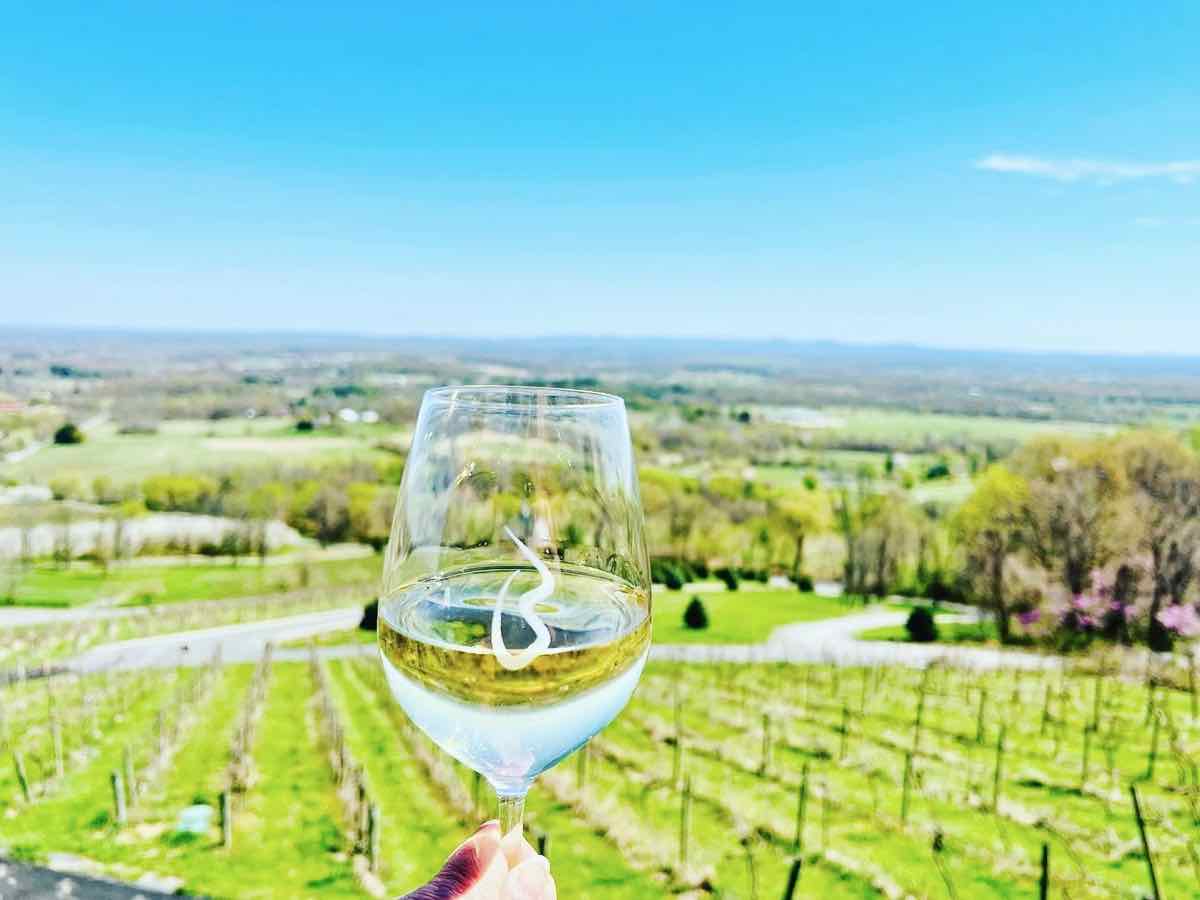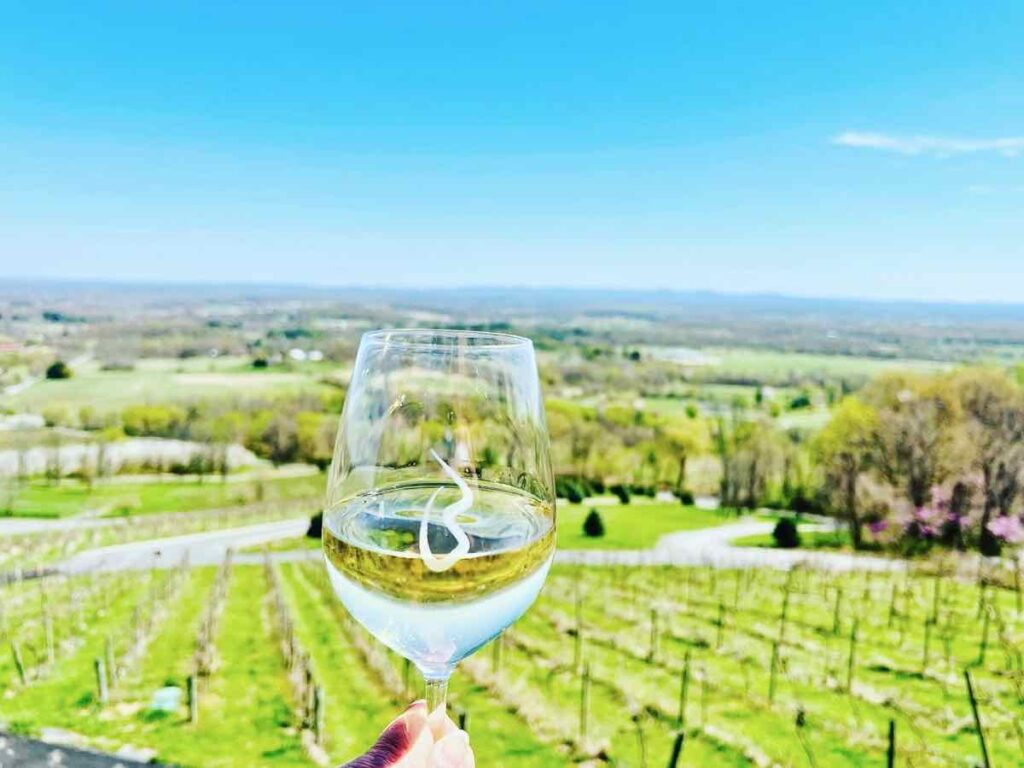 We love the cottage's location in Round Hill. Quick access to Route 7 and the historic Snickersville Turnpike makes it easy to explore the area. Here are some of the best things to do in Virginia Wine Country and Hunt Country. Follow the links for details.
Whether you choose to explore or just snuggle up and relax at the cottage, Windswept Inn offers a welcoming home away from home for your visit to Virginia Wine Country.
Windswept Inn hosted our stay so we could share our experience. As always, all photos, text, and opinions are our own.
Follow us on Facebook, Twitter, Pinterest, and Instagram for more fun travel in and from Northern Virginia.
Pin it for Later: