These 17+ delicious ice cream shops in Northern Virginia feature local ice cream in loads of tasty and unique flavors. If you're a Northern VA resident, check our list for the best ice cream places near you and new spots to try. And if you're a visitor to the Washington DC area, you'll find tasty treats with unique experiences to explore near these yummy ice cream shops.
Most of the the shops on our list offer traditional ice cream in scoop or soft-serve flavors. Traditional doesn't mean boring though. You'll find unique flavors, unusual combos, and more great treats at these Northern Virginia ice cream stores.
Ice cream shops are listed below alphabetically by town or city. Opening hours may change seasonally, so follow the links for the latest info. Our list features ice cream shops in Alexandria, Fairfax, Loudoun, Prince William, and Fauquier Counties plus places a short drive away.
Disclosure: This article may contain affiliate links. We will make a small commission from these links if you order something, at no additional cost to you.
We've also included a bonus list of fun road trip destinations and unique ice cream spots to try when you travel.
The Dairy Godmother, Alexandria
A beloved shop in Alexandria, The Dairy Godmother dishes up scrumptious frozen custard, cookie sandwiches and other treats. The Del Ray shop is about 2.5 miles from Old Town and its a fun Alexandria neighborhood for shopping and dining.
The Dairy Godmother flavor selection is small, but you'll usually find a few frozen custard flavors, plus a few vegan options and sorbets. Check the web site for unique flavors of the day like Mozambique and Pineapple Upside Down Cake. Ice cream sandwiches are a favorite, with tasty custard served on chocolate chip cookies, chocolate wafers, or cake.
The Dairy Godmother is at 2310 Mount Vernon Ave in Alexandria Virginia. The shop is open daily, noon to 8:00.
Pops Old Fashioned Ice Cream, Alexandria
The next time you're exploring Old Town's King Street, pop into Pop's Old Fashioned Ice Cream for a treat. The list of ice cream flavors is long, and Pop's original recipe was a favorite of First Lady Eleanor Roosevelt.
Ice cream flavors at Pop's run from the standards to more unique mixes like Kahlua Chocolate Chip and Butterfinger Coffee. There's nothing too experimental, but there are enough options to please a crowd. The shop also offers lactose-free vanilla, chocolate, and swirl soft-serve plus a selection of toppings, sundaes, and pies.
Pop's Old Fashioned Ice Cream is at 109 King Street in Old Town Alexandria and opens daily at 11:30.
Toby's Homemade Ice Cream, Arlington and Vienna
Satisfy your cravings with super premium ice cream at Toby's Homemade Ice Cream & Coffee. This local shop creates small batch ice cream in a tempting array of flavors using a minimum 16% butterfat.
Toby's original Arlington ice cream shop is now joined by a second location in Vienna. No matter which store you visit, you'll find traditional flavors like butter pecan and salted caramel, plus unique tastes. The Ube flavor, made with purple sweet potatoes, is a unique choice that's delicious and beautiful. They also offer smoothies, milkshakes, malts, and sundaes.
The original Toby's Homemade Ice Cream is at 5849 A Washington Blvd in Arlington Virginia. The second location is at 280 Cedar Lane NE in Vienna Virginia. Both locations are open daily except closed Monday.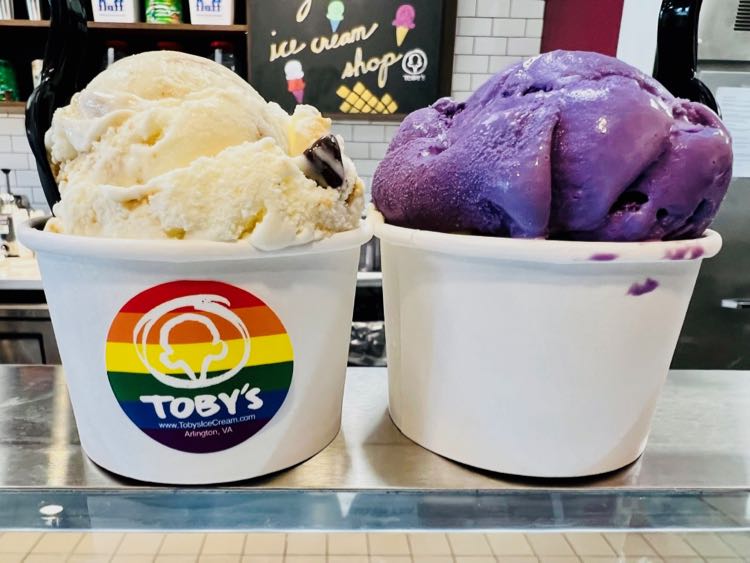 HoneyBee Creamery, Ashburn and Leesburg
Update: HoneyBee Creamery has closed permanently.
The owners of HoneyBee Creamery started as the chocolatiers behind Veritas Artizen Chocolate Company, one of the best chocolate shops in Northern Virginia. In 2019 they took over a soft-serve and Italian Ice spot in Ashburn and reopened as HoneyBee Creamery. Their second Leesburg location opened in 2020. Both locations are now closed.
Peterson's Ice Cream Depot, Clifton
Beautiful downtown Clifton is packed with interesting shops, restaurants, historic buildings, and one beloved ice cream shop. Families flock to Peterson's Ice Cream Depot for homemade ice cream, malts, banana splits, and sundaes plus custom hot dogs.
Peterson's makes their own scoop ice cream and offers 12 flavors at the depot. This is one of the best ice cream shops for kids, with a fun playground and field right next door. This is also a great spot for dog-lovers who can order a "pup cup" for their furry friend.
The Petersons Ice Cream Depot is located at 7250 Main St in Clifton Virginia and is open daily. Allow time to check out the lovely shops, restaurants, and historic buildings in Clifton.
Peterson's also makes a few "Boozy Flavors" that you can sample at the 2nd Stop Ice Cream & Coffee Bar food truck on the Farm Brew LIVE campus (home to tasty 2 Silos Brewing) in Manassas.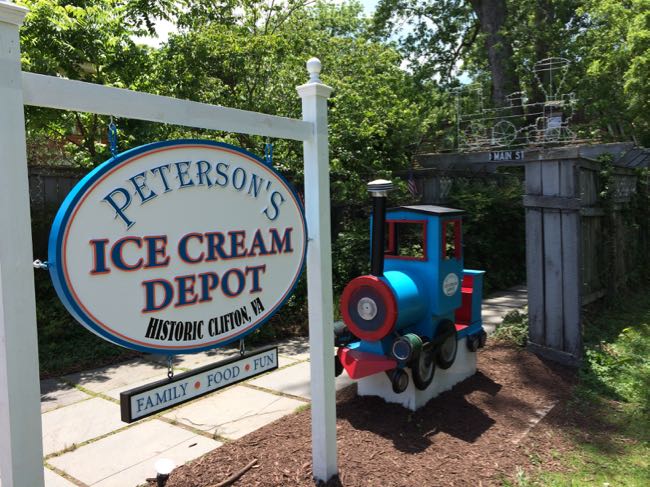 Dolcezza Gelatto, Mosaic District, Fairfax
Enjoy the classics with an Italian flare (and less fat and calories) at Dolcezza, a small shop in the Mosaic District of Fairfax. The creamy rich gelato is local, produced in a DC factory near Union Station.
The gelato selection at Dolcezza is limited and prices are on the high side, but the quality and flavor standards are high. Favorite flavors include Pistachio Siciliano, Blueberry Lavender, and Stracciatella, but the menu varies.
Dolcezza is located at 2905 District Ave in the Mosaic District, Fairfax Virginia. The shop is open daily from 11:00 to 11:00 (weekends to midnight).
Sugar Mama's, Fairfax
The small shop at Sugar Mama's Ice Cream has been serving up handmade treats at it's Fairfax location for 9 years. They offer 12 flavors of hand packed ice cream and a nice selection of toppings plus milkshakes, sundaes, and other treats.
We would have liked more dough chunks in our Cookie Dough ice cream, but the banana ice cream was packed with banana flavor. In fact, a regular customer stopped in for his favorite Banana Shake (he says the only one in the area) during our visit. The impressive slices of layered cakes in the fridge, including a beautiful slice of Smith Island Cake, are tempting.
Sugar Mama's is located at 11201 Lee Highway in Fairfax VA. The shop is open daily except closed Mondays.
Woody's Ice Cream, Fairfax
Located in the heart of Old Town Fairfax, Woody's Ice Cream has been serving up soft serve ice cream for more than 23 years. Recently they added hand-dipped ice cream from another local, Great Falls Creamery. Now customers can choose from a variety of flavors including more than 20 kinds of scoop ice cream plus soft-serve and a huge selection of toppings.
Servings at Woody's are very generous and a great value. Our "2-scoop" dish of ice cream was only $5.15 ($5.37 with tax) and included at least 6 scoops. The Cookie Dough was delicious, absolutely packed with chunks of dough and chips (S'mores was less successful).
Woody's Ice Cream is located in Old Town at 10435 North Street in Fairfax VA. There is a small parking lot our front and a free parking garage nearby. If you have kids along, stroll over to the Old Town Square plaza and your little ones can play in the fun splash pad.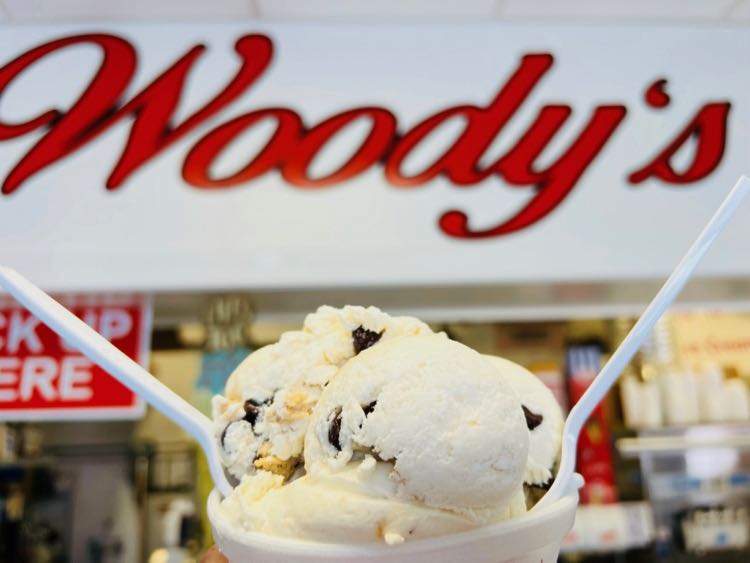 Jake's Ice Cream, Falls Church
Enjoy treats with a purpose at this Falls Church ice cream parlor. Jake's Ice Cream employs special needs adults who create small-batch artisanal ice cream in a range of different flavors.
The flavor selection changes regularly at Jake's, with hits like Banana Bread, Praline Caramel Ribbon, and Rum Raisin. They also offer a few vegan options including vanilla, chocolate, strawberry, and delectable guava. Sundaes, shakes, cake pops, and custom cakes round out the offerings.
Jake's Ice Cream is at 6353 Columbia Pike in Falls Church VA and they open daily at noon (3:00 on Tuesday). Masks are required in the store but you can order from the walk-up menu without a mask.
Kiln & Kustard, Falls Church and Vienna
Kiln & Kustard makes their tasty frozen custard daily in traditional flavors plus fruit-based vegan ice cream options. The business is unusual as it's primarily a ceramics studio with a custard shop tucked in the corner.
In addition to ice cream and sundaes, the shop creates Instagrammable Crazy Custard Shakes, topped with brownie, cupcake, or chocolate-covered pretzel. Stick to the basics or enjoy flavors like vegan peach and cherry, or limited edition flavors like apple cinnamon fireball.
Kiln & Kustard is located at 455 S Maple Street in Falls Church. A second Kiln & Company location is at 115 Church St NE in Vienna. Both businesses open daily; hours vary by location.
Carl's Frozen Custard, Fredericksburg
Carl's Frozen Custard is a landmark in historic Fredericksburg where they have been turning out delicious, old-fashioned custard since 1947. (Their cool neon sign is a wonderful throwback.) More eggs, plenty of butterfat, and no air make this a rich and creamy treat.
The flavors at Carl's are basic vanilla, chocolate, and strawberry but you can dress them up with toppings. Enjoy cones, sundaes, shakes, and Root Beer or Cherry Floats.
Carl's Frozen Custard is located at 2200 Princess Anne Street in historic Fredericksburg VA. Be sure to bring your cash because Carl's does not accept credit cards. The shop opens seasonally from the Friday before President's Day to the day before Thanksgiving.
Looking for more great ice cream shops in Fredericksburg? Head to Jimmy T's Soft-Serve on Courthouse Road for more than 26 flavors of ice cream served by the cone, dish, or in shakes. Or choose from the long list of Shaved Ice flavors including Blue Bubble Gum, Cajun Red Hot, and Dill Pickle.
Great Falls Creamery, Great Falls
Our favorite reward after a trip to Great Falls Park is a scoop or two of indulgently rich ice cream from Great Falls Creamery. The small ice cream parlor is located in the center of Great Falls, behind The Old Brogue, with nice outdoor seating in back.
Great Falls Creamery serves our favorite Chocolate Chip Cookie Dough ice cream, with big chunks of dough in a creamy rich vanilla base. Peanut Butter based flavors have also been a hit. Servings are quite generous, with both dishes and cones piled high.
The Great Falls Creamery shop is located in the Village Center, at 766 Walker Road in Great Falls Virginia and they are open daily. They also offer local bread (delivered fresh on Tuesday and Friday) and local honey.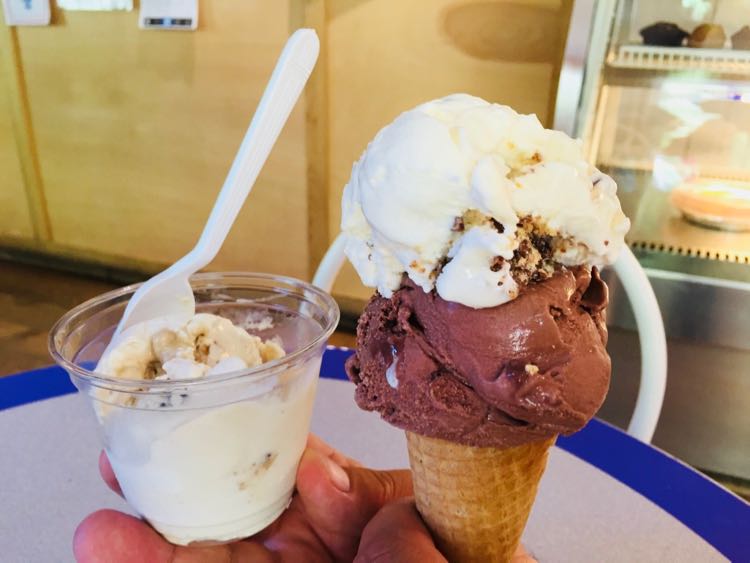 Cookies and Cream, Haymarket
The hard-serve ice cream at Cookies & Cream comes from Gifford's and Garber's, produced in nearby Winchester. Pair a creamy scoop with the homemade cookies and you have a winning treat. In July 2022 a new family took over the business and the small-town tradition continues.
With more than 20 flavors on offer, plus toppings and cookies, customers can create anything from a simple ice cream cone to a towering sundae. The shop also makes shakes, floats, and an interesting selection of soda drinks.
Cookies & Cream is at 14650 Washington Street in Haymarket Virginia. They're open daily, 11:30 to 9:00. There is plenty of outdoor seating under pretty lights so it's a fun stop at night.
Nathan's Dairy Bar, Manassas
Head to the red awning and tables for a tasty line-up of soft serve and hand-scooped ice cream at Nathan's Dairy Bar in Manassas. Since opening in 2001, Nathan's has treated Manassas locals and visitors to a great selection of traditional and seasonal flavors.
Snickerdoodle and Peanut Butter swirl? Blue Raspberry Sherbert? A scoop of Vegan White Chocolate? Yes, please! Shakes, sundaes, and plenty of topping choices round out the menu.
Nathan's Dairy Bar is located at 8948 Mathis Avenue, just a mile from Old Town Manassas. The shop is opens seasonally from early March until the first Saturday of December.
Scruffy's, Middleburg
Located in the heart of downtown Middleburg, Scuffy's Ice Cream Parlor has been a local favorite for decades. The tiny store offers a nice variety of flavors plus toppings so you can create the perfect ice cream cone, dish, or sundae combo.
Scruffy's Ice Cream Parlor is located at 6 W Washington Street in Middleburg Virginia. Downtown Middleburg is lined with shops and restaurants and is one of the quaint towns to visit on a scenic drive through Virginia horse country.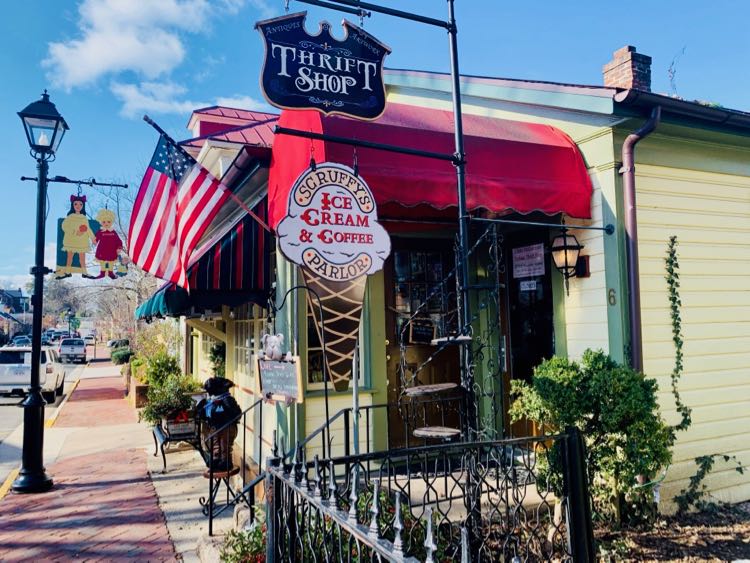 Tipped Cow Creamery, Purcelville
The owners of Monk's, one of the best barbeque restaurants in Northern VA, opened Tipped Cow Creamery in the same Purcellville space. They create artisanal, small batch scoop ice cream and generally serve 12 flavors in a cup, cone, waffle cone, or shake.
You'll find classic flavors at Tipped Cow, along with more unique combinations like Key Lime Pie and Kettle Corn. Monk's and Tipped Cow are located right near the end of the W&OD bike trail, so you can work up an appetite before your treat.
Tipped Cow is located at 251 N 21st Street in downtown Purcellville Virginia. Plan your visit with our guide to fun things to do in Purcellville.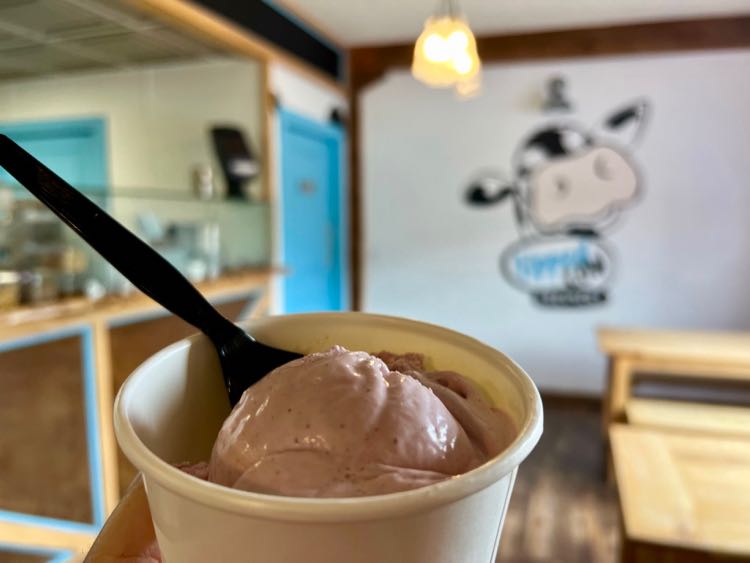 Gruto's Soft Serve, Purcellville and Leesburg
The family-run shops at Gruto's Soft Serve have been satisfying customers since 2007. In 2015, a new couple took over the business and continues to offer tasty soft serve with a family-friendly vibe. Today, Gruto's has locations in Purcellvile and Leesburg, both serving ice cream flavored with local ingredients.
When you visit Gruto's, expect to find 4 core flavors—chocolate, vanilla, blackberry, and banana—offered in single and twist combos with a variety of toppings. Enjoy your treat in a cone, cup, sundae, shake, malt, or float.
Concoct your own combination or choose from options like The Elvis made with banana ice cream topped with peanut butter sauce. Portions at this small shop are generous.
Gruto's Soft Serve original location is 141 W Main Street in Purcellville. The second location is at 107 S King Street in Leesburg. Both locations open daily at noon (2:00 pm Sundays).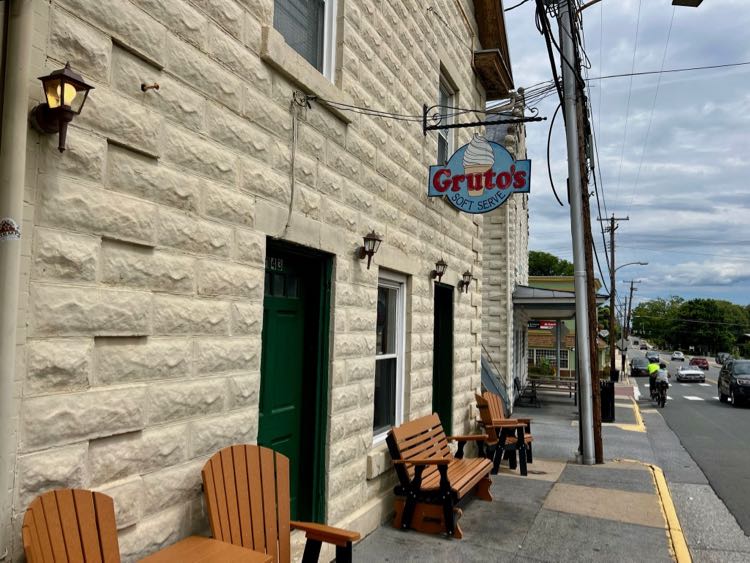 Moo Thru, Remington and Winchester
If you've ever driven to Charlottesville on Route 29 you have no doubt seen the crowds lining up at Moo Thru and the giant cow out front. This ice cream shop is busy for a reason. The fresh homemade ice cream is produced from cows at a fourth-generation farm just 3 miles down the road.
Not only is the ice cream delicious, it also comes in a great range of unique flavors and old favorites. For example, in 2022 Moo Thru created a blackberry Merlot ice cream studded with chocolate chunks. Yes please! Of course, there are lots of toppings to choose from and they are happy to dish up indulgent sundaes and shakes.
Another Moo Thru location recently opened on Patsy Cline Boulevard in Winchester (one of our favorite Virginia day trips). They also have a shop in Lake Anna and food trucks in Hillsboro and Warrrenton.
The original Moo Thru ice cream shop is at 11402 James Madison Highway (rt 29) in Remington VA. They are open daily, 11:00 – 9:00 (noon on Sundays).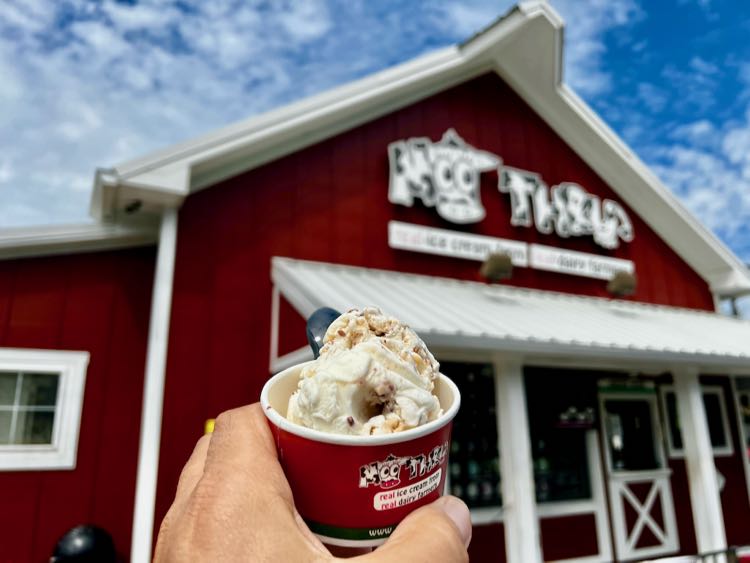 Red Fox Creamery, Winchester
Red Fox Creamery occupies a spacious shop on the Old Town Winchester pedestrian mall. Ice cream is made on the premises, and they also have a bakery and restaurant so you can enjoy a meal too.
The ice cream at Red Fox is rich and tasty, with extra butter fat to elevate the creamy texture. There are usually 12 or more flavors on offer including old favorites and unique creations.
You'll find Red Fox Creamery on the Old Town mall at 146 N Loudoun St in Winchester Virginia. The shop is open daily except closed Sundays.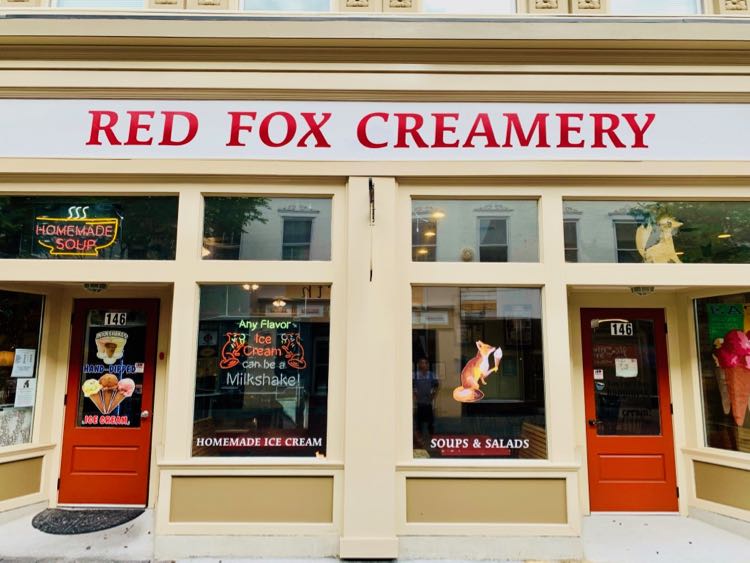 Frostie Moose, Woodbridge
This local soft serve ice cream shop has a minimal Facebook presence so it's hard to know what flavors will be offered when you visit. But judging by the Yelp reviews, generous helpings of homemade soft serve frozen yogurt are a sure bet.
Milkshakes, malts, sundaes, and even pup cups for your furry friend are all on the Frostie Moose menu. Choose from around 15 flavors of ice cream and an even bigger list of toppings to create your perfect custom treat.
Frostie Moose is located at 12581 Millstead Way in Woodbridge and they're open daily from noon to 9:00.
Rocky Point Creamery, Tuscarora Maryland
Here's a bonus destination, just across the Potomac River in Tuscarora Maryland. Rocky Point Creamery creates more than 80 flavors of delicious scoop ice cream on a farm that's been in the family since the 1800s. In addition to cones, Rocky Point offers ice cream pies, banana splits, ice cream sandwiches, and more.
You'll usually find more than 20 flavors on the menu, with all the classics plus some unusual choices. For example, try the Crabby Cow, an ode to Maryland flavored with Old Bay and caramel.
Rocky Point Creamery is at 4323 Tuscarora Road in Tuscarora Maryland. Make it a day trip with a scenic drive on the Virginia-Maryland border.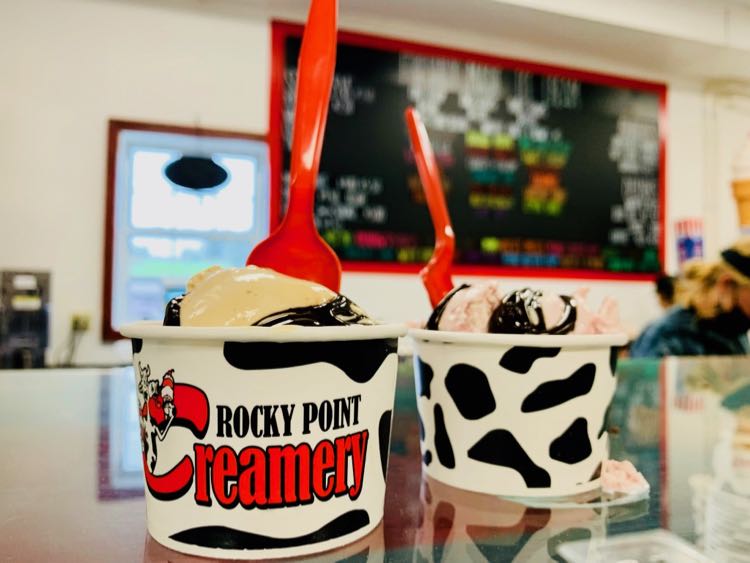 More Fantastic Travel-worthy Ice Cream Shops
The travel-worthy ice cream shops below are just one reason to visit these favorite Virginia getaway and day trip destinations. These are some of the best ice cream shops we have sampled during our travels in and near Virginia. Follow the links for fun things to do and great places to stay when you visit.
Brown Dog, Cape Charles
Follow your Chincoteague visit with a scenic drive down Virginia's Eastern Shore to Cape Charles. At this charming bayside town you can spend a day at the beach then wander over to Brown Dog Ice Cream for a huge serving of delicious ice cream.
Island Creamery, Chincoteague
Wild ponies may draw you to beautiful Chincoteague, but don't miss the wonderful homemade ice cream at Island Creamery. The flavors are delicious and the servings are enormous. In fact, our bowl of ice cream was so big we couldn't finish it!
Crozet Creamery, Crozet (near Charlottesville)
The scratch made ice cream at Crozet Creamery is just one of many reasons to visit the Charlottesville area. If you're hungry enough, you could start (or follow) your treat with a savory pie at Crozet Pizza, one of the great local Charlottesville-area restaurants.
Bella Gelato, Harrisonburg
Harrisonburg's walkable downtown is fun to explore and we always make time for a stop at Bella Gelato. The housemade gelato is fresh as can be, made with milk from the cows at nearby Mount Crawford Creamery. Pair your treat with a delicious pizza from sister restaurant, Bella Luna.
Doumar's, Norfolk
The sign touts barbecue but it's the classic ice cream and historic waffle cones that draw many customers to Doumar's. In fact, the waffle cone and the world's first cone machine were invented at this Norfolk eatery. Stop in for a treat then explore all of the nearby fun things to do in Norfolk VA.
Fun fact, Frank Lloyd Wright designed the masterpiece known as Kentuck Knob for the Hagan family, owners of Hagan Ice Cream. You can still enjoy Hagan ice cream today when you visit the Kentuck Knob Cafe, one of several Wright-designed buildings in Laurel Highlands Pennsylvania.
Charm School, Richmond
With a throwback vibe and rich ice cream made in house, Charm School is one of many fun places to visit in Richmond VA. This ice cream parlor also carries vegan flavors and they make their cones in-house, also from scratch.
Pops Ice Cream and Soda Bar, Roanoke
You may head to Roanoke for outdoor adventures or fun things to do downtown, but there are more interesting neighborhoods to explore. Pop into Pop's Ice Cream and Soda Bar for a tasty treat in the cool Grandin neighborhood, a fun place to shop and dine.
Road tripping the USA? Check out these 12 Great Ice Cream Places in the US on our sister site, McCool Travel.
Whether you focus on the nearest ice cream to home or head out on a road trip, good ice cream shops are always a worthy destination. Happy eating!
Follow us on Facebook, Twitter, Pinterest, and Instagram for more fun travel in and from Northern Virginia.