The Fairfax Cross County Trail, or CCT, is an amazing achievement for a well-populated area like Fairfax County, Virginia. Over 40 miles long, it crosses the entire county, from the Occoquan River in the south to Great Falls Park in the north. Along the way, it passes through many of our best Fairfax County parks.
In 2014, the Fairfax Cross County Trail became the Gerry Connolly Cross County Trail. The new name honors the Congressman who championed the creation of the trail during his tenure as Chairman of the Fairfax County Board of Supervisors. Most of the trail markers still read CCT, but you'll see some new stickers with the longer GCCCT designation as well.
In 2009, I decided to get some exercise while exploring new areas in Fairfax County. My first thought was to bike or hike portions of the W&OD, which passes near my neighborhood. But then a CCT marker caught my eye. After checking out the excellent Cross County Trail Maps at the Fairfax County Park site I was hooked. My new goal was to hike the CCT end-to-end. I generally take short solo hikes, so I like to pick a parking spot, hike the trail 2 to 3 miles, then double back the same way. I guess that means I'm really hiking the trail twice.
We cover several trail segments in separate articles listed below. These tips apply to all of your Fairfax CCT hikes:
When the weather is good, almost any portion of the trail is worth a hike–with one exception. Unless you love sidewalks and busy streets, avoid the dreaded segment 6, from Oak Marr Park to Thaiss Park. I covered these streets on a hot day and it was not fun.
Check the segment maps on the Fairfax CCT site for details on what surfaces you're going to encounter. You'll find a mix of dirt, gravel, and paved surfaces on many segments. For a more detailed view, you can explore segments with the interactive Fairfax Trail Buddy map.
There are many side trails leading to neighborhoods so it's easy to get off the main trail. Take a map with you and check your position when you encounter unmarked intersections.
The trail is also popular with bikers and riders so stay alert and give them the right of way. The stretch between the W&OD and the Dulles Toll Road is especially popular for off-road biking.
Most of the fair-weather stream crossings have stepping stones that are passable unless water levels are very high. One exception is the stream crossing between Lawyers and Vale Roads, which is often partially underwater.
Expect to encounter mud unless we've had a long dry spell. Much of the trail passes through stream valleys that flood often and tend to stay muddy in sections.
Most of the trail is family-friendly, though fair weather stream crossings can be challenging for very young children. There are a few paved portions of the trail and dirt sections level enough for strollers and children on bikes, including the segment along Lake Accotink.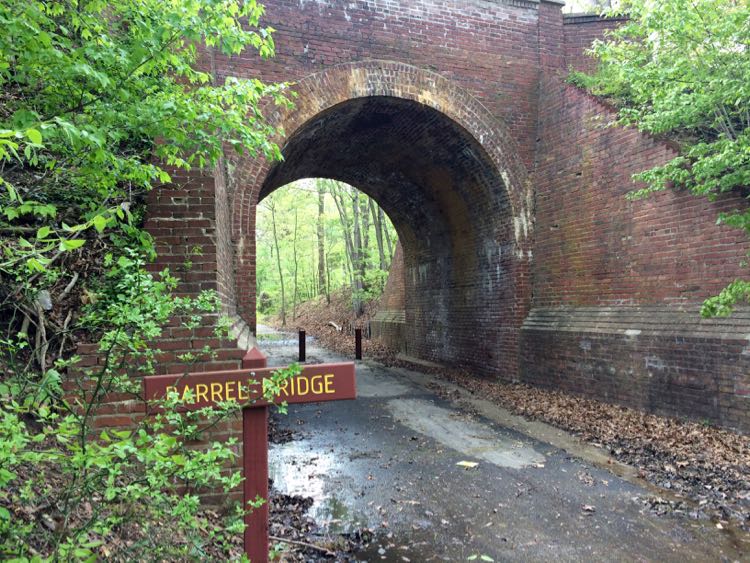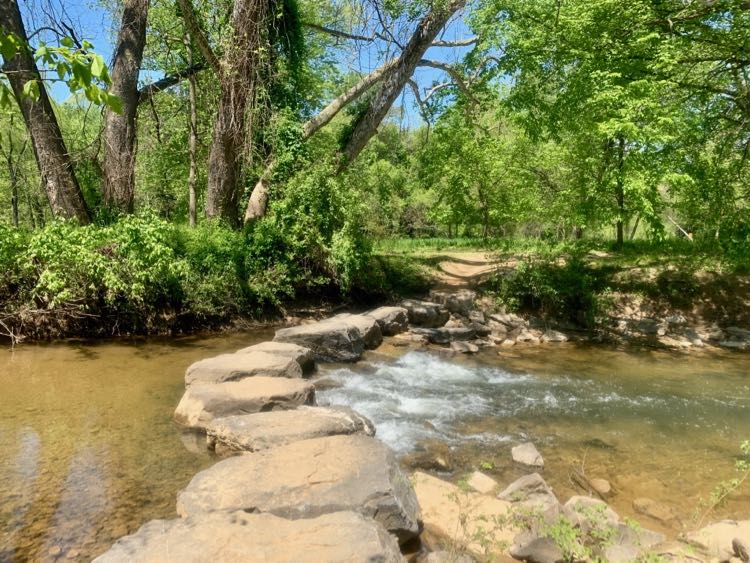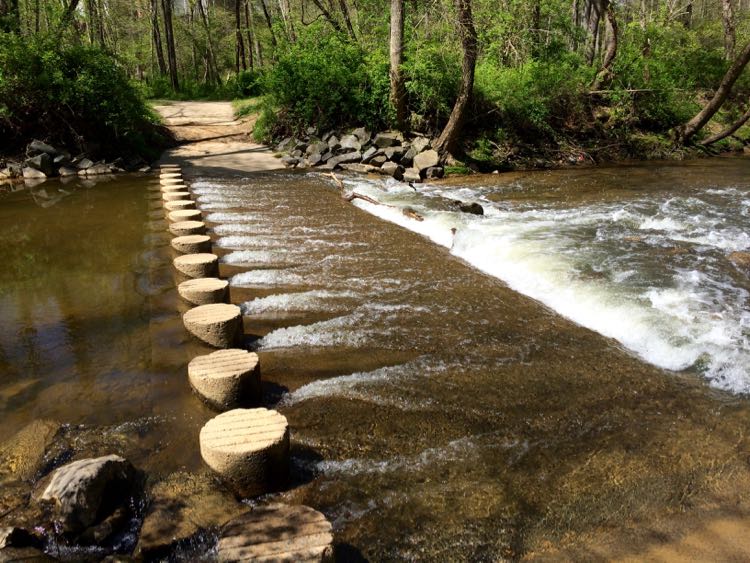 Fairfax Cross County Trail Segments
Follow the links below for a more detailed look at several of the northern Fairfax Cross County Trail segments. We list segments from north to south, beginning with segment 10.
Segment 10, Hike to the Potomac: The northernmost portion of the Cross County Trail follows the Difficult Run stream valley from Leigh Mill Road to the Potomac River in Great Falls Park.
Segment 9, Leigh Mill to Toll Road: Segment 9 follows a mix of dirt paths, water crossings, and stroller-friendly paved sections. It passes Colvin Run Mill, which makes a nice stop if you want to break your hike into shorter walks.
Segment 8, Woods and the W&OD: This section of the trail follows portions of the Difficult Run Stream Valley and the Washington & Old Dominion bike trail. Segment 8 covers 4 miles of paved and dirt surfaces from the Dulles Toll Road to Lawyer's Road in Reston. This portion of the CCT has some good single-track that is popular with bikers, but the dirt portions get soggy after heavy rains.
Segment 7, Shade and Streams: This is a beautiful but lengthy segment covering dirt paths and several stream crossings from Lawyers Road to the Oak Marr Rec Center. Note that one stream crossing is often underwater and several areas are muddy even when we haven't had a lot of rain. Follow the link for tips on how to break the hike into smaller segments and which part is best after rain.
Segment 6, Sidewalk Sun: Unfortunately, this portion of the CCT follows hot, busy sidewalks from end to end. Unless you are committed to hiking the full CCT, we suggest you skip this segment altogether. If you choose to tackle this section, avoid it on hot and muggy days.
No matter which segment you choose to hike, the Fairfax Cross County Trail offers a fun and interesting way to explore the area. Stream Valley Trails deliver a nice dose of nature, even in busy Virginia suburbs close to Washington DC. Happy hiking!
Follow us on Facebook, Twitter, Pinterest, and Instagram for more fun travel in and from Northern Virginia.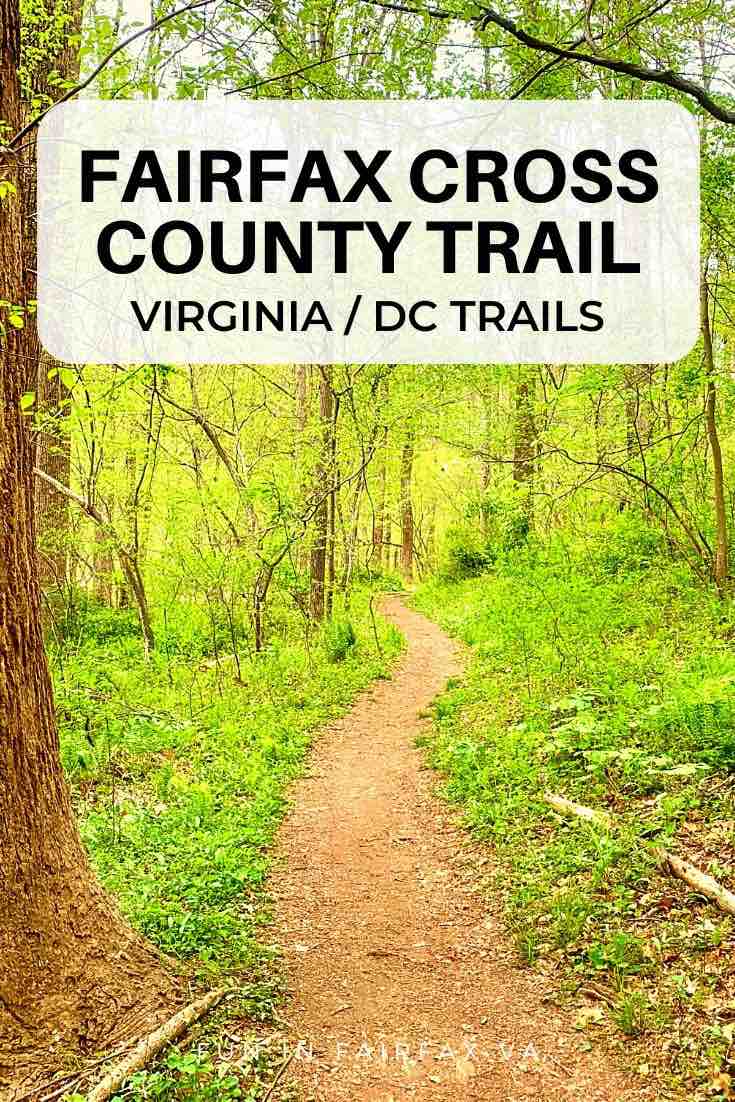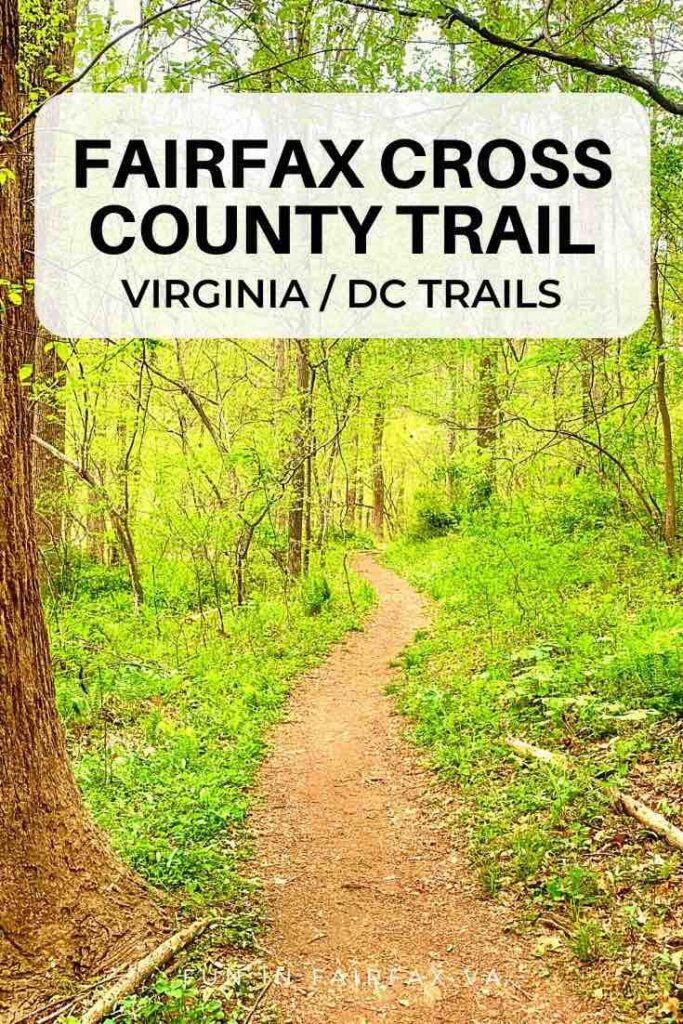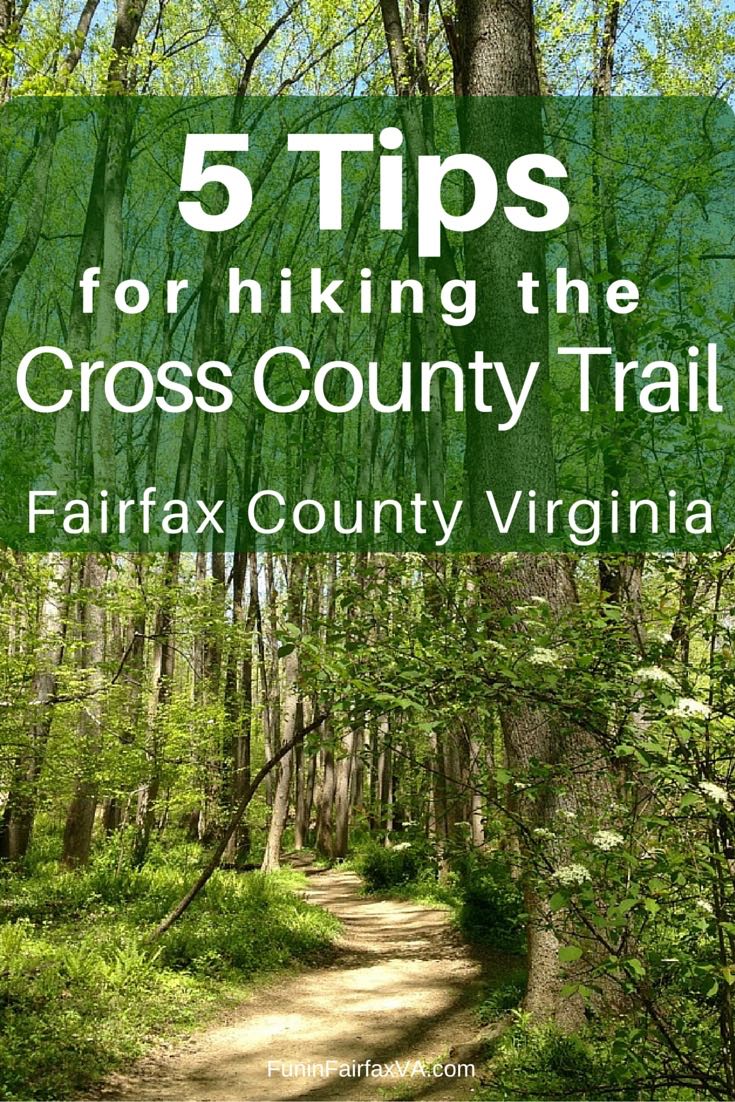 This article was published in 2014 and updated in 2019, 2020, and 2021.