Updated on November 7, 2023 by Julie McCool
Reston's Cafesano offers a fresh, Mediterranean-inspired menu featuring delicious pizzas and sandwiches, in a bright, casual space by Lake Thoreau. Patrons order at the counter, then food is delivered to your table or booth by the restaurant's friendly staff.
Decor and Vibe at Reston's Cafesano
When Cafesano first opened in Reston's South Lakes Village Center, we were instantly in love with the interior. Walls of windows angling to the ceiling and a view of the lake bring light and sparkle into the open dining room.
Disclosure: This article may contain affiliate links. We will make a small commission from these links if you order something, at no additional cost to you.
Outside, a patio is one of our favorite spots for outdoor dining on a warm Virginia day. Cafesano makes good use of the small outdoor space, with hanging plants and a rail buffering the parking lot. If you're counting on eating outside and the patio is full, order your meal to go and look for a table or bench by the lake.
Cafesano is a very popular Reston restaurant, especially at lunchtime when local workers, teachers, and residents fill every table. If you're hoping to snag a booth, arrive early or late for lunch. Fortunately, turn-over is quick so you shouldn't have to wait long, even when the dining room is full.
Work up an appetite on the Lake Thoreau Loop Trail which begins right behind the restaurant. A hike on the lakefront path is one of our favorite things to do in Reston.
In the evening, Reston's Cafesano interior is softly lit with candles and is generally quieter. The vibe is still casual, but with a little more calm in the air.
Reston's Cafesano Menu and Favorite Dishes
We have been regulars at Cafesano since it opened, and have never ordered a dish we didn't enjoy. Salads, sandwiches, meat skewers, pizzas—they're all fresh and tasty. But we do have favorites on the Cafesano menu.
The Dip Sampler is an excellent start to your meal, with red pepper hummus (our fave), regular hummus, tzatziki, or baba ghanoush (pick two), a generous portion of warm pita bread, and a stuffed grape leaf. If you prefer something hot try the zucchini fritti.
Cafesano's brick oven pizzas are really delicious. Meat lovers who like a little heat should try the Arrabbiata, with spicy sausage and caramelized onions. The Del Mar, topped with grilled shrimp and roasted peppers is our favorite white pizza. We also love the Bianca Insalata, which is piled with arugula for a sort of pizza and salad combo.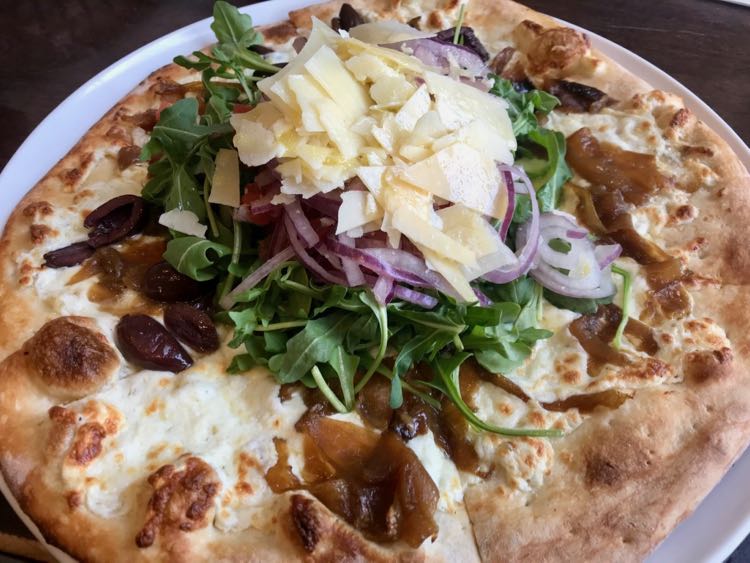 If salad is your focus, we suggest the Signature or the Caesar. Add a little protein with a skewer of steak, chicken, shrimp, or salmon. The portions are generous, making a side salad with a skewer the perfect lunch combo for us.
Our favorite sandwiches at Reston's Cafesano are the panini, especially the Grilled Chicken Pesto and the Caprese (when tomatoes are in season). Italian meatball is another tasty and filling choice. The menu also includes several wraps, pasta dishes, and kabob platters featuring a larger serving of those yummy skewers.
Beer, wine, and the usual soft drinks, along with a few delicious desserts, round out the menu. Try the baklava for a taste of the Mediterranean.
Reston's Cafesano has become a staple of our neighborhood. It's so nice to have a consistently delicious, fresh, and local restaurant in a suburban world often dominated by chains. It is truly one of our favorite Reston restaurants. Happily, Cafesano opened a second location at Dulles Town Center which has a larger patio.
Cafesano is in the South Lakes Village Center in Reston, Virginia. They are open daily for dining or takeout from 11:00 to 9:00.
Follow us on Facebook, Twitter, Pinterest, and Instagram for more fun travel in and from Northern Virginia.