Here are 16 of the best fall hikes in Northern Virginia, perfect when the weather turns cool and dry and Autumn foliage puts on a show. Planning a fall day trip? Combine these fall trails with beautiful Virginia wineries and breweries, quaint towns, and scenic roads.
Hiking is one of our favorite ways to celebrate fall in Northern Virginia, and we're fortunate to have lots of fun trails in the area. Most of the great fall hikes listed below are within an hour or two of Washington DC. Others are a bit further away in Shenandoah National Park and beyond.
These trails deliver beautiful fall foliage, stream-side paths, and awesome views. Our hikes range from a nature preserve just outside Washington DC, to the longest vertical cascade waterfall in the East. These fall hikes in Northern Virginia are fun all year long, but cool temperatures and vibrant foliage make them especially beautiful in Autumn.
Disclosure: This article may contain affiliate links. We will make a small commission from these links if you order something, at no additional cost to you.
If you plan to visit Shenandoah, find more tips in our guide to 5 Ways to Enjoy Fall Foliage in Shenandoah National Park.
While these trails are especially pretty with Autumn colors, they are all enjoyable year-round. We've linked to more round-ups of great hikes in Northern Virginia below. You'll also find a handy map below to help you plan your outing.
1. Potomac Hike: Riverbend to Great Falls Park
Plan your hike: Riverbend to Great Falls hike details.
This mostly level, dirt trail along the Potomac provides continuous river views. Stop at the Riverbend and Great Falls Visitor Centers to learn about the history and geology of your hike. You'll pass a stretch of George Washington's Patowmac Canal on the trail.
Sep 2023 Update: The Great Falls Visitor Center is currently closed but restroom facilities are open.
Waterfall overlooks at Great Falls and Mather Gorge add dramatic views to the river's beauty. This is a good hike for families; just turn back if the kids start to get tired. The River Trail may be closed after heavy rain or when the Potomac River level is high.
Things to do Nearby: Great Falls Scenic Drive on Pretty Country Roads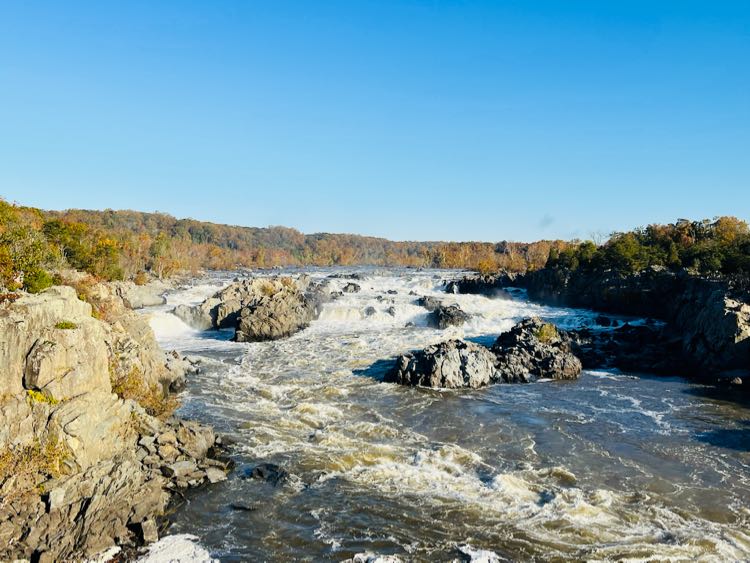 2. Mason Neck State Park
Plan your hike: Mason Neck hike details.
The only Virginia State Park in Fairfax County, Mason Neck offers several nice trails with bay, woods, and marsh views. The Mason Neck Peninsula is a wonderful place for fall hikes in Northern Virginia. Here are a few options for fall hikes in Mason Neck:
The easy, quarter-mile Marsh View Trail is ideal for young children or folks with limited mobility.
A moderate 2-mile hike to Kane's Creek provides a little more challenge, ending in a bird blind overlooking the marsh. This is a good spot to view bald eagles and herons so bring your binoculars.
The popular Bay View Trail combines views of Belmont Bay with marsh and wooded sections in a 1-mile loop.
Outside the park, walk the paved, 3/4-mile Great Marsh Trail, accessible from Gunston Road.
Things to do Nearby: Explore American History at Gunston Hall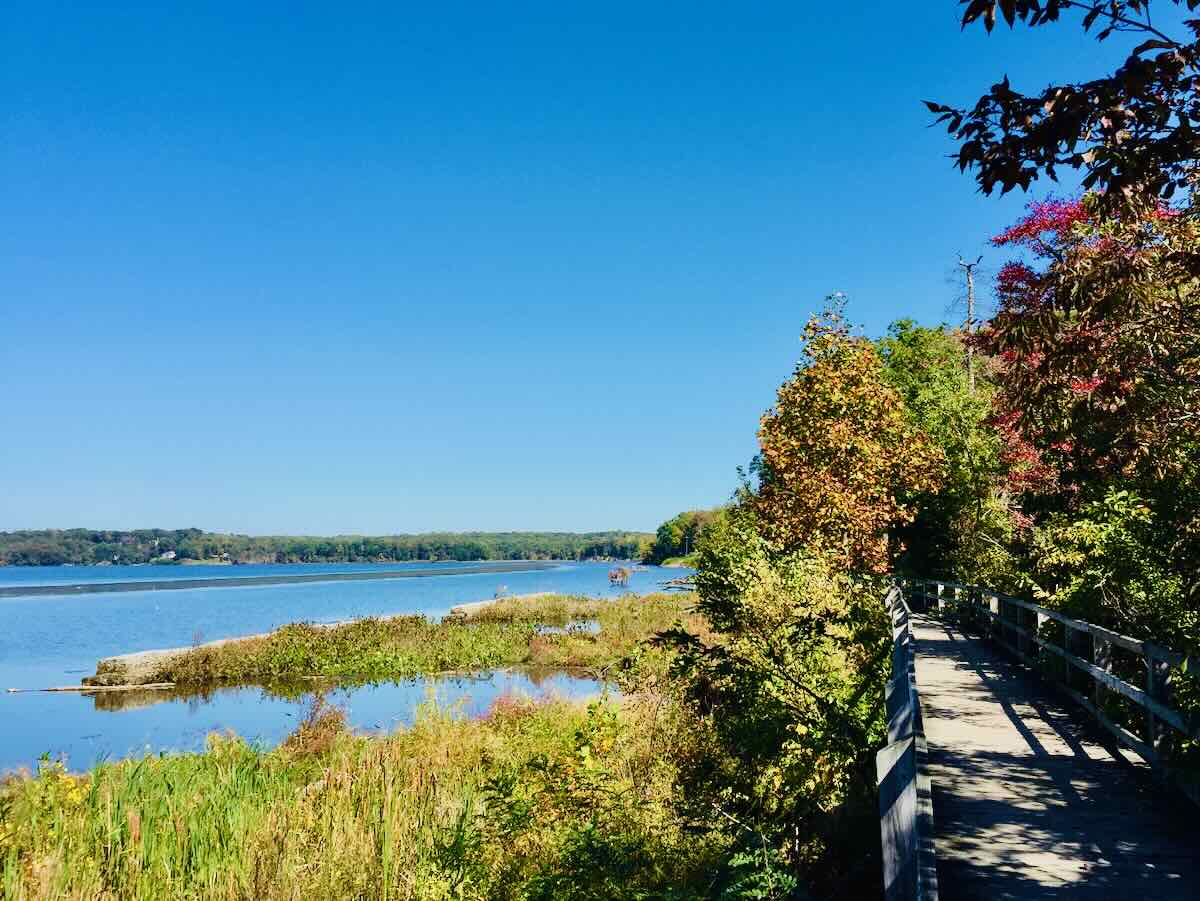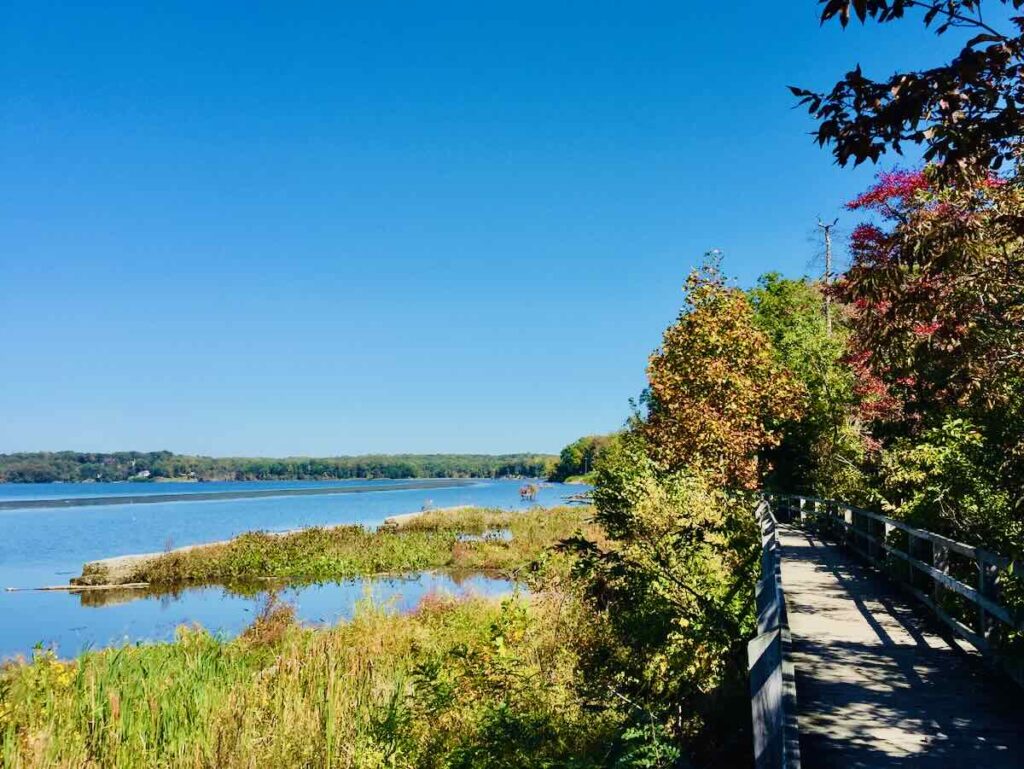 3. Manassas National Battlefield and The Winery at Bull Run
Plan your trip: Manassas Battlefield hike details.
Crisp fall days are perfect for hiking the open fields of Manassas National Battlefield, where you can immerse yourself in the details of two important Civil War battles. Hike the 5-mile First Manassas loop, or choose a shorter hike from the Visitor Center or the old Stone Bridge. It's not the most colorful of our fall hikes in Northern Virginia, but the open fields are lovely in Autumn.
After your hike, continue your history lesson with a stop at The Winery at Bull Run. Picnickers gathered here to watch the Battle of First Manassas unfold, and some even became caught up in the action.
Things to do Nearby: Historic Manassas Virginia Day Trip or Overnight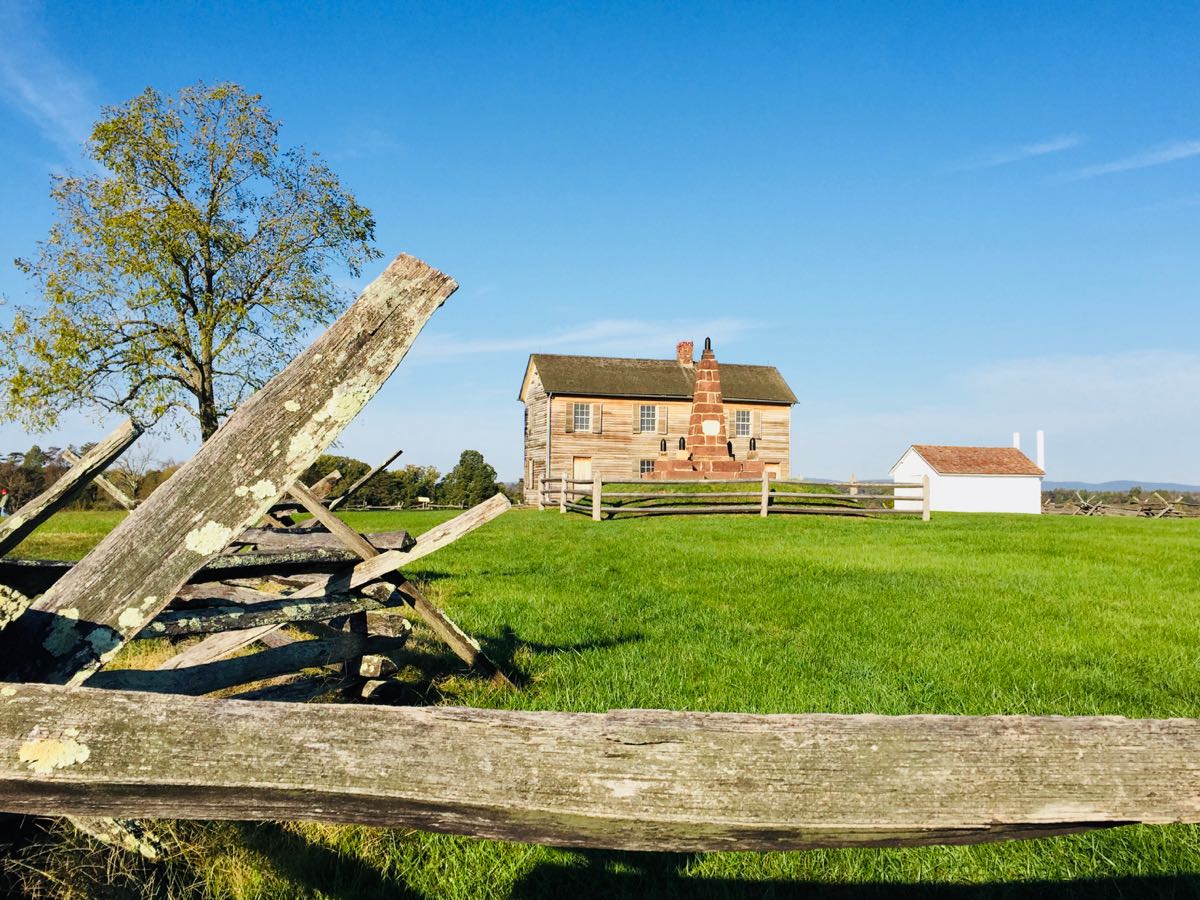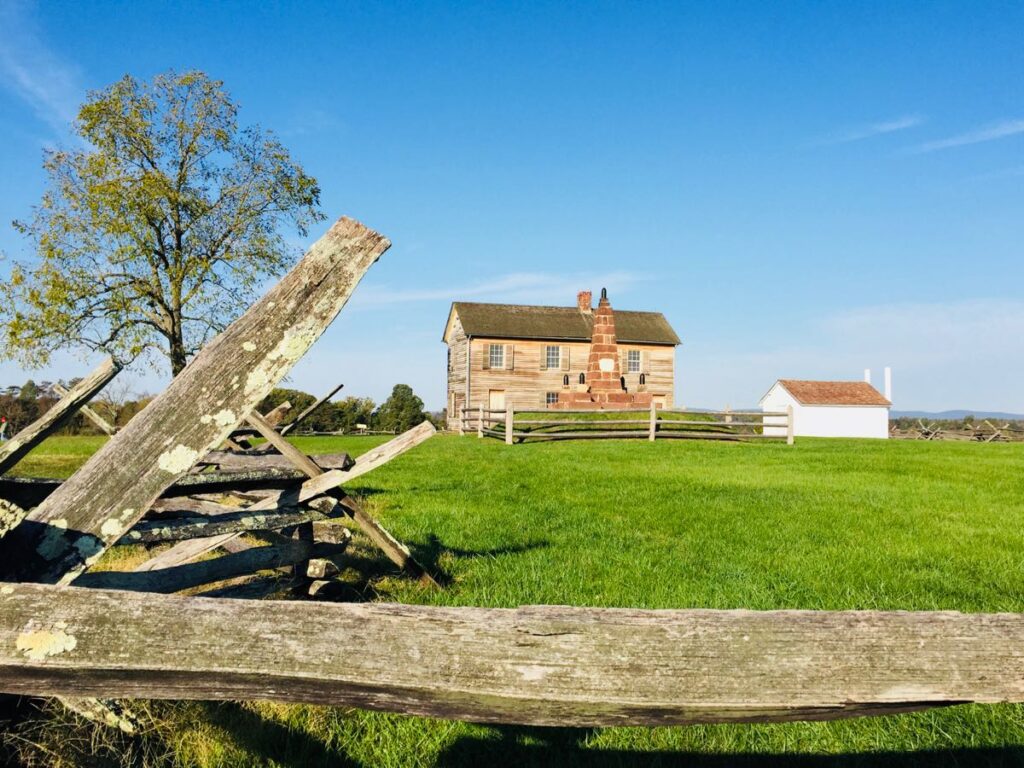 4. Loop Trail Around Burke Lake
Plan your trip: Burke Lake hike details.
Burke Lake, the largest lake in the Fairfax County Park system, is an excellent destination for fall hiking. The 5-mile trail that circles the lake offers pretty water views backed by colorful trees. Most of the trail is a wide, level, dirt path, with frequent places to stop and enjoy views of the lake.
Burke Lake is a family-friendly hike with plenty of opportunities to watch turtles, frogs, birds, and other critters. A portion of the Burke Lake trail is also stroller and wheelchair accessible.
Things to do nearby: Burke Lake Boating: Peaceful Family-friendly Fun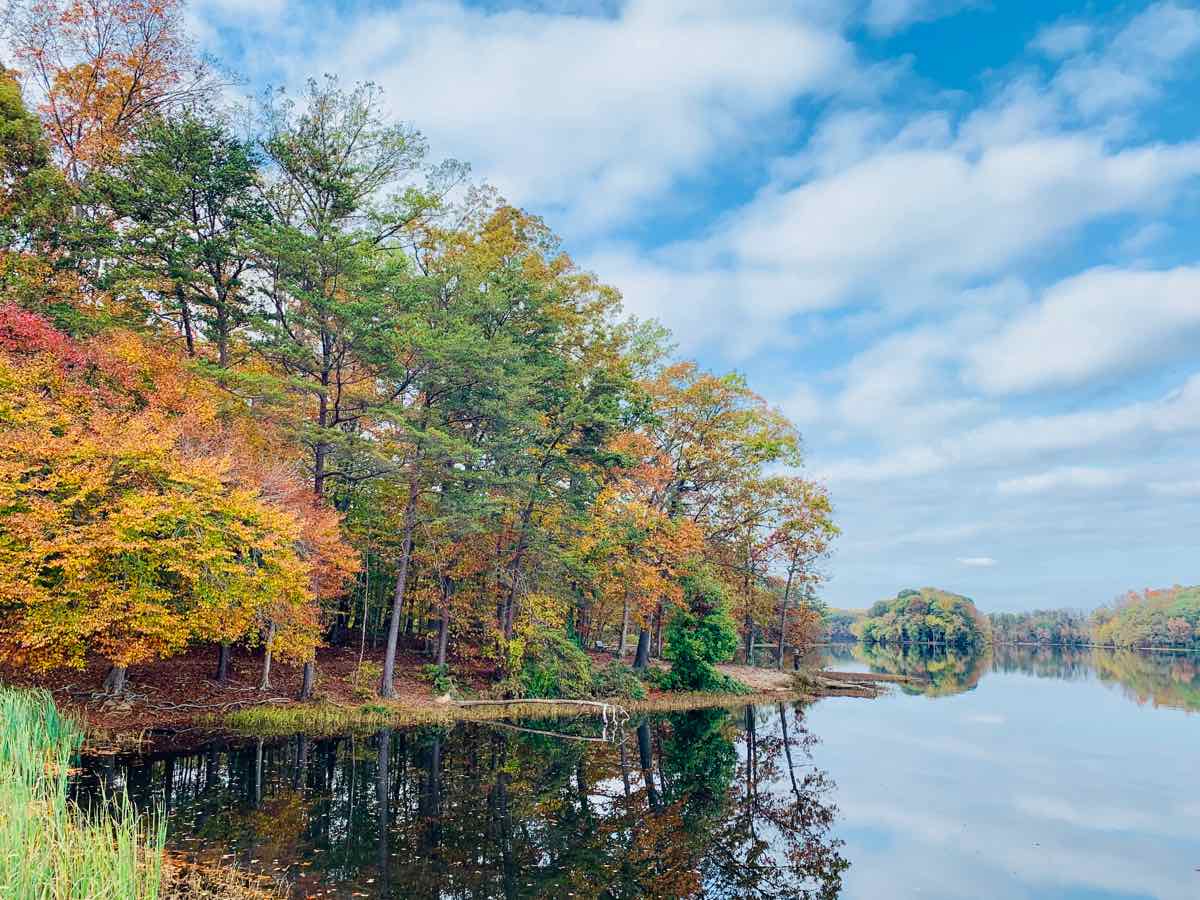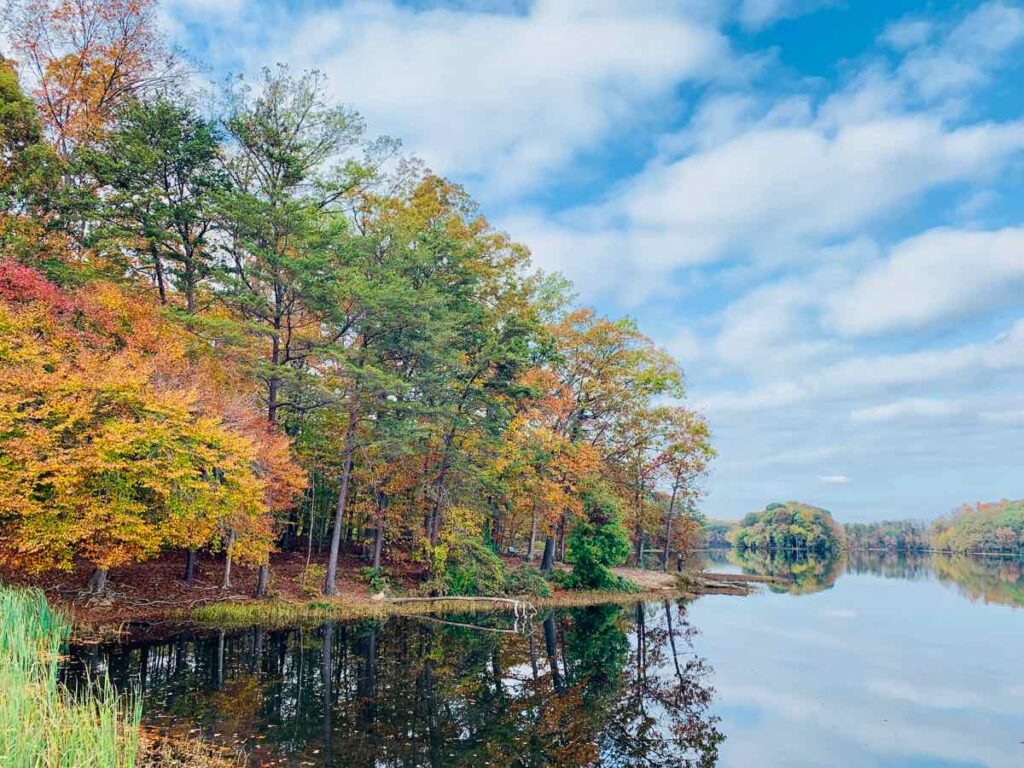 5. Bull Run Occoquan Trail and Paradise Springs Winery
Plan your trip: Bull Run Occoquan Trail hike details.
The Bull Run Occoquan Trail is 17 miles long, beginning at Bull Run Regional Park in the north, and ending at Fountainhead Regional Park in the south. Our favorite fall hike is the segment accessible from Yates Farm Road in the quaint and historic town of Clifton. The trail follows Bull Run in either direction, so you can head out and back for the distance that suits you.
This trail segment has the distinct advantage of ending right next to the lovely Paradise Springs Winery. Celebrate your walk in the woods with a nice glass of wine. If it's near mealtime, you can choose from several restaurants in downtown Clifton.
Things to do nearby: Enjoy the Charms of Clifton Virginia
6. Sky Meadows State Park and Bluemont Vineyards
Plan your trip: Sky Meadows hike details.
Sky Meadows State Park is another favorite fall hike in Northern Virginia. Open fields, wooded hills, and beautiful views are especially pretty once fall foliage emerges. The park has 17 miles of trails, a segment of the Appalachian Trail, and a 1-mile interpretive trail, so you can choose your level of difficulty. Our favorite route is a 4-mile loop hike that ends with a gorgeous valley view from the Piedmont Overlook Trail.
After your hike, continue the views with a short drive north to Bluemont Vineyards and Dirt Farm Brewing. On our last visit, we could see the buildings of Tysons Corner from the brewery patio. Several other Bluemont breweries and wineries offer wonderful views. Or head to Purcellville for a meal or a drink at the local breweries and distillery.
Things to do nearby: 15 Fantastic Fun Things to Do in Bluemont Virginia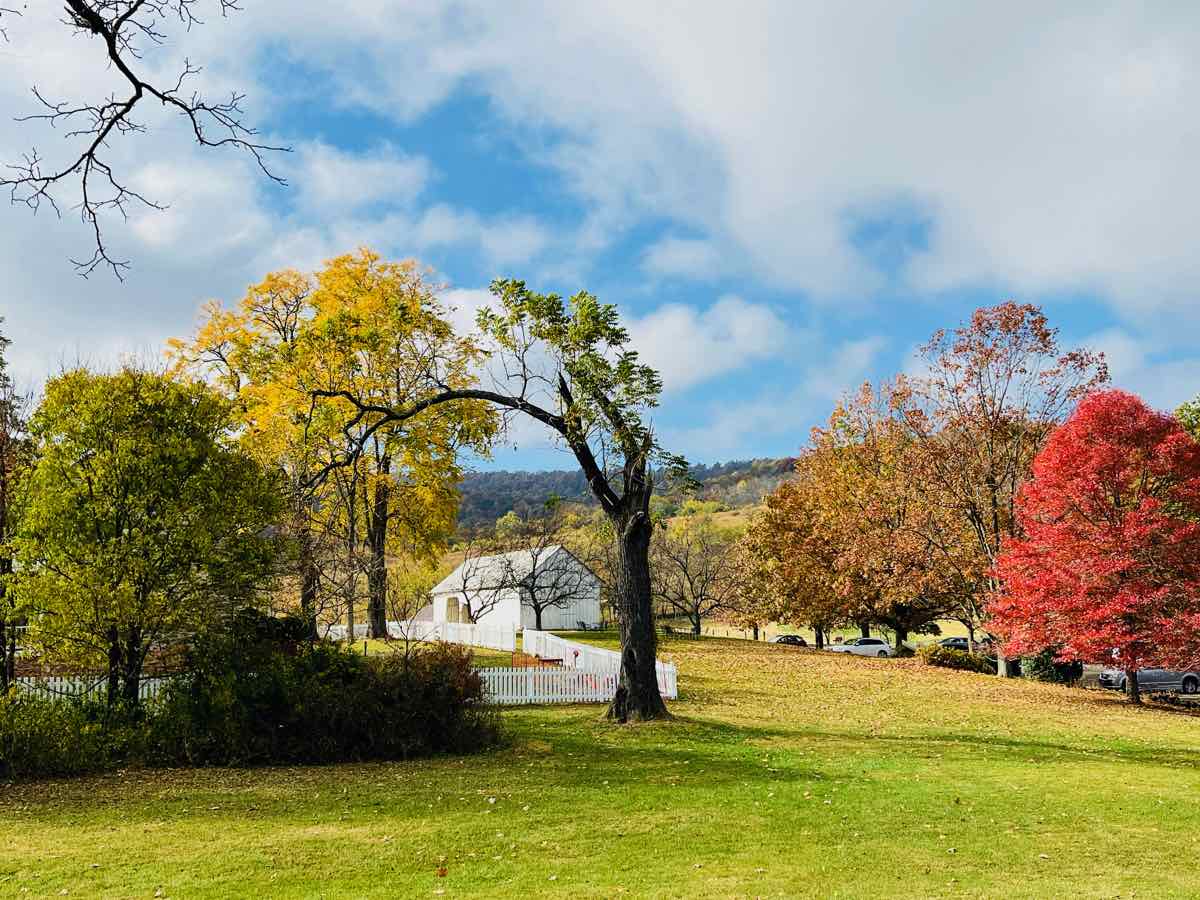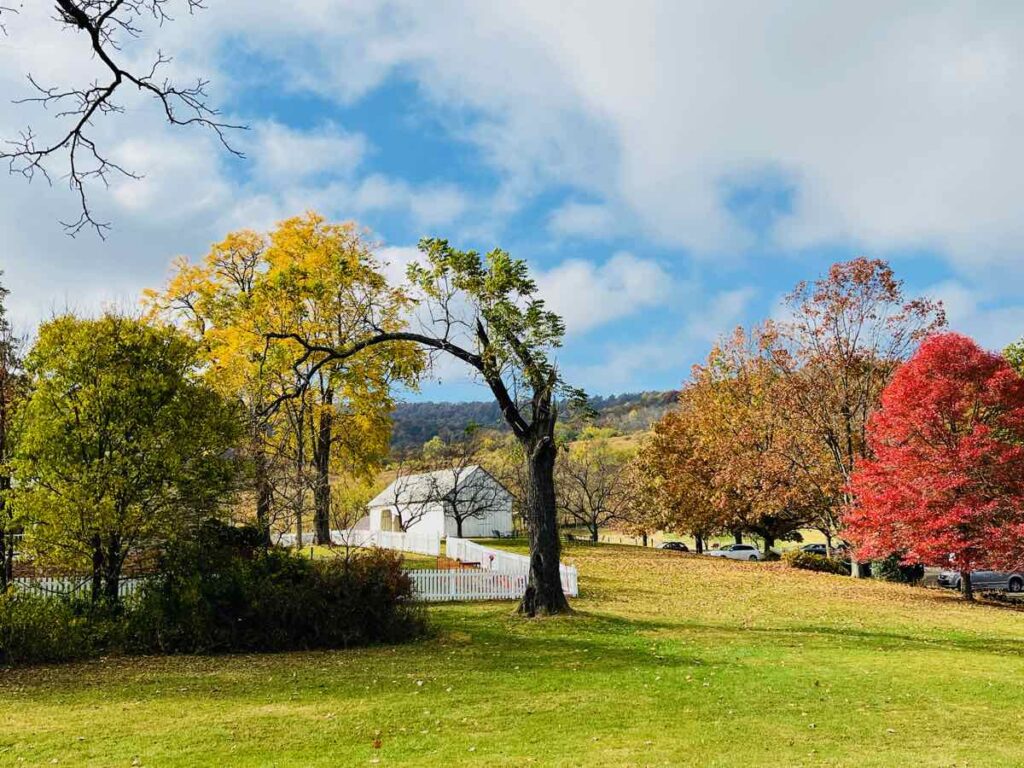 7. Seneca Park and Potomac Heritage Trail
Plan your trip: Seneca Regional Park hike details.
Enjoy a walk in the woods and along the Potomac River at Seneca Regional Park in Great Falls.. Seneca Park offers pretty wooded trails, perfect for enjoying late fall foliage. A nice segment of the Potomac Heritage Trail (PHT) includes remnants of a stone wall built for George Washington's Potowmack Canal.
Note that the riverside trail can be muddy or impassible after a heavy storm. Another nice segment of the PHT is accessible from Turkey Run Park, which is closer to Washington DC. You can reach both Seneca Park and Turkey Run on a scenic drive on the Georgetown Pike and George Washington Memorial Parkway.
Things to do nearby: Great Falls Scenic Drive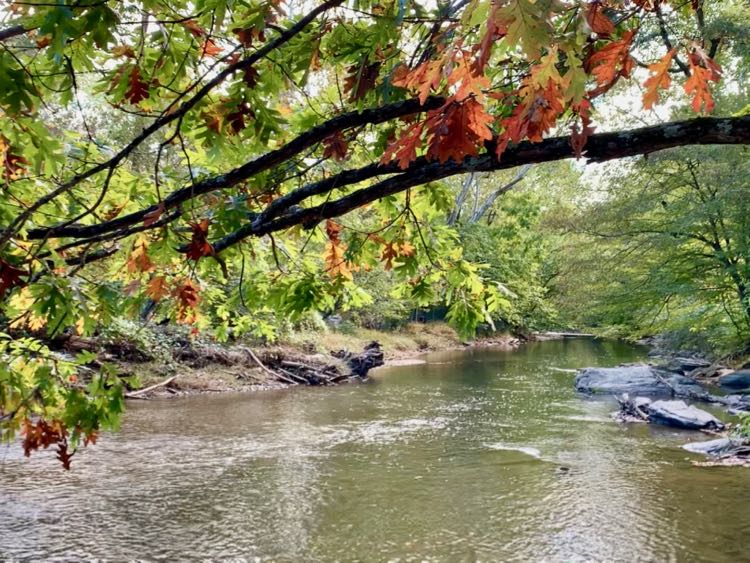 8. Big Schloss
Plan your trip: Big Schloss hike details.
The Big Schloss trailhead is in West Virginia, but the hike straddles the border and the peak is at least partly in Virginia, so this hike makes the cut. Fortunately, you can reach the hike on a scenic 200-mile drive from DC. The payoff for this 4-mile out and back hike is a rocky white sandstone summit. Here you'll have nearly 360-degree gorgeous fall views into West Virginia and Virginia.
The Big Schloss hike begins at the Mill Mountain trailhead, in the Wolf Gap Campground. The first .7 miles climbs steeply on a somewhat rocky trail. The initial climb leads to a fairly level ridge with views on both sides. Take the spur trail to the summit, cross a wooden bridge, and take in those amazing views. Note that the summit and ridge are very exposed so use caution if you have young children along.
Things to do nearby: Fun Things to Do in Shenandoah County Virginia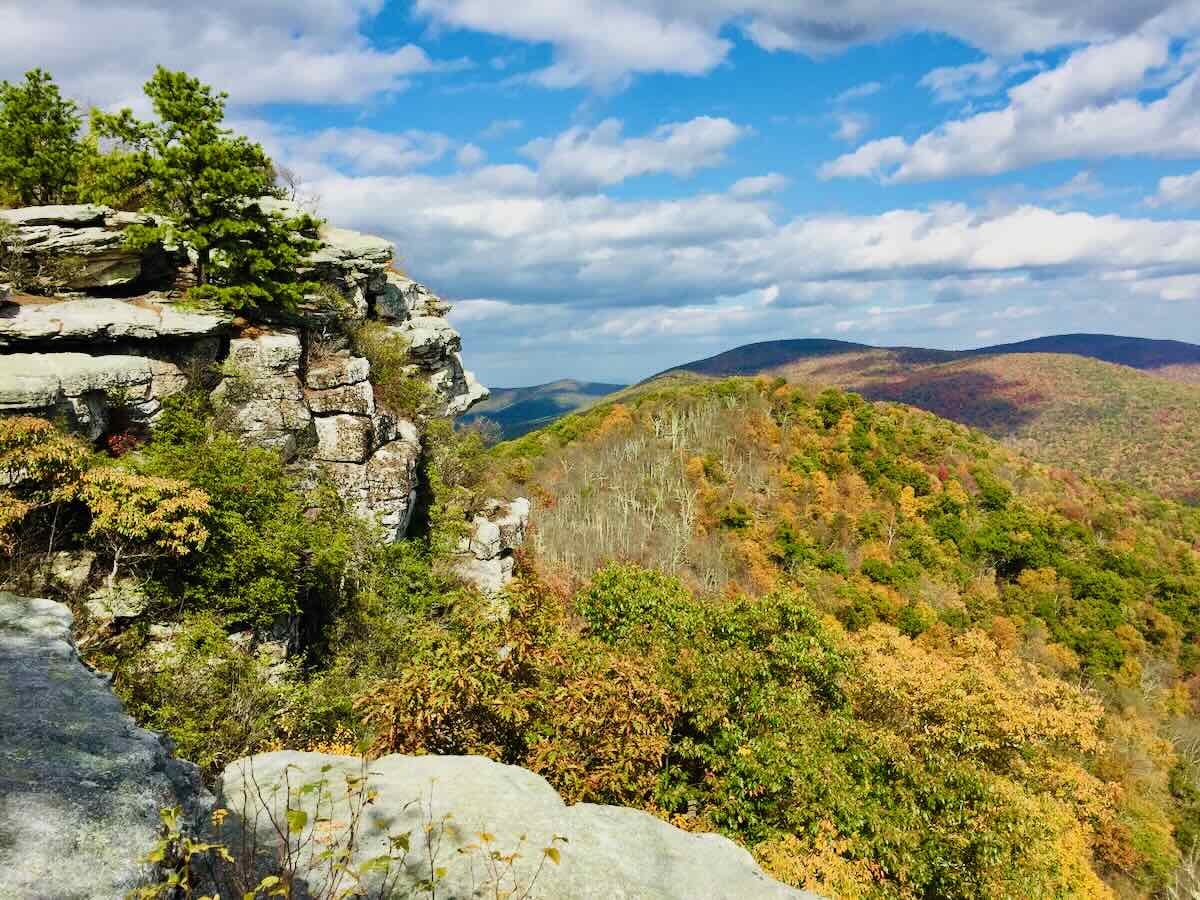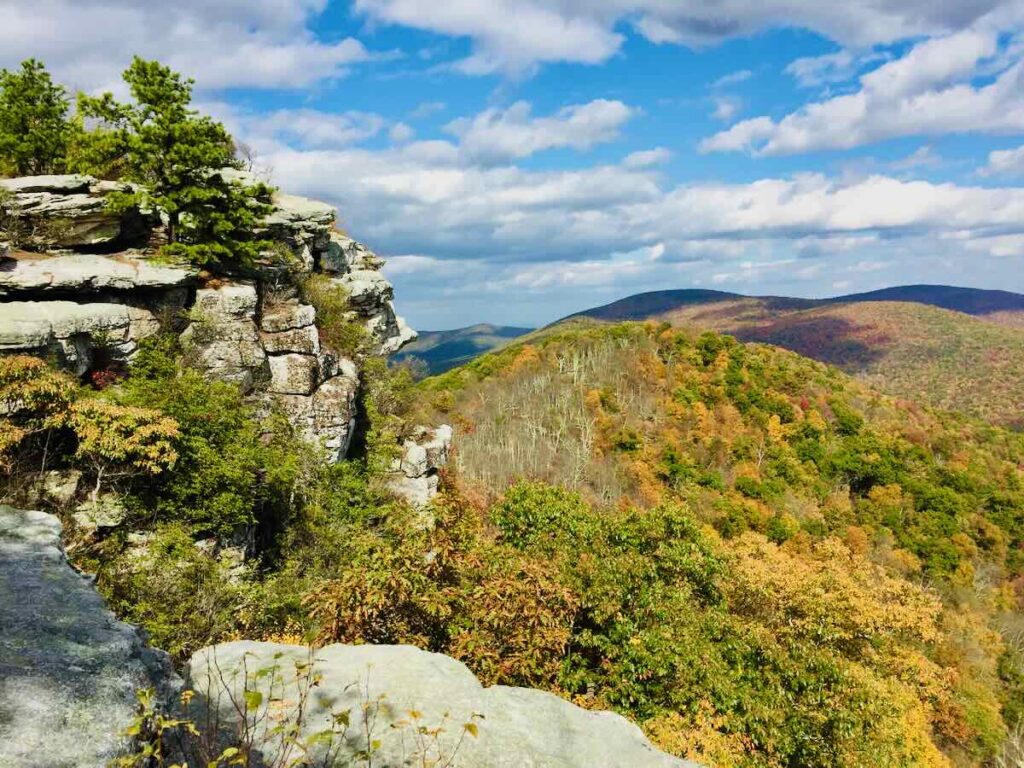 9. The Pinnacle and Mary's Rock, Shenandoah National Park
Plan your trip: Mary's Rock hike details.
Drivers love to explore fall foliage in Shenandoah National Park, but we prefer to get out on the trails. This beautiful Mary's Rock hike on the Appalachian Trail includes two spectacular Shenandoah vistas. Hikers can also see an Appalachian Trail hut. The destination—Mary's Rock—is a rocky outcropping that's perfect for lunch, a rest, or a scramble.
Our preferred route to Mary's Rock is 6.5 miles out and back over moderately challenging terrain. Expect about 700 feet of elevation gain as you climb and descend three times. The trail is rocky in sections so use extra caution when fall leaves cover the ground. The hike begins at the Jewell Hollow Overlook parking area is in the central portion of Shenandoah National Park, about 94 miles from DC.
Things to do nearby: Shenandoah National Park Day Trip Planner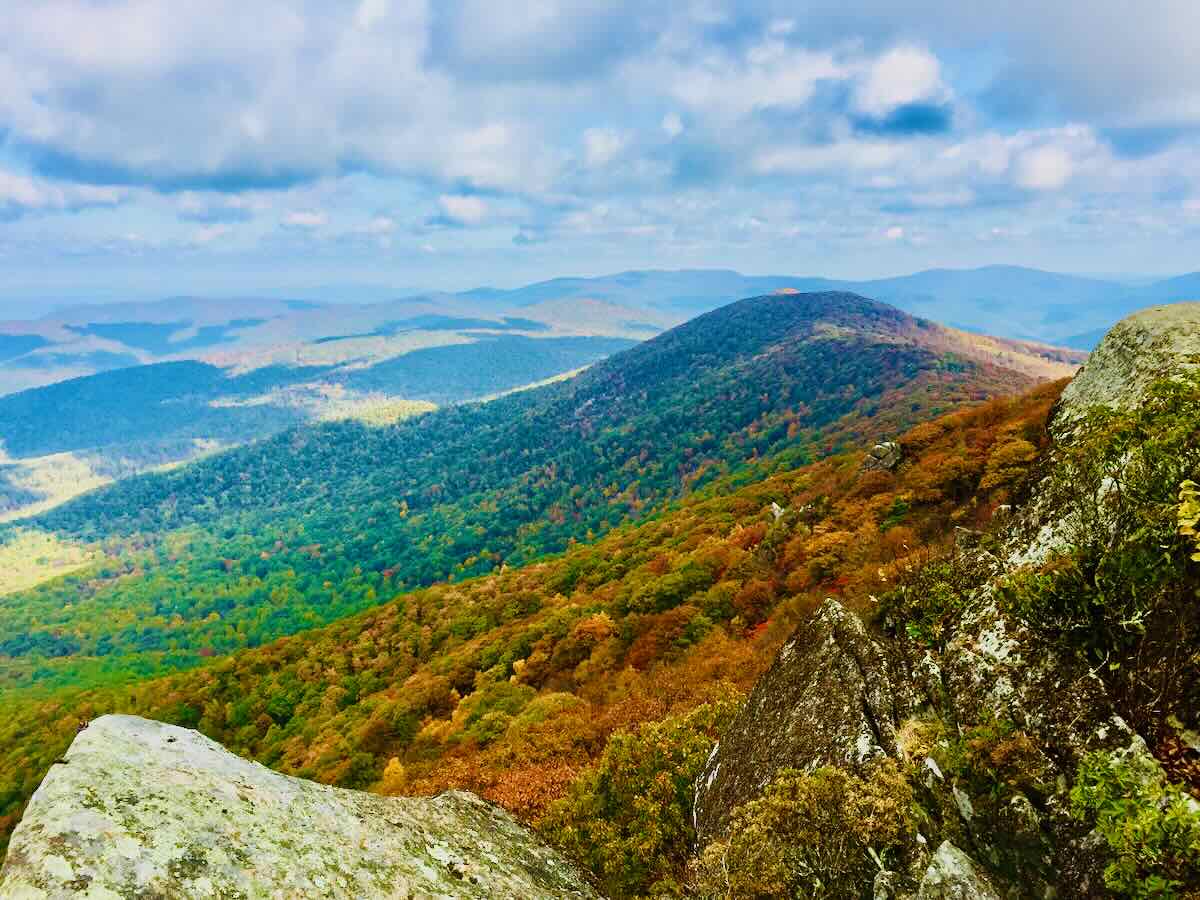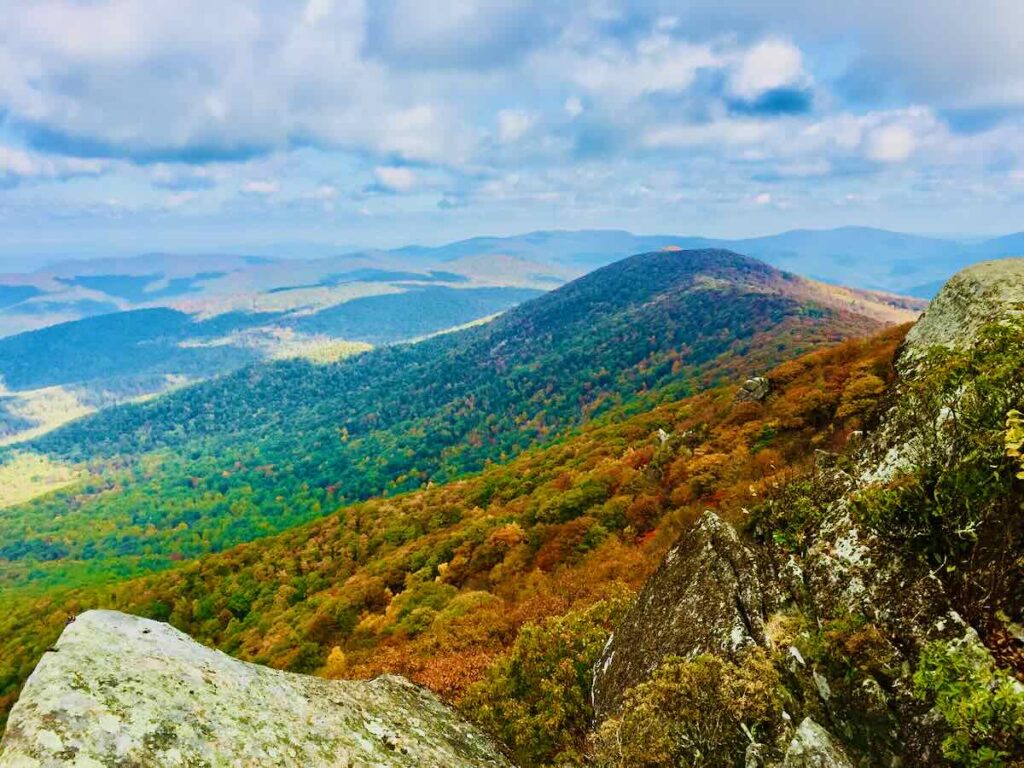 10. Little Stony Man and Stony Man, Shenandoah National Park
Plan your trip: Stony Man Hike details.
Both of the Stony Man summits are perfect short Fall hikes in Virginia. The Little Stony Man Overlook is only .9 miles roundtrip from the parking area (mile 39.1). Hikers follow a fairly steep, rocky section of the Appalachian Trail to the Passamaquoddy Trail and a gorgeous viewpoint.
Two miles further south on Skyline Drive, just inside the northern entrance to Skyland (mile 41.7), is the trailhead for Stony Man Summit. From the parking lot, it's a fairly easy 1.6-mile round-trip to the panoramic views from Stony Man. Even though the hike is longer than Little Stony Man, the path is less steep so it's actually an easier walk. You can combine both summits on an excellent loop hike.
Both Stony Man summits offer glimpses of Skyline Drive to the north. Shenandoah National Park is about 90 miles west of DC. Find more kid-friendly hikes in our round-up of Short Hikes to Gorgeous Virginia Views.
Things to do nearby: 5 Ways to Enjoy Fall Foliage in Shenandoah National Park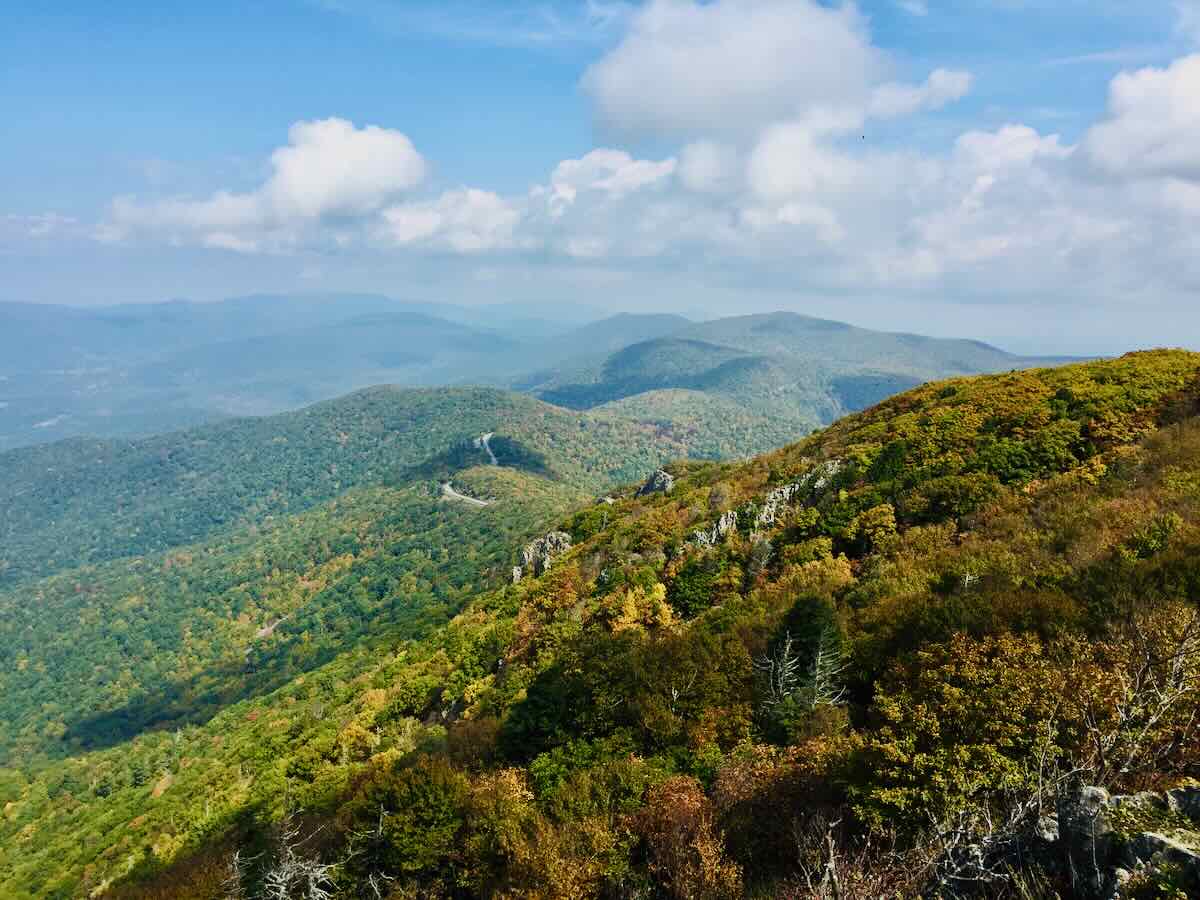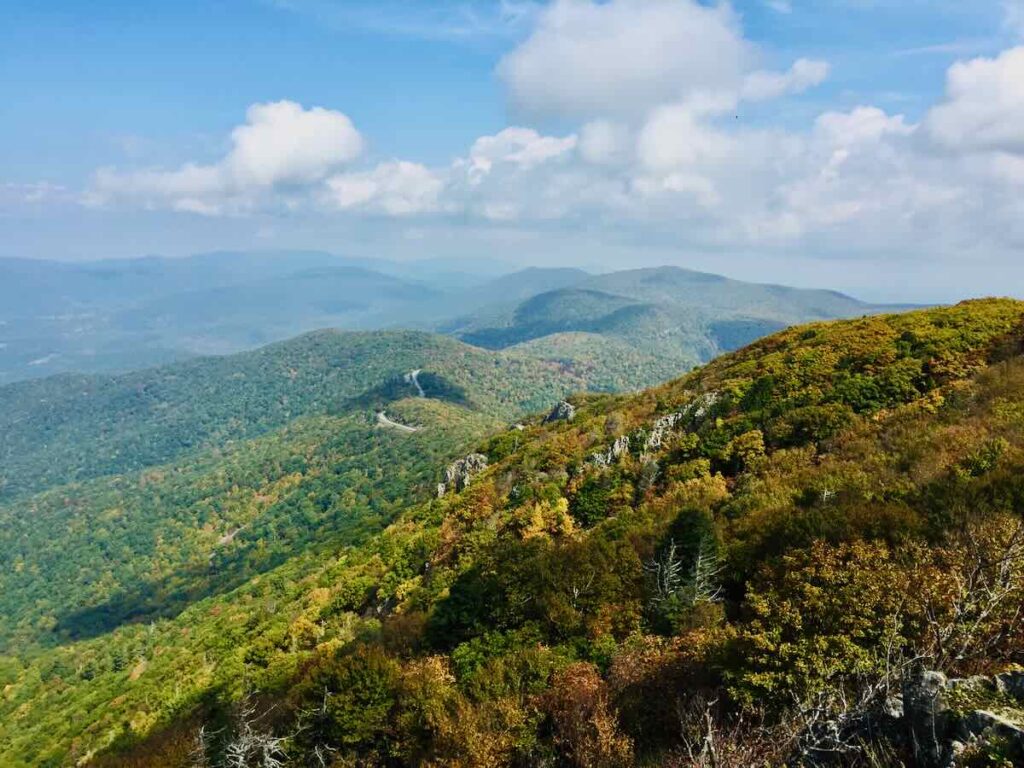 11. Scotts Run Loop Hike, McLean
Plan your trip: Scotts Run hike details.
The Scotts Run loop hike includes a cliffside view, a scenic waterfall, and a nice, moderately challenging stretch of the Potomac Heritage Trail (PHT). Our 3-mile loop begins at the eastern parking area and follows wooded trails down to the river. The trail becomes more steep and rocky on a narrow section of the PHT that can be tricky to navigate when the rocks are slippery.
Make a stop at Scotts Run waterfall before climbing the hill and returning to the parking area. Wooded trails and Potomac River views make this one of the best fall hikes near Washington DC.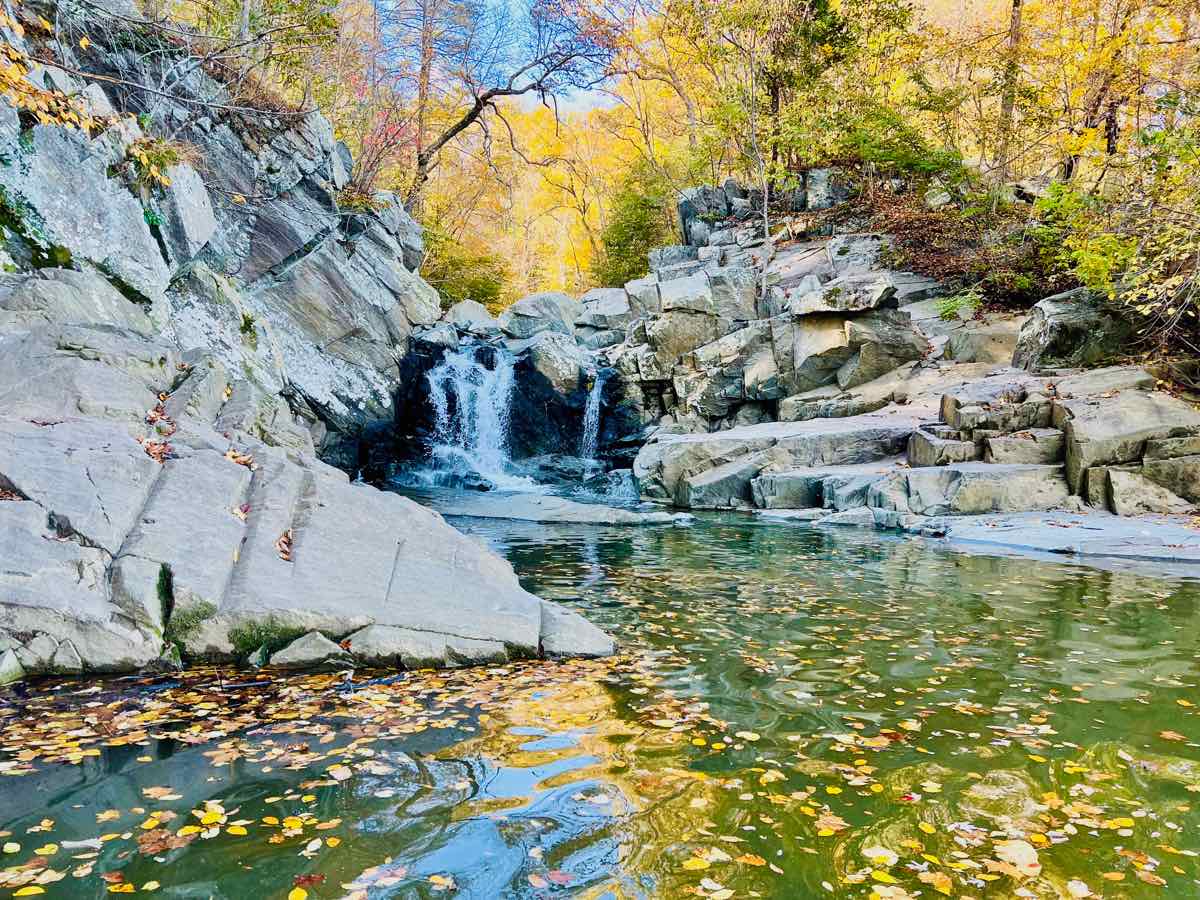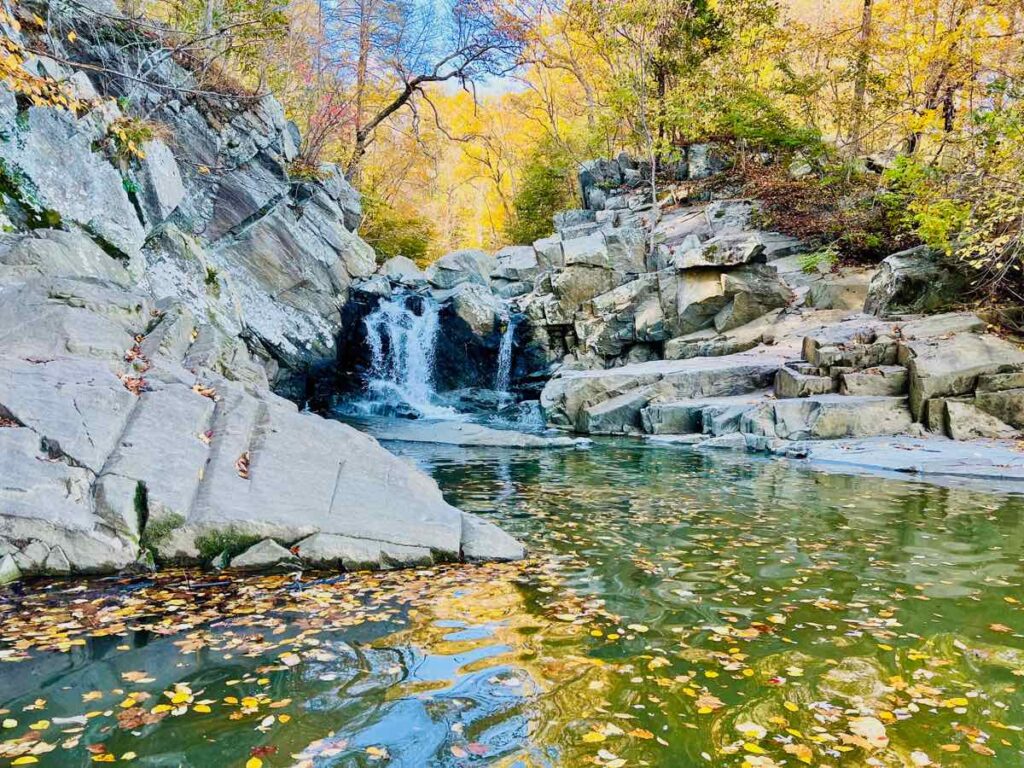 For a shorter hike, take the blue trail directly to the waterfall. The two-mile out-and-back hike crosses the stream on stone pillars twice and navigates a steep hill down to the river.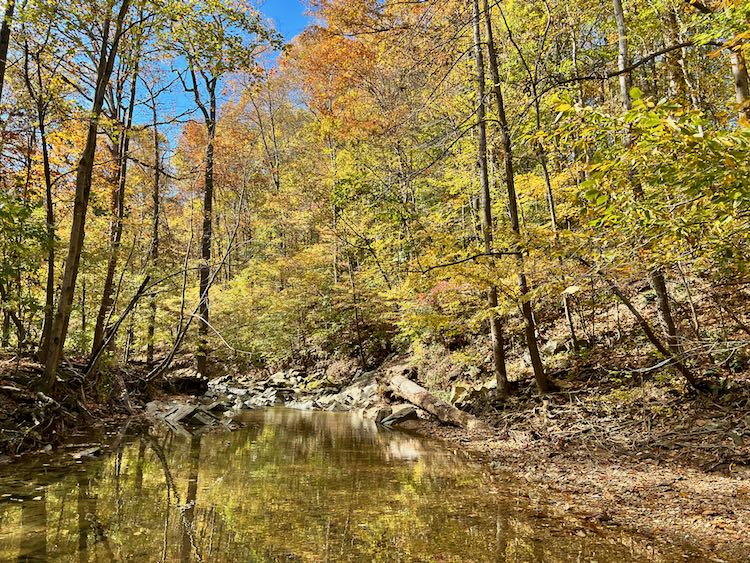 Things to do nearby: 8 Great Things to Do at Great Falls Park
12. Difficult Run and Great Falls Ridge Trail, Great Falls
Plan your trip: Difficult Run Hike details.
This moderately challenging 3-mile partial loop explores a less-visited section of Great Falls Park. Begin at the Difficult Run parking area on Georgetown Pike. The trail passes through pretty woods along Difficult Run then enters the eastern end of Great Falls Park.
Once you enter Great Falls Park, turn left at the trail intersection and climb a steep hill to the Ridge Trail. At the next intersection, turn right on a steep section of the River Trail to stunning views from Cow Hoof Rock. This hike includes our favorite section of the Fairfax Cross County Trail. In late October and early November, fall foliage adds a beautiful dimension to the trails.
Things to do nearby: 5 Tips for Hiking the Fairfax Cross County Trail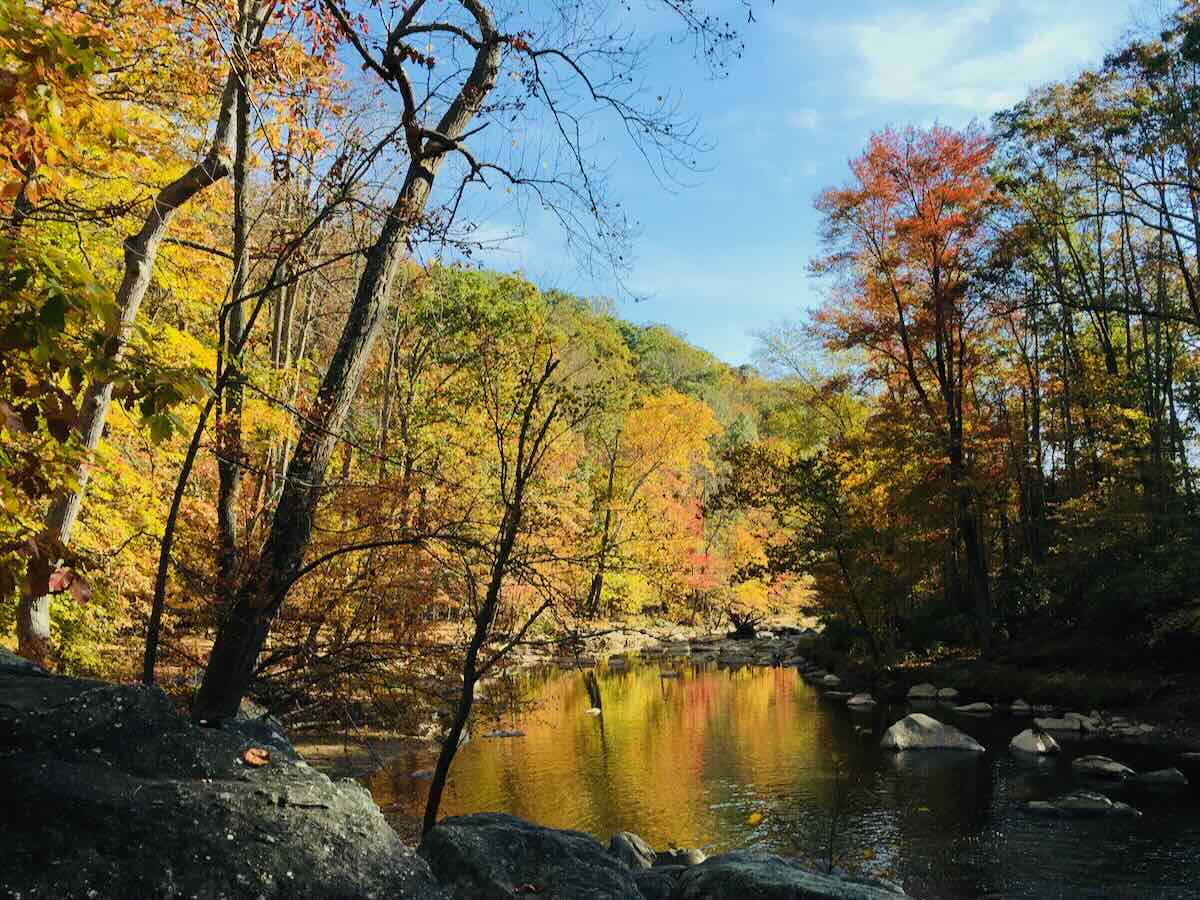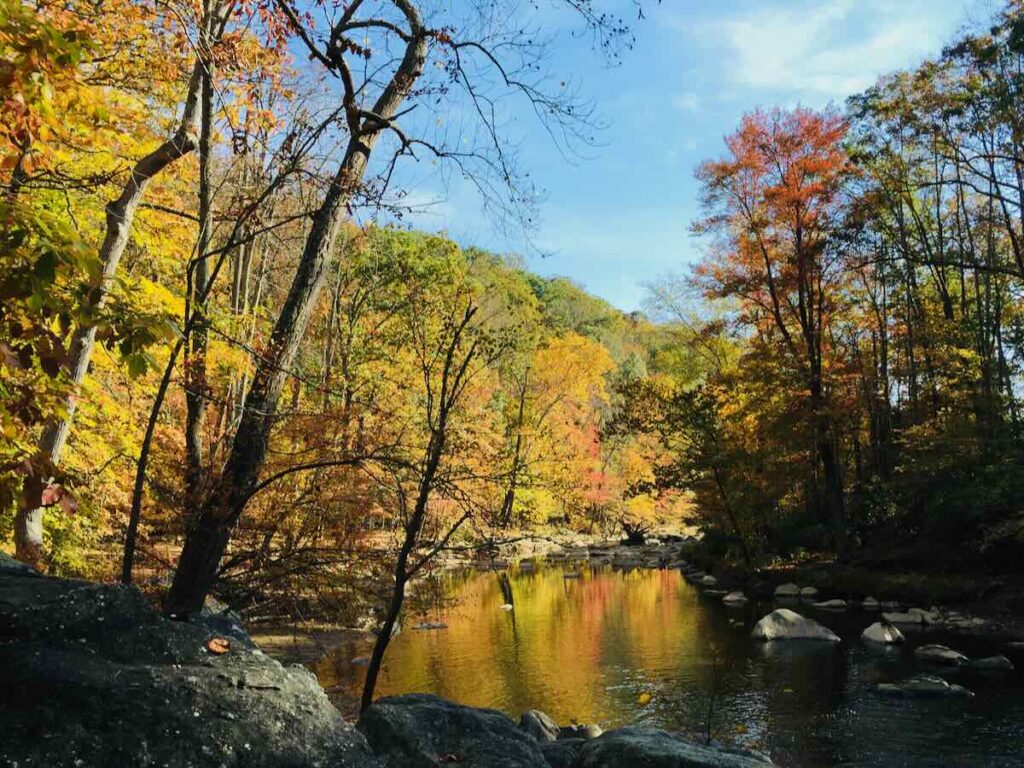 13. Prince William National Forest, Dumfries
Plan your trip: Prince William Forest hike details.
Prince William National Forest offers many nice options for fall hikes in Virginia. The 1.4 mile Laurel Loop Trail, passes through peaceful woods and along the South Fork of Quantico Creek. This is a popular family hike that you can easily extend with connecting trails. If time allows, add a section of the Potomac Heritage Trail, crossing a pretty bridge over Quantico Creek.
For a longer hike, combine the Laurel and South Valley Trails, with the Pyrite Mine and North Orenida Roads, to create a 4-5 mile loop with colorful Autumn foliage. Rangers at the Visitor Center can help you plan the perfect route for your visit.
Things to do nearby: History and Hiking in Prince William County Virginia
14. Bears Den Overlook Hike, Bluemont
Plan your trip: Bears Den Overlook hike details.
The best thing about the Bears Den Overlook hike is that you can easily vary the distance and difficulty. Take a short, easy stroll from the Day Use Parking Area. Or climb the steeper Appalachian Trail route from the Route 7 parking lot up to the overlook. From there you can continue on and hike more of the "roller coaster" section of the AT.
This is a very popular family hike and kids love to play on the rocks at Bears Den. Just use caution because it's a sheer drop-off from the overlook. Hike a more challenging trail to another great viewpoint from Raven Rocks across route 7 from the parking lot.
Things to do nearby: Raven Rocks Hike: Appalachian Trail to Beautiful Virginia Views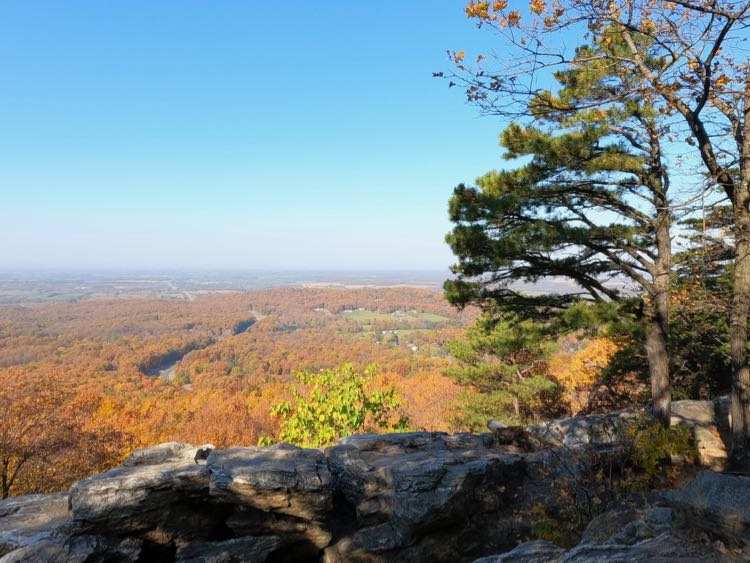 Plan your trip: Leesylvania State Park hike details.
A 2-mile loop hike follows the Lee's Woods Trail through historic sites and lovely woods at Leesylvania State Park. The well-signed trail passes the ancestral home sites of Virginia's famous Lee and Fairfax families and a Lee family cemetery. You'll also see a Confederate gun battery and a former railroad bed with an interesting history.
The trail climbs a historic bluff to beautiful views of the Potomac River from Freestone Point. This was the site of a Confederate gun emplacement during the Civil War, part of a series of batteries that effectively blockade the Potomac for five months. This is an easy hike over dirt paths with a few steep, but short hills.
Things to do nearby: Occoquan Regional Park Hike and History
16. Crabtree Falls Hike, Montebello
Plan your trip: Crabtree Falls hike details.
The Crabtree Falls trailhead is about 185 miles from Washington DC, but the hike is just gorgeous in the fall. The viewpoint that looks out over Tye River Gorge fills with color in the fall. However, the hike is popular year-round for the gorgeous waterfall views as the trail climbs along Crabtree Falls.
Crabtree is the longest vertical cascade in the East. It's really a series of several waterfalls cascading a total of 1200 feet. From the lower parking lot, it's a steadily uphill but not technically difficult 1.8-mile climb to the top of the falls. There are several great viewpoints of the cascades along the way, broken up by sections of stairs and dirt switchbacks. While the hike is well worth the effort, it is a very popular destination, so avoid weekends if you can.
Things to do nearby: Fun and Unique Things to Do in Charlottesville Virginia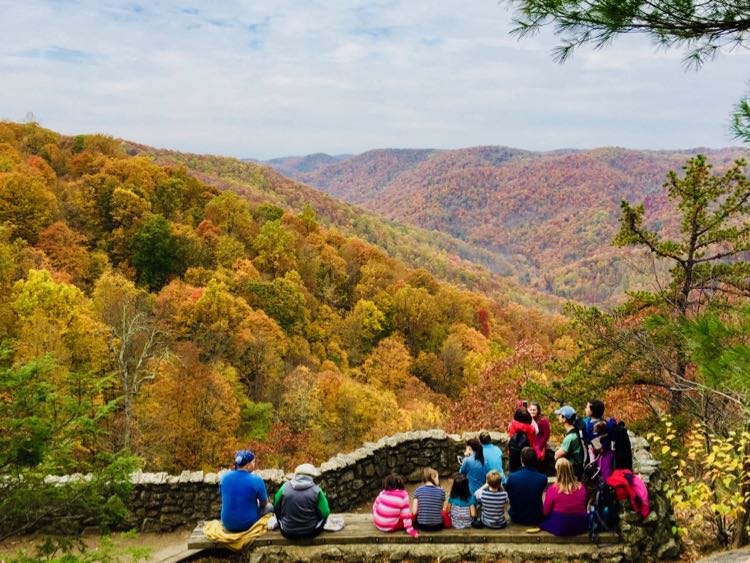 Fall Hikes in Northern Virginia Map
Find your hike and plan your trip with this map of all of these great fall hikes in Northern Virginia (and beyond):
No matter which hiking trails you choose to tackle this fall, we wish you clear skies and happy hiking.
More Fun Hikes in the Northern Virginia Area
Hikers and mountain bikers will find more fun in these round-ups of the best trails in Virginia:
Like many hikers, we love the idea of combining a little effort with a relaxing local beverage. Winery fans can enjoy fall foliage followed by a nice glass of Virginia wine at these Hike and Winery Day Trips Close to Washington DC. Beer lovers might prefer these Hike and Brewery Day Trips.
Find more great trails in our guides to the best hikes in Northern Virginia, listed by county.
More Seasonal Hiking in Northern VA
Happily, most Virginia hiking trails are accessible year-round. Changes in weather encourage different trails for different seasons, though we include one favorite on all four seasonal lists. Here are 8 great NoVa hikes for every season.
Find more great hikes in our complete list: Northern Virginia Hikes and Favorite Bike Trails Near DC or browse our Hike and Bike collection.
Follow us on Facebook, Twitter, Pinterest, and Instagram for more fun travel in and from Northern Virginia.
Pin it for later: