Updated on October 17, 2023 by Julie McCool
The best downtown Roanoke hotels offer unique lodging and easy access to Virginia's Blue Ridge Mountains for a perfect metro mountain getaway. Historic Roanoke hotels combine luxury and convenience in a setting that's ideal for a couple's weekend, friends' gathering, or family trip.
Roanoke is one of our favorite cities for a Blue Ridge Mountains getaway. Nestled in the Roanoke Valley and surrounded by mountains, "Star City" is easy to reach from Route 81 and the Blue Ridge Parkway.
Disclosure: This article may contain affiliate links. We will make a small commission from these links if you order something, at no additional cost to you.
Fun things to do in downtown Roanoke include great museums, excellent restaurants, craft breweries, and boutique shops. Stay in the heart of downtown Roanoke and you'll have easy access to the Blue Ridge Parkway, Appalachian Trail, and other outdoor adventures. (Be sure to visit the giant star on Mill Mountain for a fantastic view!)
Below are details on three of the best downtown Roanoke hotels based on our stays during several trips to Roanoke. All three properties are listed on the National Register of Historic Places and all deliver relaxed elegance in a beautiful setting.
In addition, we highlight more great Roanoke hotels to consider for your next Blue Ridge getaway. Both historic and chain hotels offer in-room TVs and free wifi in addition to the amenities described.
The Hotel Roanoke
The Hotel Roanoke and Conference Center has been one of the best hotels in downtown Roanoke for over 100 years. Built as a classic railroad hotel in the late 20th century, it accommodated travelers on the Norfolk and Western Railroad. Over the years this historic hotel has hosted Presidents, movie stars, millionaires, and of course, everyday Virginia locals and visitors.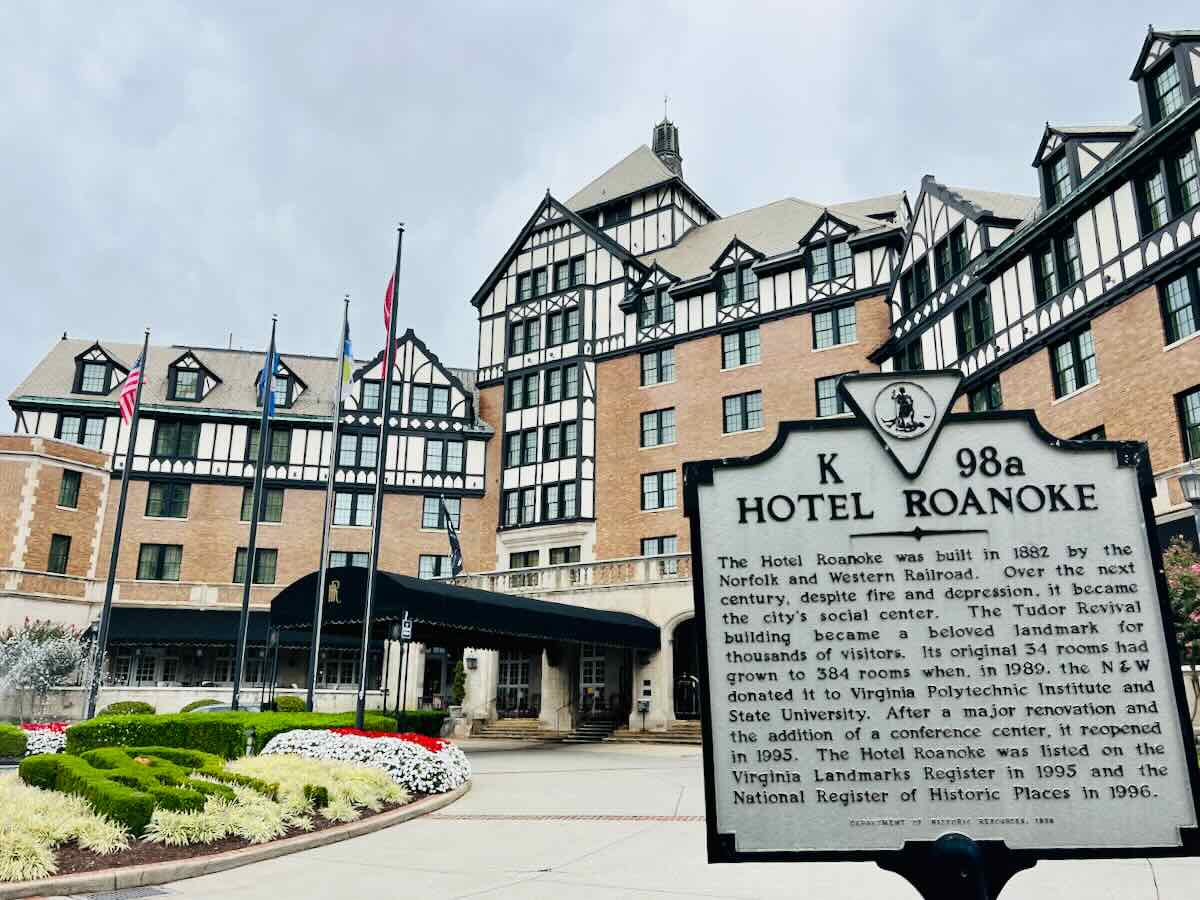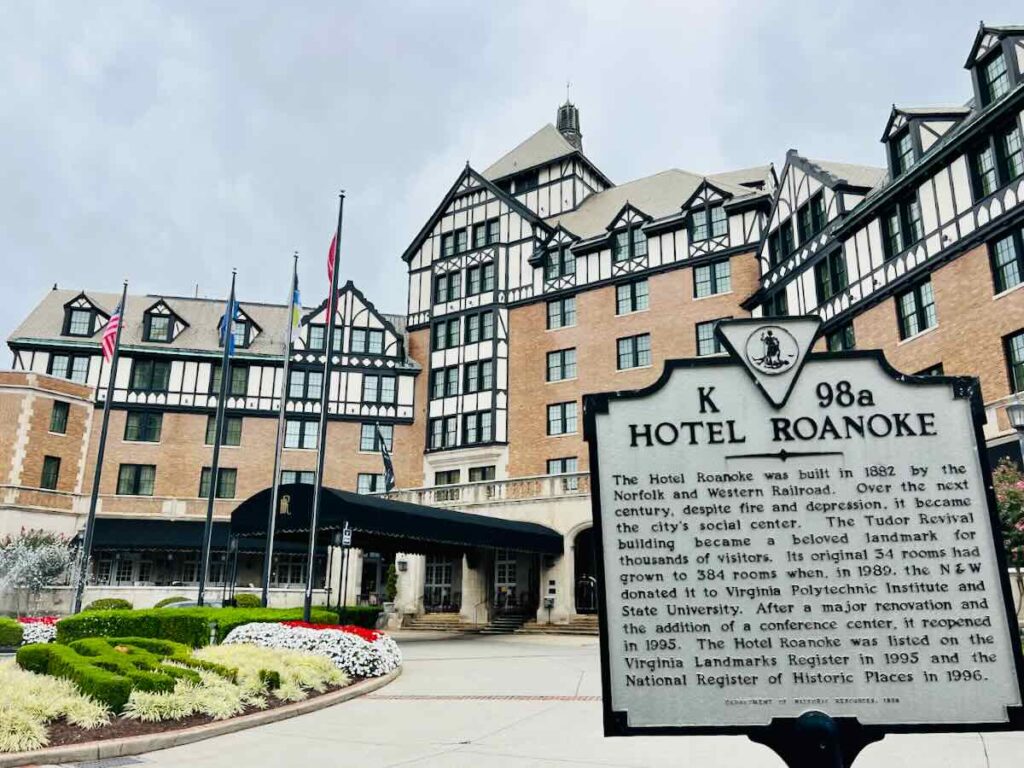 Today, the Tudor Revival building has been carefully restored and updated to retain Hotel Roanoke's classic style while offering modern comforts. The "grand dame" of Roanoke lodging is situated on a hill overlooking the downtown. A pedestrian bridge offers convenient access to all of the downtown Roanoke attractions.
Check rates and availability at The Hotel Roanoke and Conference Center now.
Public Spaces at Hotel Roanoke
Period charm is evident as soon as you arrive at the Hotel Roanoke. The commanding Tudor facade is fronted by a long porch and a sign highlights the hotel's history and its place on the National Register of Historic Places.
Inside, the grand lobby glows with chandeliers and rich wood paneling. A mural above the reception desk depicts important moments in Virginia history. At one end of the lobby, relax with a pre-prohibition cocktail at the 1882 Lobby Bar. The ceiling (once home to cherubs) has been restored to a lovely pre-1939 night sky painting.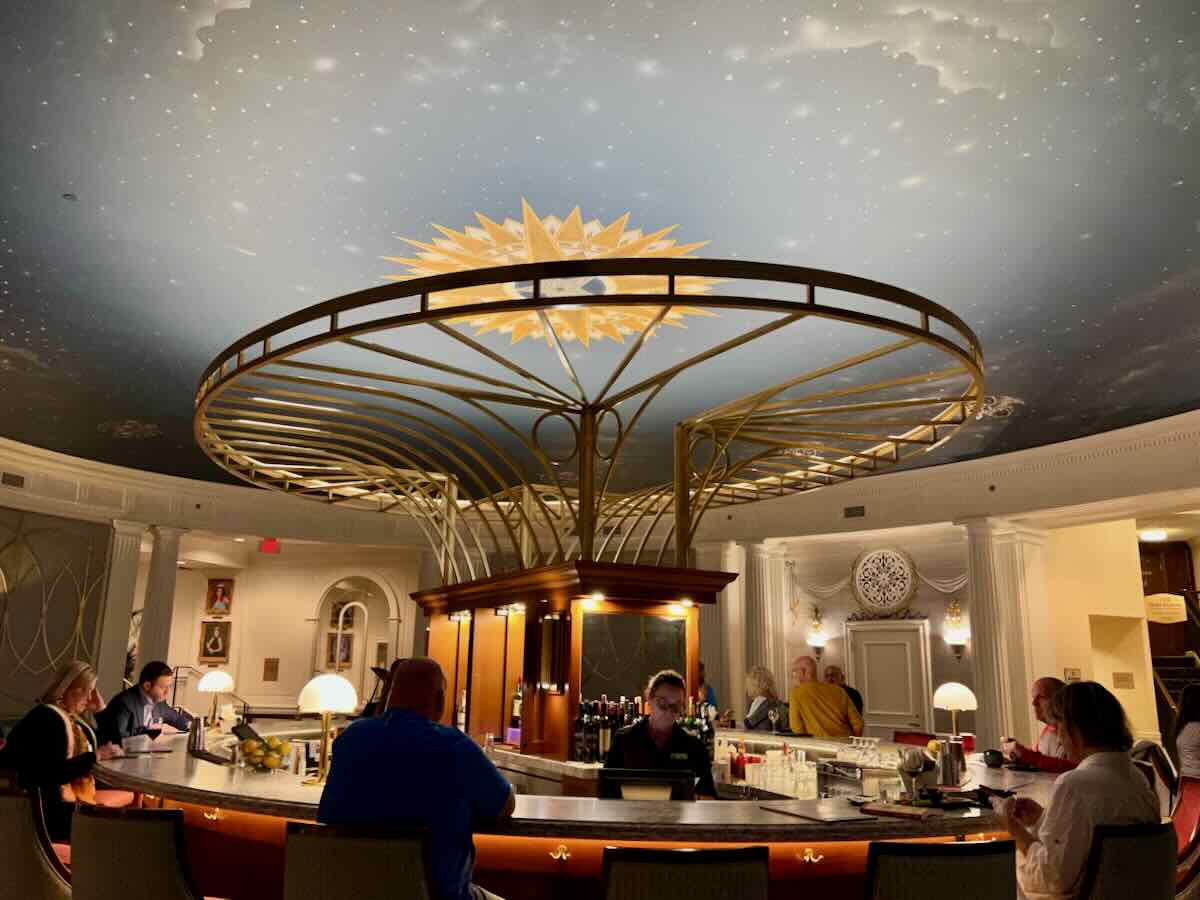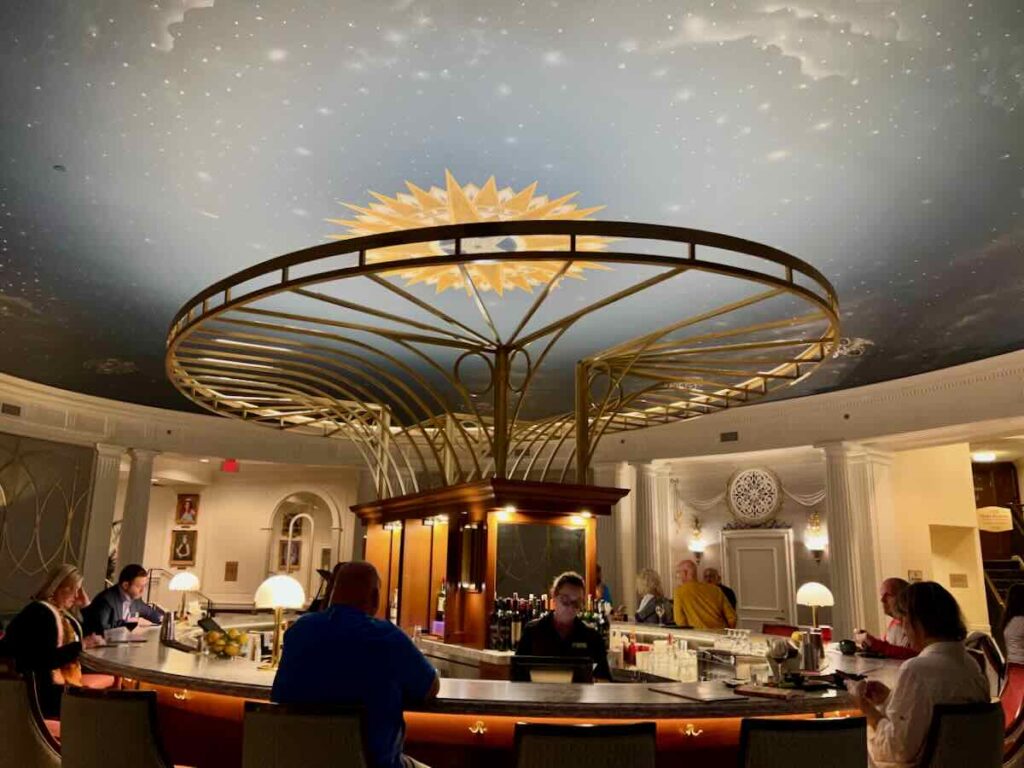 At the back of the hotel guests enjoy a beautifully renovated outdoor pool and seating areas. The pool is a popular spot for families during warmer months.
Hotel Roanoke Rooms
With more than 300 luxurious rooms to choose from, the Hotel Roanoke can accommodate everything from a couple's retreat to a large event. The adjacent Conference Center adds meeting and event spaces for weddings, corporate retreats, reunions, and more.
We stayed in a King Room which included a comfy bed, a bathroom with a tub/shower, and amenities including a small refrigerator. We loved that our downtown-facing room also had a view of Mill Mountain and the Roanoke Star.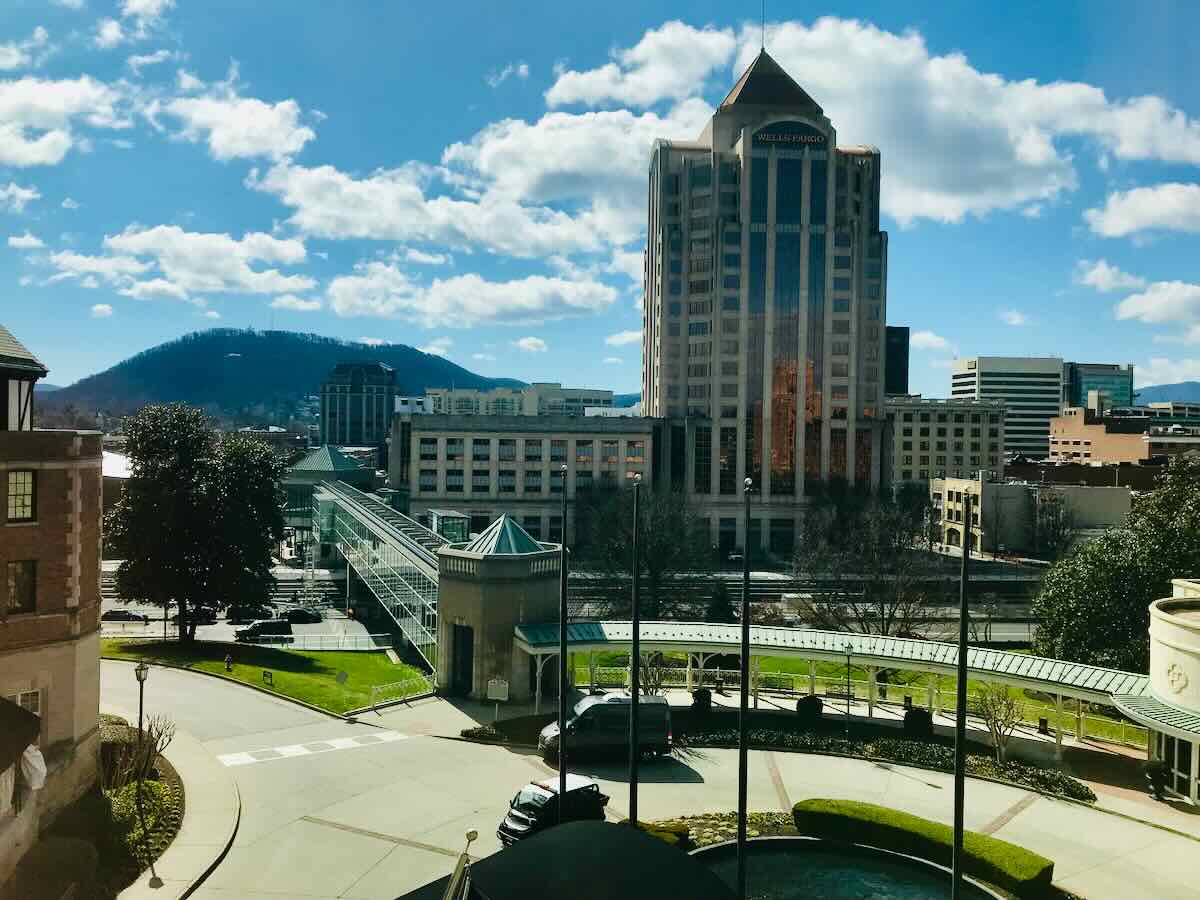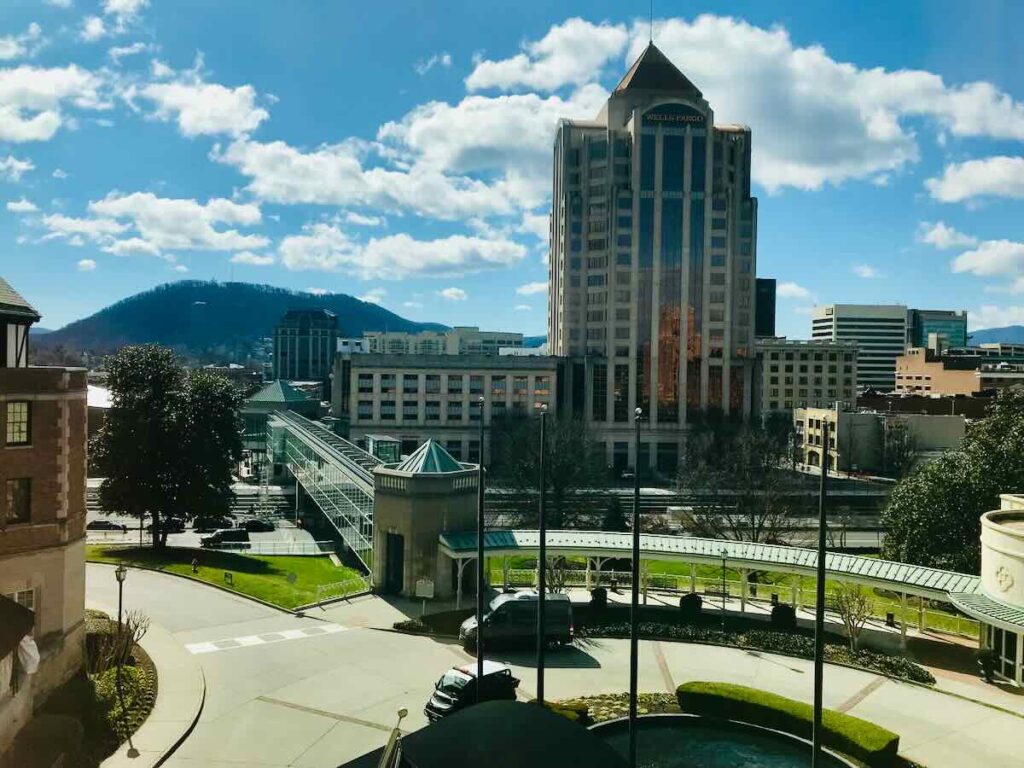 There are a variety of room types to choose from when you book your stay at the Hotel Roanoke. Spacious corner rooms, suites, accessible rooms, and more accommodate anyone from solo business travelers to large groups.
With its downtown Roanoke location and extensive amenities, the hotel is perfect for a romantic getaway. But it's also a great base for families with kids. In fact, many of the best things to do in Roanoke with kids, like the Science Museum of Western Virginia, are close to the Hotel Roanoke.
Dining at Hotel Roanoke
Guests at the Hotel Roanoke have several options for on-site dining, including room service.
The 1882 Lobby Bar serves cocktails, craft beer, and food from the Pine Bar menu.
In the morning, pick up your Starbucks and grab-and-go items from STEAM Coffee.
What was once a World War II Officer's Club is now The Pine Room. This updated dining space features an open kitchen indoors so you can watch the chefs in action. Or request a table on the outdoor patio and enjoy a lovely view of Mill Mountain and the Roanoke Star.
Serving "French-inspired Southern Cuisine," The Regency Room is the main restaurant at the Hotel Roanoke. The restaurant has a AAA Four Diamond rating and is one of the best spots for fine dining in Roanoke. Try the creamy Peanut Soup, a house favorite.
Hotel Roanoke Location and Tips
The Hotel Roanoke is located at 110 Shenandoah Ave NE, on a hill above the railroad tracks. A pedestrian bridge offers easy access to downtown Roanoke.
Hotel Roanoke parking is $15 per day self-park and $21 for valet parking. The parking lot is located on the lower right side of the hotel and there's a shuttle to take guests from the lot to the lobby.
The on-site Salt Foot Sanctuary offers spa treatments, yoga classes, and Roanoke area tours.
Pop into the Roanoke Visitor Center, adjacent to the hotel, to visit the O. Winston Link Museum and the Loewy Gallery. Displays in the refurbished train station share interesting photos and artifacts of Roanoke's railroad history.
The Liberty Trust Hotel, Roanoke Virginia
The Liberty Trust opened in 2022 after an extensive renovation. One of our favorite Romantic Hotels Near Washington DC, The Liberty Trust offers modern boutique rooms in a beautifully preserved former bank building.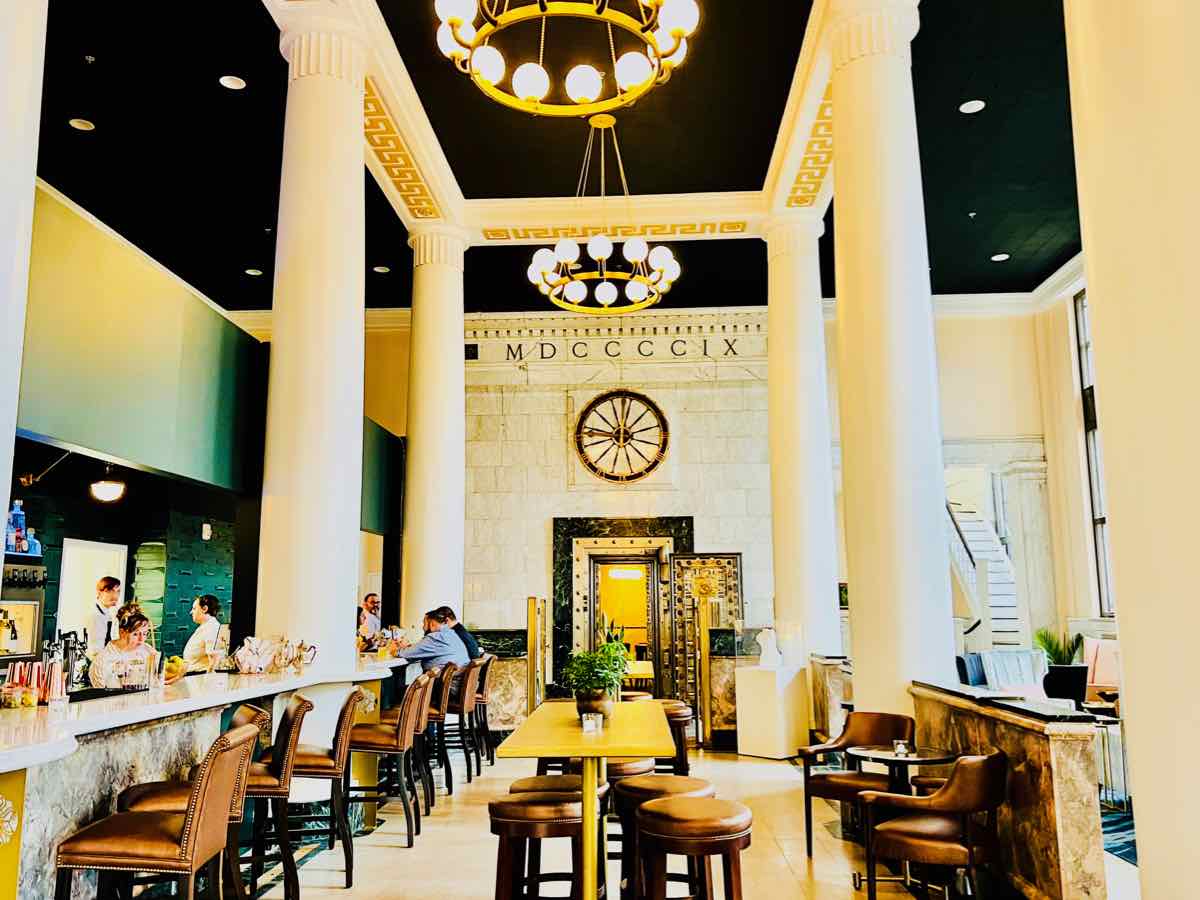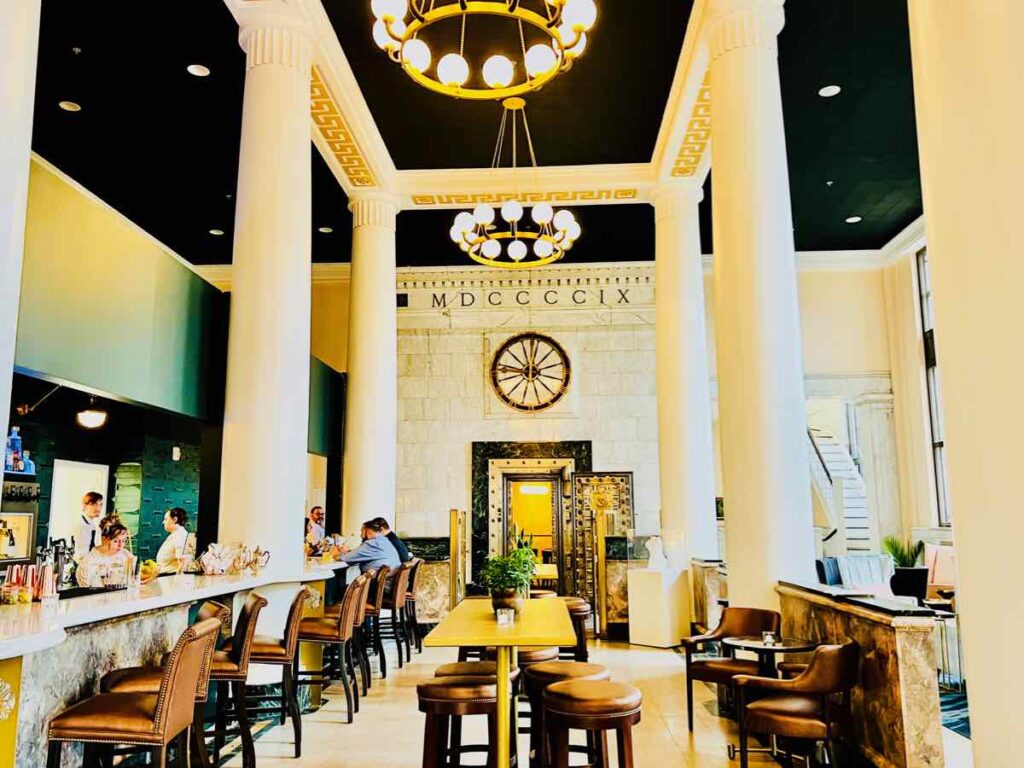 If you are looking for luxury downtown Roanoke hotels for a couple's getaway, The Liberty Trust fits the bill. Opened in 1910 as the First National Bank, the property was built to impress and draw railroad wealth.
The bank was then the tallest building in Virginia and featured the first elevators in Roanoke. Tall curbs outside allowed carriages carrying wealthy patrons to disembark without touching the street.
Check rates and availability at The Liberty Trust now.
Public Spaces at The Liberty Trust
Today, public spaces at The Liberty Trust still reflect that "brag bank" luxury. Towering coffered ceilings and marble columns greet guests at check-in. The lobby offers spots to relax and is home to The Vault restaurant.
Take time during your visit to check out cool historic touches. At one end of the lobby is one of the bank's original vaults (now a dining spot) topped by a giant clock face. Upstairs, you can still drop a letter from brass mail slots on each floor to the original mailbox on the first floor.
The Liberty Trust Rooms
All 54 rooms at The Liberty Trust deliver luxurious comfort. Leather tufted headboards, tiled showers, and built-in desks keep the room sleek but comfy. Molton Brown toiletries, a small refrigerator, and a Nespresso machine add to in-room comforts.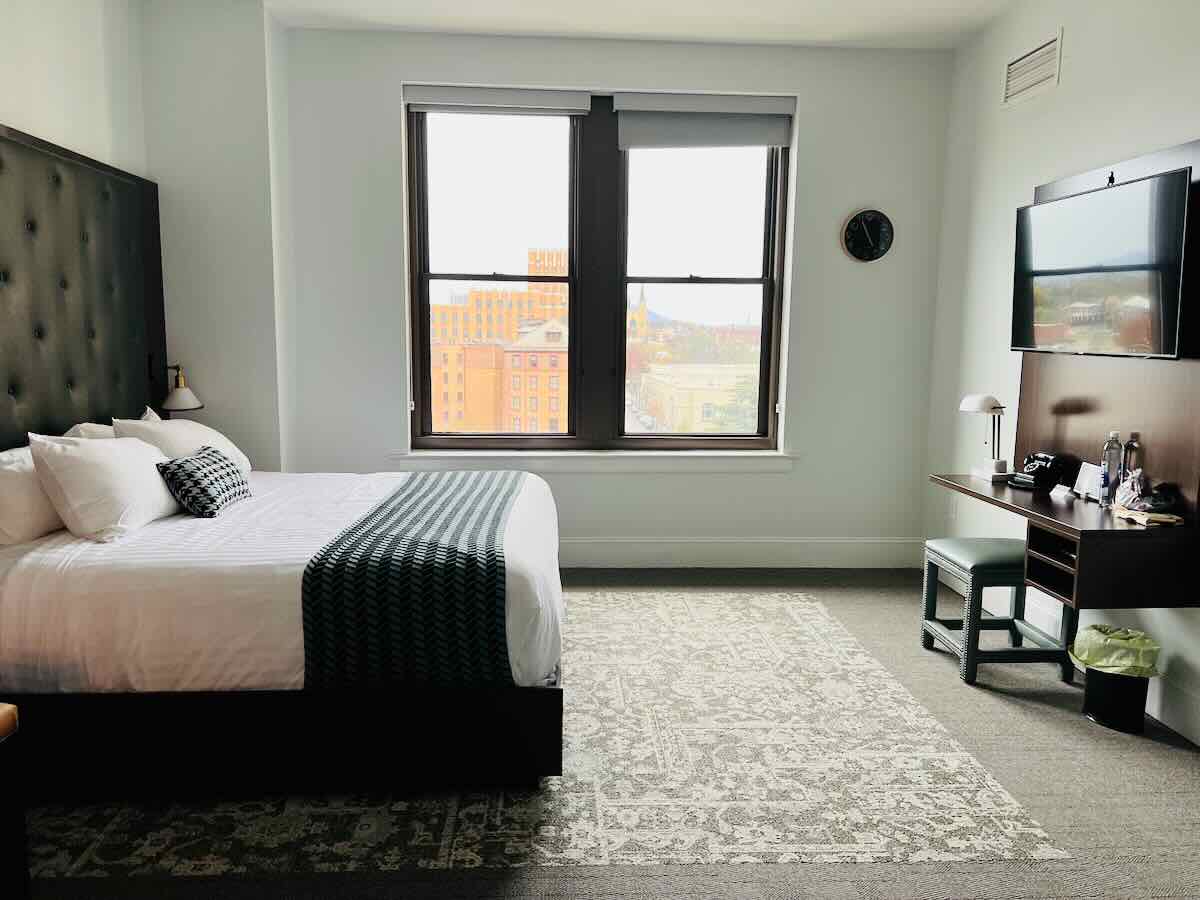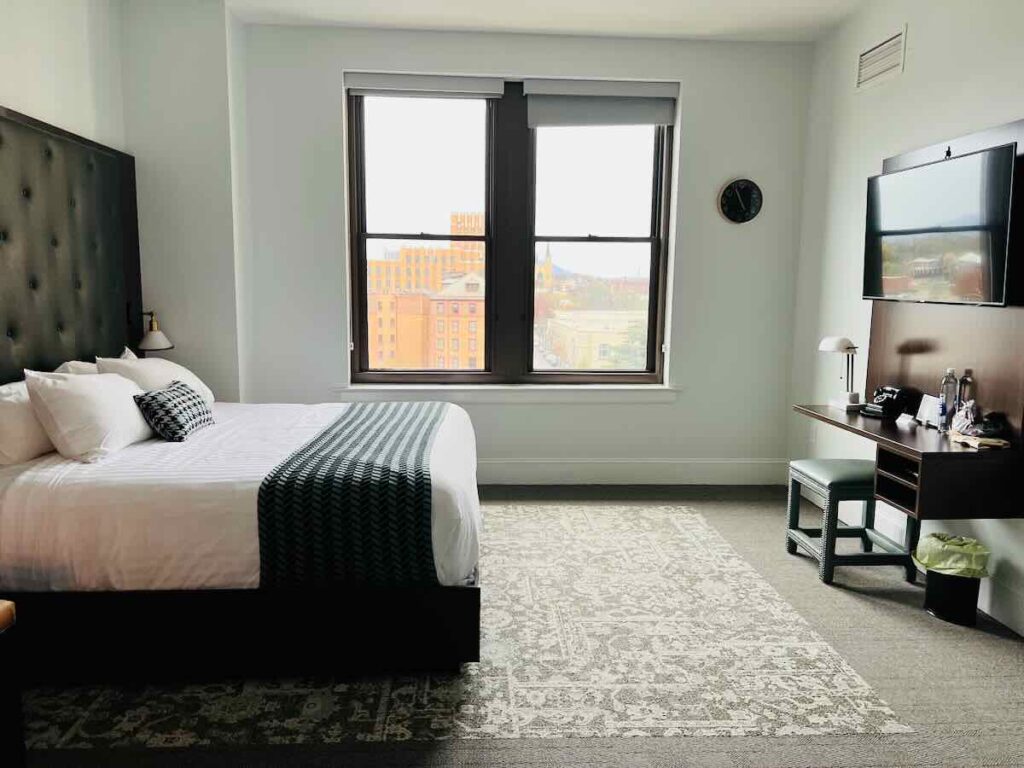 As you head to your room, watch for original copper-clad doors on some rooms. Our Deluxe King Room at The Liberty Trust was spacious and lovely. Large windows bring in plenty of light and frame great views of historic Roanoke buildings like the Hotel Roanoke.
Extra room amenities include the Fitness on Demand app for your in-room workout (borrow a yoga mat from the front desk). Room sizes range from a Petite Queen to the Deluxe King we enjoyed, and some rooms are pet-friendly.
Dining at The Liberty Trust: The Vault
Dinner or cocktails at The Vault is one of the highlights of a stay at The Liberty Trust. The Vault restaurant and bar occupy the first floor of the hotel. The restaurant offers a unique selection of sharable and main dishes that change seasonally.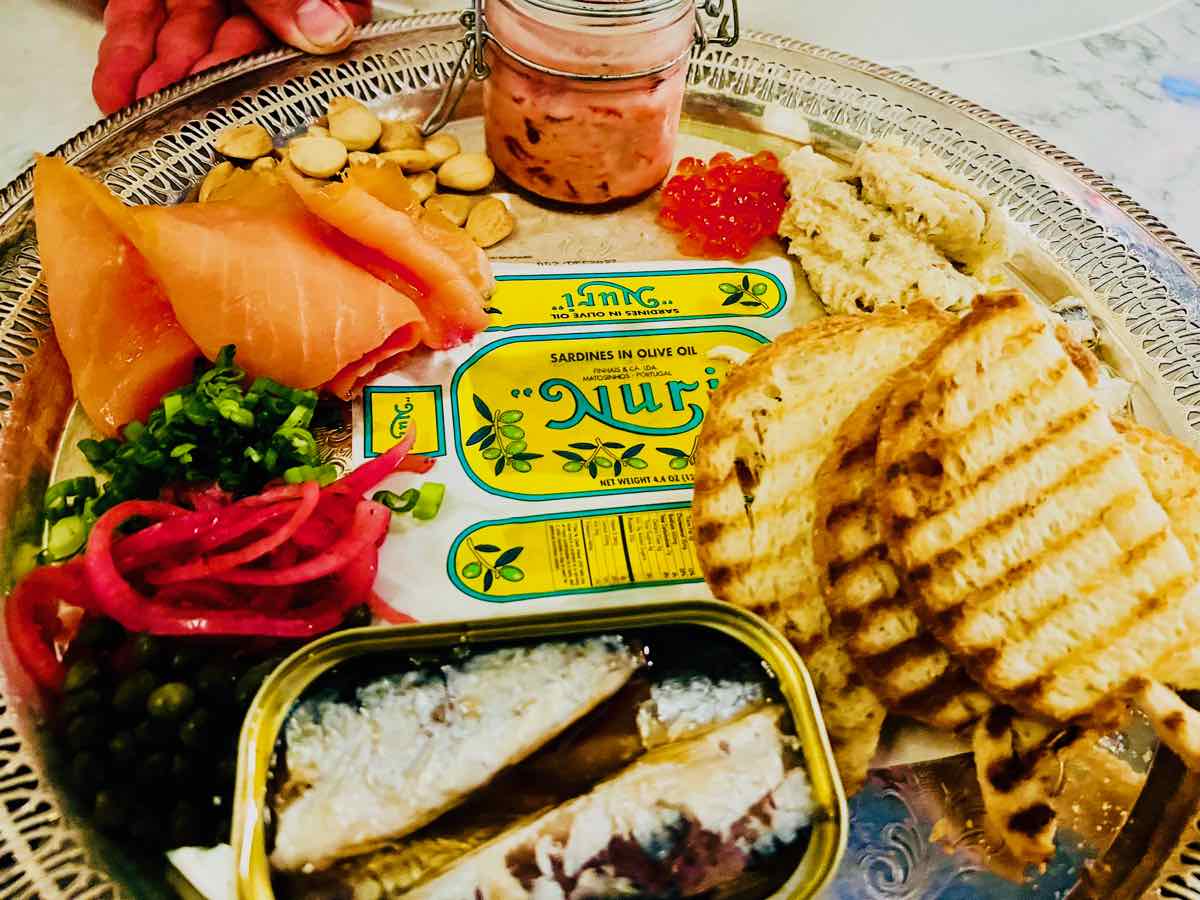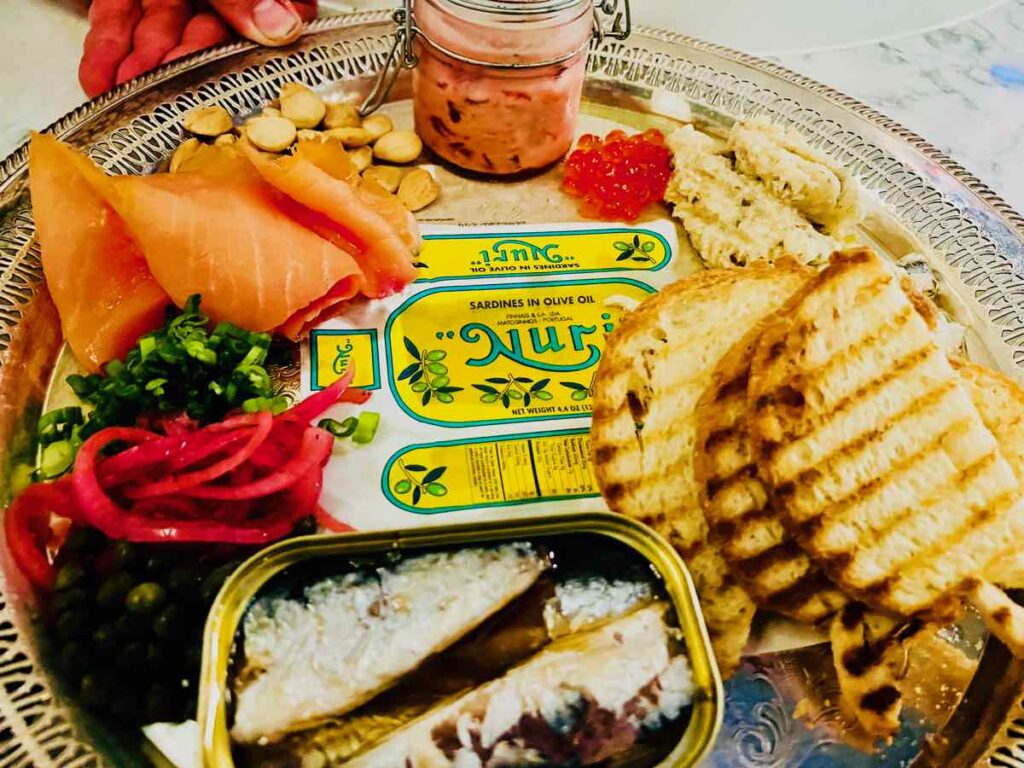 One popular item at The Vault is the Khachapuri, a rich, creamy Georgian dish of warm cheese and egg yolk. We were also impressed with the delicious flavors and generous servings of Bouillabaise and Mulligatawny School. (Check out more pics from The Vault on our Facebook page.)
Looking for extra drama? Enjoy your meal inside the vault at The Vault. That's right, you can reserve the private table inside one of the bank's original vaults. You'll have a unique perspective as you look out at diners in the main room.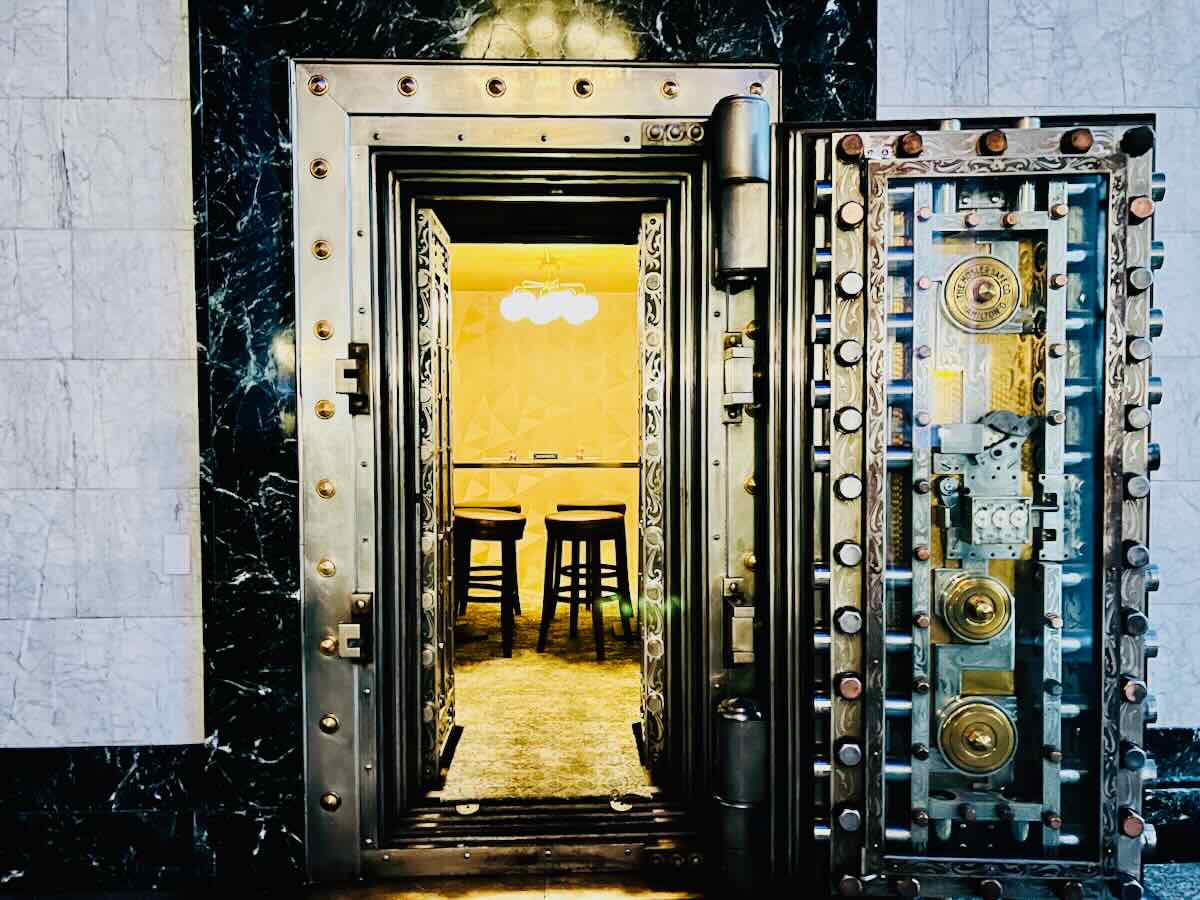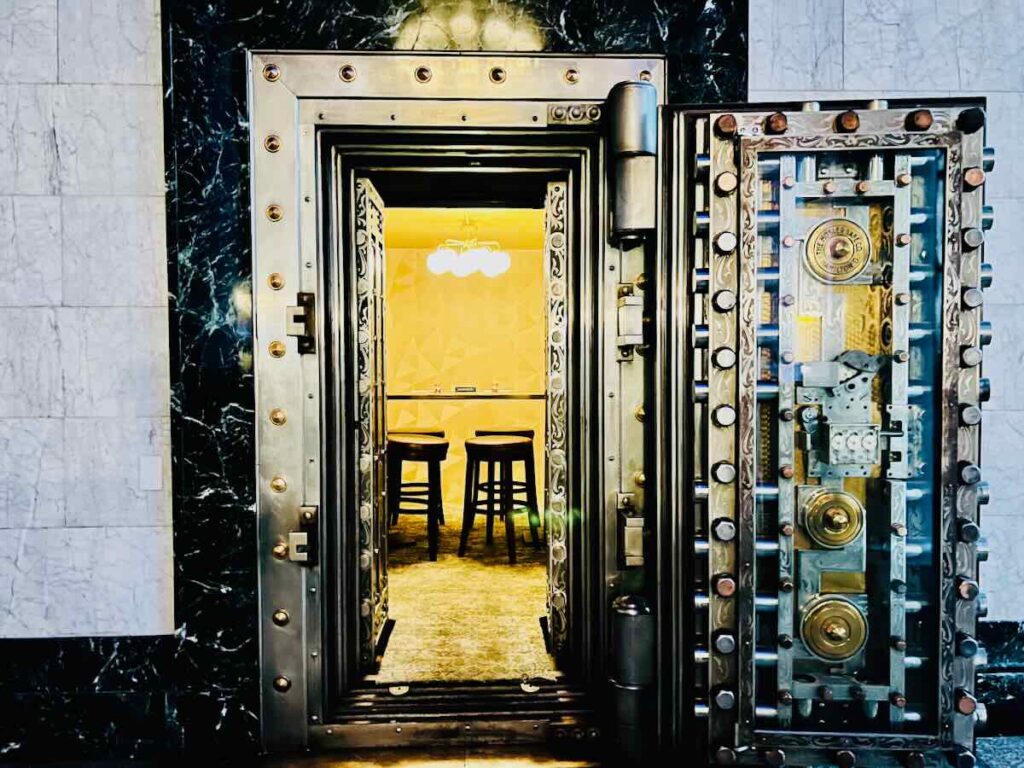 The Liberty Trust Location and Tips
The Liberty Trust hotel is located at 101 S Jefferson Street, Roanoke VA. It's a short walk to the excellent Virginia Museum of Transportation, several Roanoke breweries, and more downtown Roanoke restaurants.
Parking for The Liberty Trust is available in the Center in the Square Garage, just around the corner from the hotel. Buy your parking through the hotel for $8 daily with unlimited in-and-out privileges.
Another fun and convenient way to reach Roanoke is by Amtrak train. Conveniently, the train station is right next to The Liberty Trust. (Our upper floor room faced the train tracks but noise from passing trains was not an issue.)
Amtrak runs twice-daily train service to Roanoke, perfect for a car-free weekend getaway. For example, Northern Virginia residents can catch the Northeast Regional to Roanoke from multiple stops including Washington DC, Alexandria, Culpeper, Charlottesville, and Fredericksburg. Other east coast cities including Boston, New York City, and Baltimore are on the same route.
Fire Station One Hotel in Roanoke VA
The newest downtown Roanoke Hotel on our list is Fire Station One, a boutique hotel that opened in 2023. Rooms at this gorgeously renovated property occupy the upper floor of the longest continually operated fire station in Virginia (from 1907 – 2007).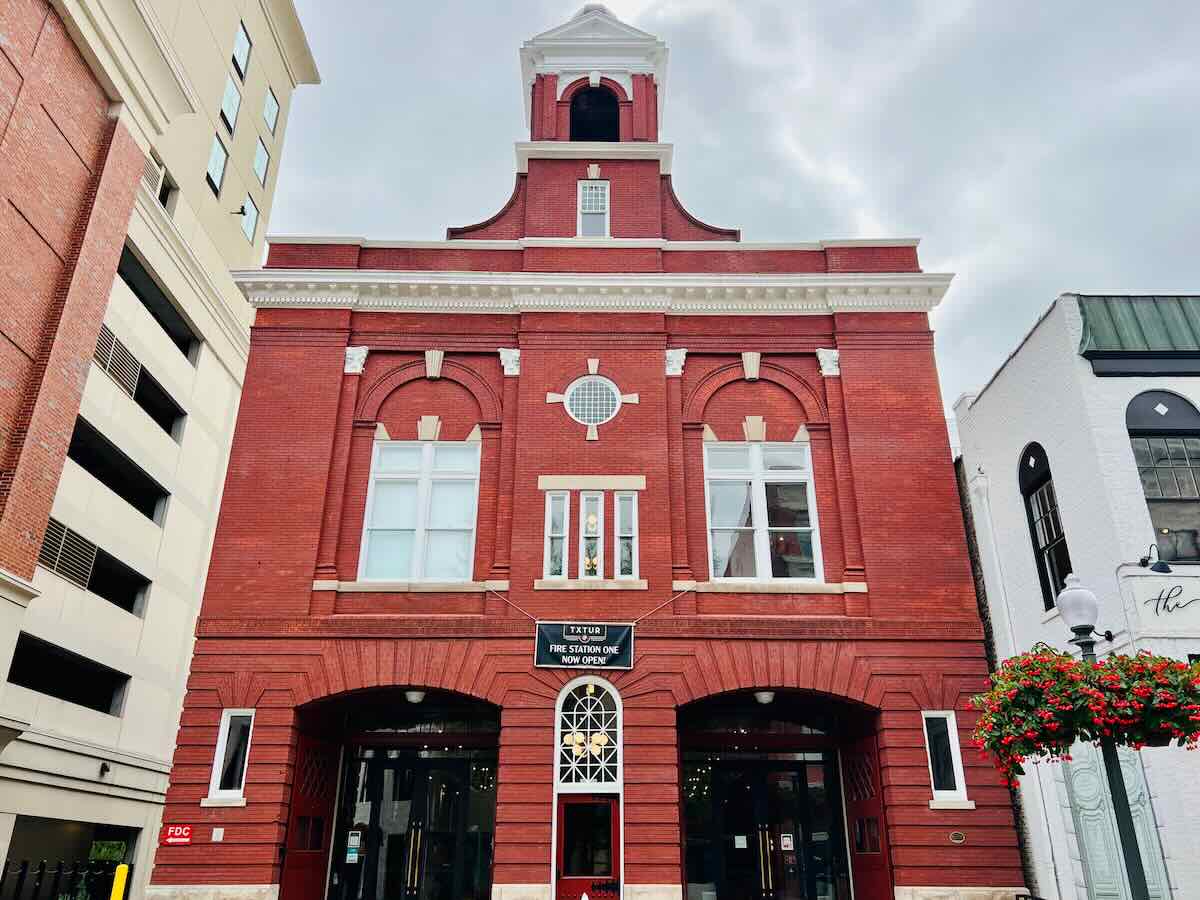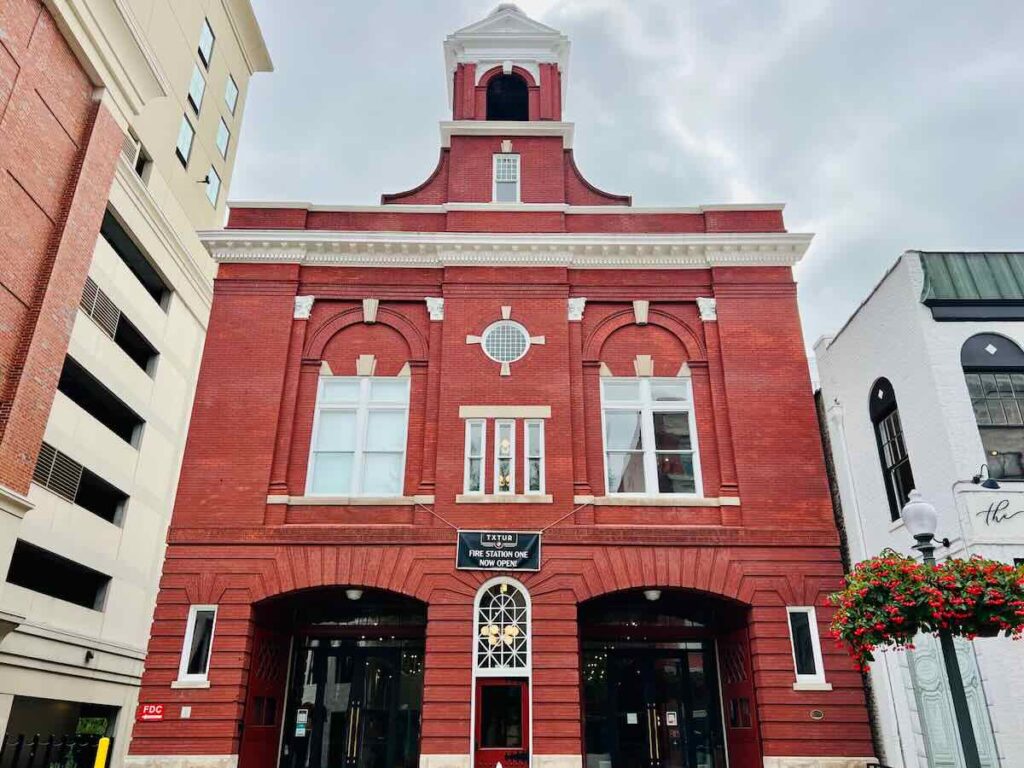 Fire Station One retains the rustic charm of the brick fire station building with its arched bay doors, which horse-drawn fire trucks once passed through, and lovely bell tower. Guests who enter via the front stairway climb a beautiful wooden spiral, and the original brass firepole stands nearby.
Fire Station One does not have a traditional lobby or check-in desk. In fact, the main floor is home to the TXTUR showroom whose custom-designed, Roanoke-built pieces furnish each guest room.
Check rates and availability at Fire Station One now.
Fire Station One Rooms
Upstairs, each boutique room features an extremely comfortable bed (maybe the best hotel bed we've ever slept on), a desk, flat-screen TV, and a sleek bathroom. You'll find a mini-fridge stocked with sodas and water plus a Keurig coffee maker. Depending on the room you book, you may also have a sitting area.
There are 7 guest rooms at Fire Station One and they are all unique. Fortunately, you can see photos of each room on the hotel website. Rooms accommodate from 1 to 4 guests,
We stayed in Room 7, the Luxury Loft. This corner room is filled with light from the giant windows. A separate seating area includes a loveseat (which can be used as a twin sleeper) and two chairs. Creamy white and gold tones and a unique "chandelier" above the bed added to the luxe vibe in our room.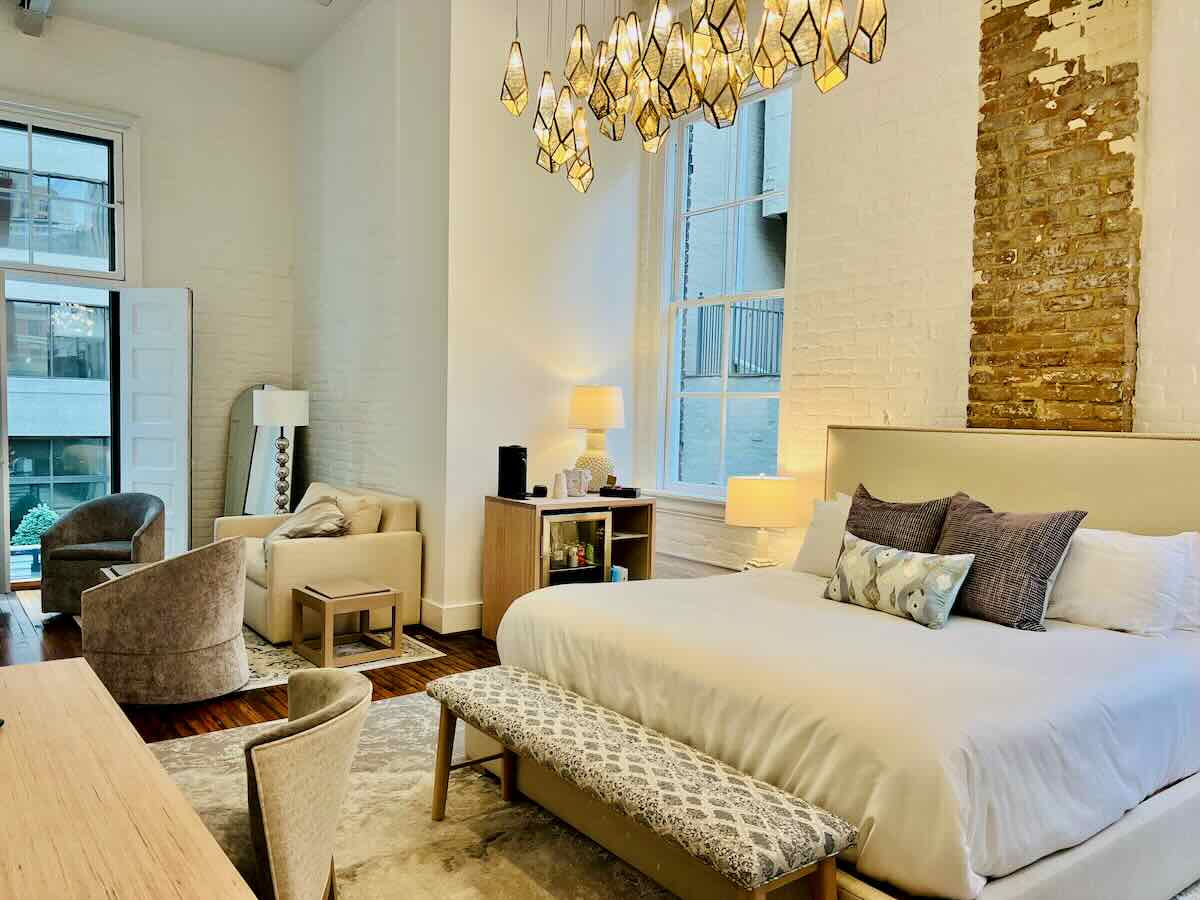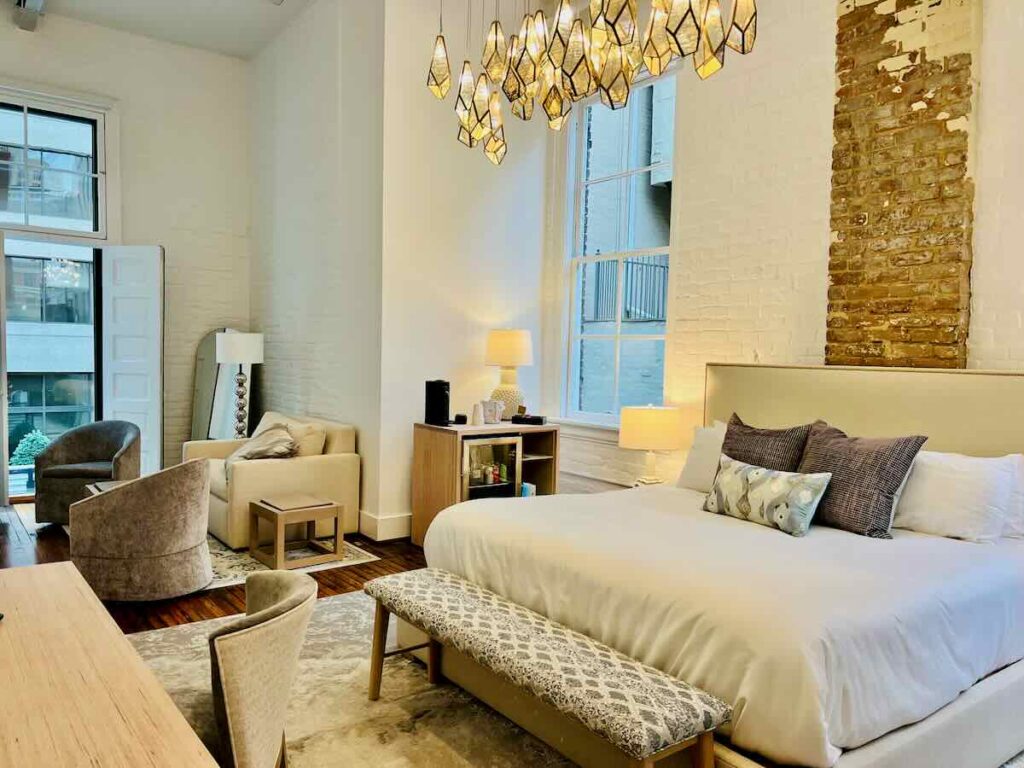 Shades for this room's giant windows are opened and closed via a convenient remote. The shades let in a lot of light though, so bring your sleep mask if you prefer a dark room.
We also checked out a few of the unoccupied rooms during our stay. Rooms 5 and 6 both have lovely exposed brick walls. Rooms 2 and 4 pay homage to the fire station's original purpose and 1907 opening date. In fact, you'll see a portion of the original fire pole and spiral staircase in Room 4.
Public Spaces at Fire Station One
The primary public space for Fire Station One guests is called the Bunk Room. This large, open space is located upstairs between the guest rooms. The common area features couches, chairs, and desks in various groupings allowing places to gather, read, relax, or work. Huge windows fill the space with light during the day.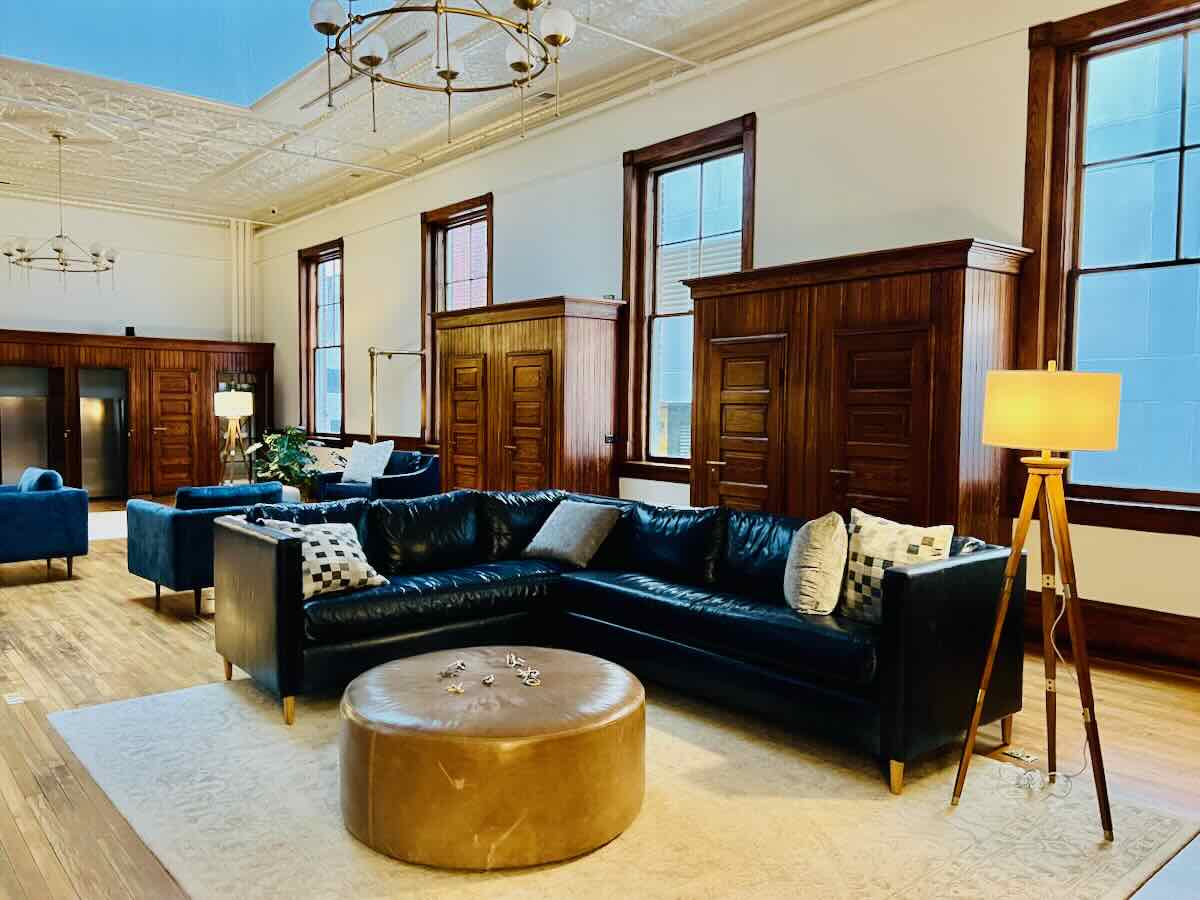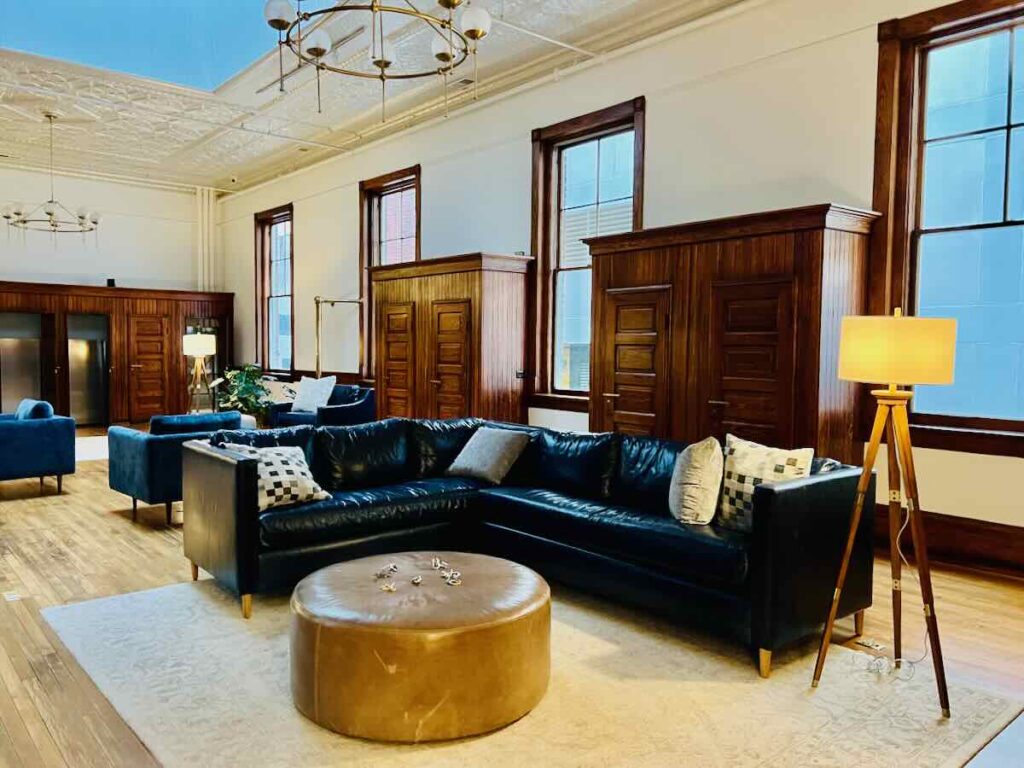 At one end of the Bunk Room, original fire station lockers are stocked with snacks, drinks (sodas and bottled water), and travel essentials like toothpaste. This free amenity is a welcome touch and we enjoyed a few snacks during our stay.
Be aware that the Bunk Room is also an event space. A hosted meeting during our stay closed the room to guests during the day and much of the furniture was set up for the meeting.
Fortunately, events end by 6:00 on weekdays and 3:00 on weekends, so they don't impact evening quiet. If access to public space is important to you, for example, if you're traveling with a group, inquire ahead about any planned events.
Dining at Fire Station One: Stock
A second common space at Fire Station One is Stock Cafe, the restaurant and bar downstairs. Stock has a beautifully lit bar and several tables indoors plus comfortable seating outside. We spent time by the outdoor firepit one evening.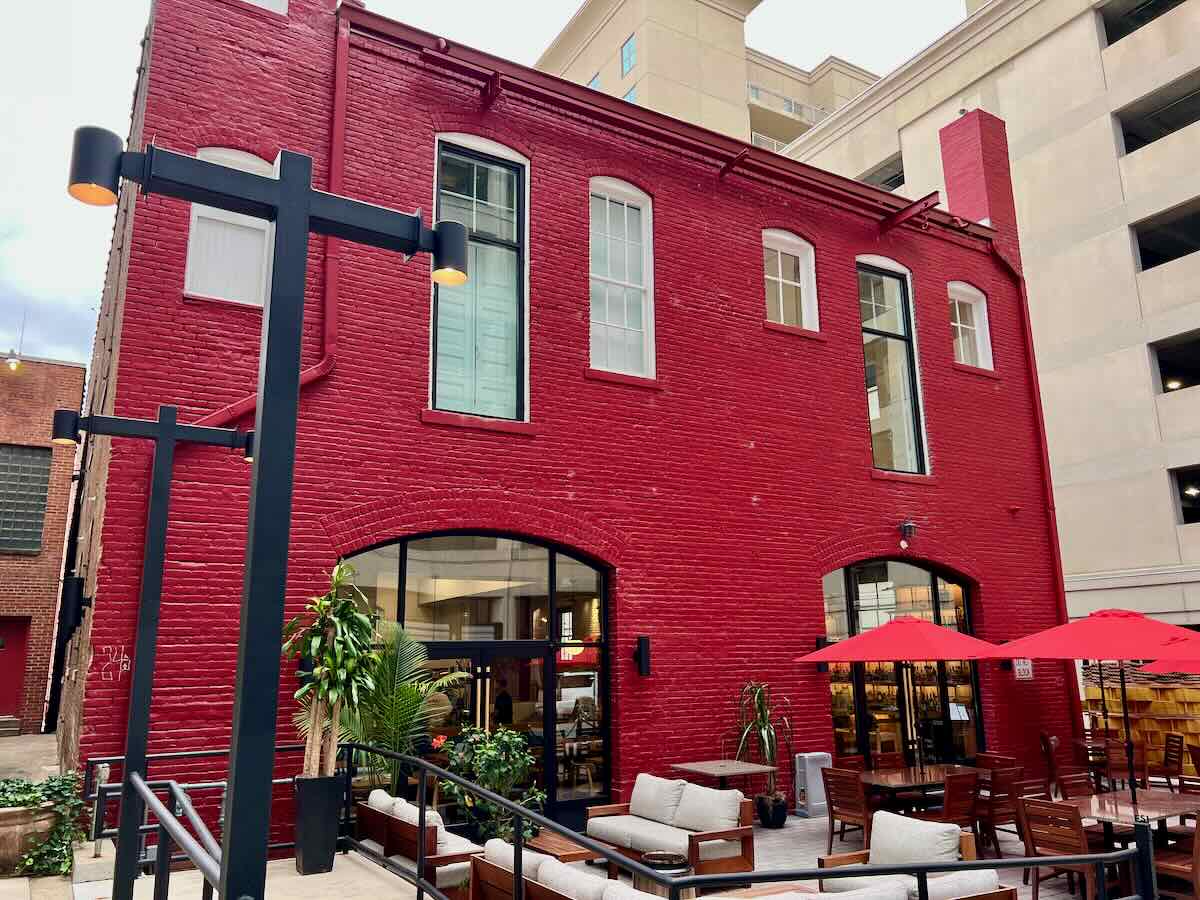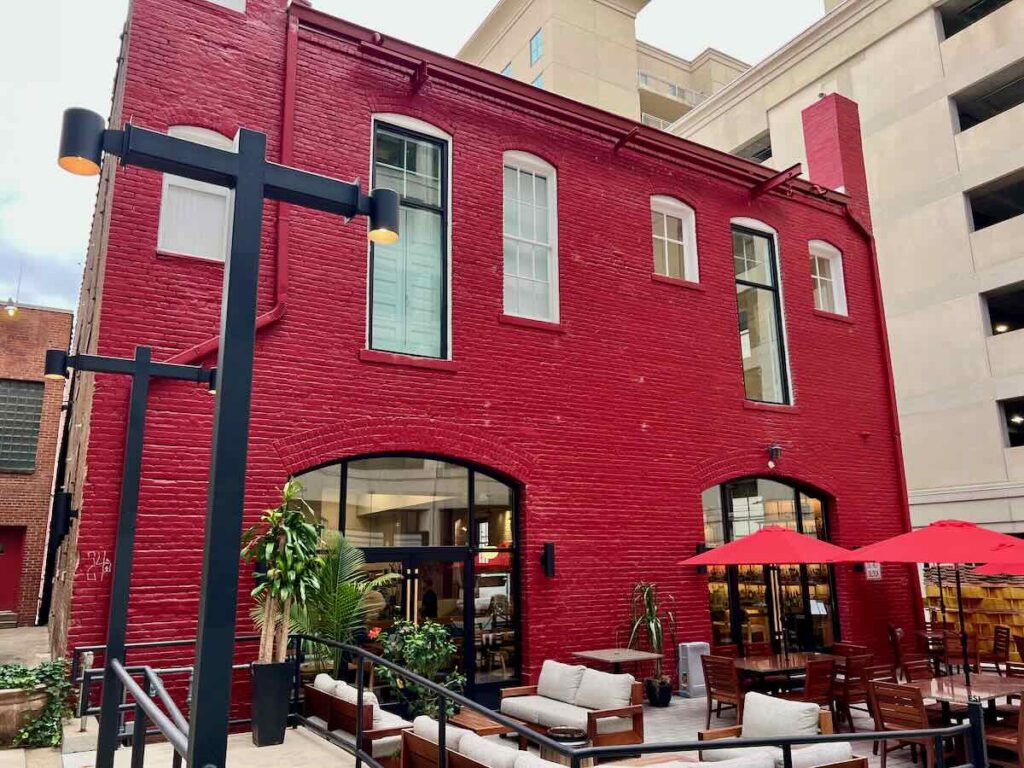 Unfortunately, Stock Cafe was closed for a private event on the night we planned to dine there. We were really disappointed; the authentic Danish Smørrebrød were calling us. Next time!
Fire Station One Location and Tips
Fire Station One is located at 13 Church Ave SE, an easy walk to downtown highlights including the Taubman Art Museum and Roanoke City Market.
There are entrances at the front and back of Fire Station One, controlled by keypad code. You'll use the same code to enter your room (hooray for no keys to keep track of). The hotel's front entry is via a beautiful red door leading to a spiral wooden staircase.
Another keypad entrance at the back leads to an elevator and stairs to the upper floor. You can also enter through the furniture store or the restaurant when they're open. If you need an elevator, enter through the back (or walk through the furniture store).
Two of the rooms at Fire Station One are pet-friendly and those rooms are separated from the other guest rooms by the Bunk Room common space.
Convenient paid parking is right next to the hotel in the Market Parking Garage for $8 per day. (Booking.com says the hotel has free parking but that is not accurate.) In addition, there is 20-minute free parking in front of the hotel to use while you bring your bags up.
More Great Downtown Roanoke Hotels
In addition to the unique downtown Roanoke hotels listed above, there are many more solid hotel options in and near the downtown. These chain properties may be less expensive and some offer amenities like indoor pools. Most are a good choice if you're looking for pet-friendly downtown Roanoke hotels.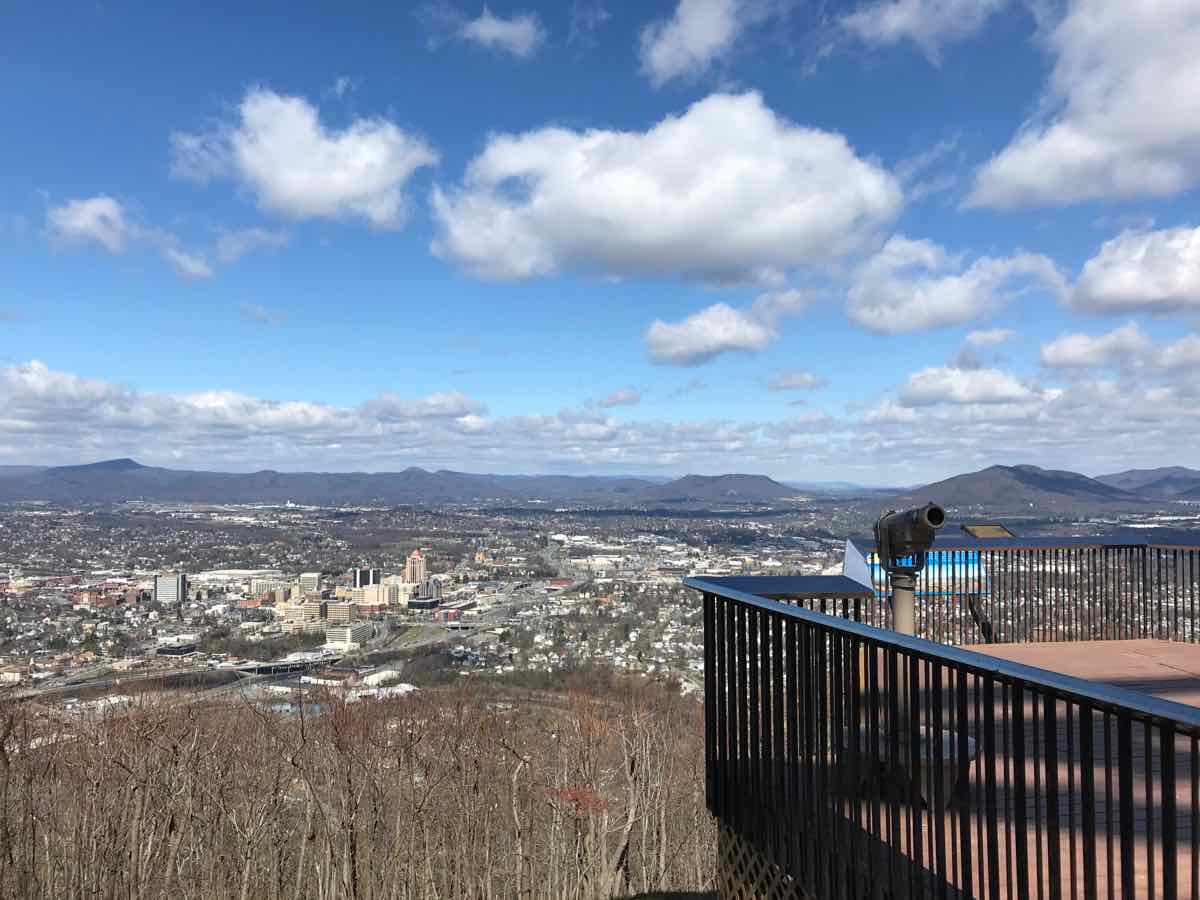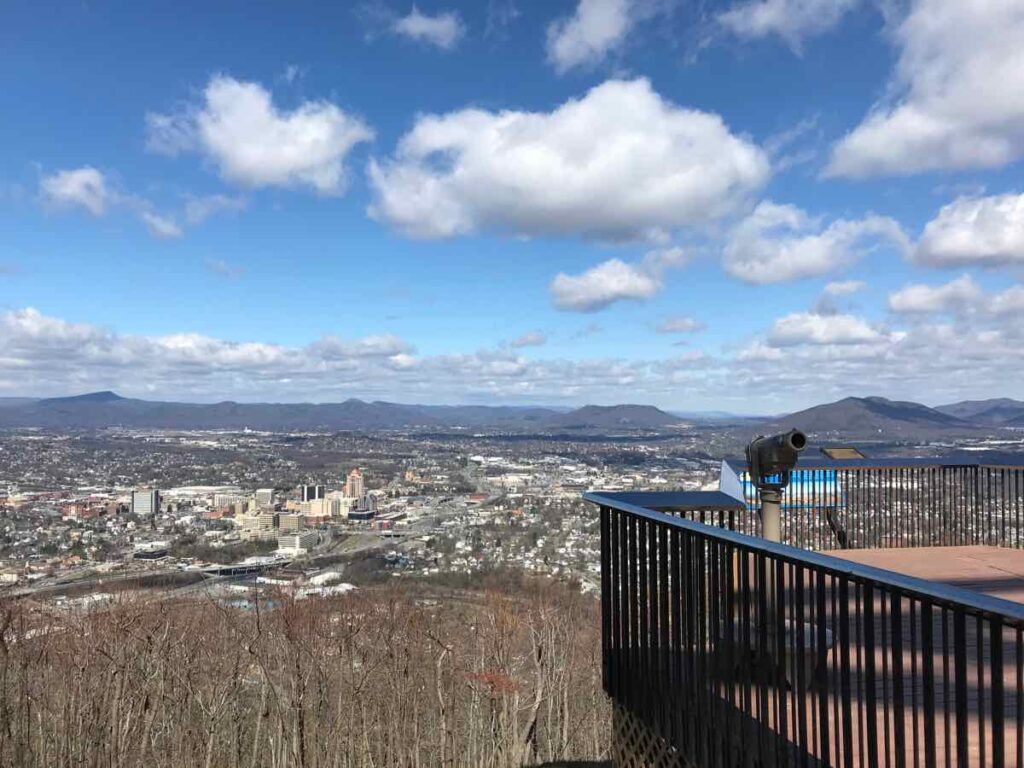 Hampton Inn & Suites Downtown Roanoke
Hampton Inn & Suites Downtown is close to Elmwood Park, where you can catch a summer concert, and Radford University. Some rooms have balconies with views of the Blue Ridge Mountains and all rooms have a microwave. The Hampton Inn is a great choice for families and anyone looking for a quality chain hotel experience.
Springhill Suites by Marriot
Springhill Suites by Marriot Roanoke is about 2 miles south of the downtown area. The hotel is next to the Roanoke River Greenway bike trail and Mill Mountian, so this is a great location for cyclists exploring downtown trails. Springhill Suites Roanoke perks include an indoor swimming pool, free parking, and complimentary breakfast.
Holiday Inn Express
The highly-rated Holiday Inn Express Civic Center is a solid option if you're looking for budget Roanoke hotels close to the downtown area. The property has an indoor swimming pool and free hot breakfast so it's a good choice for families.
Roanoke Hyatt Place
There are lots of budget and pet-friendly hotels close to Route 81 and the Roanoke Regional Airport. We enjoyed a stay at Roanoke Hyatt Place during a road trip through Southern Shenandoah Valley. We like the room Hyatt Place layout, which includes a comfortable couch.
If your goal is a unique and luxe stay in one of the best downtown Roanoke hotels, we highly recommend Fire Station One, The Liberty Trust, and the Hotel Roanoke. Fortunately, several chain hotels also offer comfortable and convenient stays in and near Roanoke's downtown. Whichever property you choose, we wish you a wonderful time in Virginia's Blue Ridge.
Exploring more of the Blue Ridge Parkway? Primland Resort is another fantastic luxury hotel close to the drive in Southwest Virginia.
Our stays in Roanoke were hosted by Visit Virginia's Blue Ridge or the hotel property. As always, all text, photos, and opinions are our own.
Follow us on Facebook, Twitter, Pinterest, and Instagram for more fun travel in and from Northern Virginia.
Pin it for later: