Updated on November 7, 2023 by Julie McCool
Here's another reason to look forward to the upcoming long weekend—Red's Table officially opens for dinner on Labor Day, bringing an exciting new local restaurant to Reston's South Lakes Village Center. It's been many months since construction began, but our preview of the new space reassures us that it has all been worth the wait.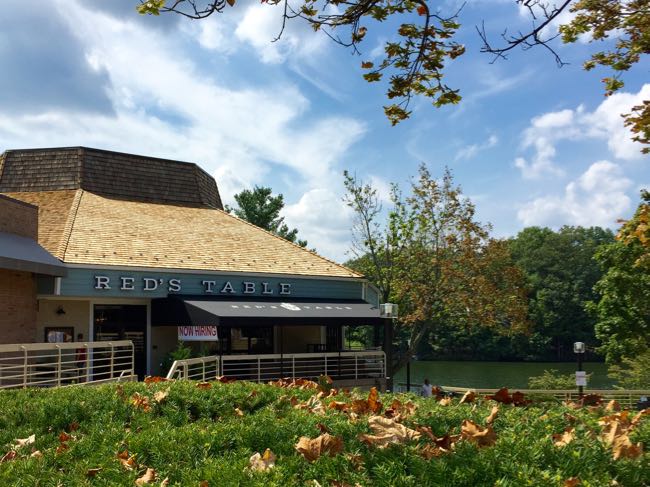 Disclosure: This article may contain affiliate links. We will make a small commission from these links if you order something, at no additional cost to you.
Red's Table is the creation of brothers Ryan, Matt, and Pat Tracy, who grew up in South Reston and dreamed of a great restaurant in the village center. The new space takes full advantage of the lakeside setting, with expansive windows and a large patio lounge open to beautiful views of Lake Thoreau.
Red's Table Boasts a Gorgeous Interior
The restaurant's design is rustic, relaxed, and sophisticated, from the custom artwork at the doorway featuring the Red's Table logo, to the sleek bar, and varied eating spaces.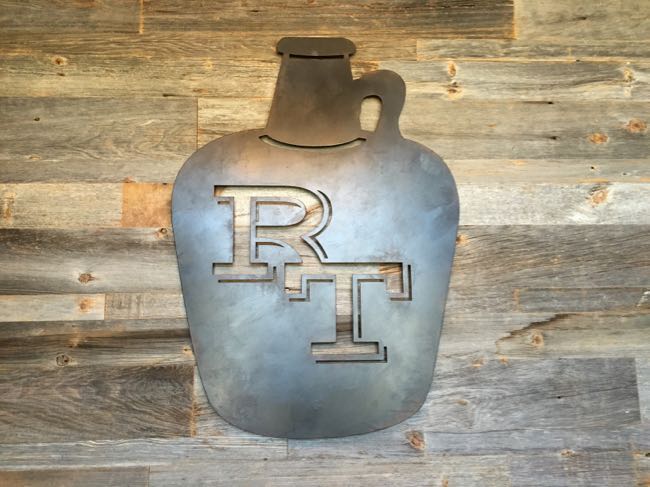 A nook behind the entry station features pictures of William "Red" Tracy, the grandfather for whom the restaurant is named. Its large table is meant to honor Red's devotion to conversation over a shared meal.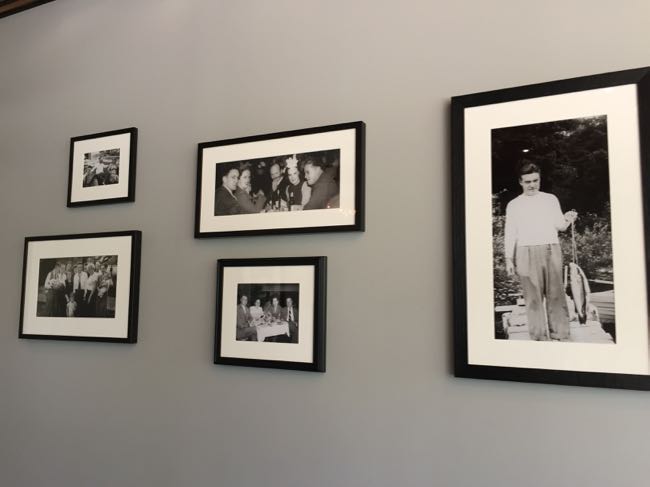 Further in, high ceilings, rustic wood accents, and simple tables and chairs keep the focus on those beautiful lake views.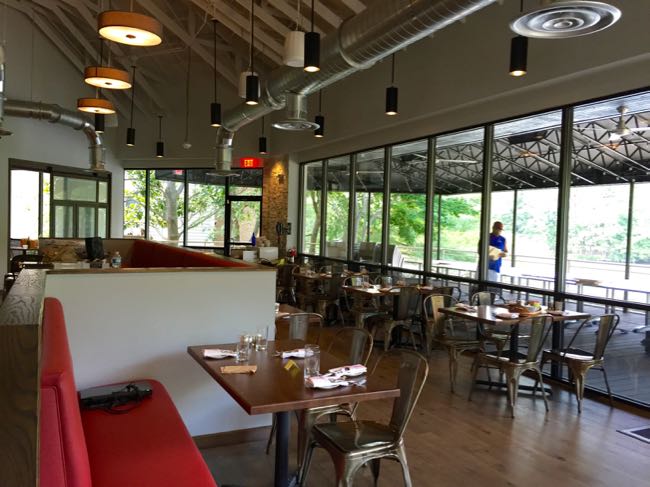 The large open patio will offer plenty of seating, and built-in heaters and seasonal curtains will keep the space usable even when the weather cools.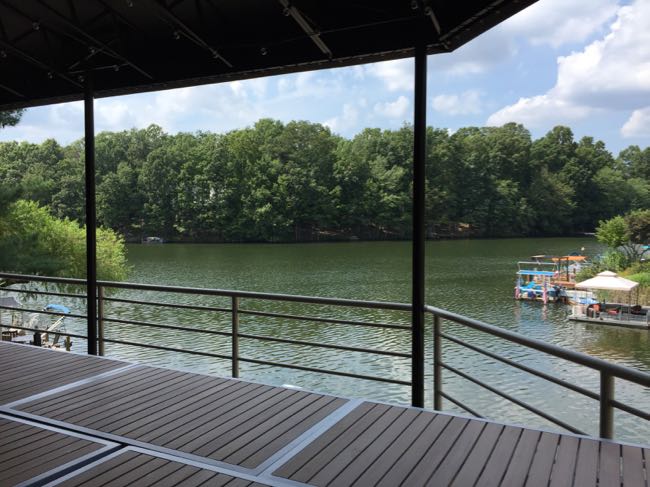 At the end of the dining area, a private space can be closed off with sliding doors for business meetings, receptions, and other events, or left open to maximize seating.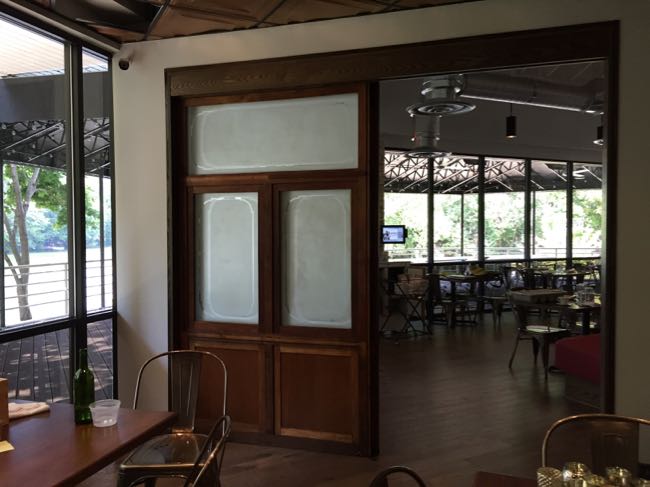 The bar offers more seating, with views of the open kitchen.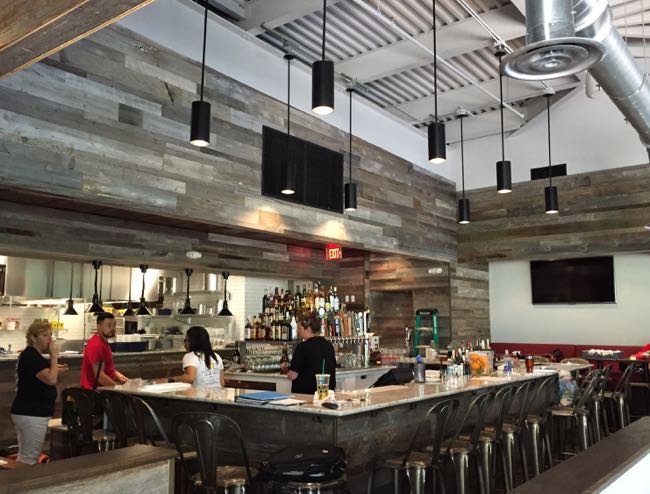 And the outdoor patio near the entry offers another option to relax with a drink and a nosh.
Local Food and Drink Highlights Steaks and Seafood
The beautiful open kitchen sports a sweet, shiny salamander for cooking perfect steaks.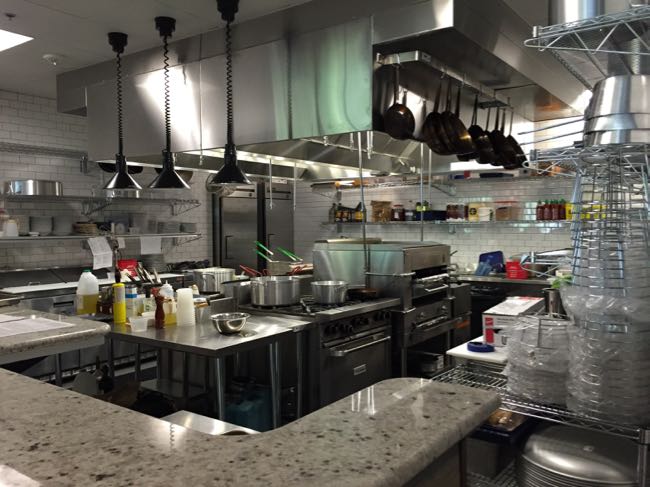 Chef Adam Stein is sourcing all of his meats from Milton's Local, a distributor of locally farmed, pasture-raised, hormone-free beef and pork. NY Strip, filet, and bone-in ribeye will be menu staples, with a variable fourth cut appearing in sandwiches, salads, and on its own.
Ryan gave us a peak in the walk-in cooler where the pork belly is braising and the steaks are waiting for opening night.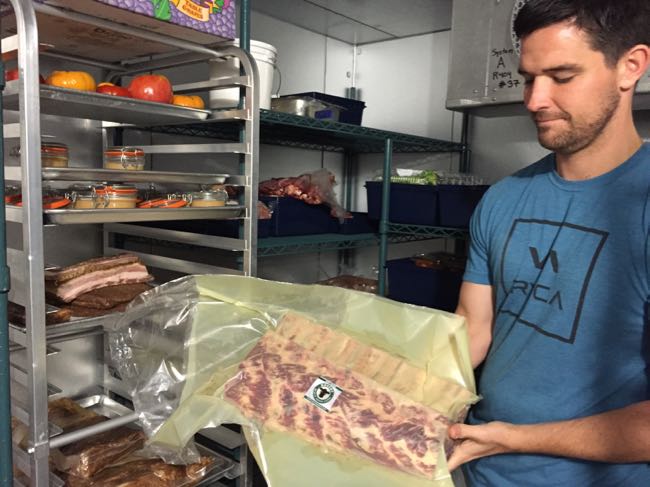 Red's Table will also feature fish specials, shellfish and a raw bar. Pastry chef Bri will be creating house-made breads, buns, and other treats.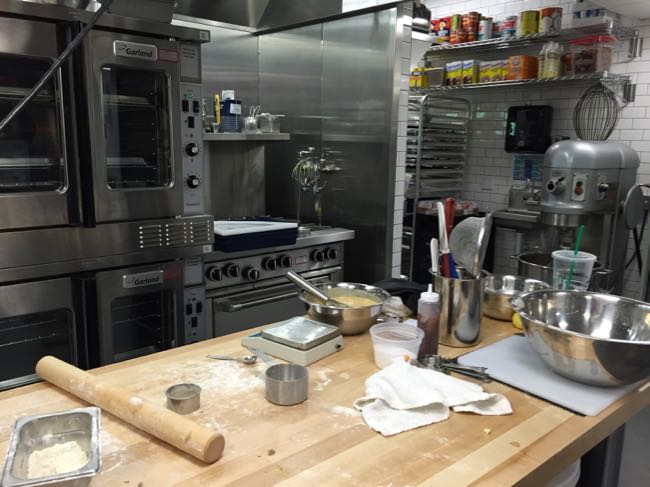 Fourteen taps at the bar will offer local craft beers, and additional local brews and a few old standards will be available in cans. Red's will also fill their 2-liter and 32-ounce growlers with any of the beers on tap to go.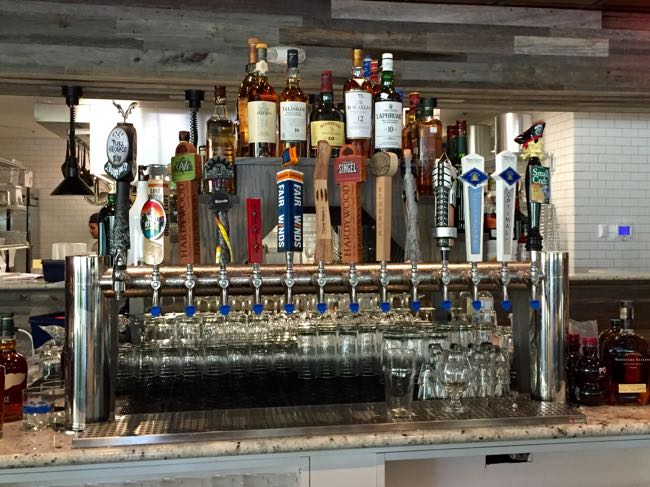 A full bar and a mix of Virginia and out-of-state wines complete the drink line-up.
Red's Table Opens on Labor Day
Red's Table will officially open for dinner on Labor Day, September 7th, 2015. Later in the month, the restaurant will extend hours with brunch and lunch service. Follow Red's Table on Facebook for menu updates and other news.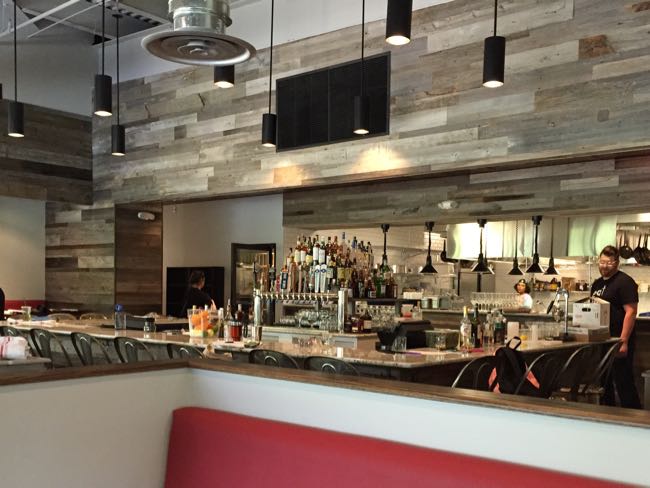 Parking in the South Lakes Village Center can be tight, especially at midday, but spaces are often available on the far side of the parking lot. Spaces on the perimeter of the Sun Trust Bank are also open to Center visitors.
The Center is only a mile from the Wiehle-Reston East metro station, and a similar distance from the W&OD bike trail (with one steep section), so it's reachable on foot or bike if you want to leave your car at home.
We are incredibly excited to have a new local, non-chain, dining option in South Reston. Red's Table looks to be a big hit with locals like us, and with visitors looking beyond Reston Town Center.
We can't wait to enjoy a meal and a drink at Red's Table. Hope to see you there!
[hr]
Follow Fun in Fairfax VA on Facebook, Twitter, Pinterest, and Instagram.