We love to celebrate fall in Northern Virginia because the season brings cooler days, beautiful autumn foliage, and loads of fun festivals to the region. We've rounded up a list of ways to celebrate fall, including several contributed by local experts, that should keep you busy throughout the season. Whether you're planning some fun with the kids, an outing for adults, or some solo time to recharge, we've found options for you.
Experience fall in its fullest with a trip to Historic Downtown Manassas to participate in the annual Fall Jubilee. This family friendly extravaganza fills the streets of this historic town each year and includes a wine garden, pumpkin patch, live entertainment and more than 100 crafter and community booths. Following the festival, take a short drive to the Bull Run Mountains to see a multitude of trees bursting with fall colors at the Bull Run Mountains Conservancy. Or, plan a visit to the Weems-Botts Museum, one of the most haunted homes in Virginia, in nearby Dumfries.
Contributed by: Nicole Warner, Marketing & Communications Specialist, Discover Prince William & Manassas. Find more fall fun on the Prince William and Manassas blog and Facebook.
A great place to visit this fall season is Theodore Roosevelt Island, located in the middle of the Potomac and accessible only via a pedestrian bridge from Arlington. A tribute to President and outdoorsman Teddy Roosevelt, this 91-acre wooded island sanctuary is a wonderful way to enjoy autumnal colors, a quiet afternoon stroll, and perhaps a picnic by the river.
Contributed by: Cara O'Donnell, Public Relations Manager, Arlington Economic Development/Arlington Convention & Visitors Service. Find more Arlington info at Stay Arlington and on Facebook.
The Cox Farms Fall Festival in Centreville is my family's favorite part of fall! It's an annual tradition for us, and we usually go at least twice each year. The festival is 90 acres of sheer silliness. There are giant slides that are fun for adults as well as kids. The hayride and corn maze are filled with unexpected wackiness that always makes us laugh. The festival also has farm animals, apples, pumpkins, and tons of things for kids to climb. My kids talk about this place all year long, so I'm excited that it's finally time to go back!
Contributed by Charlotte Geary, Virginia photographer and editor of Modern Reston. Follow her at Charlotte Geary Photography and on Instagram.
Ali Morris, of Visit Fairfax notes that older kids can visit Cox Farms in the evenings for the spooky Fields of Fear, featuring a haunted corn maze and the chance to hang out by the bonfire.
Another of my favorite places to explore in the fall is a beloved attraction that many locals forget to visit: Mount Vernon. It's so much more than George Washington's mansion. The estate has 500 acres of gardens, farms, and forests with dramatic views of the Potomac. When you visit, wear comfortable walking shoes and spend a day hiking the trails. You'll get the best of everything Virginia has to offer in the fall — vibrant foliage, grand scenic views, and America's rich colonial history.
Contributed by Charlotte Geary, Virginia photographer and editor of Modern Reston. Follow her at Charlotte Geary Photography and on Instagram.
For those looking for a sophisticated way to kick off the fall season, George Washington's Mount Vernon holds an annual Fall Wine Festival & Sunset Tour in early October. Sip wine from more than 20 Virginia wineries, meander through Washington's home on the exclusive evening tour (including the rarely-opened basement, where he stored his wine) and relax on the expansive East Lawn to watch the sunset over the Potomac River.
Contributed by Ali Morris, Destination Marketing Manager for Visit Fairfax. Follow Visit Fairfax on Facebook and Instagram for more Fairfax County fun. 
Epicurience Virginia, the Grand Tasting, is a culinary adventure like no other in the heart of DC's Wine Country. In 2017, Epicurience Virginia is hitting the road. Tour the beautiful countryside while experiencing local food pairings on a self-guided one-day event. It's a delicious way to celebrate October and Virginia Wine Month.
Contributed by Jennifer Sigal, Visit Loudoun. Follow Visit Loudoun on Facebook and Instagram for more Loudoun County fun. 
Fall in Northern Virginia is the perfect time to explore gorgeous, scenic, unpaved roads. Follow my route or turn off the GPS, put away maps, and get lost for an hour. Discover unpaved roads along creeks you did not know existed or dirt roads through horse country leading to world class winery/brewery views or fresh baked goods. Every year more farmland turns into housing developments so there is no better time than now. Cooling temperatures and brilliant colors (blue sky and tree foliage) make for epic photographs and vivid memories.
Contributed by Charles McCool, how-to travel expert, author, trainer, and writer who shows travelers how to increase travel happiness and reduce stress on every trip at McCool Travel. Follow Charles McCool on Facebook and Twitter.
There is no better time to visit Alexandria, Virginia than in the fall when colorful foliage emerges and the city's historic streets come alive with outdoor art festivals, creative events, Halloween haunts and riverside races. In Alexandria, authentic history blends with contemporary shopping and dining options making it a perfect place for the entire family. Alexandria has more than 35 seasonal events, including the highly anticipated Annual Art on the Avenue in the city's Del Ray neighborhood, and Gadsby's Tavern Ghost Tour.
Contributed by: Leah Spellman, Communications Manager with Visit Alexandria. Find more Alexandria fun on Facebook.
Explore Northern Virginia on These Scenic Drives
One of our favorite ways to celebrate fall is with a long, lazy, weekend drive. We've rounded up 5 fantastic Northern Virginia scenic drives that are especially inviting when fall foliage and crisp days return to the area. Our favorite routes are perfect for a leisurely outing, but we've also suggested several stops and activities along the way for hiking, history, dining, drinks, and more local fun.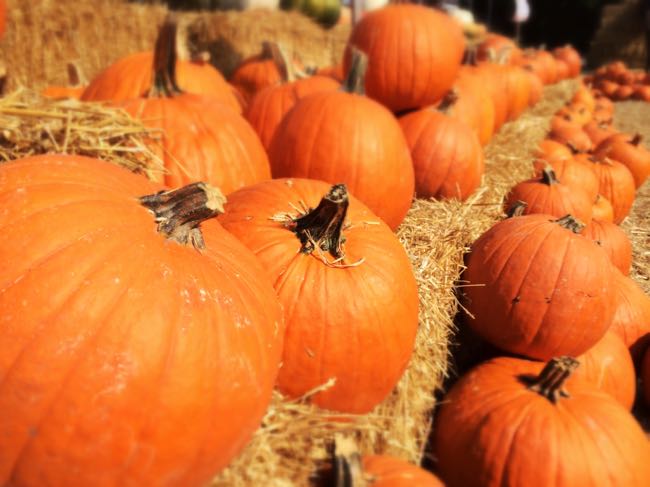 Fall means the return of pumpkin patch fun to Northern Virginia, from large kid-oriented festivals like Cox Farms, to smaller scale pumpkin hayrides and displays at local garden centers. Corn mazes also return, along with quirky games like pumpkin slingshots, pig races, tunnel rolls, and more. Follow the link to find a perfect pumpkin patch near you.
While Northern Virginia may not match the foliage up north, we definitely enjoy our share of fall colors. Our favorite way to soak in the reds and golds of autumn is with a hike on local trails. If you prefer an easy, level path  you'll love the Bay View Trail in Mason Neck State Park. The boardwalk along the bay and over the marsh is especially pretty in the fall. For a more challenging hilly climb, head to the Piedmont Overlook at Sky Meadows State Park. If you're up for a longer drive, you can celebrate fall colors with a hike to Mary's Rock or Big Schloss. Already visited these trails? We've rounded up 8 More Great Fall Hikes or check out our full Hiking archive.
Northern Virginians are extremely lucky to have one of the most beautiful US National Parks just a couple of hours away. Celebrate fall with a Shenandoah visit to enjoy gorgeous foliage views from overlooks and trails. We've rounded up suggestions on favorite activities and places to enjoy the park, whether you visit on a day trip or plan for an overnight at the lodges or campgrounds.
Wineries are fun all year long, but some of our local favorites offer especially beautiful foliage views in the fall. The view from Bluemont Winery stretches out across the Piedmont, with spots of bright color at peak season, and Dirt Farm Brewery offers the same view right next door. Alternatively, the back yard at Doukenie Winery looks up into the Shenandoah foothills, offering a perfect spot to relax and enjoy the foliage.
There you have it, a list of destinations and activities to celebrate fall, and inspire a season of fun. What's your favorite Northern Virginia spot to celebrate fall? Please leave your suggestions in the comments.
Follow Fun in Fairfax VA on Facebook, Twitter, Pinterest, and Instagram for more great places to visit and things to do in Northern Virginia and surrounding areas.