Updated on July 26, 2023 by Julie McCool
Huntley Meadows Park is a hidden gem of Northern Virginia with a half-mile accessible boardwalk, woodland trails, and a unique hemi-marsh wildlife habitat. The park is one of those great Fairfax County surprises—a peaceful, unusual, and beautiful wildlife habitat in the midst of our busy streets and neighborhoods.
Add very easy trails, a long boardwalk, and extensive wildlife and you have the perfect destination for curious kids. Huntley Meadows is also a popular destination for bird-watching, photography, and a quiet break in nature.
Disclosure: This article may contain affiliate links. We will make a small commission from these links if you order something, at no additional cost to you.
A KidsPost article prompted our first visit and we return every season. Half a mile of boardwalk, woodland trails, and a unique habitat? Count us in!
Find more great hikes in 6 Beautiful Boardwalk Hikes in Northern Virginia.
The energetic voices of many elementary school children greeted our first visit. Happily, the students were about to leave, and they really were adorable with all the hand-holding and matching t-shirts. Older students did a great job walking quietly to observe butterflies and birds from the boardwalk.
Huntley Meadows Park Visitor Center
Stop in the Norma Hoffman Visitor Center for a little history and some excellent info on the park's hemi-marsh habitat. With over 1400 acres, Huntley Meadows is FCPA's largest park and it has an interesting history. In the 1940s, the area was an asphalt testing site. Earlier, it was used to provide anti-aircraft protection and conduct secret radio research.
The Visitor Center has nice interactive dioramas and other touchable exhibits. You'll also find trail maps, restrooms, and water fountains.
Find more NoVA fun in our guide: 20 Must-See Northern Virginia Hidden Gems Rich in Nature and History.
Woodland Trails at Huntley Meadows
The wooded Cedar Trail and Deer Trail are full of beautiful big trees and worth the walk. Beavers build and adjust dams in the park, and changing water levels make every visit unique.
You can head straight to the boardwalk on the Heron Trail if time is short. This direct route is also the best option if you have toddlers or folks with mobility issues in your group. Huntley Meadows has one of the only ADA accessible wetland boardwalks in Northern Virginia.
Boardwalk Trail at Huntley Meadows Park in Northern Virginia
The Huntley Meadows boardwalk, and a 2-story observation tower, is the prize at the end of all three woodland trails. From the boardwalk you'll have a great view of the abundant wildlife in the marsh.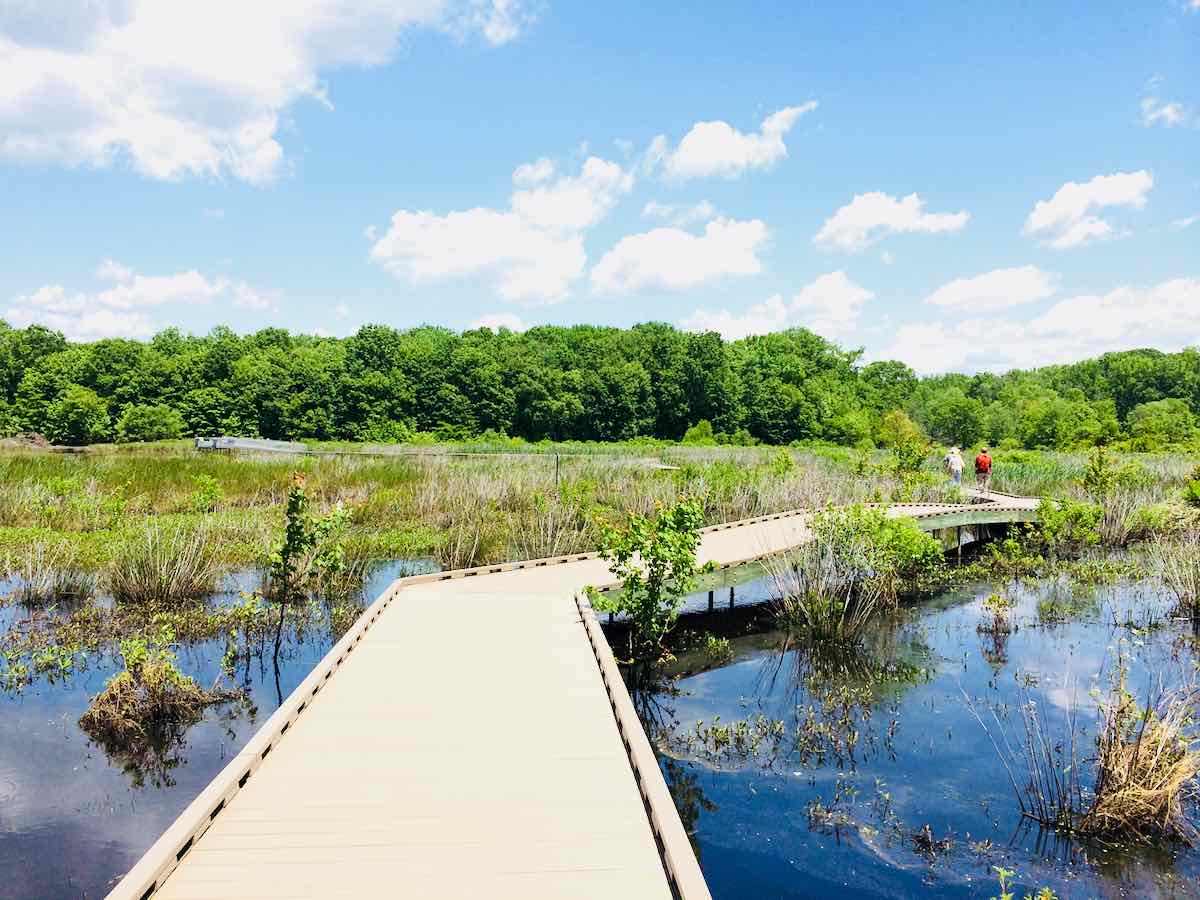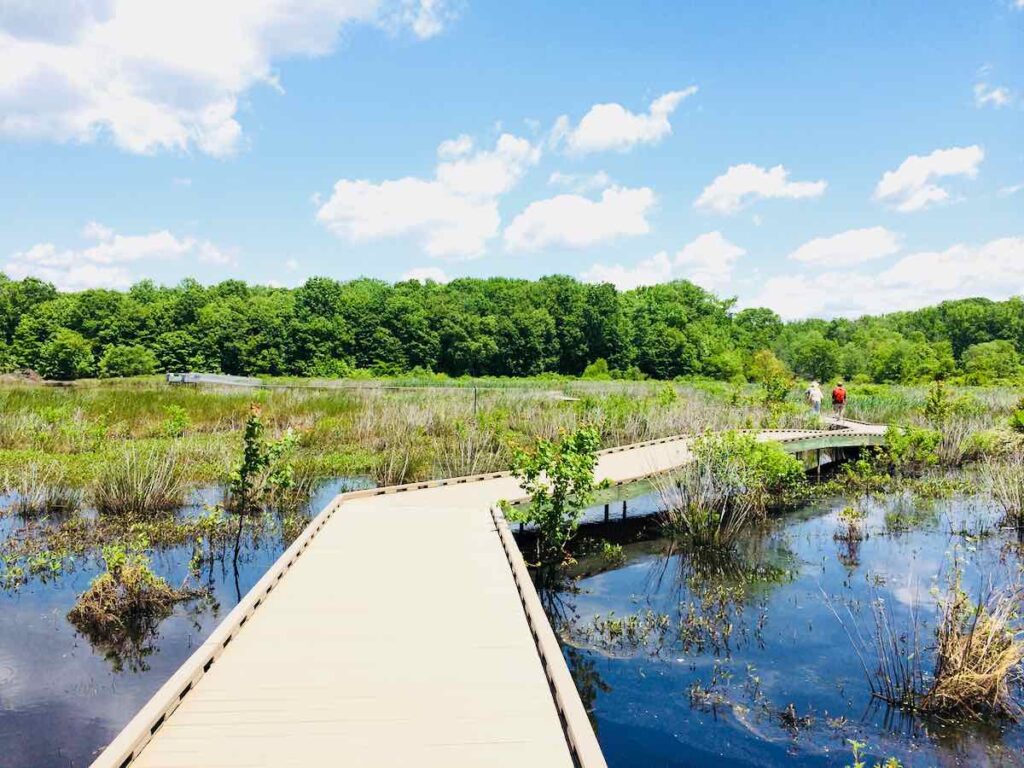 Watch for birds, amphibians, turtles, dragonflies, skinks, and other flora and fauna. If you're lucky, you may even see one of the resident beavers.
Unique wetland plants surround the boardwalk. In spring, the meadows are dotted with wildflowers and the marsh is bright with green. In September and October, fall foliage surrounds the wetland with color. Close access to nature makes Huntley one of the most family-friendly parks in Northern Virginia.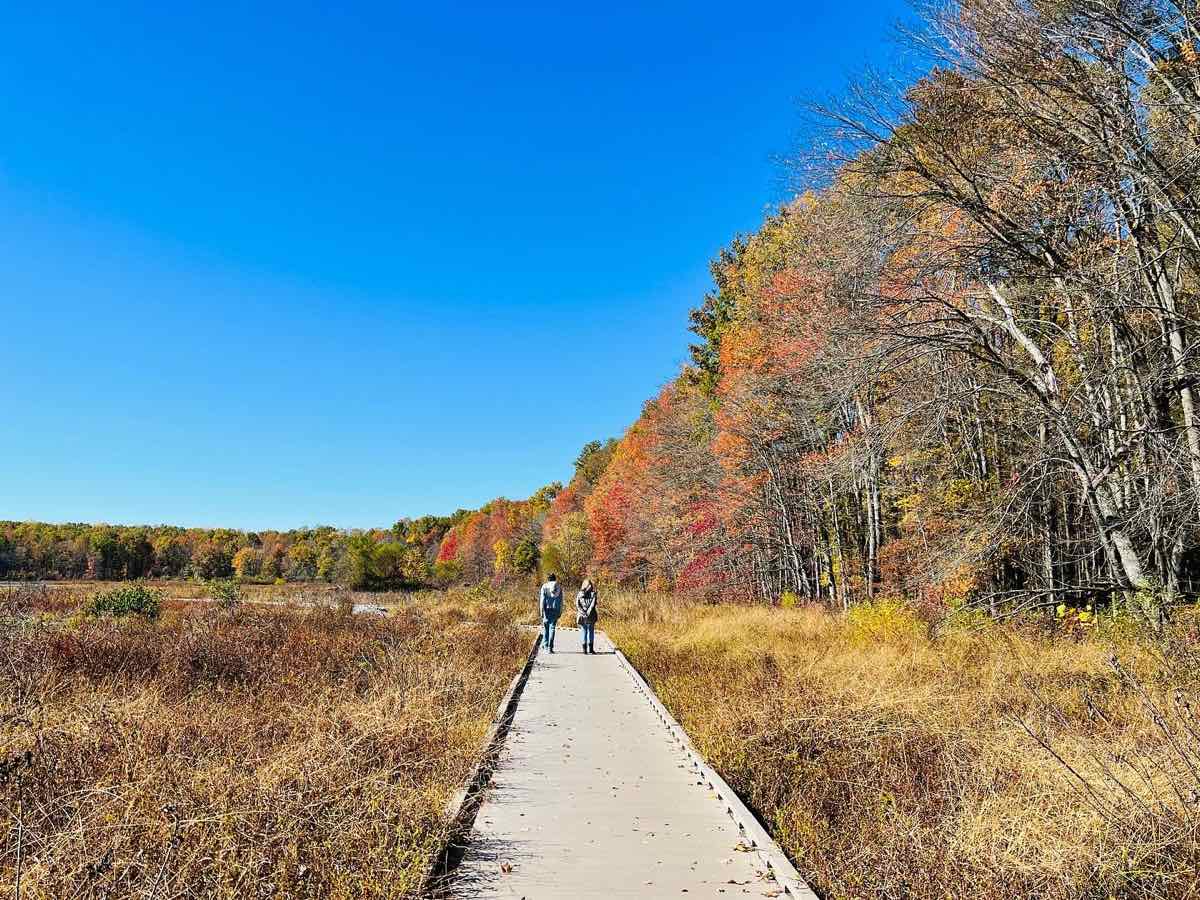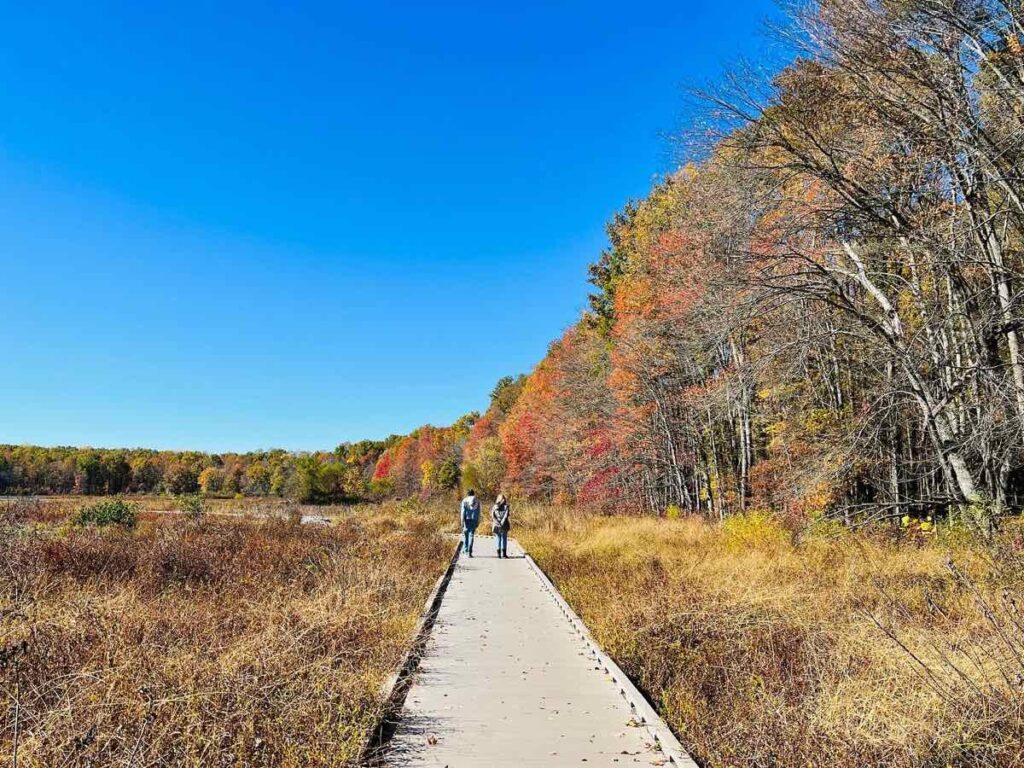 Water levels and plant life vary throughout the year, but the park always offers a lot to see. Bird-watchers and photographers gather year-round to look for local and rare birds.
The observation tower at one end of the boardwalk offers a broad view of the wetlands. We observed a fawn right next to the tower thanks to a sharp-eyed youth picnicking with his Mom.
If you move slowly and quietly, you may see red-wing blackbirds, herons, ducks, frogs, snapping turtles (huge!!), snakes, skinks, and other wildlife. We've also admired beautiful monarch butterflies and a giant Luna Moth from the boardwalk.
On one visit the beavers had built their dam right on the edge of the boardwalk. What a fantastic up-close look at nature in action.
To protect wildlife, dogs are not allowed on the Huntley Meadows boardwalk. However, leashed dogs are allowed on the woodland trails in the park. Note that you need to be on the boardwalk to enjoy views of the wetlands.
For the same reason, jogging and bikes are not allowed on the boardwalk. This is definitely a place to slow down and enjoy nature.
Visit Neabsco Creek Boardwalk in Prince William County for more wetland wildlife views.
Huntley Meadows Location and Hours
Huntley Meadows is in the Hybla Valley area of Fairfax County. The neighborhood is located between Route 495 and Route 1 in Northern Virginia.
495 is often the most direct route to the park, but you can also take Fairfax County Parkway to 611 to avoid heavy beltway traffic. There are Hike-Bike and Pond trails available from South Kings Highway, but they don't connect to the boardwalk area.
Huntley Meadows Park is open daily from dawn to dusk, year-round. Visitor Center hours vary seasonally, but the center is usually open 9:00 to 5:00 weekdays and noon to 5:00 on weekends (closed Tuesdays). Admission to Huntley Meadows is free for individuals and families.
Visit the Huntley Meadows Park website for the latest calendar of educational events and guided wildlife walks. The park frequently hosts after-hours and sunset hikes, and special nature-focused events for kids.
Follow us on Facebook, Twitter, Pinterest, and Instagram for more fun travel in and from Northern Virginia.