Discover the best holiday lights in Northern Virginia and the Washington DC area including more than 20 holiday light shows in Virginia, Maryland, and DC. We've also listed fantastic Christmas lights at private homes and businesses decorated for the holidays.
Tis the season to overdecorate with sparkly holiday lights and I'm always looking for new Christmas lights near me. Luckily, the Northern Virginia and Washington DC region offer dazzling professional holiday light displays, plus several neighborhood extravaganzas to maximize your Christmas spirit. The Griswolds got nothing on us!
Bookmark this guide to professional and neighborhood holiday lights in the DC area, and check back for new additions. We also list Christmas tree lighting events where you can capture perfect holiday photos.
Disclosure: This article may contain affiliate links. We will make a small commission from these links if you order something, at no additional cost to you.
Check back for new additions to holiday lights in Northern VA.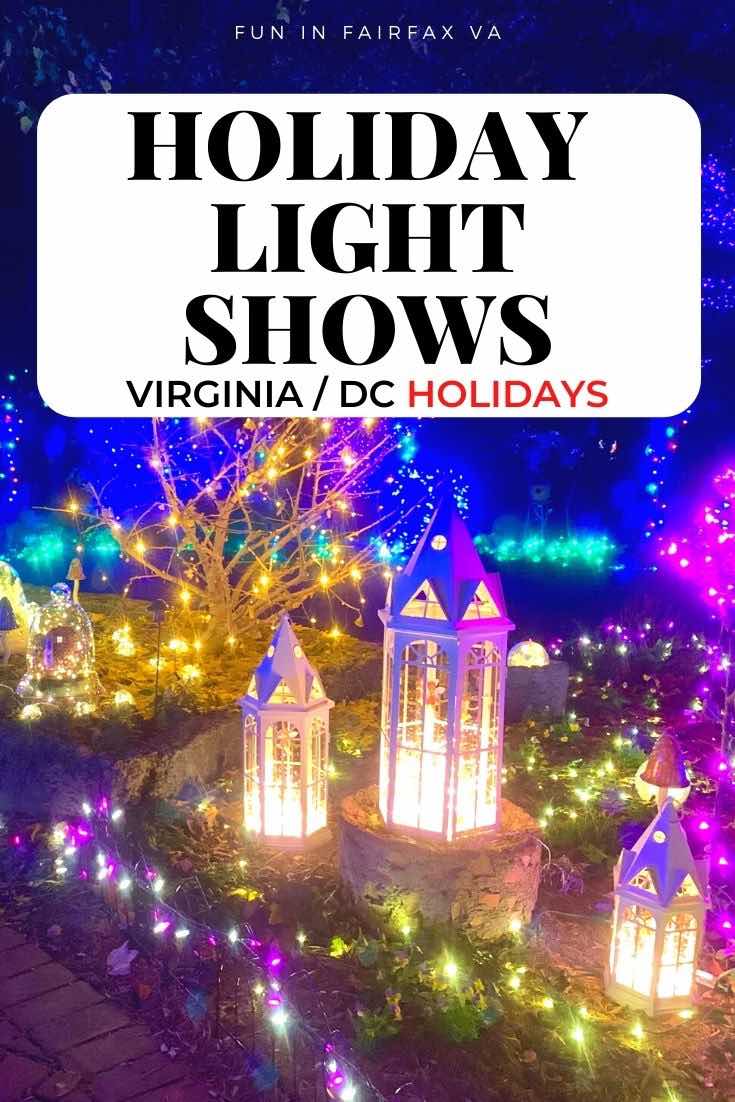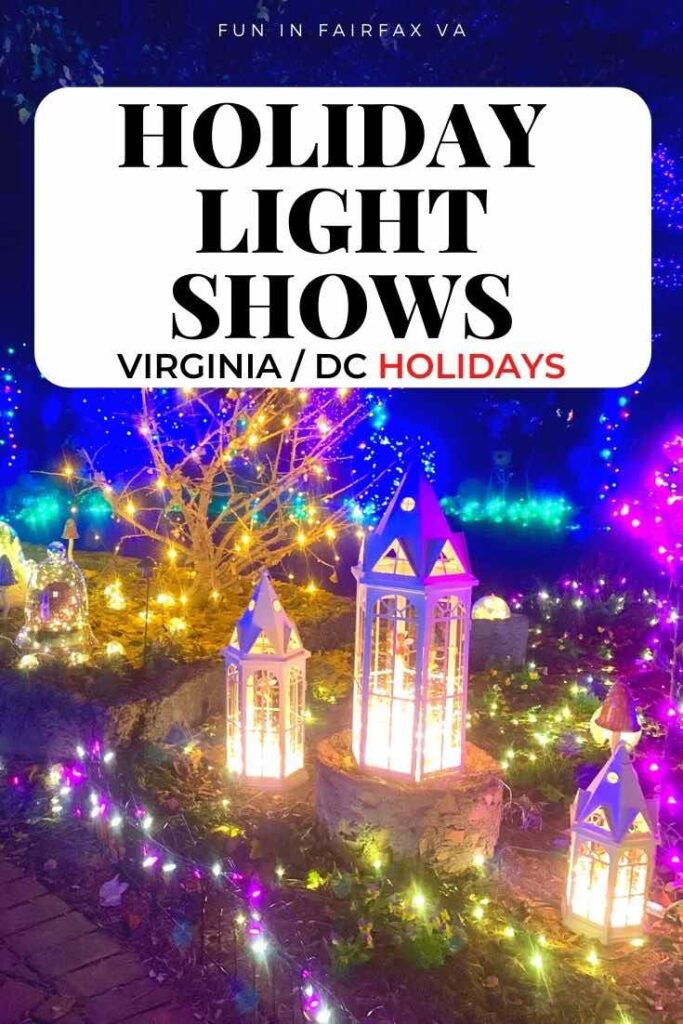 Professional Holiday Lights in and near Northern Virginia
Here are more than 20 professional holiday light displays in the Northern Virginia area including some of our favorite holiday destinations in Virginia, Maryland, and Washington DC. Holiday light events are listed below in order of start date, with links to purchase tickets and plan your visit.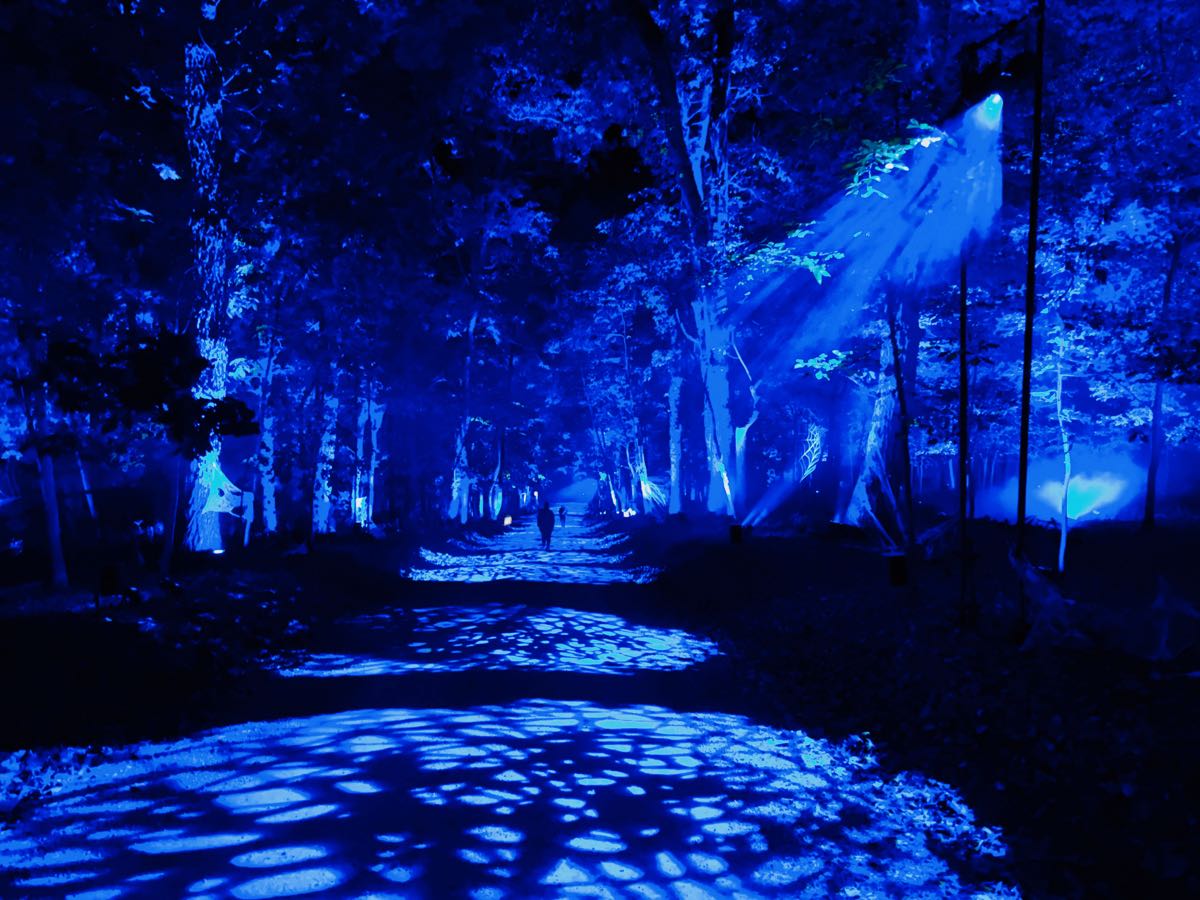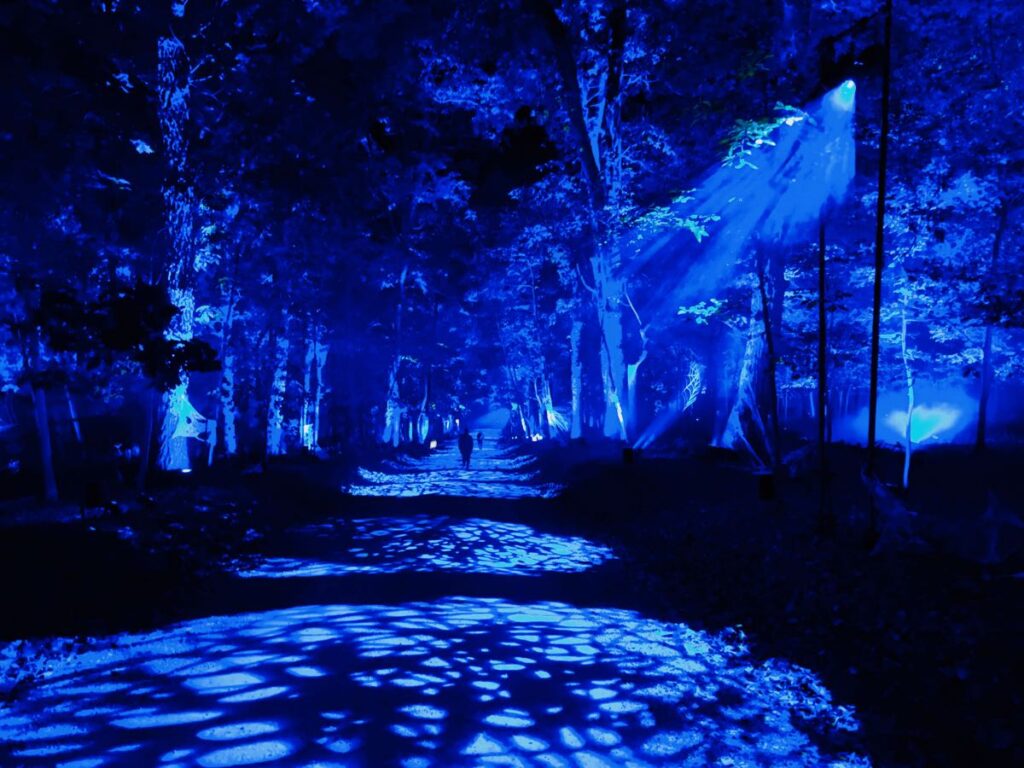 Hogwart's Forbidden Forest is alive with the beasts and sounds of the Harry Potter and Fantastic Beasts movies. Visitors walk through a spectacular 1-mile trail filled with special effects, lights, music, and more. Interactive displays let muggles of every age greet a Hippogriff, cast a Patronus spell, and duel in a wand battle.
Timed entry tickets are $55/$65 for ages 5-15/adult and the event is open nightly, including major holidays.
Find more Great Things to Do on Christmas Day in the DC Area.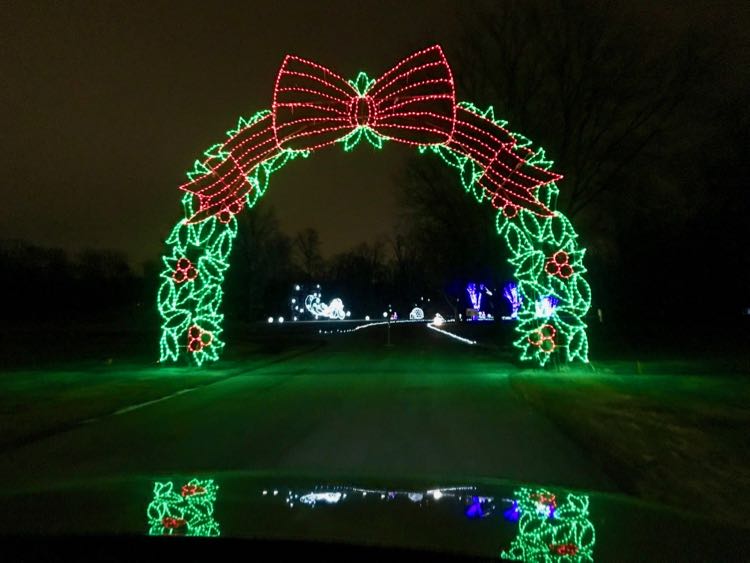 Always a favorite, the Bull Run Festival of Lights dazzles with a 2.5-mile drive-through display of holiday and fairytale vignettes. New displays join old favorites every year. This is a fun way to see Christmas lights as a family, staying warm and cozy as you slowly drive through the animated displays.
Weekdays and early in the season are the least crowded times to visit. The drive ends at a Holiday Village with carnival rides, merchandise, and activities. Admission is $30 online per car, $40 at the door. Follow the link for a $5 weekday discount code. 5:30 – 9:30 weekdays, 5:30 – 10:00 weekends.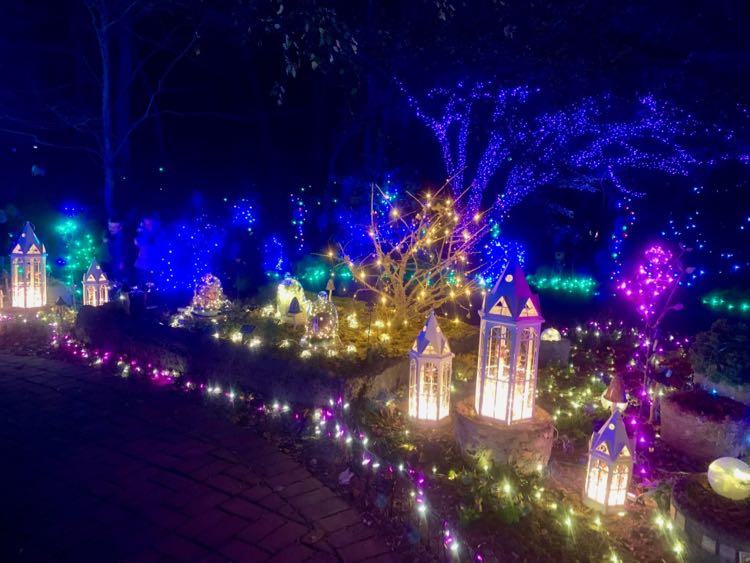 Our favorite walk-through Christmas lights show in Northern Virginia returns to Meadowlark Botanical Gardens every November. During the Winter Walk of Lights, the garden sparkles with over 500,000 lights and displays on a .6 mile outdoor walking trail. Limited tickets are available at the door on non-peak nights.
Pick up a hot chocolate before your walk, then shop at the Snowflake Shoppe for holiday ornaments, flashing jewelry, and other goodies. Timed entry tickets are $16/$20 online/at the door for non-peak weeks (Nov 11 – Dec 8). Tickets are $18 and must be purchased online for peak weeks (Dec 9 – Jan 8). Open nightly, including holidays, 5:30 – 10:00; last admission at 9:15.
Head to Central Virginia to enjoy this beautiful drive-through Christmas light show at Meadow Event Park in Doswell. Relax in your car and see over 1 million sparkly lights, all synchronized to music. Displays include an 80-foot tunnel of lights, 50-foot Christmas trees, dancing snowmen, singing trees, and Santa's festive decorations.
You can purchase tickets, $30 per vehicle, online or at the gate. Since drive-up ticketing is allowed capacity can be overwhelmed with long wait times on busy weekends. Open nightly, 5:30 to 10:00.
1
Stroll through the village and glide across the ice at Ice & Lights, The Winter Village at Cameron Run in Alexandria, Virginia. You'll find sparkling lights and festive photo opps in the Winter Village. Grab a slice of pizza, roast a marshmallow over the fire pits, and enjoy the winter village.
For an extra fee, skate at the waterpark which is transformed into a winter wonderland with a beautifully lit ice rink. The village closes but the ice rink is open weekend days January 7 – February 26. Admission to the Village is $9.19/$10 online/at the door. $22.03 with 1-hour ice skating (online tickets only).
Winter Wander, Charlottesville, Nov 18 – Jan 7
The University of Virginia presents a beautiful walk-through display of holiday lights when Winter Wander opens at the Boars Head Resort in Charlottesville. Stroll a one-half-mile lakeside trail behind the resort where a 35-foot Christmas tree sparkles and lights fill the fields and trees. The trail ends at a market where you can enjoy food and drink and shop for gifts.
Timed-entry tickets are $20/$15 for adults/youth 4-12 most days and $15/$10 on non-peak days. Follow the link for opening days and to purchase tickets.
Garden of Lights, Brookside Gardens, Wheaton, Nov 18 – Jan 1
The Garden of Lights returns in 2022! Brookside Gardens' walk-through display includes more than one million colorful holiday lights shaped into hand-crafted, original art forms of flowers, animals, and other natural elements.
Stroll from garden to garden enjoying twinkling tree forms, fountains, sparkling snowflakes, and more. Visit the garden for unique gifts. Timed-entry tickets must be purchased online and are $10 per person.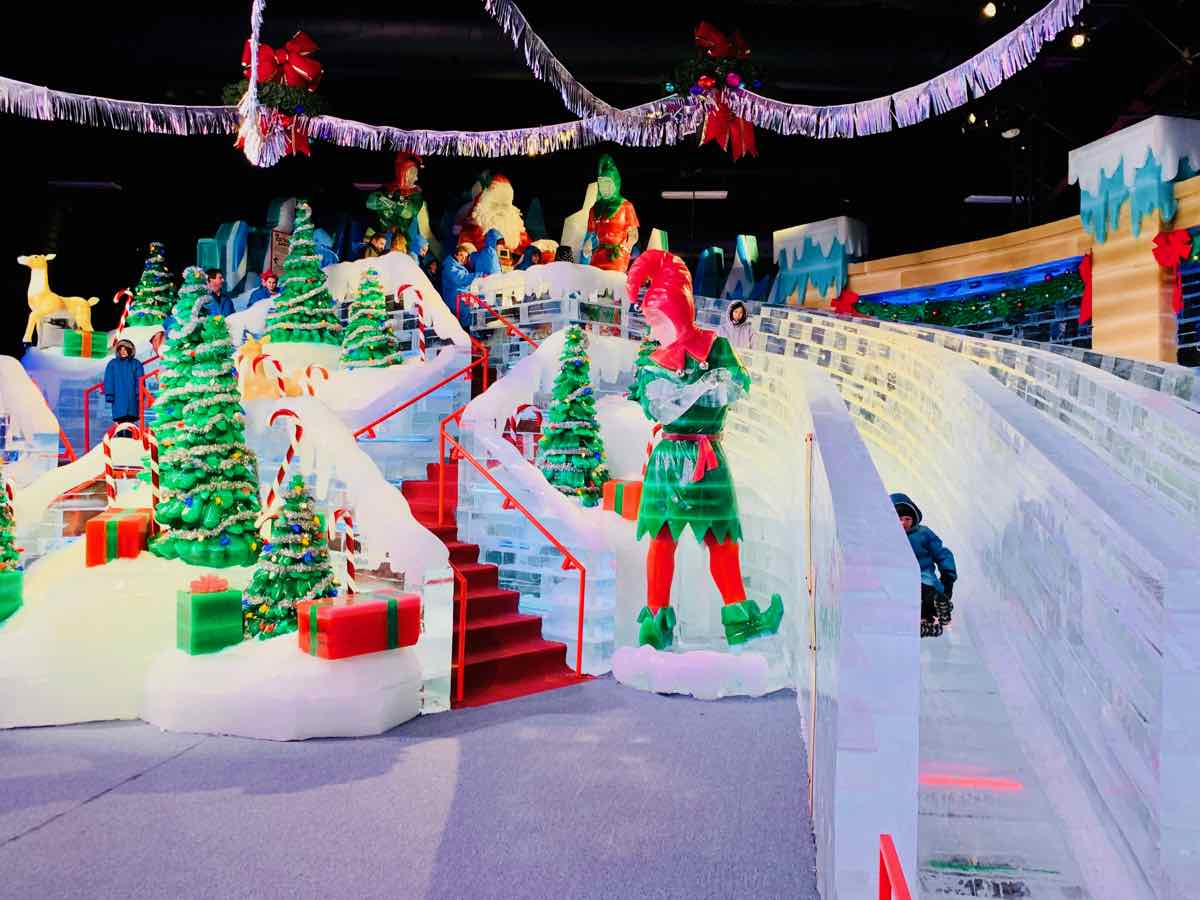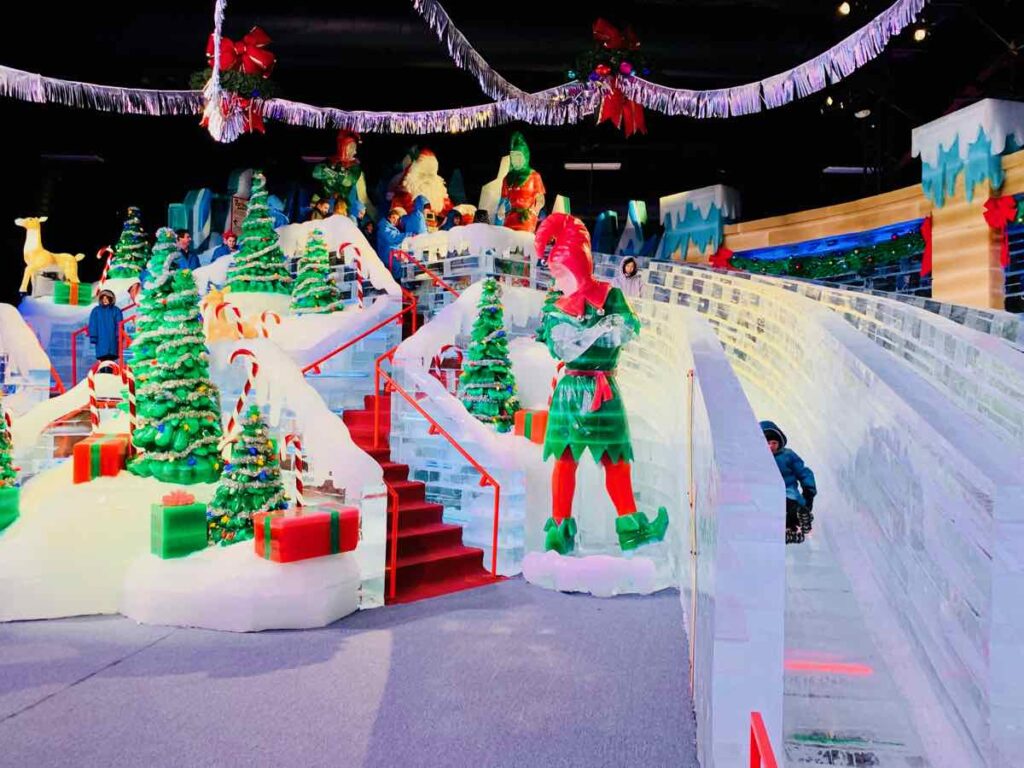 Marvel at more than 2 million twinkling lights, amazing nightly snowfall, and beautiful dancing fountains at Gaylord National's Christmas on the Potomac. ICE! returns with scenes from the beloved movie "A Christmas Story" carved in 2 million pounds of ice sculptures and ice slides.
Guests can also enjoy a cup of hot cocoa, photos with Santa, and more family-friendly activities at National Harbor. Follow the link for ticket prices and more details.
Lights on the Bay, Sandy Point State Park, Nov 20 – Jan 1
The annual Lights on the Bay holiday light show returns to Sandy Point State Park in 2022. Enjoy a two-mile scenic drive along the Chesapeake Bay with animated and stationary displays illuminating the roadway. Popular displays include a colonial village inspired by historic Annapolis and one of the USNA midshipmen tossing their hats in the air.
Purchase 3D glasses ($5) to make the displays come alive. $20/30/50 per car/van/bus; 5:00 – 10:00 nightly.
GardenFest of Lights, Lewis Ginter Botanic Garden, Richmond, Nov 21 – Jan 8
Lewis Ginter Botanic Garden sparkles with one million twinkling lights at the annual GardenFest of Lights display in Richmond Virginia. See hand-crafted botanical decorations, model trains, a warming fire pit with s'mores and hot chocolate, nightly family activities, and plenty of holiday fun.
Tickets must be purchased in advance $17 – $20 for adults, $8 – $12 for youth, depending on date with discounted tickets for members. 5:00 – 10:00 nightly, closed Thanksgiving, Dec 24 + 25.
Seasons Greenings returns in 2022! The National Botanic Garden is one of our favorite holiday events in DC. The holiday festivities include an elaborate model train display; a large display of DC memorials and monuments made from natural materials; and holiday topiaries and plants.
In 2022, the train display moves to the outdoor garden and will feature iconic farms from across the United States. The trains will run from 10:00 to 5:00 daily but may be closed during inclement weather. In addition, the Terrace Gardens and Bartholdi Park will be decorated with festive holiday lights and adornments.
Extend your fun with a weekend getaway near the US Capitol.
Enchant Christmas, Nationals Park, DC, Nov 25 – Jan 1
Nationals Park becomes a winter wonderland with giant light sculptures, the world's largest Christmas lights maze, and a Christmas tree-lined ice skating trail. Enchant Christmas also features a village with artisans, food and drink, live entertainment, and visits with Santa and Mrs. Claus.
General admission tickets to Enchant Christmas start at $35/$23 for adults/children 3 and up with some special and group discounts available. 4:30 – 10:30 weekdays, to 11:30 Friday, Saturday, and Dec 19 – 25.
WinterFest transforms King's Dominion Park into a winter wonderland adorned with millions of holiday lights, Christmas trees, and festive décor displayed throughout the park. Plus, the iconic Eiffel Tower is transformed into a 300-foot-tall Christmas tree.
WinterFest activities included a nightly lighting ceremony, live holiday shows, strolling performers, ice skating, family rides, a special holiday menu, and falling snow. Tickets start at $23.99.
Take a 3.5-mile drive through Seneca Creek Park and pass 450 displays and trees sparkling with beautiful holiday lights. Purchase tickets online for your chosen night; there are no tickets at the gate. Weekend traffic is very heavy for this festival so visit on a weekday if possible.
Tickets are $15/$25 per vehicle for weekday/weekend admission. Larger vehicles (15 – 30 passengers) are $30. 6:00 – 9:00 (last entry) weekdays, 6:00 – 10:00 weekends. Closed Dec 25.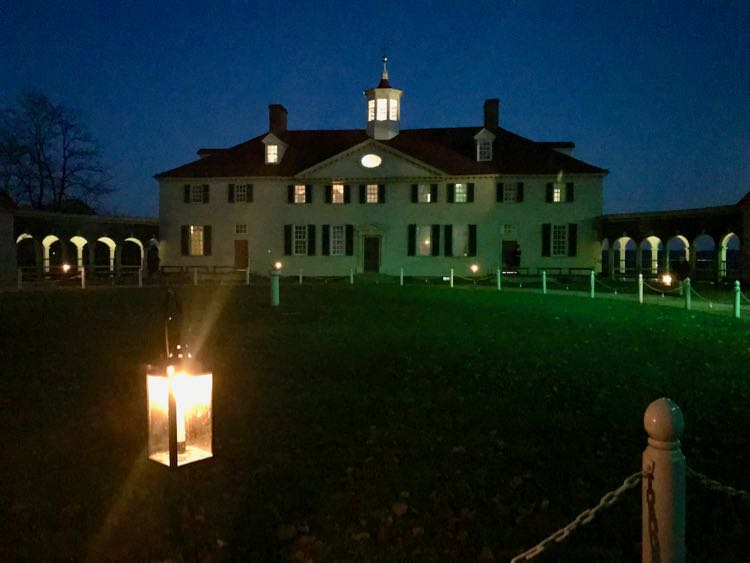 Looking for a place to walk off your feast surrounded by history? George Washington's Mount Vernon is open daily, including Thanksgiving and Christmas. Did you know that George Washington first proclaimed a day of thanksgiving in 1789? This is a great time to tour the grounds and the Mansion.
On candlelight evenings, soft lights and holiday patterns illuminate the grounds, Christmas carolers sing, and you can visit an 18th-century winter encampment. Follow the link for details and to purchase timed-entry tickets.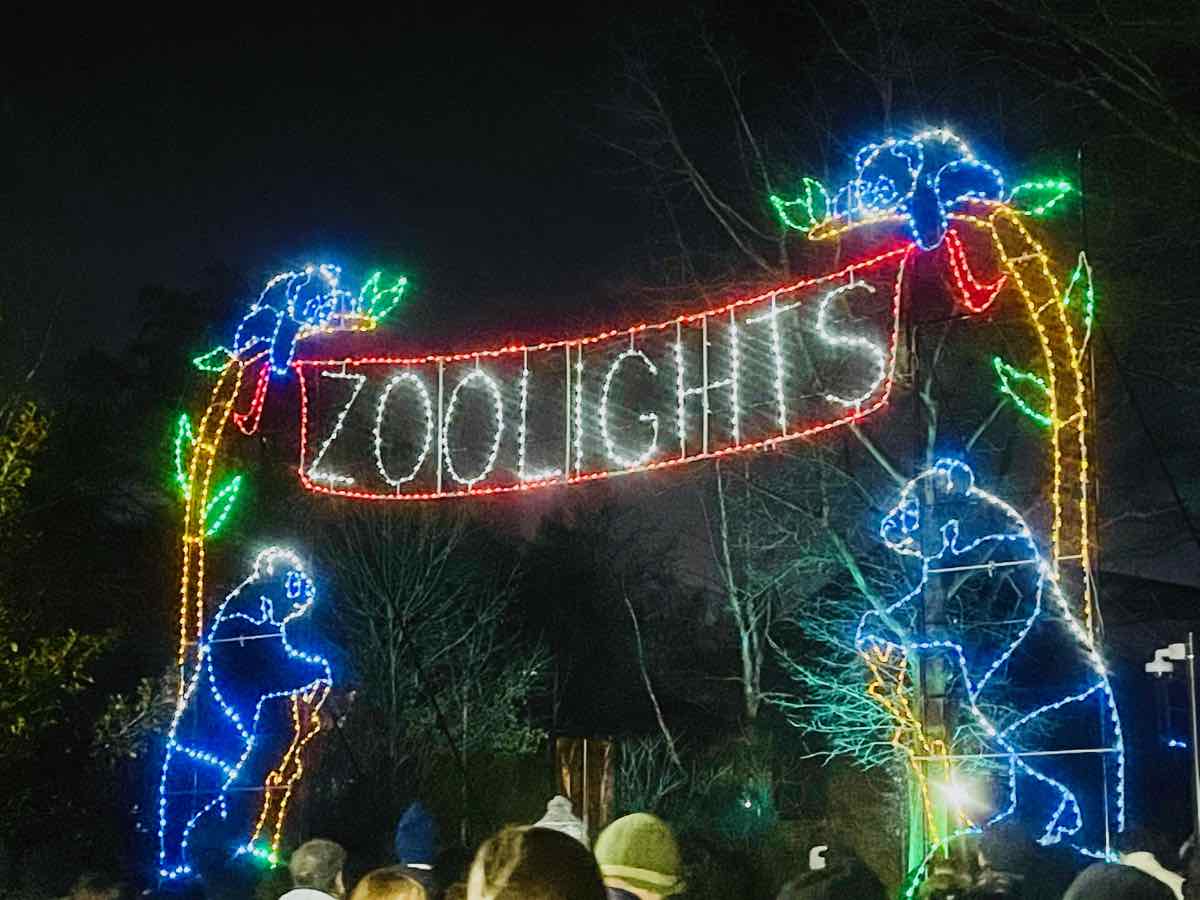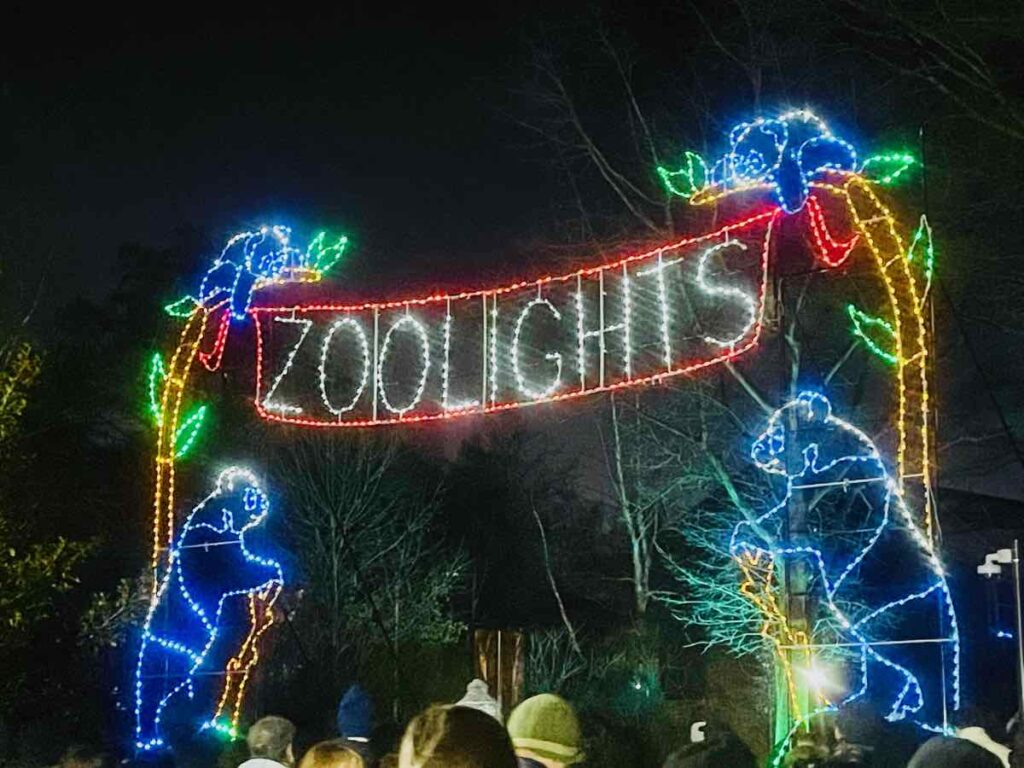 Zoo Lights is back in 2022! Holiday lights, animals at night, tubing runs, and chop-choo fun. More than 500,000 environmentally-friendly LED lights transform the Zoo into a winter wonderland with live music, tasty treats, and plenty of opportunities for holiday shopping.
The National Zoo packs a lot of activities and a little education into its holiday light show. Admission and shuttle buses from Woodley Park metro are free, but parking and some activities have a fee. Open weekends Nov 25 – Dec 11 then daily except Dec 24 + 25. 5:00 – 9:00 nightly.
The Neabsco Creek Boardwalk is transformed for the holiday season with a walk-through display of sparkling lights. The boardwalk also features a unique display of hand-crafted holiday trees that make a great backdrop for family photos. Free, no reservations required. Open Fri – Sun, 5:30 – 9:00, closed Dec 24 and 25.
The DC Temple Festival of Lights returns in 2022! Drive through the Festival of Lights and see over 400,000 illuminating the Temple grounds. Christmas music on FM 101.7 sets the mood for your drive. There are two outdoor life-size nativities on the route. Admission is free and the lights are on from 6:00 to 9:00 nightly.
This beautiful Charlottesville tradition began after the September 11 attacks. In 2022, Lighting of the Lawn will be in person for the UVA and Charlottesville community, and live-streamed free at lightingofthelawn.com for everyone to watch. 7:00 – 9:00.
Enjoy a dazzling wagon ride past festive light displays at Frying Pan Farm Park. Guests also enjoy indoor activities, animal interactions, and more. $10 per person; timed entry begins at 5:30.
Visit the Walk-through Light Show at Hidden Farms and add more sparkle to your holiday fun. Visitors can also shop for soaps, lotions, and more at the farm store. $14 ages 2 and up, 6:00 – 9:00 nightly (closed Christmas Day), no reservations required.
Head to historic Dodona Manor during the holiday season to see 17 lighted and decorated Christmas trees at the annual Marshall Plan Tree Walk in Leesburg. Each tree represents one of the countries helped by the Marshall Plan to recover from World War II. Entry is free and the trees are lit nightly.
The annual Alexandria Boat Parade of Lights is held on the first Saturday of December, at sundown on the day of the annual Scottish Christmas Walk Parade. Alexandria's harbor lights up as dozens of illuminated boats cruise the Potomac River at the historic waterfront. Prizes are awarded in categories like Best in Show, Thinking Outside the Christmas Box, and Hardiest Souls. Free, 5:30.
On the same night, The Wharf joins the tradition with its own boat parade. Arrive early for the tree lighting, decorate gingerbread cookies, make s'mores at the fire pit, and get a photo with Santa. The boat parade begins at 7:00 with finale fireworks at 8:00. Admission is free; follow the link for details on boat registration and cash prizes. 6:00 – 9:00.
Winter Lights Walk, Franklin Park, Purcellville, Dec 9 – Dec 23
Head to The Franklin Park Arts Center and stroll outside among beautifully lighted sculptures created by local artists. Tickets are $3 and the trail takes about 30 minutes to complete. Arrive anytime from 6:00 – 7:30.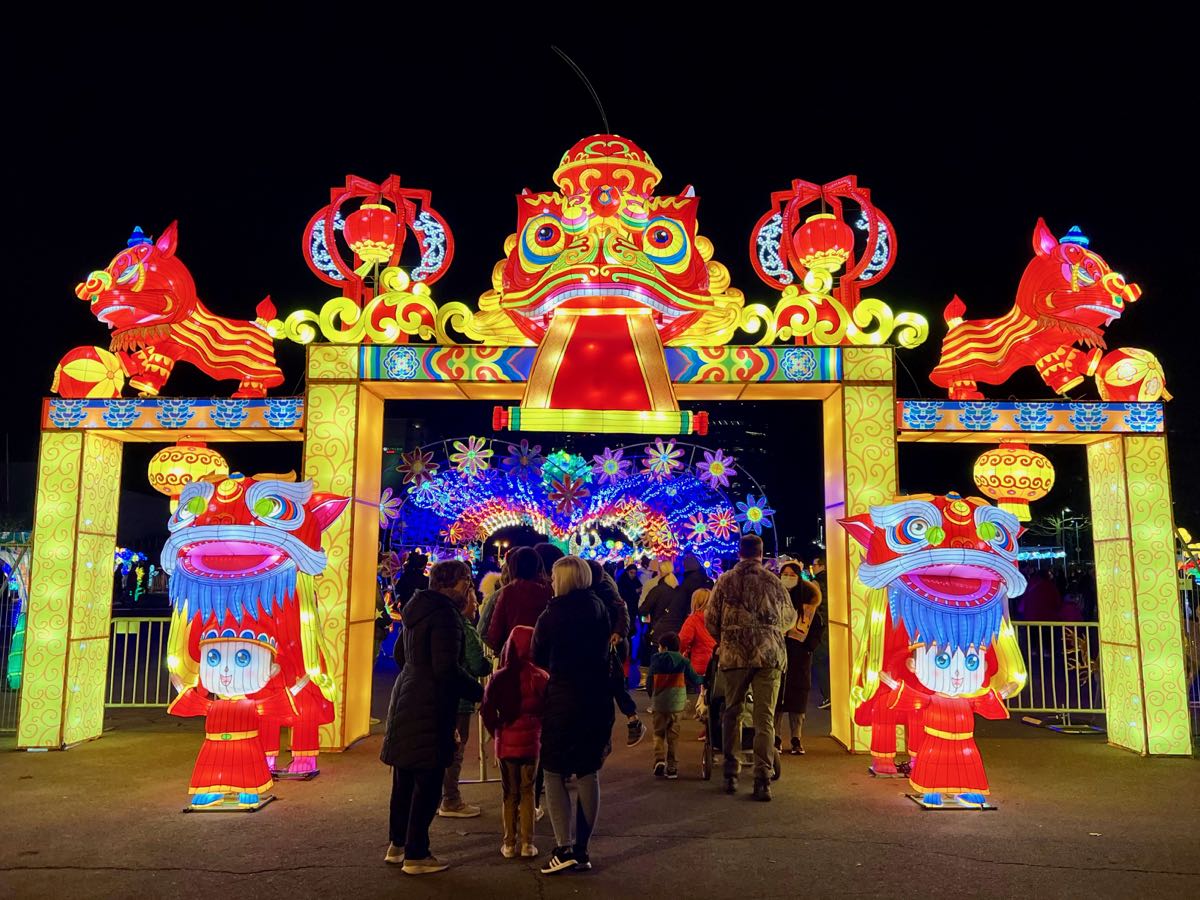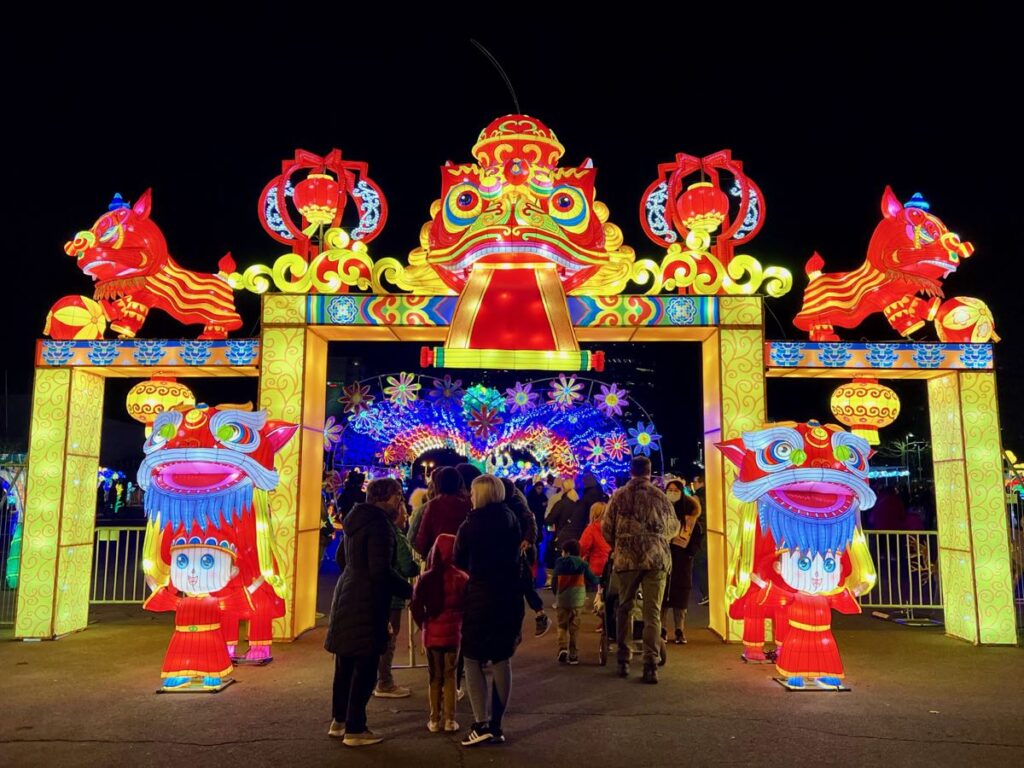 New in 2022, a DC Winter Lantern Festival will light up Lerner Square in Tysons with over 1000 beautiful Chinese lanterns. The walk-through light show offers plenty of great photo opps and fun for the whole family. The festival is open 5:00 – 10:00 pm, Friday through Sunday plus daily during Christmas week. Tickets are $29.99/$17.99 for adult/youth 3 – 12.
Prior years have brought several lantern festivals to Northern VA (including LightUp Fest and Luminocity) and we're happy to see them return. Make it a weekend getaway with a stay at Hyatt Tysons Corner and you can walk to the show.
Holiday Lights at Northern Virginia Towns and Businesses
Most of the big Christmas tree lighting events are on for 2022 and you can see beautiful and festive decorations at the locations listed below. These are fun, free spots for holiday photos whether you visit by day or night.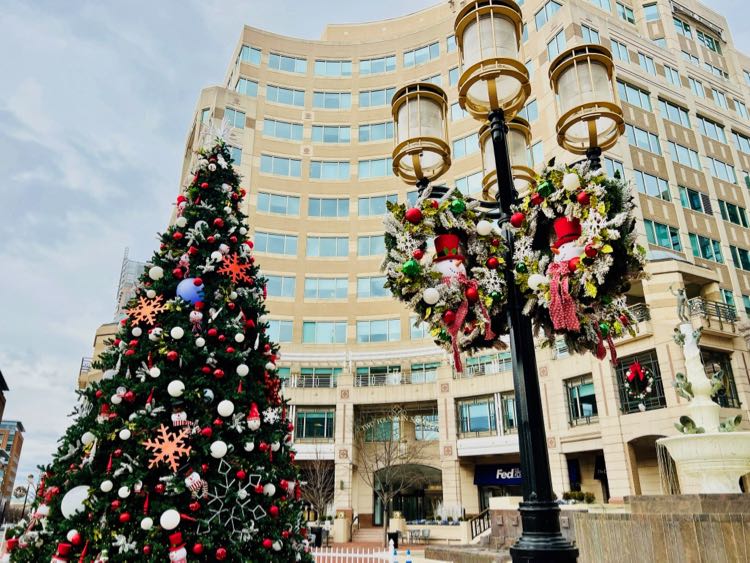 Tysons Corner Christmas Tree, Tyson Corner Center. Head to the Plaza at Tysons Corner Center for the tree lighting (Nov 18, 6:00 – 8:00) and kick off the season. The 51-foot decorated tree is a nice backdrop for holiday photos.
HolidayFest Tree Lighting in Historic Occoquan. Ring in the holiday season when you watch the annual tree lighting in historic Occoquan (Nov 19 at 6:00). Then check out the holiday decorations and special shopping deals. Visit on Dec 3-4 for the Holiday Artisan Market.
Village at Leesburg Christmas Tree: The big rainbow-colored tree is a great backdrop for holiday photos, and the tree lighting event is Nov 19 at 4:00. Santa and Mrs. Claus, strolling carolers, and ice skating add to the fun.
Reston Town Center Holidays: The annual Thanksgiving parade and tree lighting (Nov 25) is one of our favorite holiday events in Northern VA. You can also enjoy the magic of the season on the plaza and ice skating in the pavilion. Pretty decorations perfect for family photos are sprinkled around the center.
Old Town Alexandria: You'll find some of the prettiest holiday decorations in the DC region on the shops and streets of Old Town Alexandria. The annual tree lighting (Nov 25) and the holiday shopping season kick off on Black Friday.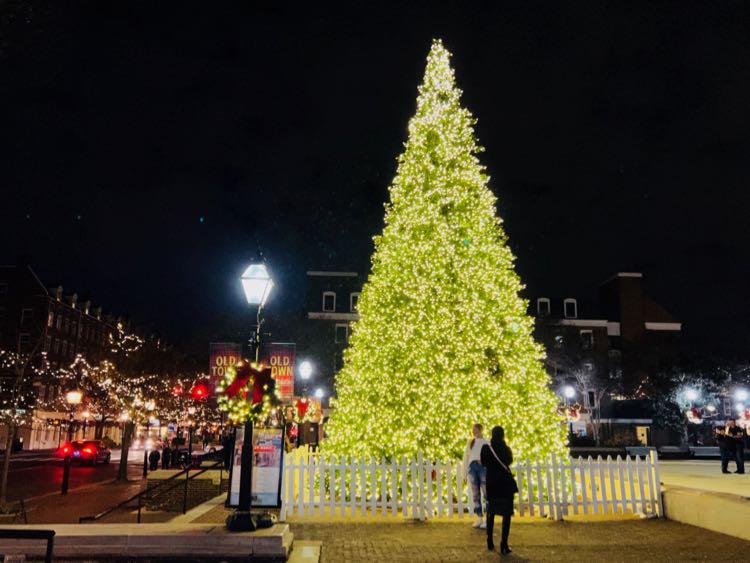 Mosaic District Christmas: We love the quirky holiday decorations at Mosaic District and they're perfect for a unique Christmas photo. Check out cool reindeer, giant stars, and a walk-through tree while you shop for the perfect holiday gift. Don't miss the annual tree lighting and Santa firetruck parade (Nov 25, 4:30 – 8:30).
Fairfax Corner: You'll find a pretty tree perfect for a holiday pic at the Fairfax Corner outdoor mall. The holiday fun kicks off on November 26 and continues with festive events through December 24. Enjoy live performances, a s'mores station (Dec 3), and a Grinchmas Holiday Plaza Party (Dec 16).
U.S. Capital Christmas Tree: In December, visit the lawn of the U.S. Capitol Building to see the huge Capital Christmas tree. The 2022 "People's Tree" comes from North Carolina and is decorated with handmade ornaments. The tree is lit from dusk to 11:00 PM nightly and makes a great photo with the U.S. Capitol building in the background.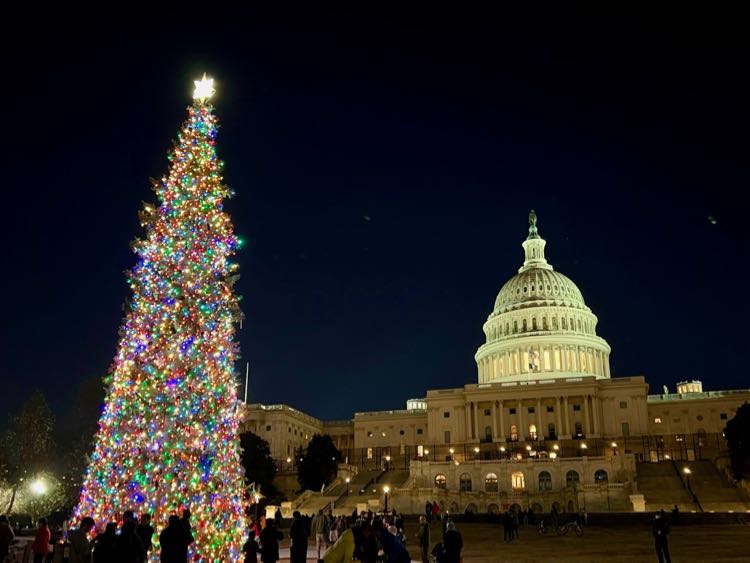 Leesburg Holiday Tree Lighting (Dec 2, 6:00). Gather at the Leesburg Town Green for the annual tree lighting with music, holiday characters, and festive fun. Leesburg is one of the prettiest Christmas towns in Virginia to visit during the holiday season.
Santa Lights Manassas (Dec 2, 5:15). Also on the first Friday of December, Santa arrives by VRE train to preside over the annual Manassas Tree Lighting. Free wagon rides and ice skating at the pavilion add to the fun.
Old Town Fairfax Festival of Lights and Carols (Dec 3, noon – 6:00). Enjoy holiday music and carols and the lighting of the Christmas tree at Old Town Square. Find the perfect gift at the holiday market, the first 2 weekends of December.
The Wharf DC, Watch the annual boat parade on (December 3) and get a photo with the 45-foot Christmas tree on District Pier.
One Loudoun Holiday Tree Lighting: Head to One Loudoun for the 10th annual Holiday Tree Lighting celebration (Dec 3, 4:00). Enjoy live entertainment, Santa photos, ice sculpture carving, and more.
Del Ray Holiday Season: Visit Alexandria's Del Ray neighborhood for the annual tree lighting, Menorah lighting, and Christmas carols (Dec 3, 6:00). This neighborhood is always a fun place to shop for unique gifts and enjoy seasonal decor including festive, hand painted store windows.
Great Falls Celebration of Lights (Dec 4, 3:00 – 6:00). Head to the Town Green for the annual tree lighting. Enjoy a petting zoo, live music, hot chocolate, and the arrival of Santa and Mrs. Claus.
Like many of our favorite small towns in Northern Virginia, Great Falls homes and businesses sparkle in December. Take a scenic drive on Georgetown Pike to check out all of the fun displays.
Business and Neighborhood Holiday Lights in Northern VA
A holiday lights drive is one of our favorite December activities, and we're always on the lookout for new and favorite light displays. Below we've listed some of our favorite holiday lights displays at businesses and private homes in Northern Virginia.
Bluemont Vineyard
Bluemont Vineyard illuminates over 10,000 vines at special Light up the Vines events (Nov 25, 5:00 – 7:00). The lights are illuminated throughout the holiday season so reserve your visit and enjoy holiday lights as you sip Virginia wine. Plan a day trip with our guide to fun things to do in Bluemont Virginia.
Lawyers Road, Vienna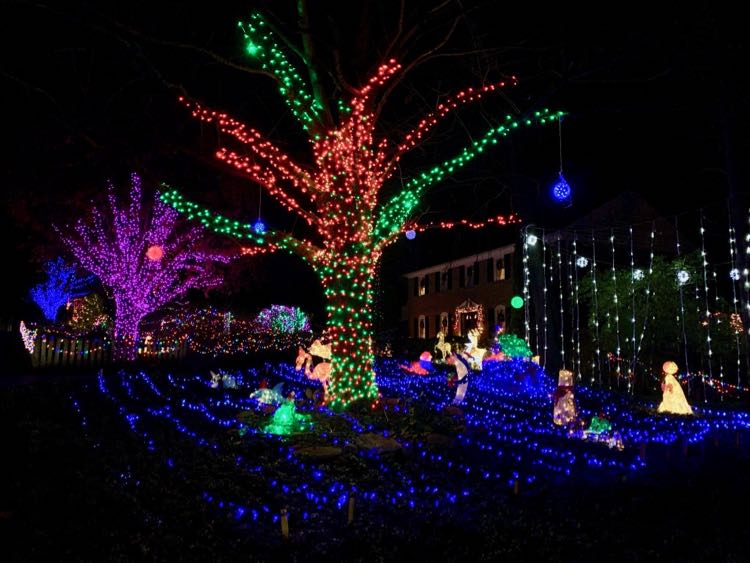 The Christmas lights at 10203 Lawyers Road in Vienna are a fun and beautiful site to see. Park across the street on Galloping Way and very carefully cross Lawyers to see this display. There is a sidewalk in front of the house that lets you easily see the full display (never enter private yards).
Different sections of these holiday lights feature an ocean scene with dolphins and fish, cute polar bears, woodland creatures, and more. Love the eagle carrying a present hanging from one of the trees!
Here's a closer look at this fun holiday lights display:
A bit further south on Lawyers, watch for a large property set back from the road decorated with yellow lights (10033 Lawyers). This one is easiest seen from the car.
Cottage Street Southwest, Vienna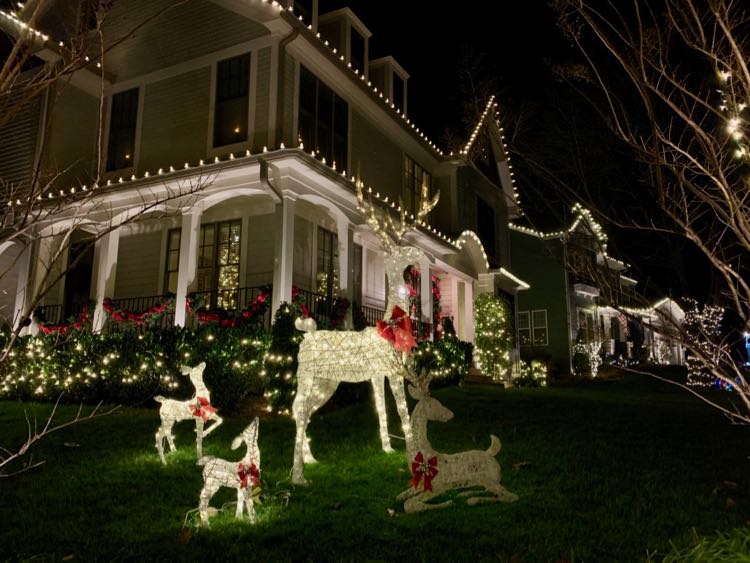 If you prefer to view Christmas lights from the car we highly recommend a drive on Cottage Street Southwest in Vienna. There are enough houses decorated on this and intersecting streets to dazzle your group. We especially love the large, yellow-lit homes at 801 and 802 Cottage Street.
Joyce Road, Alexandria
If you love holiday inflatables this is the house for you! The front yard at 6412 Joyce Road in Alexandria is absolutely packed with inflated holiday characters. To add to the fun, many of the displays move and shining lights on the house make a nice backdrop (check out the video here).
Take a drive around the neighborhood to see more nice Christmas displays, then head to King Street to see Old Town Alexandria decked out for the holidays.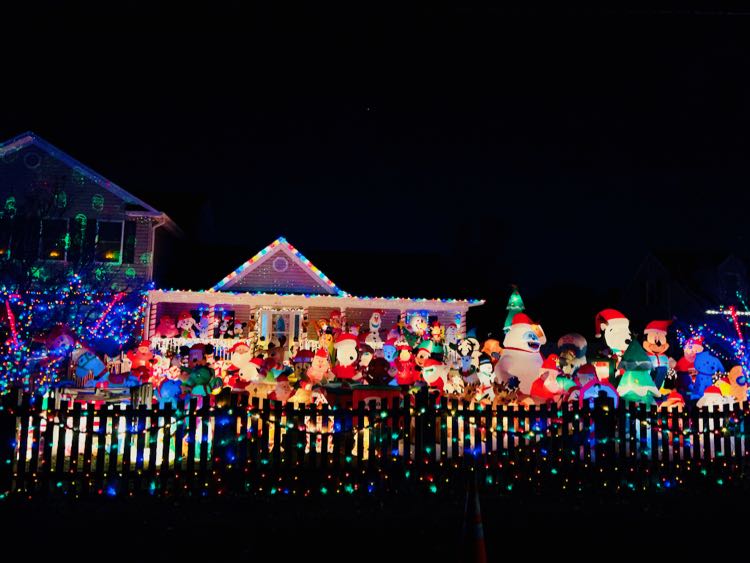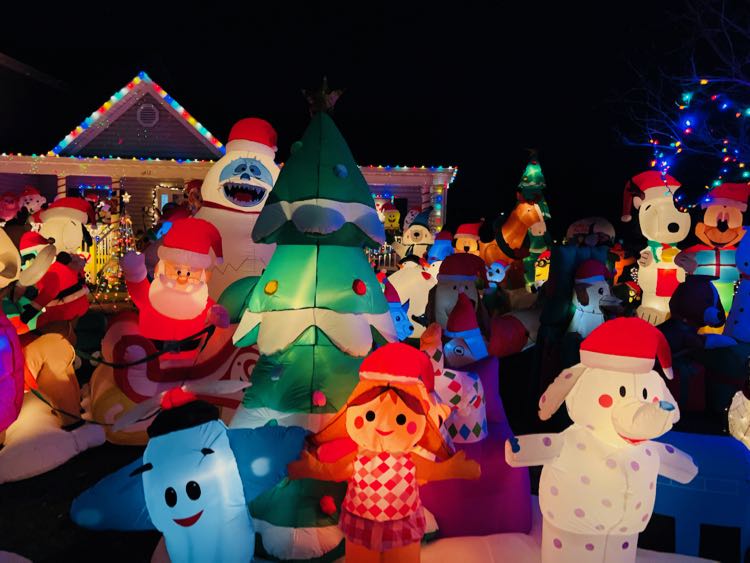 Marshall Pond Road, Burke
This little cul-de-sac in Burke really gets into the Christmas spirit. Seven houses are decorated for the season, creating their own Christmas Village. Park at the top and walk through the pipestem to enjoy all of the displays. Santa may make an appearance during the holiday season. Get the latest updates on their Facebook page.
Multiple Locations, Herndon
Here are some of the sparkly Herndon houses that we like to check out:
11904 Paradise Lane has a yard full of fun vignettes including an inflated jack-in-the-box and a pond with jumping fish.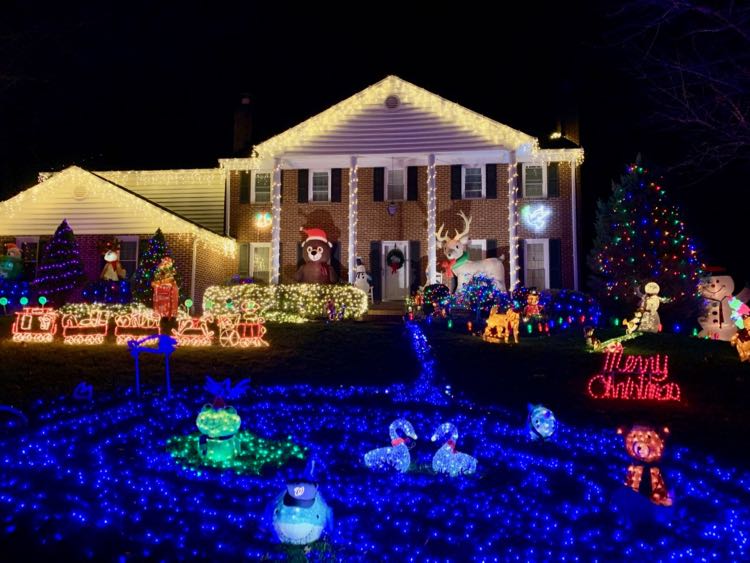 Nearby Lake James Street includes two houses with lots of wrapped, colorful trees. Drive to the end of the cul-de-sac to see more decorated houses.
Enter the Fox Mill neighborhood on Viking Road and you'll see lots of nice light displays like the one below.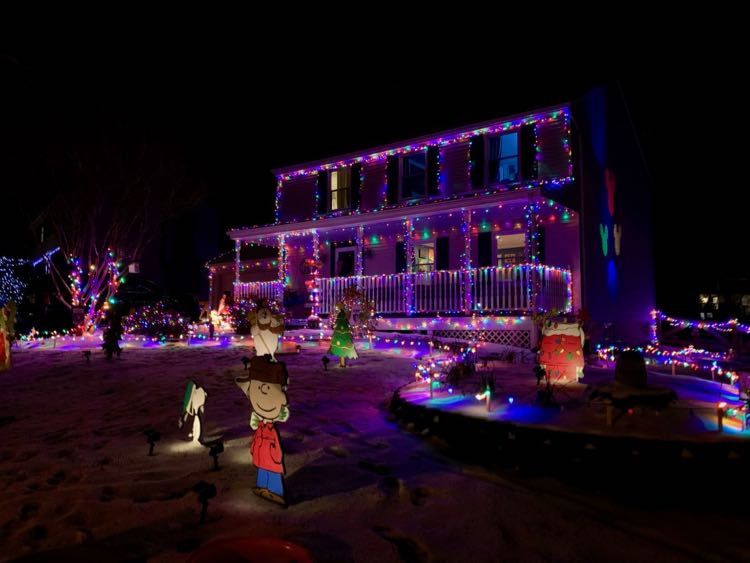 Make your way to 12708 Kettering Drive to enjoy a house with several lit holiday boxes. The boxes include a dancing snowman, a running model train, and a dancing Santa (press the button to start the show).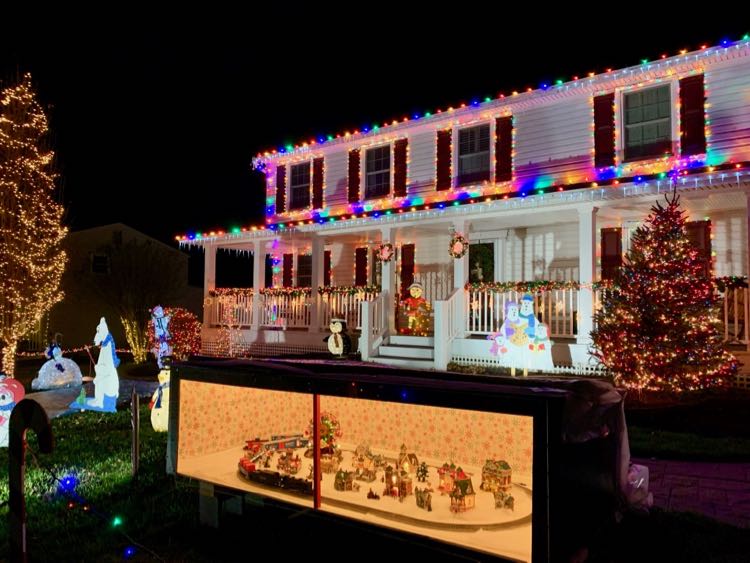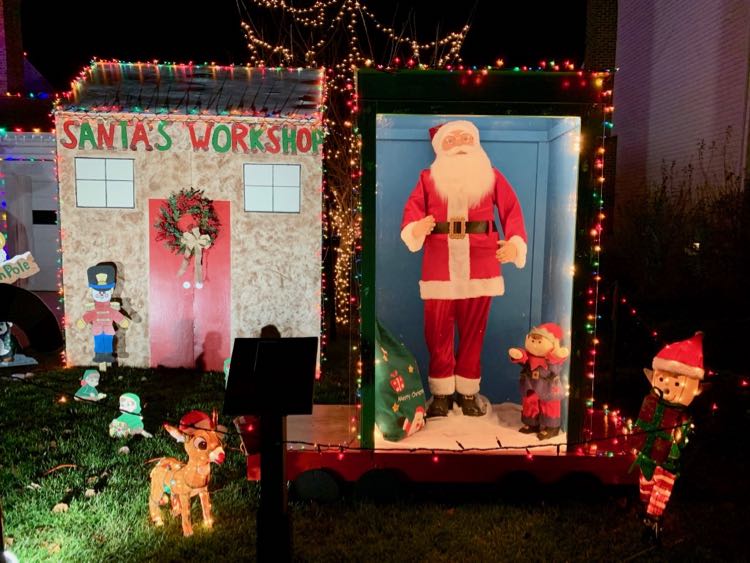 Millwood Square, Sterling
One of our readers alerted us to this fantastic, over-the-top townhouse in Potomac Falls (aka Sterling). Our photo of 21244 Millwood Square below is from 2016, and it was even more packed with holiday fun in 2020.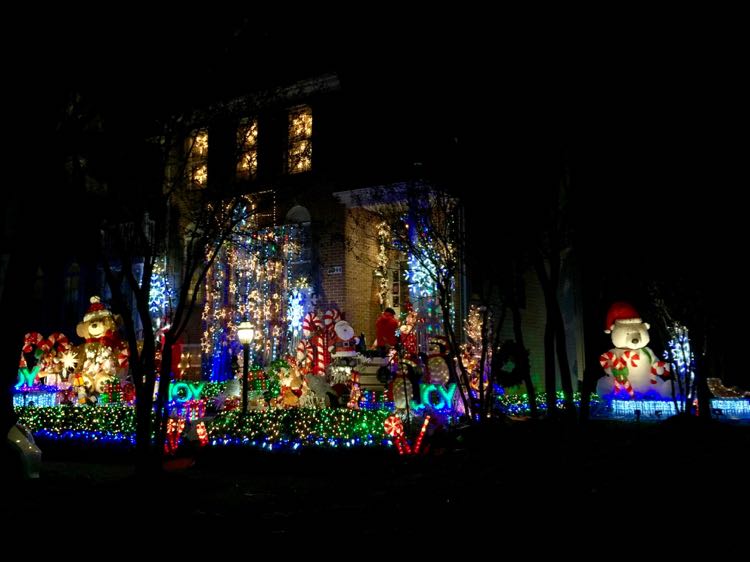 East Juniper Street, Sterling
Nicknamed Candy Cane Lane, we've been visiting East Juniper Street in Sterling since our children were small. There are usually several houses decked out with kitschy, traditional, or modern holiday decor. Lately, there are fewer decorated houses and they are more spread out through the neighborhood.
The Holly's Tacky Christmas Lights website updates yearly and is an excellent resource for finding holiday lights in Northern Virginia.
We love the holidays and we love to drive around looking at lights, tacky or not. It's wonderful to see many Washington DC area holiday light shows back in 2022. Happy holidays to you!
If you like holiday lights, you'll find more fun in these guides:
Follow us on Facebook, Twitter, Pinterest, and Instagram for more fun travel in and from Northern Virginia.