Tis the season to overdecorate with sparkly holiday lights. Luckily, the Northern Virginia and Washington DC region offer dazzling professional holiday light displays, plus several neighborhood extravaganzas to maximize your holiday spirit. The Griswolds got nothing on us!
Bookmark this guide to professional and neighborhood holiday lights in the DC area, and check back for new additions.
Professional Holiday Lights in and near Northern Virginia
Professional holiday light displays in the Northern Virginia area are some of our favorite holiday destinations. Holiday light events are listed below in order of start date, with links to purchase tickets and plan your visit.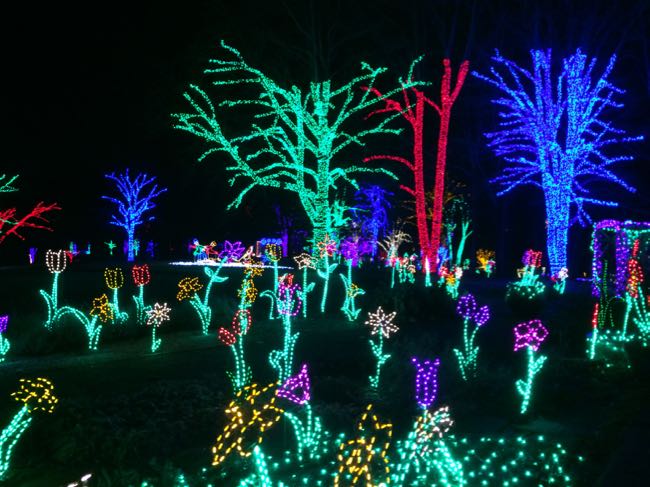 Every year Meadowlark Botanical Gardens lights up for the holidays with over 500,000 lights and displays on a .6 mile outdoor walking trail. Purchase timed entry tickets in advance to ensure you get parking and avoid lines. Some tickets are available at the door on non-peak nights. Pick up a hot chocolate before your walk, then shop at the Snowflake Shoppe for holiday ornaments, flashing jewelry and other goodies. Tickets $8 – $17 depending on age and time. Open nightly, including holidays, 5:30 – 10:00; last admission at 9:30.
New in 2019! Glide across the ice at Ice & Lights, The Winter Village at Cameron Run in Alexandria, Virginia. The waterpark will be transformed mid-November through February into a winter wonderland with an ice rink, beautifully lit photo ops, music and more. Grab a slice of pizza,  roast a marshmallow over the fire pits, and enjoy the winter village.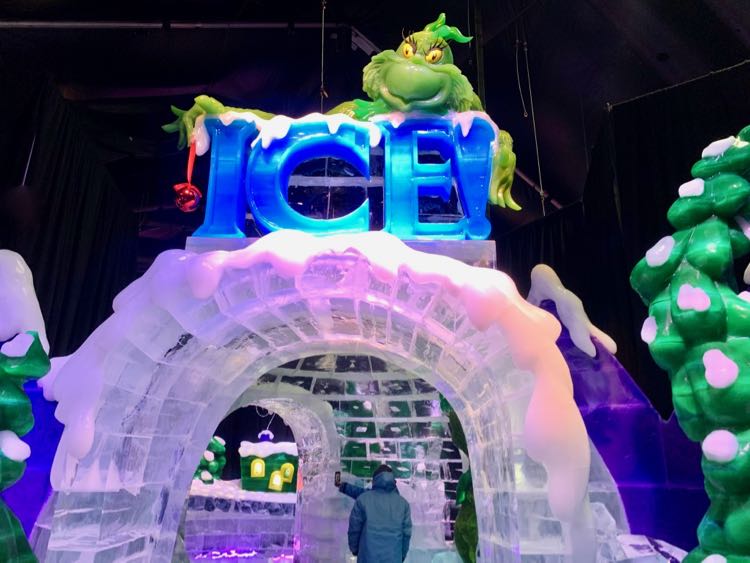 Marvel at more than 2 million twinkling lights, amazing nightly snowfall, and beautiful dancing fountains at Gaylord National's Christmas on the Potomac. ICE! returns is 2019. Walk through the Grinch-themed ICE tent filled with 2 million pounds of colorful ice sculptures and 4 ice slides. A 25-minute Cirque Dreams Unwrapped show returns to the atrium. New in 2019, go ice skating in the outdoor tent at Winter Village, and whiz down a two-story indoor tubing hill. You can also enjoy a cup of hot cocoa and more family-friendly activities. Follow the link for ticket prices and hours, and read our full review of ICE! 2019 for more photos and details. Thrill the family, and extend your visit with a National Harbor weekend getaway.
A perennial favorite, the Bull Run Festival of Lights dazzles with a 2.5 mile drive-through display of holiday and fairytale vignettes. New displays join old favorites every year. This is a fun way to see lights as a family staying warm and cozy as you slowly drive through the animated displays. Weekdays and early season are the least crowded times to visit. In December, the drive ends at a Holiday Village with rides, merchandise and activities. Weekday/weekend admission is $20/$25 per car. 5:30 – 9:30 weekdays, 5:30 – 10:00 weekends.
Garden of Lights, Brookside Gardens, Wheaton, Nov 22 – Dec 31
Brookside Gardens walk-through display includes more than one million colorful holiday lights shaped into hand-crafted, original art forms of flowers, animals and other natural elements. Stroll from garden to garden enjoying twinkling tree forms, fountains, sparkling snowflakes, and more. After you visit the garden, stop in the Conservatory to see the seasonal model train display. Warm up in the Visitors Center with hot cocoa and nightly musical performances. $25 per car Sunday to Thursday, 5:30-9:30. $30 and open to 10:00 on Friday and Saturday.
GardenFest of Lights, Lewis Ginter Botanic Garden, Richmond, Nov 22 – Jan 6
Lewis Ginter Botanic Garden sparkles with one million twinkling lights at the annual Gardenfest of Lights display in Richmond Virginia. See hand-crafted botanical decorations, model trains, a warming fire pit with s'mores and hot chocolate, nightly family activities, and plenty of holiday fun. $13/11/8 for adults/seniors/children. 5:00 – 10:00 nightly.
Extend your holiday fun with a Weekend Getaway to Richmond Virginia.
Enchant Christmas, Nationals Park, DC, Nov 22 – Dec 29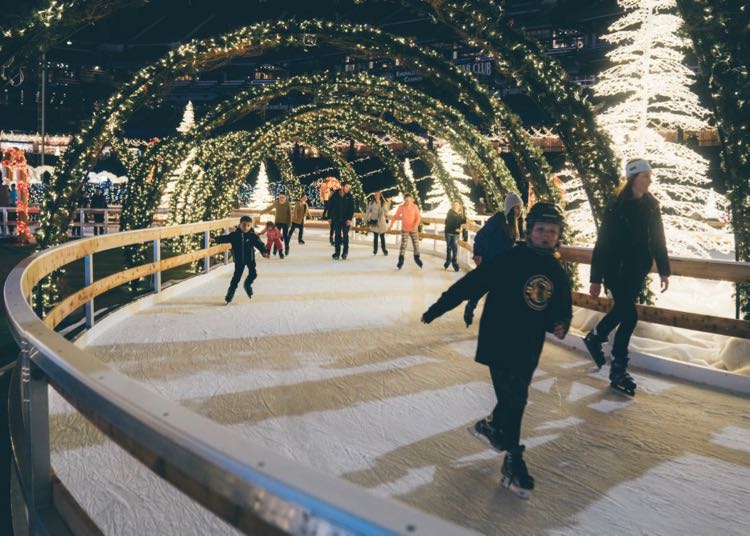 New in 2019! Nationals Park is transformed into a winter wonderland complete with the world's largest Christmas light maze and market. Join The Great Search, where giant light sculptures take guests on a journey to find Santa's missing reindeer. Glide along the ice skating trail surrounded by lights as snow gently falls. Explore a Christmas Market with over 60 local and international artisans plus seasonal food and drink. Relax to live entertainment and seasonal films. And bring the kids to meet Santa and Mrs. Claus and play in the Kid Zone. General admission tickets start at $14.99/$16.99/$19.99 for child 4 – 13/youth and seniors/adults with special and group discounts available. 4:30 – 10:30 weekdays, to 11:30 weekends and Dec 13 – 30.
WinterFest at King's Dominion, Doswell, Nov 23 – Jan 1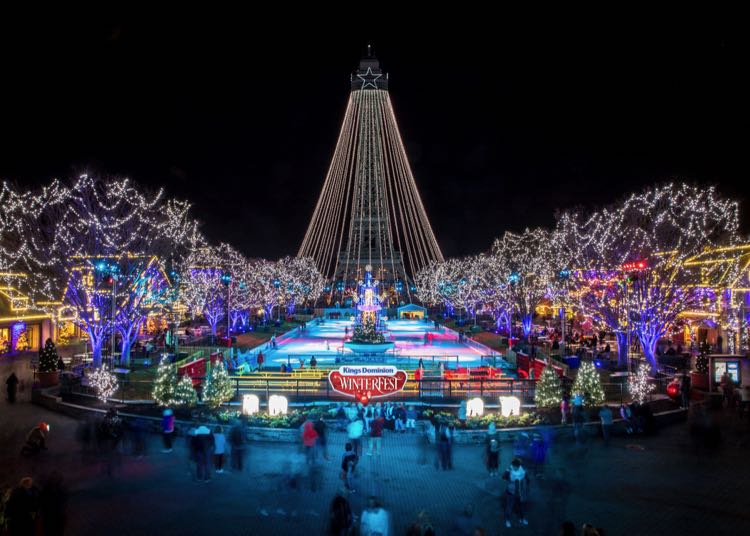 WinterFest transforms the park into a winter wonderland adorned with millions of holiday lights, multitudes of Christmas trees and festive décor displayed throughout the park. Plus, the iconic Eiffel Tower will be transformed into a 300-foot tall Christmas tree. WinterFest activities include a nightly lighting ceremony, live holiday shows and strolling performers, ice skating, family rides, a special holiday menu and falling snow. The park is open on select evenings and ticket prices vary; follow the link for details.
Lights on the Bay, Sandy Point State Park, Nov 24 – Jan 1
Sandy Point State Park hosts the annual Lights on the Bay. Enjoy a two-mile scenic drive along the Chesapeake Bay with animated and stationary displays illuminating the roadway. Popular displays include a colonial village inspired by historic Annapolis and one of the USNA midshipmen tossing their hats in the air. Purchase 3D glasses to make the displays come alive. $20/30/50 per car/van/bus; 5:00 – 10:00 nightly.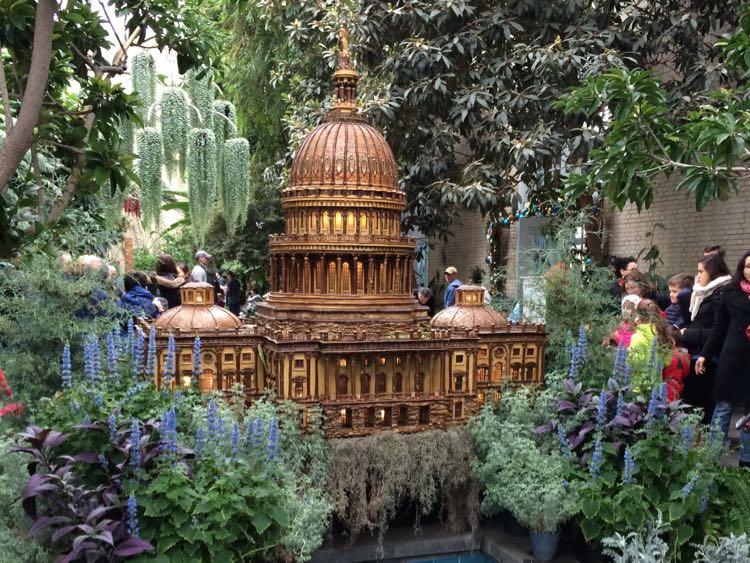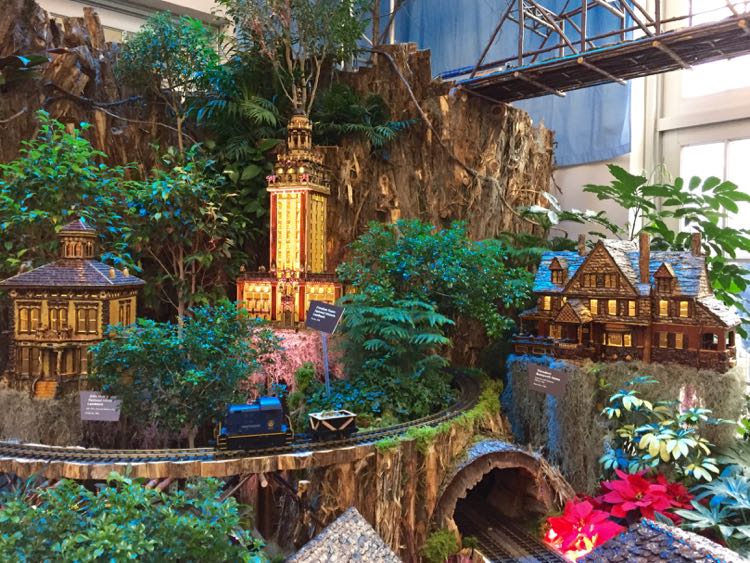 The Botanical Garden is one of our favorite holiday stops in DC and should not be missed. The holiday fun includes an elaborate model train display; a large display of DC memorials and monuments made from natural materials; and holiday topiaries and plants. The theme in the model train display changes every year. In 2019, the theme is "America's Gardens.," featuring iconic gardens from across the United States.
Entry to the garden and all of the displays are free. Open daily 10:00 – 5:00 with evening hours Tuesdays and Thursdays in December. The US Botanic Garden is open every day, including Christmas.
Visit the US Botanic Garden, National Christmas tree, Capitol Tree, and other DC holiday fun on a day trip. Or extend the fun with a weekend getaway/staycation near the US Capitol.
Holiday lights, animals at night, tubing runs, and chop-choo fun. More than 500,000 environmentally-friendly LED lights transform the Zoo into a winter wonderland. A free event, ZooLights includes live musical performances, tasty winter treats, and plenty of opportunities for holiday shopping. The National Zoo packs a lot of activities and a little education into it's holiday light show. Admission and shuttle buses from Woodley Park metro are free, but parking and some activities have a fee. Open daily except Dec 24, 25, and 31. 5:00 – 9:00 nightly.
NOTE: The Washington DC Temple is undergoing a major renovation, which may impact the Festival of Lights in 2019.
650,000 lights illuminate the Temple grounds while nightly musical performances are offered inside the Visitors Center (pick up a free ticket 90 minutes prior to performance). Visitors can also view a live nativity display, creches from around the world, and internationally themed Christmas Trees. Admission and parking are free. Open until 10:00 nightly.
This beautiful Charlottesville tradition began after the September 11 attacks, Lighting of the Lawn is a gathering to celebrate friendship and community. Can't make it to Cville? You can watch the event, which includes performances by acapella groups, via livestream. 7:00 – 9:00
When the sun goes down the lights go on. Burke Lake's train station magically transforms into the Celebration Station the first two weekends in December. The park's train station, carousel, and train tracks are festively lit for a unique experience filled with holiday lights. Train rides are scheduled every 20 minutes and $10 tickets must be purchased in advance. 5:30 – 9:30
The Lake Fairfax Park campground is transformed into a magical winter light show for family fun. Participants enjoy a wagon ride through festive holiday lights and sip hot chocolate with s'mores. Register in advance for rides every 20 minutes from 5:00 – 8:40. $10 per rider.
The 6th annual Georgetown Glow is a free exhibition of lighted public art installations. 11 curated lighted art pieces are spread among the historic buildings and shops of Georgetown, offering a unique holiday night out. Free.
The 20th annual Alexandria Boat Parade of Lights is held on the first Saturday of December, at sundown on the day of the annual Scottish Christmas Walk Parade. Alexandria's harbor lights up as dozens of illuminated boats cruise the Potomac River at the historic waterfront. The boats are always dressed to impress a panel of judges who will award prizes in a dozen categories including Best in Show, Thinking Outside the Christmas Box, and Hardiest Souls. Free, 5:30.
District's Holiday Boat Parade of Lights, The Wharf, Dec 7
On the same night, The Wharf joins the tradition with it's own boat parade. Arrive early for the tree lighting, decorate gingerbread cookies, make s'mores at the fire pit, and get a photo with Santa. The boat parade begins at 7:00 with finale fireworks at 8:00. Admission is free; follow the link for details on boat registration and cash prizes. 6:00 – 9:00.
Head to Mosaic District's Strawberry Park to celebrate Chanukah with the annual Menorah lighting. Join JCC of Northern Virginia to light the candles, sing songs, enjoy entertainment, feast on sufganiyot (donuts), spin the dreidel, and more. Free; 4:30 – 6:00.
Annual Christmas Tree Lightings at Northern Virginia Towns and Businesses
Fairfax Corner Tree Lighting, Fairfax, Nov 15. Enjoy live entertainment and giveaways, take a horse and carriage ride, and meet Santa and Mrs. Claus. 6:00 – 9:00.
Tree Lighting Ceremony, Tyson Corner Center, Nov 15. Head to the Plaza at Tysons Corner Center to kick off the season with the annual lighting of the 51-foot decorated tree. 6:00 – 9:00.
Annual Tree Lighting, Historic Occoquan, Nov 22. Ring in the holiday season with holiday decorations and special activities. At 8:05, attend a special ceremony to light the tree located on the Town Hall lawn.
7th Annual Tree Lighting Festival
, Village at Leesburg, Nov 23. Santa arrives by horse-drawn carriage to light the 5-story Spectacular Musical Tree. Festivities include horse-drawn carriage rides, caroling, and holiday characters. 3:00 – 6:00.
Holidays Are Here, Reston Town Center, Nov 29.  Enjoy the Thanksgiving parade, photos with Santa, mini-train rides, and live entertainment throughout the afternoon. Gather for the Christmas tree lighting and sing-along at 6:00.
Black Friday Alexandria Tree Lighting, Alexandria, Nov 29. Alexandria's alternative Black Friday experience kicks off the holiday shopping season. Gather in Market Square for a visit by Santa and lighting of the official city tree from 6:00 to 8:00.
Christmas Tree Lighting, Mosaic District, Fairfax, Dec 6. Celebrate the holidays with the Christmas Tree Lighting at Mosaic District. The seasonal celebration includes an outdoor screening of Dr. Seuss' How The Grinch Stole Christmas and the arrival of Santa Claus. Free; 5:00 – 7:30 pm.
Celebration of Lights, Great Falls, Dec 1. Celebrate the season with special performances, a seasonal sing-a-long, and family fun. Mr. and Mrs. Claus arrive by antique fire truck to light the tree at 5:00.
U.S. Capital Christmas Tree Lighting, Washington DC, Dec 4. The public is invited to the lawn of the U.S. Capitol Building for the lighting of the tree at 4:00.
Merry Old Town: Christmas Tree Lighting, Manassas, Dec 6. Enjoy family fun in Old Town with holiday music, Santa's arrival at the Manassas Depot on the VRE train, and the annual Christmas Tree Lighting. 5:00 – 9:00.
Festival of Lights and Carols, Fairfax, Dec 7. Enjoy s'mores, hot cider, caroling, and the lighting of the Christmas Tree at Old Town Square at 5:30.
Holiday Tree Lighting, One Loudoun, Dec 7. Celebrate the 7th annual Holiday Tree Lighting at One Loudoun with community performances, Santa photos, horse drawn carriage rides, ice rink, kids crafts, Elves and characters, ice sculpture carving, and more. 5:00 – 7:00.
Del Ray Holiday Season Kickoff, Alexandria, Dec 8. Live entertainment, a holiday sing-along, a visit with Santa, and thousands of luminaria add extra sparkle to the annual Menorah and Christmas tree lighting in Alexandria's Del Ray neighborhood. 6:00.
Town of Dumfries Parade and Tree Lighting, Dec 14, 11:00 – 4:00. Join the Town of Dumfries for their Annual Christmas Parade and Tree Lighting. A variety of family-friendly activities will be held throughout the day.
Business and Neighborhood Holiday Lights in Northern VA
A holiday lights drive is one of our favorite December activities, and we're always on the lookout for new and favorite light displays.. The Holly's Tacky Christmas Lights web site updates yearly and is an excellent resource for finding holiday lights in the NoVA area.
Bluemont Vineyard
New in 2019! Bluemont Vineyard will illuminate over 10,000 vines at a special Light up the Vines Launch Party on November 22. The lights will be illuminated throughout the holiday season. Since the Tasting Room at Bluemont is open daily until 7:00, we'll all have lots of opportunity to enjoy holiday lights as we  sip Virginia wine.
East Juniper Street, Sterling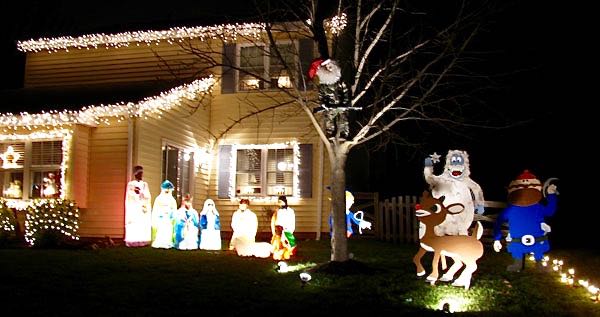 Nicknamed Candy Cane Lane, we've been visiting East Juniper Street in Sterling since our children were small. Participating houses and decorations vary year to year, but there are usually several houses decked out with kitschy, traditional or modern holiday decor. In some years, a house offers the chance to visit with Santa or enjoy a cup of hot chocolate. Parking can be tight when crowds are heavy, so use extreme caution when driving on or near Juniper Street around Christmas.
In recent years, there were fewer houses decorated and they were more spread out through the neighborhood. The display in the photo above was still there along with several others, including one house with lights synced to music.
Millwood Square, Sterling
One of our fabulous readers tipped us off about a great Christmas lights display at the corner of Algonkian Parkway and Millwood Square in Sterling. Check out the number of lights this owner fit into his townhouse yard!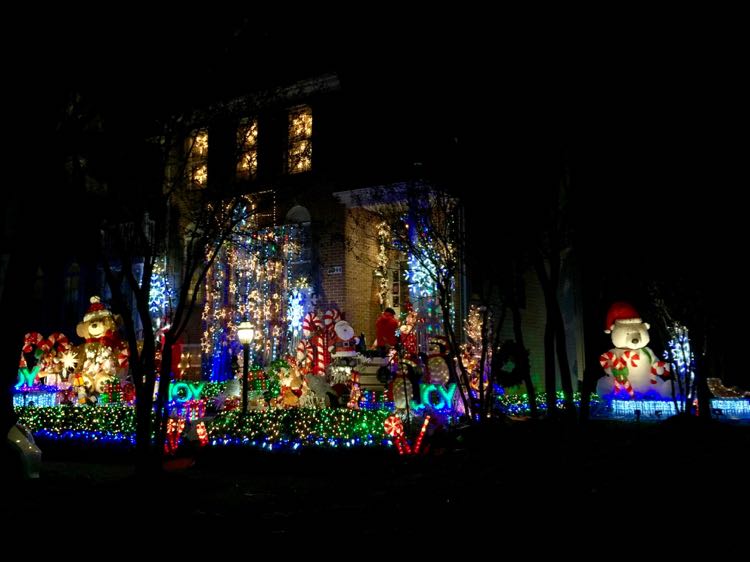 Stones Throw Drive, Reston
Sadly, the holiday decorations at Stones Throw Drive did not return after the house was sold in 2018. We sure miss this beautiful holiday lights display.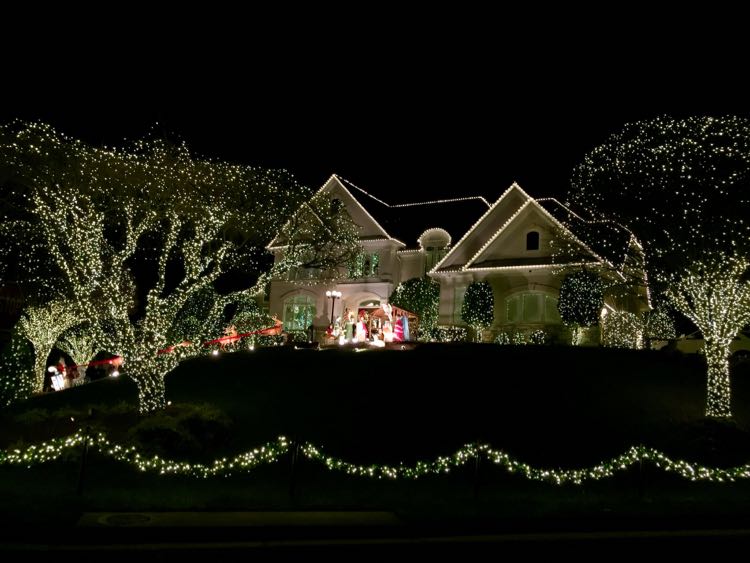 We love the holidays and we love to drive around looking at lights, tacky or not. What did we miss? What's your favorite holiday display in the Northern Virginia, Maryland and Washington DC area?
If you like holiday lights, you'll find more fun in these guides:
Follow Fun in Fairfax VA on Facebook, Twitter, Pinterest, and Instagram for more fun places to visit and things to do in Northern Virginia and surrounding areas.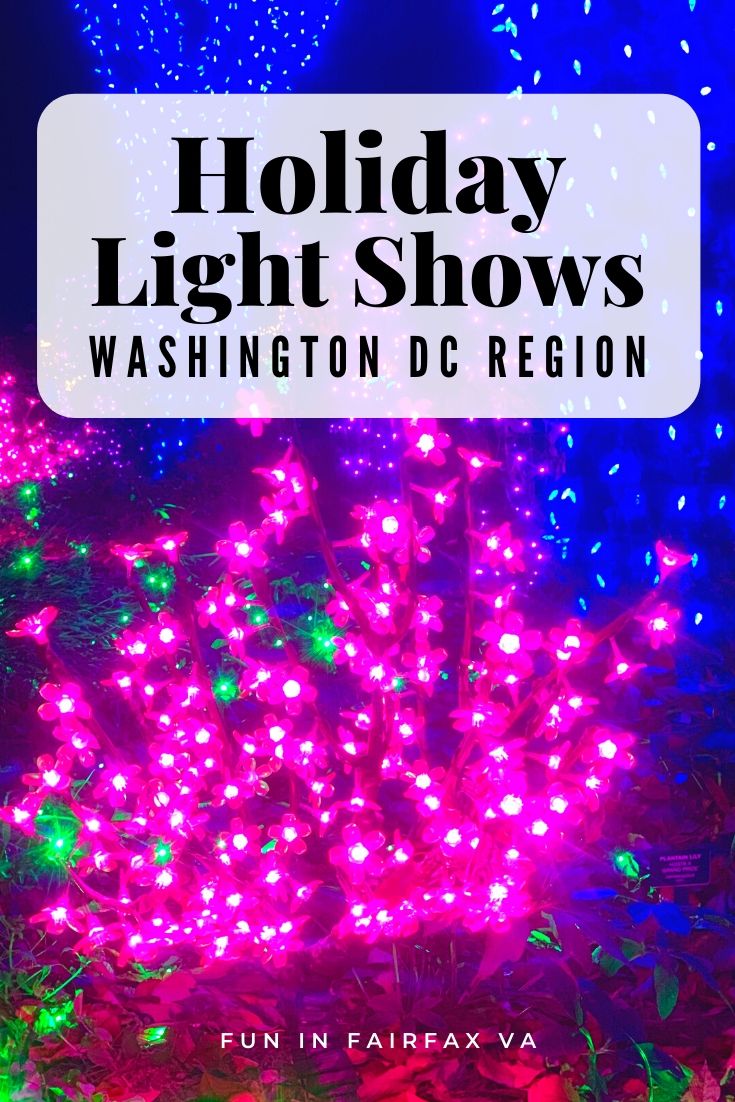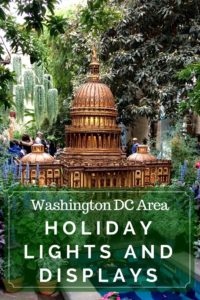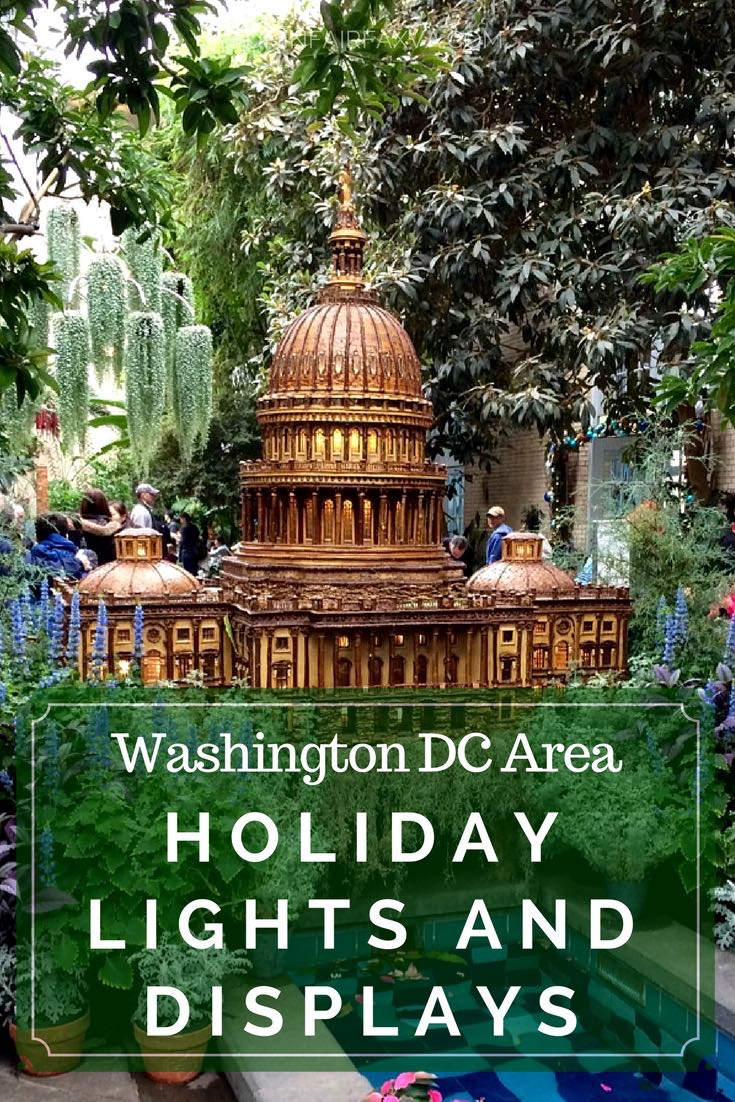 This article was published in 2018 and updated in 2019.