Holiday Lights in the Northern Virginia and Washington DC Area
Tis the season to overdecorate with sparkly holiday lights. Luckily, the Northern Virginia and Washington DC region offers dazzling professional holiday light displays, plus several neighborhood extravaganzas to maximize your holiday spirit. The Griswolds got nothing on us!
Professional and Neighborhood Holiday Lights in Northern Virginia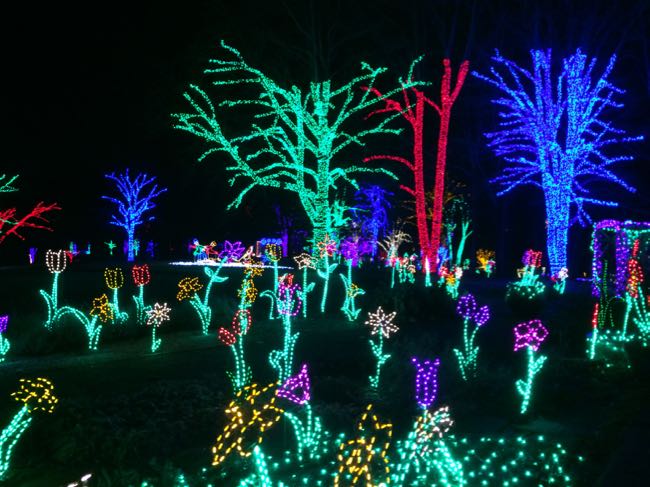 Meadowlark Botanical Gardens lights up for the holidays with over 500,000 lights and displays on a .6 mile outdoor walking trail. Purchase timed entry tickets in advance to ensure you get parking and avoid lines, though some tickets are available at the door. Enjoy a stroll through the lights, then sip on hot chocolate or cider and purchase a s'mores kit to toast at the bonfire. Be sure to stop by the Snowflake Shoppe for flashing jewelry and other holiday goodies. Tickets $8 – $16 depending on age and time. Open nightly, including holidays, 5:30 – 10:00; last admission at 9:30.
A perennial favorite, the Bull Run Festival of Lights dazzles with a 2.5 mile drive-through display of holiday and fairytale vignettes. New displays join old favorites every year. This is a fun way to see lights as a family staying warm and cozy as you slowly drive through the animated displays. Weekdays and early season are the least crowded times to visit. In December, the drive ends at a Holiday Village with rides, merchandise and activities. Weekday/weekend admission is $20/$25 per car. 5:30 – 9:30 weekdays, 5:30 – 10:00 weekends.
New in 2017, visitors can take a hayride or walk to view this nighttime adventure and enjoy some hot chocolate with marshmallows and s'mores around a bonfire. Drinks, snacks, and s'mores kits will be available and sold at The Farm Market. Proceeds fund preservation and development of the Botanic Gardens. Follow the link for ticket prices and schedule.
Stones Throw Drive, Reston
We make multiple visits through this neighborhood every year to admire the over 200,000 white holiday lights covering every tree and decorating the house on the corner of Stones Throw Drive. In recent years, the homeowner has leveraged the popularity of his display to raise funds for St. Jude's Children's Hospital. Several other houses in the neighborhood join in the fun and hot chocolate is sometimes available up the street, also raising funds for a good cause.
Here's a look at the house in 2016:
East Juniper Street, Sterling
Nicknamed Candy Cane Lane, we've been visiting East Juniper Street in Sterling since our children were small. Participating houses and decorations vary year to year, but there are usually several houses decked out with kitschy, traditional or modern holiday decor. In some years, a house offers the chance to visit with Santa or enjoy a cup of hot chocolate. Parking can be tight when crowds are heavy, so use extreme caution when driving on or near Juniper Street around Christmas.
In 2016, there were fewer houses decorated and they were more spread out through the neighborhood. The display in the photo above was still there along with several others, including one house with lights synced to music.
Millwood Square, Sterling
One of our fabulous readers tipped us off about a 2016 display at the corner of Algonkian Parkway and Millwood Square in Sterling. Check out the number of lights this owner fit into his townhouse yard!
Find other Griswoldian splendor, including several displays set to music, on the Holly's Tacky Christmas Lights web site. The site updates yearly so it's a great resource for planning a holiday lights drive.
Washington DC and Nearby Noteworthy Holiday Lights
Marvel at more than 2 million twinkling holiday lights, amazing nightly snowfall, and beautiful dancing fountains at Gaylord National's Christmas on the Potomac. ICE! returns in 2017 with a new theme celebrating the holiday classic, Rudolph the Red Nosed Reindeer. Don a big blue parka and walk through 2 million pounds of ice sculptures, stopping to enjoy 4 ice slides. Once you leave the frozen tent, you can stop in the holiday shoppe, enjoy a cup of hot chocolate, and join in several children's activities. Follow the link for ticket prices and hours, and consider turning your visit into a National Harbor weekend getaway.
Lights on the Bay, Sandy Point State Park, Nov 18 – Jan 1
Sandy Point State Park hosts the annual Lights on the Bay, featuring a two-mile scenic drive along the Chesapeake Bay with animated and stationary displays illuminating the roadway. Popular displays include a colonial village inspired by historic Annapolis and one of the USNA midshipmen tossing their hats in the air. Purchase 3D glasses to make the displays come alive. $15/30/45 per car/van/bus; 5:00 – 10:00 nightly.
The Botanical Garden is one of our favorite holiday stops in DC, great for a daytime visit. There's an elaborate model train display. In the atrium, visit a large display of DC memorials and monuments made from natural materials. Visit the National Christmas tree, the Capitol Tree, and other DC holiday fun on a day trip or overnight near the US Capitol.
Holiday lights, animals at night, tubing runs, and chop-choo fun. More than 500,000 environmentally-friendly LED lights transform the Zoo into a winter wonderland. A free event, ZooLights includes live musical performances, tasty winter treats, and plenty of opportunities for holiday shopping. New in 2017, a glow-in-the-dark playground for kids. The National Zoo packs a lot of activities and a little education into it's holiday light show. Admission and shuttle buses from Woodley Park metro are free, but parking and some activities have a fee. 5:00 – 9:00 nightly.
Garden of Lights, Brookside Gardens, Wheaton, Nov 25 – Jan 1
Brookside Gardens walk-through display includes more than one million colorful holiday lights shaped into hand-crafted, original art forms of flowers, animals and other natural elements. Stroll from garden to garden enjoying twinkling tree forms, fountains, sparkling snowflakes, and more. After you visit the garden, stop in the Conservatory to see the seasonal model train display. Warm up in the Visitors Center with hot cocoa and nightly musical performances. $25 per car Sunday to Thursday, 5:30-9:30. $30 and open to 10:00 on Friday and Saturday.
650,000 lights illuminate the Temple grounds while nightly musical performances are offered inside the Visitors Center (pick up a free ticket 90 minutes prior to performance). Visitors can also view a live nativity display, creches from around the world, and internationally themed Christmas Trees. Admission and parking are free. Open until 10:00 nightly.
On the first Saturday of December, at sundown on the day of the annual Scottish Christmas Walk Parade, Alexandria's harbor lights up as dozens of illuminated boats cruise the Potomac River at the historic waterfront. The boats are always dressed to impress a panel of judges who will award prizes in a dozen categories including Best in Show, Thinking Outside the Christmas Box, and Hardiest Souls. Free, 5:30.
On the same night, The Wharf will join the tradition with it's own boat parade. Arrive early for the tree lighting, decorate gingerbread cookies, make s'mores at the fire pit, and get a photo with Santa. The boat parade begins at 7:00 with finale fireworks at 8:00. Admission is free; follow the link for details on boat registeration and cash prizes.
We love the holidays and we love to drive around looking at lights, tacky or not. What did we miss? What's your favorite holiday display in the Northern Virginia, Maryland and Washington DC area?
If you like holiday lights, you might also like:
Follow Fun in Fairfax VA on Facebook, Twitter, Pinterest, and Instagram for more fun places to visit and things to do in Northern Virginia and surrounding areas.