The Needlework Exhibition at historic Woodlawn is an annual celebration of the needle arts featuring contemporary needlework from around the country. Visitors have the chance to view and purchase extraordinary needlework creations. Plus, a small cafe offers lunch onsite.
The 2023 Woodlawn Needlework Exhibition is open daily except Tuesday from 10:00 – 4:00, March 1 – 31.
Woodlawn was originally part of George Washington's vast Mount Vernon estate. In fact, Washington personally selected the site as a home for his nephew Lawrence Lewis and his bride, Martha's granddaughter Nelly. Eleanor "Nelly" Parke Custis Lewis excelled at needlework and considered it a particular point of pride.
Disclosure: This article may contain affiliate links. We will make a small commission from these links if you order something, at no additional cost to you.
The Needlework Exhibition is a judged show that includes entries in 10 different needle arts categories, from beadwork to smocking. The annual event is organized and run by Nelly's Needlers. The volunteer group supports and raises funds for Woodlawn through this exhibit and additional programming.
The works' quality and complexity are impressive. Pieces range from beautiful to quaint, to eerie. Even though we are not needlework devotees, my friend and I were fascinated with the collection.
Works are hung throughout both the upstairs and downstairs rooms of the house, so you get a chance to explore this historic site while viewing the art.
Extend your visit with our guide to fun things to do in and near Alexandria.
2023 Woodlawn Needlework Exhibition
The 2023 Needlework Exhibition theme is " Craft as Comfort: Joy in Needlework." The theme highlights the importance of finding things that bring us joy and comfort even in the face of challenges. This is the 60th annual needleworks show at Woodlawn.
The 2023 Woodlawn Needlework Exhibition is open daily except Tuesday from 10:00 – 4:00, March 1 – 31. Purchase tickets online in advance or at the door. Tickets are $15 for adults, $6 for students K-12, 5 and under free, and allow entry at any time during the day.
The ticket price includes demonstrations, special exhibits, talks by local craft artists, and the chance to shop at the needle arts gift shop. Some workshops and events require reservations and an additional ticket.
In 2023, Nelly's Cafe returns! The pop-up cafe offers a sit-down lunch of sandwiches, salads, quiche, and other light fare in the beautiful Underwood Room. The Cafe is open from 11:30 – 2:00 and you can reserve a table for groups of 8. The exhibition and lunch make a wonderful day out with Mom or friends.
After lunch, stop in the gift shop to purchase needlework items and delicious ginger cookies made with Martha Washington's recipe. Proceeds from lunch, tips, and cookie sales all go toward preserving history at Woodlawn.
Visit the Woodlawn events website for more information about the exhibitions and special onsite and virtual programs.
Frank Lloyd Wright's Pope-Leighy House
The Needlework Exhibit is not the only reason to visit Woodlawn. During your visit, allow time for a tour of Frank Lloyd Wright's Pope-Leighey House. The house is a fascinating example of Wright's Usonian design and is well worth visiting.
Pope-Leighy House Tours are $15 for adults, $12 for seniors, $7.50 for K to 12, 5 and under free. If you don't have time for a tour you can walk around the outside of the house and get a feel for Wright's beautiful design.
Like Woodlawn, the Pope-Leighy House is open from 10:00 to 4:00 daily except Tuesdays throughout the month of March.
See Fallingwater and more on a Frank Lloyd Wright Road Trip to Laurel Highlands Pennsylvania.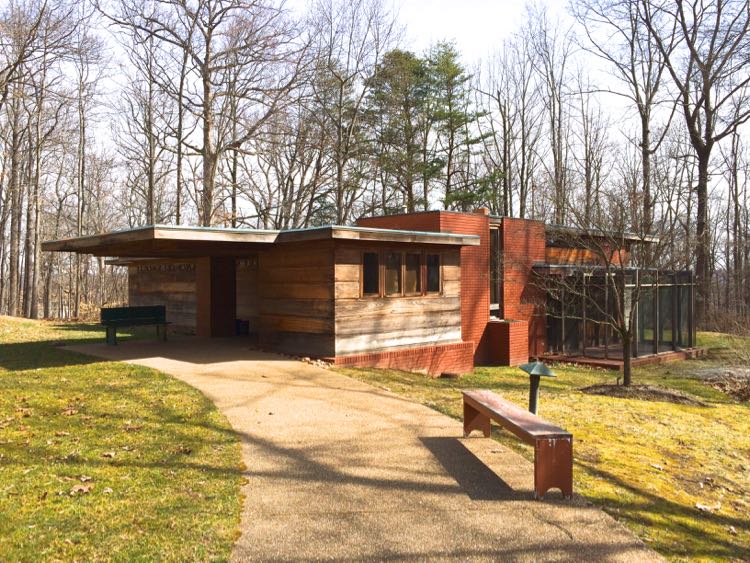 Woodlawn and the Pope-Leighy House are at 9000 Richmond Highway in Alexandria, Virginia. Both properties are managed by the National Trust for Historic Preservation.
Follow us on Facebook, Twitter, Pinterest, and Instagram for more fun travel in and from Northern Virginia.