You don't need a reservation at these 21 romantic places in Virginia and Washington DC, whether you're looking to share your love on Valentine's Day or any other day of the year. Some of these spots require extra effort to reach, and some are just steps away, but all can set the perfect scene for romance.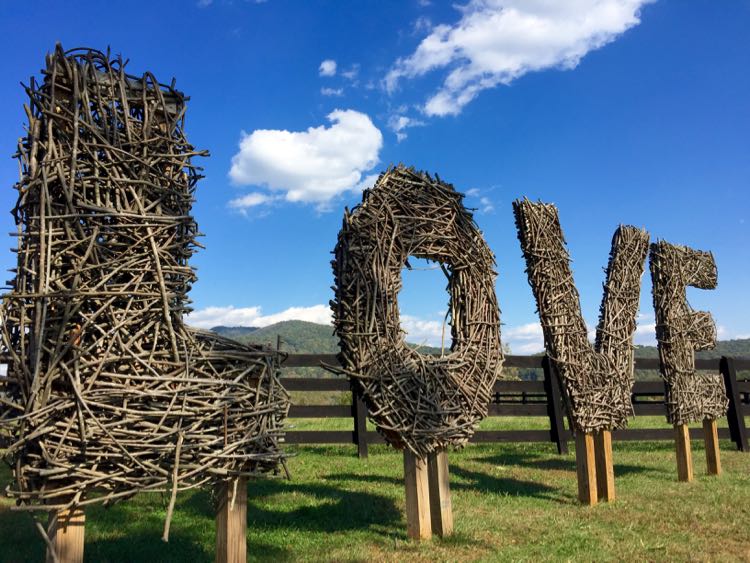 What is romantic, of course, is in the eye of the beholder. We love an outdoor picnic with an amazing view, and many of these destinations fill that need. Others are indoors, and are a better choice when the weather is bad. Some are a little quirky, and may not appeal to everyone. Whether in or out, these romantic Virginia and DC destinations meet our idea of romance. Your mileage may vary.
Note: We updated our list with more places to enjoy a couples outing. There are now more than 21 romantic places in Virginia and DC on our list, and we're on the lookout for new additions. Leave a comment below if you have a tip to share. Thanks!
Romantic Places in Virginia Worth the Extra Effort
What could be more romantic than a hike topped off with a relaxing spot to sit and snuggle. These destinations range from easy to difficult to reach, and they all include a lovely place to sit together and commune with nature.
Cow Hoof Rock, Great Falls Park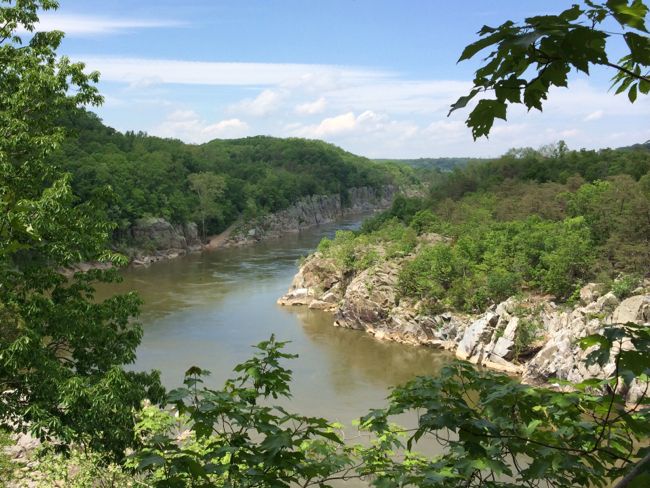 Located in the quieter end of Great Falls Park, Cow Hoof Rock offers beautiful views up the Potomac River to Mather Gorge. Here is our favorite 3-mile Great Falls loop hike for visiting this beautiful spot. Map it.
Potomac Heritage Trail, Seneca Regional Park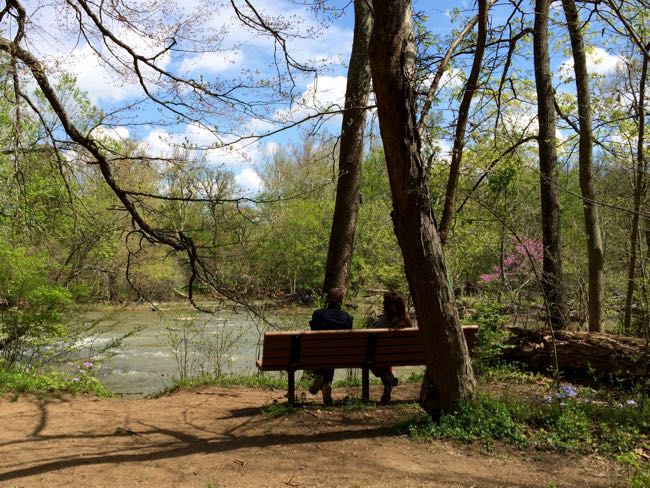 Hike down to the river in Seneca Regional Park, then take a stroll or grab a bench on the Potomac Heritage Trail, a designated National Scenic Trail. If you head to the western end of the park you'll have views of the historic Patowmack Canal, spearheaded by George Washington, and the choppy waters of the Seneca Breaks. Read more about Seneca Park and some of our favorite summer hikes. Map it.
Little Stony Man, Shenandoah National Park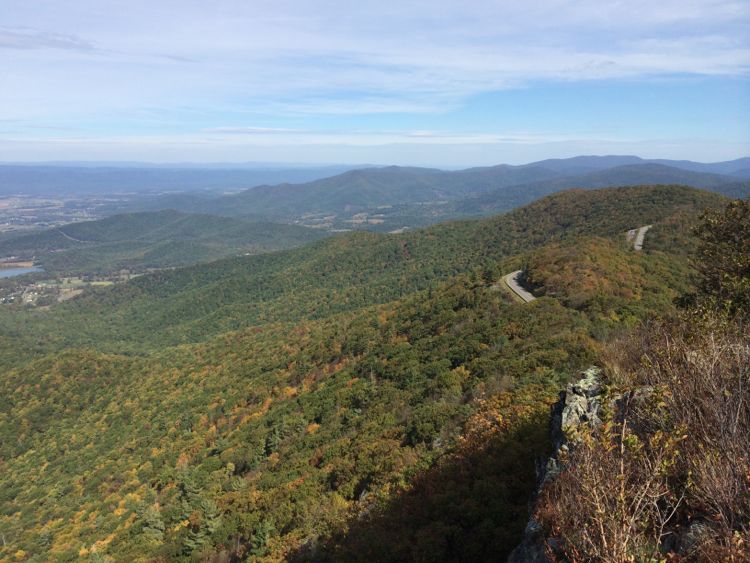 Nearly every overlook and hike in Shenandoah National Park can qualify as a romantic destination,. But we like Little Stony Man because it's easy to reach and not as crowded as nearby Stony Man summit. The Little Stony Man Overlook hike and other overlooks in Shenandoah National Park are especially gorgeous when fall foliage emerges. Map it.
Mary's Rock, Shenandoah National Park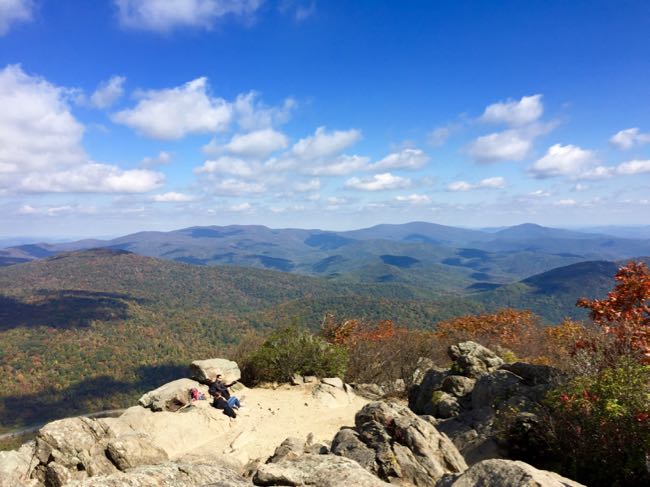 A more challenging hike leads to a large rocky outcropping and another beautiful view. Most people hike from the Panorama parking area. But we prefer a longer and more scenic route from the Jewell Hollow Overlook. This 7 mile Mary's Rock hike is gorgeous when fall foliage peaks, but the rocky trail can be tricky when it's wet. Map it.
Boardwalk at Theodore Roosevelt Island, Arlington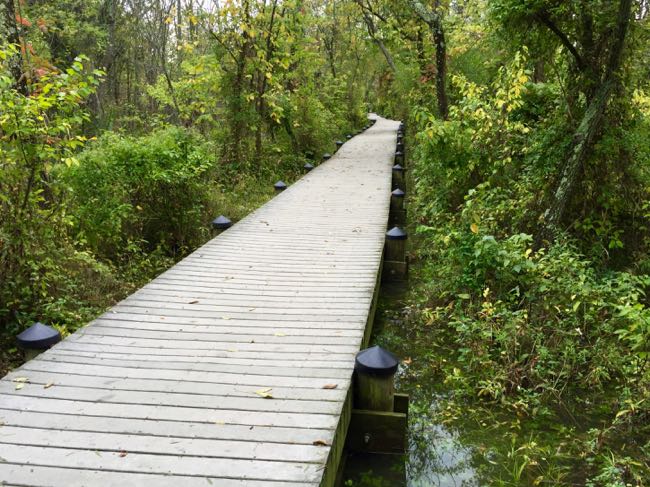 Theodore Roosevelt Island is in Washington DC, but the only access is from Arlington Virginia. Take an easy stroll to the Swamp Trail boardwalk on Theodore Roosevelt Island crosses a marsh at the edge of the Potomac. There are benches where you can relax with your love, then enjoy a nice quiet stroll around the island. Map it.
Huntley Meadows Park, Alexandria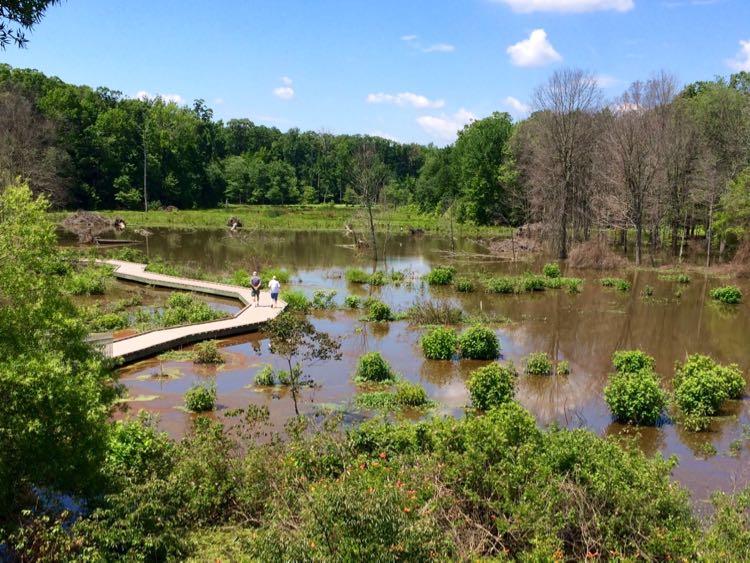 Huntley Meadows is a hidden gem in the Fairfax County Park system. The park includes a lovely, long boardwalk leading to an observation tower with views across the hemi-marsh. The tower is only .7 miles from the Visitor Center and the boardwalk is beautiful and interesting year-round. Map it.
Bench at Lake Audubon, Reston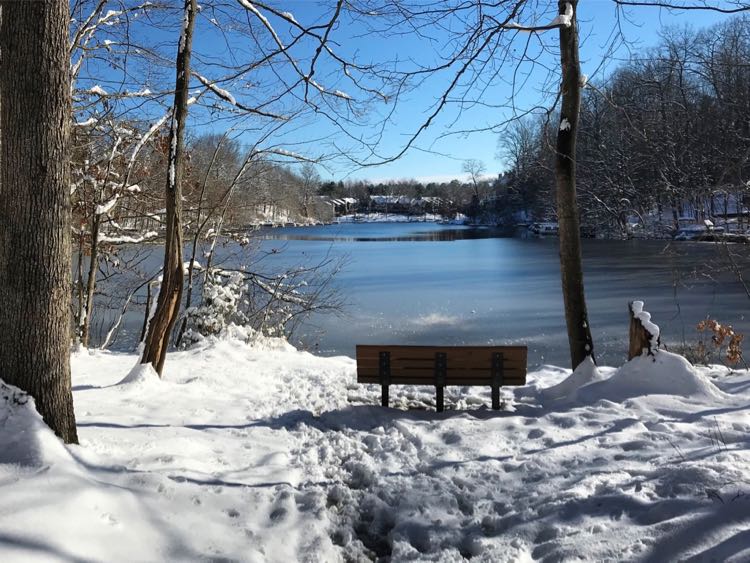 A single bench sits near the path at the northern end of Reston's Lake Audubon. Park by the Lake Audubon Pool and follow the paved, mostly level path for half a mile. A short path into the woods leads to this quiet spot with a nice lake view. You can continue on the path and also enjoy a walk around Lake Thoreau, where you'll find more lakefront benches.  Map it.
Crabtree Falls, Montebello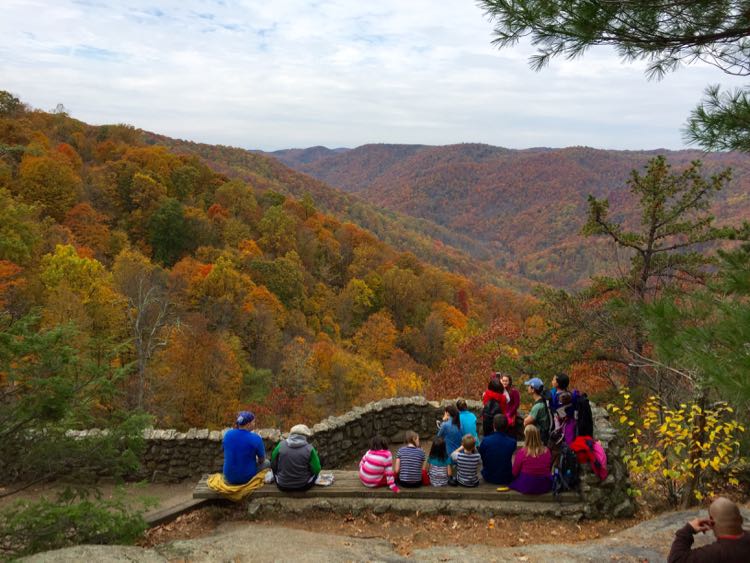 Crabtree Falls is a popular hike west of Charlottesville, Virginia, with several great viewpoints of the cascading falls. The rocky area at the top of the popular hike is a nice place to stop for a picnic and enjoy the views. This is a very popular trail, especially on weekends, so visit on a weekday for a better shot at a quiet spot. Map it.
Read our complete guide to plan a Charlottesville Weekend Getaway.
Romantic Places in Virginia That Are Easy to Reach
Here are some of our favorite romantic spots in Virginia that are easy to reach, with alternatives for good weather and bad.
Porch at Riverbend Park, Great Falls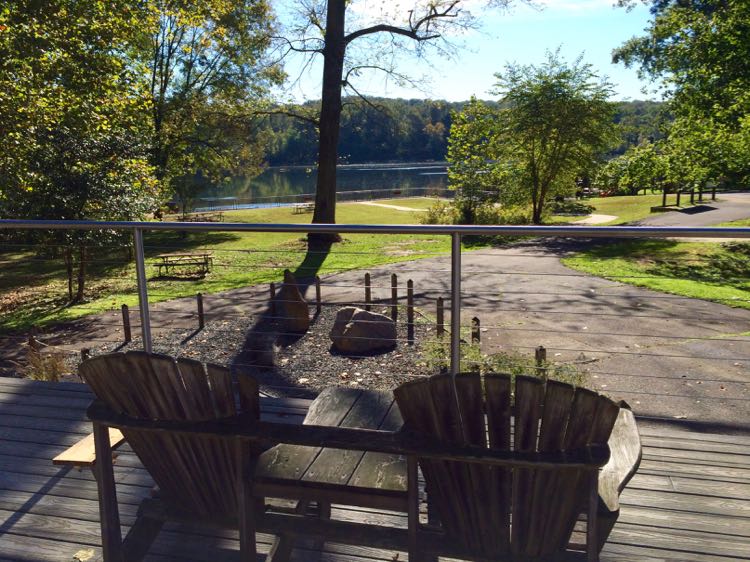 If you want to enjoy a nice view of the Potomac River without a hike, we suggest grabbing a couple of adirondack chairs on the Visitor Center porch at Riverbend Park. If the spring wildflowers are blooming, you can take an easy walk on the River Trail to a private bench closer to the water. Map it.
Meadowlark Botanical Gardens, Vienna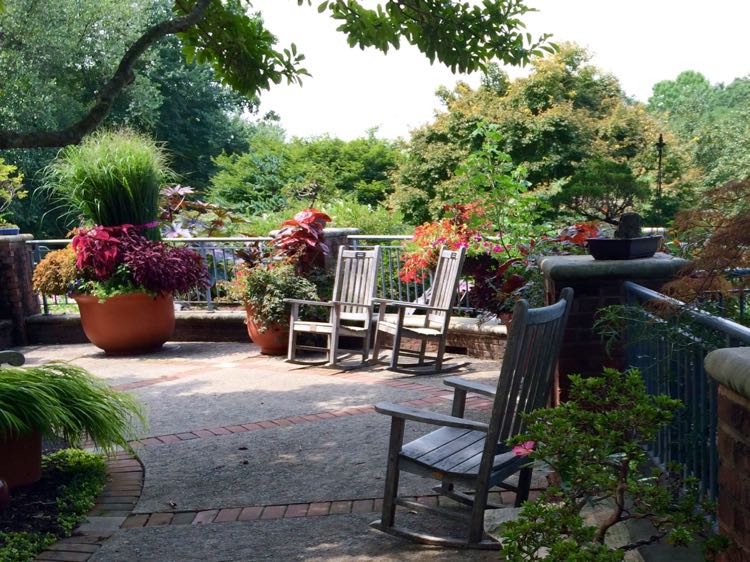 The beautiful gardens at Meadowlark are perfect for a romantic walk, especially when the flowers are blooming. But if you want to limit your walking, you can relax on the rocking chairs or benches near the Visitor Center. You'll find similar romantic places at other gorgeous gardens in Virginia and Washington DC. Map it.
Patio at Dirt Farm Brewing or Bluemont Vineyard, Bluemont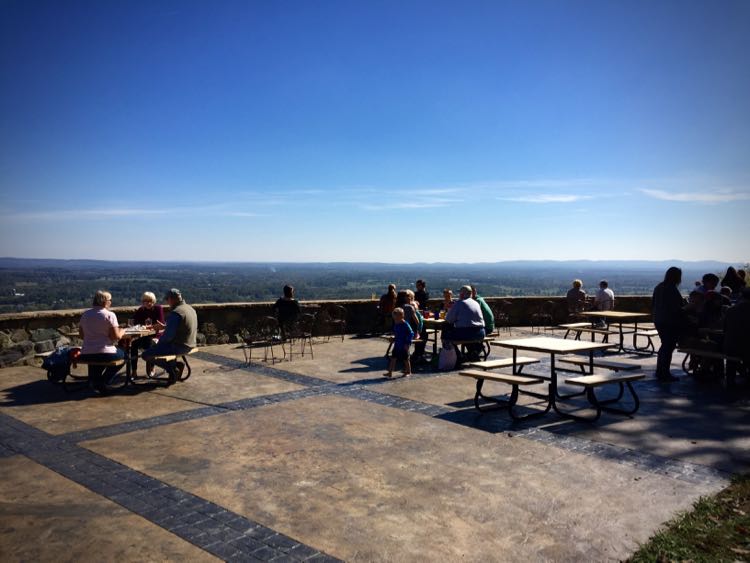 Whether you and your love prefer Virginia wine or craft beer, there's a patio in Bluemont where you can sip and soak up an amazing view. Bluemont Vineyard tops our list of sensational winery views in Northern Virginia. And the scenery is equally impressive from the patio at neighboring Dirt Farm Brewing. Map it.
Basement of the Winery at La Grange Winery, Haymarket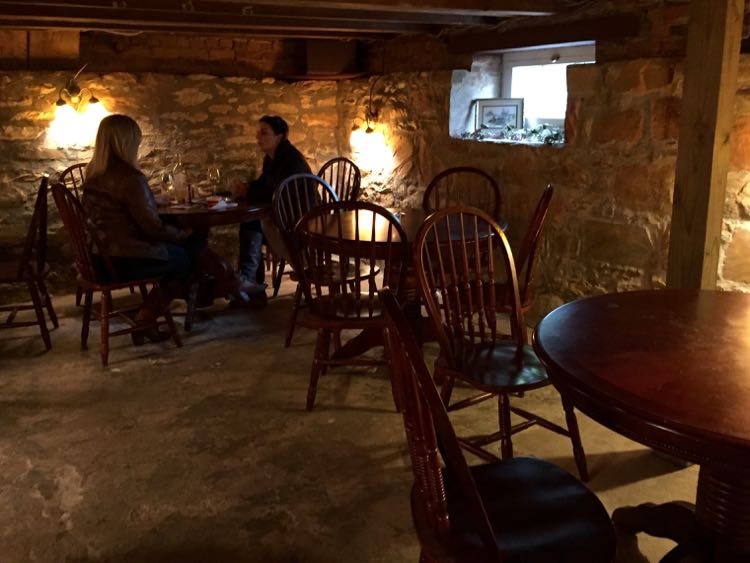 If it's too cold for a patio, the basement of the Winery at La Grange, in Haymarket, is a cozy spot to enjoy a delicious glass of wine. If the weather is nice, consider a nice hike at nearby Bull Run Mountains followed by a glass outside on the patio or by the vineyard. Map it.
The Swing at Lake Anne, Reston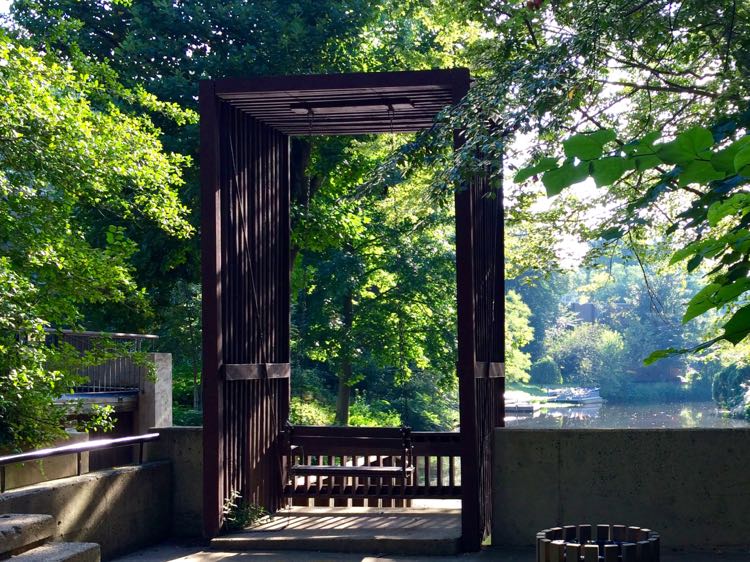 The Swing at Lake Anne is a favorite destination in our hidden art of Reston round-up.  The hidden swing is ideal for couples seeking unique and romantic places in Virginia. You won't have the best lake view from The Swing, but it's a nice quiet spot. Stroll to the nearby Van Gogh Bridge for a perfectly romantic photo. Map it.
LOVE sign, Manassas Railroad Depot, Manassas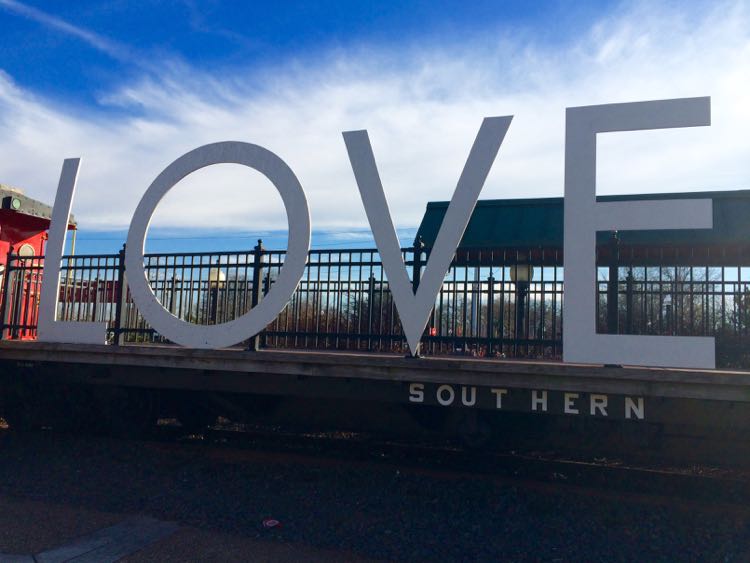 LOVEworks are ideal romantic places in Virginia for a photo op with your sweetie. They can be found all over the state, and the one near the historic Manassas Railroad Depot is a LOVEly picture spot. It's big enough for a couple's photo inside the O, perfect with a bright blue sky behind you. Map it.
Or plan a Charlottesville getaway and capture a LOVE photo backed by Virginia hills at Montclair Resort in Crozet. Map it.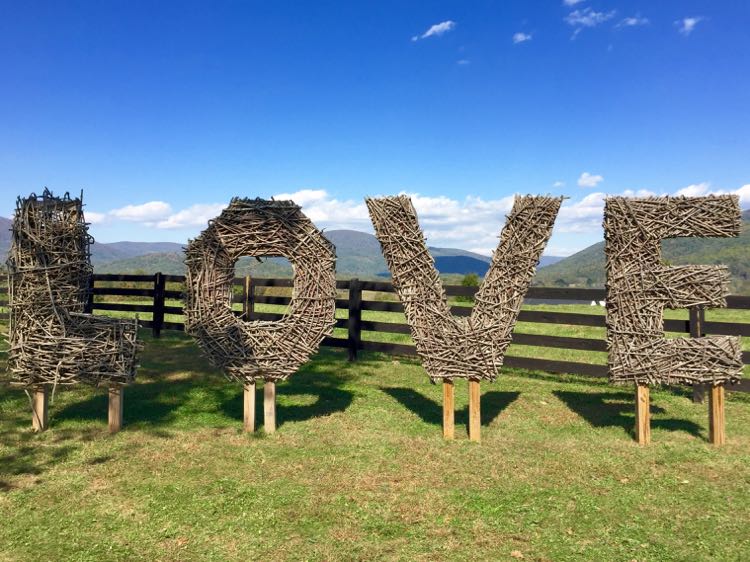 Marsh View Platform at Mason Neck State Park, Lorton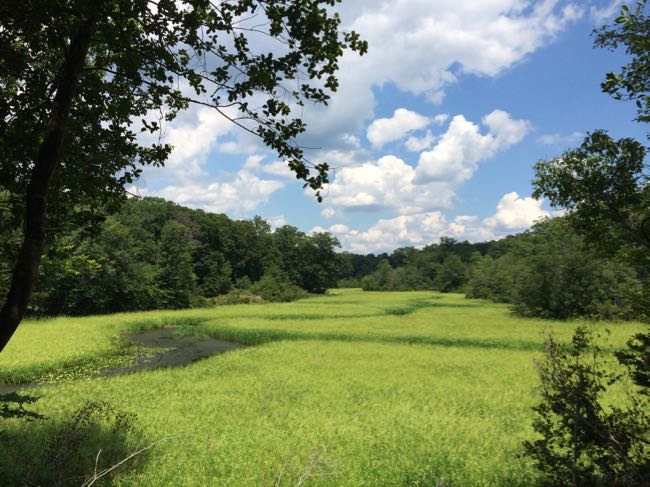 There are beautiful trails and views all over Mason Neck State Park. If you want to limit your walking, take a short stroll on the quarter mile Marsh View Trail. The platform at the end of the trail is an ideal place to sit and watch birds and the gentle movement of the marsh.
Algonkian Regional Park, Cascades VA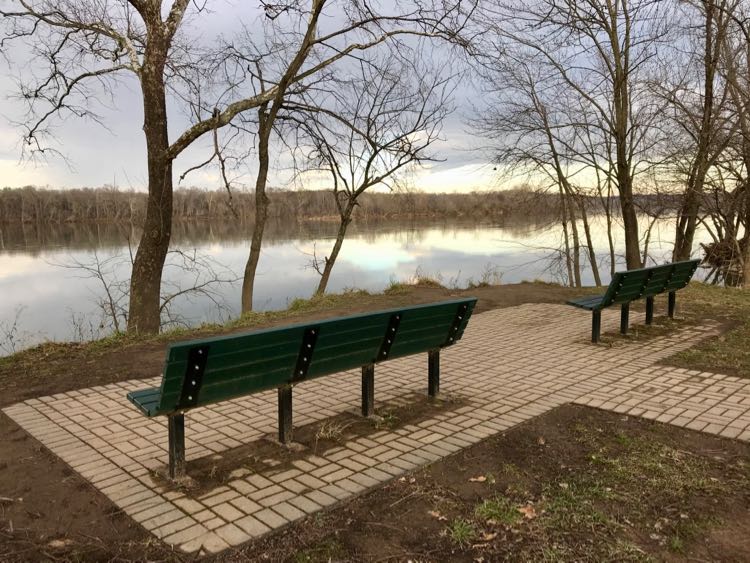 Algonkian Regional Park offers a nice stretch of public land along the Potomac River in Loudoun County. A dirt path along the river is dotted with several benches where you can enjoy a quiet moment. The two benches pictured above are right next to the parking area, down a short stone path. This is a lovely, wheelchair accessible spot for couples to relax with a view.
Romantic Places in Washington DC
Washington DC is rich with amazing, romantic restaurants perfect for a Valentine's Day or date night outing. But when we want a romantic spot without the expense of a meal, these are places we like to visit.
United States Botanic Garden, Washington DC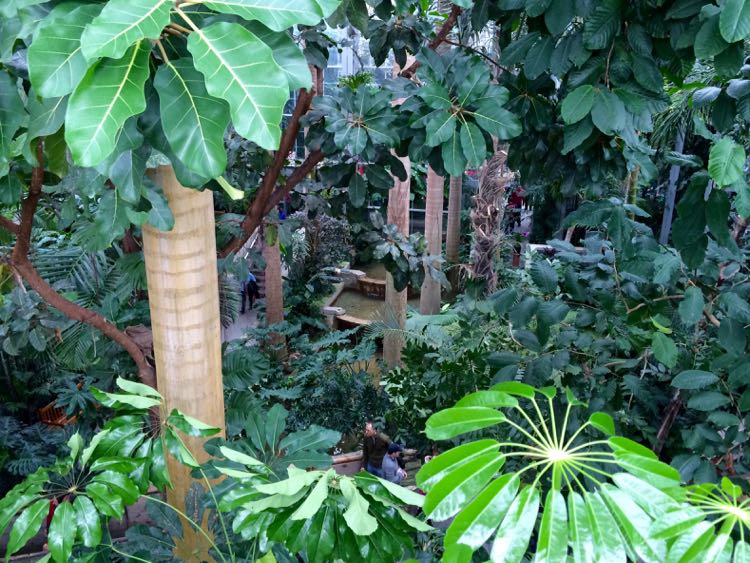 Instead of bringing home a dozen roses, you can immerse yourself in a whole building full of nature's beauty at the US Botanic Garden. We recommend a seat in The Jungle, a warm, glass-enclosed conservatory filled with tropical plants. A visit to the Orchid Room is a nice shot of romance too. The garden has one of the best holiday displays in DC, so December is another great time to visit. Map it.
Library of Congress, Washington DC
The Library of Congress might seem like an odd pick for a couples outing. But the beautiful, decorative interior, and it's homage to learning, feels pretty romantic to us. We love to visit when exploring the US Capitol area. In fact, there's an underground tunnel connecting the two buildings; very helpful on a chilly day. Map it.
Albert Einstein Memorial, Washington DC
The Albert Einstein Memorial is another offbeat romantic spot for scholarly couples. Snuggle up on the bench with Albert and contemplate the mathematics of love. Or take a selfie in the wise one's lap. It's a cool alternative to all those marble memorials. Visit on Pi Day and you can wish Mr. Einstein a birthday while you celebrate math.  Map it.
National Zoo, Washington DC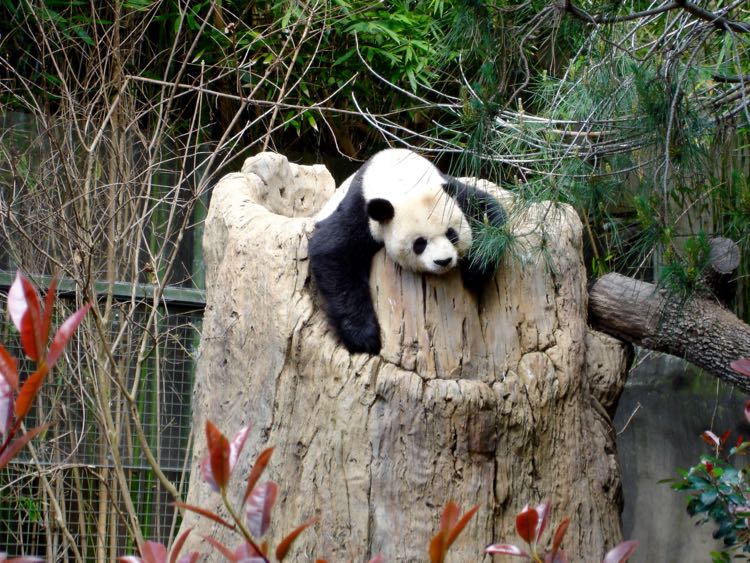 Watching those big, furry panda bears makes us want to cuddle up. We suggest a romantic morning stroll around the National Zoo, when the animals are most active. If you're lucky you might even get to see pandas playing outside. Map it.
Tidal Basin, Washington DC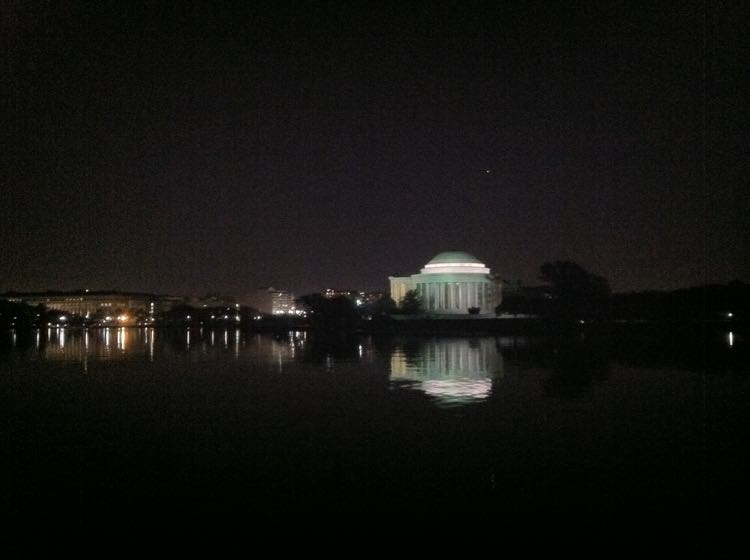 The Tidal Basin is overrun with crowds during cherry blossom season. Otherwise, it's a lovely destination for a romantic stroll. Visit on a warm night and you can enjoy inspiring views of the monuments reflected in the water. Map it.
Capital Wheel, National Harbor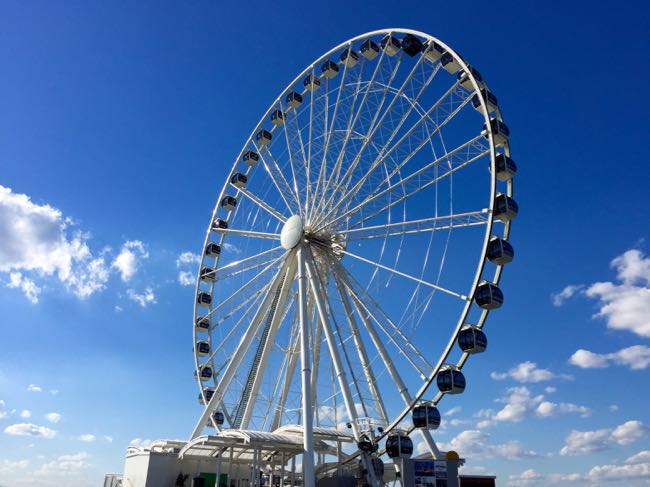 Impress your date with a trip to National Harbor and a ride on the Capital Wheel. Whether you choose daytime views of the Potomac and the harbor, or a night ride when the lights of DC are sparkling, you should get a nice dose of romance. Map it.
There you have it. 21 romantic places in Virginia and DC with no reservations required. How many of these romantic spots have you visited? What other romantic places in Virginia and DC should be on our list?
Follow Fun in Fairfax VA on Facebook, Twitter, Pinterest, and Instagram for more great places to visit and things to do in Northern Virginia, the Washington DC region, and surrounding areas.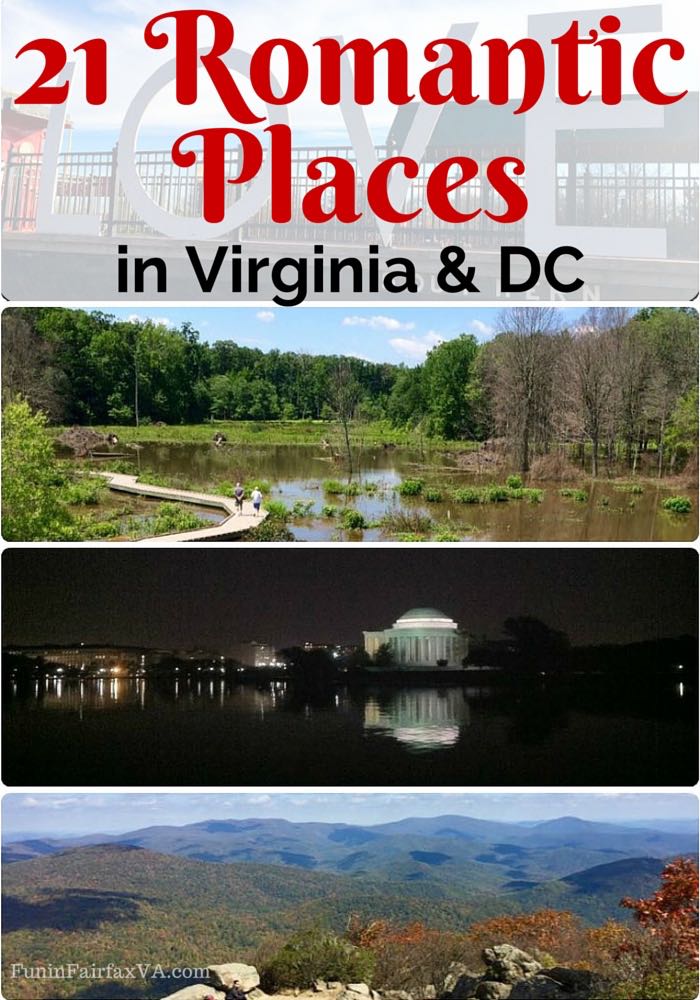 This article was published in 2016 and updated in 2019.