The long Presidents Day weekend adds a boost of extra fun to a chilly month and is a great opportunity to explore new destinations in the Northern Virginia and Washington DC region. These presidential destinations and annual events offer fun for all ages over the three-day Presidents Day weekend.
Most of the Presidents Day activities are back in 2022, so there are even more ways to learn and celebrate Presidential history in Northern VA.
Every three-day weekend is a chance to discover a new place to visit or return to an old favorite. We love to uncover hidden gems in the greater DC region. And in the Washington DC area, there are many destinations that have a presidential connection.
Here are some fun and interesting places to visit during the Presidents Day weekend, though all have year-round appeal.
Trace George Washington's Life in Virginia
Washington DC is home to many iconic presidential places. The steps of the Lincoln Memorial, the Washington Monument obelisk, and the Jefferson Memorial rotunda are known throughout the world. But Northern Virginia has a very special relationship with George Washington, who lived here for much of his life.
Trace the changing fortunes of George Washington's life at these Virginia destinations.
If you can only visit one George Washington site in Northern Virginia, take a trip to his beloved home, Mount Vernon. Washington spent much of his life here. He lived at the mansion both before and after his time as a General in the Revolutionary War, and his two terms as the first President of the United States.
It is fun to explore the beautifully preserved home and grounds. A mix of indoor and outdoor activities gives you options on a chilly day and makes Mount Vernon an excellent place to visit with kids.
At the Be Washington interactive exhibit in the Reynolds Museum, you can tackle challenges that George Washington faced. Interesting storylines, digital technology, and smart design make the Be Washington experience both fun and informative. There is also a great 4D Revolutionary War Theater featuring snow, fog, and rumbling seats.
Mount Vernon hosts special activities during Presidents Day weekend (more info below) and admission is free on Presidents Day (reserve your free ticket online).
Plan your visit with our complete guide: Fun Things to do at George Washington's Estate in Mount Vernon Virginia.
The Visitor Center, Museum, and park grounds are all open in 2022.
Virginia's Northern Neck is the birthplace and first home of George Washington, though he only lived at the farm on Pope's Creek for 3 years. Here you can learn about the life of a Virginia gentleman farmer, and the influences that shaped Washington's life.
Fire destroyed the original buildings, but the National Park Service has done an excellent job recreating the site. Visitors can tour the Memorial House Museum and enjoy pretty nature trails along Pope's Creek.
Plan a visit to George Washington's Birthplace National Monument, or a longer getaway to Virginia's Northern Neck.
Ferry Farm, Fredericksburg, Virginia
At the age of 6, Washington and his family moved to a farm along the Rappahannock River in Fredericksburg. At Ferry Farm, visitors can explore Washington's reconstructed boyhood home and grounds.
Ferry Farm hosts a fun celebration on Presidents Day (details below) but is closed for the rest of January and February.
Plan your visit: 8 Great Things to Do on a Fredericksburg Virginia Day Trip.
2022 Update: Great Falls is open but the Visitor Center is closed.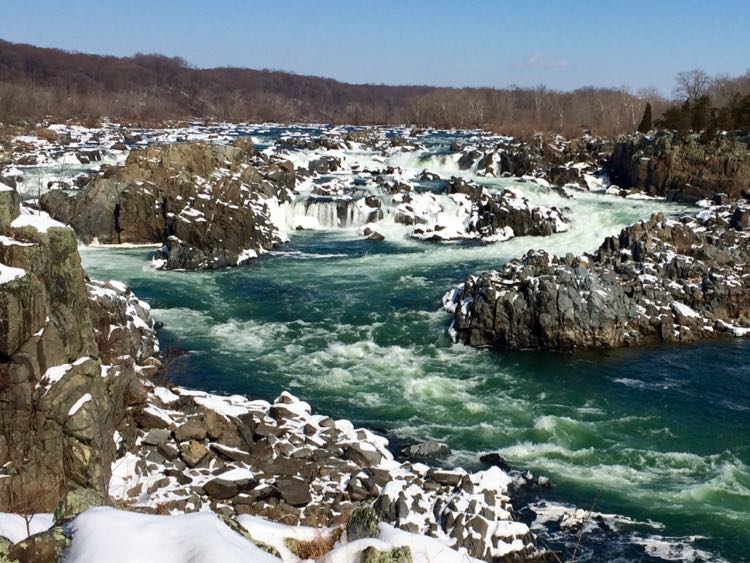 Washington surveyed the banks of the Potomac River as a young man. But his larger contribution to Great Falls came after the Revolutionary War. This was the site of George Washington's ambitious project to build a canal from Ohio to the Chesapeake. He believed that trade between the states would help to unite the new country.
Today, you can visit the remains of his Patowmack Canal, a system built to safely bypass the treacherous waterfalls at Great Falls Park.
Unfortunately, Presidents Day is not a National Park free entrance day, so you will have to pay the regular entry fee. If you plan to make return visits, this is a great time to purchase an annual National Park pass.
Take a hike to the Potomac River in nearby Seneca Regional Park to see another small remaining section of George Washington's Potowmack Canal.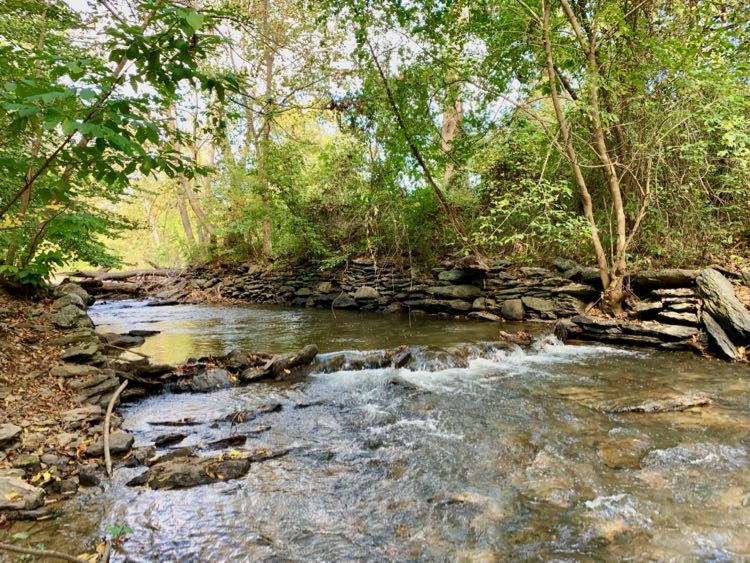 Visit Presidential Homes In and Near Charlottesville Virginia
Of course, Washington was not the only US President born locally. In fact, eight presidents were born in Virginia, the most of any state. You can tour three fascinating presidential homes in and near Charlottesville VA.
Plan your visit: Fun and Unique Things to Do in Charlottesville Virginia.
Monticello was Thomas Jefferson's home and plantation for much of his life, both before and after he served as America's third President. Tours of Monticello highlight Jefferson's life as a scholar, inventor, and founding father. Docents also discuss the conflicting reality of his devotion to American freedom, and his role as a slaveholder.
Highland is close to Monticello for good reason—Monroe chose the site to be near his mentor, Thomas Jefferson. James Monroe was America's fifth President and the last of the Founding Fathers. He served with George Washington at Valley Forge, studied law under Jefferson, and served 50 years in public office as Senator, Ambassador, Secretary of State, and President.
James Madison, America's fourth President, lived at Montpelier as a boy, a family man, and a founding father. Tours of the mansion at Montpelier interpret the life of James and Dolley—the first American power couple—after he was elected President.
Here James entertained the nation's founders, and Dolley defined the role of First Lady. Exhibits and tours also highlight the difficult life of the enslaved community who lived at Montpelier.
Plan a Charlottesville getaway to visit all three Presidential homes. Be sure to include a visit to Jefferson's masterpiece of higher learning, the University of Virginia. In addition to historic sites, you'll find great Charlottesville restaurants, shops, and more fun places to visit.
More DC Area Destinations with a Presidential Link
The Northern Virginia and Washington DC region is full of important sites with a presidential link. Presidents Day weekend is a great time to visit.
2022 Update: Arlington House is currently closed for repairs, but the enslaved quarters and museum are open daily.
Only two Presidents are buried in Arlington National Cemetery, John F. Kennedy and William Howard Taft. But the eternal flame at the Kennedy gravesite is one of the most visited spots in the cemetery.
Arlington House, which sits on a hill in the cemetery also has a presidential connection. George Washington Parker Custis, Washington's adopted son, built the house as a living memorial to George Washington.
Today Arlington House is more often associated with Confederate General Robert E. Lee, whose family lived here before the Civil War. During the war, the federal government took over the property and buried 2,111 war casualties there.
2022 Update: As of January 2022, the grounds are open but the Eisenhower home is closed. Check the park website for current status.
Located next to the Gettysburg Battlefield, the site preserves the home and farm of Dwight D. Eisenhower. The 34th President used the home as a family retreat and as a meeting place for world leaders. He purchased his Gettysburg home, the only one he ever owned, after retiring from military and public service.
The Eisenhower site is free and open year-round. Plan a Gettysburg holiday visit to see the modest home decorated for the Christmas season in Mamie's holiday style.
2022 Update: The Masonic Memorial is currently closed but you can enjoy a virtual tour online.
View a giant statue of George Washington, murals, and artifacts including the Washington family Bible at the George Washington Masonic Memorial.  "The exhibit's alcoves present Brother Washington as a Virginia Planter, Model Citizen, Military Officer, our Nation's First President, Mourned Hero, and American Icon."
Explore more: 25 Fun Unique Things to Do in Alexandria VA
Two US Presidents are buried in Hollywood Cemetery—James Monroe and John Tyler. Jefferson Davis, President of the Confederate States of America, is also buried here. Other important Hollywood Cemetery burials include six Virginia governors, two Supreme Court justices, and over 18,000 Confederate soldiers (including 22 Generals).
The cemetery offers beautiful views of the James River and is an interesting stop to include in a Richmond, Virginia getaway.
At the Maryland State House, take a self-guided tour to see the restored Old Senate Chamber. In this room, George Washington resigned his commission as Commander in Chief in 1783.
Annapolis Maryland makes a wonderful day trip or weekend getaway from the Northern Virginia area.
A plaza on Theodore Roosevelt Island honors the former president with a giant bronze statue, plaques with quotes, and water features. This is a nice hiking spot with pretty trails and a wetlands boardwalk.
The island is actually in DC, but you'll park in Virginia before crossing a footbridge to the island. You can visit Roosevelt Island on a scenic drive on the George Washington Memorial Parkway.
Find more easy hikes in our guide 6 Beautiful Boardwalk Hikes in Northern Virginia.
Presidents Day Weekend Special Events
Here is a sampling of Presidents Day celebrations in Northern Virginia. Find more fun events in our guide to February Events in Northern Virginia – Festivals and Fun Near DC.
Special activities honor and celebrate George Washington's 290th birthday. Visitors get free admission to Mount Vernon on February 21 and 22, Presidents Day and Washington's actual birthday. Tickets are limited, and you must reserve a ticket online to attend. Activities include demonstrations, character performances, and birthday cake. Free; 9:00 – 5:00.
Mount Vernon also celebrates George Washington's actual birthday on February 22nd with free admission. You can also attend a virtual birthday party with music, fireworks, and an online toast to George Washington.
Celebrate the 290th anniversary of George Washington's birth at the nation's largest George Washington Birthday parade. The one-mile route through the streets of Old Town Alexandria attracts nearly 3,500 participants and honors one of Alexandria's favorite sons. The parade is free; 1:00 – 3:00.
Additional events throughout the month of February include a Cherry Challenge among Alexandria's best restaurants, outdoor walking tours, and virtual events.
Celebrate George Washington's 290th birthday at his boyhood home with fun activities for the whole family. Activities include games, crafts, tours, living history activities, the Stone Throw Challenge, and birthday cupcakes.
"General Washington" will be there to talk about his youth on the farm. Reserve a 90-minute time slot online; $5 adults, under 17 free. 10:00 – 3:30
While special celebrations add extra fun to the Presidents Day weekend, these historic and natural sites are worth visiting any time of year. However you choose to celebrate, we wish you a very happy Presidents Day weekend.
Follow us on Facebook, Twitter, Pinterest, and Instagram for more fun travel in and from Northern Virginia.