Enjoy cozy heated outdoor dining and drinking in Northern Virginia at these restaurants, wineries, and breweries with fire pits, igloos, and heated patios. Clever seating options let you relax outdoors and support local businesses even on a chilly day.
This listing highlights some of the fun options for heated outdoor dining in Northern Virginia. However, it is not a comprehensive listing of every restaurant with an outdoor patio in the area.
Businesses below are grouped by type—restaurants, wineries, and breweries—then listed alphabetically. Follow the links for current hours and reservation requirements. Our list includes local businesses in Alexandria, Fairfax, Loudoun, Prince William, and throughout Northern Virginia.
Disclosure: This article may contain affiliate links. We will make a small commission from these links if you order something, at no additional cost to you.
You'll also find tips on things to do nearby so you can plan a day trip or longer getaway. Whether you plan a quick stop or an extended visit, you'll find fun heated outdoor dining and drinking spots below.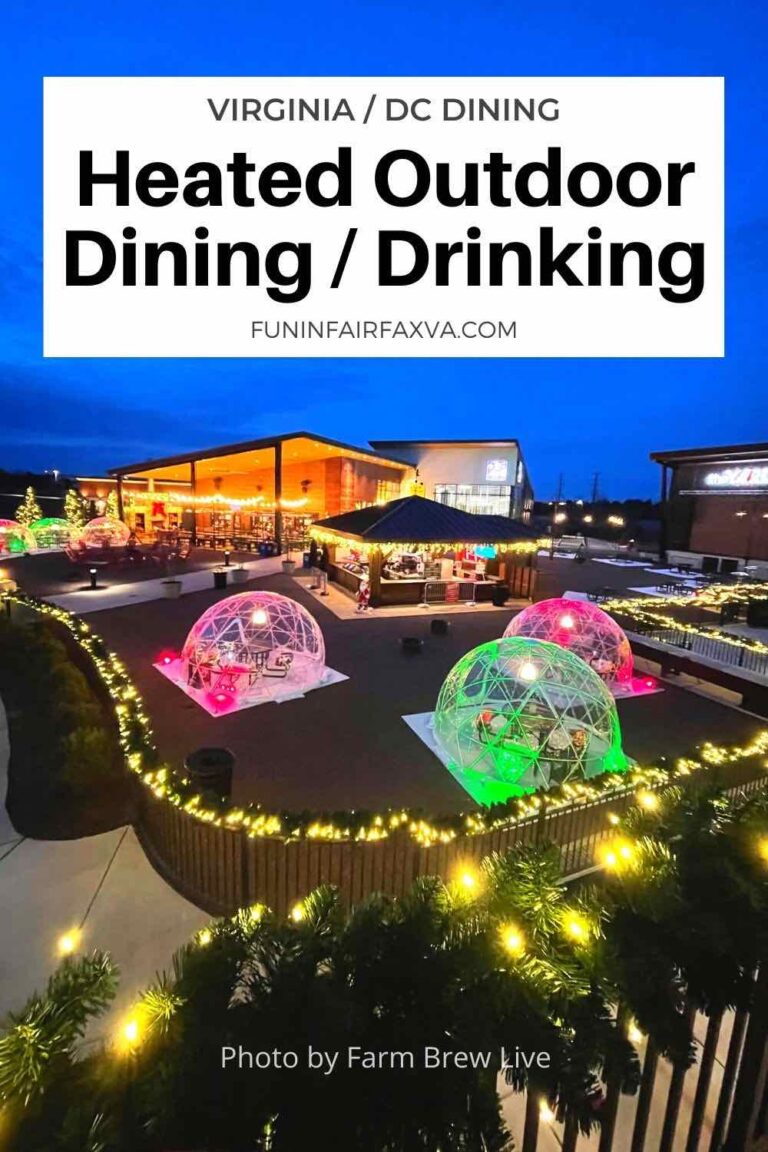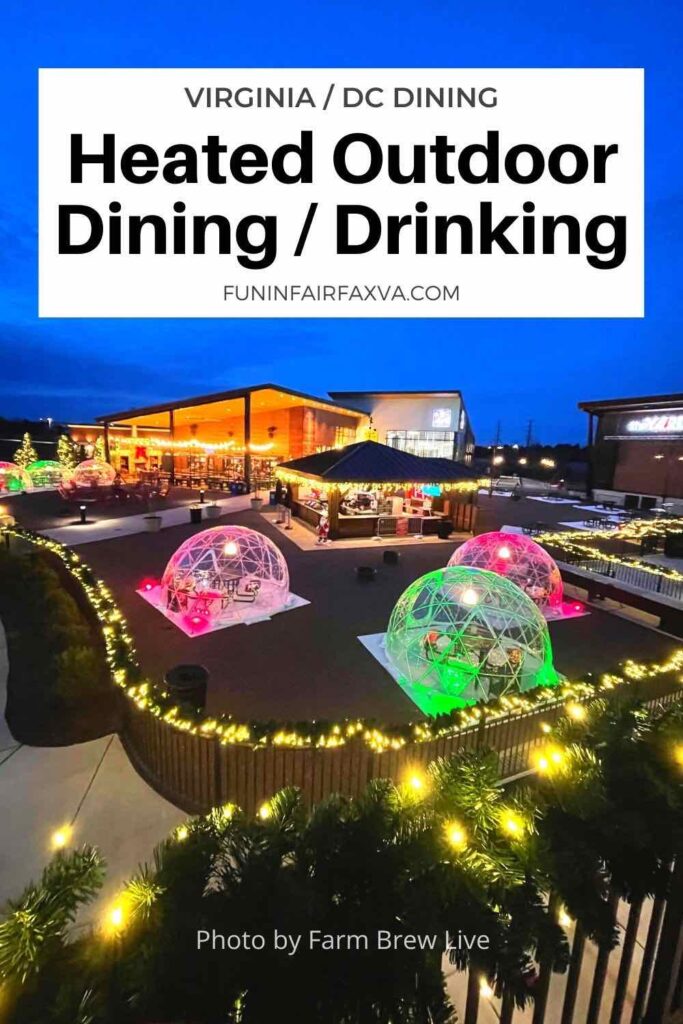 Heated Outdoor Dining at Northern Virginia Restaurants
Igloos and fire pits and heaters, oh my. Northern Virginia restaurants are cranking up the options for fun and cozy outdoor dining. Read on for a sampling of pretty spaces that combine an outdoor vibe with a little extra warmth.
The Garden, Alexandria
New igloos are popping up at The Garden, a beer garden with food in Alexandria's Del Ray neighborhood. The cozy 4-person igloos are first come first served and you can also relax in the heated and covered space out back. The Garden is open Thursday through Sunday.
Clyde's, Reston
Update: Clyde's Reston has closed permanently.
A row of heaters between the outdoor tables at Cylde's creates a cozy spot to enjoy your meal outside in Reston Town Center. An added bonus, this is a great spot to watch folks ice skating on the Reston Town Center rink.
Farm Brew Live, Manassas
Farm Brew Live started renting igloos for heated outdoor dining even before 2021. The 12-foot heated domes are sprinkled on the patio just outside 2 Silos Brewing and the decks of the Black Sheep Restaurant. What a fun spot to enjoy craft brews and a tasty meal!
Reserve a two-hour time slot for up to 6 or 8 people (food and beverage minimum may apply). BYO blanket but leave kids under 10 and your furry friends at home.
Work up an appetite with a hike at nearby Manassas National Battlefield or the Conway Robinson Forest.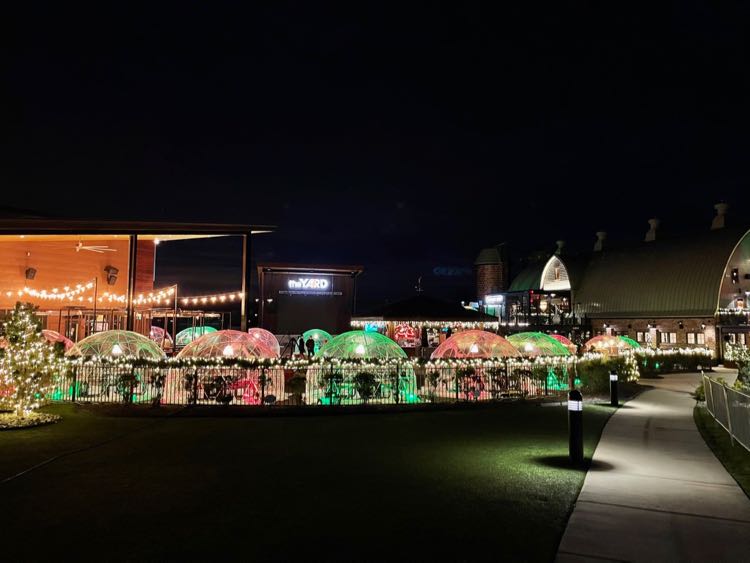 Hunter's Head Tavern, Upperville
We love the courtyard patio at Hunter's Head Tavern on a warm afternoon. Happily, the covered patio now includes tableside heaters to allow heated outdoor dining. The menu, featuring local meats and organic vegetables from the owner's Ayshire Farms, makes this one of our favorite pubs in Northern VA.
Reservations, through OpenTable, are strongly encouraged and are required for larger parties. Open daily 11:30 – 9:30.
Reach Hunter's Head Tavern on a Beautiful Hunt Country Scenic Drive.
King & Rye, Alexandria
Enjoy southern favorites and "damn fine whiskey" in a private Winter Wonderland Igloo at King & Rye. Reserve your 90-minute igloo for up to 8 people online. Each one comes with a heater and Bluetooth speaker so you can customize your temperature and music. Igloo reservations are $50 plus a $100 food and beverage minimum.
Osteria Marzano, Alexandria
Combine a cozy igloo with authentic Italian dishes; how could you go wrong? Osteria Marzano is getting extra life from their Alexandria patio with heated winter globes for up to 4 guests. The globes are a lovely spot to dig into house-made pasta, pizza, and Italian favorites. Open weekdays at 3:00 and weekends at 4:00.
Find more fun things to do in Alexandria VA and other restaurants with outdoor dining here.
Red's Table, Reston
The back patio at Red's Table is another one of our favorite spots for outdoor dining year-round. The patio has a nice view of Lake Thoreau and heaters warm the space and tables on colder days. You can reserve a table at Red's but the patio is first come, first served (with reservations taking priority). Open daily 11:00 – midnight.
Take a scenic walk on the Lake Thoreau Loop Trail before or after your meal.
Northern VA Breweries + Wineries with Heated Outdoor Spaces
Some of our favorite Northern Virginia wineries and breweries have added cool outdoor spaces for chilly days. Igloos, fire pits, and outdoor heated areas let you sip your drinks outdoors all winter long. In most cases, fire pits and igloos require a paid reservation which is applied to your wine and beer tab.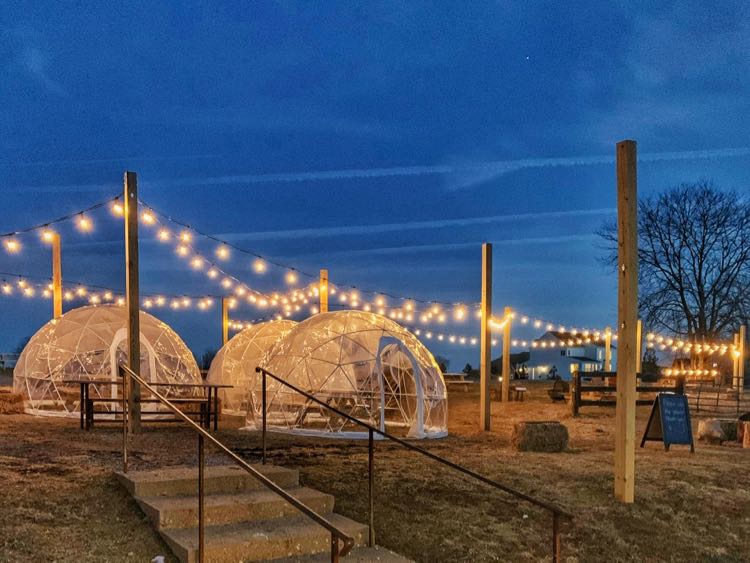 Barrel Oak Winery, Delaplane
Reserve a Bubble at Barrel Oak Winery in Delaplane and spend an hour or the whole day in your own cozy nest. We love the view from Barrel Oak, and the business combines a winery and brewery so there is something for everyone.
There are 8 bubbles available to rent and they accommodate up to 7 people, adults only. In addition, there are outdoor picnic tables with open seating. Open Monday – Thursday noon – 5:00; Friday noon – 8:00; Saturday + Sunday 11:00 – 6:00.
Combine your visit with a Beautiful Hunt Country Scenic Drive or a hike at nearby Sky Meadows State Park.
Bear Chase Brewing, Bluemont
We're big fans of the excellent craft brews and large indoor tasting room with fireplace at Bear Chase Brewing. In 2021, the brewery is expanding its lineup of unheated igloos. Enjoy the views and still stay warm in igloos for 6, 10, or 16 people.
Reserve your two-hour igloo online and the reservation cost is applied to your food and beverage purchases. No reservations needed for seats by the fire pits or fireplace. The brewery opens daily at 11:00.
Build up your appetite first with a hike to Bear's Den Overlook or a more challenging hike to Raven Rocks. Plan your visit with our guide to 15 Fantastic Fun Things to Do in Bluemont Virginia.
Bluemont Vineyard, Bluemont
Reserve one of the Bluemont Vineyard fire tables and soak up one of the best winery views in Northern Virginia. Your $50 table reservation is two hours long and accommodates 2 to 6 people.
Other outdoor tables are available first come, first served. Open Sunday – Thursday 11:00 – 5:00; Friday + Saturday 11:00 – 7:00.
Hearty beer fans can enjoy the same awesome view (without the fire) at neighboring Dirt Farm Brewing.
Cana Vineyards, Middleburg
There are fire pits on the lawn and table heaters on the deck at Cana Vineyards. Outdoor seating is open so check in when you arrive to see what's available. The winery is kid-friendly and pet-friendly, but the second-floor deck is for adults only. Thursday – Monday noon – 6:00; Saturday opens at 11:00.
Make your visit part of a Hunt Country Scenic Drive. Extend your visit with an overnight stay to explore more area wineries and restaurants. You'll find several beautiful options for your stay in our guide to 17 Fantastic Northern Virginia Wine Country Vacation Rentals.
Doukenie Winery, Hillsboro
Cozy up at one of the outdoor fire pits or reserve a table in Doukenie Winery's enclosed heated pavilion. Optionally, add a $15 s'mores kit from The Conche, one of the best chocolate shops in Northern VA.
Reservations are recommended no matter where you sit, so follow the link to choose your spot. The winery is open for on-site visits Thursday -Friday noon – 5:00; Saturday – Sunday 10:00 – 6:00.
Greenhill Winery, Middleburg
With 10 stone fire pits and 16 propane-fueled heaters and fire pits, there are lots of places to stay warm at Greenhill Winery. The adults-only winery is surrounded by beautiful Loudoun County countryside. Reserve your spot in advance or take a chance on walk-up seating. Daily noon – 6:00.
Take a Scenic Drive on the Historic Snickersville Turnpike and check out the shops in downtown Middleburg before your visit.
Lake Anne Brew House, Reston
The cozy deck at Lake Anne Brew House welcomes visitors all winter long with heaters and a fire table. We love the view of Lake Anne Plaza, as the sun sparkles on the water and the lights come on at night. Visit during December and you can see holiday lights and the Christmas tree while you enjoy your tasty craft beer.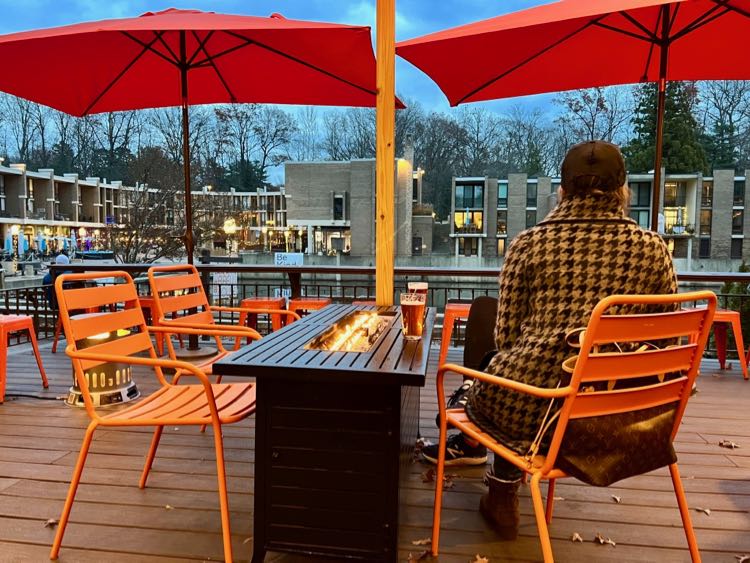 Outdoor tables are available first come, first served. Open Thursday – Friday 4:00 – 9:00; Saturday 10:00 – 9:00; Sunday noon – 5:00.
Plan your visit: 15 Fantastic Things to Do at Lake Anne Reston.
Wheatland Spring Farm Brewery, Waterford
Wheatland Spring Farm Brewery adds cozy comfort to their outdoor seating this winter with igloos and fire pits. Igloos are adults only and include a 6-foot picnic table that seats up to 8 people. Both the fire pit and igloos can be reserved for 2+ people on weekdays, 4 to 6 people on weekends. Open Wednesday, Thursday, Sunday noon – 6:00; Friday + Saturday noon – 8:00.
Make it a weekend getaway and book a night or two in the lovely Wheatland Spring Cottage House. You'll have plenty of time to explore historic Waterford, one of the most beautiful small towns in Northern Virginia. You can also visit Waterford on a Leesburg Scenic Drive in Northern Loudoun County.
Explore more craft breweries on Virginia's LoCo Ale Trail.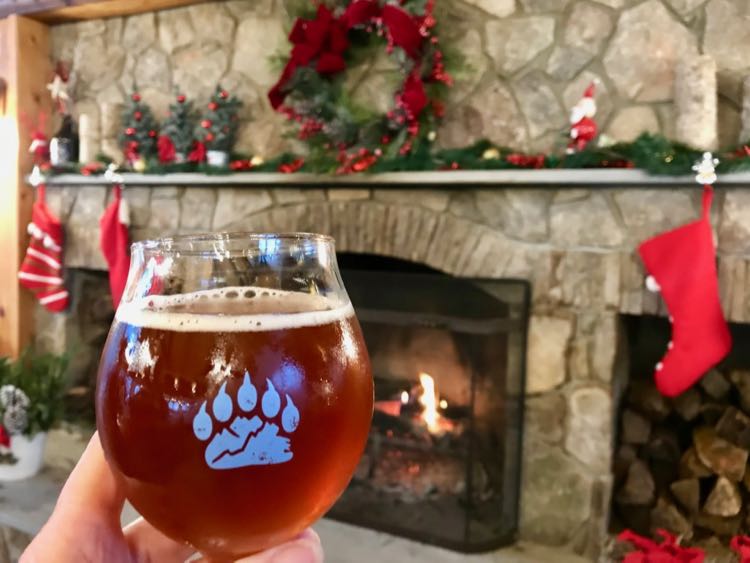 We're all spending more time outdoors this winter, and these heated outdoor dining and drinking spots let us have fun even on chilly days. These special experiences add extra fun to winter days.
Follow us on Facebook, Twitter, Pinterest, and Instagram for more fun travel in and from Northern Virginia.