The memorial to Albert Einstein in Washington DC is a hidden gem that's a fun destination for math inspiration and photos. Visit for a Pi Day pilgrimage or anytime you're exploring DC.
Every March 14th, we celebrate National Pi Day, when the date matches the first three digits of Pi (Greek letter "π") 3.14. In 2015 we enjoyed a Super Pi Day, as the date and time aligned at 3-14-15 9:26:53 on a Saturday morning to the first 10 digits of Pi—3.141592653.
Pi Day 2016 fell on a Monday, 3-14-16, creating a 5-digit Pi match (rounded) that prompted a little extra celebration and fun with math.
Disclosure: This article may contain affiliate links. We will make a small commission from these links if you order something, at no additional cost to you.
Did you know that March 14th is also Albert Einstein's birthday? We propose a weekend or Pi Day pilgrimage to the Einstein Memorial to wish our favorite math genius both a happy Pi Day and a happy birthday.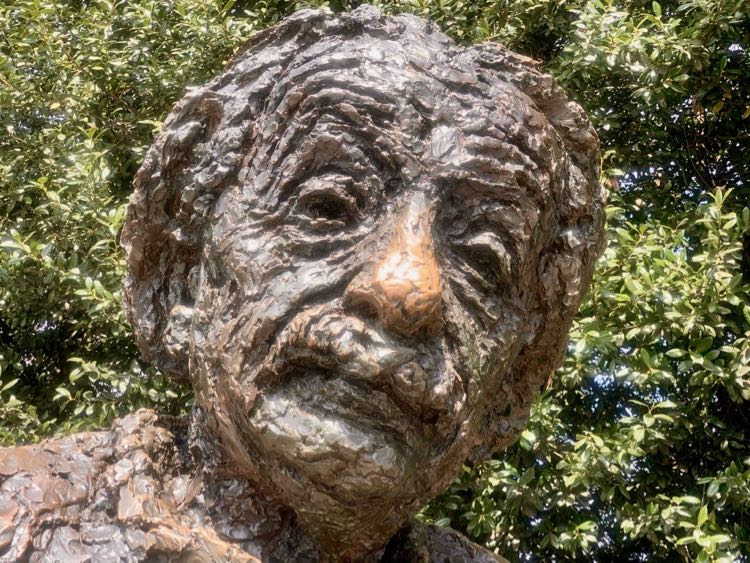 The Albert Einstein Memorial is a 12-foot tall bronze statue on the grounds of the National Academy of Sciences, located roughly across Constitution Ave from the Vietnam Veterans Memorial. It's an easy walk from the Lincoln Memorial area and it's a lot of fun to visit. You can even sneak in a little science lesson if you have kids along.
In his left hand, Einstein is holding a paper listing three mathematical formulas summarizing his most important scientific contributions. On the floor of the dais is a star map showing the position of planets, sun, moon, stars, and other celestial objects on the day the memorial was dedicated.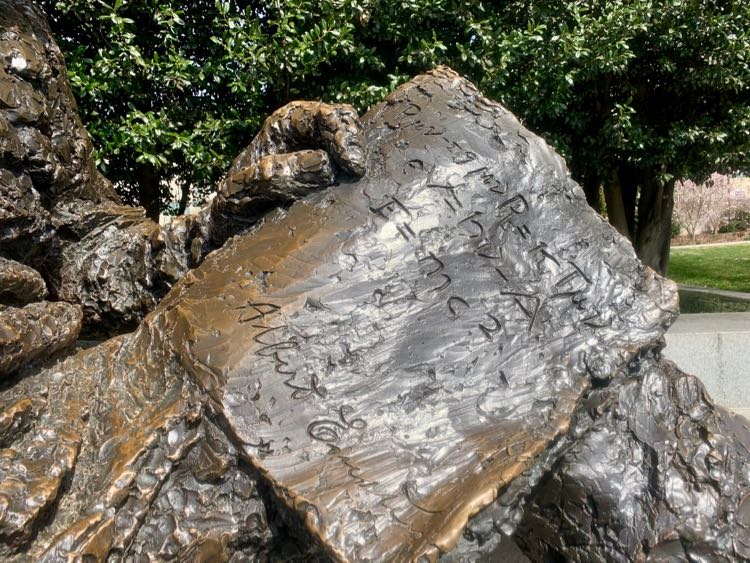 We love Einstein's casual pose and dress, including his rolled-up cuffs and the sandals on his feet. He seems to be welcoming visitors to join him for a rest, and people love to take pictures sitting in his lap. Wouldn't that make a perfect memory to display every Pi Day?
The Albert Einstein Memorial is at 2101 Constitution Ave NW in Washington, DC 20418. Find more details about the memorial on the National Academy of Science website.
Find more ways to Celebrate Pi Days in Northern Virginia, including ideas for online  and at home Pi fun. 
Follow us on Facebook, Twitter, Pinterest, and Instagram for more fun travel in and from Northern Virginia.