Updated on December 6, 2023 by Julie McCool
These chocolate shops in Northern Virginia, plus restaurant specials, offer sweet and savory treats perfect for date night, special occasions, and everyday fun. Sample the variety and flavors of these chocolates, on-site or to go, while you support local businesses.
You'll find special chocolate deals and offers around Valentine's Day and Mother's Day. Many of the restaurants listed below participate in Restaurant Week promotions in January and August.
Disclosure: This article may contain affiliate links. We will make a small commission from these links if you order something, at no additional cost to you.
Of course, it's always a good day to treat yourself, and these Northern Virginia chocolate shops are worth a visit all year long.
Artisinal Chocolate Shops in Northern Virginia
If you're looking for the best chocolate in Virginia you do not have to look far. The Northern Virginia chocolate shops below offer delicious, beautiful, and indulgent treats. Plan the perfect date night with an order from these shops and you'll impress your date while supporting a local business.
Most chocolate shops have special occasion deals, accept custom orders, and let you create your own perfect gift box. Stop in the store to browse or follow the links to order online.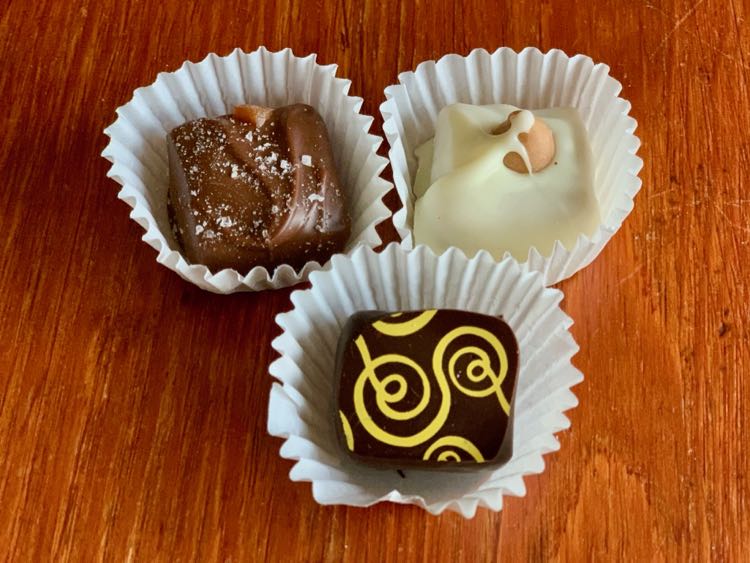 Cocoa Vienna, located on quaint Church Street, offers over 60 varieties of truffles, ganache, and more. Northern Virginia natives Sam and Staci create these fresh handmade goodies with organic ingredients and great care. Visit the shop to pick out your tasty chocolate treats or call to order. 120 Church Street, Vienna.
You'll find lots of great things to do in Vienna after you visit. For example, take a walk or a bike ride on the nearby W&OD Trail. If you have kids along, they'll enjoy seeing the big red caboose by the trail. Walkable downtown Vienna is home to some great restaurants, cafes, and shops.
Indulge your artistic flair and your tastebuds at Artisan Confections in Arlington. Bright modern designs decorate these beautiful handcrafted confections and bonbons. Visit the shop or order online for pick-up at the store or shipping nationwide. 1025 N Filmore Street, Arlington.
In 2023, Artisan Confections opened a second boutique and workshop at 1333 Chain Bridge Road, McLean.
Cameron's Coffee and Chocolates have been serving up homemade chocolates and other tasty treats since 2013. The shop is the first business of the non-profit foundation Every 1 Can Work. The nonprofit gives local young adults with special needs the opportunity for meaningful work. 9639 Fairfax Boulevard, Fairfax.
What do you get when you combine homemade chocolates, Virginia wines, and a beautiful lakefront location? Chesapeake Chocolates occupies a small storefront at historic Lake Anne Plaza in Reston. You'll find a nautical theme reflected in some of the treats like the Bushel of Crabs and sealife-shaped chocolate. The shop also offers a nice selection of Virginia wines and other gifts. 11426 Washington Plaza West, Reston.
Visit during cherry blossom season and take your treats on a short walk to the beautiful Van Gogh Bridge. In fact, you can continue on a scenic walk around Lake Anne. Allow time to check out the award-winning architecture and cool art installations at Lake Anne, one of our favorite things to do in Reston. In warmer months the plaza hosts one of the best craft and Farmers Markets in Northern Virginia.
Fleurir Hand Grown Chocolates, Alexandria
UPDATE: Fleurir Hand Grown Chocolates has closed permanently. Get a dose of chocolate at Lily's Chocolate and Coffee which opened a new Alexandria location in 2023.
"One guy in Woodbridge" creates the handcrafted chocolate treats you'll find at Potomac Chocolate's shop in scenic Occoquan. Shop for bars, bonbons, sauces, and drinking chocolate online, or stop by the shop to browse. Chocolate maker Ben Rasmussen has a great page about his labor-intensive process on his website. 304 Mill Square, Occoquan.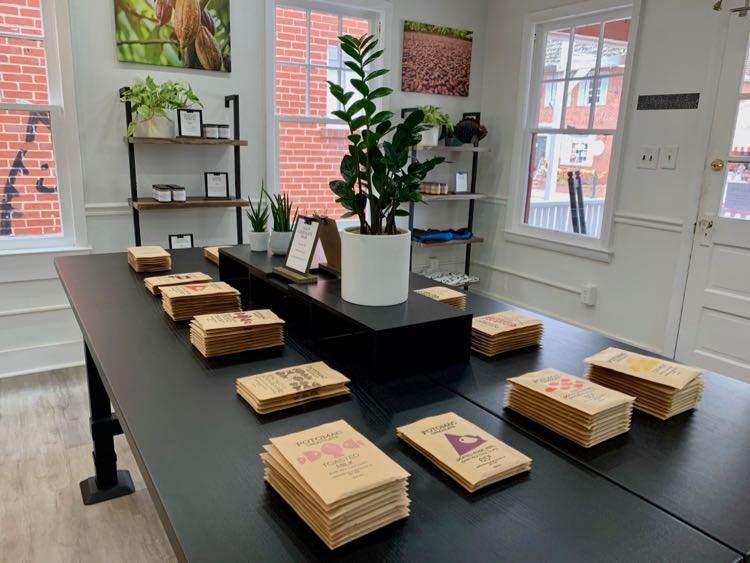 Just across the street in historic Occoquan is NazBro Chocolates, a small family-run chocolate shop. The shop has a wonderful collection of chocolate-covered fruit and nuts along with truffles, fudge, and more tasty sweets. 301 Mill St, Occoquan.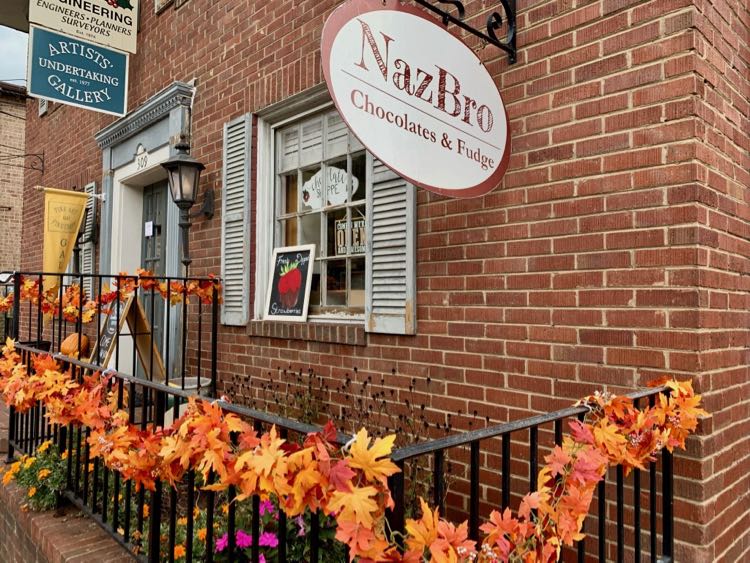 River-Sea Chocolates' Chantilly location combines a storefront, a drinking chocolate cafe, and a factory that you can tour. Treats are sourced with an emphasis on sustainability and supporting small farms. Tasty items for sale include rich Hot Chocolate Bombs, chocolate tasting kits, and lots of uniquely flavored bars, many of them vegan. 4520 Daly Drive Suite 100, Chantilly.
In 2023, River-Sea Chocolates announced they are moving their chocolate production factory to Reston. However, the chocolate cafe and store will remain in Chantilly.
Order online from this woman-owned chocolatier in Loudoun County or visit their shops in Ashburn and Leesburg. They offer chocolate bars, truffles, Hot Cocoa Bombs, and more tasty treats. We love the pretty pattern of white and dark chocolate in the Tree Bark. 20693 Ashburn Road, Ashburn, and 700 Fieldstone Drive, Leesburg.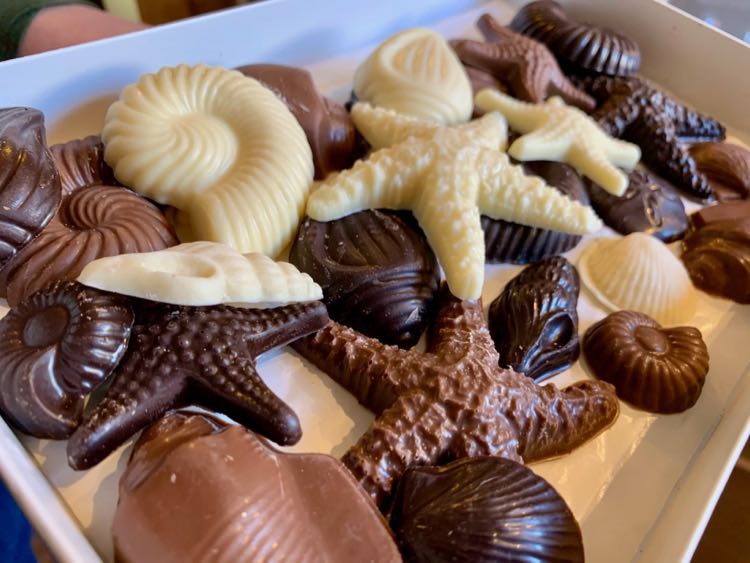 Indulgent Chocolate Dishes at Northern Virginia Restaurants
It is not hard to find a chocolate dish on most restaurant dessert menus. But some restaurants take special care to make chocolate lovers happy. Plus, check our list of the most romantic restaurants in Northern Virginia for more chocolate date night destinations.
The Conche in Leesburg combines a restaurant, shop, and classroom devoted to all things chocolate. In fact, the restaurant is named after a key innovation in the chocolate-making process. The Conche menu features savory and sweet dishes flavored with chocolate like The Conche Burger topped with chocolate BBQ sauce. Visit the shop to pick up your Valentine's Day bonbons and truffles.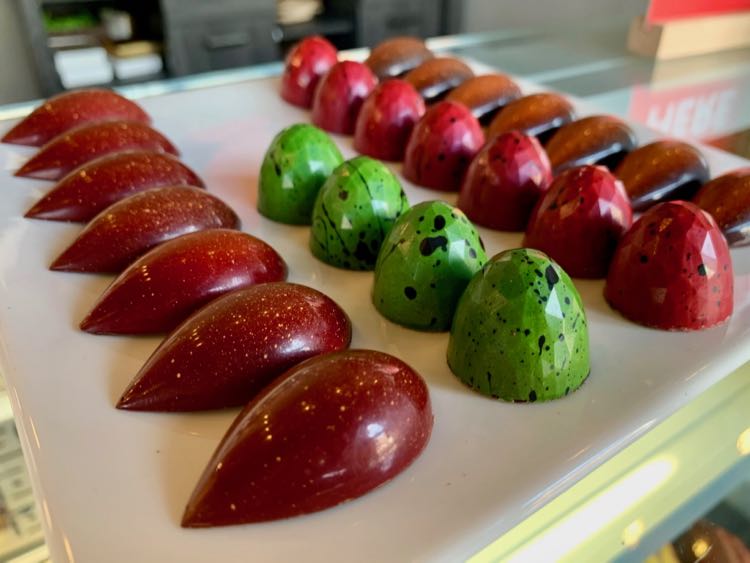 Here is a sampling of delicious chocolate dishes at Northern Virginia restaurants.
Whether your goal is a special night out, a treat for the family, or a reward for yourself, you can indulge your sweet tooth at the restaurants and chocolate shops in Northern Virginia.
Follow us on Facebook, Twitter, Pinterest, and Instagram for more fun travel in and from Northern Virginia.
Pin it for later: