10 Fun and Free Things to Do on a Washington DC Holiday Visit
Annual events offer a wealth of fun and free things to do on a Washington DC holiday visit, for a happy start to winter in the nation's capital. Many DC holiday events are perfect for children and families, but there is plenty to entertain adults too. All of these events return annually, but dates and hours shift year-to-year, so follow the links to plan your visit.
Here are 10 fun and free things to do on a Washington DC holiday visit:
1. United States Botanic Garden Seasons Greenings
The US Botanic Garden is one of the hidden gems of the city, and it is open and free every day, including Christmas and New Year's. One of our favorite Washington DC holiday traditions is to visit the annual display of poinsettias and models that fill the Conservatory. Recreations of DC landmarks, all built from natural materials, are paired with heirloom poinsettias and festive topiary in the Garden Court.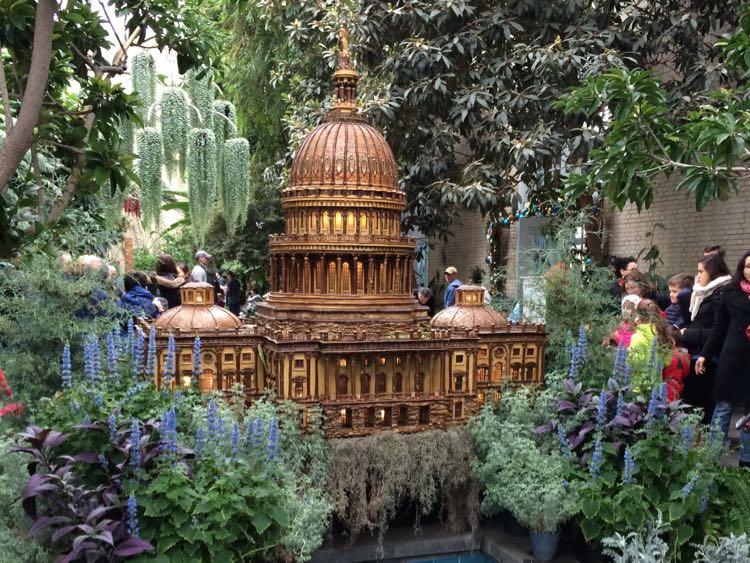 Favorites like the Smithsonian Castle and the Capitol Building return each year, and new models are added to honor new structures. In 2017, visitors will see a new model of the National Museum of African-American History and Culture. The largest living, indoor, decorated tree is another holiday highlight (the tree is missing in 2017 due to construction).
TIP: The Conservatory is accessed through the main entrance of the Botanic Garden, and there is usually no line to get in. The garden stays open late on some weeknights, with holiday music adding to the fun.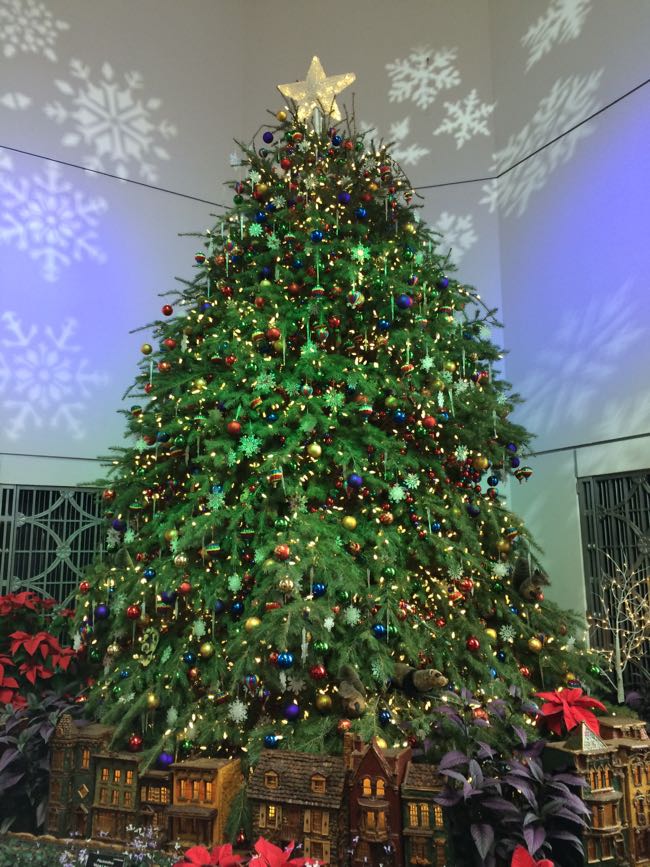 2. U.S. Botanic Garden Holiday Train Display
A separate entrance leads to an elaborate model train display, constructed to reflect a different theme each year. Most of the decorations are made from natural materials, and highlight places throughout the United States. In 2016, the focus was US National Parks, in honor of the park service's 150th anniversary.
In 2017, the theme will feature kitschy Roadside Attractions. No matter what the theme, there are always multiple trains in motion over bridges, through mountains, and past scenes you'll recognize of you've traveled the U.S.
TIP: Lines to view the train display can be very long and slow moving, so try to arrive early or late in the day.
3. Capitol Christmas Tree
Across the street from the Botanic Garden stands the U.S. Capitol building and the Capitol Christmas Tree. Each year an enormous tree is shipped from one of our National Forests, erected on the Capitol's front lawn, and decorated with ornaments from the tree's home state.
In 2017, the tree will travel all the way from the  Kootenai National Forest. Capitol tree decorations are often handmade, giving this tree an authentic touch.
TIP: The tree is lit from dusk until 11:00 pm nightly, but we like to visit in the daytime for a better look at the decorations and better pictures of the Capitol in the background.
4. Library of Congress Christmas Tree
Close to the Capitol is one of the most beautiful building interiors in the city. A giant Christmas tree makes a great photo opp in the colorfully decorated Thomas Jefferson Building of the Library of Congress.
TIP: You can walk between the U.S. Capitol Visitor Center and the Thomas Jefferson Building via an underground tunnel; a nice break on a winter day. The Library of Congress and the U.S. Capitol are closed on Sundays.
5. Union Station
Giant wreaths, garlands, lights, and a Christmas tree add DC holiday spirit to Union Station every December. The tree is erected and decorated by the Norwegian Embassy each year. It used to be accompanied by a model train display, but we haven't seen one in recent years. The station is an excellent stop to warm up, enjoy a meal, and do some shopping.
TIP: Head to an upstairs restaurants for a nice view of Roman Legionnaires surrounding the main hall and the meticulously renovated coffered ceiling.
6. National Christmas Tree and Pathway of Peace
President Calvin Coolidge lit the first National Christmas Tree in 1923, and the tradition continues each year. The heavily decorated tree is located on the Ellipse, in front of the White House.
Surrounding the National Tree is the Christmas Pathway of Peace, with 56 trees from each state and territory. Each state tree is decorated with unique hand made ornaments. The Pathway of Peace and National trees are free and open to the public from 10:00 – 10:00 daily through January 1st.
TIP: Tickets to the annual lighting ceremony are assigned by lottery. We suggest you skip the crowded ceremony, and visit another evening for clear views of the state trees.
7. National Menorah
The National Menorah is also located on the White House Ellipse. The annual Menorah Lightling Ceremony features proclamations, entertainment, hot donuts and latkes, and free dreidels and menorah kits.
TIP: Tickets to the lighting ceremony are free, but you must register online in advance.
8. Zoo Lights at the National Zoo
Holiday lights, animals at night, tubing runs and chop-choo fun are all part of Zoo Lights at the National Zoo. This annual DC holiday extravaganze features more than 500,000 environmentally-friendly LED lights that transform the Zoo into a winter wonderland. ZooLights includes live music performances, tasty winter treats, and plenty of opportunities for holiday shopping. The National Zoo packs a lot of activities and a little education into it's holiday light show. Zoo lights is open 5:00 – 9:00 pm nightly except Christmas Eve, Christmas, and New Year's Eve.
TIP: Admission and shuttle buses from Woodley Park metro are free, but parking and some optional activities have a fee.
9. Downtown DC Holiday Market
The Downtown Holiday Market has become a favorite for seasonal shopping between Thanksgiving and Christmas. A rotating schedule of over 150 vendors offer an array of unique gifts, arts, and crafts. Visitors also enjoy live entertainment and festive treats. Booths are open daily noon to 8:00 pm, and admission is free.
TIP: The market is located at 8th and F Street NW, close to the Gallery Place metro stop.
10. Skating at the National Sculpture Garden
A spin on the ice at the National Sculpture Garden is a fun, though not free, addition to any Washington DC holiday visit. Visit the large scale sculptures by major artists that surround the rink during the day, and skate under festive lights at night.
Adult skating is $9.00 for two 45-minute sessions, with various options for skate rentals, lessons, and special events.
TIP: The skating rink is closed on major holidays but is otherwise open daily from mid-November to early March, weather permitting.
Extend Your DC Holiday Visit
Kimpton's Hotel George makes a nice home base for exploring the US Capitol area. Spend a night or two in DC to enjoy the holiday activities listed here, plus visit the Newseum and some of the Smithsonian museums.
If you like DC holiday fun, read these related articles for more seasonal events and displays in Virginia and Maryland:
Follow Fun in Fairfax VA on Facebook, Twitter, Pinterest, and Instagram for more fun places to visit and things to do in Northern Virginia and surrounding areas.