Updated on September 11, 2023 by Julie McCool
Ten terrific things to do in Herndon Virginia include pretty trails, a fun farm park, tasty local restaurants, craft breweries, unique shops, art, and interesting history. While the town of Herndon is quite small (just 4.2 square miles), the greater Herndon postal region includes nearby communities like Franklin Farm and Dranesville.
The growing community includes a quaint historic center that is home to some of the best Herndon restaurants. In addition, shopping centers spread out along Elden Street offer more local dining and shopping. Parks and trails in Herndon neighborhoods give residents and visitors a place to play and enjoy a break in nature.
Disclosure: This article may contain affiliate links. We will make a small commission from these links if you order something, at no additional cost to you.
As residents of neighboring Reston, we spend a lot of time in Herndon, and we've highlighted our favorite spots below. Here are 10 great things to do in Herndon Virginia (at more than 40 destinations), with options for every age.
1. Explore the Herndon Historic District
The Herndon Historic District is registered on both the National and Virginia Register of Historic Places. Stroll around the neighborhood to learn about Herndon's early history.
A growing collection of Historical Plaques share information about the places you will see. Here are a few highlights to look for as you explore the historic district:
Herndon Red Caboose
If you're looking for things to do in Herndon with kids be sure to visit the downtown Red Caboose. Kids love to climb on and around the caboose where they can play conductor and peer inside. The caboose was donated by the Northern and Southern Railway and brought to its current location in 1989.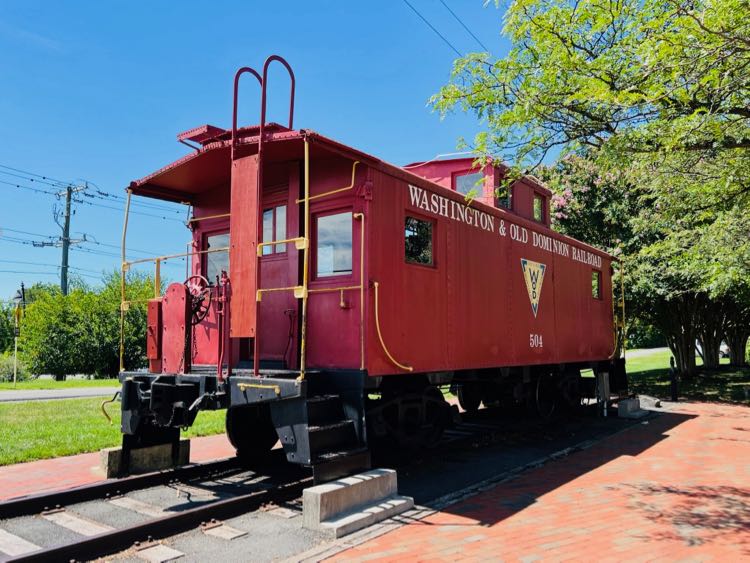 Herndon Caboose Park is not just for kids though. A sign next to the caboose shares how segregation made train travel difficult for non-white travelers. Virginia's "Jim Crow" laws segregated African Americans and Native Americans in separate rail cars or the rear of the train.
Herndon Depot
Across Station Street is the original Herndon Depot, built circa 1860. This was once a bustling stop for dairy farmers sending their milk to DC markets by train. Today the depot houses the Historical Society and a museum with period and railway artifacts. The museum is open Sundays, noon to 3:00, from March through mid-December.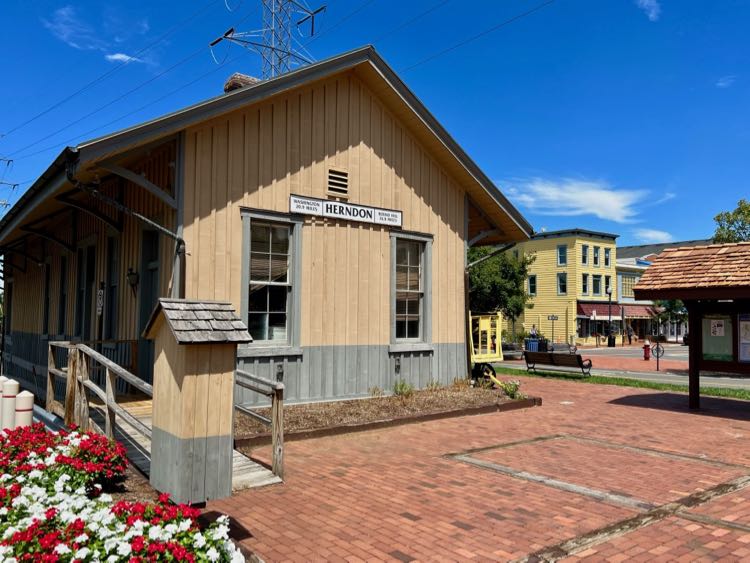 Acetylene Gas House
The remains of an Acetylene Gas House (717 Lynn St) are located across from the Herndon Municipal Center. Gas was generated here to power downtown street lights, while two other sites powered lights and a few wealthy homes. Since the gas generating process was dangerous, bunkers like this one were used to minimize the risk of explosions.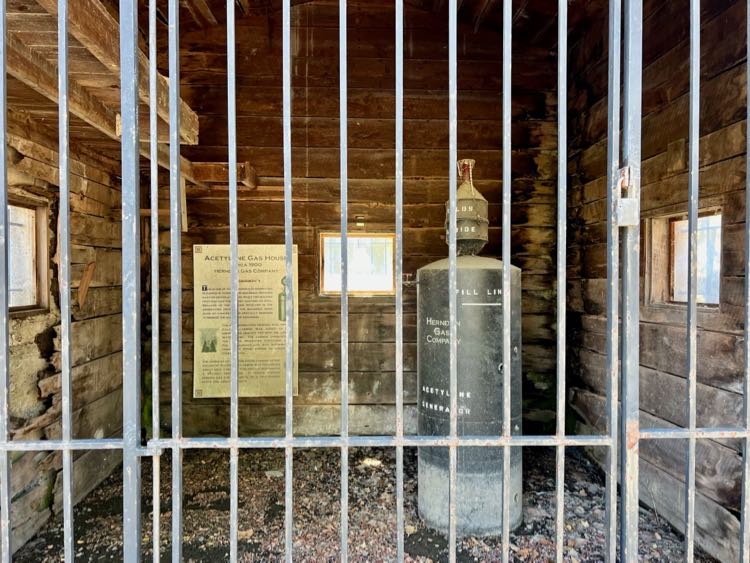 The Big Fire
Downtown Herndon suffered a major fire in March of 1917. Fourteen buildings were destroyed including most of the businesses on Station and Pine Streets. Two Pine Street houses were dynamited to stop the flames, and the business district was rebuilt as we see it today. Two plaques explain the fire and the businesses that were once located on Pine Street.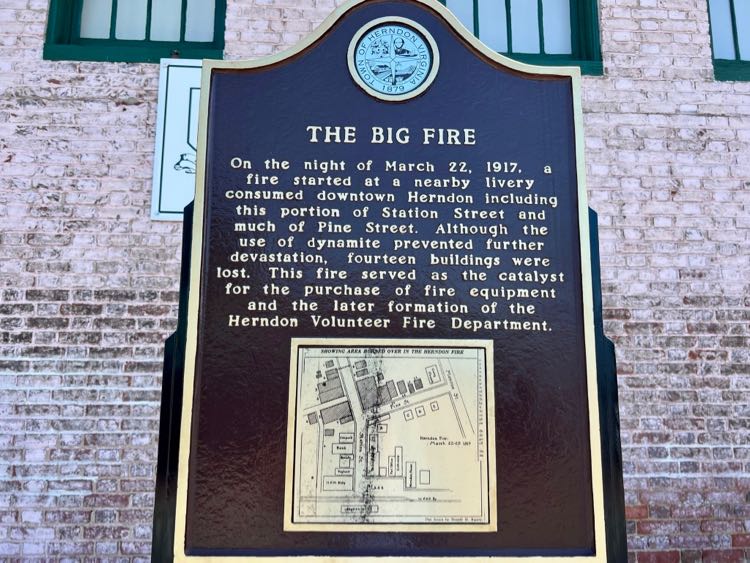 Herndon Historic Walking Tour
The Herndon Historical Society has created a self-guided walking tour that covers all of the buildings that have received plaques in the historic downtown. Download the brochure online or pick up a copy at the Depot Museum. They also share interesting history on the society's Facebook page.
2. Visit the Animals at Frying Pan Farm Park
One of the best things to do with kids in Northern Virginia, Frying Pan Farm Park is a historic farm in Herndon VA. Here, families can visit cows, sheep, horses, goats, pigs, turkeys, and other animals and learn about life on a farm.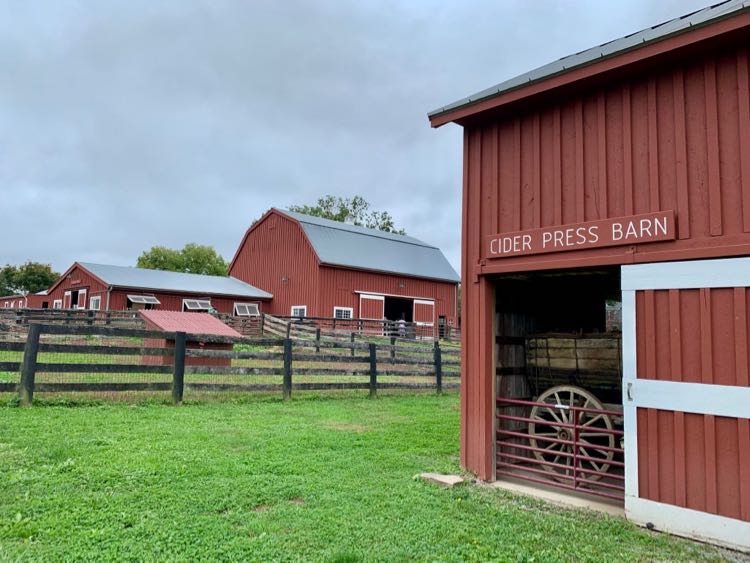 Tractor rides, a carousel, and interactive farm displays give kids a hands-on experience. The farm is also one of the best places for a casual family picnic or an easy hike.
Frying Pan Park hosts special events, like a carnival and 4H Fair held every August and a drive-thru holiday light show in December. The park's equestrian center holds both indoor and outdoor horse shows and the park Visitor Center offers performances and event space.
Admission and parking at Frying Pan Park are free, but donations to help feed the animals are always welcome. The park is located at 2709 West Ox Road and is open daily.
3. Bike or Hike the Washington and Old Dominion Trail
The Washington and Old Dominion Regional Park, aka the W&OD Bike Trail, is a rails-to-trails conversion that stretches 45 miles from Purcellville to Arlington.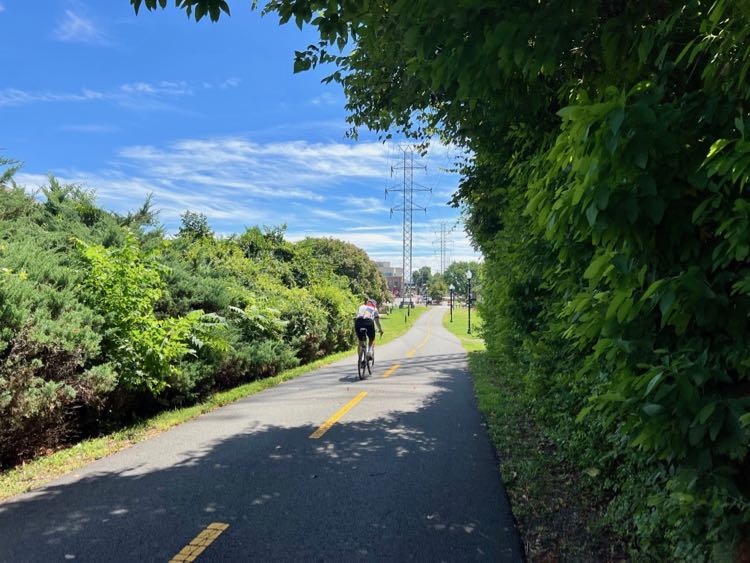 Roughly 2 miles of the W&OD pass through the town of Herndon and the center of the historic district. In fact, Herndon would not exist without the former railroad that operated here. The town built up around the Herndon Depot which operates as a museum today.
While this isn't the most scenic stretch of the W&OD, it's a convenient way to get some exercise or bike into town. The paved bike trail also connects to the Sugarland Run Trail (details below) which is a more scenic area to walk or bike.
4. Walk the Sugarland Run Stream Valley Trail
One of the prettiest stream valley trails in Northern VA winds through 4 miles of Herndon woodlands and fields. The paved Sugarland Run Trail is a streamside path that's a popular spot for hiking, biking, and dog walking.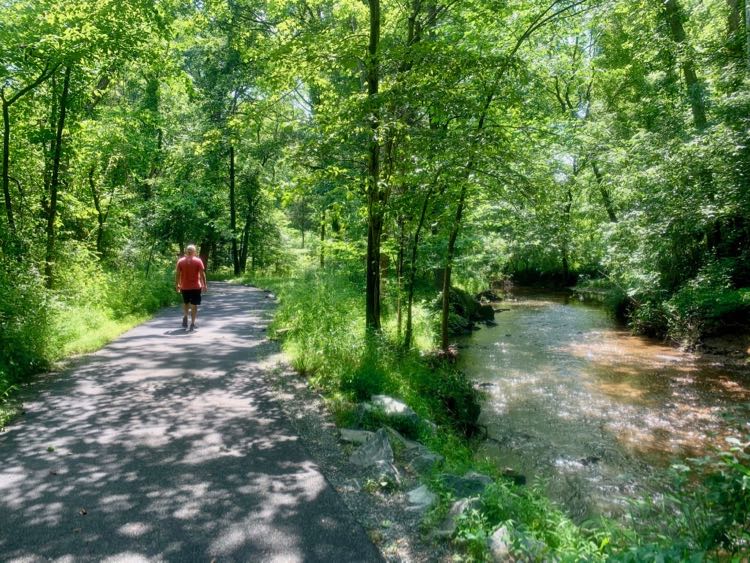 The trail is mostly level and great for kids, however, there are several stream crossings on concrete pillars that can be tricky for toddlers and strollers. Note that the pillars can be underwater and impassable after very heavy rainstorms.
For folks who want a longer distance, the Sugarland Run Trail connects to the W&OD and the mile-long Folly Lick Stream Valley Trail. Next to Sugarland Run, Runnymeade Park is a 58-acre nature park with trails and a native plant garden.
5. Sample Craft Beer at Herndon Breweries and Bars
Northern Virginia has a fantastic selection of craft breweries, and Herndon gets in on the action. There are two craft breweries in Herndon and several other places where you can sample a nice selection of craft beer.
Aslin Beer Company
One of the best breweries in Fairfax County is located in the heart of downtown Herndon. Aslin Beer Company offers an excellent line-up of craft beers in a hip space with a great rooftop bar.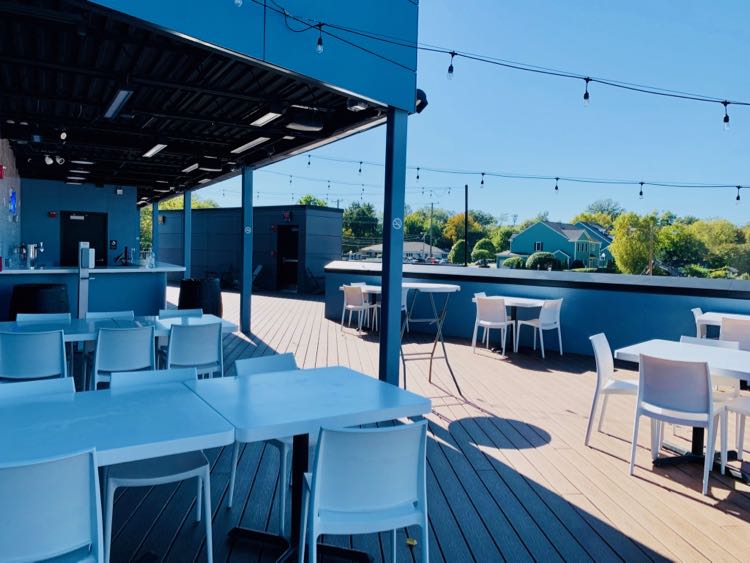 With more than 20 brews, there is something for everyone on the Aslin taproom list. IPAs dominate, but beer drinkers can sample everything from a light Pilsner to a robust Barrel Aged Imperial Stout. Our current favorites are the Festbier and the How Now Brown Cow, but the tap list changes often so there is always something new to try.
The space at Aslin includes a large patio with tents, a sleek indoor space, and that great rooftop bar. Even if you aren't going to the roof to drink, check out the psychedelic stairway.
Aslin Beer Company is at 767 Elden Street in downtown Herndon VA. They also have locations in Alexandria and Washington DC.
Juicy Brewing Company
Aslin got its start in a modest warehouse space in Herndon's Sunset Park. In late 2021, a new brewery opened in that space. Juicy Brewing Company creates a small and unique selection of fruit-flavored hazy IPAs and sours that have earned a following.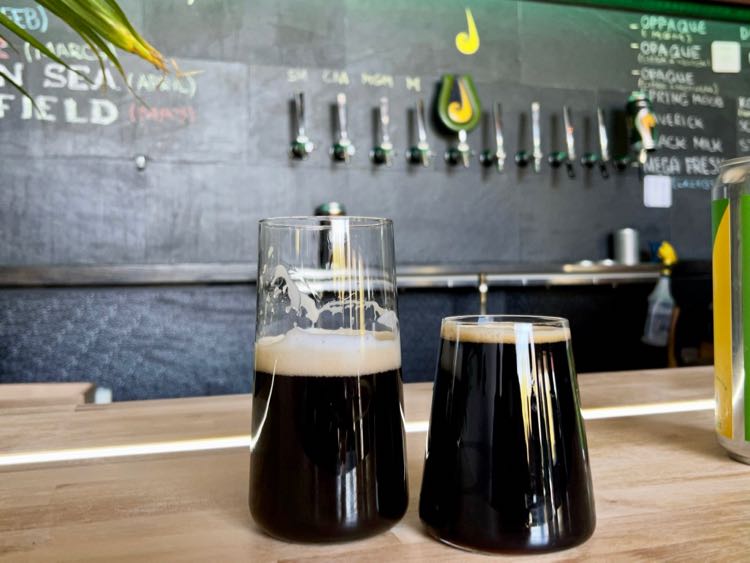 Perhaps the biggest hit of their summer line-up is the slushie machine, which churns out those cool fruity brews in a thick slushie form. Mega Fresh flavors change often and include fruit combinations like Watermelon Apricot Coconut or Passionfruit Mango Papaya Melon. Check the Facebook page for the newest mix.
Juicy Brewing Company has a small taproom at 257 Sunset Park in Herndon VA, generally open Friday to Sunday.
More Herndon Spots for Craft Beer
In addition to the dedicated breweries listed above, here are additional Herndon places with a good beer list.
Green Lizard Cycling is a bike shop first but they also have a small cafe with a great beer list. There are usually 5 – 7 local drafts on offer plus more options in bottles and cans. The shop is at 718 Lynn Street, right next to the W&OD bike trail.
Mile 20 at Mediterranean Breeze serves a range of craft beers (many local) from 24 taps plus bottles. Try a flight or a pint, or fill up a growler to go. The bar is at 781-R Station Street, at the back of the Mediterranean Breeze restaurant.
Several popular Herndon bars offer craft beer. Jimmy's Old Town Tavern, a friendly pub with a small outdoor beer garden, has a good list of bottled and draft beer. On the other side of Elden street, Sully's Pour House is a downtown sports bar with several craft beers on tap. In the Clocktower Plaza, Ned Devine's Irish Pub has a big draft list including popular Virginia brews. CarPool is a game and sports bar/restaurant with a strong beer lineup including many local brews.
6. Dine at Local Herndon Restaurants
Herndon residents and visitors can choose from a wealth of great local restaurants serving a wide range of cuisines. Herndon restaurants are located in the historic downtown, along Elden Street, and at shopping plazas around town.
Here are some of our favorite local Herndon restaurants, from casual eats to elegant dining. This is not a complete list of Herndon restaurants, just a list of places we have personally tried and enjoyed.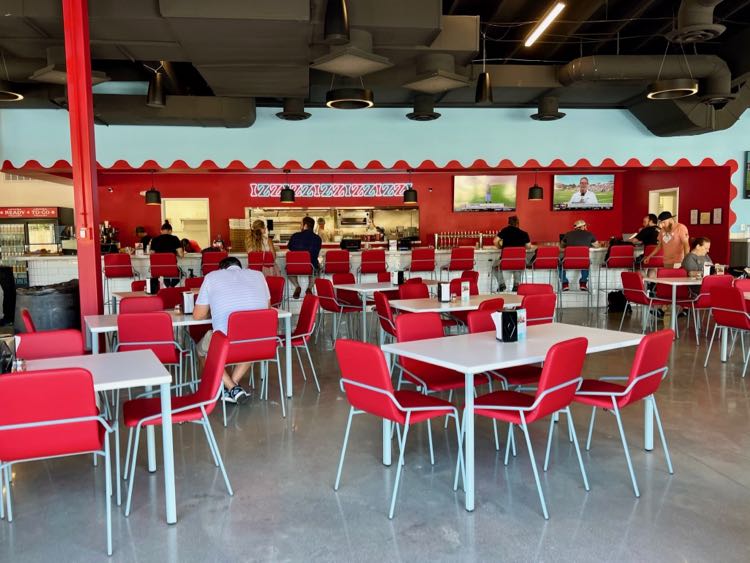 La Ong Thai is our go-to for Friday night takeout, but the small restaurant in the Fox Mill Plaza is also great for in-house dining. The Salmon Red Curry and Panang Shrimp are delicious! See our full La Ong Thai review.
Thai Luang has been a favorite in the Herndon dining scene for over 30 years. They are a must-visit for dishes like the popular Thai Luang Crispy Duck and the rich Duck Noodle Soup. See our full Thai Luang review.
Jimmy's Old Town Tavern is another Herndon favorite, serving food and drinks at their downtown location for more than 25 years. Jimmy's friendly staff delivers generous portions of classic American dishes and pub food to happy locals and visitors.
One of the newest entries to the Herndon dining scene is Izzi, a coffee, bakery, and pizza restaurant from the folks at Aslin Beer. Handmade pizzas with a crisp thin crust are especially tasty paired with Aslin's craft brews. The garage-like interior is bright and welcoming.
A cozy casual spot for tacos and pupusas is the cozy Tipicos Doña Gloria in the Herndon Centre Plaza.
For a tasty and filling breakfast, we love the Bagel Cafe. They have a nice selection of fresh bagels that are great paired with eggs, bacon, and yummy home fries.
Another favorite Herndon breakfast spot is right up the road. The Virginia Kitchen serves breakfast classics like Country Fried Steak, biscuits and gravy, waffles, pancakes, french toast, omelets, and more.
In the same plaza, SupperClub of India offers a lunch buffet and an extensive dinner menu. We're fans of the spicy Chicken Vindaloo paired with Shrimp Biryani.
The menu at A Taste of the World takes an eclectic trip around the world. Filipino specials share the list with dishes from Vietnam, Jamaica, India, the US, and more.
For a more upscale experience, perfect for date night in Herndon, head to Zeffirelli Ristorante Italiano in the historic downtown. Here they serve Tuscan Italian cuisine in an elegant candle-lit setting. The dinner menu features a wide selection of pasta, meats, and seafood, and a smaller menu is served at lunch.
Another great choice for special occasion dining is Russia House Restaurant. Also located in a historic building on Pine Street, family antiques and candlelight set the stage for authentic Russian and French dishes.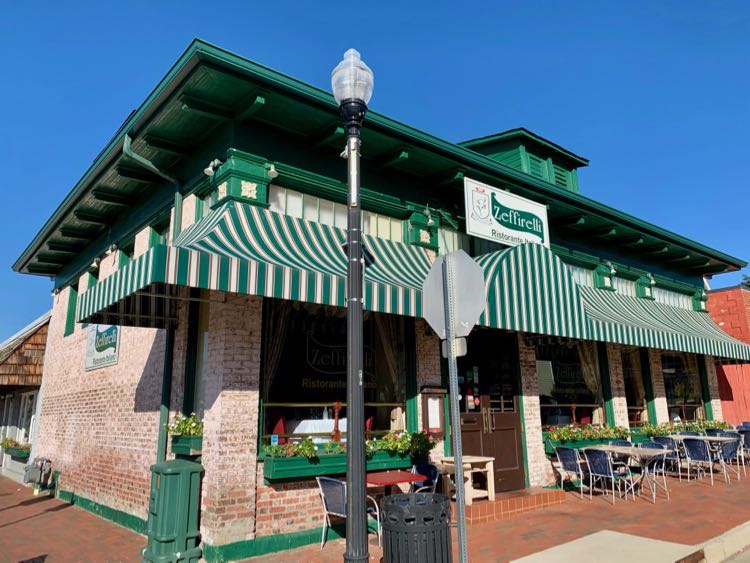 7. Shop at Unique Herndon Stores
Look beyond the chain stores, and check out these unique places to shop in Herndon.
Get a great deal on new and gently used camping equipment and clothing at Good Wolf Gear in Herndon's Sunset Park. We scored a nice tent for $15 which the sales rep kindly set up so we could fully check it out. Planning a camping trip near home? Check out our guide to campgrounds in Northern Virginia and Shenandoah National Park.
Find more great deals on clothing at N'Used, a women's consignment shop right across from Good Wolf Gear. Here you'll find designer labels for a bargain including clothes, accessories, and handbags.
Search for hidden gems and cool finds at Roaches in the Attic Antiques, a downtown antique shop above Jimmy's Old Town Tavern.
Another popular downtown shop, The Closet, is a nonprofit thrift shop offering clothes, home goods, books, and more.
Herndon is home to several excellent food markets offering Asian, Middle Eastern, European, organic, and other specialty foods. Check out chains like Lotte, H Mart, MOMs Organic, and smaller stores like Medina Market and European Gourmet.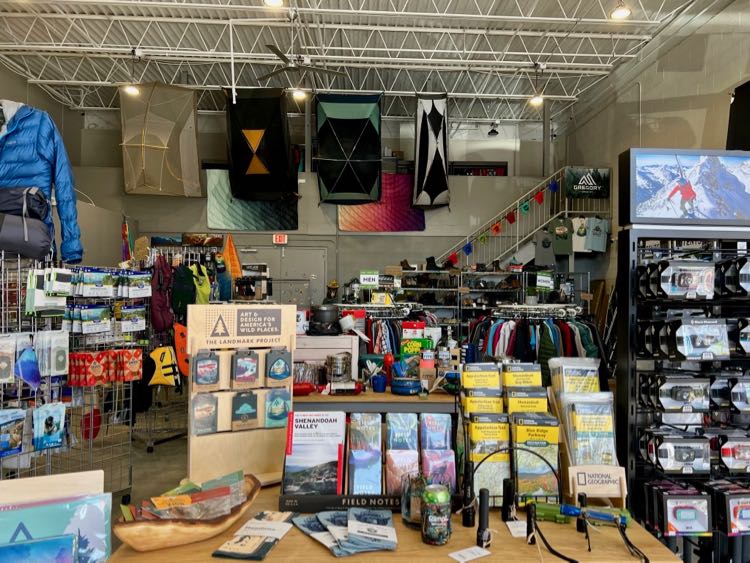 8. Attend a Special Event
The town of Herndon hosts popular events and festivals throughout the year, and local residents join in with seasonal displays. Here are a few fun annual events in Herndon: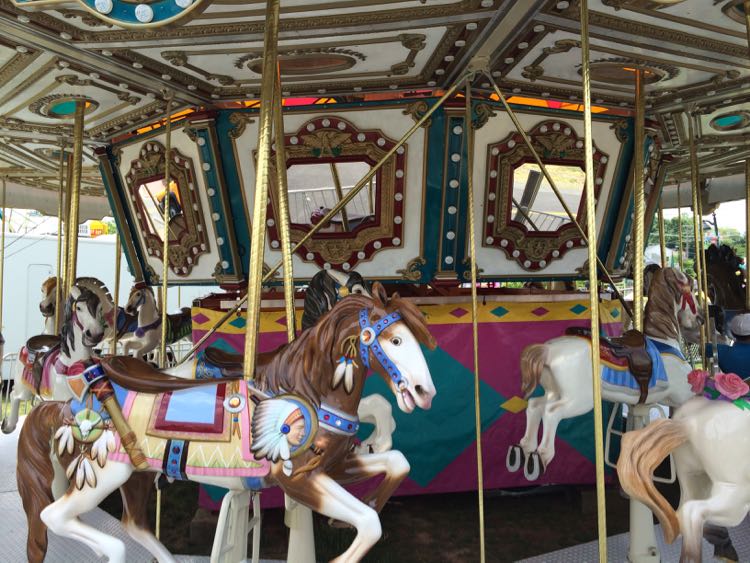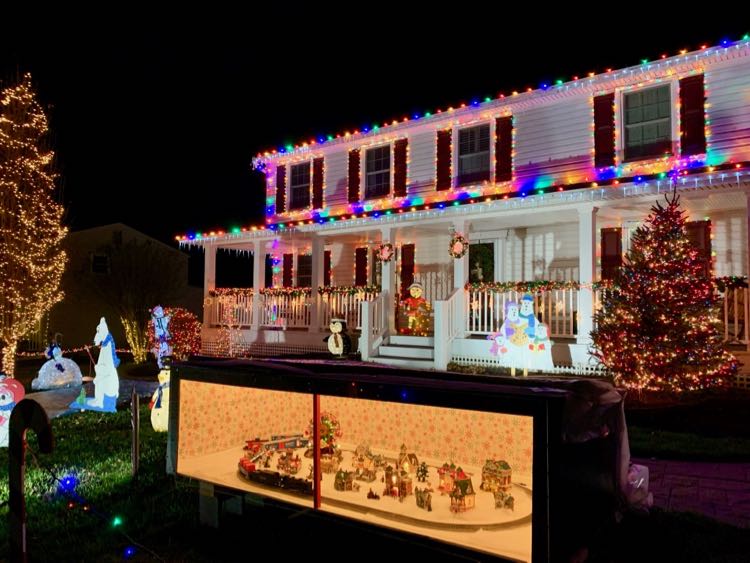 9. Enjoy the Herndon Arts Scene
Herndon has a small but passionate arts scene, with dedicated spaces for visual and performing arts including a professional regional theater.
Arts Herndon
Located in the historic downtown, Arts Herndon (formerly ArtSpace Herndon) is a combination gallery, art studio, classroom, and performance space. Here, local artists create and sell their work and offer a variety of workshops and classes. The performance space hosts improv shows, open mic nights, and other live events.
Arts Herndon is located downtown at 750 Center Street. Follow the link for details on current shows and exhibits.
NextStop Theater Company
Community theater got its start in Herndon when the Edlen Street Players formed in 1988. Today's NextStop Theater Company is a professional, regional theater that expands on that tradition and continues to make a mark on the DC theater scene.
NextStop's intimate theater features comfortable seats in an open auditorium-style layout. Performances are highly rated and tickets are $45 each, a bargain compared to most DC area theaters. The theater is located at 269 Sunset Park.
10. More Fun Things to do in Herndon
These activities and parks offer more fun things to do in Herndon for kids and adults.
Find more kid-friendly Herndon activities, parks, camps, and classes on the Parks and Rec website.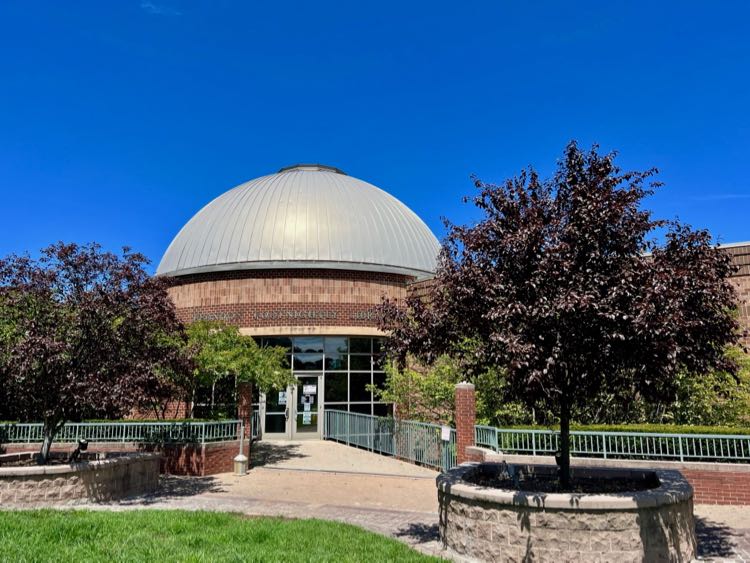 Where to Stay in Herndon VA
There are many major chain hotels in the Herndon area as this is one of the best places to stay near Washington Dulles International Airport. Here are top hotels in Herndon VA, and you can find more here.
Neighboring Reston Virginia is another good base for exploring the area, with several nice hotels available.
Washington Metro Silver Line Stations in Herndon
There are two new Washington Metro stations coming to Herndon as part of the Silver Line extension to Dulles Airport. Expect to see more development of public spaces and businesses near these new stations. Once the Silver Line extension opens, both stations will offer convenient metro service to Dulles Airport and downtown Washington DC.
The Herndon Station is located near the Herndon-Monroe Park and Ride at 12530 Sunrise Valley Drive.
The Innovation Center Station is located near the Center for Innovative Technology (aka the Shoehorn Building) at 13747-A Sunrise Valley Drive.
As you can see, there are fun and interesting things to do in Herndon for every age. With a quaint historic district and a wealth of great restaurants, this small Northern Virginia town is worth a visit.
Follow us on Facebook, Twitter, Pinterest, and Instagram for more fun travel in and from Northern Virginia.