2021 November events in Northern Virginia take us from pumpkins and fall fun to holiday displays and winter festivals. We've round up a month of local events in the Northern Virginia area to entertain every age and interest.
Many annual favorites are back in 2021, while a few have canceled again this year. November events are listed in order of opening date, with multi-day events listed first. We also include a list of annual events that are canceled in 2021. Follow the links for details and to purchase tickets.
Pumpkin Patches in Northern VA
A few of the major pumpkin patches in Northern Virginia will be open the first few days of November. Here is a sample of events; check out our complete guide for more details:
2021 Pumpkin Patches in Northern Virginia for Fall Festival Fun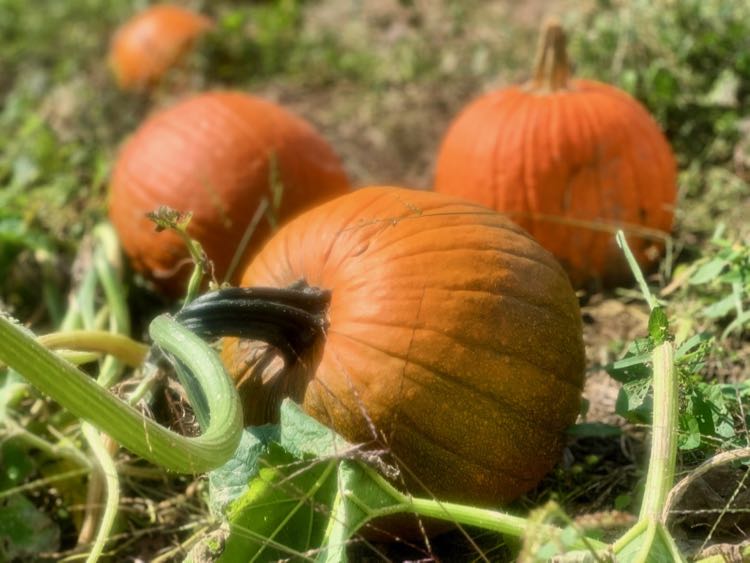 Fall Foliage, Until the Last Leaf Falls
2021 fall foliage in Northern Virginia may be past peak but still colorful in early November. Our guide will help you find beautiful fall colors in the area. Want to get active? Find the perfect fall hike in our round-up of 16 Great Fall Hikes in Northern Virginia. Or keep it relaxed with these 6 Scenic Drives in Northern Virginia.
The merchants of Historic Downtown Manassas display paintings, photography, and pottery by local artists. Balloons mark participating destinations, and you can follow your art exploration with dinner at one of the downtown restaurants. Streets are closed and you can sip as you shop. Free; 6:00 – 9:00.
Outdoor Ice Skating Rinks Open, Multiple Dates and Locations
As long as the weather cooperates, Northern Virginia outdoor ice skating rinks open in November. Opening dates have not been announced yet, but we'll update them here. Read our complete guide to Northern Virginia Ice Skating Rinks for details.
Reston Town Center, Reston, Nov 5
Cameron Run, Alexandria, Nov 19
Pentagon Row, Arlington, Oct 30
Harris Pavillion, Manassas, Nov 12
Honor our veterans at the annual Manassas Veterans Day Parade. Military and veterans groups, scouts, and entertainers will march through Old Town Manassas in five divisions. Free; 11:00 – 12:30.
The Revolutionary War touched everyone in the American colonies, not just soldiers. At Gunston Hall, learn about how private citizens like George Mason and his friends helped support the war effort. This is a family-friendly event with activities for all ages. Tickets are $10/$8 for adult/child, 5 and under free. 10:00.
The Enchanted Forest is a holiday festival featuring a variety of family events raising funds for the Junior League of Northern Virginia. The festival returns to an in-person event in 2021. Activities include time with Santa, silent auction, a gingerbread house workshop, special performances, and more. Follow the link for ticket and schedule details.
LuminoCity, Roer's Zoofari, Reston, Nov 4 – Jan 2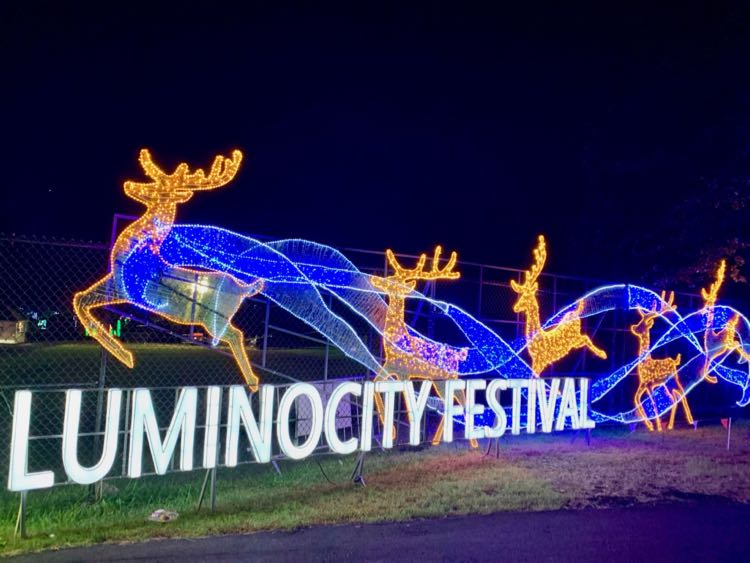 Roer's Zoofari hosts the Luminocity Festival throughout the 2021 holiday season. This walk-through experience features colorful holiday scenes and beautifully hand-crafted light sculptures. Visitors stroll past a vibrant collection of realistic and fantastic light sculptures, many featuring animals. Beginning November 15, new holiday scenes replace earlier Halloween displays. Timed entry tickets are $22/$32 for ages 3-12/adult.
Veterans Day gives us all a chance to honor and thank the many men and women who have served our country in the U. S. Armed Forces. National Parks offer fee-free entry, and local parks and recreation centers add their thanks with special programs and deals.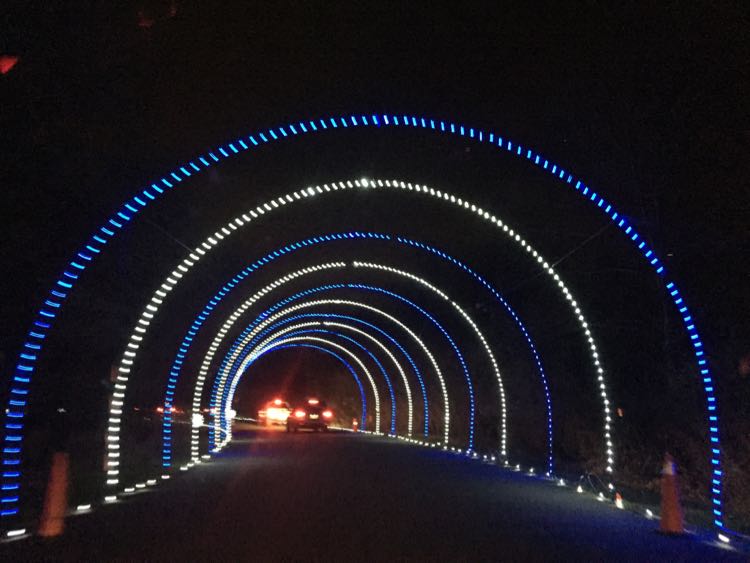 An annual holiday favorite, the Bull Run Festival of Lights dazzles with a 2.5-mile drive-through display of holiday and fairytale vignettes. While most of the display repeats year-to-year, there are usually new additions to enjoy. This is an ideal family activity even for the youngest kids, who stay warm and cozy as you slowly drive through the fun, animated displays.
Weekends get very busy, especially later in the season. Visit early or on a weekday to minimize cars and lines. The Holiday Village and camel rides are closed in 2021. Admission is $30 online per car, $40 at the door. Follow the link for a $5 weekday discount code. 5:30 – 9:30 weekdays, 5:30 – 10:00 weekends.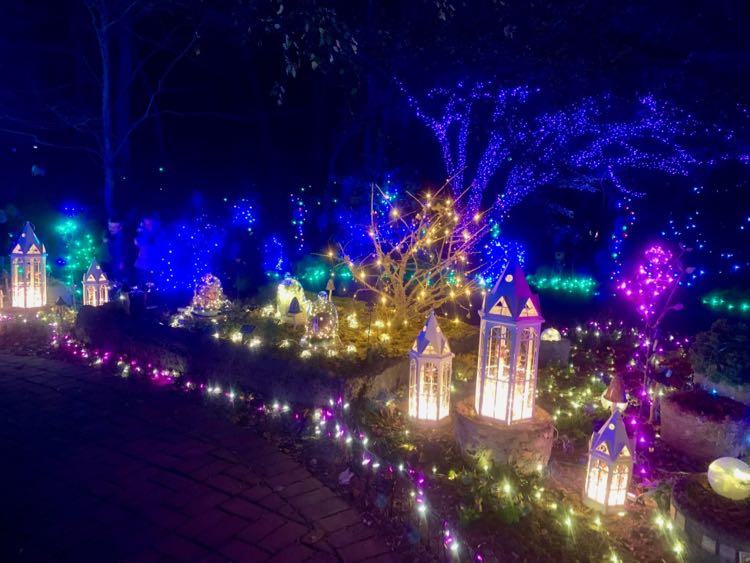 Every year Meadowlark Botanical Gardens lights up for the holidays with over 500,000 lights and displays on a .6 mile outdoor walking trail. Purchase timed entry tickets in advance to ensure you get parking and avoid lines. Limited tickets are available at the door on non-peak nights. Warm up with a hot chocolate or cider, and shop at the Snowflake Shoppe for holiday ornaments, flashing jewelry, and other goodies.
Tickets are $16/$20 online/at the door for non-peak weeks (Nov 11 – Dec 9). Prices increase to $18 and must be purchased online for peak weeks (Dec 10 – Jan 2). Open nightly, including holidays, 5:30 – 10:00; last admission at 9:15.
Too cold or rainy to play outside? Check out our guide to Indoor Activities in Northern Virginia to Escape Winter Cold or a Rainy Day.
Join three days of ticketed screenings of the best in independent filmmaking from around the world and our own Alexandria neighborhoods. Viewers can watch the films as scheduled in the festival program or watch within a two-week period from the time the films are purchased. Either way requires a ticket. Showcase tickets are $12 while an all-festival pass is $75. Follow the link to purchase tickets and for schedule details.
National Museum of the United States Army, Fort Belvoir, Nov 11
Veterans Day marks the first anniversary of the new National Museum of the United States Army so it's a great time to visit. This long-anticipated museum celebrates and interprets over 240 years of U.S. Army history. The museum tells the stories of America's Soldiers since Army's establishment in 1775. Admission is free but timed entry tickets are required. The museum is open daily 9:00 to 5:00 except on Christmas.
Create a new tradition at Nights of Lights on the Fairground, a new interactive holiday light show. This new show combines sparkly drive-thru lights, walk-thru lights, a holiday market, Christmas Village, carnival attractions, and more. Tickets are $25 for the drive-thru portion, $8/$5 adult/child 3 – 10 additional for walk-thru activities. Open nightly, 6:00 – 10:00.
Join local artists in their Lovettsville studios for a weekend of beautiful scenery, friendly folks, and local art. This relaxing driving tour leads visitors down some of western Loudoun's prettiest country roads, to meet the artists where they work and have the opportunity to buy affordable art and gifts for the holiday. Many studios feature food and wine from local businesses as well. Free admission; 10:00 – 6:00 daily.
Celebrate the Marine Corps Birthday and the 15th anniversary of the National Museum of the Marine Corps with fun birthday-themed crafts. The museum is open daily, 9:00 – 5:00. Admission and parking are free.
Ice & Lights returns to Cameron Run for a third year in 2021. The Village light display features plenty of sparkly photo opps including a walk-thru tree and photo frame, giant wreath, and beautiful design stars. For an extra fee, enjoy an hour of fun on the ice skating rink. Light-up and cuddly items are available for purchase, and the concession stand sells treats and drinks.
Village admission is $9.19 or $22.03 with 1 hour of skating. Skating tickets are limited and must be purchased online. Open nightly, including holidays, 5:30 – 10:00. The ice skating rink opens weekends and holidays 11:00 – 5:00 from Jan 8 – Feb 27.
Find more skating fun: 11 Fun Washington DC and Northern Virginia Ice Skating Rinks.
The annual Holiday Craft Show, at Fairfax High School, is one of the premium arts and crafts festivals in Northern Virginia. Artisans from all over the United States, including many local artists, offer wonderful holiday gifs for everyone on your shopping list. $5/$8 one-day/two-day admission; Sat 10:00 – 5:00, Sun 10:00 – 3:00.
Santa will arrive by horse-drawn carriage to light the Spectacular Musical Tree. This 5-story tall tree with a snowfall topper and more than 15,000 dazzling lights performs daily music and light shows. Festivities include horse-drawn carriage rides, caroling, holiday characters, cozy fire pits with treats, and more festive fun. Visitors are encouraged to bring a toy to be donated to Toys for Tots. Free; 4:00 – 7:00.
Happy Thanksgiving!, Nov 25
We'd like to wish a very happy, tasty, relaxing, and fun-filled Thanksgiving to all of our readers, friends, and followers. We are grateful for the support of our wonderful community, both online and in person. Whether you plan to stuff yourself at a family feast, enjoy quiet time alone, shop or hike until your feet are sore, or anything in between, we hope you have a beautiful day.
#OptOutside with REI and Virginia State Parks, Nov 26
REI invites folks to turn Black Friday into Green Friday by spending time in nature instead of shopping until you drop. REI closes all its stores and pays their staff to #OptOutside on Black Friday. Follow the link to find Virginia State Parks activities near you. Check for special events at Fairfax County Parks too.
Or create your own outdoor fun at these family-friendly parks, beautiful fall hikes in Virginia, or these short hikes to gorgeous Virginia views. Or check our complete hike and bike list to find a Northern Virginia trail near you.
Alexandria's alternative Black Friday experience features more than 50 independent boutiques kicking off the holiday shopping season. Find one-of-a-kind deals on designer merchandise, including home décor, chic fashions, gourmet food, classic toys, and gifts for dogs. Store offers vary, with special discounts throughout the day and many boutiques opening early.
Most years, this is also the day of the Old Town Alexandria tree lighting. Folks gather in Market Square from 6:00 to 8:00 PM for a visit by Santa and lighting of the official city tree. Free.
Plan your visit: 25 Fun Unique Things to Do in Alexandria VA.
Looking for a place to walk off your feast surrounded by history? George Washington's Mount Vernon is open daily, including Thanksgiving and Christmas. Did you know that George Washington first proclaimed a day of thanksgiving in 1789? This is a great time to tour the grounds and the Mansion.
On candlelight evenings, soft lights and holiday patterns illuminate the grounds, Christmas carolers sing, and you can visit an 18th-century winter encampment. Open weekends, Nov 26 – Dec 11 and Dec 19. Follow the link for details and to purchase timed-entry tickets.
Marvel at more than 2 million twinkling lights, amazing nightly snowfall, and beautiful dancing fountains at Gaylord National's Christmas on the Potomac. ICE! returns with the theme "I Love Christmas Movies", featuring 2 million pounds of ice sculptures and 4 ice slides. You can also enjoy a cup of hot cocoa, photos with Santa, and more family-friendly activities. Follow the link for ticket prices and hours for more photos and details.
Thrill the family with a National Harbor weekend getaway.
Gather the family, bundle up, and head to Reston Town Center for a day of holiday fun. At 11:00, watch the annual Thanksgiving parade, which grows larger and more impressive every year. Photos with Santa, mini-train rides, and live entertainment fill the afternoon, Christmas tree lighting and sing-along at 6:00, and carriage rides from 6:30 to 10:00. When you need a break to warm up, check out the gingerbread village in the lobby of the Hyatt.
Small Business Saturday, Nov 27
Support your favorite local businesses with a shopping spree on Small Business Saturday. Many area downtowns and malls will offer specials throughout the day. Last year there were small business specials offered in Alexandria, Fairfax Corner, Historic Manassas, Mosaic District, Vienna, Old Town Winchester, and more.
Visit each of the houses in the park's Historic Area and discover how the people who called Sky Meadows "home" celebrated the holidays in the past. Stop in the Gift Shop for unique holiday gifts. $5.00 parking; 11:00 – 4:00
Christmas Tree Lightings and Santa Photos
November events in Northern Virginia include a fun collection of Christmas tree lightings and Santa photo opps. In 2020, many of these events were canceled but they are back in 2021. We'll continue to update this section as events are announced.
Head to the Plaza at Tysons Corner Center to kick off the season with the annual lighting of the 51-foot decorated tree. Live entertainment, free s'mores and hot chocolate, and a visit from Santa add to the festive fun. Free; 6:00 – 8:00.
Ring in the holiday season as Historic Occoquan kicks off the Occoquan Holiday Fest. Town shops decorate for the season and stay open late so you can shop local for holiday gifts. Head to the Town Hall lawn at 8:00 pm for the annual tree lighting. Free.
Celebrate the holidays with the Christmas Tree Lighting at Mosaic District. The seasonal celebration includes an outdoor screening of Dr. Seuss' How The Grinch Stole Christmas, live entertainment, and the arrival of Santa Claus. Free; 5:00 – 7:30 pm.
Holiday shopping fun returns to Fairfax Corner with the annual tree lighting celebration. Enjoy live entertainment and giveaways, take a horse and carriage ride ($3 per rider; all proceeds benefit Women Giving Back), and meet Santa and Mrs. Claus. Donate a new, unwrapped toy/gift to Women Giving Back to give to children and teens in need this holiday season. 6:00 – 9:00.
Photos with Santa, Tysons Corner Center, Nov 12 – Dec 24
Phottos with Santa return to Tysons Corner Center mall in 2021. Interactive displays deliver extra fun for the kiddies before the picture with Santa. Best news for parents—you can reserve a spot in advance and skip the lines. Follow the link for pricing and hours.
2021 November Event Cancelations and TBA
This popular show features 50+ juried artisans offering original handmade art and craft items, including jewelry, clothing and other textiles, woodworking, sculpture, pottery and ceramics, glass art, handweaving, photography, drawing and painting, and other decorative and functional arts. $5; Fri and Sat 10:00 – 5:00, Sun 10:00 – 4:00.
The annual Snowflake Stampede is a 2.5-mile fun run and walk for holiday lovers. Participants will get a close-up preview of the holiday lights at Bull Run Regional Park and can take a selfie with their favorite display. New in 2019, a Stampede will be held on both November 16 and 17. $22/$17 adult/child; registration required. Race starts promptly at 5:30 pm.
With over 20 dealers selling minerals, fossils, crystals, gems, jewelry, carvings, meteorites and more, you're sure to find unique holiday gifts for the geology lover on your list. The event includes demonstrations, hands-on exhibits, door prizes, a Scouts area, and kid's activities. Follow the link for parking info and a discount coupon. $6/$4/$3 adults/seniors/teens. Saturday 10:00 – 6:00, Sunday 10:00 – 4:00.
We're happy that several favorite November events in Northern Virginia are back this year and we hope to see more return in 2022. Whether you attend special events or create your own seasonal fun, we wish you a happy and fun-filled November.
Follow us on Facebook, Twitter, Pinterest, and Instagram for more fun travel in and from Northern Virginia.