Holiday markets in Northern Virginia and the Washington DC region are a fun and festive way to shop for local gifts while celebrating the Christmas season. Arts and Crafts shows and international-themed holiday markets offer unique gifts and special activities.
Holiday markets are listed below in order of start date and include links to more details. Check back for updates throughout the holiday season as some market dates have not been announced.
Find more festive events in our guide to Fun Holiday Favorites from Northern Virginia Experts.
Holiday Markets in the Northern Virginia and DC Area
These 2022 holiday markets will brighten the season and provide a fun shopping experience. Many holiday markets open in November while others are held in December. Holiday markets are listed below in order of start date with multi-day events listed first. Follow the links for schedule details and updates.
Disclosure: This article may contain affiliate links. We will make a small commission from these links if you order something, at no additional cost to you.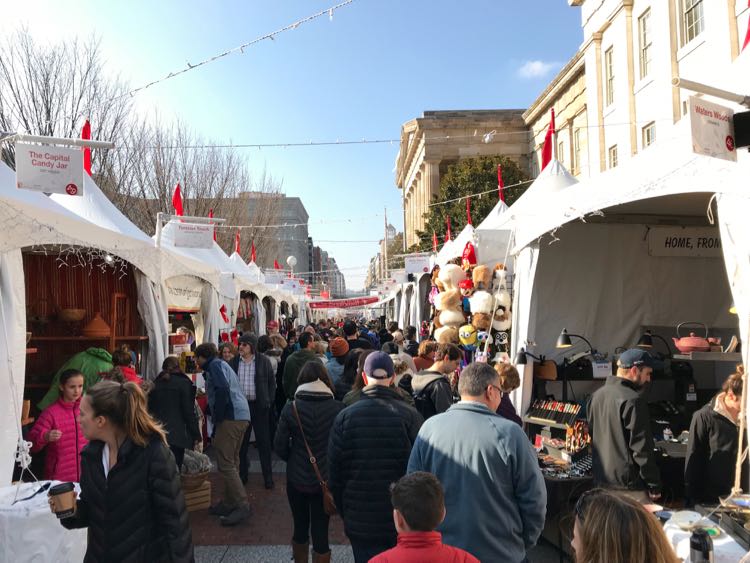 Enjoy two weekends of shopping for imported foods, baked goods, and merchandise at the annual Norwegian Holiday Festival. Shop for Nordic sweaters, crafts, books, and more. In 2022, the festival will feature 3 beautiful fjord horses!
Follow the link to reserve your shopping time as capacity is limited and you must have a reservation to shop indoors. The Norwegian Festival is held at Norway House, 3846 Meredith Drive in Fairfax. Admission is free and the show is open noon – 5:00 daily.
Head to beautiful Bluemont for a great time and fun shopping at the 3rd annual Christmas Market at Bear Chase Brewing. Shop for 100% handmade holiday gifts from 30 local artists. The beautiful setting and mountain views reflect the tradition of European Old World Christmas markets.
To add to the fun, enjoy live music, food, and beer while you shop. Warm up around the fire pit, sip hot cocoa, and enjoy fellowship with friends. Free admission; 11:00 – 5:00.
The 29th annual Northern Virginia Christmas Market fills the Dulles Expo Center in Chantilly with gifts for everyone on your list. Shop for crafts, jewelry, fiber arts, thousands of Christmas decorations, and much more.
Admission is $8, discounted when you bring a donation of canned food. Fri and Sat 10:00 – 6:00, Sun 10:00 – 5:00.
3
Join two dozen artists in their Lovettsville studios for a weekend of beautiful scenery, friendly folks, and local art. This relaxing driving tour leads visitors down some of western Loudoun's prettiest country roads.
During the tour, you'll meet the artists where they work and have the opportunity to shop for affordable art and gifts for the holiday. Many studios feature food and wine from local businesses as well. Follow the link for a tour map and list of participating studios. Free admission; 10:00 – 5:00 daily.
The Downtown Holiday Market is a favorite stop for seasonal shopping between Thanksgiving and Christmas. A rotating schedule of over 150 vendors offer an array of unique gifts, arts, and crafts. Shoppers also enjoy live entertainment and festive treats.
The Downtown DC Market is located at 8th and F Streets NW close to the Gallery Place Metro Station. Free admission and booths are open daily noon to 8:00 pm except closed Nov 24 and Dec 5.
Check our guide for more fun things to do in DC during the holidays.
The annual Holiday Craft Show, at Fairfax High School, is one of Northern Virginia's premium arts and crafts festivals. Here you will find wonderful holiday gifs for everyone on your shopping list from artisans all over the United States, along with many local artists.
Admission is $5/$8 for a one-day/two-day pass and youth 18 and under are free. Craft show hours are Sat 10:00 – 5:00, Sun 10:00 – 3:00.
The 30th annual Gem Show returns in 2022! More than 20 dealers will offer minerals, fossils, crystals, gems, jewelry, carvings, meteorites and unique holiday gifts perfect for the geology lover on your list. The event includes demonstrations, hands-on exhibits, door prizes, a Scouts area, and kid's activities.
Follow the link for parking info and a discount coupon. Tickets are $6/$4/$3 for adults/seniors/teens. Ages 12 and under and scouts in uniform are free. Saturday 10:00 – 6:00, Sunday 10:00 – 4:00.
7
Shop local this Thanksgiving weekend at the NVHG Arts and Crafts Show in Vienna. For more than 30 years, the show has been offering a juried selection of 40 to 60 artisans.
Original handmade art and craft items are available in a variety of mediums. Shop for jewelry, clothing and other textiles, woodworking, sculpture, pottery and ceramics, glass art, handweaving, photography, drawing and painting, and more. Admission is $3 and the show opens at 10:00 daily.
Enjoy a whole week of shopping deals during Shop Small Week in festive Alexandria Virginia. Each day features a different theme to highlight local businesses during the holiday season.
The week kicks off with Black Friday Alexandria and includes special giveaways. Other features include Small Business Saturday, Museum Store Sunday, and Giving Tuesday.
Check our Virginia Lovers Gift Guide for more great gift ideas. 
5
Alexandria's alternative Black Friday experience features more than 50 independent boutiques kicking off the holiday shopping season. Old Town Alexandria is packed with unique shops where you can find great gifts while supporting local businesses.
Find one-of-a-kind deals on home décor, chic fashions, gourmet food, classic toys, gifts for dogs., and more Store offers vary, with special discounts throughout the day and many boutiques opening at 6 AM. Free admission.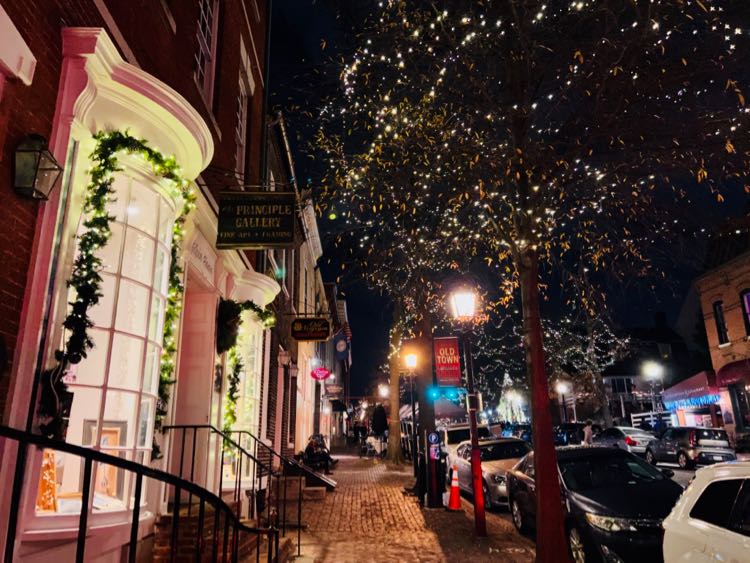 Head to Harris Pavillion in Old Town Manassas for a festive Christmas Market. Here you can shop for arts and crafts, jewelry, baked goods, body and hair care products, and more. Free admission, 9:00 – 2:00.
Bundle up and head to Bluemont in the Blue Ridge Mountains for the 4th annual Christmas Market at Dirt Farm Brewing. Shop for unique, handmade items from local artisans and vendors as you sip tasty craft beer and signature hot beverages. Free admission; 11:00 -4:00.
Del Ray Artisans' annual Holiday Market offers unique handmade fine arts and crafts from local artists. The 2022 market is held Friday to Saturday on the first three weekends in December.
Each holiday market weekend features different artists, so repeat visits are encouraged. The market is open Fri 6:00 – 9:00, Sat/Sun 11:00 – 6:00, and admission is free.
A City of Fairfax holiday tradition returns in 2022. The Old Town Fairfax Holiday Market is held during the first two weekends of December. Shop local for crafts, gourmet treats, and unique holiday gifts.
The market also offers extra fun like a s'mores firepit, petting zoo, and festive photo opps. Vendors will vary each weekend so visit both weekends if you can. Admission is free and market hours are Friday 5:00 – 8:00, Saturday 12:00 – 6:00, and Sunday 12:00 – 5:00.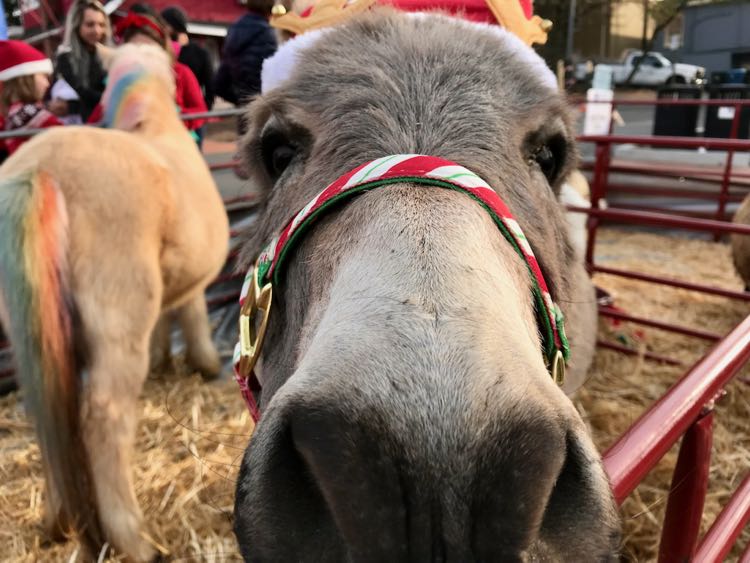 The McLean holiday market returns with a great collection of 80 juried vendors. Shop for unique, handmade functional and decorative items including ceramics, pottery, jewelry, clothing, and more.
In 2022, the Holiday Market will be held in the renovated McLean Community Center. Admission is $5 admission, 12 and under free. The show opens daily at 10:00 AM.
Head to beautiful historic Occoquan for a weekend of holiday shopping and fun. Artisans and crafters will line the streets of town offering unique gifts for every age. Santa arrives by boat on Dec 3 at 10:30, then he'll be ready to visit with families from 11:00 – 2:30 on both market days.
Festive market activities include a Gingerbread House Contest and live music in River Mill Park. Admission is free and the market is open Sat 11:00 – 4:00, Sun 11:00 – 4:00.
This outdoor holiday show features more than 40 artisans with fine, handmade creations and products. Find something for everyone on your holiday shopping list at Ida Lee Park Recreation Center in Leesburg. Free admission; Saturday 9:00 – 4:00, Sunday 10:00 – 4:00.
Deck the halls with special gifts from the annual Holiday Gift and Craft Show. More than 50 crafters and merchants show their wares selling unique handmade items, baked goods, and more. $1 admission for both days. Saturday 9:00 – 4:00, Sunday 11:00 – 4:00.
The annual Holiday Gift Fair, sponsored by UrbanMarket, returns to Mosaic District with two weekends of holiday shopping fun. The market features over 50 local vendors, offering the best handmade and vintage goods the area has to offer. Free admission, 11:00 – 4:00.
Stop in the Reston Community Center at Lake Anne Village Center to shop local at the annual Gifts from the HeART. Shop for one-of-a-kind artwork, jewelry, ceramics, and more. Stick around for more holiday fun at Jingle on Lake Anne, where Santa arrives by boat. Free; 10:00 – 3:00.
Shop from over 170 craft vendors and enjoy a day of festivities when the 17th annual Holiday Extravaganza and Craft Show returns to South County High School. There's a special shop for kids and Santa arrives by Fire Truck at 8:20 am.
Over 70 artisans and craftspeople will exhibit and sell their work at this annual arts and crafts show in historic Herndon. Handcrafted items and fine art on sale include festive wreaths, jewelry, Christmas ornaments, and homemade items at the Herndon Community Center. Free admission and parking, 10:00 – 4:00.
NovaLabs Holiday Maker Market, Fairfax, Dec 3
Check out NovaLabs new space, shop for gifts, or order a custom design. Crafts at Nova Labs include 3D printing, metalworking, woodworking, jewelry, handmade wool items, soaps and bath products, scarves, painted glassware, and more. Admission and parking are free; 10:00 – 4:00.
German Christmasmarket, Reston, Dec 8
The German Armed Forces Command in Reston transforms its parking lot into a traditional German Christmas Market with German food and beverages, arts and crafts, and mulled wine. All proceeds go to local charities, and traditional music adds to the fun.
Admission, which includes food and drinks, is $10/$5 for adults/children; 4:00 – 9:00. The event gets very busy, so arrive early if you can.
Downtown Herndon sparkles like a European Christmas Market for WinterMarkt 2022. (The German Embassy called this one of the best German markets in the US!) Enjoy festive decorations, food, and drink while you shop for the perfect gift and WinterMarkt specials. Admission is free; noon – 7:00
Shop for unique gifts at the 2nd annual Wheatland Spring "On the Lager Day of Christmas" market and enjoy festive food and Ghulwein. After your visit, go check out the beautifully decorated homes in historic downtown Waterford. Free admission, 10:00 – 4:00.
The annual Old Town Alexandria Christmas Market transforms John Carlyle Square into a lively open-air festival. Shop from over 100 vendors and local businesses. Market admission is free, open 11:00 – 4:00.
In 2021, the Workhouse Arts Center galleries offered 20% off all workhouse items over three weekends. Shop local and save on Small Business Saturday and the first two weekends of December. On Dec 11, a holiday art market featured a festive experience with local vendors, carolers, hot cocoa, a fashion show, and more.
Shop for local, handmade gifts for your loved ones from area small-business vendors. The weekend will also feature live music, craft beer, wine, warm food, hot chocolate and more. Free admission; 9:00 – 4:00 daily.
The annual craft show features over 120 area artisans plus door prizes throughout the day. You'll find unique gifts for everyone including art, pottery, woodwork, quilts, and more at this juried show. Admission $2 (12 and under free). Saturday 9:00 – 4:00, Sunday 10:00 – 3:30.
Whichever holiday markets you choose, we wish you successful shopping and a happy holiday season. Find more holiday fun in these related seasonal guides:
Follow us on Facebook, Twitter, Pinterest, and Instagram for more fun travel in and from Northern Virginia.