These Washington DC and Northern Virginia ice skating rinks offer healthy winter fun for every age, whether you prefer to skate indoors or out. Each ice skating destination offers smooth ice, happy music, and nearby fun, so we suggest you visit them all.
Many outdoor skating rinks open in mid-November and are open on holidays like Thanksgiving. However, outdoor rinks may close due to warm or stormy weather so always check for updates before you head out.
Follow the links for details on schedule, ticket options, and rules for the 2022/2023 winter skating season. Purchase tickets in advance to guarantee your spot.
Disclosure: This article may contain affiliate links. We will make a small commission from these links if you order something, at no additional cost to you.
Outdoor Northern Virginia Ice Skating Rinks
The Harris Pavilion rink is open daily in November and December and hours vary by day.
Seasonal ice skating takes over the Harris Pavilion in Old Town Manassas from November 18 through February (weather permitting). The pavilion offers a generously covered rink with a nice sound system pumping out music to glide to.
All sessions are open skate, and skate rentals are available for $6. New skaters can rent a Penguin ice skate helper for $10.
Skating is $9/$8 adults/children 10 and under. In 2022, the rink will also open for holiday hours on Thanksgiving, Christmas, and New Year's Eve and Day. The rink is closed Monday and Tuesday after January 2nd. Follow the link for details and special event closures.
Historic Manassas is full of restaurants, shops, and historic sites, so allow time after your skating session to explore. Better yet book a room in Manassas and enjoy a winter mini-vacation. The Manassas Train Depot is a great spot for a photo with the Virginia LOVE sign.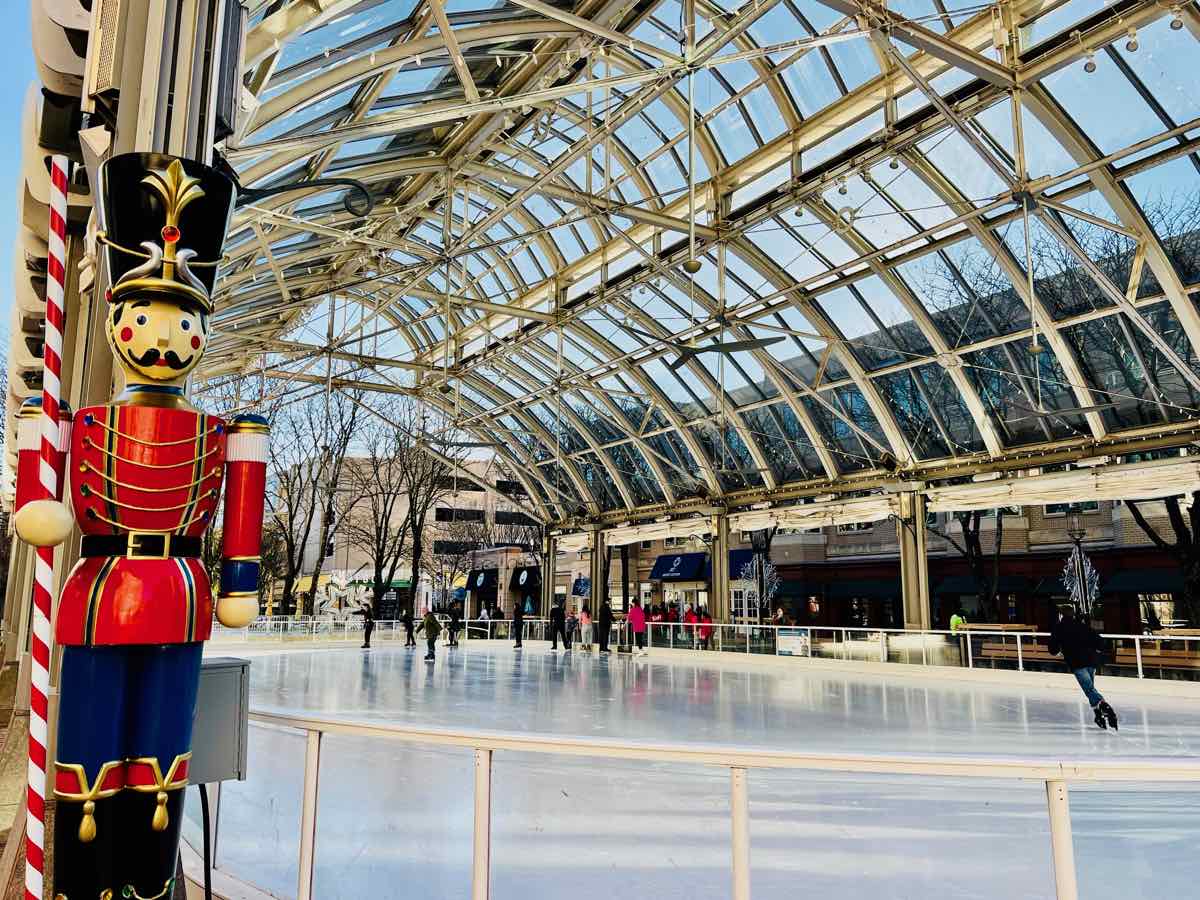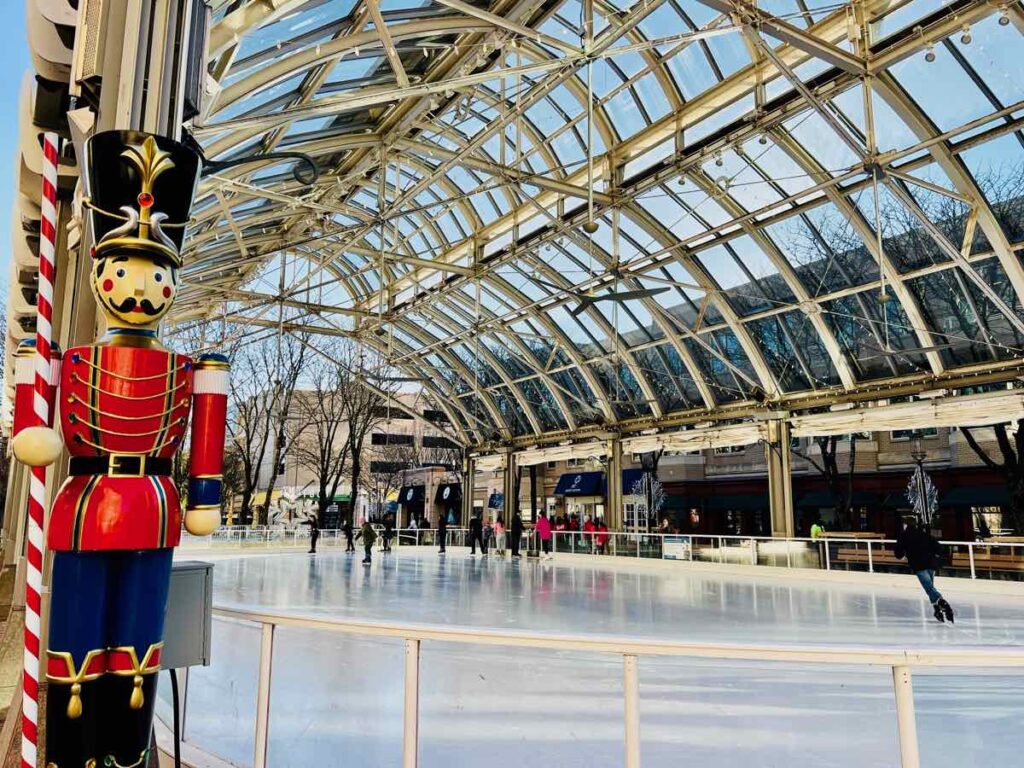 The Reston Town Center rink opens November 6 2022 (weather permitting) and is open daily until March 12, including Christmas and New Year.
The Reston Town Center Pavillion has undergone a major renovation and ice skating is expected to open sometime in November. New fire pits and seating areas near the rink should add to the cozy vibe.
Skating can get a little crowded at the popular Reston Town Center rink, but the mood is upbeat and the staff does their best to keep everyone happy. Reserve your spot and purchase tickets online. In 2021, adult admission is $10; youth under 12, Seniors, and Military $9; plus $7 for skate rentals.
Most years, there are special kid-targeted events on the weekend—Rock the Rink on Friday nights, 7:30 – 9:00; Cartoon Skate on Saturday mornings, 11:00 – 1:00. There is also a College Skate Night on Thursdays, 6:30 – 10:00 ($2 off with a Valid College ID).
Follow your skating fun with a stop at any of the terrific Reston Town Center restaurants and bars, or rest your feet at a movie. If the weather is warm enough, the tables by the fountain provide an excellent spot to sit and people watch. Remember that parking is free in the evenings and weekends, otherwise plan to pay for your spot.
In 2022, the rink is open daily, 10:00 to 10:00, from late October through mid-March, including major holidays.
The largest outdoor ice skating rink in Northern Virginia, Pentagon Row offers 6,840 feet of space to glide and twirl. A 2013 renovation also added a two-sided fireplace, next to the rink, offering a cozy place to relax.
Prices are $10 for skaters 13 and up; $9 for those under 12 and Seniors over 55. Skate rentals are $5.
Ice & Lights returns to Cameron Run for a fourth year from November 18 2022 to January 1 2023.
This holiday lights show includes a Winter Village with optional ice skating. The Village light display features plenty of sparkly photo opps including a walk-thru tree and photo frame, giant wreath, and beautiful design stars.
For an extra fee, enjoy an hour of fun on the ice skating rink. Village admission is $9.19 for online tickets ($10 at the door). Combined Village and Ice skating tickets are $22.03 (includes 1 hour of skating). Skating tickets are limited and must be purchased online. Open nightly, including holidays, 5:00 – 10:00.
Once the holiday light show closes, the ice skating rink opens on weekends and holidays 11:00 – 5:00 from Jan 7 – Feb 26.
The Stonebridge Rink is open daily from November 18 to the end of February.
Combine your next shopping outing with fun on the ice at Potomac Town Center's seasonal ice skating rink. The rink is located in front of Alamo Drafthouse and you can reserve tickets in advance.
Prices are $10 for adults and $9 for child/senior/military plus $6 for skate rental.
Indoor Northern Virginia Ice Skating Rinks
When it's just too cold outside, or you're looking to cool down during the warmer months, these indoor Northern Virginia ice skating rinks are the place to go.
Find more fun Indoor Activities in Northern Virginia to Escape Winter Cold or a Rainy Day.
Two large rinks at SkateQuest are often occupied with hockey, figure skating, lessons, and camps, so public skating hours vary and are not available every day. When public skating is offered, you'll find good quality ice, a lot of room to spread out, and pleasant staff.
Admission is $10 and skate rentals are $4. Check the website for public skating hours and special deals. There's a cafe in the building, and there are plenty of restaurants at nearby Plaza America.
The Ashburn Ice House has two large rinks, but the hours for public skating vary so check the schedule. The rink is a popular spot for hockey games, figure skating, camps, and skating lessons. Admission during public skating hours is $12 on weekdays, $15 on weekends. Skate rentals are $5. When you get hungry try a pizza from the Pomodoro located inside the Ice House, or head to our favorite haunt for tasty seafood, Ford's Fish Shack.
The first year-round ice rink in DC area, Fairfax Ice Arena has welcomed skaters for nearly 50 years. The indoor rink offers classes, camps, competitions, ice hockey, and public skating year-round.
Public skating hours are offered every day, including most holidays (closed Christmas Day). Schedules vary seasonally so follow the link for details. Public skating weekday admission is $8.50 for all ages; $9.75 on weekends and holidays . Skate rentals are $4.00.
Feel like a pro when you glide in the rink that the Washington Capitals use to practice. You can stop by to watch a practice session, but why not get out on the ice yourself? Public skating hours vary, so check the website for details. Admission is $15 and skate rentals are $5.
Seasonal Outdoor Washington DC Ice Skating Rinks
The 2022 ice skating season is open from November 26 to March 5, 2023 weather permitting.
You'll find a fun alternative to Northern Virginia ice skating at the Washington DC National Sculpture Garden. During the day you can skate, then visit the large-scale sculptures by major artists that surround the rink. At night, enjoy the festive lights.
Adult skating is $12 for two 45-minute sessions, $9 for children 12 and under, seniors, military, and students. Skate rentals are $6.00 plus $1 if you want to rent a locker. Frequent skaters should consider the $225 season pass.
Skating is just one of our picks for a DC holiday day trip. Better yet, plan a US Capitol area staycation to visit the rink and other area sites.
The Washington Harbour Ice Rink will open for the 2022 ice skating season from November 11 – March 12, 2023.
The largest outdoor skating rink in Washington DC is 11,800 square feet of fun at the edge of the Potomac River. The Washington Harbour rink offers public skating every day including holidays, along with skating lessons and special events.
Admission is $10 for adults, $9 for children/seniors/military, plus $7 if you want to rent skates. You can also rent a penguin for $10 to help beginner skaters on the ice. The rink is open Sunday to Thursday 11:00 – 8:30, Friday and Saturday 11:00 – 10:30.
In 2022, the Canal Park Ice Rink is open from November through February.
This seasonal outdoor rink has a figure-8 shaped track which offers a unique ice skating option. There are plenty of restaurants close by for a fun night out. Admission is $11 for adults, $10 for children and seniors. Skate rentals are $5.00. The rink is open daily noon – 10:00 with longer hours on weekends.
Follow us on Facebook, Twitter, Pinterest, and Instagram for more fun travel in and from Northern Virginia.