ICE National Harbor and Christmas on the Potomac return to Gaylord Resort in 2022 with fantastic ice sculptures, a spectacular light show, and holiday fun for the Washington DC region.
Looking for a family-friendly holiday treat? Festive activities perfect for kids and families deliver tons of Christmas fun at Gaylord National Resort and Convention Center. This is one of the most unique holiday shows near Washington DC and it draws a crowd every year.
Don your Big Blue Parka and head to the ICE! National Harbor tent for a holiday-themed wonderland (details and pics below).
Enjoy a free show on stage in the Gaylord's 19-story atrium (paid premium seats are available).
Watch a free, incredible laser light show. The light show features a 55-foot suspended Christmas tree, musical fountains, and indoor snow that delights guests nightly.
Indoor Tubing delivers an adrenaline rush as you slide through conveyor belts and down a two-story indoor hill.
Enjoy ice skating at a tented, outdoor rink in Winter Square.
Take a spin and challenge your family on ice bumper cars.
Find the perfect Christmas gift at the Holiday Shoppe.
Enjoy snowball and gingerbread house making, storytime, visits with Santa and Mrs. Claus, and more holiday fun.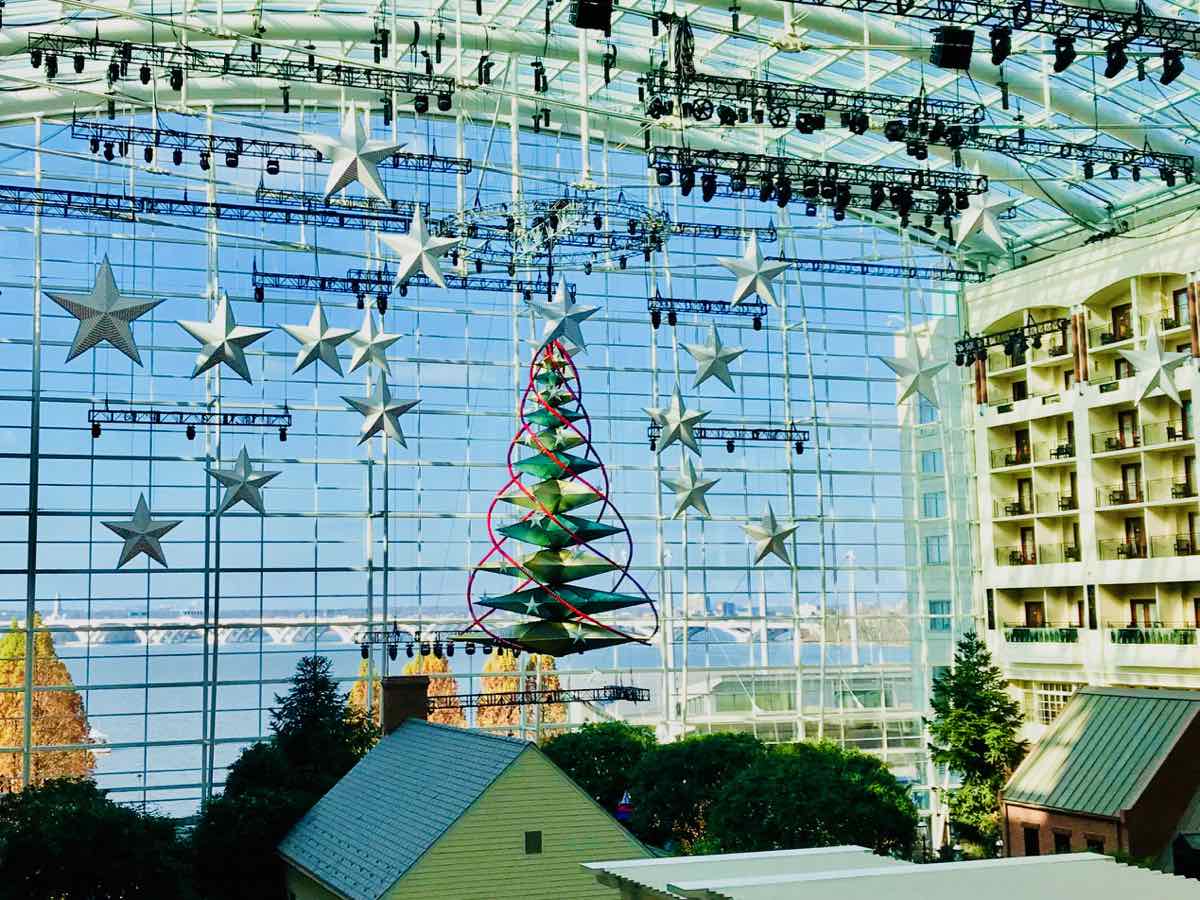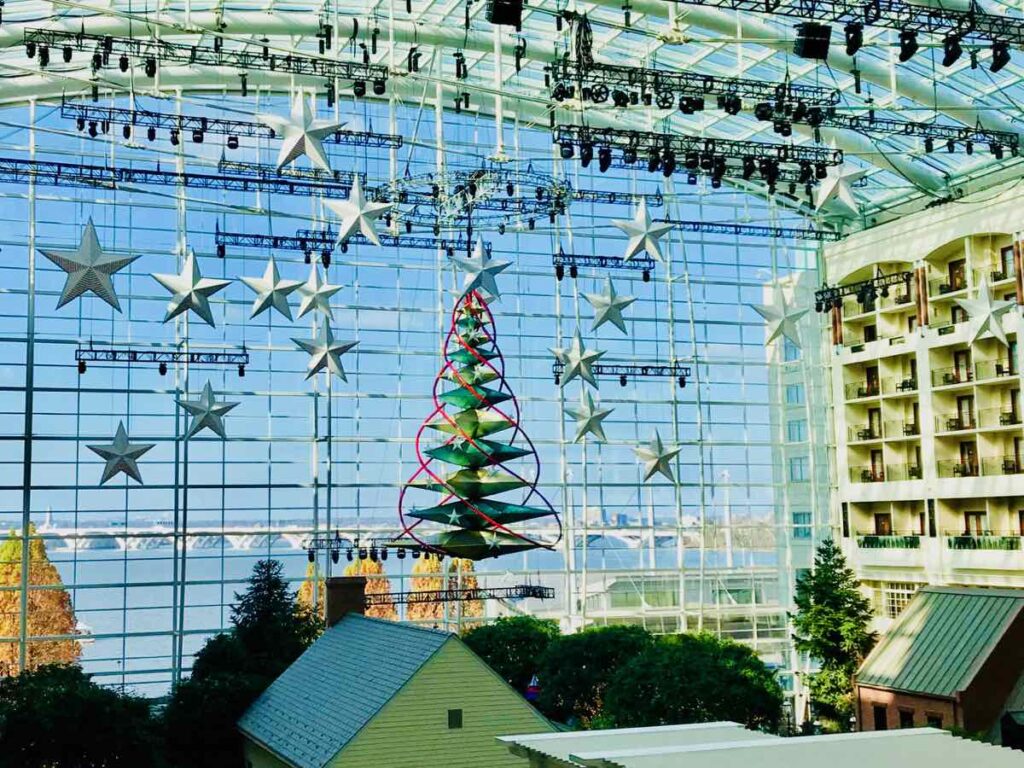 Plan an ICE National Harbor weekend getaway for some extra holiday cheer. If you want to be in the middle of the Christmas fun, Gaylord National offers stay-and-play packages throughout the season. In addition, there are more great hotels at National Harbor and lots of activities beyond the Gaylord ice sculptures.
Disclosure: This article may contain affiliate links. We will make a small commission from these links if you order something, at no additional cost to you.
ICE! National Harbor
Every year we look forward to walking through ICE National Harbor, to see the expertly carved, colorful ice sculptures. The walk-through display features favorite holiday characters, sculpted from huge, brightly colored ice blocks.
The theme at ICE! National Harbor changes every year, but the focus is always on popular, kid-friendly characters. Over the years we've seen the Grinch, Rudolph, Charlies Brown and the Peanuts gang, and more well-loved stories all sculpted in colorful ice.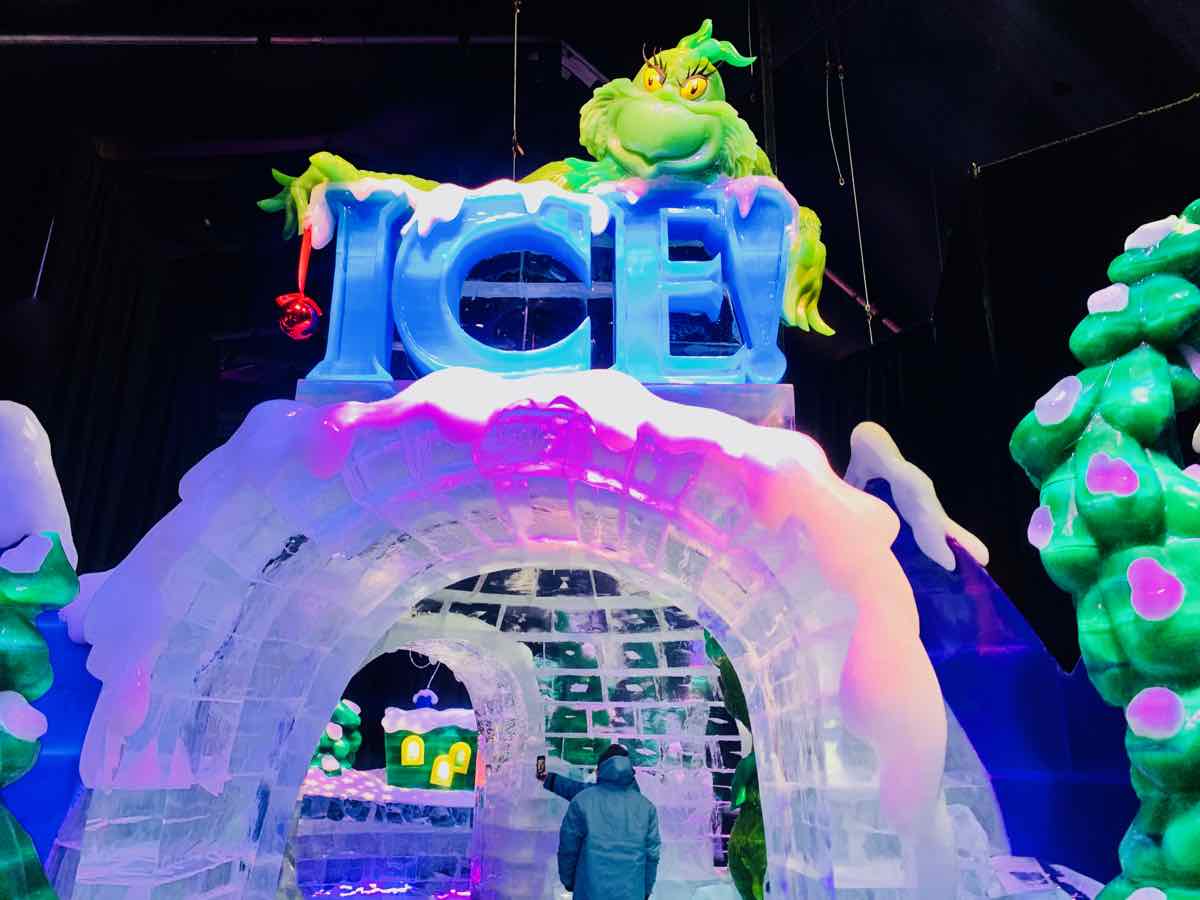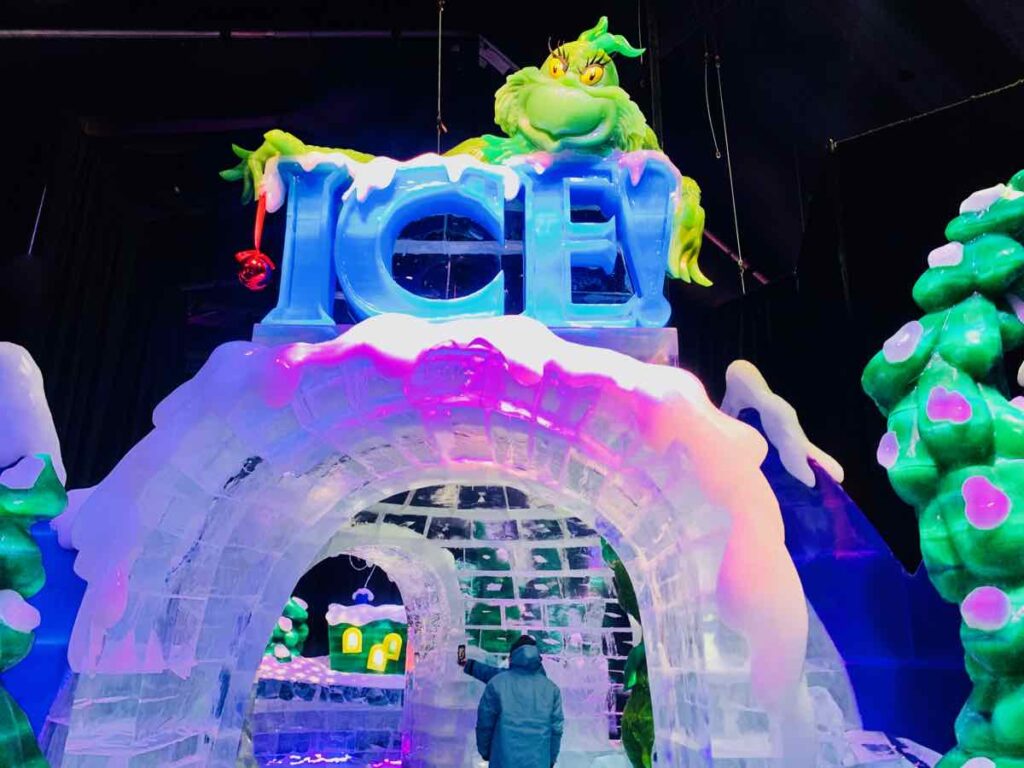 Visitors don big blue parkas before entering the ICE National Harbor tent, which is kept at a continuous 9° Fahrenheit. That chilly temp keeps the beautiful ice sculptures crisp and bright throughout the holiday season.
Take your time walking around the sculptures, despite the chilly temperatures. The ICE walk-through display is fairly short but you can move at your own pace and take as many photos as you like.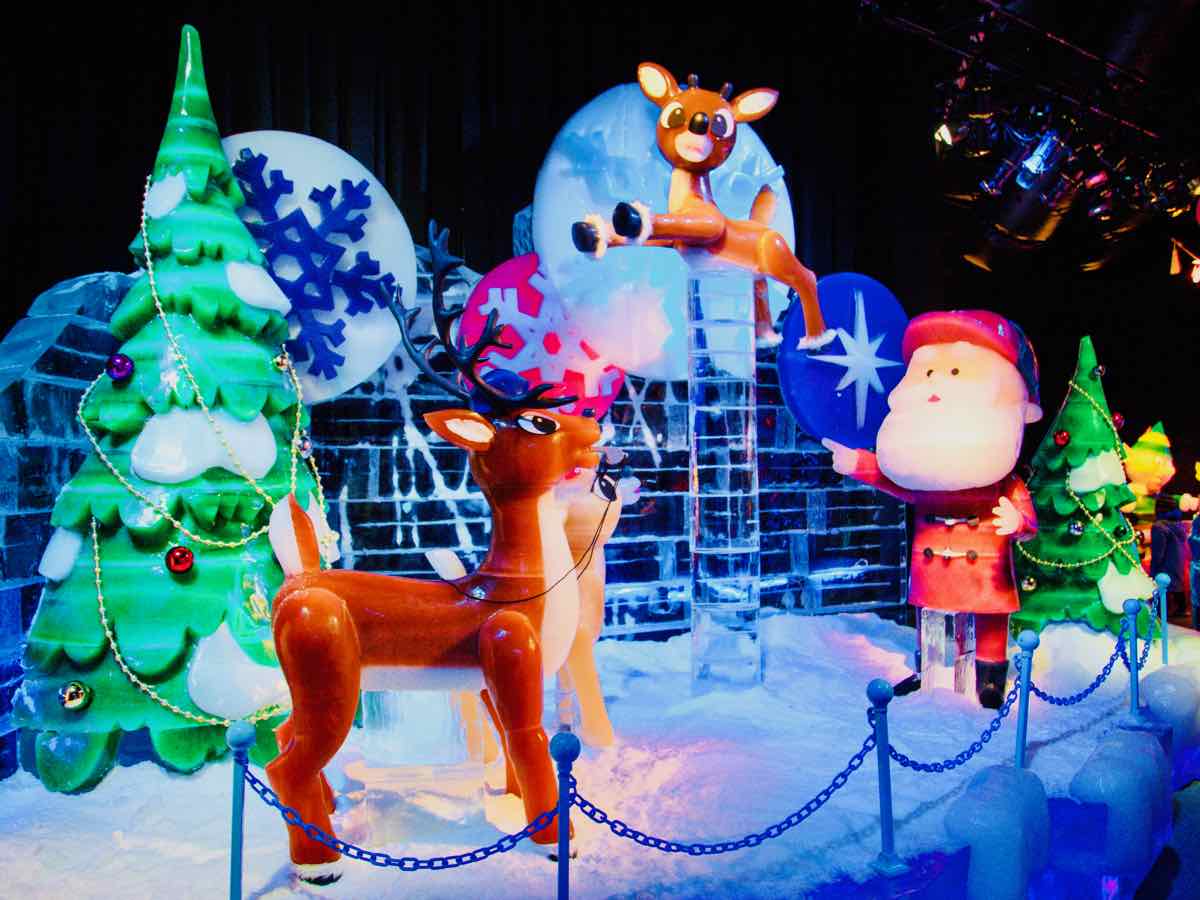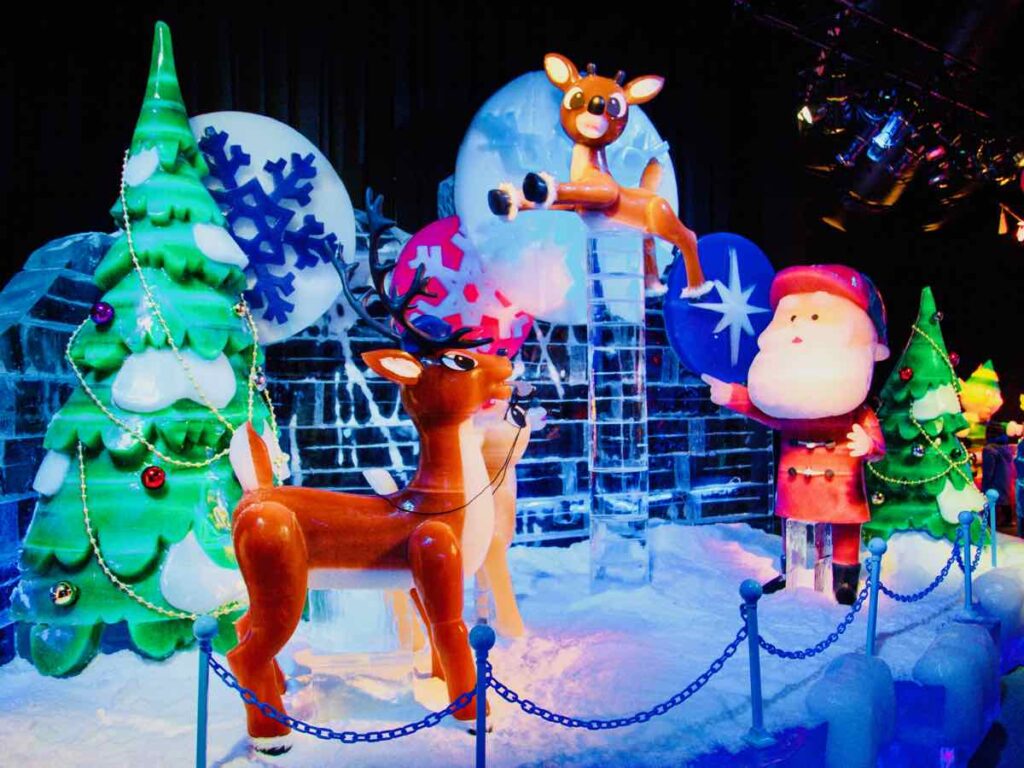 The festive, themed ice displays provide lots of opportunities to capture a perfect holiday photo. Tip: Keep your cell phone warm between pictures so it doesn't freeze up in the chilly temps.
The one thing you can not do is touch the sculptures. Keep a close eye on kids who may be tempted to reach out over the low rope separating guests from the ice.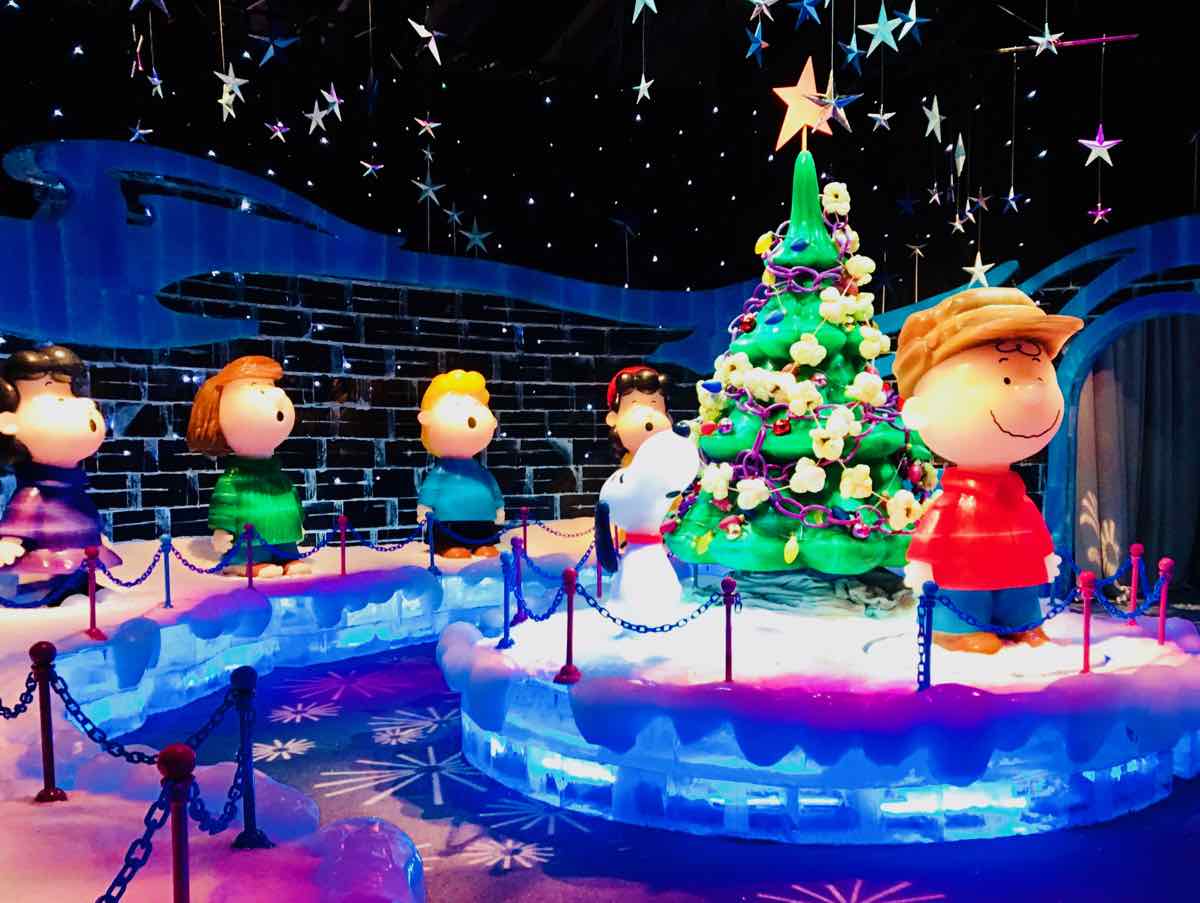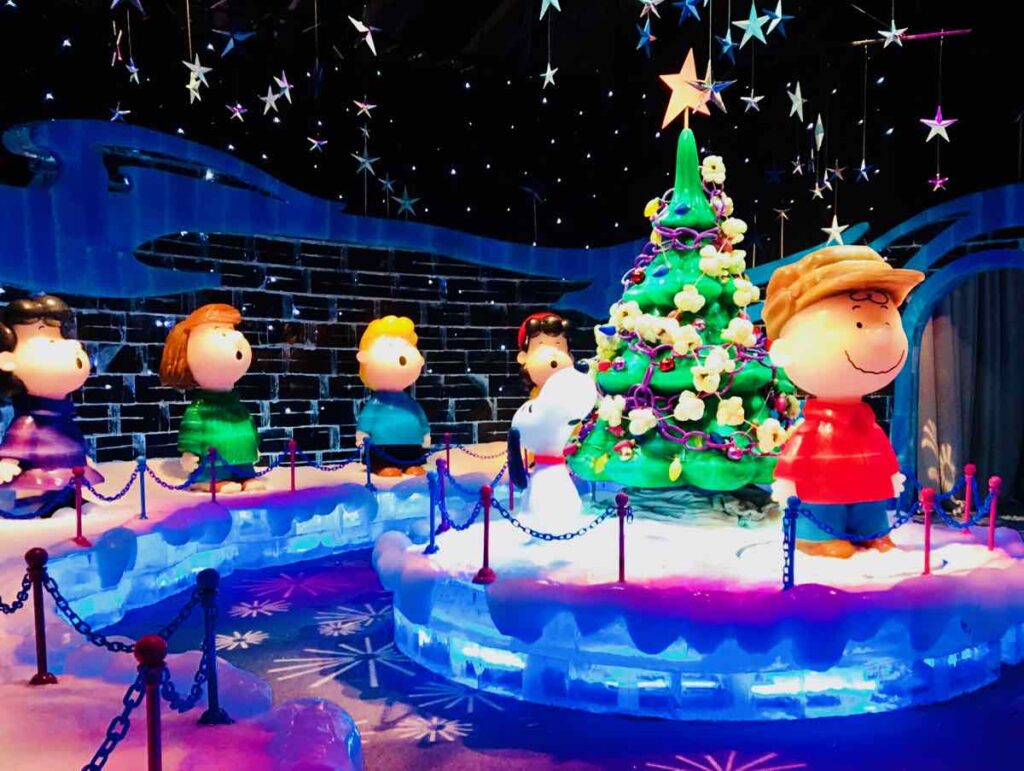 ICE! 2022 at Gaylord National Harbor
ICE National Harbor 2022 highlights the beloved movie, A Christmas Story. It's so fun to see iconic scenes from the movie rendered in massive ice sculptures.
In keeping with the theme, the ice sculptures capture funny and memorable moments from A Christmas Story. Who could forget the major award lamp?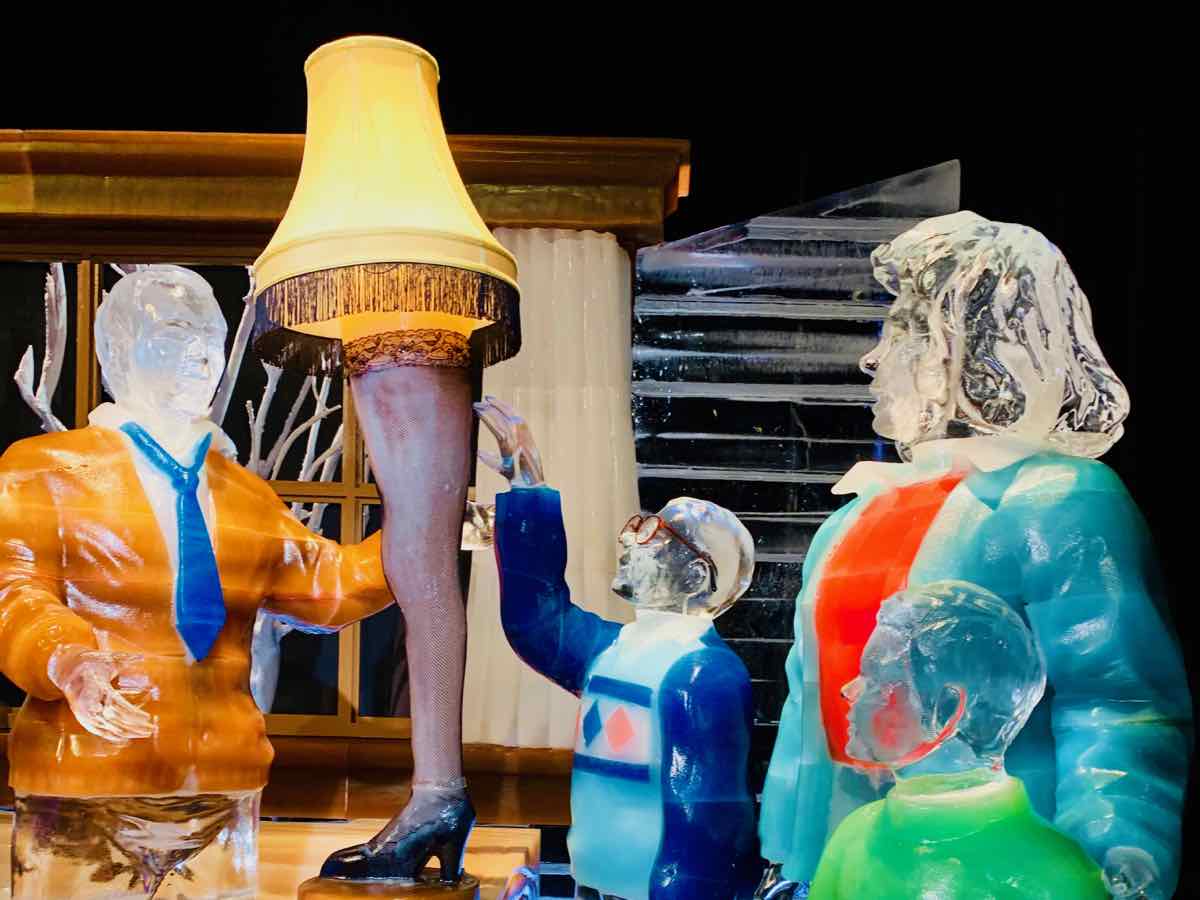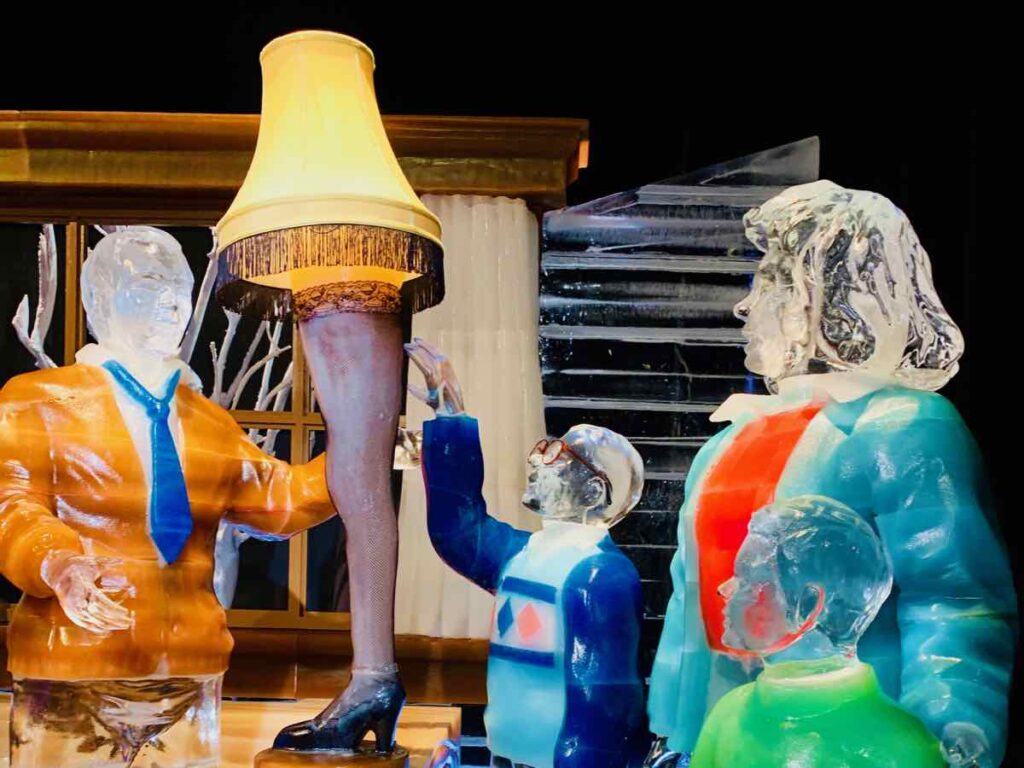 Quotes from the movie, rendered in ice of course, accompany some of the scenes. The level of detail in the ice carvings is impressive. For example, Ralphie's broken glasses are perfectly captured in the ice.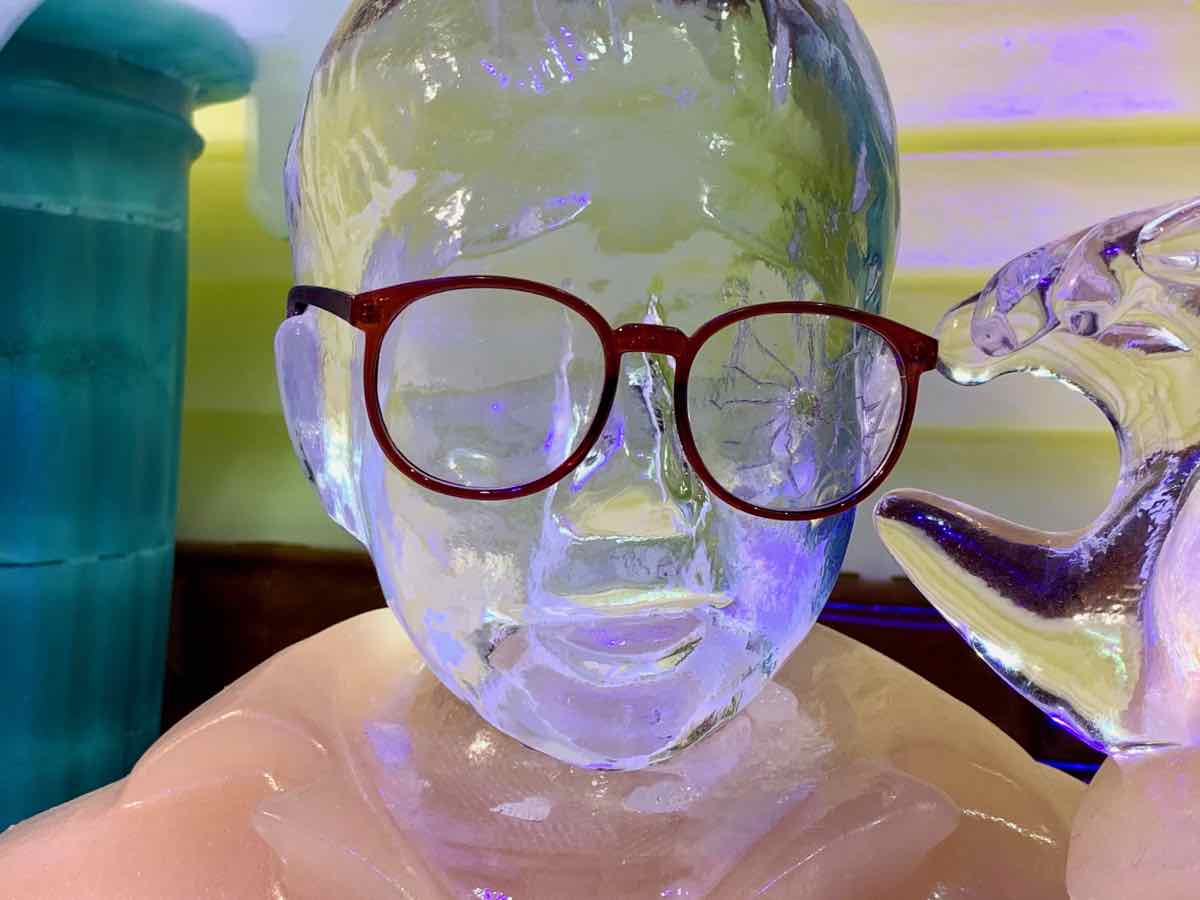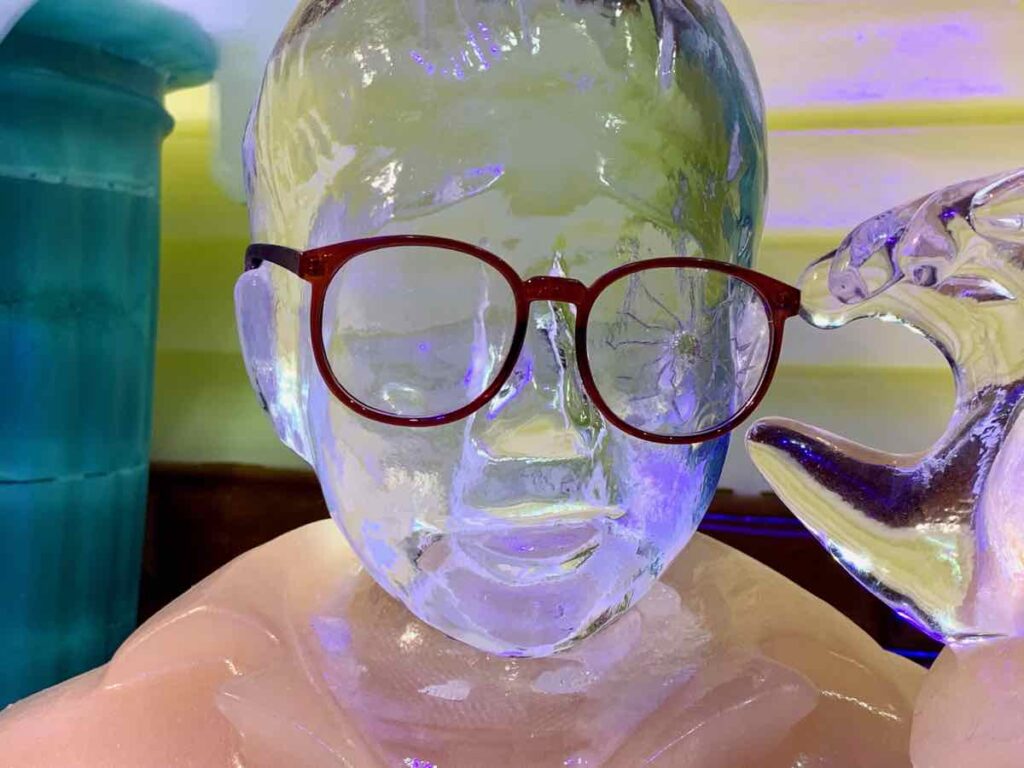 ICE! Slides at Gaylord National Harbor
One of the best interactive areas at ICE! every year is a collection of giant slides also sculpted from the ice. The sliding area changes year-to-year and also reflects the ICE theme, so it's a great spot for photos and videos.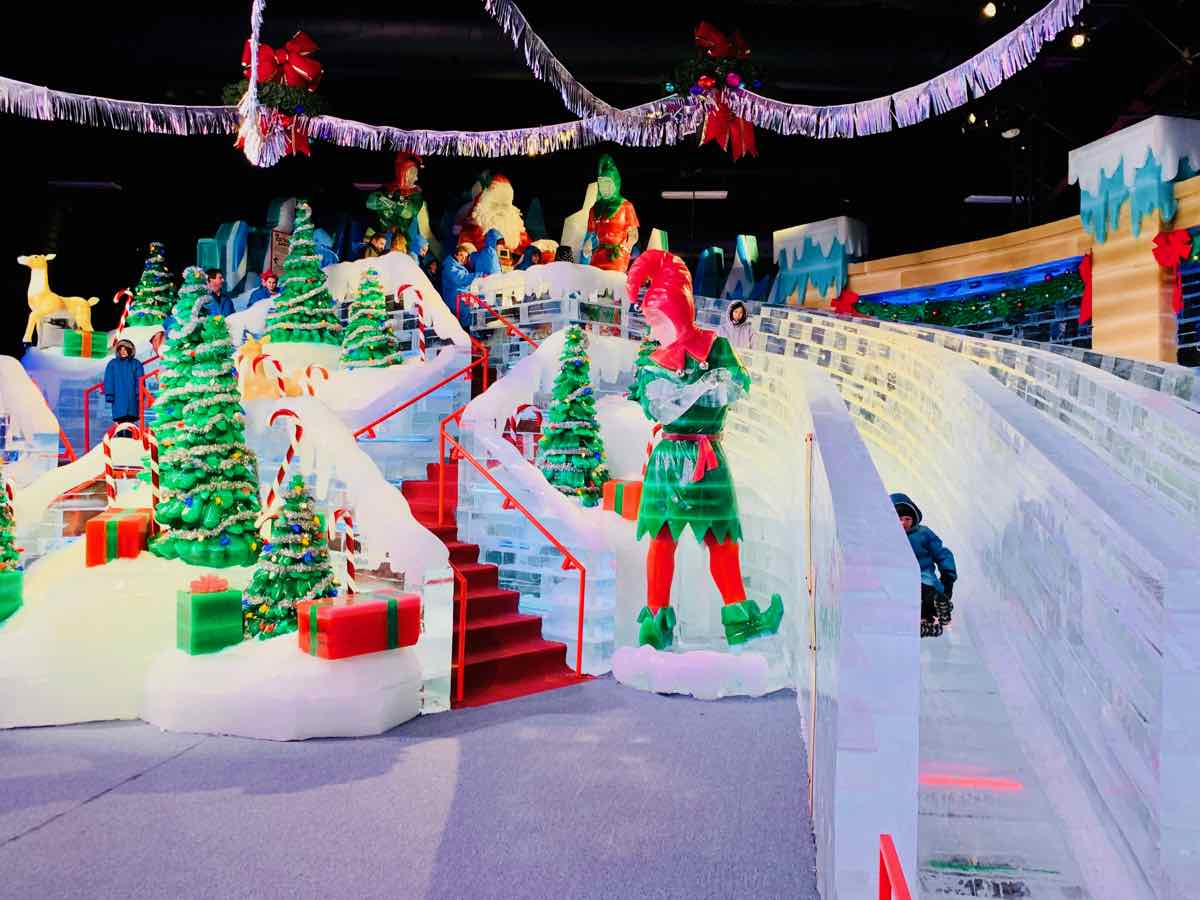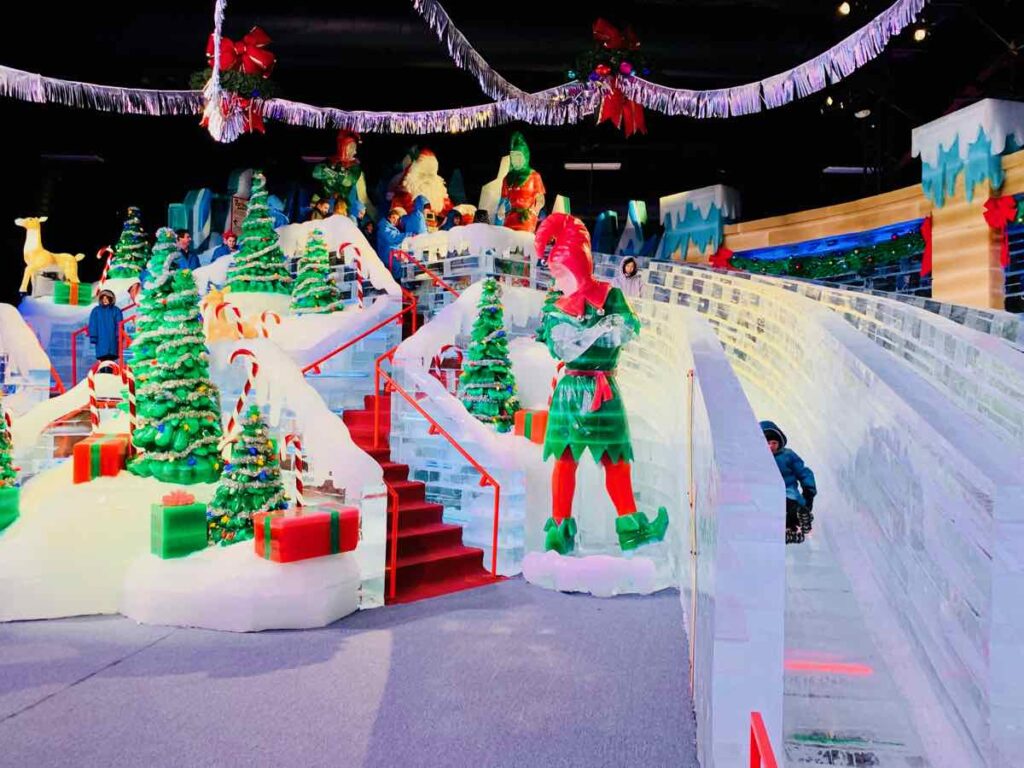 Kids big and small can try out the big slides and there is no limit to the number of times you slide. Fortunately, that long parka adds warmth and a nice slippery surface for comfy sliding.
The final sculpture in the tent features a dramatic, life-size creche carved from clear ice.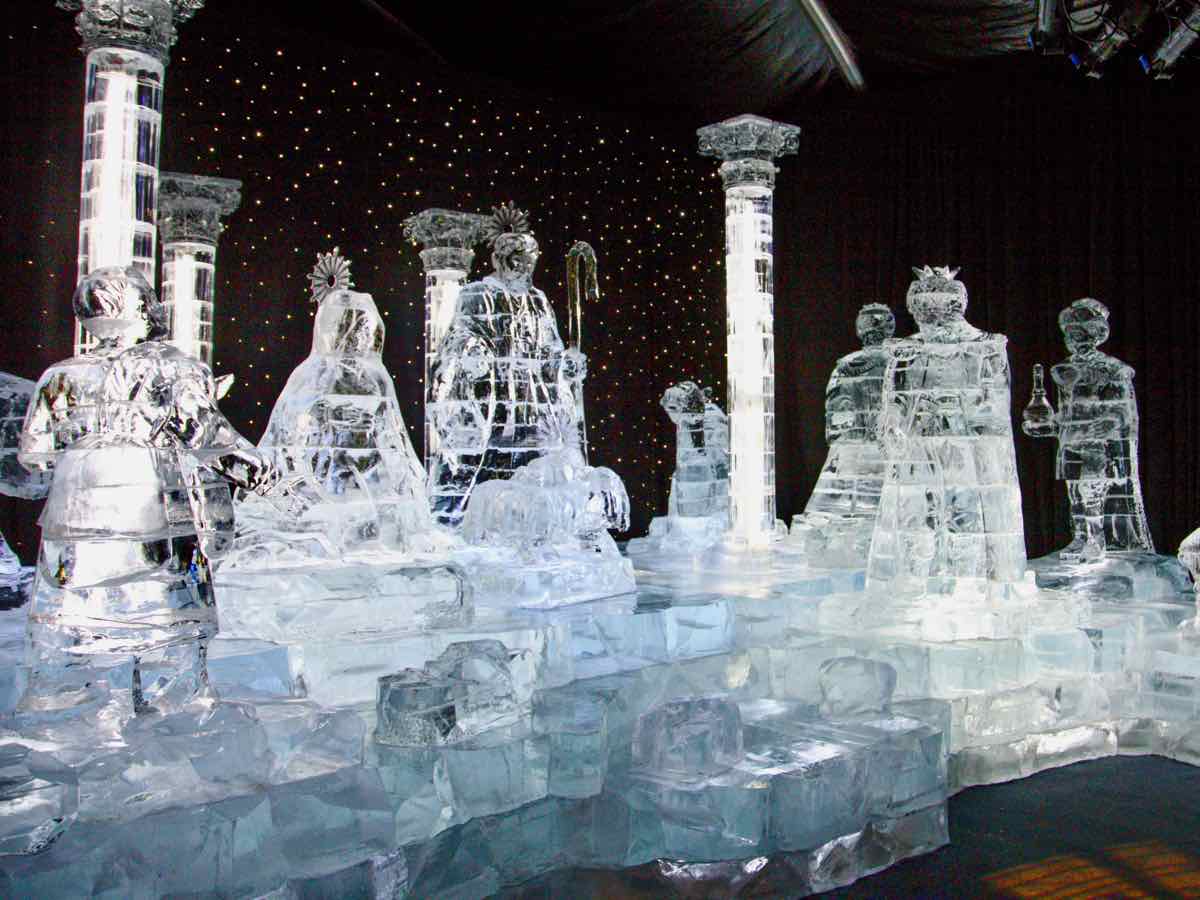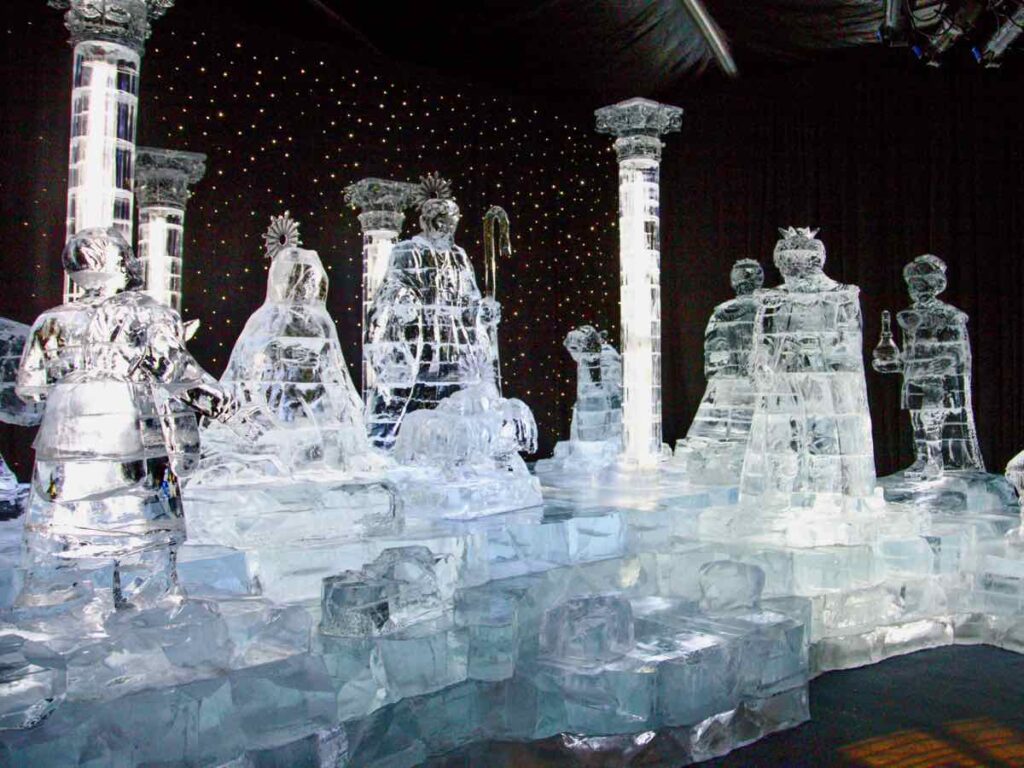 Christmas Village Activities at Gaylord National
The fun continues when you leave the ICE tent and enter the Christmas Village. Kids can decorate a gingerbread house to take home, build a custom fluffy friend at the Build-a-Bear Workshop, create and throw snowballs, and join in more activities.
Santa is on hand for photos, and you can join Mrs. Claus for a story, Christmas Carols, and milk and cookies. All Christmas Village activities have additional fees (multi-activity packages are also available).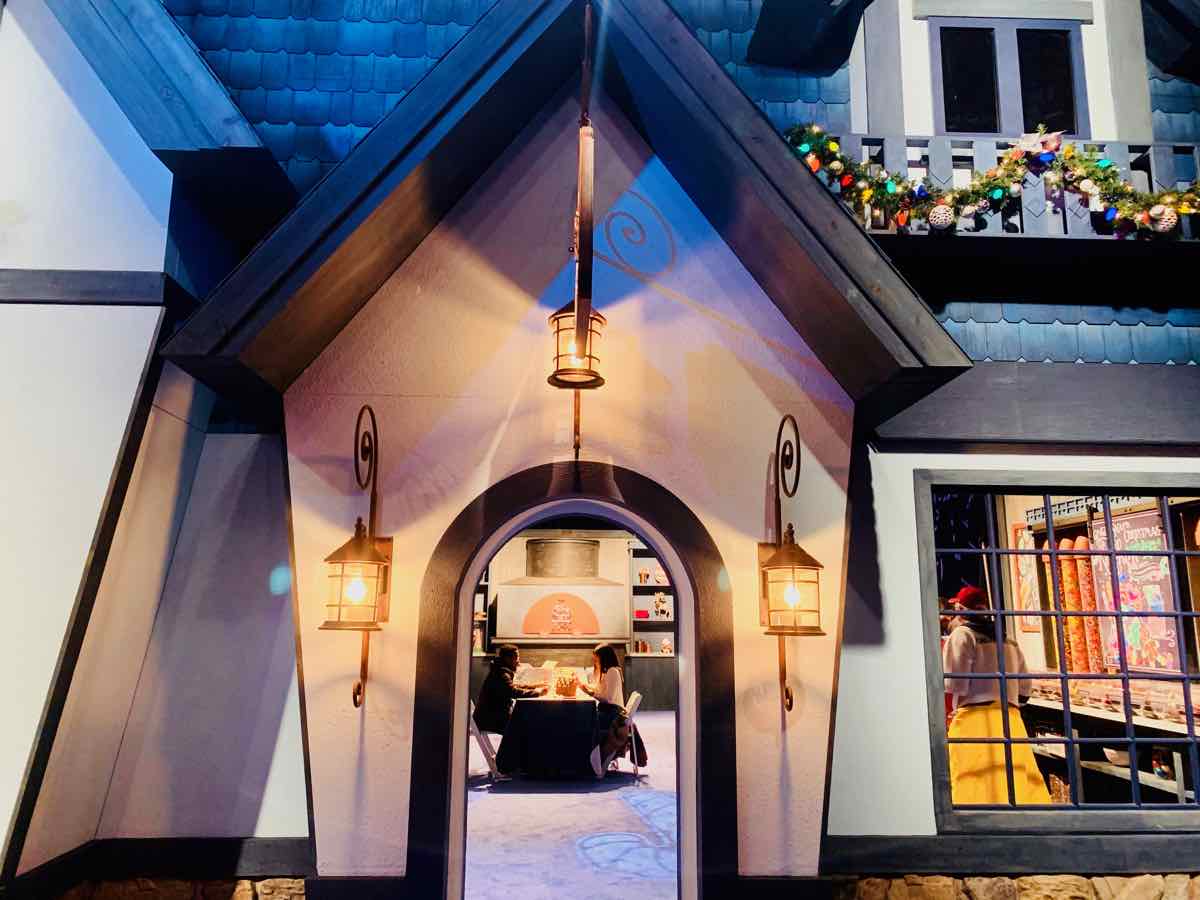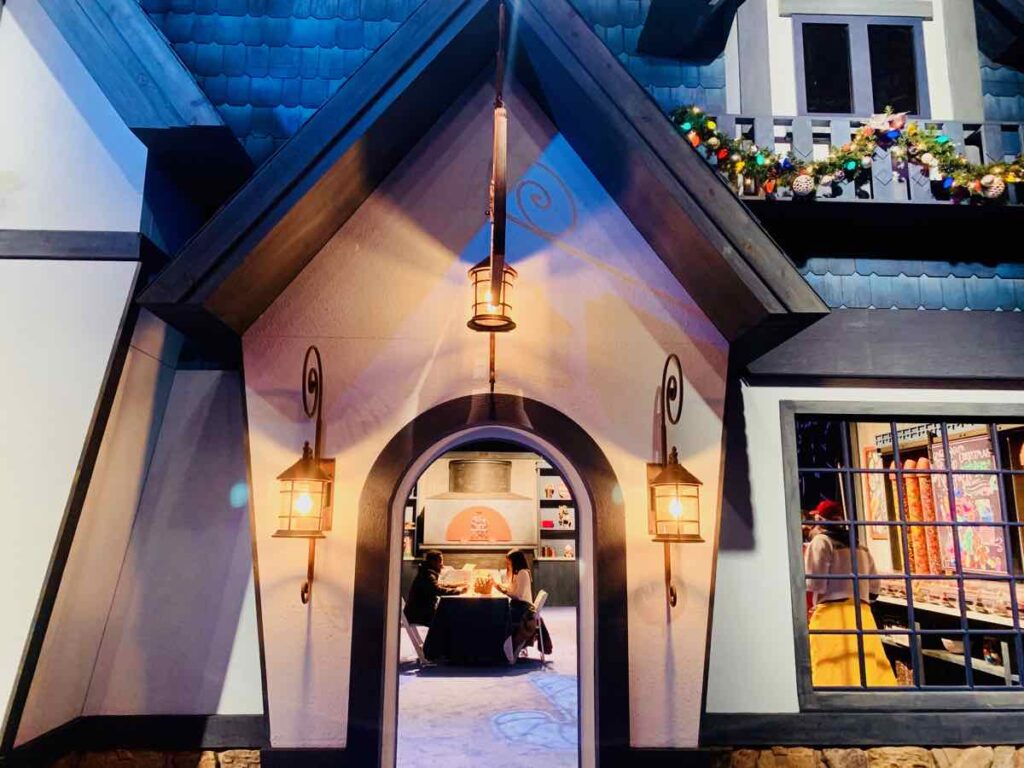 All ages can enjoy the new two-story tubing run. It's a short but very fast ride on an indoor hill.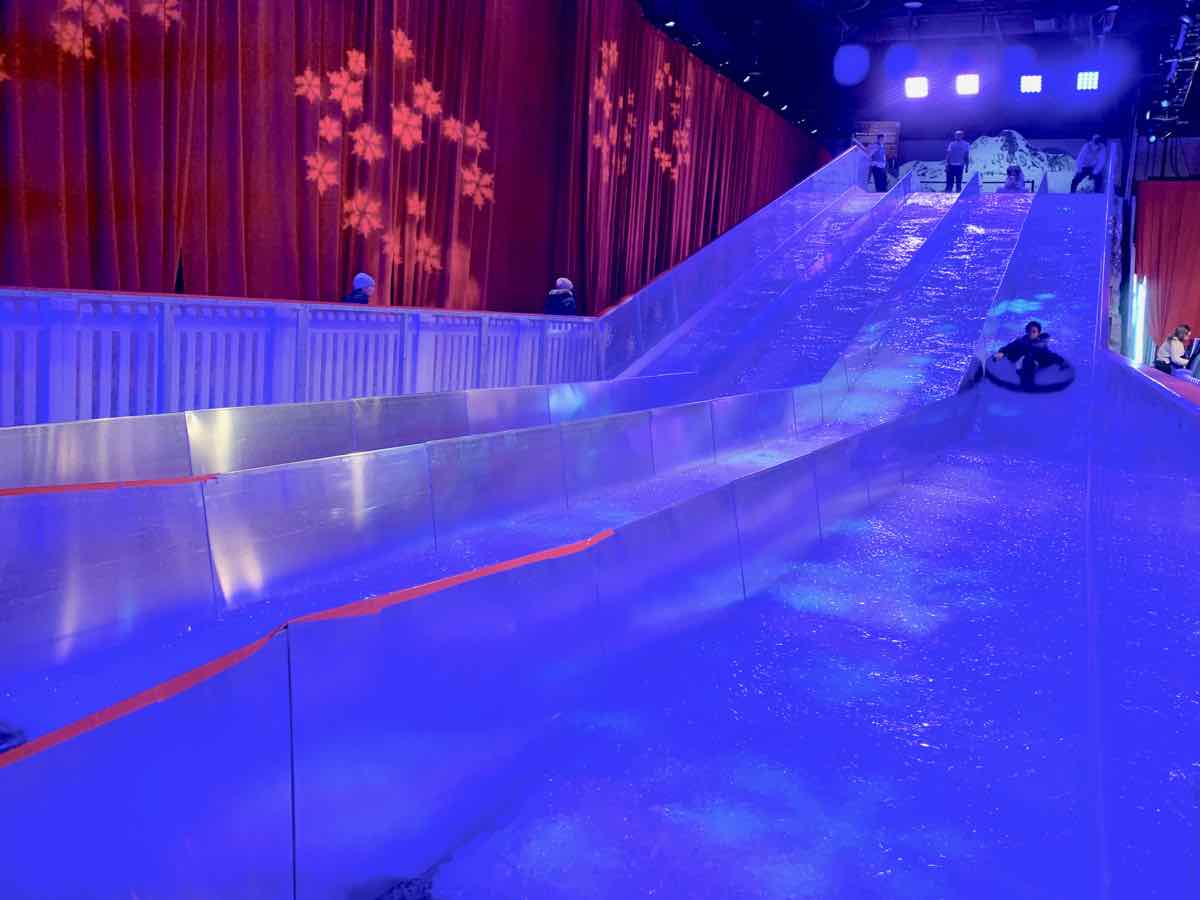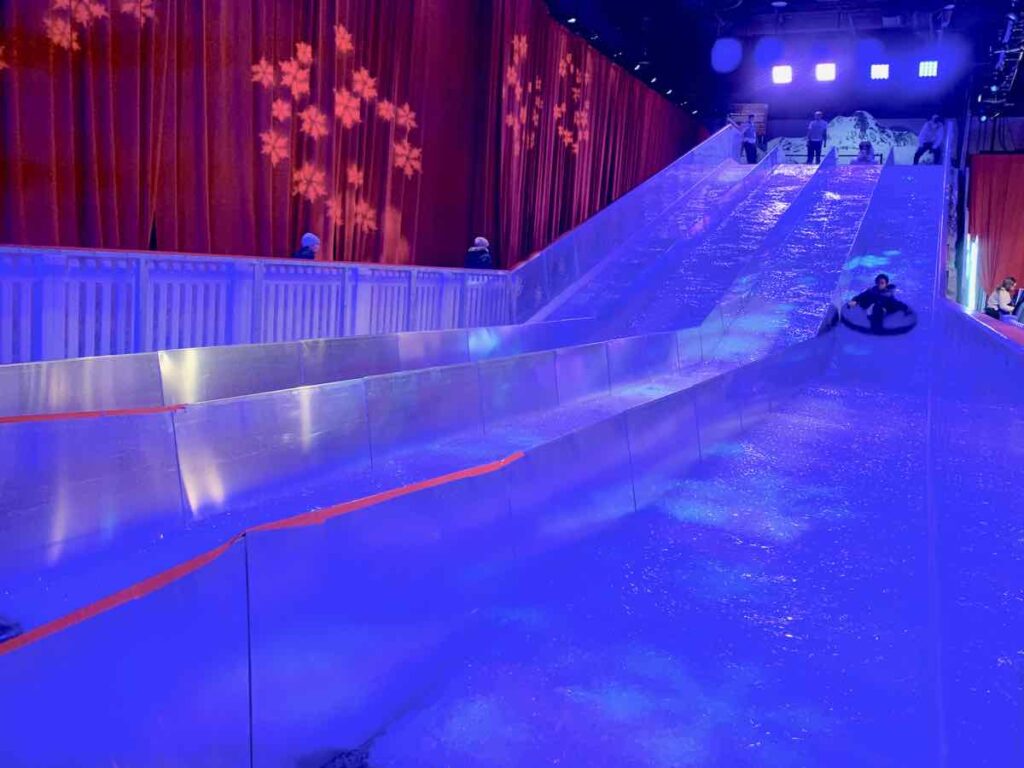 More Fun in the Gaylord National Atrium
There is lots more holiday fun in the giant Gaylord atrium at Christmas on the Potomac 2022. Christmasy decorations and trees are a great backdrop for holiday photos.
Every night, the atrium comes alive with a colorful, laser-enhanced light show featuring the giant Christmas tree. Lights and music are synchronized with a fountain that shoots 60 feet high. Nightly indoor snowfall adds to the holiday magic.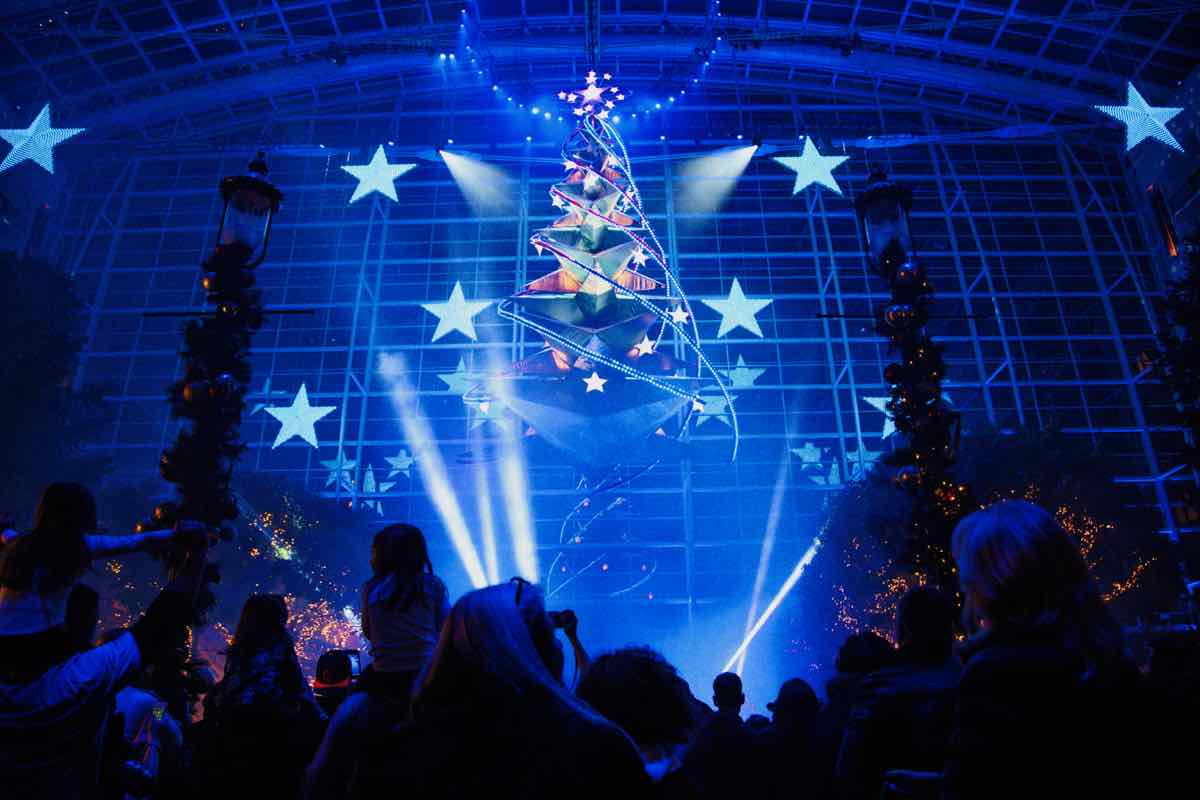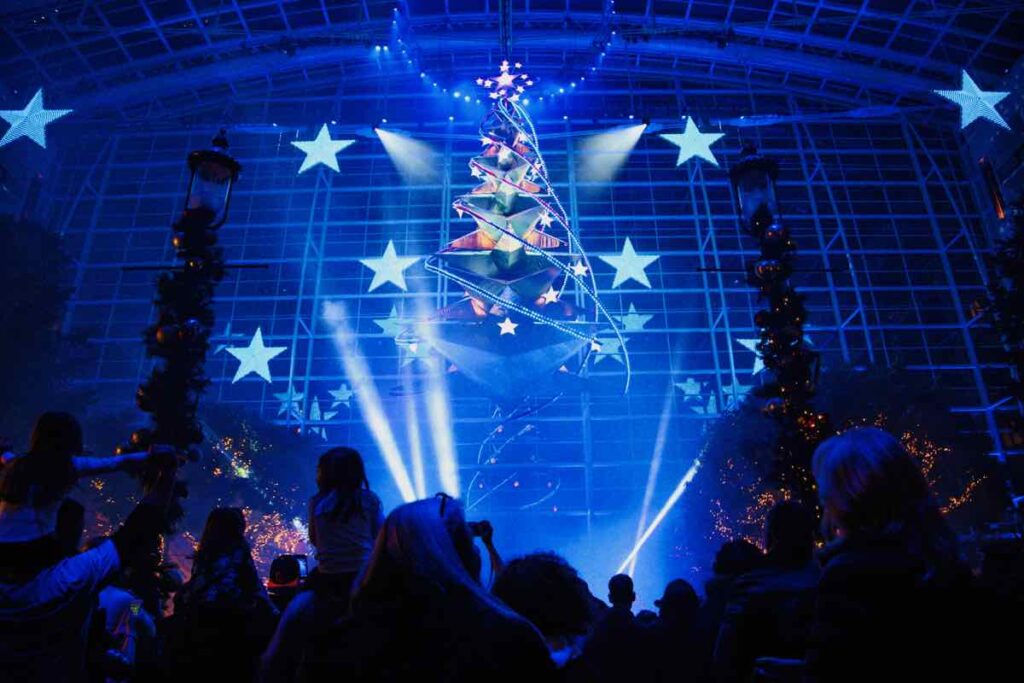 On select days, Christmas on the Potomac features two Christmas shows in the Atrium. Both shows are free to watch but guaranteed ticketed seats have the best view.
Cirque: Spirit of Christmas dazzles the crowd with acrobatics, contortions, and high-flying thrills.
The Greatest Story show in the Atrium tells the story of the birth of Jesus Christ.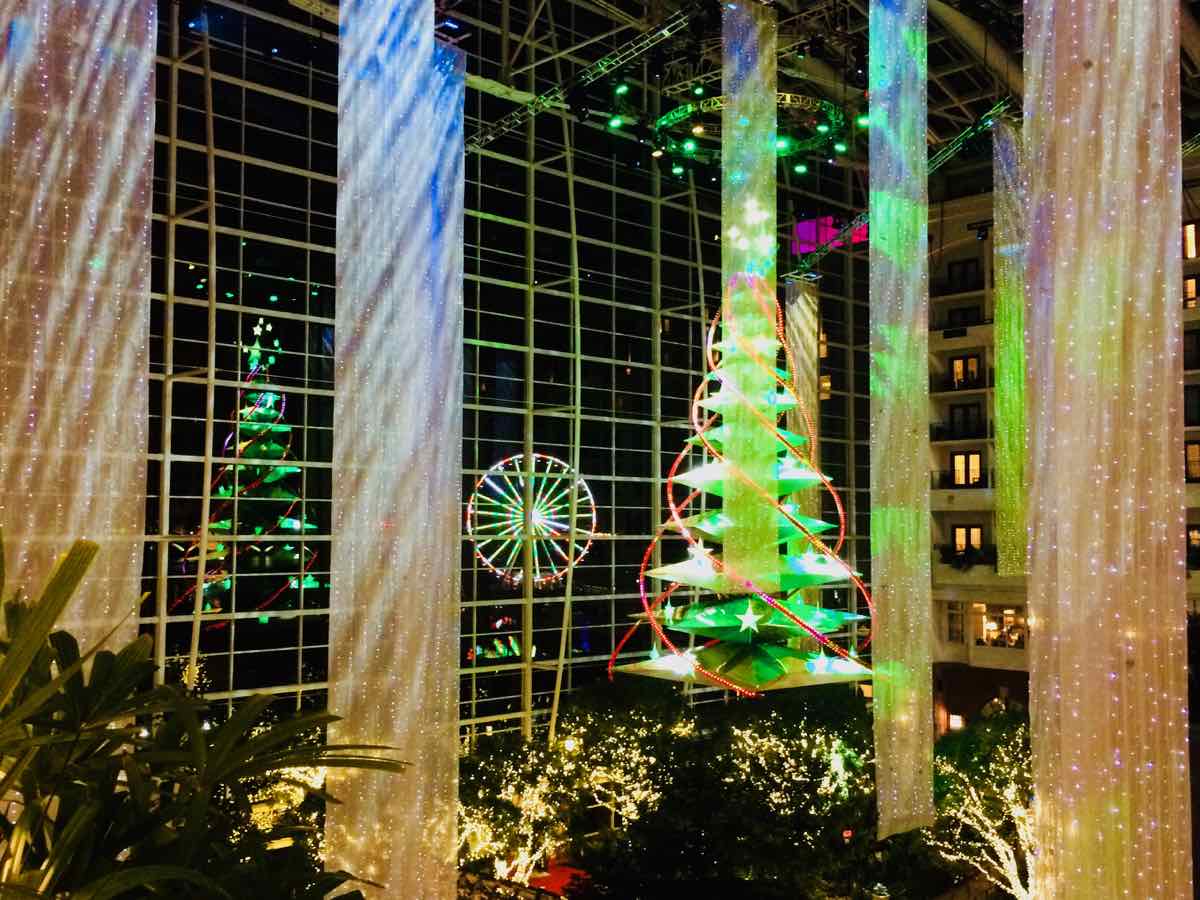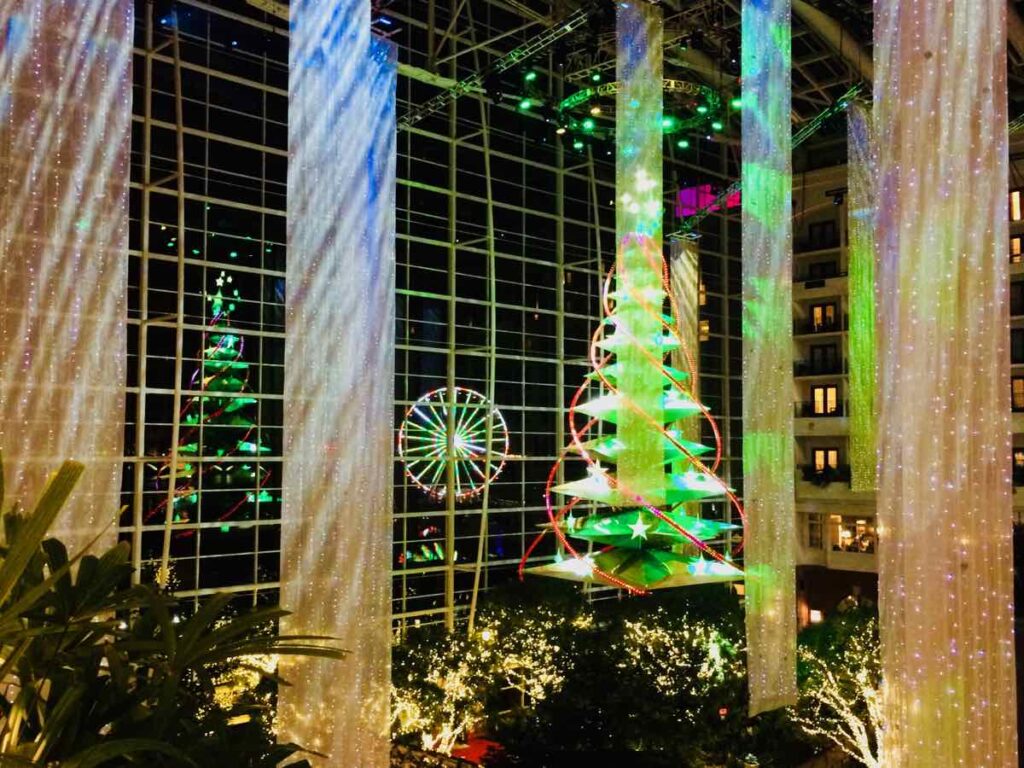 Outdoor Activities at National Harbor
Outdoor activities at Gaylord National Harbor and nearby add to the festive fun. Head outside to enjoy additional holiday attractions. The Gaylord National Ice Skating rink opens daily until 5:00. In addition, Ice Bumper Cars let you zoom, slide, spin, and of course, bump on the ice.
A short walk away, the brightly Capital Wheel offers a fun ride and a beautiful view. Nearby, a giant colorful Christmas tree at the plaza is another excellent photo spot.
Tips for Your Visit to ICE National Harbor and Christmas on the Potomac
In 2022, ICE is open daily from November 20 to December 31, including Christmas day.
Tickets for each activity and event can be purchased separately or in a variety of discounted packages. Click for event info, tickets, and hours.
Hours for the stage show vary by day, so follow the link to reserve your tickets. In 2022 there is a Cirque Show daily, Dec 25 – 30, at 1:00 and 6:30 pm show.
The Greatest Sory show is held Dec 25, 26, 27, and 30.
A big blue parka comes with your ICE ticket but bring your own mittens or gloves. You will definitely want to cover the hands of little ones using the ice slide.
Cell phone batteries may shut down due to low temperatures in the ICE! tent, so keep your phone close to you when not in use. My iPhone died suddenly near the end of the ICE! display, and wouldn't restart until I plugged it in.
Another great family photo spot is just outside the Atrium, backed by the suspended Christmas tree.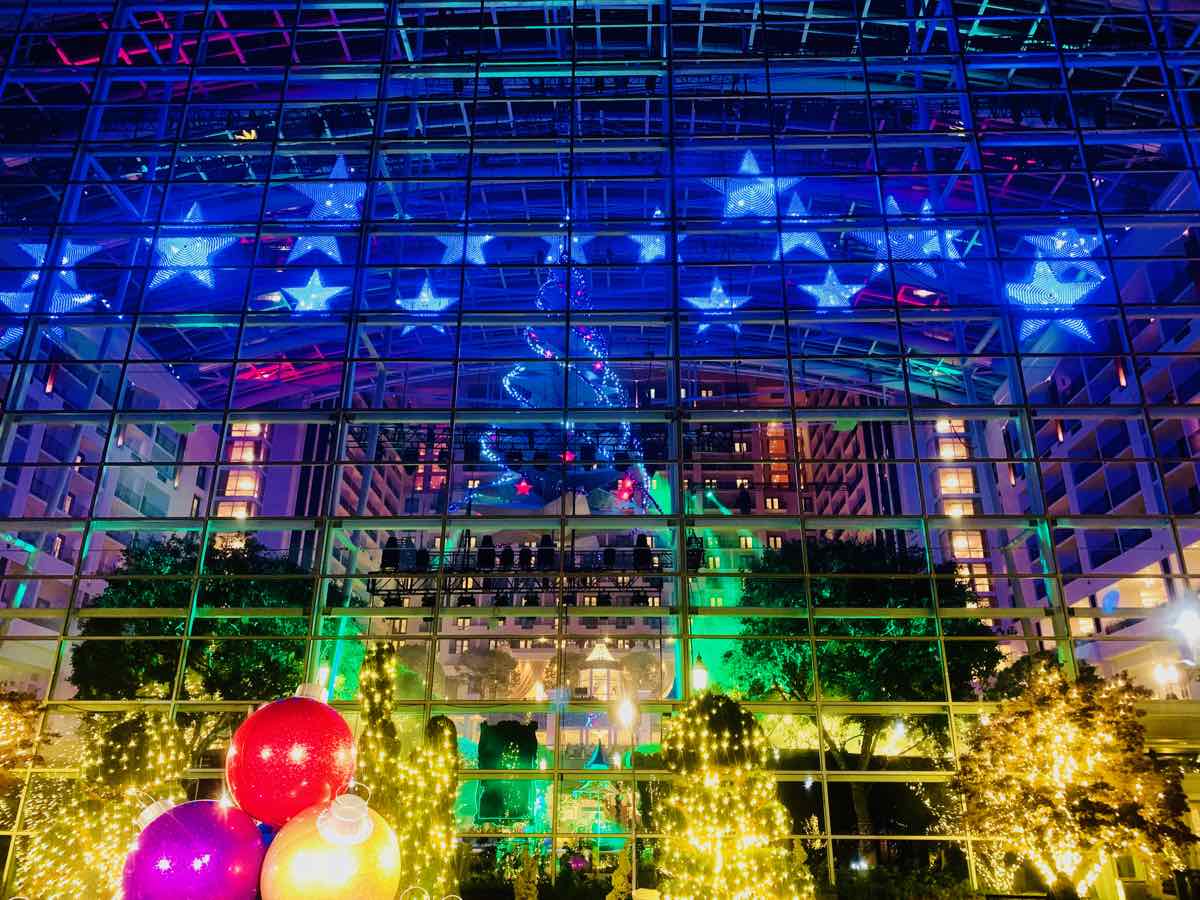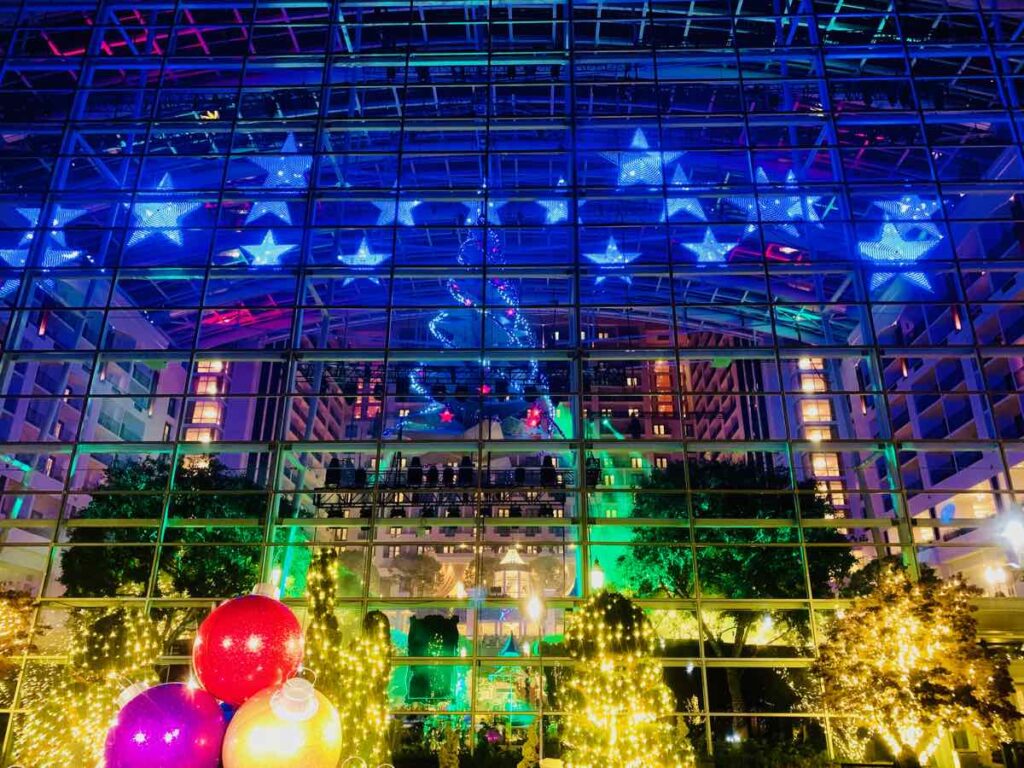 Gaylord National Resort is at 201 Waterfront Street, National Harbor, Maryland, near Washington DC. It's a wonderful place to celebrate the holiday season.
Find more festive holiday fun in the Northern Virginia and Washington DC region here:
Follow us on Facebook, Twitter, Pinterest, and Instagram for more fun travel in and from Northern Virginia.
We attended media previews of ICE! at Gaylord National Resort. All opinions, photos, and text are our own except some photographs are by Virginia photographer Chris Militzer.