2019 ICE National Harbor and Christmas on the Potomac return to Gaylord Resort with Grinch themed sculptures, a spectacular light show, and a bevy of holiday fun for the Washington DC region.
Special holiday activities perfect for kids and families deliver tons of Christmas fun at Gaylord National Resort and Convention Center.
Don your Big Blue Parka and head to the ICE! tent for a Grinch inspired wonderland (details and pics below).
Cirque Dreams Unwrapped returns with a dazzling show of acrobatics, aerialists, and antics in the Gaylord's 19-story atrium.
A laser light show, featuring a 55-foot suspended Christmas tree, musical fountains, and indoor snow delights guests nightly.

New in 2019!

Reindeer Rush Tubing delivers an adrenalin rush as you slide down a two-story indoor hill.

New in 2019!

Enjoy ice skating fun at a tented, outdoor rink in Winter Square.
Treat the family to a breakfast Feast with the Grinch featuring a visit from the Grinch himself.
Find the perfect Christmas gift at the Holiday Shoppe.
Take a ride on the Village Express train.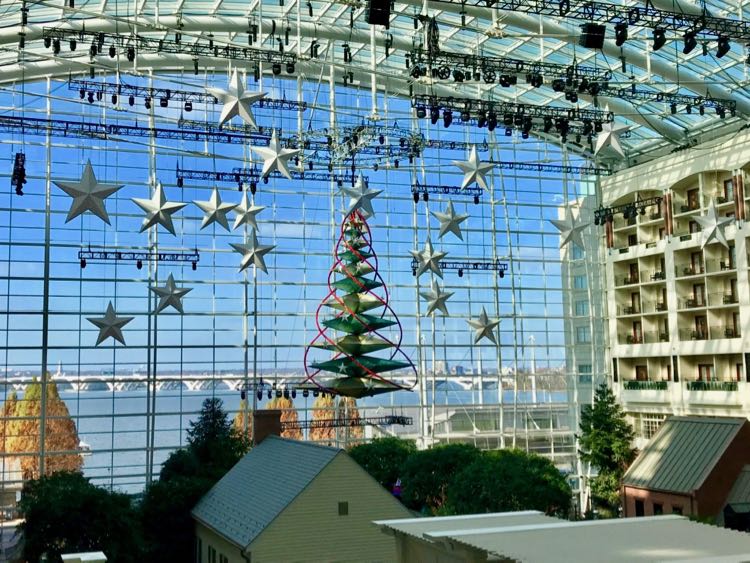 ICE! National Harbor 2019: How the Grinch Stole Christmas
Every year we look forward to walking through ICE National Harbor, to see the expertly carved, colorful ice sculptures. The Grinch, Max, and the Whos are the stars of ICE! 2019. The walk-through display features all of your favorite characters, sculpted from huge, brightly colored ice blocks.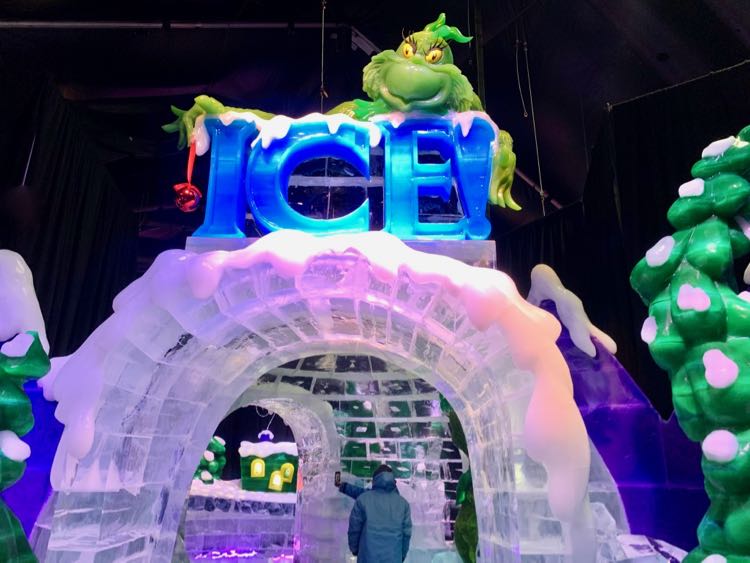 Visitors don big blue parkas before entering the ICE! tent, which is kept at a continuous 9° Fahrenheit. That chilly temp keeps the beautiful ice sculptures crisp and bright throughout the holiday season.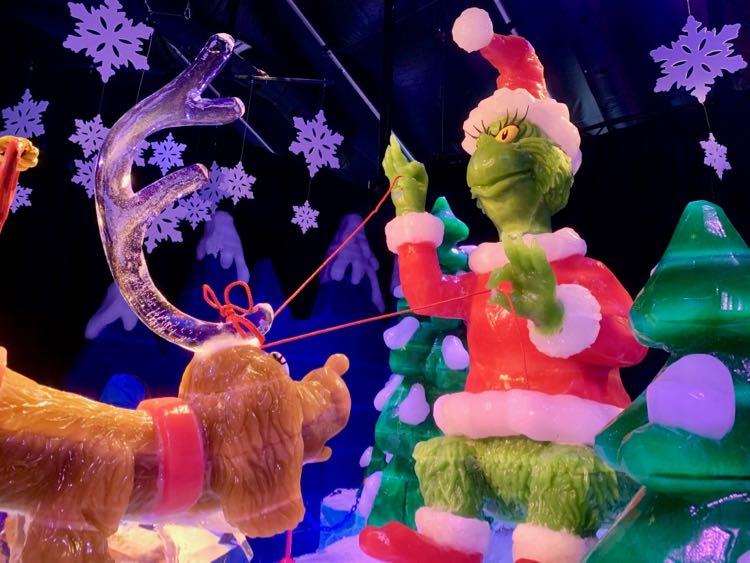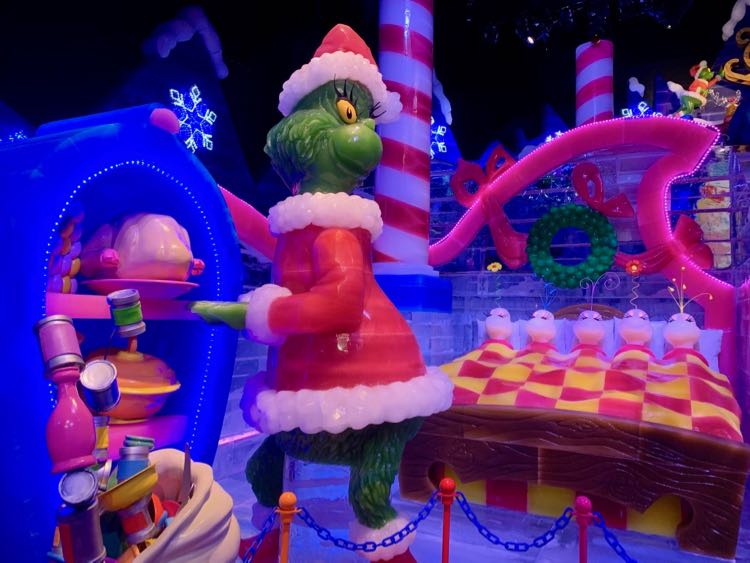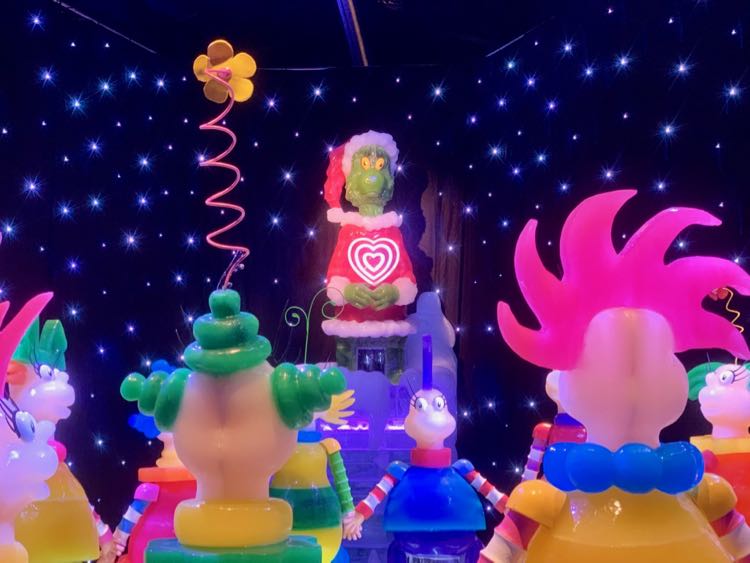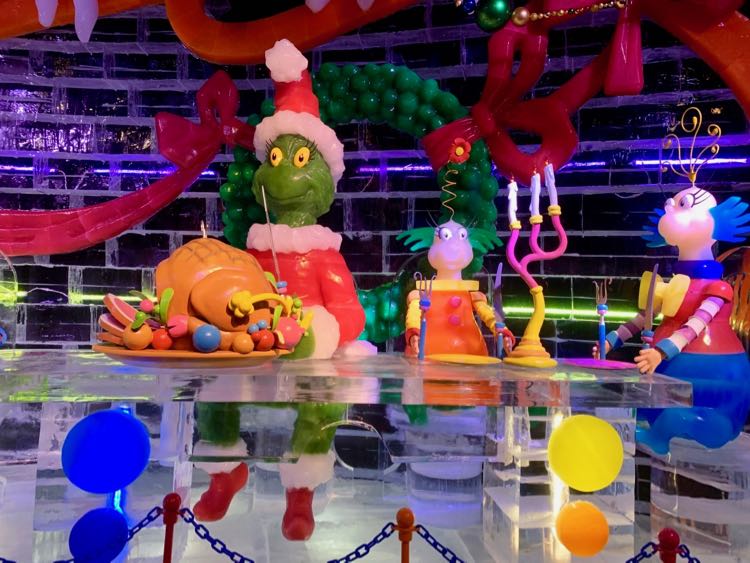 In addition to the ice sculptures, kids big and small have fun on 4 big slides, also sculpted from ice. Fortunately, that long parka adds warmth and a nice slippery surface for comfy sliding.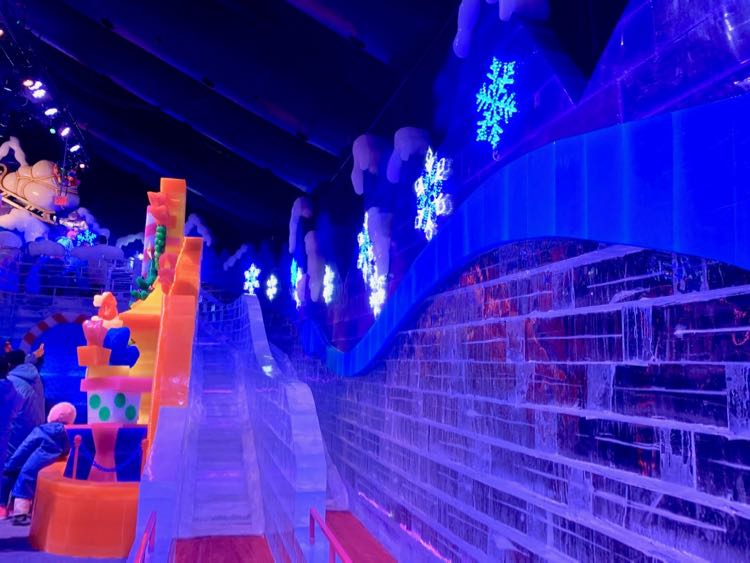 The festive Grinch themed ice displays provide lots of opportunities to capture a perfect holiday photo.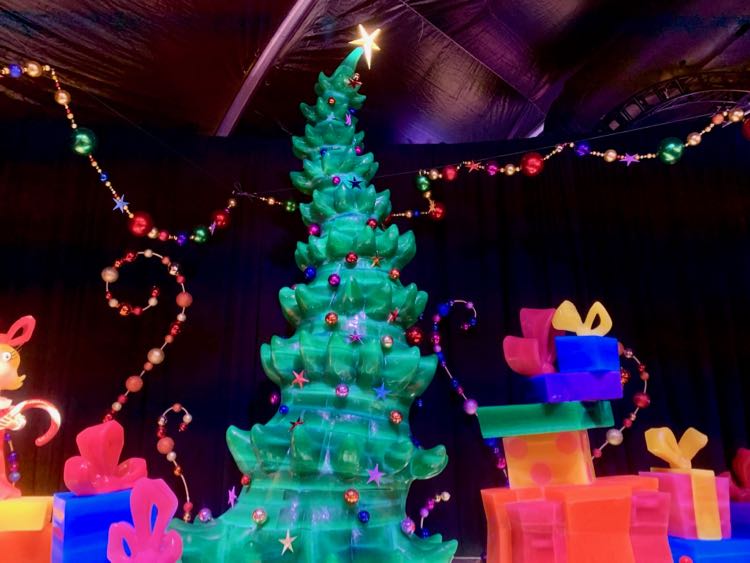 The final sculpture in the tent features a dramatic, life-size creche carved from clear ice.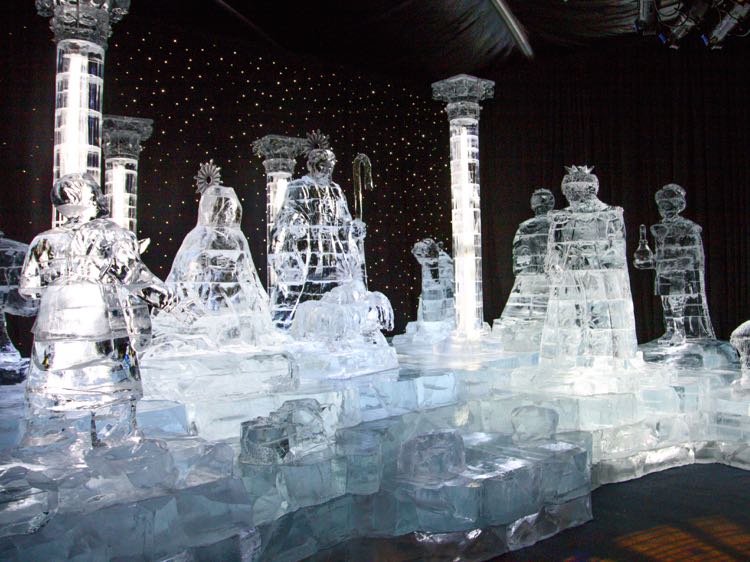 Christmas Village Activities at Gaylord National
The fun continues when you leave the ICE tent and enter the Christmas Village. Kids can take a ride on a miniature train, decorate a gingerbread house to take home, and build a custom fluffy friend at the Build-a-Bear Workshop. Santa is on hand for photos, and you can join Mrs. Claus for a story, Christmas Carols, and milk and cookies. All Christmas Village activities have additional fees (multi-activity packages also available).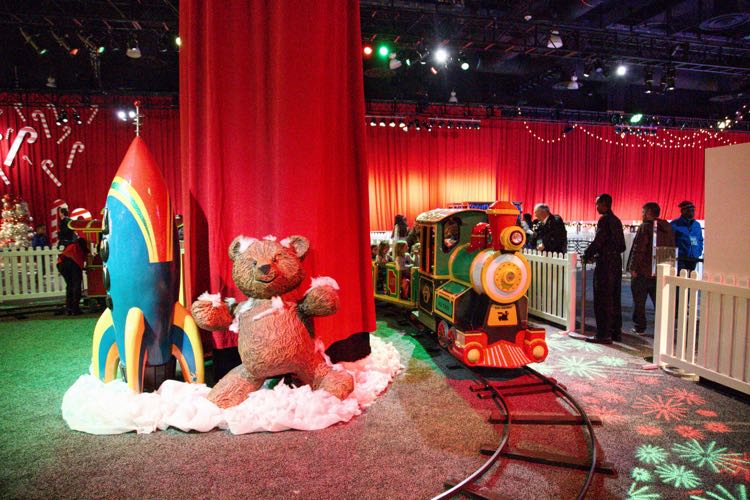 All ages can enjoy the new two-story tubing run. It's a short but very fast ride on an indoor hill.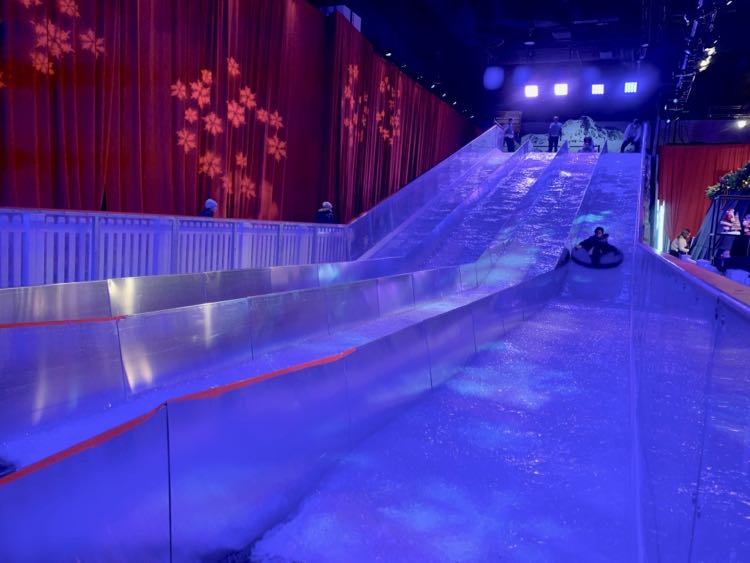 More Fun at Christmas on the Potomac in the Gaylord National Atrium
There is lots more holiday fun in the giant Gaylord atrium. Christmas on the Potomac 2019 includes another great show by Cirque Dreams Unwrapped. In Seasons Dreamings beautifully costumed performers juggle, swing through the air, defy gravity, and perform feats of strength and acrobatics in a 25-minute free show (guaranteed ticketed seats are also available).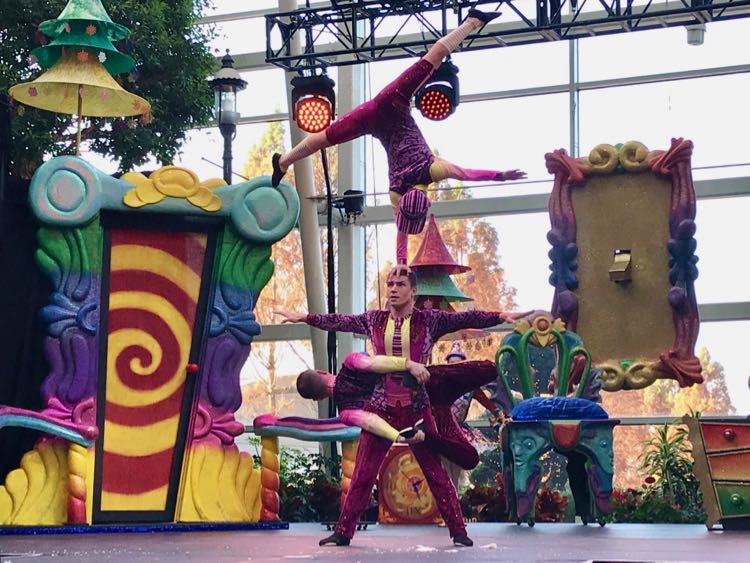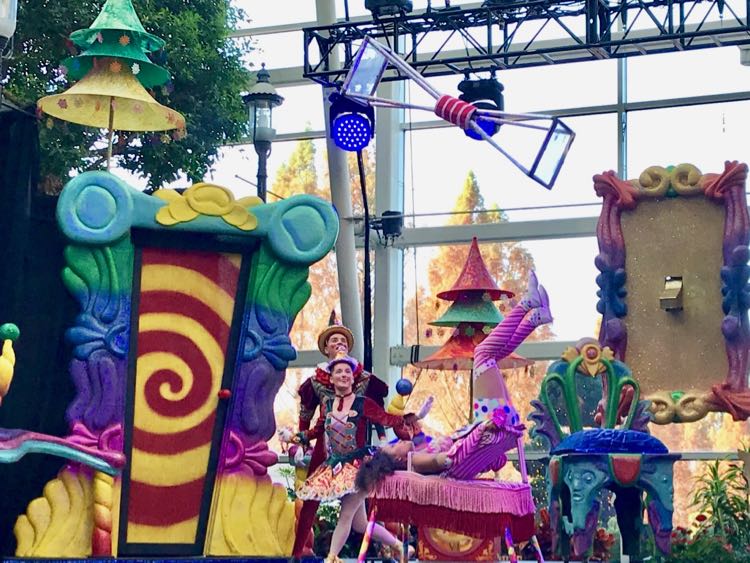 Every night, the atrium comes alive with a colorful, laser-enhanced light show featuring the giant Christmas tree. Lights and music are synchronized with a fountain that shoots 60 feet high. Nightly indoor snowfall adds to the holiday magic.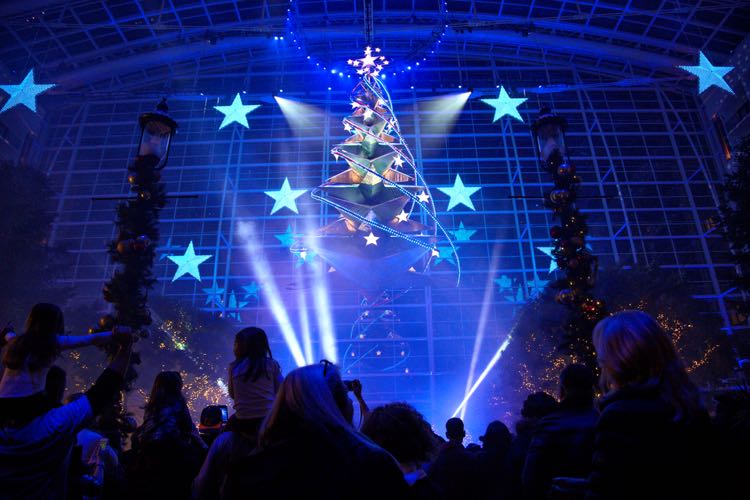 Tips for Your Visit to 2019 ICE National Harbor and Christmas on the Potomac
ICE is open daily from November 15 to December 30, including Christmas day.
Tickets for each activity and event can be purchased separately, or in a variety of discounted packages. Click for event info, tickets, and hours.
Hours for Cirque Dreams Unwrapped vary by day, so check the calendar to reserve your spot. There is usually a 1:00 and 6:30 pm show, with an additional 8:00 pm show on Saturday nights.
A big blue parka comes with your ICE ticket, but bring your own mittens or gloves. You will definitely want to cover the hands of little ones using the ice slide.
Cell phone batteries may shut down due to low temperatures in the ICE! tent, so keep your phone close to you when not in use. My iPhone died suddenly near the end of the ICE! display, and wouldn't restart until I plugged it in.
Another great family photo spot is just outside the Atrium where a pile of oversize ornaments are backed by the suspended Christmas tree.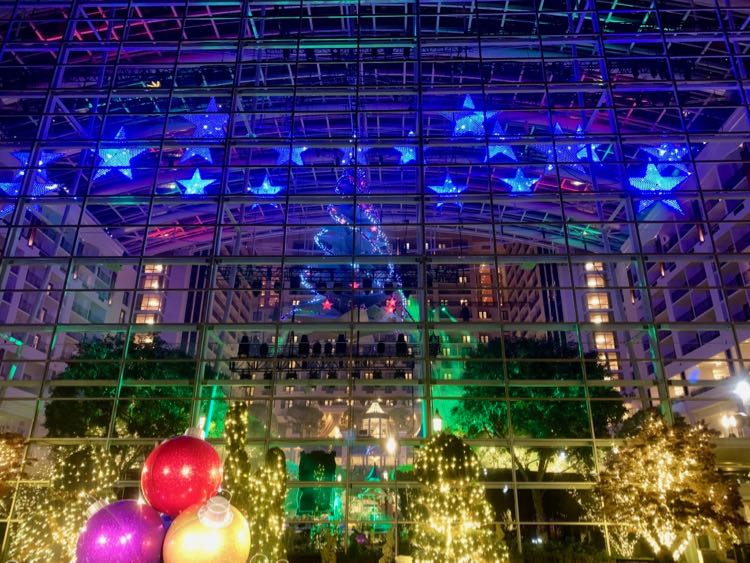 Turn your 2019 ICE visit into a National Harbor weekend getaway for some extra holiday fun. There are several hotels at National Harbor, and lots of activities beyond the Gaylord ice sculptures. If you want to be in the middle of the Christmas fun, Gaylord National offers stay and play packages throughout the season.
How the Grinch Stole Christmas is a classic holiday tale of the true meaning of the season. Who doesn't love the story of the mean old Grinch transformed into a full-hearted friend? It's a perfect theme for the ICE sculptures.
Gaylord National Resort is at 201 Waterfront Street, National Harbor, Maryland, near Washington DC. We think it's a wonderful place to celebrate the holiday season. Do you plan to visit ICE National Harbor this year?
Find more festive holiday fun in the Northern Virginia and Washington DC region in these articles:
Follow Fun in Fairfax VA on Facebook, Twitter, Pinterest, and Instagram for more fun things to do, place to visit, and special events in the Northern Virginia area.
Fun in Fairfax VA was hosted to a media preview of ICE 2019 at Gaylord National Resort. All opinions and text are our own. Some photographs are by Chris Militzer, used with permission. Chris is an Alexandria, Virginia photographer specializing in fine art photography of landscapes and nature, featured on Visit Virginia, and USA Today. Browse and purchase Chris's photographs at Miliman12 Photography, and on Instagram and Twitter.