Updated on December 5, 2023 by Julie McCool
The new LOOK Dine-in Cinemas Reston Town Center brings an elevated dinner and a movie experience to the popular Northern Virginia venue. The new movie theater in Reston opened in November 2023, with a robust menu of food and cocktails delivered straight to your theater seat. The latest projection and sound technology and plush reclinable seats combine the comforts of home with a quality movie showing.
The movie theater at Town Center has been one of the favorite things to do in Reston for many years. As long-time Reston residents, we spent many happy hours watching movies there. But the once popular spot has been empty since Bow Tie Cinemas closed in May 2022.
Disclosure: This article may contain affiliate links. We will make a small commission from these links if you order something, at no additional cost to you.
Now LOOK Dine-in Cinemas Reston reimagines and reopens the space with a new bar and restaurant-movie venue. LOOK retains the previous 11 theater footprint but completely revamps seating, projection, and sound.
Today, you can see first-run and Indie movies plus special showings in luxe theaters with 45 to 120 seats. The new theater brings blockbusters back to the center but with a twist. Now locals have another great option for indoor activities in Northern Virginia.
LOOK Dine-In Cinemas Reston Theater
The LOOK Cinemas goal is to offer a top-quality, uninterrupted movie experience combined with elevated dining and beverage service. Before and during the show "waitstaff ninjas" deliver food and drinks to you so you never have to leave your seat.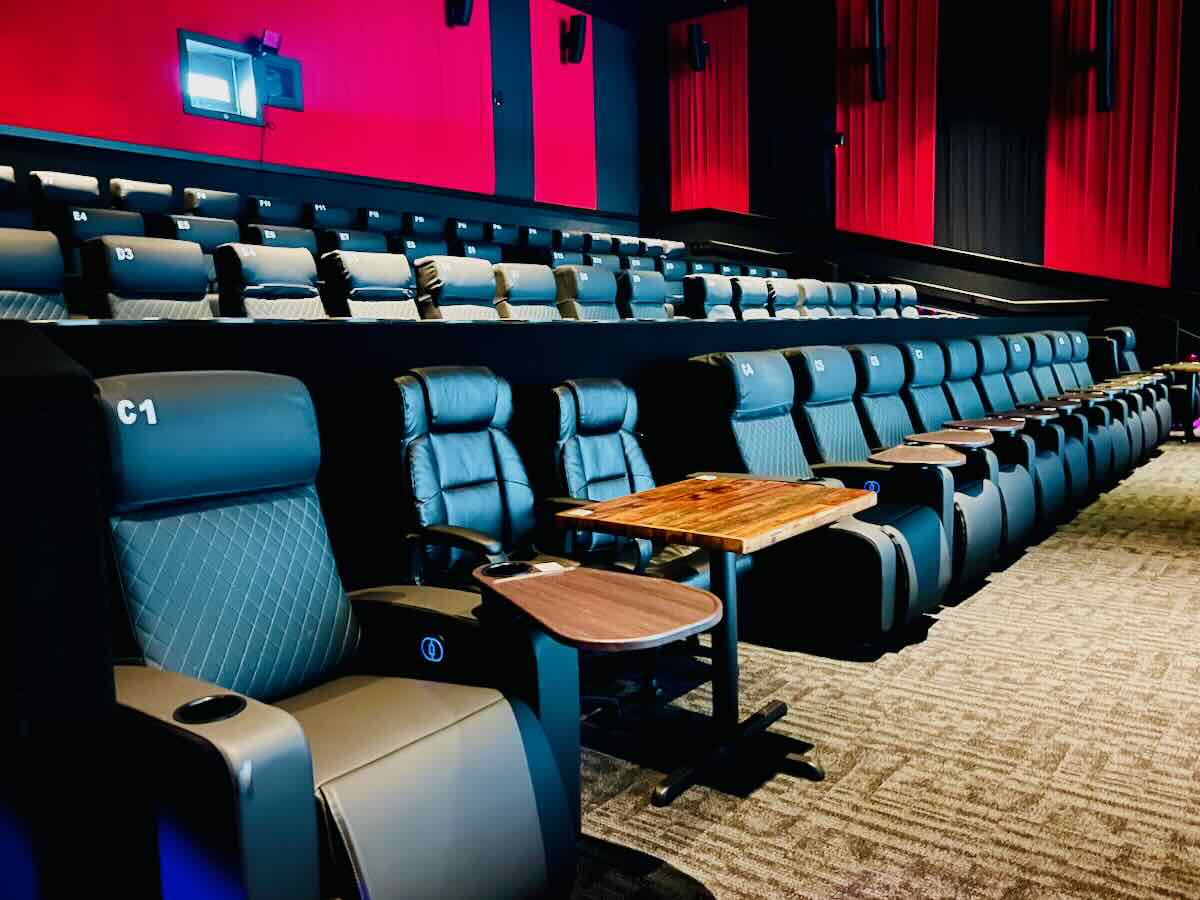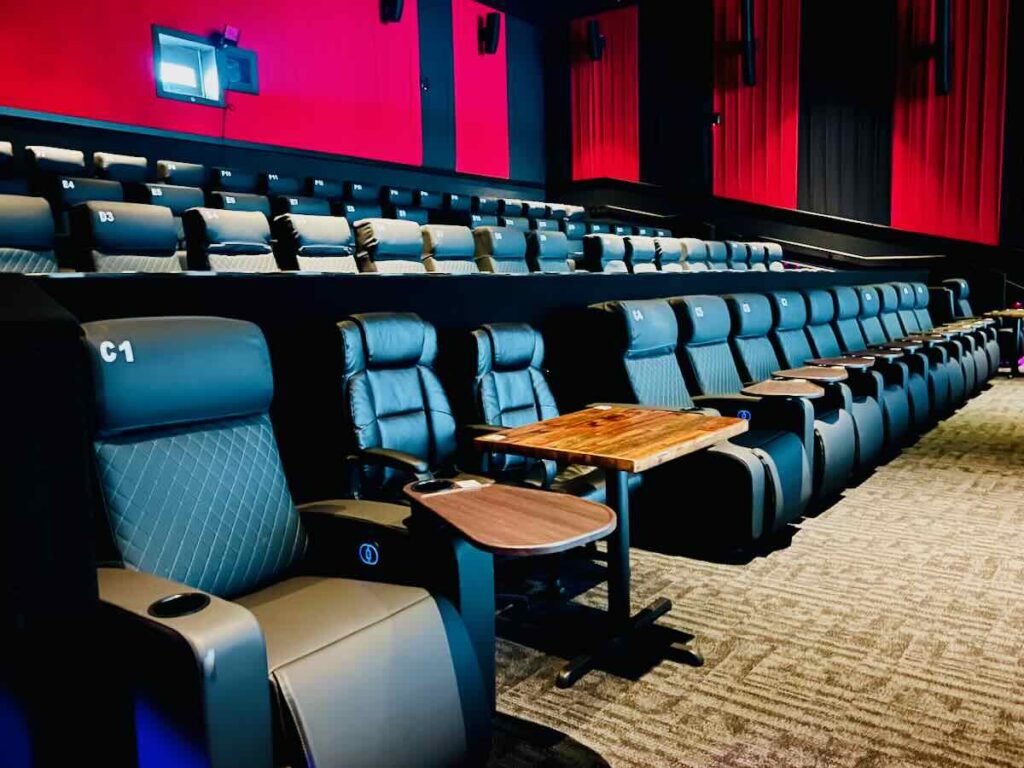 How the LOOK Experience Works
Movie-goers purchase tickets online or at the theater for the movie, time, and seats of their choice. Once seated, you place your food and beverage order using the QR code at your seat, or directly to the roving waitstaff. Your order is delivered to your seat, where swivel tables make it easy to dine.
Want another drink or something more to eat during the show? Use your seat's QR code to order new items and they'll be delivered to you, even during the movie. You can also pre-order additional items at a set interval. For example, order a second glass of wine to be delivered an hour after your first order.
The LOOK Dine-In Cinemas Reston experience is designed to minimize distractions:
The food menu emphasizes items that don't require noisy cutlery.
Dishes and utensils are designed to minimize noise. For example, salads are delivered in a deep, non-metal bowl to eliminate clacking silverware.
Waitstaff, clad in black, are trained to deliver items with minimal interruption.
Deep seats and wide aisles in every row block phone lighting from other seats.
Arrive 20 to 30 minutes before your showtime and you can check the menu and place your order before the movie starts. Food is cooked to order and usually arrives in about 15 minutes. That's just in time for the credits.
If you prefer, you can also order your food and drinks at the bar and carry them in, or ask the waitstaff to carry them for you.
Here's a look at the LOOK Reston menu:
Movie Comfort (Even Without the Food and Drink)
The movie theaters at the Reston LOOK Cinemas are designed to deliver a great experience even if you choose not to order food and beverages. Seats are plush and recline comfortably (another reason for those wide aisles). We found the seats a bit too firm during a long movie, but they may soften up with more use.
Each seat has a table that swings open, so you don't feel hemmed in when you don't need the table. Accessible theater seats feature a fixed table.
The LOOK Cinemas are built with the latest tech, including surround sound, laser projection, and large screens. The largest theater in Reston Town Center, the PX Auditorium, features 120 seats and a giant wall-to-wall screen.
The Bar at LOOK Dine-In Cinemas Reston
The in-theater experience is not the only reason to visit LOOK Cinemas at Reston Town Center. A new bar occupies one end of the upper floor, extending outside to a small patio. The bar is a great spot to gather before or after your movie, but you can pop in anytime.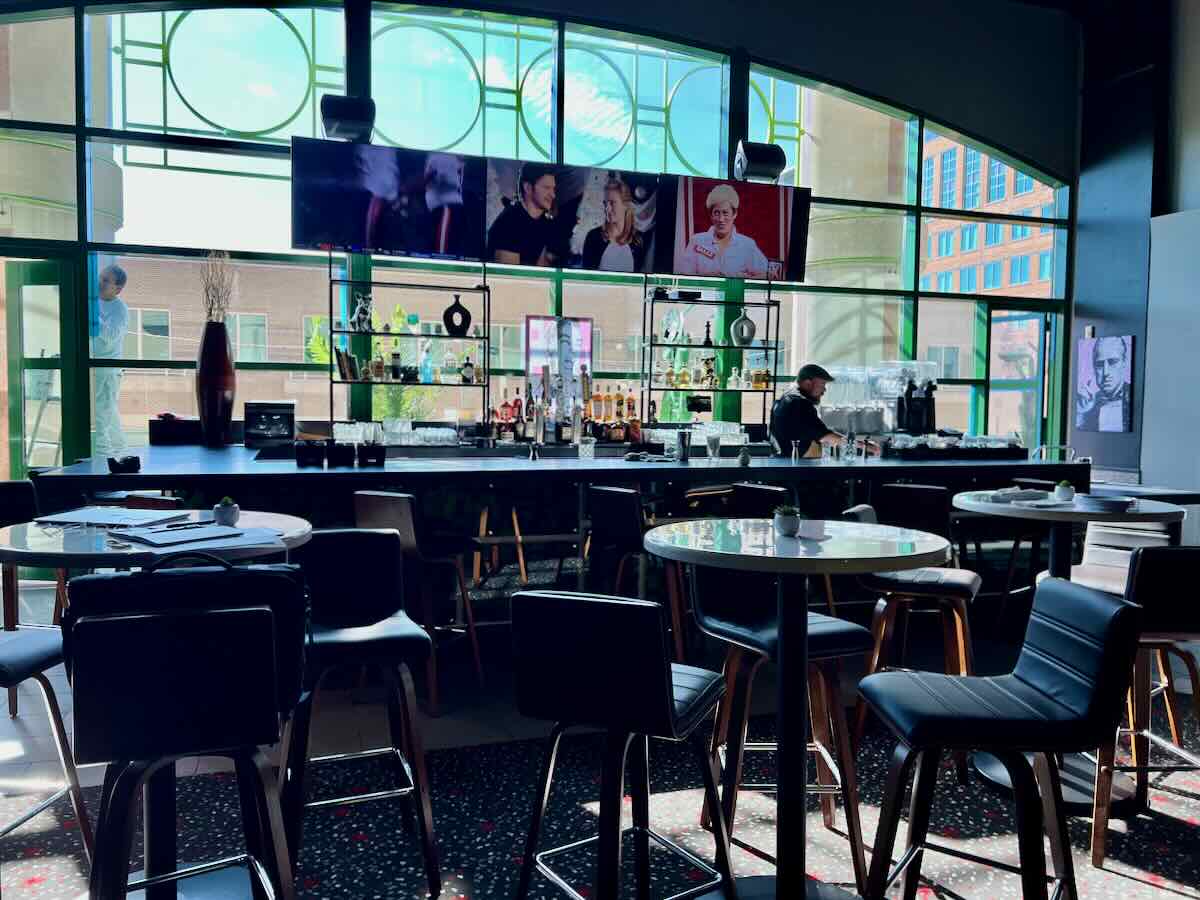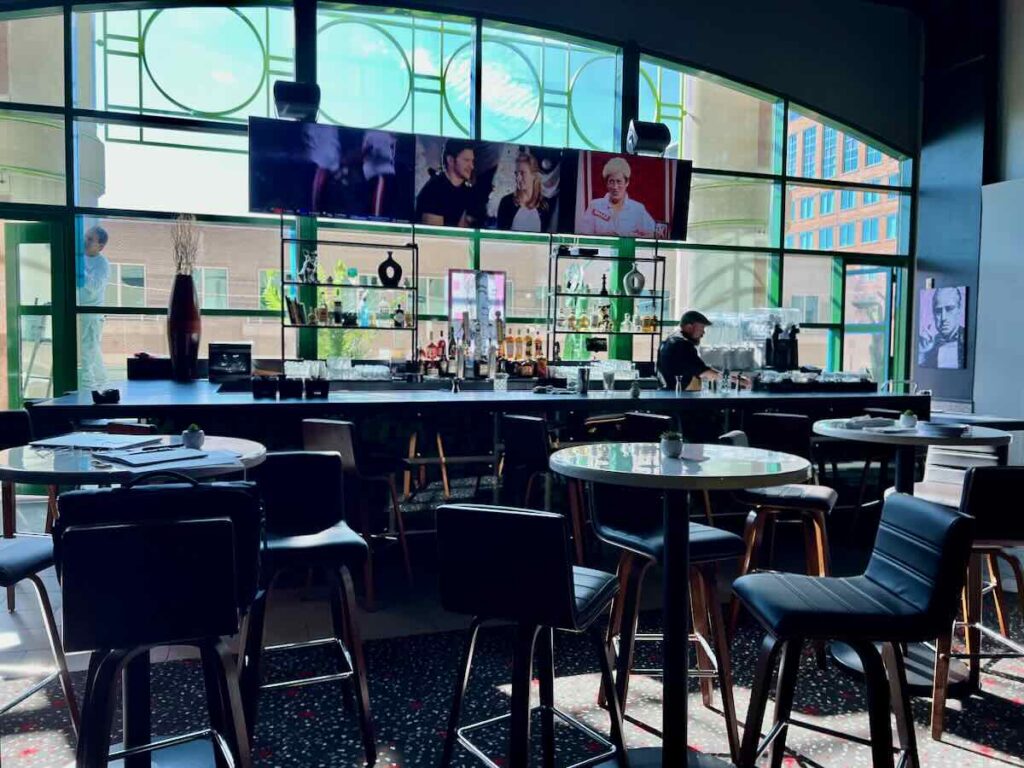 At LOOK Dine-In Cinemas, movie tickets are not checked until you enter a theater. That means you can check out the bar and have a drink at LOOK even when you don't have movie tickets. The drink line-up offers a full bar of wine, beer, and cocktails that take their nod from popular movies.
We tried The Oaxacan and the Ancho Mama on one visit, looking for a little heat. The Ancho Mama was a winner, though it was missing the chili rim.
The view from the Reston theater patio is worth a visit even if you don't have time for a movie. It will likely be a popular spot on nice days, and they plan to add heat lamps when the weather gets chilly.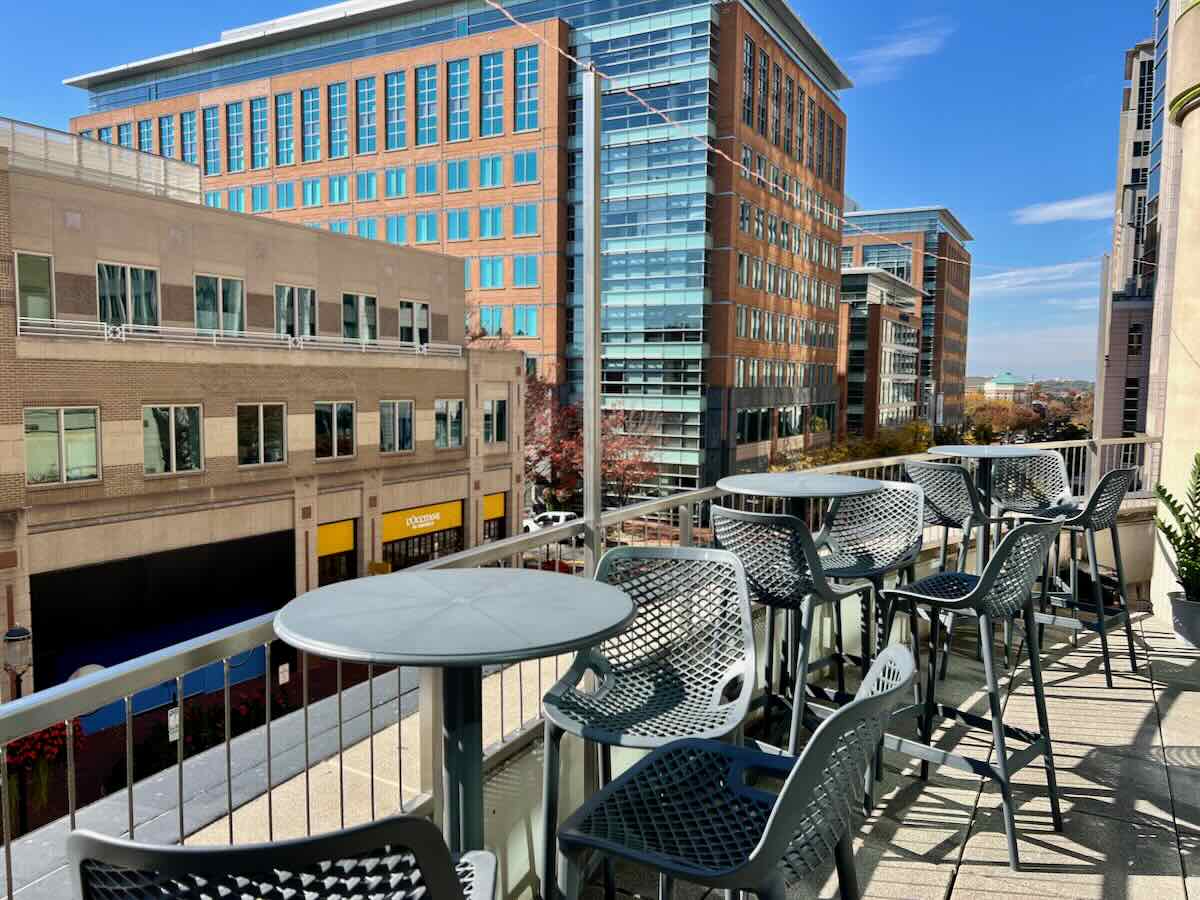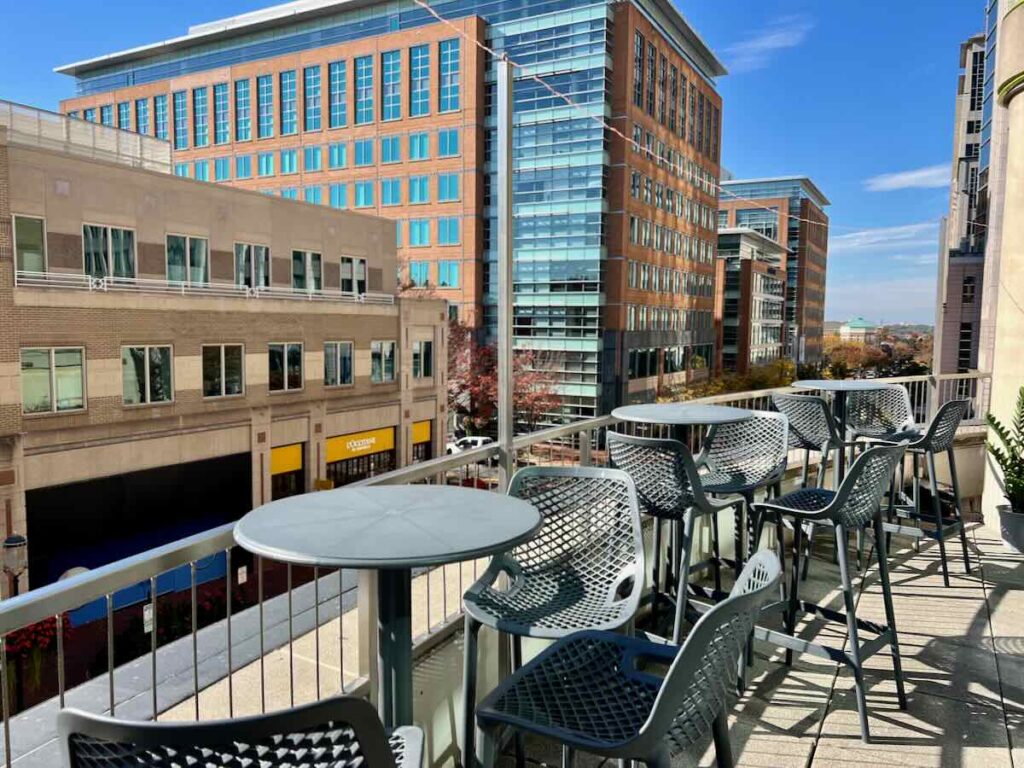 Events and Specials at LOOK Reston
Looking for a discount movie for the family (or a low-cost date night)? Tuesday is discount day at LOOK Dine-In Cinemas Reston, when every show is $6 per ticket. Note that the discount is not available when a holiday falls on a Tuesday. LOOK also offers regular discounts for seniors and children (generally $3 off the adult price).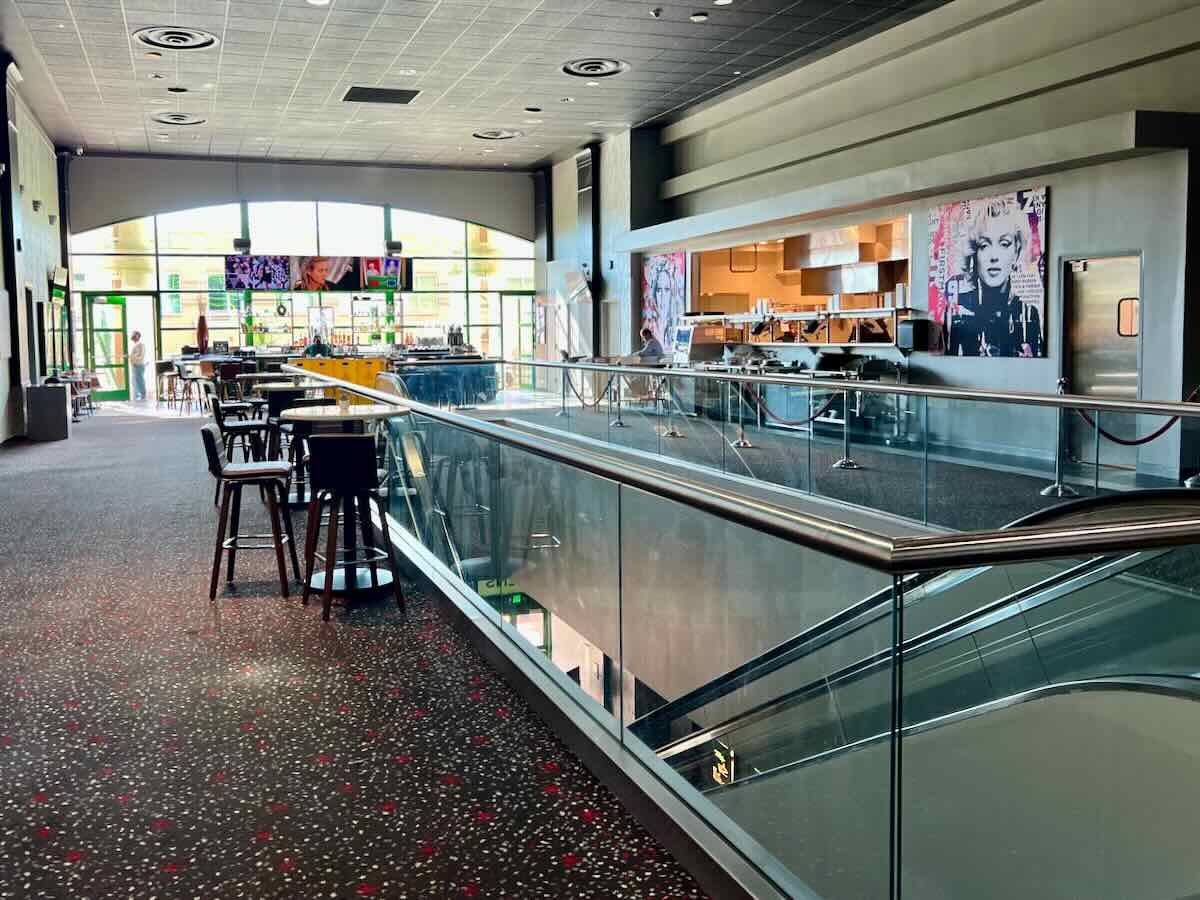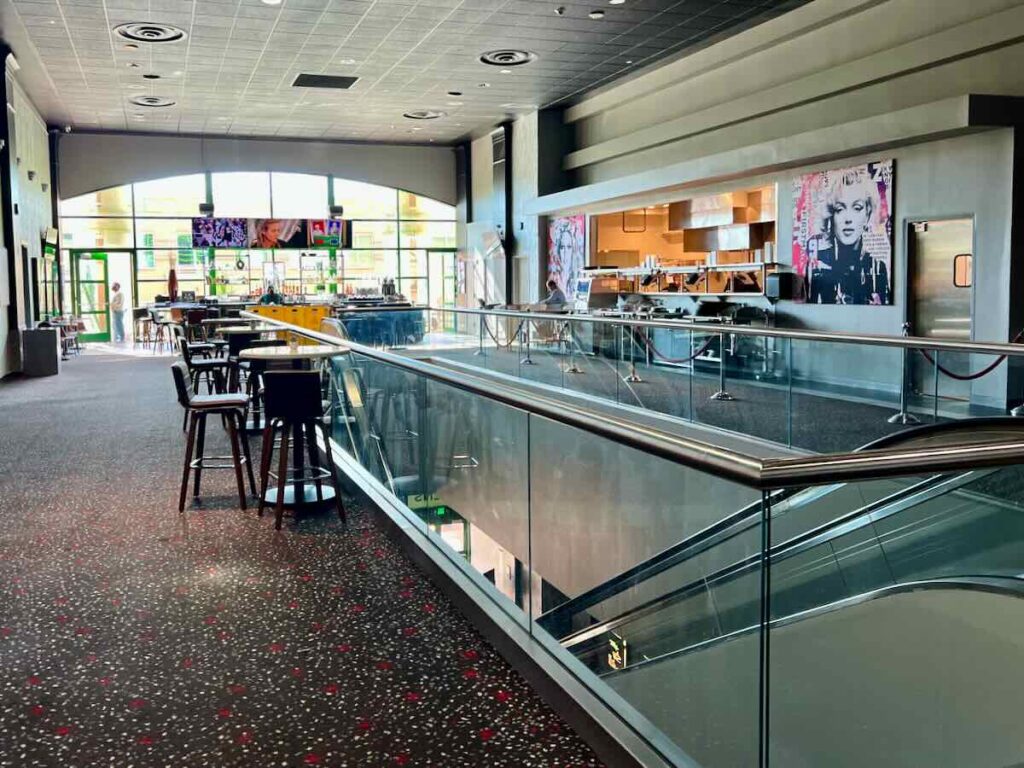 In addition to movie showings, LOOK will feature special showings in select theaters. Sports events, concerts, and gaming shows are an opportunity to gather with friends and watch major events as a group.
The LOOK theater can also be rented for corporate events and parties. Watch one of the current movies as a group, or plug in a laptop and project your PowerPoint to the team.
Visit the LOOK Dine-In Cinemas Reston website to purchase tickets, check the latest showings, and for more information. Whether you are planning a special date night in Northern Virginia, a fun family night out, or a get-together with friends, LOOK Dine-In Cinemas Reston fits the bill.
We toured the new LOOK Dine-In Cinemas Reston Town Center before opening day and then returned for the full dinner and a movie experience. we purchased drinks at the bar and carried them in. Then we ordered a Honey Siracha Salmon Bowl from our seat. The bowl was delivered 15-20 minutes after ordering, just as the movie was about to start.
Overall, our LOOK experience matched the description. On the plus side, there were no cutlery/dish noises during the movie and we couldn't see any lights from phone ordering in other rows. However, servers crossed in front of us several times as they delivered food. They were quick and quiet, but it's still not the movie theater experience we prefer. Finally, the seats were firm and a little uncomfortable by the end of the movie.
We're happy to have a movie theater back in Reston, and will no doubt return for future showings. The theater doesn't make our list of great local Reston restaurants, but the menu is a cut above most area cinemas.
Follow us on Facebook, Twitter, Pinterest, and Instagram for more fun travel in and from Northern Virginia.
Pin it for Later: