November 2017 Events in Northern Virginia
November 2017 events in Northern Virginia mark the transition from pumpkins and fall fun to holiday parades and winter festivals. We've round up a month of local events to entertain every age and interest. Events are listed in order of opening date.
The merchants of Historic Downtown Manassas will display paintings, photography, and pottery by local artists at the 19th annual Fall Gallery Walk. Balloons mark participating destinations, and you can follow your art exploration with dinner at one of the downtown restaurants. Free; 6:00 to 9:00.
When Halloween is over it's time for Pumpkin Madness, where used jack o' lanterns are dropped, squished, smashed, and stomped. Bring your own used pumpkin to recycle and join in the fun. This is also your last chance to enjoy the Cox Fall Festival including slides, rope swings, hayrides and more. 10:00 – 5:00 daily, last entry at 4:00.
Now in its 9th year, this popular show features 50+ juried artisans offering original handmade art and craft items, including jewelry, clothing and other textiles, woodworking, sculpture, pottery and ceramics, glass art, handweaving, photography, drawing and painting, and other decorative and functional arts. $3; Sat 9:00 – 4:00, Sun 10:00 – 4:00.
Horses & Hounds, George Washington's Mount Vernon, Nov 4
Meet the Horses and Hounds of Mount Vernon on the estate of the Father of the American foxhound. Watch a simulated fox hunt demonstration using a bag containing animal scent on a course around the 12-acre field (no foxes involved). Learn why George Washington was known as the greatest horseman of his age. The day also includes a cavalry demonstration and curators highlighting objects related to hunting and fishing in the 18th century. Events are included with admission; 9:00 – 4:00.
Enjoy holiday shopping at W.T. Woodson Crew's annual Holiday Happenings Craft Show, a juried event featuring jewelry, pottery, paintings, seasonal decorations, and more. Admission is free, and food and beverages are available to purchase. 10:00 – 4:00
Taste a killer lineup of 80 Virginia craft beers and ciders from the finest Virginia brewers, including beers from a dozen brewers rarely found in Northern Virginia. Lots of food, Virginia wine, live entertainment, games, and more round out the fun. Ticket prices vary; noon – 5:00
Meadowlark Botanical Gardens lights up for the holidays with over 500,000 lights and displays on a .6 mile outdoor walking trail. Purchase timed entry tickets in advance to ensure you get parking and avoid lines, though some tickets are available at the door. Pick up a hot chocolate before your walk, then shop at the Snowflake Shoppe for holiday ornaments, flashing jewelry and other goodies. Tickets $8 – $16 depending on age and time. Open nightly, including holidays, 5:30 – 10:00; last admission at 9:30.
Santa HQ, Tysons Corner Center, Nov 11 – Dec 24
The Santa HQ experience, presented by HGTV, returns to Tysons Corner Center mall on November 11. Interactive displays deliver extra fun for the kiddies before the picture with the big man. Best news for parents—you can reserve a spot in advance and skip the lines. Bring an unopened, unwrapped toy donation to benefit the children of Homestretch. Follow the link for pricing and hours.
Join two dozen artists in their Lovettsville studios for a weekend of beautiful scenery, friendly folks, and local art. This relaxing driving tour leads visitors down some of western Loudoun's prettiest country roads, to meet the artists where they work and have the opportunity to buy affordable art and gifts for the holiday. Many studios feature food and wine from local businesses as well. Free admission; 10:00 – 6:00 daily.
Cask Ale Festival, Mad Fox Brewing, McLean, Nov 11 – 12
Join one of the biggest mid-Atlantic celebrations of proper cask-conditioned ales at Mad Fox's outdoor beer festival, plus enjoy grilled favorites and music. Free admission; tasting tickets can be purchased in advance or at the event.  Begins at 11:00.
Veterans Day gives us all a chance to honor and thank the many men and women who have served our country in the U. S. Armed Forces. Local and national parks and rec centers are taking this opportunity to add their thanks with free admission and special programs at sites throughout the area.
Honor our veterans at the annual Manassas Veterans Day Parade. Military and veterans groups, scouts, and entertainers will march through Old Town Manassas in five divisions. Free; parade begins at 11:00.
Head to the Plaza at Tysons Corner Center to kick off the season with the annual lighting of the 51-foot decorated tree. After the tree is lit, enjoy an intimate holiday concert with American Idol Season 7 winner, David Cook. Free. Tree lighting at 6:15; concert until 7:30.
Holiday shopping fun returns to Fairfax Corner with the annual tree lighting celebration. Enjoy live entertainment and giveaways, take a horse and carriage ride ($3 per rider), and meet Santa and Mrs. Claus. Donate a new, unwrapped toy/gift to Women Giving Back to give to children and teens in need this holiday season. 6:00 – 9:00.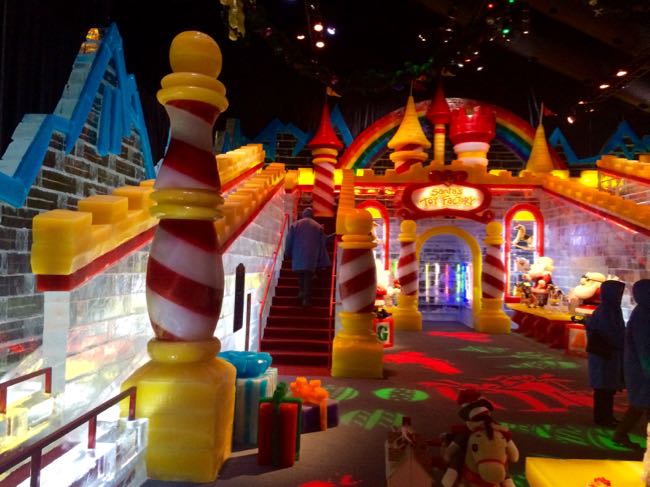 Marvel at more than 2 million twinkling lights, amazing nightly snowfall, and beautiful dancing fountains at Gaylord National's Christmas on the Potomac. ICE! returns with a Rudolf the Red-nosed Reindeer theme, plus 2 million pounds of ice sculptures and 4 ice slides. You can also enjoy a cup of hot cocoa and more family-friendly activities. Follow the link for ticket prices and hours, and consider turning your visit into a National Harbor weekend getaway.
The Enchanted Forest is a holiday festival featuring a wide variety of family events raising funds for the Junior League of Northern Virginia. Attractions include a beautiful 'forest' of 120 theme-decorated trees for silent auction, a gingerbread house workshop, arts and crafts, holiday shopping, children's performances, photos with Santa, a model train set, and hands-on activities for kids. Follow the link for ticket and schedule details.
With over 20 dealers selling minerals, fossils, crystals, gems, jewelry, carvings, meteorites and more, you're sure to find unique holiday gifts for the geology lover on your list. The event includes demonstrations, hands-on exhibits, door prizes, a Scouts area, and kid's activities. Follow the link for parking info and a discount coupon. $6/$4/$3 adults/seniors/teens. Saturday 10:00 – 6:00, Sunday 10:00 – 4:00.
Santa will arrive by horse-drawn carriage to light the Spectacular Musical Tree. This 5-story tall tree with a snowfall topper and more than 15,000 dazzling lights performs daily music and light shows. Festivities include horse-drawn carriage rides, caroling, holiday characters, cozy fire pits with treats, and more festive fun. Visitors are encouraged to bring a toy to be donated to Toys for Tots. Free; 3:00 – 6:00.
Snowflake Stampede, Bull Run Festival of Lights, Nov 18
The annual Snowflake Stampede is a 2.5 mile fun run and walk for holiday lovers. Participants will get a close-up preview of the holiday lights at Bull Run Regional Park and can take a selfie with their favorite display. Race starts promptly at 5:30 pm.
A perennial favorite, the Bull Run Festival of Lights dazzles with a 2.5 mile drive-through display of holiday and fairytale vignettes. While most of the displays repeat year-to-year, there are usually new displays to enjoy. This is an ideal family activity even for the youngest kids, who stay warm and cozy as you slowly drive through the fun, animated displays. Weekends get very busy, especially later in the season, so visit early or on a weekday to minimize cars and lines. In December, the drive ends at a Holiday Village with rides, merchandise and activities. Weekday/weekend admission is $20/$25 per car. 5:30 – 9:30 weekdays, 5:30 – 10:00 weekends.
Happy Thanksgiving! from Fun in Fairfax VA, Nov 23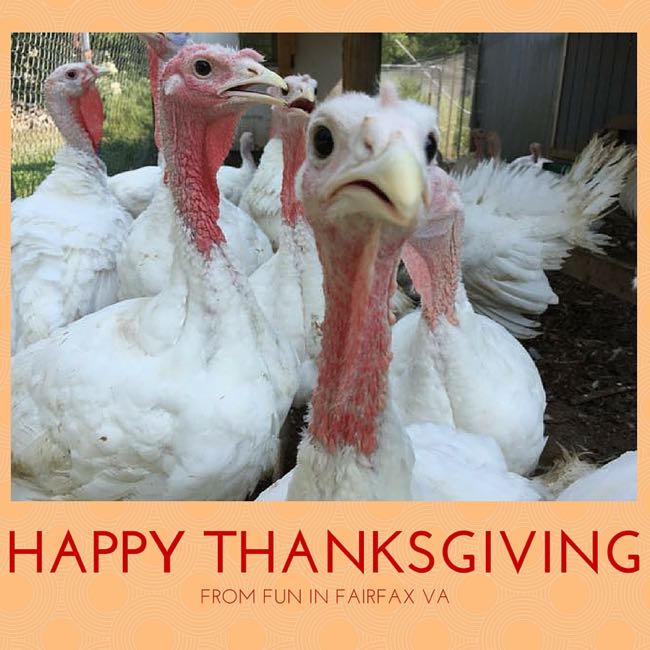 We'd like to wish a very happy, tasty, relaxing, and fun-filled Thanksgiving to all of our readers, friends, and followers. We are grateful for the support of our wonderful community, both online and in the flesh. Whether you plan to stuff yourself at a family feast, enjoy quiet time alone, shop or hike until your feet are sore, or anything in between, we hope you have a beautiful day.
#OptOutside with REI and Virginia State Parks, Nov 23 – 26
For the 7th year, REI invites folks to turn Black Friday into Green Friday by spending time in nature instead of shopping until you drop. REI is closing all its stores and paying their staff to #OptOutside on Black Friday. Virginia State Parks are joining in with an #OptOutside photo contest (up to 5 entries).  You can also bring any REI receipt to a Virginia State Park for free parking any time. Follow the link to find activities near you, or create your own outdoor fun at these family-friendly parks, short hikes to gorgeous Virginia views, or great fall hikes in Virginia.
County parks are getting in on the fun too. Burke Lake Park will offer two one-day only geocaching courses. Frying Pan Farm Park, Hidden Oaks Nature Center, Hidden Pond Nature Center, Huntley Meadows Park, Lake Fairfax Park, and Riverbend Park will all offer scavenger hunts. Lake Accotink Park and Riverbend Park will offer self-guided hikes.
Looking for a place to walk off your feast surrounded by history? Mount Vernon is open daily, including Thanksgiving and Christmas. Tour the grounds and the Mansion, including the third floor which is only open during the Christmas season. Did you know that George Washington first proclaimed a day of thanksgiving in 1789? You can also tour Mount Vernon by Candlelight, weekends, November 24 – December 17. Follow the link for details and to purchase timed entry tickets.
The annual Thanksgiving Art and Craft Show returns to Spring Hill Rec Center. All items for sale—jewelry, woodworking, photography, painting, fiber art, pottery, fused and stained glass, and much more—are juried by the Northern Virginia Handcrafters Guild to ensure the highest quality and variety of handcrafting. Attendees have the opportunity to meet the artisans and learn more about their techniques. $5, 12 and under free. Fri and Sat 10:00 – 5:00, Sun 11:00 – 4:00.
Gather the family, bundle up, and head to Reston Town Center for a day of holiday fun. Kids start the day with the popular Gingerbread Man Mile fun run, with shorter routes for tots and four to five-year-olds. At 11:00, watch the annual Thanksgiving parade, which grows larger and more impressive every year. Photos with Santa, mini-train rides, and live entertainment fill the afternoon, Christmas tree lighting and sing-along at 6:00, and carriage rides from 6:30 to 10:00. When you need a break to warm up, check out the gingerbread village in the lobby of the Hyatt.
REI invites folks to turn Black Friday into Green Friday by spending time in nature instead of shopping until you drop. REI closes all its stores and pays their staff to #OptOutside on Black Friday. Virginia State Parks often join in with #OptOutside fun of their own. You can also bring any REI receipt to a Virginia State Park for free parking any time. Follow the link to find activities near you, or create your own outdoor fun at these family-friendly parks, short hikes to gorgeous Virginia views, or great fall hikes in Virginia.
Small Business Saturday, Nov 25
Support your favorite local businesses with a shopping spree on Small Business Saturday. Many area downtowns and malls will offer specials throughout the day. Last year there were small business specials offered in Old Town Alexandria, Fairfax Corner, Historic Manassas, Mosaic District, Vienna, and Old Town Winchester.
Church Street closes to traffic for the annual Holiday Stroll. Visit the shops and enjoy the holiday spirit, including strolling carolers, an entertainment stage, hot chocolate, bonfire and petting zoo. Santa will be lighting the tree and greeting visitors outside the historic Freeman House. Free; 6:00 – 9:00 pm.
No matter which November 2017 events you choose to attend, we wish you a happy and fun-filled month.
Follow Fun in Fairfax VA on Facebook, Twitter, Pinterest, and Instagram for more fun things to do, places to visit, dining and drink, and special events in the Northern Virginia, Washington DC region.