We've rounded up special Father's Day weekend events in Northern Virginia, plus places to go and things to do in the Washington DC region for fun with Dad all year long. We have suggestions that are active or relaxed, kid-friendly or adult-focused, and even activities perfect for hard-to-please teens.
A few of the popular annual Fathers Day events are canceled in 2021. Fortunately, there are still some fun events on our list and we have lots of suggestions for more ways to celebrate your favorite Dad.
Below are things to do and see in the DC region that are perfect for fun with Dad throughout the year. After all, why limit Dad to just one day of celebration? Annual Father's Day events in Northern Virginia are listed next, in order of date and destination.
Fun Northern Virginia Hikes with Dad
Combine a little history, a shady hike, and a relaxing glass of wine with a trip to Charming Clifton, Virginia. Start with a hike on the Bull Run – Occoquan Trail, then relax with a glass of wine at Paradise Springs Winery There are several great restaurants in the center of Clifton VA, from casual to fancy. We love burgers and BLTs on the patio at the Main Street Pub.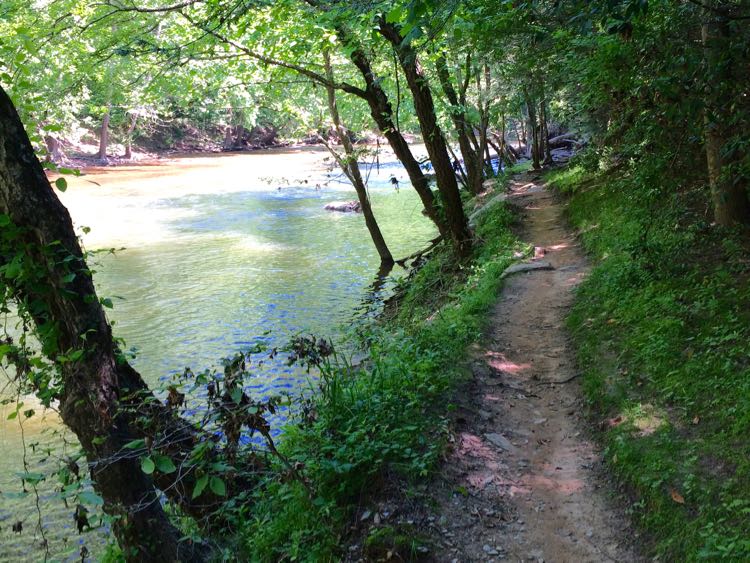 For a little more challenge, the 3 mile Great Falls Loop Hike follows trails along Difficult Run and the Potomac River in a less-visited section of Great Falls Park.
History buffs open to a longer distance will enjoy the First Manassas Loop Trail, a 5.5-mile hike through sites of the Battle of First Manassas. Follow your hike with a visit to the historic Winery at Bull Run. Or pack a picnic lunch and take Dad on a short hike to a gorgeous Virginia view. If the day is hot, we recommend the shady Great Falls hike over the open fields at Manassas Battlefield.
If Dad prefers a bike to a hike, explore the paved and dirt trails in our Northern Virginia biking guide. Or find your next outing in our complete list of Northern Virginia Hike and Bike Trails.
Relaxed Parks and Scenic Drives
For a relaxing stroll, head over to the beautiful wetlands boardwalk at Huntley Meadows Park. It's less than a mile from the Visitor Center to the observation tower along an ADA-compliant woodland path and boardwalk over a unique marsh. Further south, the Neabsco Creek Boardwalk is perfect for a stroll as long as it isn't too hot out.
Meadowlark Botanical Gardens is another good destination if you have young ones in your Father's Day group. Kids love to watch the big turtles and koi in the pond at Meadowlark. The paths are stroller-friendly, and there are special places for kids to explore. Seating areas throughout the gardens offer lovely spots to sit and relax with Dad.
A scenic drive on the historic Snickersville Turnpike in Loudoun County includes general stores, historic sites, and winery stops along the way. Closer to Washington DC, take a scenic drive on Georgetown Pike and the George Washington Memorial Parkway. Or take a relaxing drive to small towns and parks on the Virginia Byways in Fairfax County.
Beer Focused Outings with Dad
Virginia is home to a thriving craft beer scene, and Virginia beer trails are a perfect way to sample local brews with beer-loving Dads. You'll find delicious brews with amazing views at Dirt Farm Brewing in Bluemont Virginia. You can easily combine a Dirt Farm visit with a hike on the Appalachian Trail at Bear's Den Overlook.
If Dad prefers to bike, head to Caboose Brewing Company in Vienna. They offer a wonderful line-up of delicious craft beers and food in a sleek, relaxed space right on the W&OD bike trail. The LoCo Ale Trail has a large and growing collection of great breweries spread throughout Loudoun County. There are so many Northern Virginia craft breweries popping up, why not plan a regular outing with Dad?
READ MORE: 5 Virginia Hike and Beer Day Trips Near Washington DC
If Dad prefers wine, you can sip with a view at these Northern Virginia wineries with sensational views.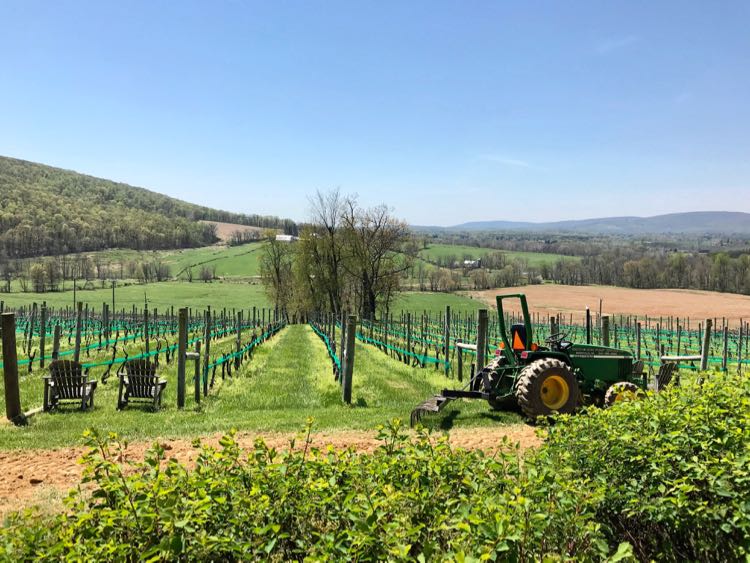 Show Dad Some LOVE
Capture the perfect Father's Day family photo at one of the creative and fun LOVE Works in Virginia. Make it a day trip and head to one of the themed LOVE sculptures that honor fishing, wine, nature, and other activities. Or visit one of the newest LOVE in Northern Virginia on the Town Green (aka the squircle) in Lovettsville.
Fun with Dad at Lakefront Parks in Northern Virginia
Lakefront parks are perfect for Father's Day fun. Burke Lake is home to excellent boating and fishing. Boating at Burke Lake gives older teens an opportunity to hang out with the family while maintaining a little independence. Teens 16 and older can pilot their own boat rental, so you're together, but not too close. There's also an 18-hole disc golf course if you're looking for a different sports challenge. If you have younger kids in your group, take a ride on Burke Lake Park's miniature train and play a round of mini-golf.
At Lake Fairfax Park you can enjoy a picnic, watch the action at the skate park, and hike or fish at the lake
At nearby Lake Anne, rent a kayak or paddleboat for a trip around the lake, then let the kids cool off in the waterfall sculpture. Several restaurants, the Lake Anne Brew House, and a wine bar are great stops for Father's Day fun.
Find more fun places to go boating in Northern Virginia, whether you plan to rent or bring your own.
2021 Father's Day Weekend Events in Northern Virginia
Special Father's Day weekend events are another great way to celebrate the weekend with Dad.
Taste beers from around the region at an after-hours event at George Washington's Mount Vernon estate. Live music, beer-making demonstrations, and food add to the fun. This special event would be a great Father's Day weekend treat for beer-loving Dads. 6:00 – 9:00 nightly; $48.
Even if you skip the event, you can take Dad to visit Mount Vernon and tour Washington's Gristmill and Distillery.
The 16th annual Manassas Jazz Festival features headline jazz artists, Virginia farm wineries, Virginia craft breweries, and local Virginia distilleries. Spend an intimate and relaxing afternoon enjoying great jazz and local fare. Advance tickets are $45/$25 for tasters/non-tasters (13 and under $1). 12:00 – 7:00
Take Dad out for some catch-and-release fun at Riverbend Park. Supplies and equipment will be provided, or you can bring your own rod and reel. $12; participants 16 and older must have a valid fishing license. Sessions at 9:00-10:30 and 11:30-1:00.
Indoor Options for Father's Day Fun in Northern Virginia
The Smithsonian Air and Space Museum Stephen F. Udvar-Hazy Center in Chantilly displays some of the most impressive items of the collection. Space Shuttle Discovery, a Concorde, and a Lockheed SR-71 Blackbird, and hundreds of other historic planes occupy huge hangars at the museum. Aviation buffs can explore the displays and visit the tower to watch planes land and take off at neighboring Dulles Airport. Admission is free but you must reserve timed-entry tickets in advance. Parking is $15.
National Museum of the Marine Corps
Recently reopened, the National Museum of the Marine Corps shares the heroism of the U.S. Marines through immersive and interactive displays. An ongoing expansion covers Marines history from 1976 to the present. Admission and parking are free.
National Museum of the United States Army
The National Museum of the United States Army will reopen on June 14, just in time for Father's Day 2021. One of the newest national museums in the DC area, the museum celebrates and honors 245 years of Army history. Admission is free but you must reserve timed-entry tickets in advance.
Whether you choose a Father's Day weekend event or plan your own outing with Dad, we wish you a very happy Father's Day.
Follow us on Facebook, Twitter, Pinterest, and Instagram for more fun travel in and from Northern Virginia.